What happens to the statuette after the Academy Awards? Most sit comfortably at the winner's home – often in the toilet. But not all, writes Christian Blauvelt.
"And the Oscar goes to…"
We all know what happens next. That second or two while the presenter opens the envelope before announcing the lucky winner is the definition of breathless anticipation. And we know what happens after that. The other Oscar nominees – we won't say 'losers' – pretend to look happy while the winner kisses their significant other, meanders toward the stage, rattles off a laundry list of a speech – almost always unremarkable – maybe flexes a bicep to indicate how heavy the Oscar statuette is, then walks off-stage. But what happens after that?
'They look good with the faucets' – Jodie Foster, on her two Oscars
What kind of 'life' do the Oscar statuettes have with their winners after the Academy Awards? Well, a few have vanished or been stolen outright – Frances McDormand's best actress statuette for Three Billboards Outside Ebbing, Missouri was stolen briefly on Oscar night 2018. Around 15 remain unaccounted for to this day. Others have been the focus of intense legal battles and sales disputes. However, the vast majority of the 3,048 Oscar statuettes presented from 1929 to 2017 have had a perfectly ordinary post-ceremony existence.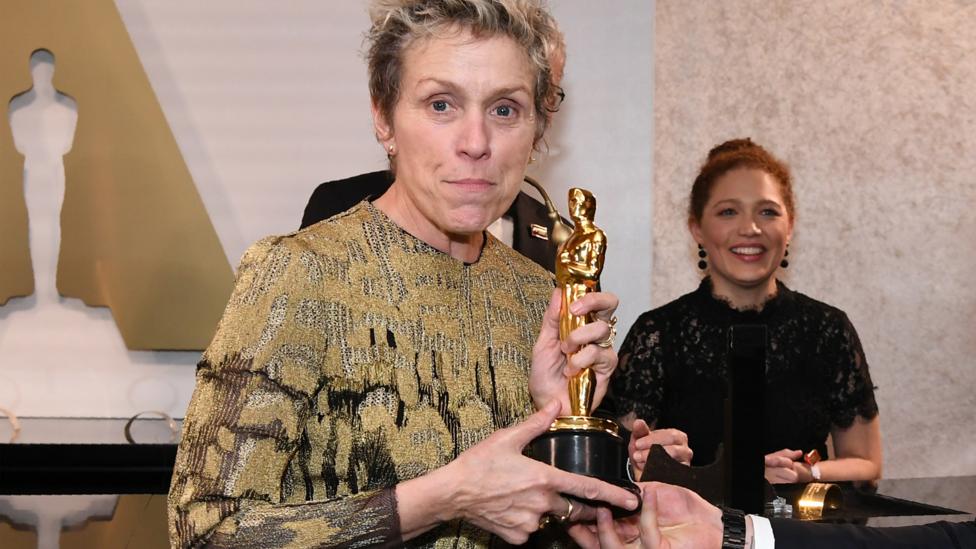 At the Governors Ball party following the 2018 Academy Awards a man walked off with Frances McDormand's best actress Oscar – it was quickly recovered (Credit: Getty)
The question for most winners is: to display or not to display? The 13.5in (34.3cm) figure seems perfectly suited to a mantelpiece. And that's exactly where actors Joanne Woodward, Anthony Quinn and Donna Reed placed theirs, among many others, perhaps so its gold-plating would catch the firelight and glow like a holy relic.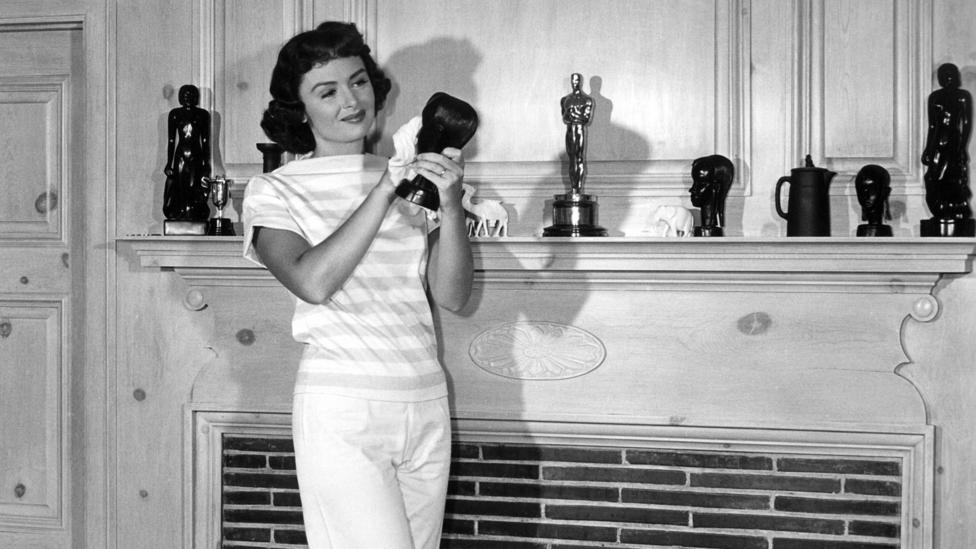 Like many Oscar winners, Donna Reed, who won the best supporting actress award for From Here to Eternity, placed her statuette on her mantelpiece (Credit: Alamy)
Is that showing off, though? Some actors prefer that the placement of their Oscar statuette be a symbolic act of self-deprecation: meaning, they situate it in the bathroom. Kate Winslet told UK programme GMTV that she put her best actress Oscar for The Reader in the toilet so that her guests "can sneakily have a little [hold] and put it back down again…. Basically, everybody wants to touch it, everybody wants to hold it and go, 'Oh, my gosh,' and 'How heavy is it?' So I figured if I put it [in there], then people can avoid the whole, 'Where's your Oscar?' thing." According to The Guardian, Emma Thompson, Lionel Richie, Sean Connery, Susan Sarandon and Jodie Foster all keep theirs near the toilet, with Foster commenting, "They look good with the faucets."
The price of gold
Only one actor sold their Academy Award: Harold Russell, a soldier who lost both his hands in World War Two, then was cast by William Wyler in his 1946 best picture-winning drama The Best Years of Our Lives. Russell had no previous acting experience, which meant he appeared in very few subsequent films, despite winning the best supporting actor prize for Wyler's film, along with a second statuette, an honourary award for "bringing hope and courage to his fellow veterans." In the late 1980s, he sold one of his Oscars, ostensibly to pay his wife's medical bills, a moving postscript to being the only performer ever to receive two Oscars for one performance. It turns out he may have sold the statuette so that he and his wife could take a vacation.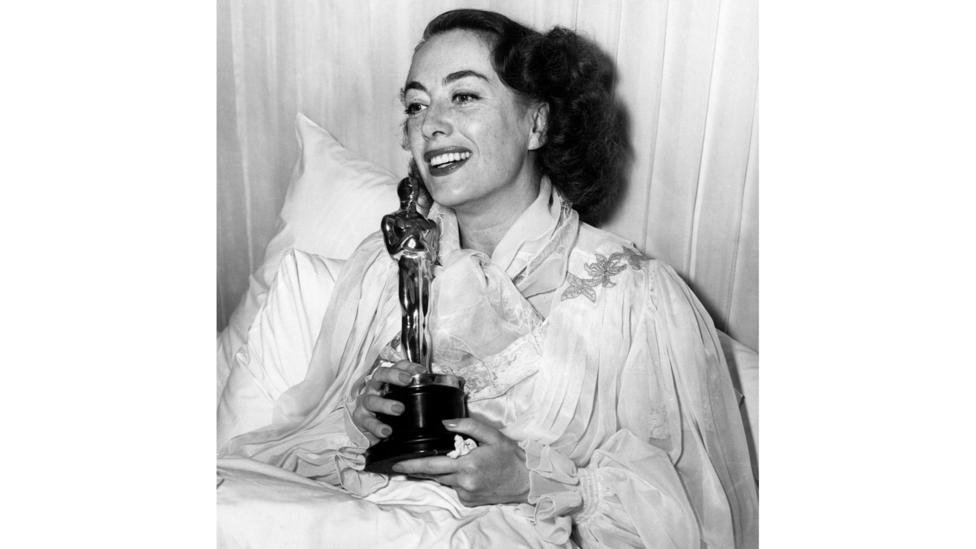 It's believed that Joan Crawford feigned illness to avoid attending the Oscars ceremony in 1946 because she thought she'd lose best actress – but she won (Credit: Alamy)
Russell was only able to sell his Oscar because it was awarded to him before 1950, the year after which the Academy made all winners sign a condition that they can never sell their Oscar statuette except back to the Academy of Motion Pictures Arts and Sciences for the sum of $1. That's why you'll only see Oscars dating from before 1950 on auction. Beatrice Welles, Orson Welles' daughter, sold her father's best original screenplay Oscar for Citizen Kane for $861,542. The Oscar presented to Welles' co-writer on Kane, Herman Mankiewicz, also ended up being sold. His grandson Ben Mankiewicz, a host for Turner Classic Movies, tells BBC Culture that his father, Frank, the former president of NPR in the US, always kept it in a safe deposit box because it was too expensive to insure. "Then, when a relative needed money, he sold it at auction and gave them 20%," he says. "My father was not sentimental about things. At all. Which I admired. But I think he regretted selling it. I know he did. But at its core, he was looking to help someone."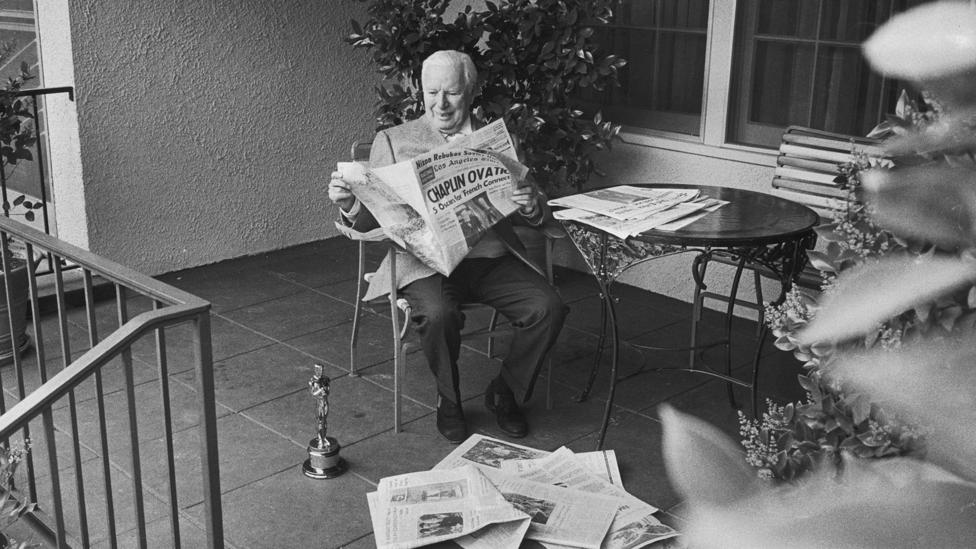 Chaplin received an honorary award for his lifetime of work at the 1972 ceremony, followed by a 12-minute standing ovation – the longest in Oscars history (Credit: Getty)
An Academy Award-winner for Gone With the Wind legally had his statuettes sold out from under him because he failed to pay the rent on the storage space where he kept the prizes: art director Lyle Wheeler found that his five Oscars, which he won for creating the production design of Anna and the King of Siam, The Robe, The King and I, The Diary of Anne Frank, and a certain little Civil War epic, could indeed be sold by a third party, via an Academy loophole, as recovery for an unpaid debt. Wheeler managed to get one back in his lifetime when the buyer of his statuette for The Diary of Anne Frank presented it to him as a gift.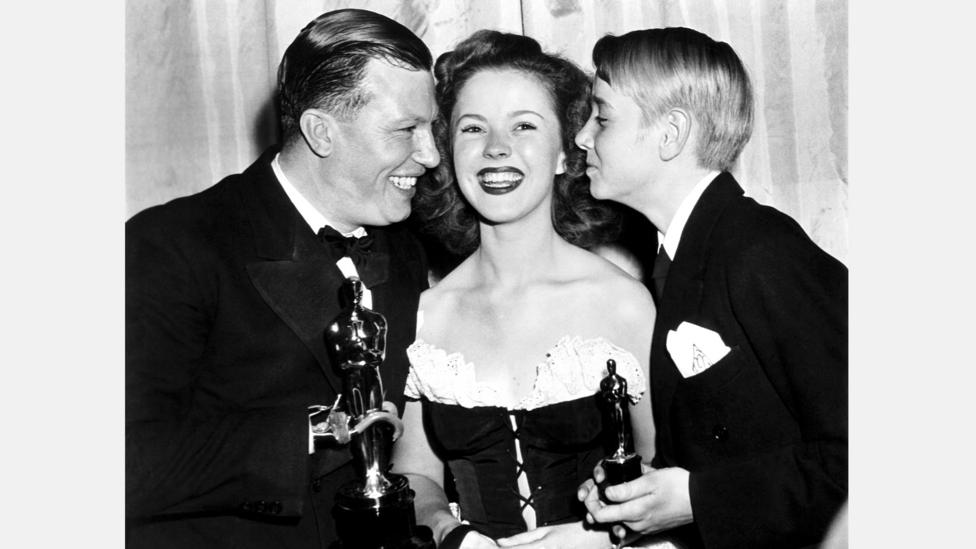 Winners of the Juvenile Academy Award, such as Claude Jarman Jr, right, received a smaller statuette – Harold Russell, left, is the only winner to sell his Oscar (Credit: Alamy)
The most anyone's paid to acquire a single Oscar statuette is the $1.54m Michael Jackson shelled out in 1999 for Gone With the Wind's best picture award. He kept that one for himself. But Steven Spielberg had more altruistic motives in mind when he spent almost $1.5m to acquire Clark Gable's Oscar for It Happened One Night and the two best actress statuettes Bette Davis won in the 1930s, then donated them back to the Academy.
Lost treasure
A number of Oscars have vanished. Vivien Leigh's best actress Oscar for A Streetcar Named Desire was stolen when her home was broken into by burglars in the 1950s. Olympia Dukakis's best supporting actress statuette for Moonstruck was stolen from her home by a thief, who called her and tried to sell it back to her, as if a ransom. Instead, Dukakis paid the Academy $78 for a replacement.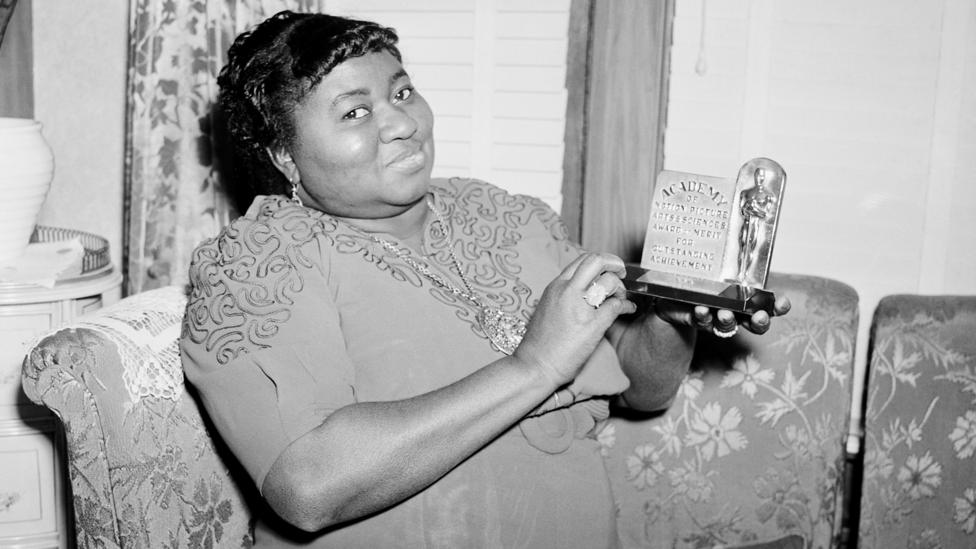 Until the ceremony in 1944, supporting actor and supporting actress winners, such as Hattie McDaniel, received a plaque instead of a statuette (Credit: Getty)
As the first African-American acting winner, Gone With the Wind's Hattie McDaniel had her best supporting actress plaque – the Academy gave not a statuette but a plaque for the supporting acting categories until the 1943 winners – on display at the historically African-American Howard University in Washington, DC. It vanished sometime in the late '60s or early '70s. Frank Capra's Oscar for the World War Two motivational film Prelude to War went missing from the US Army Pictorial Center, never to be seen again.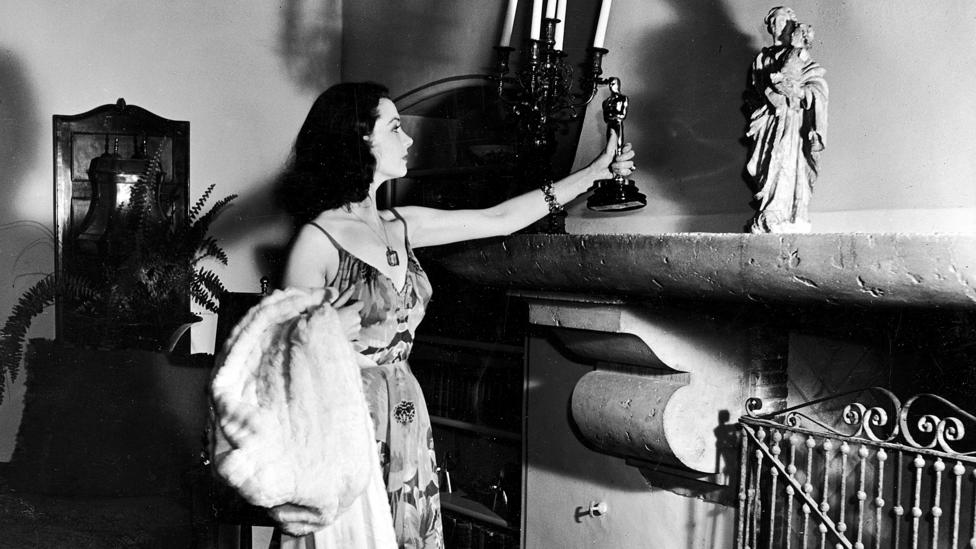 Vivien Leigh places the best actress award she won for Gone With the Wind on her mantelpiece – her later Oscar for A Streetcar Named Desire was stolen (Credit: Getty)
Marlon Brando wrote in his autobiography that he had no idea where either of his Oscars, received for On the Waterfront and The Godfather, had ended up. And that best picture Oscar for Gone With the Wind that Brando's pal Michael Jackson paid so handsomely for? According to The Hollywood Reporter, it's missing too.
Some stolen Oscars have been recovered, though. In the 1970s, a prankster at Bing Crosby's alma mater Gonzaga University stole the best actor statuette he won for Going My Way from a display case there, leaving a Mickey Mouse figurine in its place. University officials found the statuette in the college chapel a week later.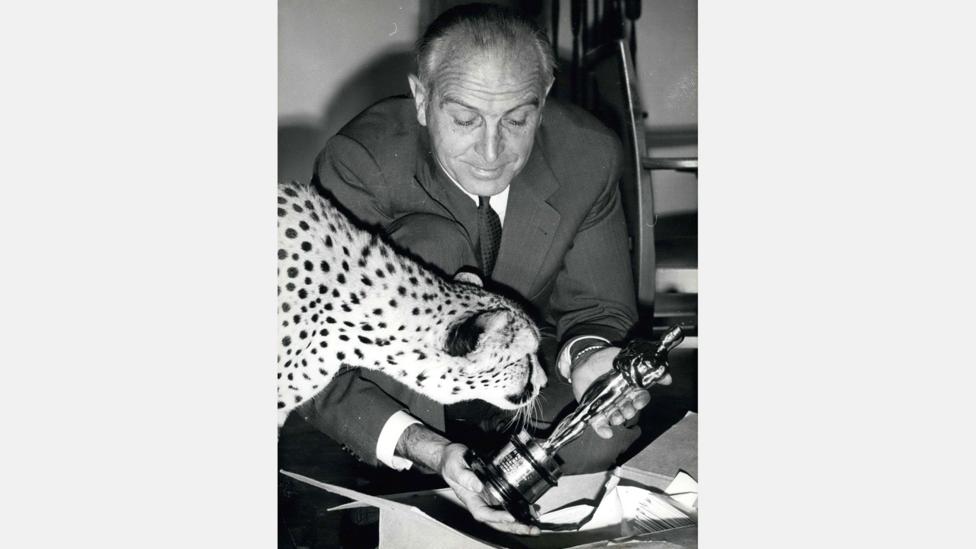 Bernhard Grzimek, head of the Berlin Zoo and director of the 1959 best documentary feature winner Serengeti Must Not Die, presents his Oscar to Giggi, a leopard (Credit: Alamy)
Whoopi Goldberg sent her best supporting actress Oscar for Ghost to the Academy for cleaning, as many winners do (the gold-plating tarnishes over time) – it was recovered from a Los Angeles airport rubbish bin shortly thereafter, apparently placed there by a thief who had second thoughts.
Child actor Margaret O'Brien's Juvenile Academy Award for Meet Me in St Louis was stolen by a fired family housekeeper in the 1950s. Two men bought it at a flea market 40 years later and presented it back to her. German émigré cinematographer Karl Freund's Oscar for shooting The Good Earth was stolen from his daughter's home in 1975 and recovered when a for-sale ad for it appeared in the Los Angeles Times in 1990. Aaron Rochin's Oscar for best sound in 1979 for The Deer Hunter turned up on eBay in 2001, long after someone absconded with it.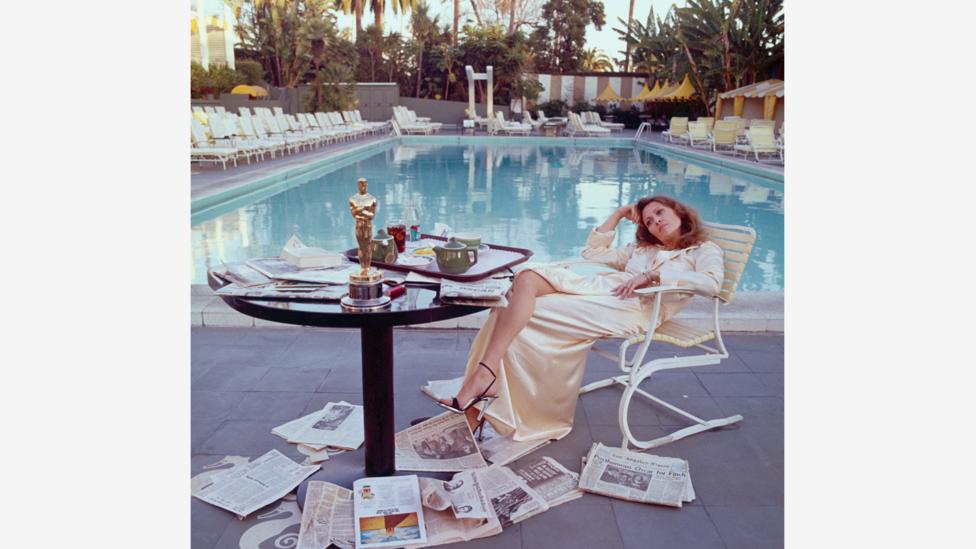 Faye Dunaway received the best actress award for Network – a newspaper nearby indicates that her co-star Peter Finch won the first posthumous best actor Oscar (Credit: Getty)
The most fascinating story of a stolen Oscar has recently been debunked. Olivia Rutigliano, a PhD student and historian of stolen Oscar lore, first told Forbes in 2016 that the famous story of a mysterious man walking on stage at the 1938 Academy Awards ceremony to accept the best supporting actress plaque on behalf of the winner, Alice Brady for the film In Old Chicago, who was ill at home, and then vanishing with it, was untrue. There was no 'mysterious man' who stole the award: it was In Old Chicago director Henry King, and, elaborating upon the finding to Mother Jones, Rutigliano said that an internal investigation by the Academy revealed newspaper clippings showing King presenting Brady her plaque the day after the ceremony. It was never lost at all.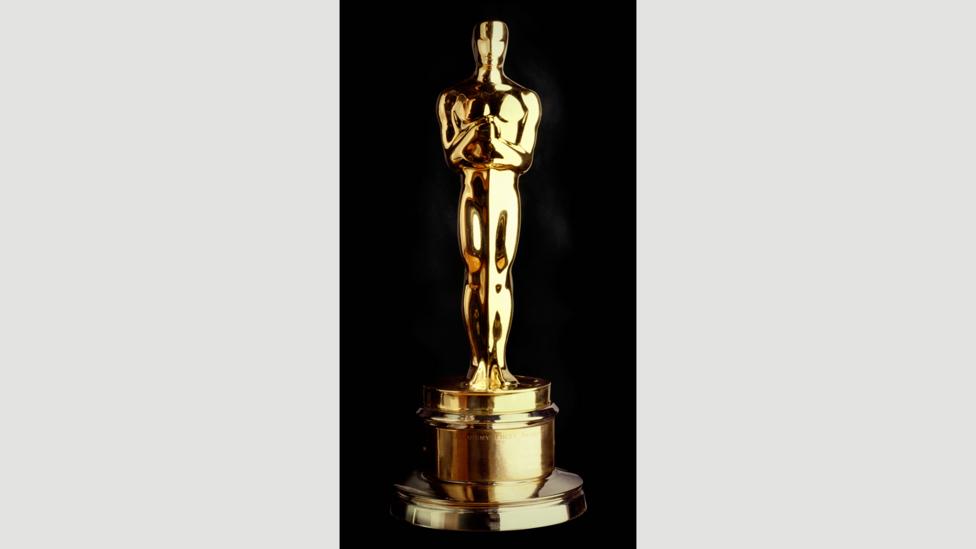 'I've never seen anyone who is too cool not to ask to hold one,' says Alexandra Mankiewicz, whose father, Joseph, won four Oscars - they're in her art studio (Credit: Alamy/AMPAS)
That there could even be a widely-known, but false, legend of a stolen Oscar that never really was stolen shows what power the idea of the Academy Award holds for us. The statuette, the abstracted image of an androgynous man outside of time – holding his crusader sword, Oscar looks to the past but also to the future, his design mirroring the robot from Metropolis – is the perfect idol for this secular age. Gaze into its polished surface and you'll see yourself reflected. The fact that its awarding is purely subjective doesn't diminish its appeal, it enhances it. Unlike an Olympic gold medal, about twice as many of which have been awarded than Oscars, you're not proving you're the best against a clock or an objective set of criteria, you're winning approval from your fellow man – respect, as voted on by your peers. Yeah, it's just a popularity contest, but that means the bestowment of this honour, to many, is a bestowment of worth.
The act of awarding and receiving an Oscar is a kind of democratic coronation. Which means it shouldn't be surprising that bearing the crown of 'Oscar winner' could sit uneasily for some honourees – bathroom display and all. Nor that usurper thieves have sought to steal this prize away for their own private, ignoble glory.
If you would like to comment on this story or anything else you have seen on BBC Culture, head over to our Facebook page or message us on Twitter.
And if you liked this story, sign up for the weekly bbc.com features newsletter, called "If You Only Read 6 Things This Week". A handpicked selection of stories from BBC Future, Earth, Culture, Capital and Travel, delivered to your inbox every Friday.