There's a buying spree in China and massively popular shows in Japan and Korea. What is it about his work that resonates there? Vivienne Chow investigates.
P
Pablo Picasso is more than just a household name in the West. The Spanish master has long been adored in the East and such affection shows no sign of subsiding. Asian travellers are flocking to museums in the West to admire his artistic creations. Multi-million dollar paintings by the prolific artist have become the most sought after objects of desire among affluent Asian collectors in recent years. The reputations of other Western artists are no match to that of Picasso's in this part of the world. Picasso is simply a synonym for Western art.
One Picasso work was sold in 2015 for $67.4m (£48.2m)
The bold colours, the Cubist portraits of deconstructed faces and chaotic pictorial compositions appear to resonate very little with the traditional Asian notion of beauty. But Asians' love for Picasso has reached a simply mind-boggling level. Why is a Spanish painter who was born over a century ago so appealing to those from such a different cultural background?
- Secrets of Girl with a Pearl Earring
- The racist message hidden in a masterpiece
- Iconic images of women protesters
One would immediately turn to the surging monetary value of Picasso's paintings for an easy explanation, particularly in money-conscious Asia. Collectors there, led by the ultra-rich Chinese and others from Hong Kong and Taiwan, have been showing a large appetite for Picasso's artworks, particularly those assessed to have the highest value in recent years. Femme assise, robe bleue (Seated Woman in Blue Robe) from 1939 was sold to one of these collectors at a Christie's New York sale in 2017 for $45m (£32.24m). Another bought Buste de femme (Femme à la résille), (Bust of a Woman – Woman with Fishnet) (1938) from a 2015 Christie's New York sale for $67.4m (£48.2m). Earlier in 2012, China's Dalian Wanda Group splashed $28.2 million (£20.2m) on Claude et Paloma (1950), also at a Christie's New York sale.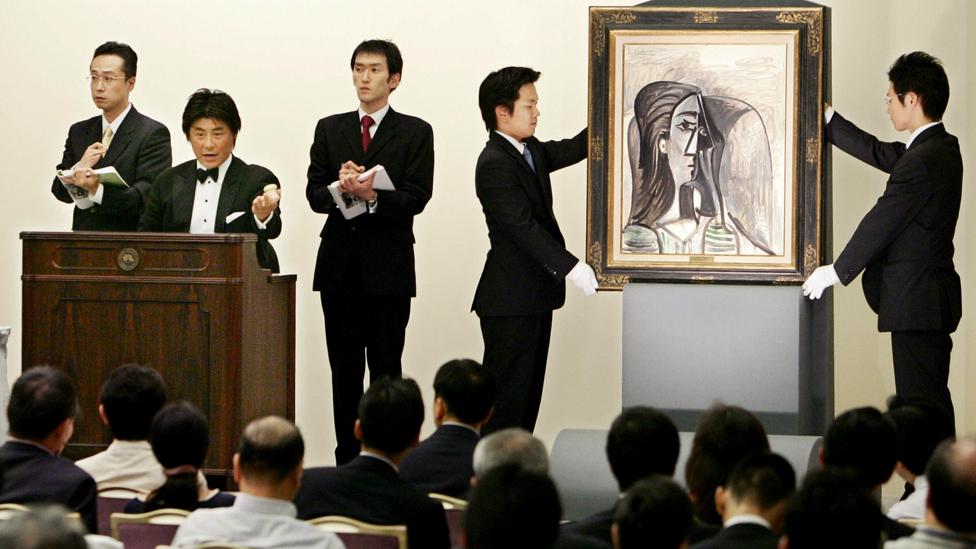 Picasso's work Busta de Femme from 1960 was sold at auction in Japan in 2005 for $1.6m (£1.14m) – and the market for his paintings has only grown since (Credit: Getty Images)
The market potential is confirmed by how the late master's works are set to take the centre stage of Hong Kong's art month in March, when Art Basel and a number of gallery openings and art auctions collide.
Auction house Sotheby's will bring a Picasso painting, Juan-les-Pins (1924), to its Hong Kong evening sale for the first time on 31 March, unlike the usual practice of selling Western masterpieces in New York and London.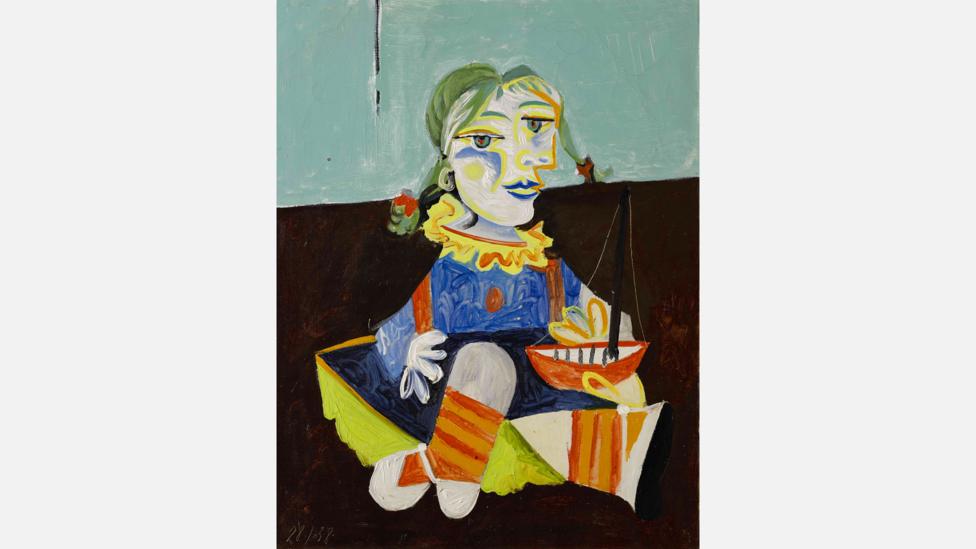 A new Sotheby's exhibition in Hong Kong places Picasso works, such as his 1938 painting Maya With the Boat, next to those of George Condo (Credit: Sotheby's)
This coincides with the auction house's selling exhibition Face-Off: Picasso/Condo, which juxtaposes 20 of Picasso's paintings with those by George Condo, the largest showcase of Picasso's works in the city since the 2012 travelling exhibition of the collection from Paris' Musee National Picasso that took place at Hong Kong Heritage Museum as well as Shanghai and Chengdu. Seven of the Picasso paintings on show are on loan from private collections in Hong Kong, mainland China and Taiwan, including Femme à l'oiseau (Woman sitting with bird) (1939) from Taiwan's Yageo Foundation and Femme assise, robe bleue.
Blue-chip period
Jonathan Wong, director of Sotheby's S|2 Gallery in Hong Kong, says Chinese collectors' passion for boldly priced Picasso paintings only began three to five years ago, and Picasso is the name to own. The brand name effect of Picasso could be the art market's answer to Birkin bags, and according to Wong, the versatility of Picasso's creations, from paintings to sculptures and ceramics, offers buyers a range of choices. But money aside, says Wong, "the colourful life of Picasso strikes a chord with how the Chinese romanticise the life of a great artist."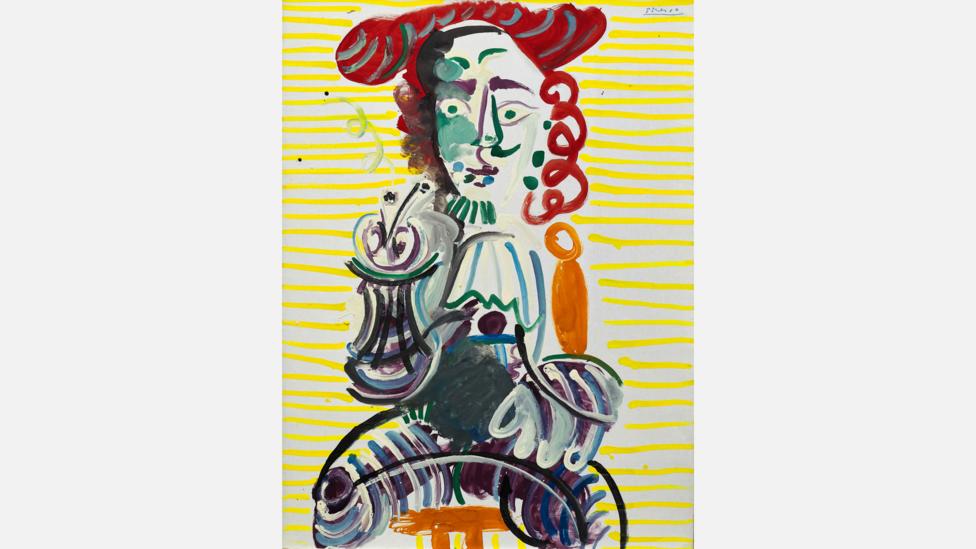 The Sotheby's show runs from 16 to 31 March – this is the second time in the past decade Picasso's Man With a Pipe has been on view in Hong Kong (Credit: Sotheby's)
Born in 1881, Picasso was known for not only constantly reinventing his artistic expressions in different periods but also his romantic affairs with women. He had four children with three women, including Olga Khokhlova and Françoise Gilot, who were his wives, and Marie-Therese Walter. His love affair with photographer and artist Dora Maar was also well documented.
Picasso's carefree lifestyle resonates with that of famous ancient Chinese scholars such as Ming painter and poet Tang Yin (1470-1524), who was renowned for his poetry and ink paintings and was married to three women. Modern Chinese artist Zhang Daqian (1899-1983), who met Picasso in Nice in 1956, also displayed a similar persona. Equally prodigious and prolific, Zhang was one of the biggest names in Chinese modern art. Not only did he inherit the roots of traditional Chinese landscape paintings and invent new artistic language in his bold, splash-ink paintings and portraits of women, he was also known for his affairs with many women and had four wives.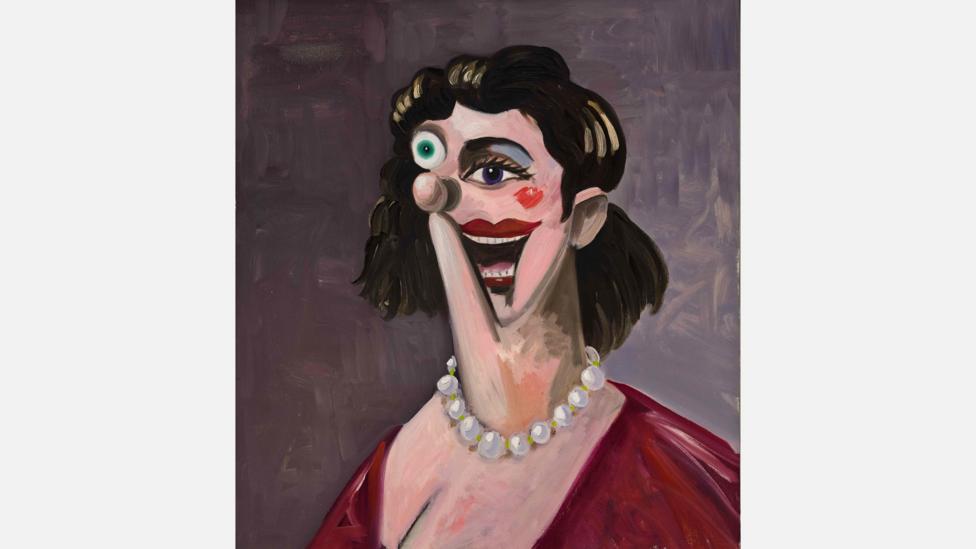 Contemporary artist George Condo, whose work bears similarity to Picasso's, is finding buyers in Asia – his Princess will be on view at Sotheby's (Credit: Sotheby's)
But beyond the romantic details of his biography, the aesthetics of Picasso's paintings are what appeal to the Chinese – much more so than other big names of Western art such as Claude Monet and Vincent van Gogh. Wong says Picasso's portraits speak to modern China, as portraits have played an important role in modern and contemporary Chinese art, particularly since 1949. "Mainland Chinese artists were trained to follow the Soviet school of social realism, where portraits play a key role in the works of Chinese artists from Chen Yifei to Zhang Xiaogang. Chinese people, over the past century, are accustomed to the appreciation of portraits," he says.
The multiple perspectives found in Asian landscape painting, such as in Tang Yin's Farewell at the Bridge of the Hanging Rainbow, prefigures Picasso's Cubist style (Credit: Alamy)
But that's not the only factor, says Wong. Chinese people who grew up with the multiple-perspective style in traditional landscape paintings would find it easier to connect with Picasso's Cubist portraits. In their research into multi-perspective images, Scott Vallance and Paul Calder of the School of Informatics and Engineering at Flinders University of South Australia noted the similarities between Chinese landscape paintings and Cubism: "Chinese landscape paintings contain different focuses, or sub-images, which are seamlessly joined." While multi-perspective has been deep in Chinese aesthetics for centuries, its introduction to the Western art world through movements such as Cubism led by Picasso came much later.
It's not surprising if Picasso was under certain Asian influences at some point. His encounter with Asian art was probably earlier than his highly publicised meeting with Zhang. Masayuki Tanaka, professor of art history at Musashino Art University in Tokyo, Japan, says Picasso revealed his connection with Asian art to Japanese painter Taro Okamoto when the latter visited the Spanish artist's studio in Vallauris in the early 1950s. Okamoto was under a great deal of influence from Picasso, and one of his most famous works, Myth of Tomorrow, is his response to Picasso's Guernica, with both being artistic representations of the horrors of war.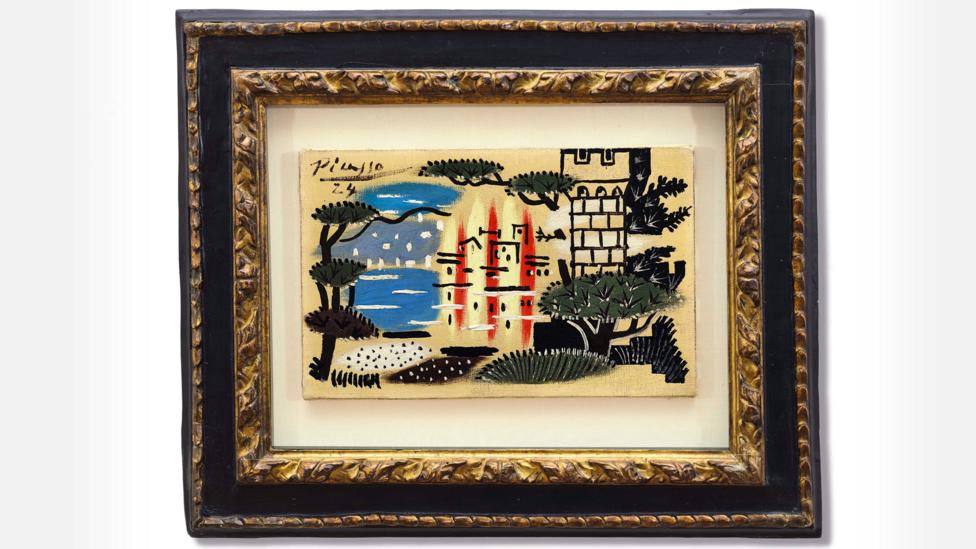 The influence of Tang Yin's painting can be seen in Picasso's own landscape painting, such as his view of the French Riviera town Juan-les-Pins (Credit: Sotheby's)
"Picasso told Okamoto that he possessed several Japanese woodblock prints, and that they were not refined ones, but earlier, more primitive ones," he says.
"To Picasso 'primitive' does not mean something uncultured, but rather it is the other way of representation than the traditional Western style based on perception and accurate realistic description. Asian tradition of representation is different from the Western style, and it is not perceptional but more conceptual. In that sense, Picasso's way of expressing something is familiar with Asian people. You can still find the same way of expression in manga today as Picasso did."
An Asian sensation
While Chinese people's love for Picasso is a more recent phenomenon, Picasso's rendezvous with Japan appears to date back much earlier. Prof Tanaka says books on Picasso were first published in Japan in the 1920s and one of the first Western art exhibitions after World War Two was a Picasso show in 1951. Many Japanese corporations also acquired a lot of Picasso's paintings in the 1980s, according to Prof Tanaka. "But most of them were sold in the '90s when the Japanese economy declined." His paintings can still be found in the Pola Museum of Art in Hakone, a private museum, which keeps a strong collection, he says.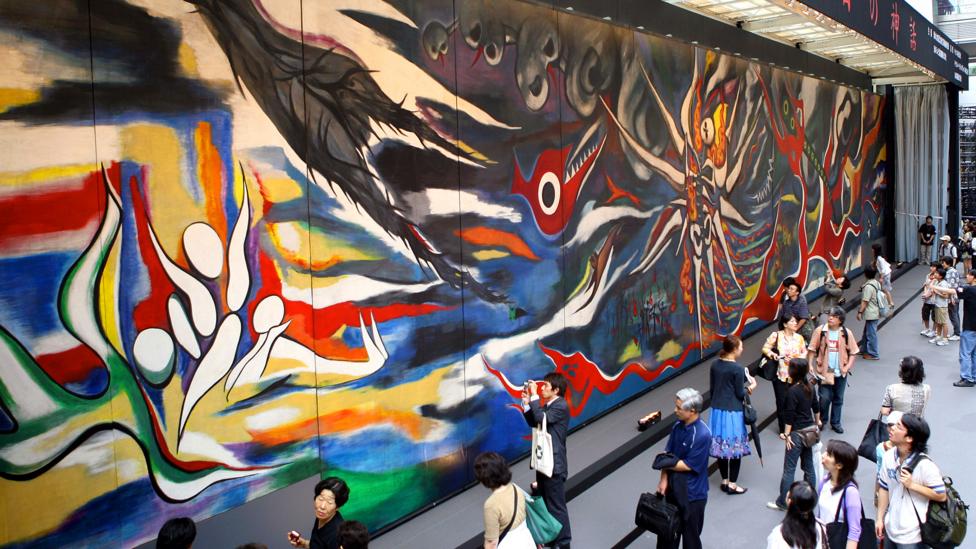 Picasso has, in turn, influenced many Asian artists, such as Taro Okamoto, who painted the world's largest mural, World of Tomorrow, in 1969 (Credit: Getty Images)
Museu Picasso in Barcelona first loaned a collection of 60 works to Japan in 1964 for a Picasso exhibition at the National Museum of Modern Art in Tokyo and Kyoto, as well as the Prefectural Museum of Art in Nagoya. In the following decades, the Museu Picasso  has been lending works to exhibit in Japan, including the 2000 exhibition Picasso's World of Children at the National Museum of Western Art in Ueno Park, Tokyo, where Prof Tanaka was a curator. The show drew more than 300,000 visitors.
Picasso's art has also left its footprints in South Korea. In 2013 and 2014, the Picasso Foundation brought the exhibition Picasso from Málaga, Picasso Absolute to Incheon, Seoul, Daegu and Suwon, showing 226 works by the Spanish master and 100 photographs of the artist by Juan Gyenes to more than 300,000 visitors.
Museu Picasso, Barcelona, also reported a significant increase in Asian visitors, particularly South Koreans. The Barcelona museum said it welcomed 38,591 individual visitors from South Korea, jumping from 15th to the seventh highest in the museum's ranking, followed by the Chinese (34,011) and Japanese (30,662). Tour operators also brought an additional 100,000 Asian visitors to the museum.
"The globalised world means Western values ​​assimilated in Asia are an important part of today's culture," says José María Luna Aguilar, director of the Picasso Foundation. "Picasso, as the maximum incarnation of creative freedom, is appreciated in today's society as one of the most admired and loved characters. His uninhibited way of living and expressing life in his works makes it seem a reference for a freer life."
If you would like to comment on this story or anything else you have seen on BBC Culture, head over to our Facebook page or message us on Twitter.
And if you liked this story, sign up for the weekly bbc.com features newsletter, called "If You Only Read 6 Things This Week". A handpicked selection of stories from BBC Future, Earth, Culture, Capital, Travel and Autos, delivered to your inbox every Friday.