How the new graphic iconography of memes, placards and posters is changing the way we communicate and protest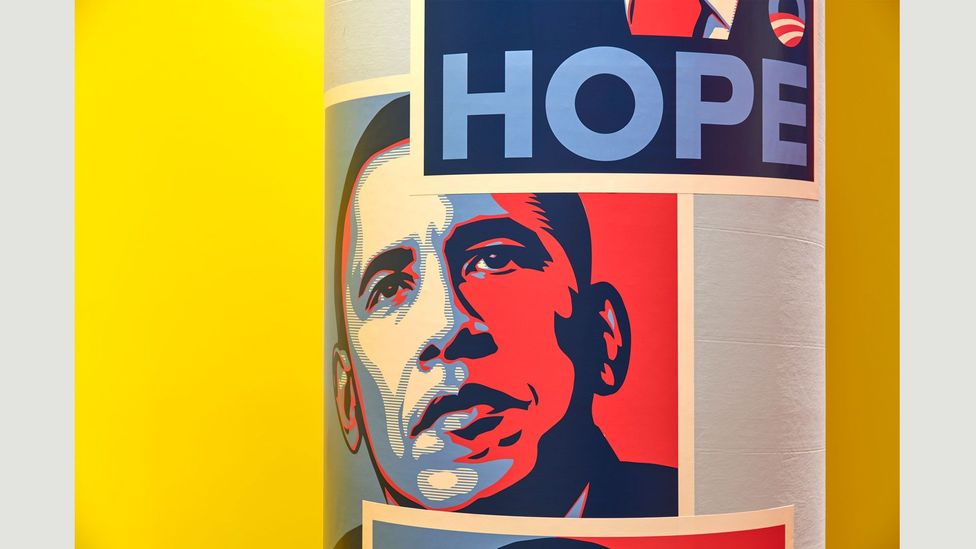 When the now iconic 'Hope' Obama poster by Shepard Fairey went viral, it kick-started a new phase in the visual language of politics. So how are graphics influencing the way we think and communicate now? And what role is graphic iconography playing in political events? A new exhibition at London's Design Museum – Hope to Nope: Graphics and Politics 2008-18 – explores these questions, presenting some of the world's most striking examples of protest graphics from the past decade.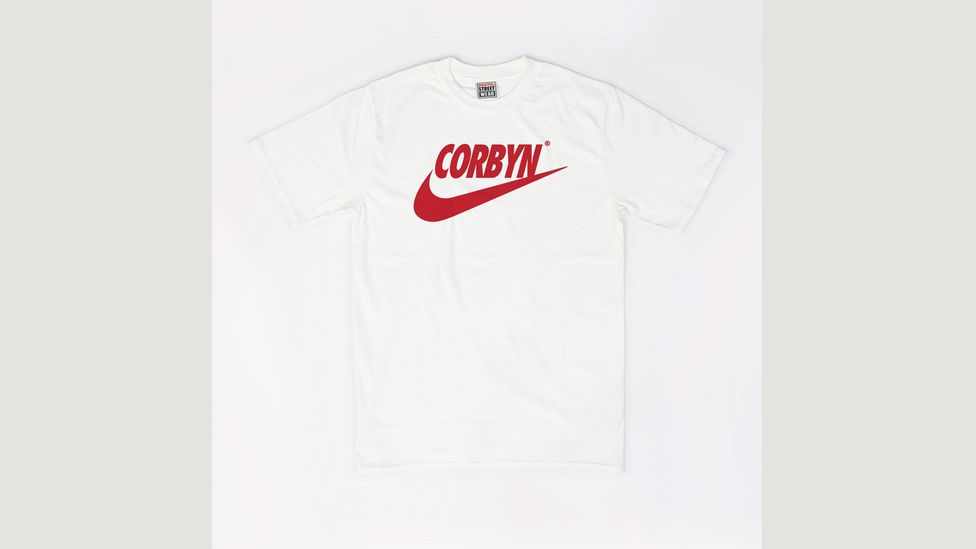 (Credit: Bristol Street War)
The 'swoosh' graphic went viral in the run-up to the UK's last general election, spread on social media by supporters of the UK's Labour party leader Jeremy Corbyn. So what is it that makes a political graphic have impact? Margaret Cubbage, curator at the Design Museum, tells BBC Culture: "I think the importance is demonstrating the emotion that motivates individuals to be politically active. The artwork that is authentic and connects with the messages of their fellow protesters has impact. The graphics seen in protest is reactive and immediate, demonstrating passion and commitment."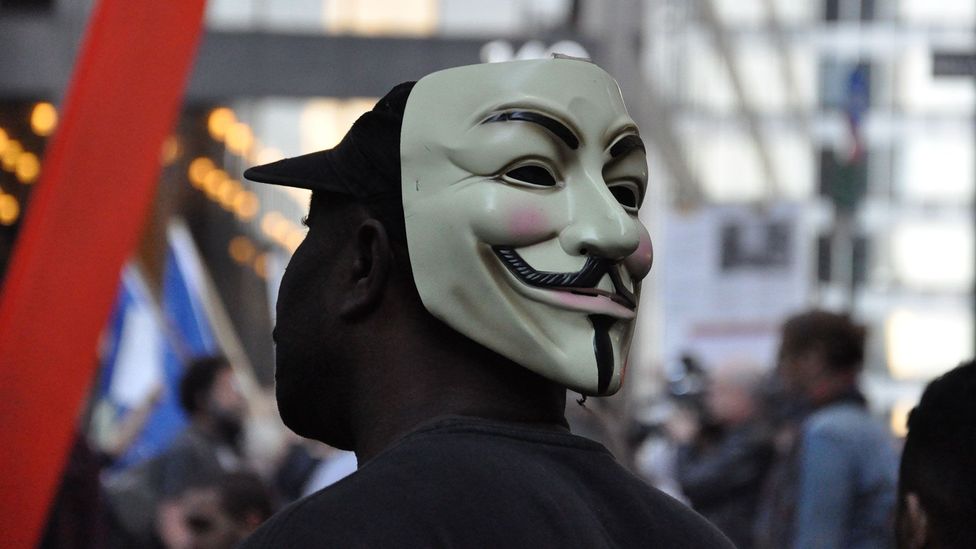 There is a new democratisation in the graphics of protest, according to Lucienne Roberts of GraphicDesign&, who is co-curating the exhibition: "Much of the 'important' design that relates to politics is produced by unnamed amateurs," Roberts tells BBC Culture. "Or by designers forced to use pseudonyms for their own safety, and is significant as much because of the context in which it is produced as the end result."
The dynamic has changed between artist and audience, thanks largely to the internet and social media, says Roberts. "New spaces and systems for graphic communication now exist, integrating images and text in two-way conversations that make users part of the process, no longer simply recipients of information. Facebook posts, Twitter feeds, 4chan, Snapchat and Instagram may be virtual environments, but their pervasiveness and influence have had a profound impact on the physical world."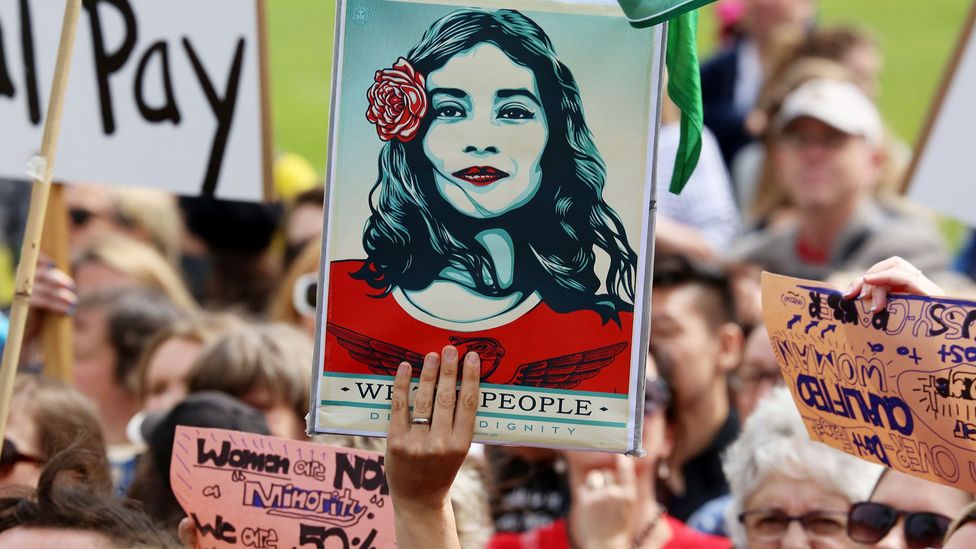 Not that the traditional format of the political banner, poster, placard or slogan garment has become irrelevant. Far from it, says Roberts: "They are still relevant and powerful. They exist alongside the digital within a proliferation of visual messages delivered instantaneously to our devices, wherever we are. This has led some to feel more invested in world events, more able to effect change or influence debate."
Conversely it has been argued that this is part of a dumbing-down or propagandist process, and that nuance and subtlety can be lost: "Technology may have empowered grass-roots activists, making them more of a challenge to the political establishment," says Roberts. "But it has also resulted in targeted campaigns by political-interest groups, designed to set people against one another and even de-stabilise political systems."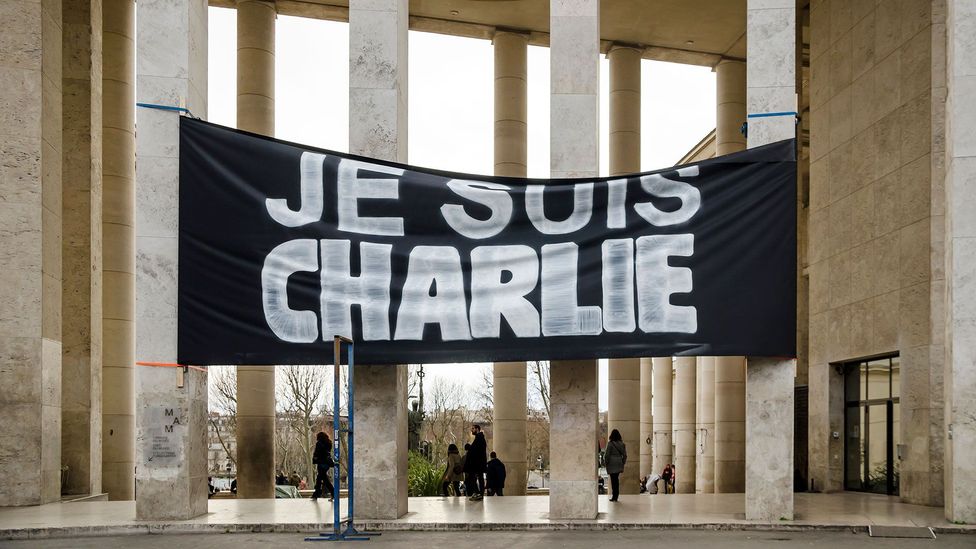 Some political campaigns have adopted an approach similar to corporate branding, in which a slogan or symbol or image is created and adopted en masse.  As Margaret Cubbage says: "The individuals take on a collective identity, either for protection or to hide identity but the visual impact is striking. This approach was evident in Brazil, with the symbol of the duck; the umbrella was representative and visually present in Occupy Central; and the global protests in solidarity to the Charlie Hebdo attacks used the 'Je Suis Charlie' graphic."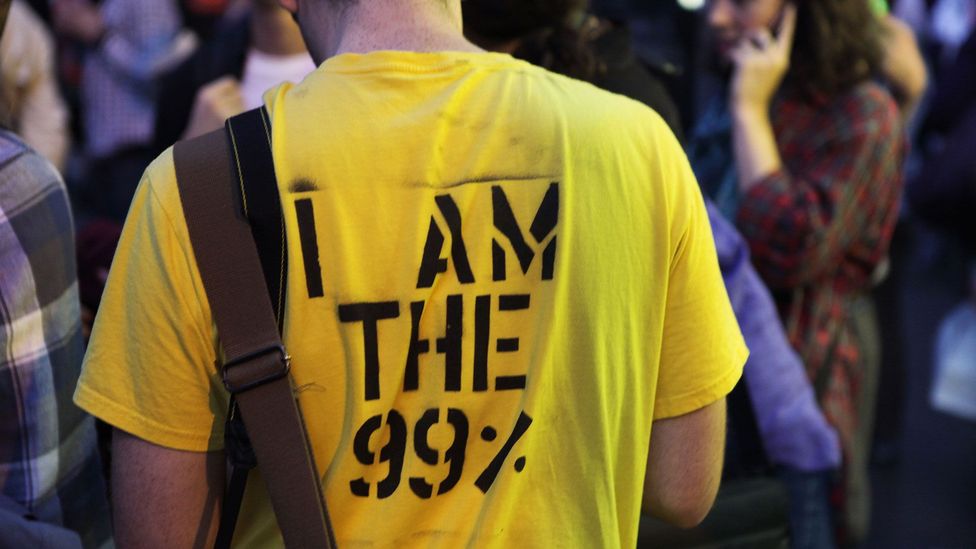 Whatever the format or medium, whether slogan T-shirt, placard or meme, the strong protest graphic stands out because its message grabs the attention quickly. As Roberts puts it: "Whether held high in protest, fly-posted to a wall or glimpsed on a phone, posters, banners and memes are all a form of visual shorthand. They need to communicate at speed, catching the eye, sparking the imagination – and are often highly targeted."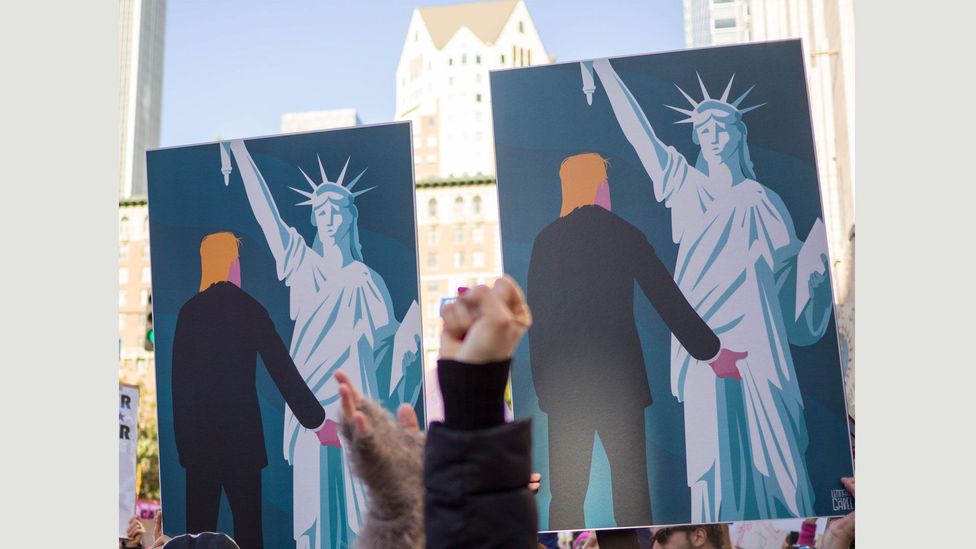 (Credit: Lindsey Lawrence)
At the other end of the spectrum are protests where there is a broad range of expression and a diversity in the message. "Protesters display their anger, joy or fear through creating their own placards and using what material they have available," says Margeret Cubbage of the Design Museum. This approach was particularly noticeable in the recent women's protests.  "This is either resourceful, using anything to hand that can be used as a platform to express political opinion, or can be a festival of witty, colourful messages to project their messages and be heard."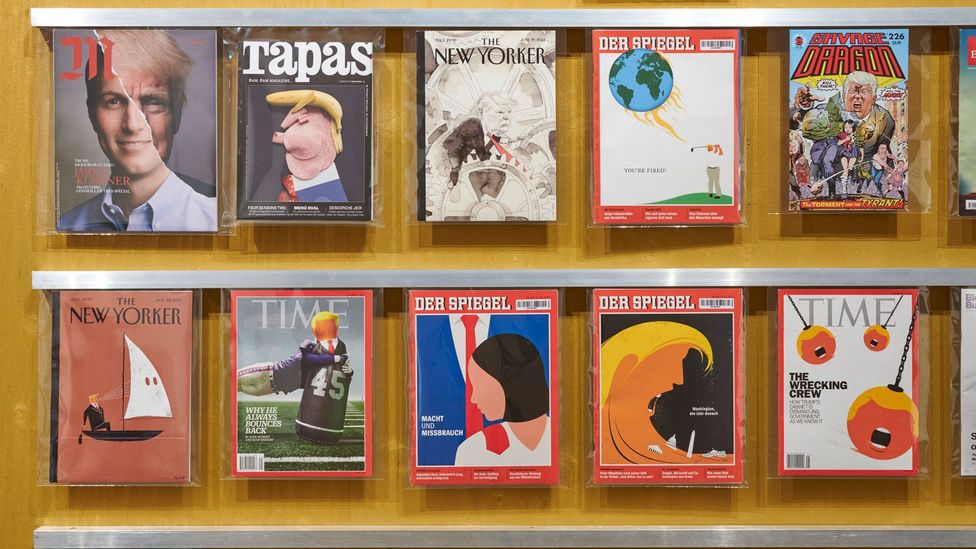 The most prevalent and prominent graphic of recent years is the representation of Donald Trump, says Margaret Cubbage. "It doesn't matter if you are politically engaged or not, you will recognise him and be aware of his traits and leadership qualities." The distinctive work of Cuban-born illustrator Edel Rodriguez has gained huge currency, adds co-curator Lucienne Roberts. "He arrived in the US as a child, a fact that informs much of his work. Endlessly inventive and full of wit, he has created numerous images of Trump, including cover commissions for TIME, The New Yorker and Der Spiegel."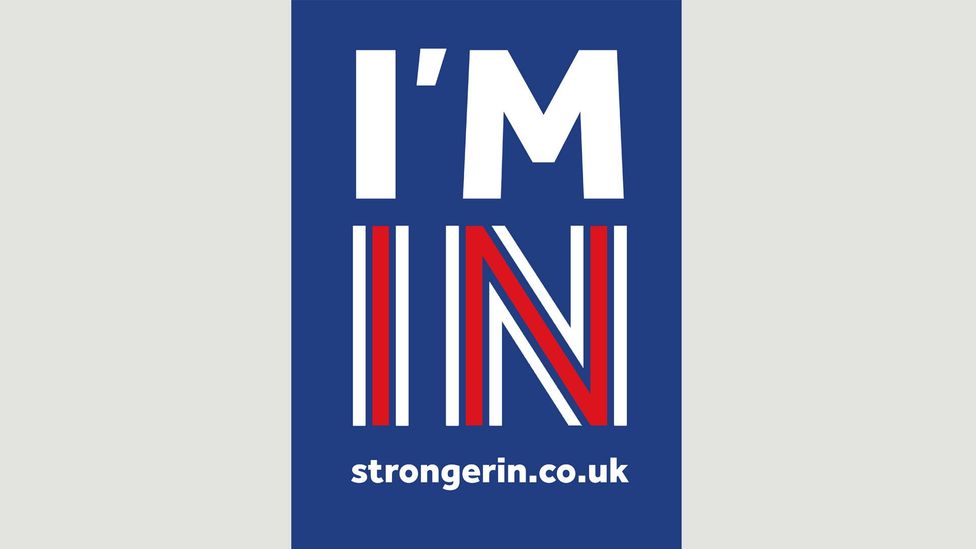 (Credit: Britain Stronger in Europe)
The UK's pro-Remain 'I'm in' graphic went viral on social media, just one example of how digital technology has changed the landscape of graphic design. "The story of graphics and politics since 2008 is of course dominated by new technology," says Roberts. "It has opened up new ways to connect individuals and causes, to harvest and filter data, identify patterns, predict preferences and shape political strategies. It has transformed public engagement in politics, affecting the production, control and reach of political messaging – and its visual forms. Technology has also democratised graphic design. Anyone with access to a computer or smartphone can 'design' using text and images, and share their output widely via social media."
The women's marches held on the first day of Trump's presidency, and one year later, were notable for the widespread use of placards, banners and posters. As Roberts points out: "In 2017, nearly 4.5 million people in 914 marches protested against Trump's attitude to women's and minority rights, among other issues. Participants carried handmade, angry and often witty placards or wore hand-knitted pink 'pussy' hats, referring to Trump's boast about grabbing women with impunity. Many of these items were clearly designed with
social media in mind and some even used English in non English-speaking countries to widen appeal."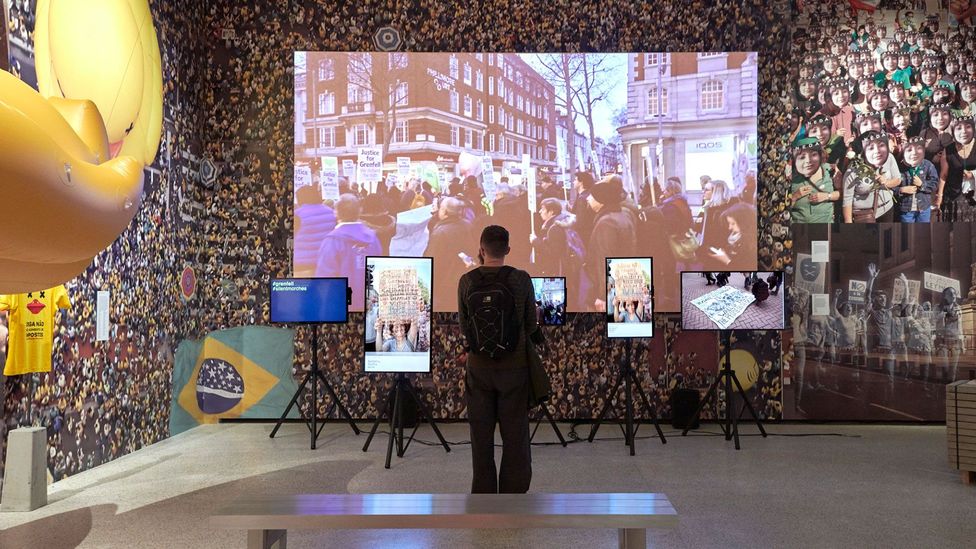 Both marginalized and established voices have been heard through graphics in the past decade. For Lucienne Roberts, this can only be a good thing for society: "Type and image are shown to give shape to political messages across the globe. As traditional media rub shoulders with the hashtag and the meme, it is clear that graphic design is critical in giving us all a political voice."
The celebrated graphic designer Milton Glaser was critical of "pieces that satisfy their maker and express their rage, but do not transform other people's visions." It is a sentiment that the Design Museum's Margaret Cubbage agrees with, she says. "Thanks 
to technology, graphic design now shapes movements as well as being the medium for their messages. Our intention, however, is that the works collected demonstrate the pivotal role that graphic design plays in not only responding to the political moments of our time, but also in challenging, changing and dictating them."
If you would like to comment on this story or anything else you have seen on BBC Culture, head over to our Facebook page or message us on Twitter.
And if you liked this story, sign up for the weekly bbc.com features newsletter, called "If You Only Read 6 Things This Week". A handpicked selection of stories from BBC Future, Earth, Culture, Capital and Travel, delivered to your inbox every Friday.