Has the moment of reckoning come for the fashion industry's destructive ways? A new exhibition explores style's love-hate bond with nature.
"There is no better designer than nature," said the fashion maverick Alexander McQueen. From exotic birds to iridescent beetles, from sleek, patterned animal fur to delicate orchids, there is apparently no end to the beauty of the earth's flora and fauna – it's no surprise that the natural world has long been an inspiration in fashion. And McQueen is among the designers whose work is displayed in a new exhibition at London's V&A, Fashioned from Nature, that explores how fashion has mimicked, been inspired by – and plundered – nature from the 17th Century until the present day.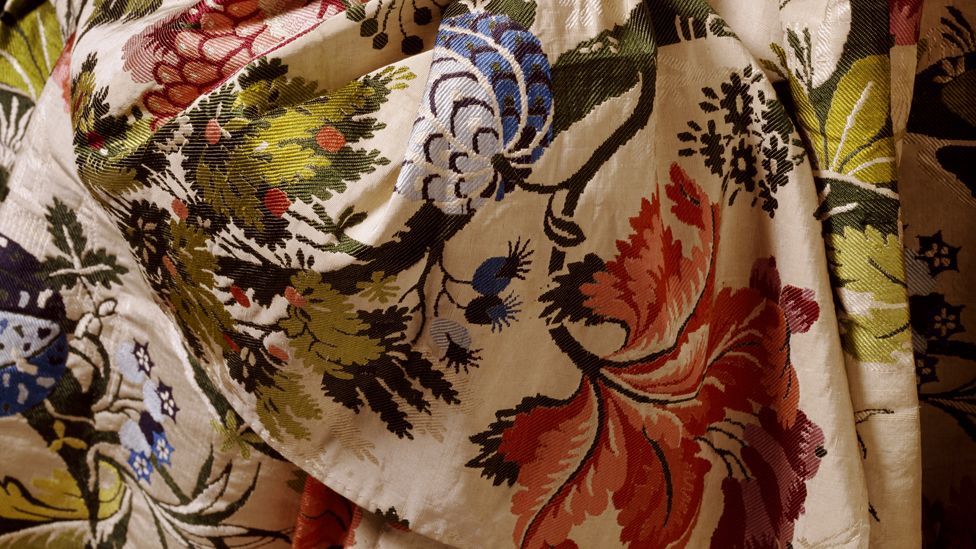 A detail of brocaded silk created in Britain shows how the natural world inspired dressmakers of the 18th Century (Credit: Victoria and Albert Museum, London)
It is fashion's plundering of the thing it loves, nature, that is the central conundrum of fashion's existence – and our own, it could be argued. "The exhibition celebrates how fashion evokes nature," the show's curator Edwina Ehrman tells BBC Culture. "It's also about the human relationship with nature. We love nature and often choose fashions which remind us of it but we should also be more mindful of fashion's actually quite twisted relationship with nature. Fashion is inspired by it but ruthlessly exploits its resources - for water, raw materials and energy, often with horrific consequences."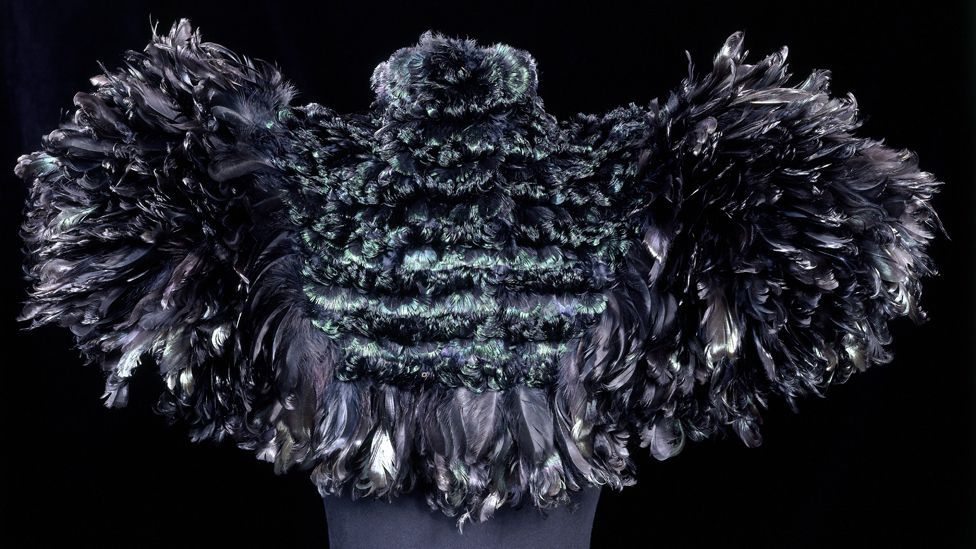 A cape of curled cockerel feathers created by Auguste Champot in 1895 (Credit: Victoria and Albert Museum, London)
There are some playful, glamorous exhibits: a 1780s man's silk waistcoat embroidered with macaque monkeys; a fabulous leopard-print style beaded Gaultier dress; a 1600s jacket embroidered with pea pods; a lace handkerchief patterned with ferns; garments and fashion illustrations from the 19th Century, full of shell-and-seaweed motifs.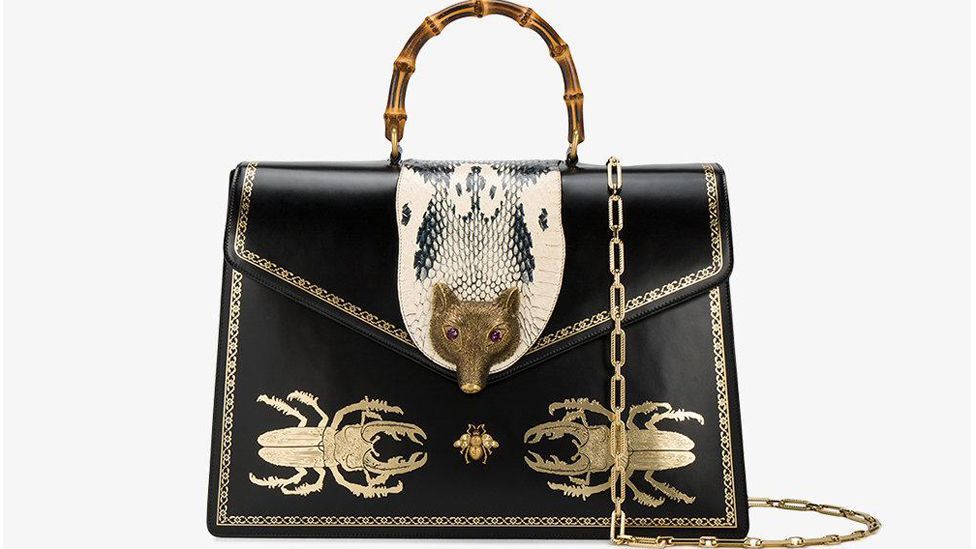 Designer brands continue to be drawn to flora and fauna, as seen in this recent handbag by Gucci, featuring fox-head and beetle motifs
Then there are the more recent pieces – a Giles Deacon haute couture dress with an exquisite bird-egg print; garments and accessories by the likes of Dior, Dries van Noten and Philip Treacy, plus a recent Gucci handbag with a fox-head buckle and stag-beetle motif, displayed alongside actual stag beetles on loan from the Natural History Museum. And of course there's a McQueen piece – from his acclaimed Plato's Atlantis collection, which imagined humans evolving into amphibious creatures as sea levels rise and submerge the earth because of global warming.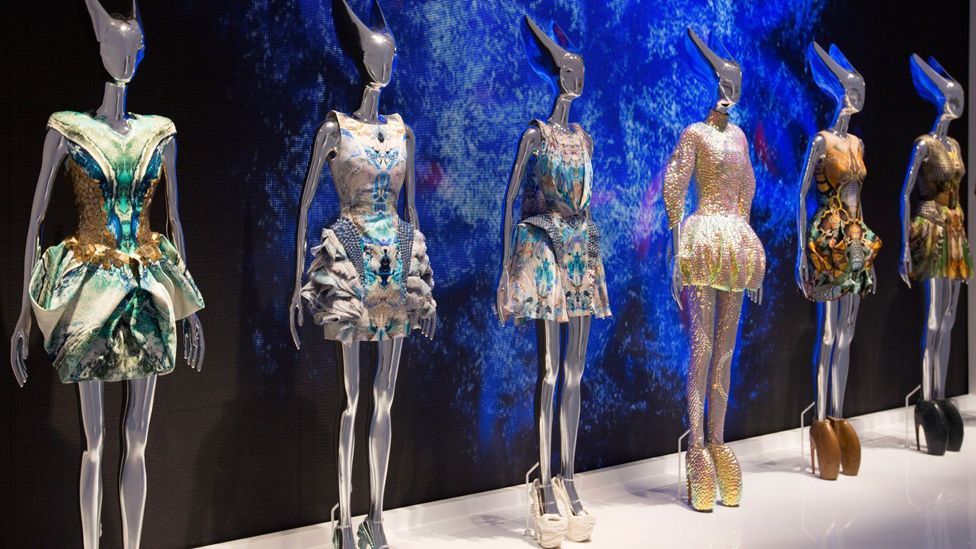 Alexander McQueen's extraordinary collection Plato's Atlantis was inspired by amphibian life (Credit: Victoria and Albert Museum, London)
Yet for all the glamour, the exhibition is a nuanced look at fashion's deep-rooted, knotty, complex connection with nature – a bond that is both symbiotic and destructive. So, the show also presents the flip side of fashion – the havoc wreaked upon our beautiful planet in the name of style, from chemical treatments and dyes that add to air-and-water pollution, to animals bred in order to be fashioned into bags or shoes. How much, it asks, has the wish to transform ourselves through what we wear come at the cost of the earth's resources?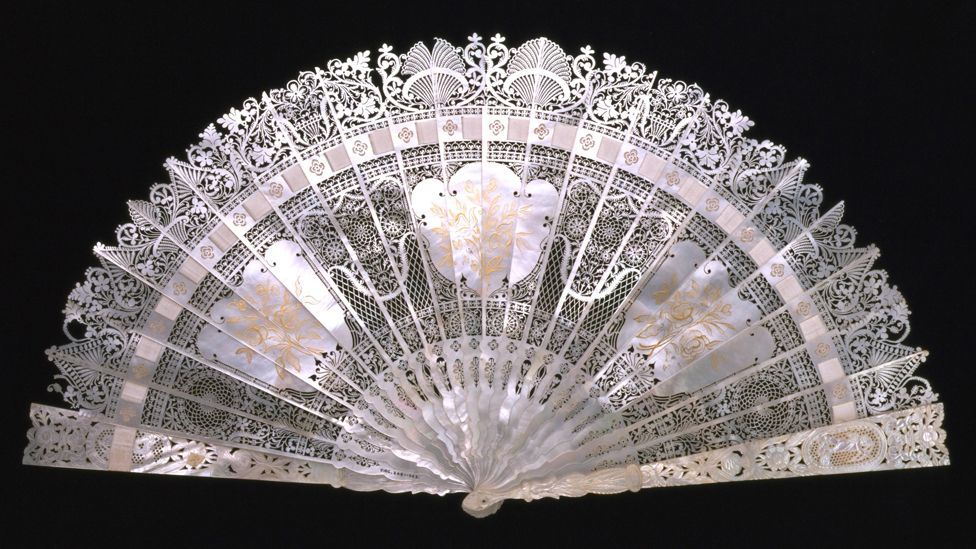 A delicately carved mother-of-pearl fan made in France in the 1800s is among the show's exhibits (Credit: Victoria and Albert Museum, London)
Rare birds and animals have been sacrificed in the pursuit of elegance. A 1895 French cape of cockerel and curled pheasant feathers is displayed, a dress decorated with the wing cases of metallic-green jewel beetles, and a particularly grisly pair of earrings, crafted around 1875 from the heads of red-legged honey creeper birds. Also shown is an x-ray of a 1780s corset made with whalebone, a fan made in 1700 from turtle shell, and another made from mother-of-pearl.
Rare creatures were sacrificed to create fashion items, such as these 1875 earrings made from the heads of Honeycreeper birds (Credit: Victoria and Albert Museum, London)
Then there are the raw materials used in fashion production. "Fashion has traditionally been inspired by nature but we should never forget that fashion depends on nature, on fossil fuels for energy and particularly on water," says Ehrman.  A bias-cut Rayon 1930s dress is described by the curator as "chic but toxic" – at the time rayon production released toxins causing air and water pollution and damaging human health. There is also a look ahead to the year 2030 and some of the possible dystopian futures that could be in store. "So we can think ahead to the choices we might face"
Fashion reflects the times we live in, and fashion can be very persuasive. We can drive change through creativity – Edwina Ehrman
Fashion's apparently endless demand for materials, both natural and synthetic, has damaged the environment and led to animal exploitation – as well as human exploitation. Protest groups including Fashion Revolution, which campaigns for transparency in the fashion industry, are showcased. Pieces by designers such as Katharine Hamnett and Vivienne Westwood, who have both been vocal about climate change, are also displayed.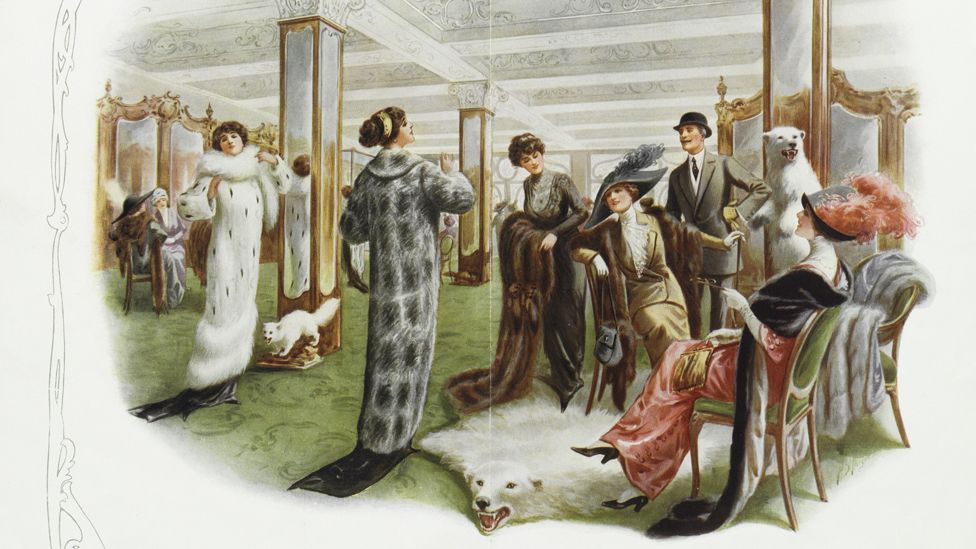 An advertisement for 'London's centre for fashionable peltry',' from around 1901-14, shows how sought-after real fur was (Credit: Victoria and Albert Museum, London)
It's not all gloom, however. "Fashion reflects the times we live in, and fashion can be very persuasive. We can drive change through creativity," says Ehrman, pointing out that many brands are setting targets and aiming to shift to better practices.  Versace and Gucci have both ceased to use real fur. "Many fashion houses are looking at different ways of making. I'm an optimist: in the exhibition there are clothes that you can buy now that show some of the many different approaches being taken, and prototypes that show how we might make our clothes in the near future."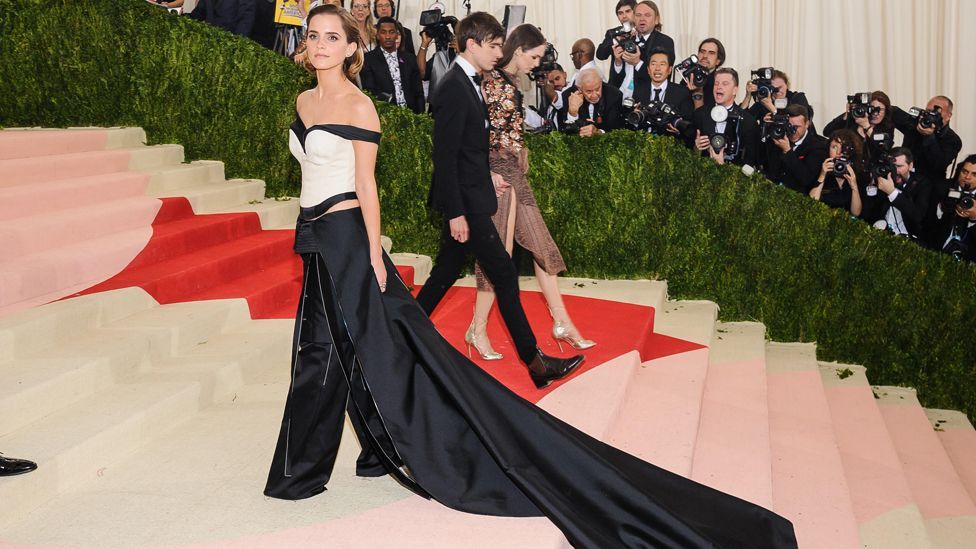 The Calvin Klein dress worn by Emma Watson at the Met Gala was created from recycled plastic bottles (Credit: Alamy)
There are garments designed by Stella McCartney made of Microsilk™, a new synthetic fibre developed by Bolt Threads to simulate spider silk,; a bag made from bonded pineapple fibre manufactured from pineapple leaves by Pinatex; and a Ferragamo outfit made from Orange Fiber, a new fibre made in Sicily from waste products (the rind and pips) of the citrus industry. Then there is the stunning dress made entirely from recycled plastic bottles, designed by Calvin Klein and worn by Emma Watson to the 2016 Met Gala. It was created as part of the Green Carpet Challenge, which seeks to blend sustainability and fashion.
Sustainable innovations
Some lessons can be learnt from the past, also, says the curator, pointing to the use of flax in previous centuries. "Today flax, from which linen is made, is grown in Northern France, Belgium and the Netherlands – just where it was grown 400 years ago. It is a very sustainable fibre. By exploring the fibres used in the past we hope that visitors will think more about the fabric of their own clothes, what they are made of and how. We should also think about the effort that goes into making clothes and value them more so that they last longer."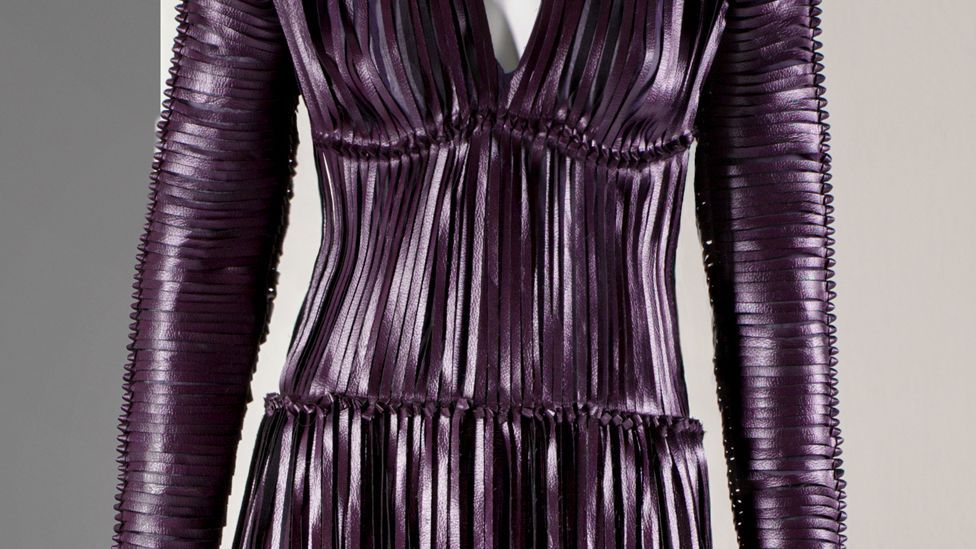 A dress created with Vegea, a leather alternative made with grape waste, shows how innovative sustainability can be (Credit: Vegea)
Longevity and history are important to designer John Alexander Skelton, whose work is also exhibited. Skelton's garments made from antique French hemp grain sacks "carry many marks of their past lives," he tells BBC Culture. "The vest is made from hemp grown close to my family home in Yorkshire. . . It had to be spun by hand, and it was then crocheted into the vest.  The clogs are from the oldest surviving clog maker in the UK to a historic pattern."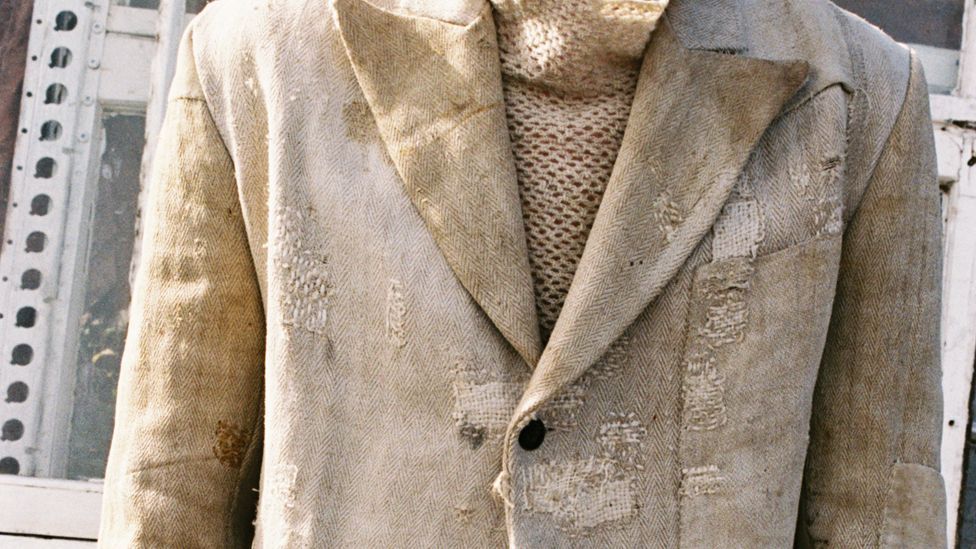 A detail of an outfit by British menswear designer John Alexander Skelton, made from upcycled 19th-Century grain sack (Credit: Ryan Skelton)
All of Skelton's exhibits share a common theme, he says. "They all show the presence of the hand within their construction. This is a very important part of my work, to see and feel the imperfections and observe the journey and history of an object. . . Everything I use comes from the natural world and I like to know specifically where the materials originate."
Skelton is careful in his production methods, too. "I keep my carbon footprint to the bare minimum." Sustainability is the most important issue faced by fashion, he says. "I think it's in danger of becoming too much of a trend at the moment, it needs to become an integral part of everyone's work rather than what the work is about." 
We're living in an exciting time when people from a variety of disciplines are coming together – Edwina Ehrman
A "circular approach" is also central to G-Star RAW, whose denim is featured in the exhibition. Spokesperson Frouke Bruinsma tells BBC Culture: "We feature sustainable innovations that can change the way denim is made." The fabric used in their garments is 'Cradle to Cradle' certified. "It's a certificate awarded on the basis of sustainability," explains Bruinsma. "When we design, we design for the future. This reflects not only in how our products look, but also in the wider impact they have. Our main objective is to find sustainable solutions to close the loop of denim design, and a belief in a circular economy where we take, make and remake which is opposite to linear economy, where we take, make and waste."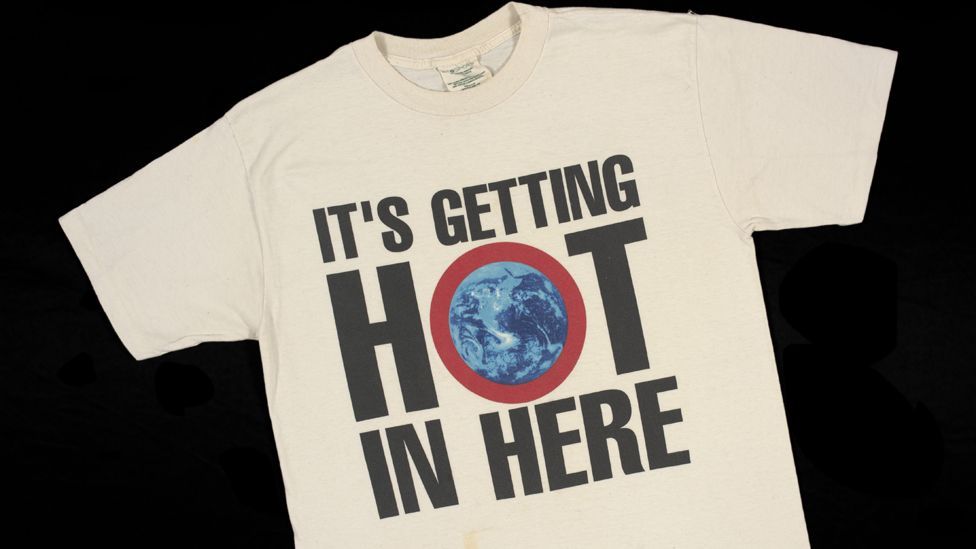 A Greenpeace slogan T-shirt from the 1990s highlights the problem of climate change (Credit: Victoria and Albert Museum, London)
The message of Fashioned from Nature is ultimately optimistic, says its curator Edwina Ehrman: "It's about how fashion has been inspired by the beauty of nature, while simultaneously leaving destruction in its wake, which has in turn led to innovative efforts in sustainability. And it doesn't say sustainability has to be worthy, and everything has to be brown. Fashion has been harmful to the environment. We need to change that and embed sustainability in fashion design so that it becomes the norm. We're living in an exciting time when people from a variety of disciplines are coming together to find how to live in a more balanced and more respectful way with nature."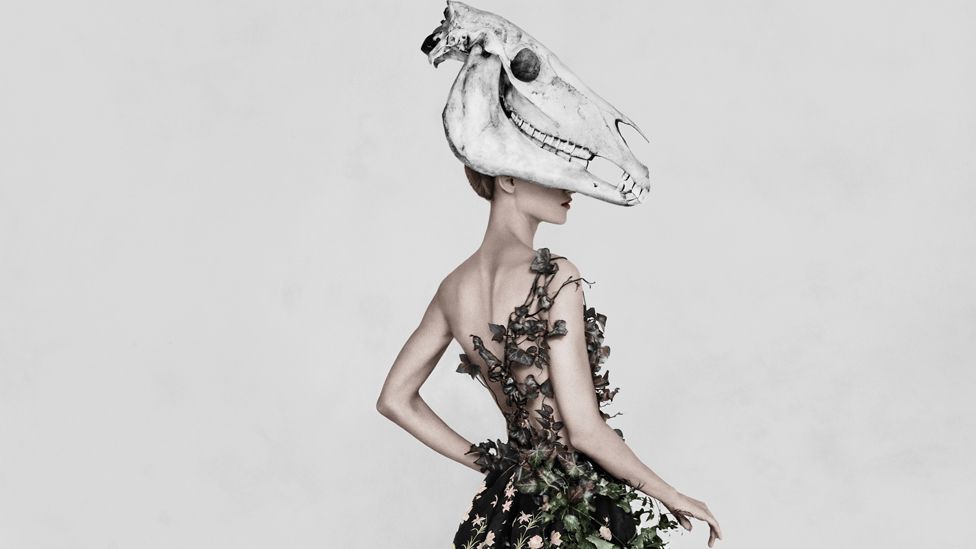 The artist Vee Speers created a series of images using animal skulls for the exhibition, Fashioned from Nature (Credit: Victoria and Albert Museum, London)
Ehrman grew up in the 1950s and '60s in the West Riding near Huddersfield, a centre for textile manufacturing. "The prosperity from the industry was welcome, but rivers were pink one week and purple the next, and buildings were black from pollution," she recalls. "Legislation and shifts in the industry changed that, it's different now."
A detail of a 1890s silk train, meticulously woven with a pattern of roses (Credit: Victoria and Albert Museum, London)
"It's a good time now to do this exhibition. In 2014 it would've seemed preachy, but now we hear a lot about the plastic in the oceans and the damage being done to the environment. The time has come. And I hope it will inspire debate and discussion. At first I thought we'd just do a lovely, pretty, inspired-by-nature exhibition. But then I thought, actually, I'd like to leave a better world behind for my children and my grandchildren."
Fashioned from Nature, supported by I Love Linen by CELC with further support from G Star RAW, is at the V&A 21 April 2018 – 27 Jan 2019
If you would like to comment on this story or anything else you have seen on BBC Culture, head over to our Facebook page or message us on Twitter.
And if you liked this story, sign up for the weekly bbc.com features newsletter, called "If You Only Read 6 Things This Week". A handpicked selection of stories from BBC Future, Earth, Culture, Capital and Travel, delivered to your inbox every Friday.