A snapshot of a basketball game went viral this week, as social media users compared it with masterpieces in art history. Kelly Grovier asks why we are drawn to find those echoes.
In the Frame
Each month Kelly Grovier takes a photo from the news and likens it to a great work of art.
Does a great painting have to be a painting? According to thousands of Twitter users this week, the answer is "no". The debate began last Sunday when Frank Pallotta, an entertainment reporter for CNN, retweeted a photo taken by the sports journalist Carlos Gonzalez, along with the teasing assertion: "This is like a painting from the Renaissance". Twitter was quick to respond.
The photo in question captures a moment in the final quarter of a professional basketball game between the Houston Rockets and the Minnesota Timberwolves when James Harden, a Rockets guard, loses his balance and stumbles into the front row of fans gathered in Minnesota's Target Center arena.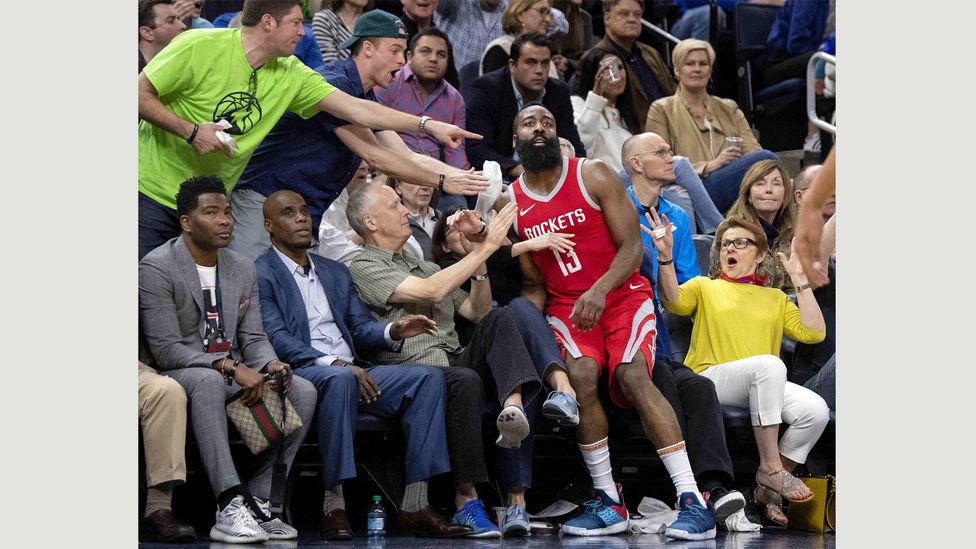 Taken at a game between the Houston Rockets and the Minnesota Timberwolves, this photo has been likened to art (Credit: Carlos Gonzalez/Minneapolis Star Tribune via ZUMA Wire)
Harden's saintly, heaven-directed stare near the centre of the photo is framed dramatically by an angry array of exaggerated gestures – the flung arms and ferocious finger-pointing of surrounding fans – as if the theatrical tableaux had been artificially composed by an old master.
Within days, Gonzalez's photo had been shared thousands of times by social media users eager to unpick the paradox of its spontaneously staged magic. Some sought to unlock its visual code by comparing it to paintings by Leonardo. Others overlaid figures from the photo onto frescoes by Michelangelo and Veronese, finding similarities in posture and pose.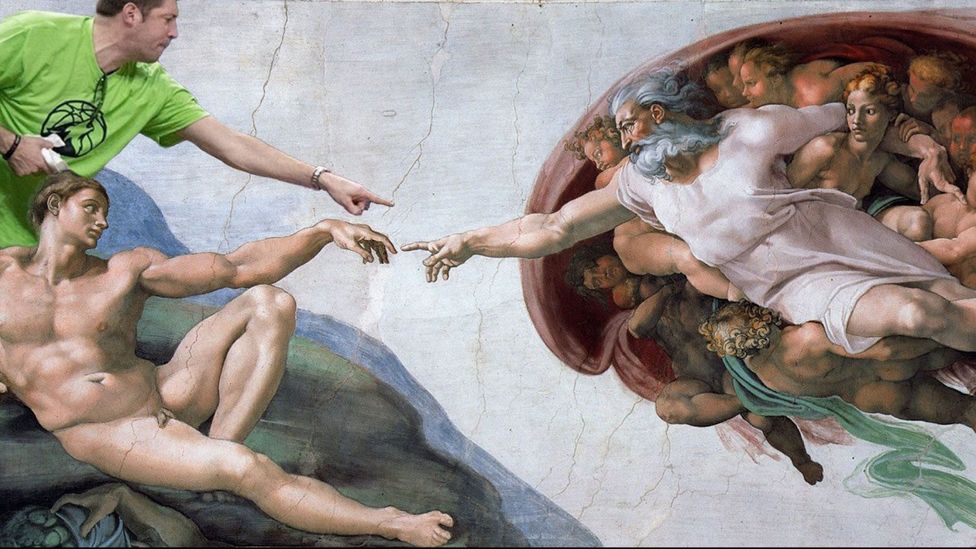 Twitter user @bluntforcellama transposed the man pointing in Gonzalez's photo onto Michelangelo's The Creation of Adam (1508-1512) (Credit: @bluntforcellama/Twitter)
Beyond social media, art historians found themselves quibbling about whether the "heightened emotion" depicted in the image and its hints of "martyrdom" and "ecstasy", were not, in fact, nearer to the themes and temperament of later Baroque artists than those of the Renaissance, as Pallotta had initially suggested. One thing was certain: the image merited attention and finding its place in the history of image-making was well worth the effort.
But what, exactly, is it about Gonzalez's photo that has ignited the imagination of thousands? Of all the countless throwaway snaps fighting for our attention in the media, why has this image sifted its way, however momentarily, to the surface of shared consciousness, demanding that its essence be traced to exceptional cultural precursors in the history of art? Does the obsessive quest to locate the image's DNA in the past say more about our collective desire to see random moments of un-choreographed life loaded with meaning than it does about the contours and textures of this particular photo?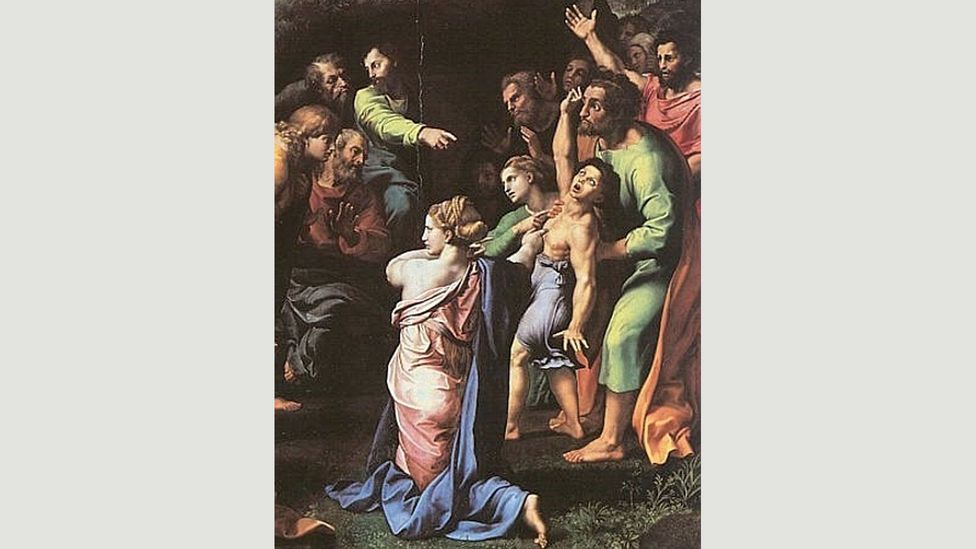 Raphael's The Transfiguration (1518-1520) has similar elements to Gonzalez's photo: flung arms, finger pointing and beatific expressions (Credit: Wikimedia)
Or does the image indeed have an aesthetic soulmate somewhere in the vast museum of human expression – a distant optical doppelgänger that it eerily echoes, whose memory haunts the photo from deep inside, unsettling our sight? Certainly we've seen that aggressive green sleeve before and the finger thrusting from it, like a bullet from a barrel. In the lower register of Raphael's The Transfiguration– the famous final painting by the High Renaissance master, painted precisely 500 years ago – a figure cut from the same cloth (thought to be the apostle Matthew) likewise points our attention to that work's own money shot: the liberation from demonic possession of a young man who swoons off-balance to the right of the scene.
Falling back with open-mouth reverie in a moment of miraculous release from torment, his eyes fixed heavenward, the spiritually-emancipated youth cuts a comparable shape to that of the destabilised Rocket, Harden, in Gonzalez's photo. Meanwhile, all around the exorcised soul, figures gesticulate wildly in a mute opera of suspended seriousness that everywhere anticipates the frozen physiques of the ephemeral photo.
Does scrounging for such correspondences cheapen the achievement of Raphael's magnificent painting? Or is such an exercise a tribute to the power of masterpieces to grind the lens through which we perceive an otherwise dishevelled and patternless world? Perhaps finding beauty in life's raucous arena of sharp shoulders and shoved elbows requires an old master's coaching, practice, and the muscle of an occasional assist. Perhaps seeing meaning in a universe that all too often seems to run up the score against us is never a slam dunk.
If you would like to comment on this story or anything else you have seen on BBC Culture, head over to our Facebook page or message us on Twitter.
And if you liked this story, sign up for the weekly bbc.com features newsletter, called "If You Only Read 6 Things This Week". A handpicked selection of stories from BBC Future, Earth, Culture, Capital and Travel, delivered to your inbox every Friday.