How should a bride dress for a royal wedding? Bel Jacobs explores the possible looks that can work – classic, rebellious, 'clean glam'. Or all of the above?
W
With Prince Harry and Meghan Markle's wedding a few days away, speculation about the bride's dress – set to become one of the most iconic royal wedding outfits of all time –  has reached peak fever pitch. And no wonder. On Saturday, when Meghan walks down the aisle at St George's, Windsor, the fortunes of whichever fashion house she chooses will change forever.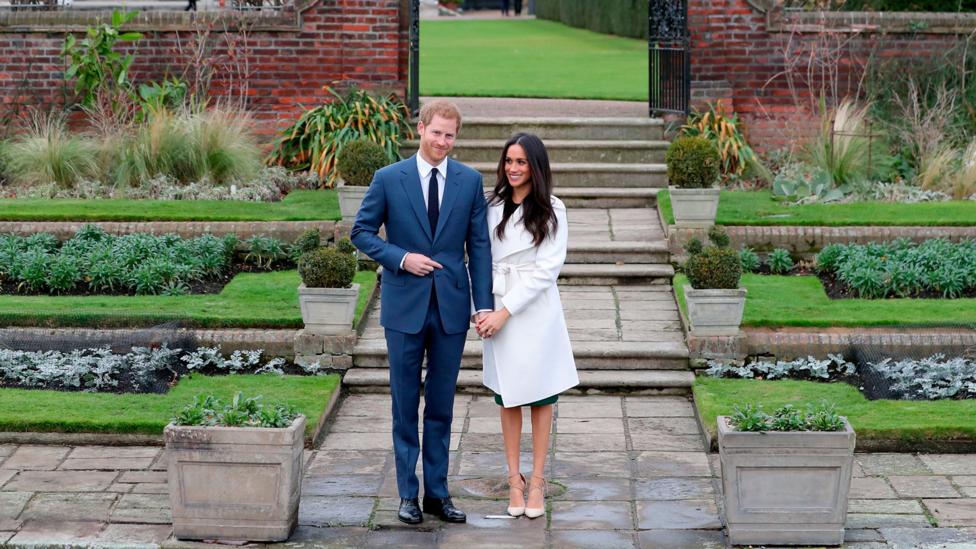 As a fan of minimalist elegance – seen here at the engagement announcement – will Meghan Markle opt for a simple, pared-down look for her wedding day? (Credit: Getty Images)
If you've been muttering 'nice enough girl,' 'what's the fuss?', you're not alone. Many are finding the kerfuffle excessive. Others, however, would beg to differ. In six short months, Meghan has become one of fashion's most significant influencers – bigger, according to global fashion search platform Lyst, than the Kardashians or the Hadid sisters, Gigi and Bella.
When Markle attended the Invictus Games with Harry last September, for example, wearing a pair of tortoiseshell 'Percy' sunglasses, sales at the British brand Finlay & Co shot up by more than 1,000 per cent. What Meghan wears counts. No wonder top British fashion brands have been staring at their phones for the past six months.
Meghan offers a masterclass in blending Californian breeziness with showbiz glam
Every royal wedding attracts attention; this one is something else. Meghan Markle is a 36-year-old California native, a denizen of Hollywood, a former actress in a popular TV drama. She is also whip smart, big-hearted and as ferociously contemporary as supermodel Adwoa Aboah on the cover of Vogue. In choosing Markle to be his wife, Harry has, arguably, pulled the monarchy into the 21st Century.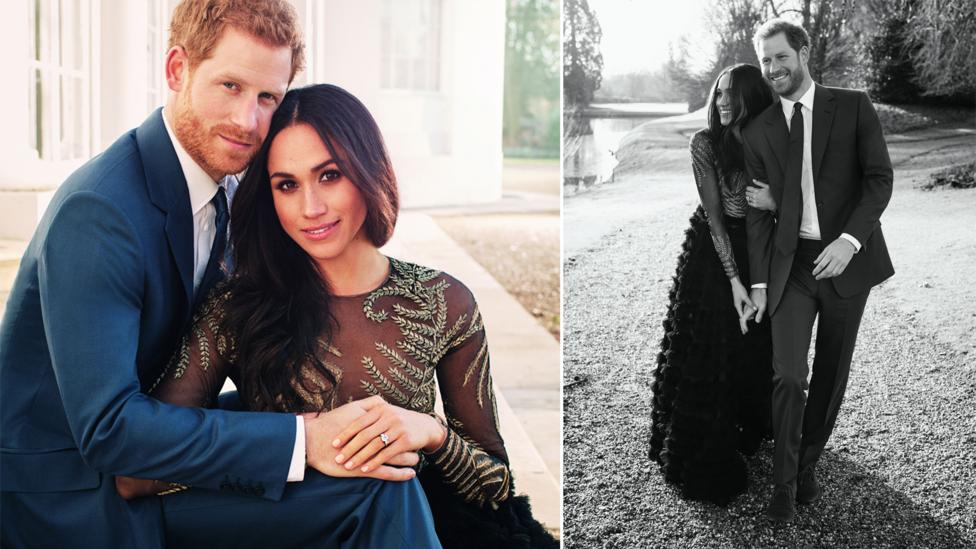 For the official engagement portraits Meghan Markle wore a gown by design duo Ralph & Russo – said to be a likely choice of designer for the big day (Credit: Getty Images)
Ever since the engagement was announced in November, the couple have forged new paths, inviting youth charity workers and community leaders to the wedding instead of political leaders; asking for donations to small charities instead of gifts. In this context, the frenzy over 'the dress' –  the concrete expression of everything Meghan and Harry stand for – makes more sense.
Pundits have been scouring Meghan's personal style for clues. Honed in LA and on the Canadian sets of TV legal drama Suits, Meghan offers a masterclass in blending Californian breeziness with showbiz glam. The result is a look many women aspire to: polished but not prim, sophisticated but not laboured, beautiful but not annoyingly so. Strength cloaked in style.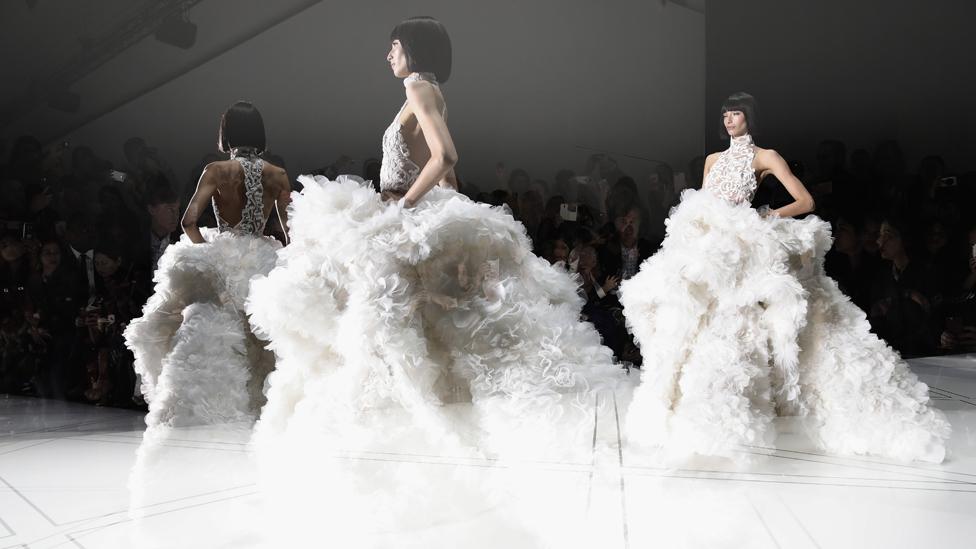 Design duo Ralph & Russo create bridal wear that is classic with a twist, much like Meghan's own personal style (Credit: Getty Images)
"She has a very relaxed way of dressing, understated and unfussy, accessible and relatable," says Kenya Hunt, deputy editor and fashion features director of Elle UK. "At the same time, she can be quite glamorous. This is a woman who comes from the world of red carpets, and understands the power of dress."
"There's a refreshing modernity there," senior fashion editor at The Telegraph, Charlie Gowans-Eglinton reminds us. "The idea of a woman wearing a black trouser suit [Meghan wore a cropped Alexander McQueen suit to the Endeavour Fund Awards in February] might not be shocking – but, on a royal, it is."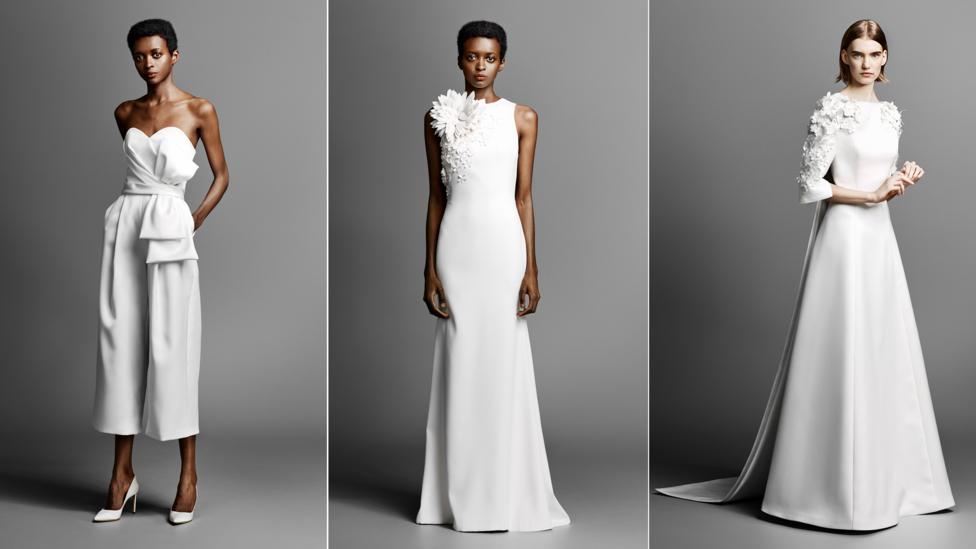 Meghan loves modern simplicity, and would suit the sculptural look of Dutch brand Viktor&Rolf – but her choice is likely to be a British-based designer (Credit: Marijke Aerden)
In a perfect world, if Meghan could have her global pick of labels, she could do a lot worse than turn to the new bridal collection from Dutch conceptualists Viktor&Rolf. From the cap-sleeved empire lined gown, topped with a satin bow, to outrageously generous tulle ball skirts, the aesthetic would have chimed perfectly with Meghan's refined but modernist taste. But even the bride of Harry has constraints. "As an American marrying into the British royal family, a British label would be the most diplomatic choice …" points out Gowans-Eglinton.
Obviously, Meghan has had to adapt. Flick through images of Markle pre- and post-engagement and even the most indifferent observer will note that shapes have become more sculptural, hemlines longer, and hats are in. Where Meghan continues to impress is in her ability to make every outfit subtly but surely her own. From mismatched earrings here to a subtly punky thumb ring there, Meghan offers the very definition of classic with a twist.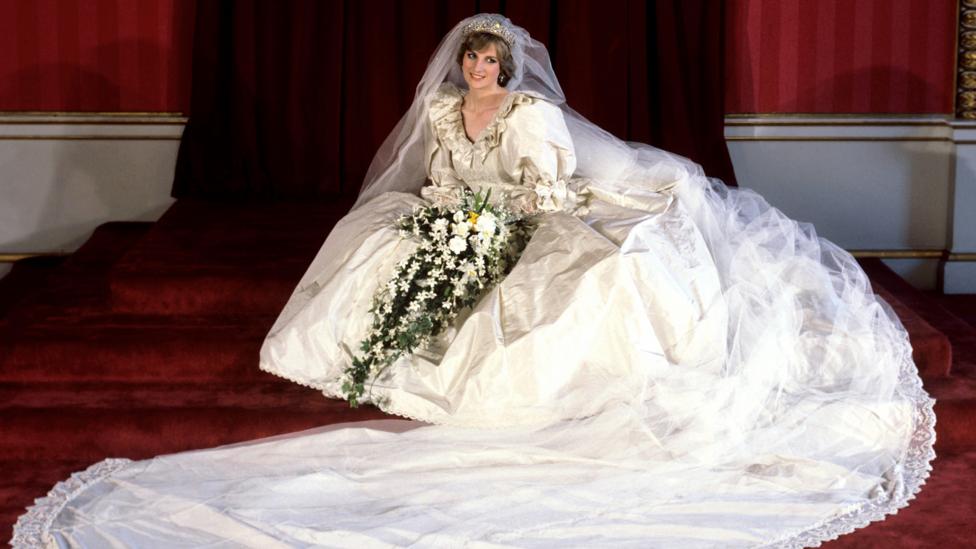 The voluminous taffeta wedding dress worn by Prince Harry's mother, Diana, Princess of Wales, was created by the Emmanuels (Credit: Press Association)
And that, say experts, is what we can expect to find in the royal wedding dress. Eschew notions of blowsy confections like Princess Diana's ivory silk taffeta and antique lace gown by David and Elizabeth Emmanuel – now too traditional by far – and look instead for inspiration closer to home: to the wedding dress of Meghan's soon-to-be sister in law the Duchess of Cambridge.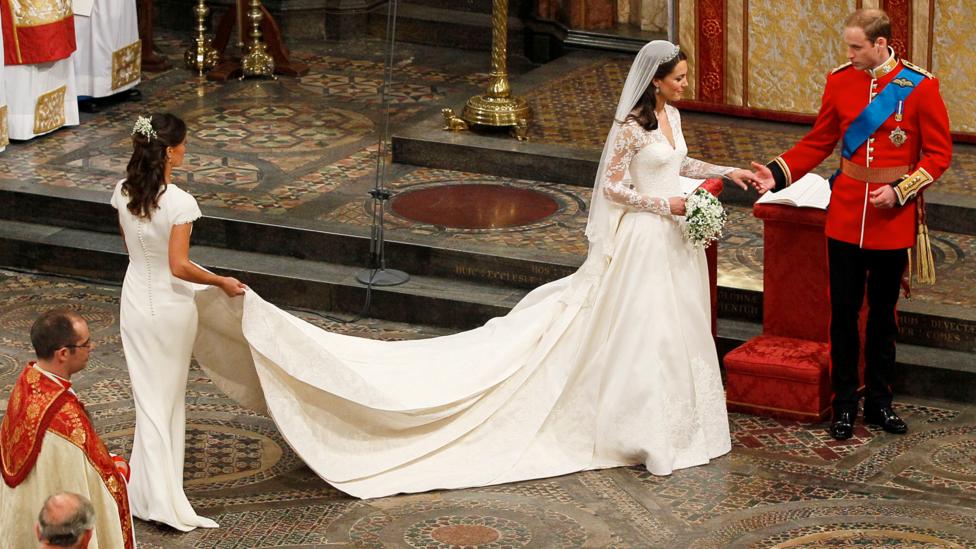 The Duchess of Cambridge wore a bridal gown by Sarah Burton for Alexander McQueen (Credit: Getty Images)
Interestingly, both Kate and her sister Pippa plumped for highly respected British designers with an undertow of genuine rebellion. Sarah Burton at Alexander McQueen, a label known for blending motifs of nature and death, designed Kate's triumph of a gown, which featured a sculpted satin bodice, slight padding at the hips (a signature McQueen motif) and lace roses, thistles, daffodils and shamrocks (to represent a United Kingdom).
Pippa turned to couturier Giles Deacon, another designer with not-so-hidden depths, to create a bridal gown for her wedding to James Matthews last May. Previously, Deacon had specialised in disorientating trompe l'oeil prints on flamboyant silhouettes; for Middleton, he made an elegant dress that stated its modernity in its dramatic high neck and capped sleeves.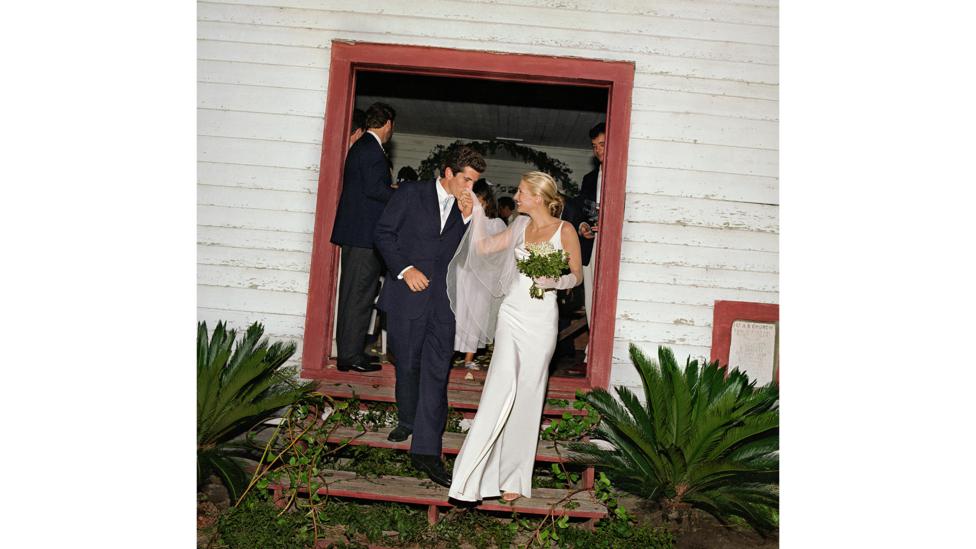 In the past Meghan has enthused about Carolyn Bessette Kennedy's simple, slinky bridal dress, but for a royal wedding this look would be too informal (Credit: Denis Reggie)
In past interviews, Meghan herself has cited Carolyn Bessette Kennedy as a bridal-style inspiration, calling the wife of John Kennedy Junior's slinky slip "everything goals" but this was from a pre-world stage. Those clean lines would soon be lost in the hallowed halls of St George's.
Equally good to consider has been the roll call of top British talent that Meghan has been able to draw upon for official engagements: from the white coat and navy dress by 'clean glam' queen Amanda Wakeley that Markle wore for the Commonwealth Day Service, to Jenny Packham, the Duchess of Cambridge's current go-to designer for post-birth glamour.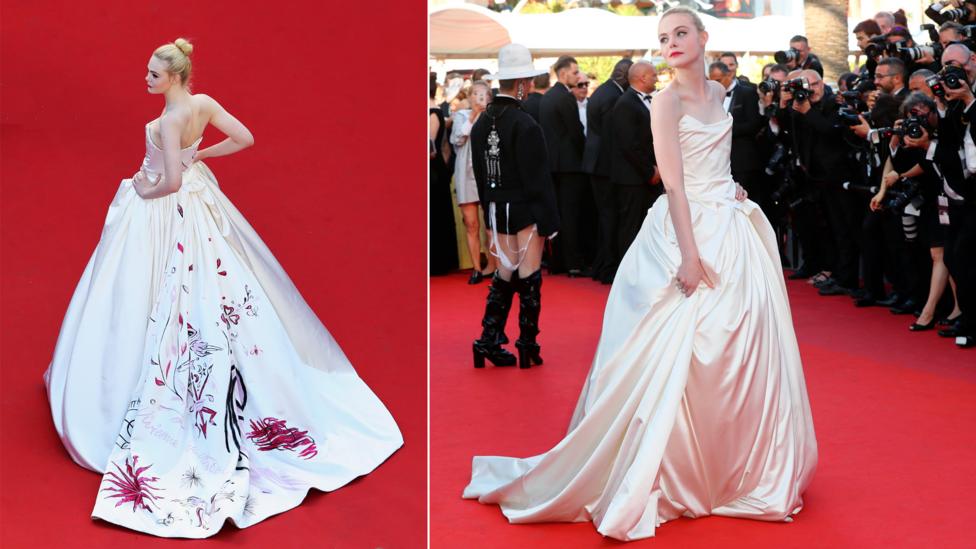 Rebellious British brand Vivienne Westwood is a favourite on the red carpet, seen here worn by actress Elle Fanning (Credit: Getty Images)
And of course, wouldn't it be glorious if Meghan used the global platform to celebrate her ethical beliefs – by plumping for a sustainably produced gown by the likes of Vivienne Westwood, simultaneously the enfant terrible and grande dame of political fashion, or Stella McCartney, trailblazer for ethical British design?
Who knows, Meghan's penchant for smaller labels could even emerge in picking Mother of Pearl, which recently launched an environmentally conscious bridal collection. "With the clothing industry in such a need for change for social and environmental reasons, this would be the perfect opportunity to pave the way for a much-needed movement," says creative directory Amy Powney, wistfully. We can but dream …
 Odds-on favourites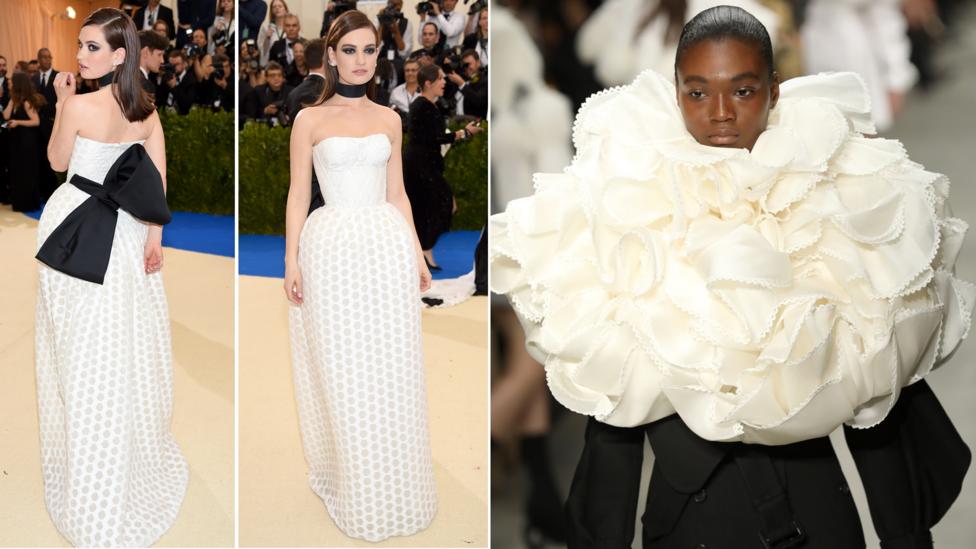 Meghan is a fan of the quintessentially British brand Burberry, and its outgoing creative director is a friend of hers (Credit: Getty Images)
Because, for now, three labels have now emerged as clear frontrunners. First up Christopher Bailey, with whom Meghan has a long friendship. The outgoing creative director of ultimate Brit brand Burberry provided Prince Harry's fiancée with a range of outfits during her stint at Suits; in February, Markle donned a tartan coat by Burberry for an official engagement in Edinburgh.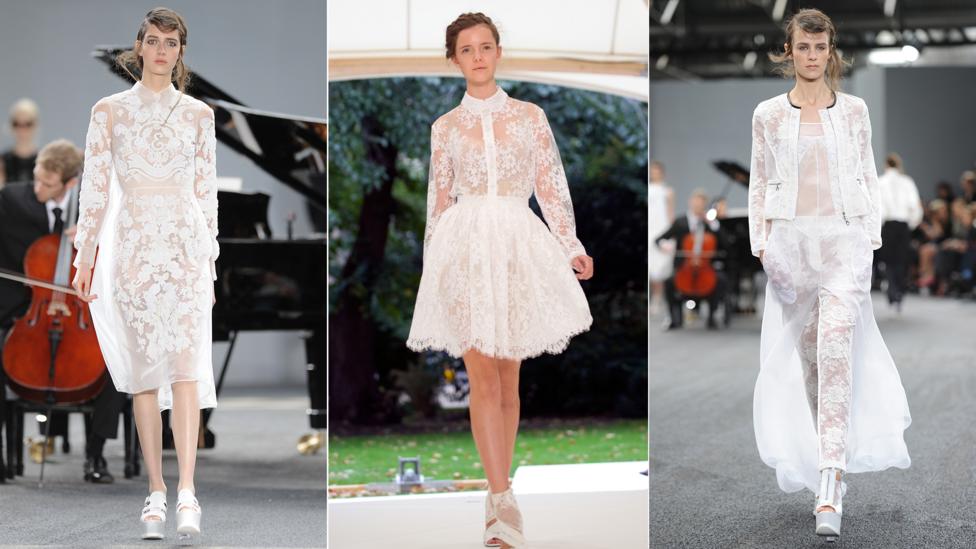 Canadian-born, British-based designer Erdem is a favourite with the younger royals (Credit: Getty Images)
Canadian-born, London-based designer Erdem Moralioglu has also lingered at the top of the wish list. His penchant for turning wearers into ethereal walking gardens with all-over florals placed over quirkily feminine silhouettes has made him a long-time favourite with young royals; Princess Eugenie wore Erdem for her official engagement portraits with fiancé Jack Brooksbank.
One thing is certain: whatever happens, it will be historic
The odds-on favourite, however, is currently Ralph & Russo. If that is the case, the clues have been clunky. It was the couple Tamara Ralph and Michael Russo who designed the striking, semi-sheer, feather-embroidered gown Meghan wore in her engagement photos. The duo are  Australian but have been based in Britain for more than a decade. 
As Britain's only haute-couture house, with a built-in bridal line, the label ticks all the boxes. Plus, there's the aesthetic of sumptuous silhouettes with trains that last forever – corners can be a challenge for the Ralph & Russo bride. So much for the classic. What about the famous twist? At Ralph & Russo, that comes with scale: January's haute-couture show closed with a grand, flounced skirt complete with pearlescent micro beads and scalloped lace veil. Enough said.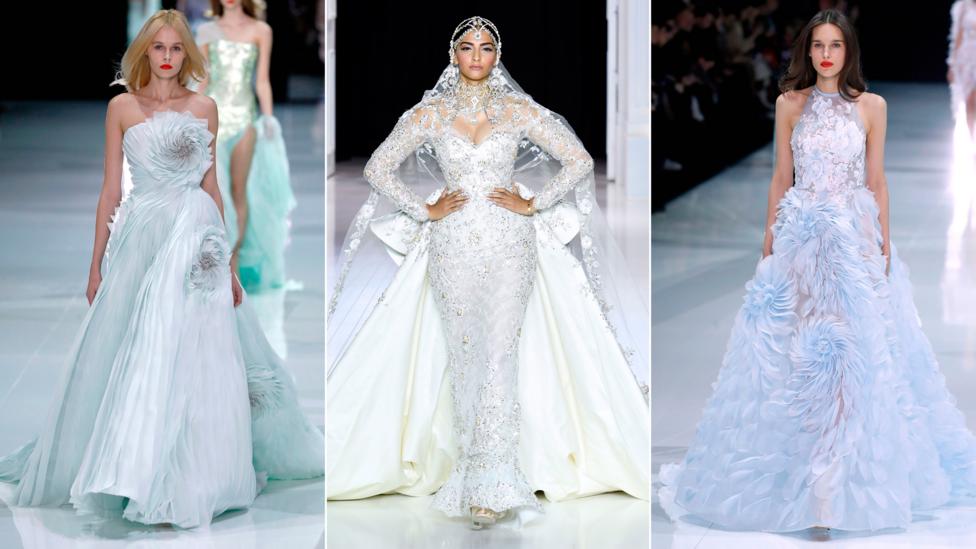 Creator of haute couture and bridal wear, Ralph & Russo is a respected brand – and widely tipped to be the choice of designer for the royal wedding dress (Credit: Getty Images)
For all the fashion designers currently wiping their eyes in disappointment but learning to breathe again, the news may come as a blow (although, on the upside, Meghan will also require a change of clothes for the reception, which is also a great opportunity). One thing is certain: whatever happens, it will be historic.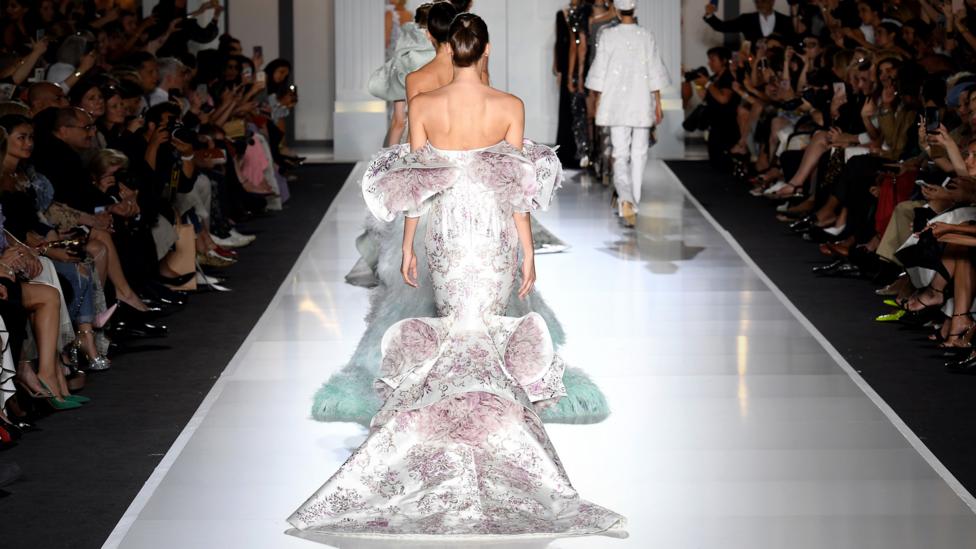 The sculptural gown shown here is by Ralph and Russo, but whoever the designer is, the royal wedding dress is likely to be remembered as an iconic look (Credit: Getty Images)
"With more than 15 years as an actress under her belt, Meghan strikes me as someone who fully understands the power of an image," concludes Elle's Kenya Hunt. "Her wedding will be one for the history books, to which future weddings will be compared. Her dress will be no exception, and I'm sure this fact isn't lost on her. It's been fun watching Meghan assert her individuality throughout this engagement, and I hope her dress will do the same."
To comment on and see more stories from BBC Designed, you can follow us on Facebook, Twitter and Instagram.
 And if you liked this story, sign up for the weekly bbc.com features newsletter, called "If You Only Read 6 Things This Week". A handpicked selection of stories from BBC Future, Earth, Culture, Capital and Travel, delivered to your inbox every Friday.