In a timeline of risky rhythm, Arwa Haider looks at how desperate times have called for defiant moves.
A
At first glance, the Instagram videos posted by 18-year-old Maedeh Hojabri look fairly innocuous; they show the Iranian teen dancing in her room to Persian and Western pop tunes. Yet these upbeat clips have provoked serious controversy; Hojabri was recently arrested for breaching Iranian government laws which prohibit females from dancing in public or appearing without a headscarf. Last Friday, she appeared on Iranian state TV, making an apparent confession ("It was not done for the purpose of attracting attention," she said, adding: "I did not have any intention to encourage others").
More like this:
- The ballet that caused an international row
- Dancing for peace in the Middle East
Hojabri's treatment has been widely condemned by the public and even religious commentators (Iranian cleric Mohamad Taghi Fazel Maybodi argued: "Which one's a great sin – dancing or stealing of public resources?"). Most notably, she has inspired massive online solidarity, including hundreds of Iranian women posting videos of themselves dancing, in support of the teen. Tehran-based photographer Reihane Taravati, who was herself arrested with friends in 2014, for dancing on screen to a Pharrell Williams smash hit, tweeted: "You arrested me for being #Happy when I was 23. Now you arrest #MaedehHojabri and she is only 18! What will you do to the next generation?"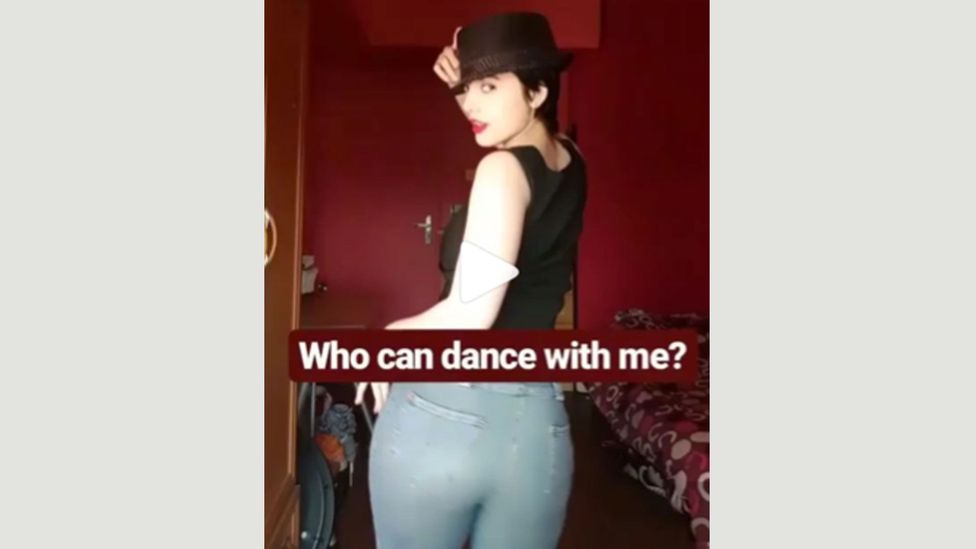 The Iranian 18-year-old Maedeh Hojabri was arrested after posting clips of herself dancing – other Iranian women have posted similar videos in support (Credit: Instagram)
The notion that dancing is dangerous and subversive is actually deep-rooted and wide-ranging. Throughout history, international dances have inflamed passions and come under Puritanical fire. Back in the 17th Century, British writer and lawyer William Prynne condemned dancing as "a liberty to wantonnesse, a friend to wickednesse, and a provocation to fleshly lust… a pastime unworthy of all honest persons".
Around the world, dance has always been a vital act of rebellion
Popular dance crazes have sparked moral hysteria, being raged about in pamphlets such as From The Ballroom To Hell(1894) and The Heritage Of Hell(1942); in the latter, US author Dan Gilbert gets frothed up about the jitterbug ("Conceived in hell and brought forth by the brothel, the dance has established its immoral dominion"). Whatever the era, region or rhythm, the base 'danger' remains the same – that dancing promotes sexual liberty and/or breaks down social barriers. And so, around the world, dance has always been a vital act of rebellion.
As US-based Iranian journalist Masih Alinejad commented on the Maedeh Hojabri support videos: "It's not just simple dancing – it's an act of protest". Dancing has played its part in vital battles to be won around the globe. In apartheid-era South Africa, dance protests underpinned the fight against racial oppression – in particular, the toyi-toyi: a dynamic collective dance originated by Zimbabwean freedom fighters, and powerfully adopted as an anti-apartheid demonstration in South Africa (where its expressive force has endured).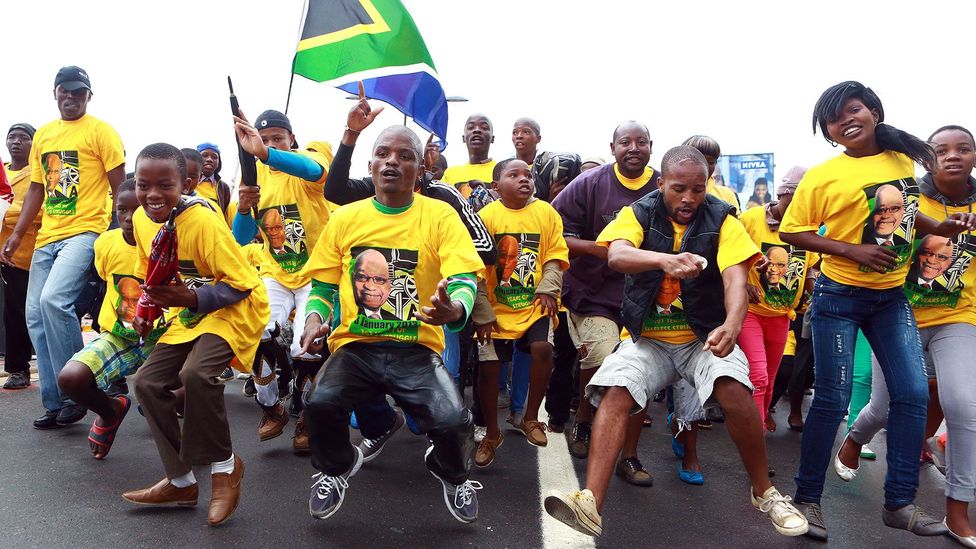 Starting with stomping feet and political chanting, the toyi-toyi is a southern African dance that has long been used in protests (Credit: Getty Images)
The toyi-toyi's stomping moves came accompanied by group call-and-response chants, including "Amandla! Awethu!" (translated from Zulu as "Power to the people!"). In a Cape Town Magazine article subtitled 'You can take everything away from South Africa, but you can't stop us from dancing', journalist Lisa Nevitt explains: "The toyi-toyi is quite a marvel to watch. Throngs of people charge forwards, stomping and chanting political slogans. Such energy struck fear into the hearts of the armed forces who tried to contain them. But toyi-toyi was also a distraction from fear during the marches because people knew that later, once the crowds had dispersed, they would suffer harassment at the hands of police."
My steps, my way
America's heritage of dance as protest has included some surprising turns, with figureheads such as the Jewish New Yorker Edith Segal, who studied with the modern dance pioneer Martha Graham; inspired by Soviet Communism, Segal founded the Red Dancers company in 1928, and created works about racial unity. Around the same period, against the looming Great Depression, New York's New Dance Group proclaimed that "dance is a weapon in the revolutionary class struggle"; contemporary dance academic Dr Stacey Prickett describes a revolution that used dance "to expose the harsh realities of society in the 1930s, and the devastating social repercussions of the 1929 stock market crash".
Such radical moves proved particularly risky during the Cold War, when the House Un-American Activities Committee and Senator Joseph McCarthy's Government Operations Committee seized on anyone who might have communist sympathies. Even so, dancing never lost its spirit of dissent. In the modern US, dance activism is part of the Black Lives Matter movement, thanks to artists including LA choreographer and Arts and Culture liaison Shamell Bell, who advocates using "street dance as a way to connect with each other… We are here to love… even though we have so much negativity going on."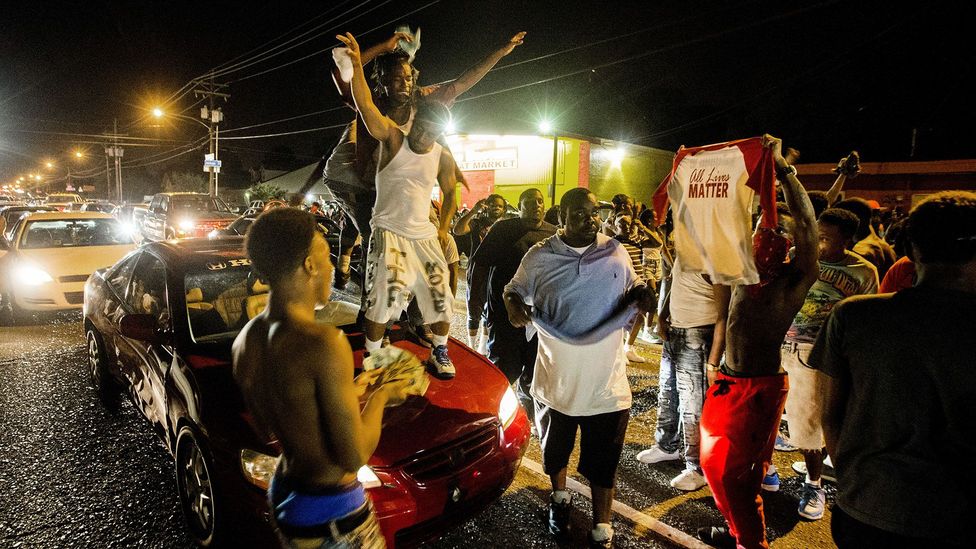 Dancers at a 2016 Black Lives Matter protest; Shamell Bell has led workshops presenting street dance as an alternative strategy for radical social change (Credit: Getty Images)
US LGBTQ activists have also taken to dancing to hit back at bigotry, as demonstrated by last month's exuberant 'Queer Dance Party' to confront Vice-President Mike Pence when he visited Columbus, Ohio. "We want to counter that anti-LGBT attitude that they have with a big, positive, loving dance party," explained organizer Jay Smith, combining smart points with fierce twerking ability.
There is something about dance that disrupts tension, and channels it into a new, galvanising energy
There is something about dance that disrupts tension, and channels it into a new, galvanising energy. It's a form that is able to make audacious and timely points, often when we least expect it. In 2012, a troupe of dancing girls in the windows of Amsterdam's red light district revealed a hard-hitting campaign for anti-slavery organisation Stop The Traffik ("People shouldn't be bought and sold"). Elsewhere, Greek choreographer Patricia Apergi's Planitesresponds to the refugee crisis, and she argues that dance is a naturally relatable medium ("Everybody moves and everybody walks, so it is easier to empathise with the physical sensation of migration").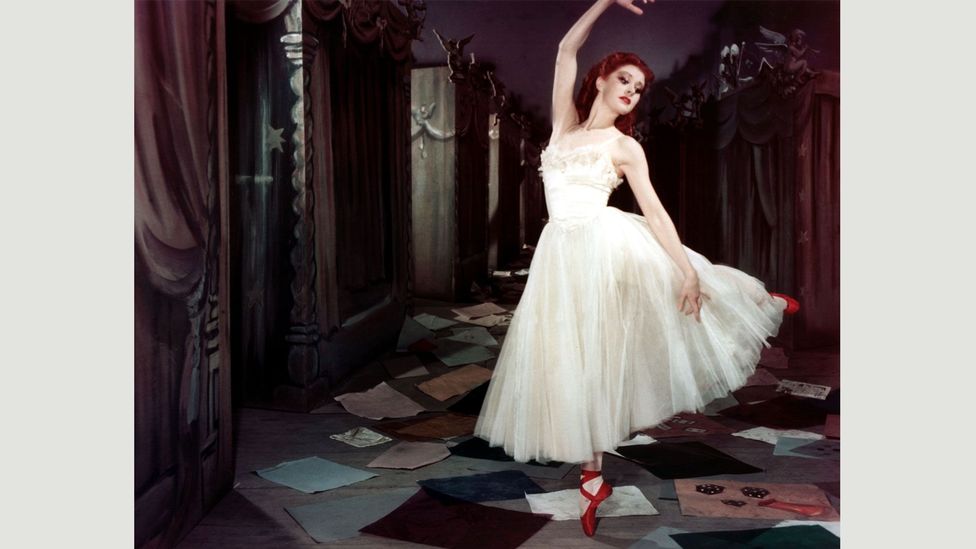 In Michael Powell and Emeric Pressburger's 1948 film The Red Shoes, Moira Shearer stars as a dancer seemingly controlled by her ballet slippers (Credit: Alamy)
The danse macabre, or the universality of death, recurs frequently in global arts and culture. Protagonists might just dance themselves to death – whether in Stravinsky's controversial The Rite Of Spring (1913); in German choreographer's Kurt Jooss's 1930s ballet The Green Table; or British filmmakers Powell and Pressburger's The Red Shoes (1948), based on Hans Christian Andersen's brutal 1845 fairytale. Sydney Pollack's 1969 movie They Shoot Horses, Don't They? depicts a nightmarish Depression-era dance marathon, where participants compete until they drop dead. In Darren Aronofsky's hallucinatory 2010 psych-horror Black Swan, Natalie Portman's quest for prima ballerina perfection sends her over the edge.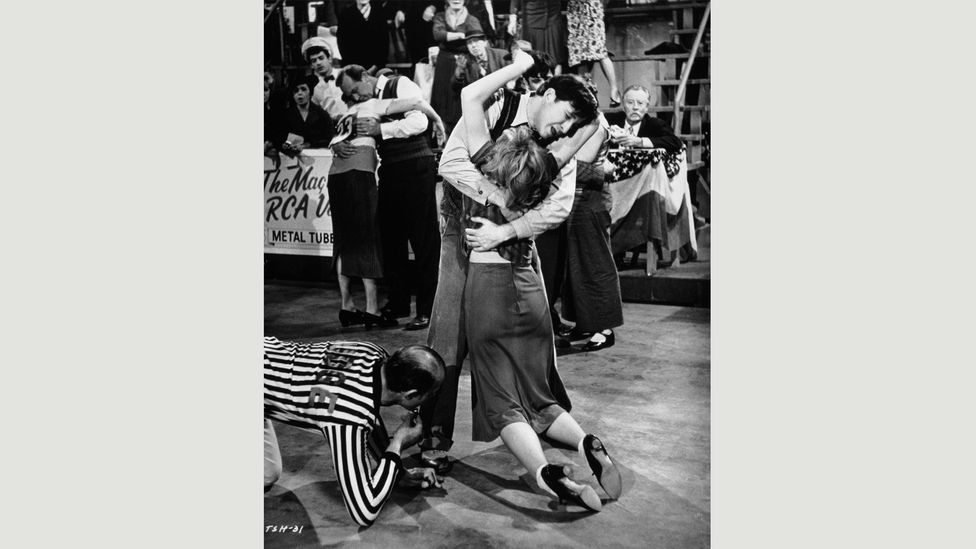 They Shoot Horses, Don't They? was based on a 1935 novel about a Depression-era dance marathon, in which exhausted contestants try to stay upright for weeks (Credit: Alamy)
In the real world, dance is also a life force – and social media heightens the intimacy of its expressions, whether it's the unifying strength of the Palestinian dabke folk dance, performed in a line holding hands; political protestors at the Rio Carnival (this year, Paraiso de Tuiuti samba school performed a piece entitled My God, My God, Is Slavery Extinct?);  or Tunisia's 'Danseurs Citoyens' led by choreographer Bahri Ben Yahmed and his female dancers, whose works include Je Danserai Malgre Tout (I Will Dance Despite Everything). Ben Yahmed has explained: "Dance is our form of resistance against social and religious dogmatism."
There is power in apparent frivolity. Madonna had it right when she sang on Into the Groove (1985): "Only when I'm dancing can I feel this free". Dance is fluid and infectious, and it rapidly cross-pollinates; British artists from Akram Khan to the celebrated Boy Blue offer further proof of such febrile fusion. The very act of dancing is irrepressible – and desperate times call for defiant moves.
If you would like to comment on this story or anything else you have seen on BBC Culture, head over to our Facebook page or message us on Twitter.
And if you liked this story, sign up for the weekly bbc.com features newsletter, called "If You Only Read 6 Things This Week". A handpicked selection of stories from BBC Future, Culture, Capital and Travel, delivered to your inbox every Friday.