The World Cup 2018 has had its share of iconic moments. Kelly Grovier picks out five striking photos from the tournament – finding their echoes in pious art.
T
The beautiful game? Football ought to be rechristened 'the holy game'. After all, that is how people who cannot otherwise agree on anything else in this world reverentially regard the sport. The claim by Diego Maradona (who once confused his own hand with God's) that "football isn't a game, nor a sport; it's a religion" is shared, like an article of faith, by Pele, his arch rival for the title of the greatest player of all time. "Football is like a religion to me," Pele once confessed, "I worship the ball and treat it like a god".
Deities of football's muscular creed, Pele and Maradona are not alone in their undying devotion to the sacred pastime. Every four years, the religious ritual that is the World Cup inspires transcendent performances from players who rise above (sometimes literally) the occasion itself. Given the fervour that overtakes the month-long sacrament, it is hardly surprising that so many images captured during the World Cup should vibrate with religious intensity.
What follows is a handful of the most striking photos of this year's tournament, alongside the pious masterpieces from art history whose spirit they share.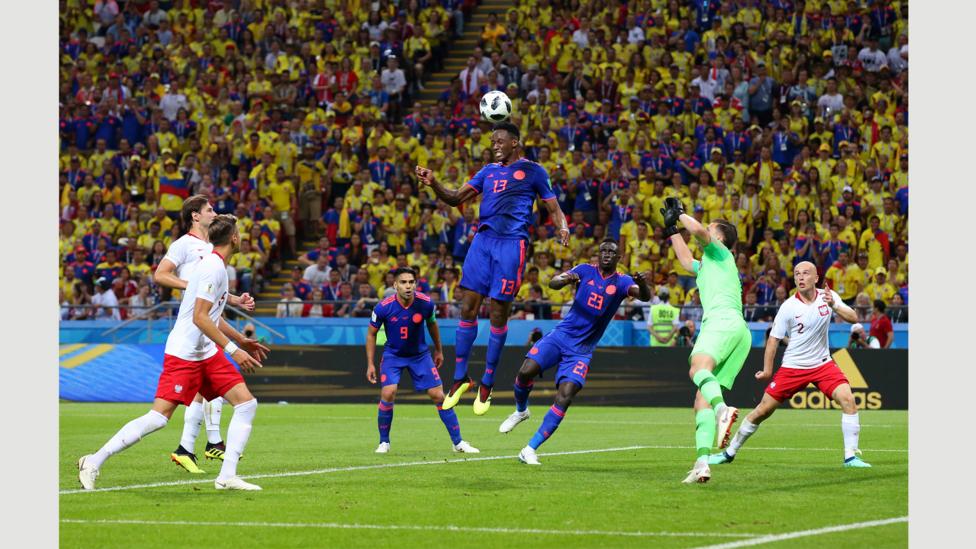 Yerry Mina of Colombia scores his team's first goal of the World Cup 2018 at Kazan Arena on 24 June (Credit: Getty Images)
Yerry Mina / John Singleton Copley's Jesus' ascension to heaven (1775)
The sight of Yerry Mina ascending heavenwards to collide with a cross hammered into the penalty area by team-mate James Rodriguez in the 40th minute of Colombia's match against Poland on 24 June, must have struck the centre-back's fellow countrymen as a moment of divine propulsion. The resulting goal would be the first of three in Colombia's win.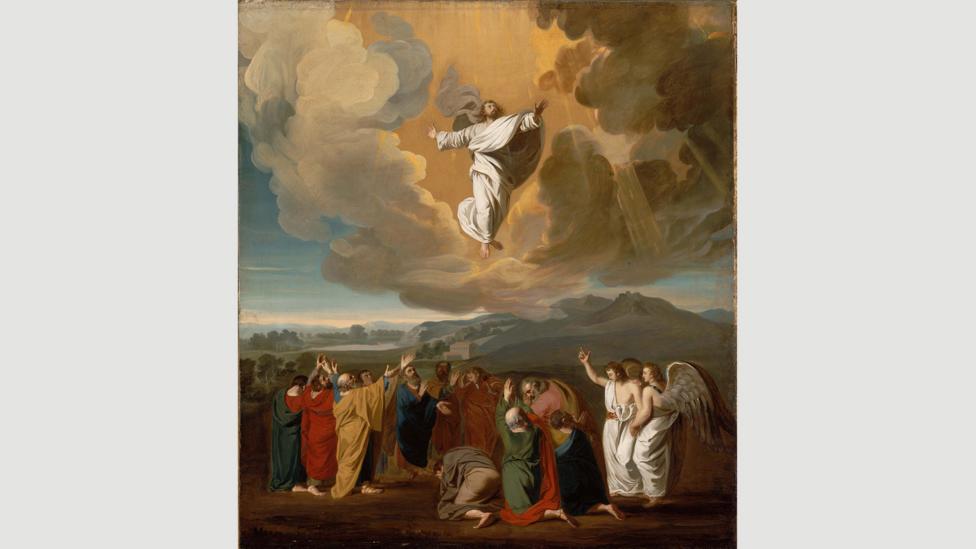 Jesus' ascension to heaven by John Singleton Copley, 1775 (Credit: Museum of Fine Arts Boston)
Photographer Alex Livesey's snap of the moment that Mina's levitating body makes contact with the ball, while all around awestruck mortals freeze in open-mouthed incredulity, as if they have just witnessed a miracle, calls to mind a long tradition of portraying the exaltation of Christ. Anglo-American artist John Singleton Copley's decidedly kitschy depiction of the spectacle from Acts 1, in which Jesus pogos weightlessly into parting clouds above him, is hardly more dramatic or wondrous in its artistic telling than Livesey's photo.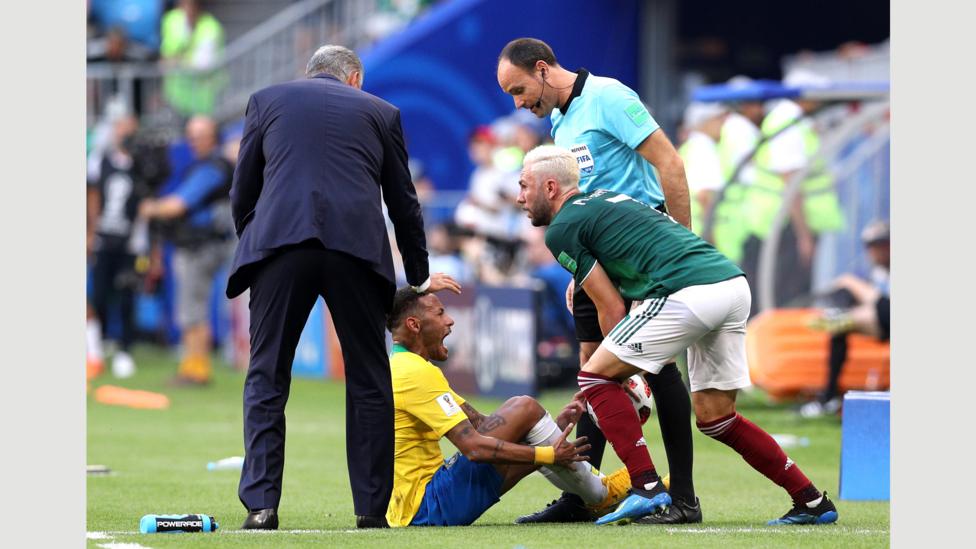 Miguel Layún of Mexico collects the ball as Neymar of Brazil goes down injured during the round of 16 match between Brazil and Mexico on 2 July (Credit: Getty Images)
Doubting Neymar / Caravaggio's Doubting Thomas
Anyone sceptical of anything risks being labelled a 'doubting Thomas' by the scripturally-inclined. When Neymar, who has a reputation for over-acting when fouled (or nearly fouled) by an opponent, collapsed in apparent agony after colliding with Mexico's Miguel Layún on 2 July, detractors of the Brazilian forward were dubious of the actual extent of his injuries, if indeed he had any at all. The scrum of referees, coaches, and players that soon swarmed around the writhing body of Neymar, impatient to know whether his pain was real or make-believe, echoes painterly portrayals of the huddle that crowded the risen Christ when one of his disciples, Thomas, resolved to prod his wounds with a finger to verify their authenticity.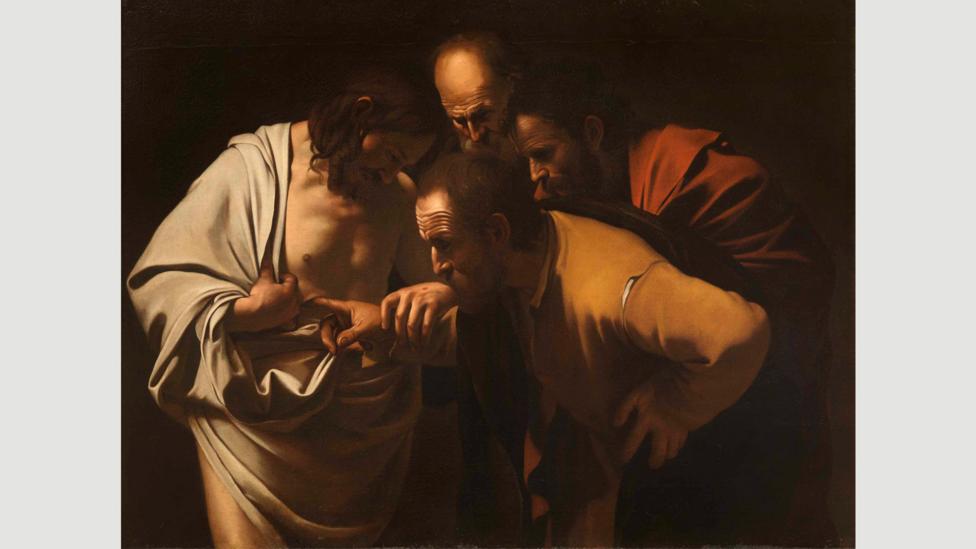 The Incredulity of Saint Thomas by Caravaggio, 1600-1601 (Credit: Getty Images)
The shadowy world created by Caravaggio in his masterwork The Incredulity of Saint Thomas may seem at furthest possible remove from the over-lit arena in Samara, Russia, where Brazil and Mexico faced off, but the furrows that rumple the brows of the mistrustful minds that gathered around Brazil's saviour in Buda Mendes's photo are at once timeless and timely.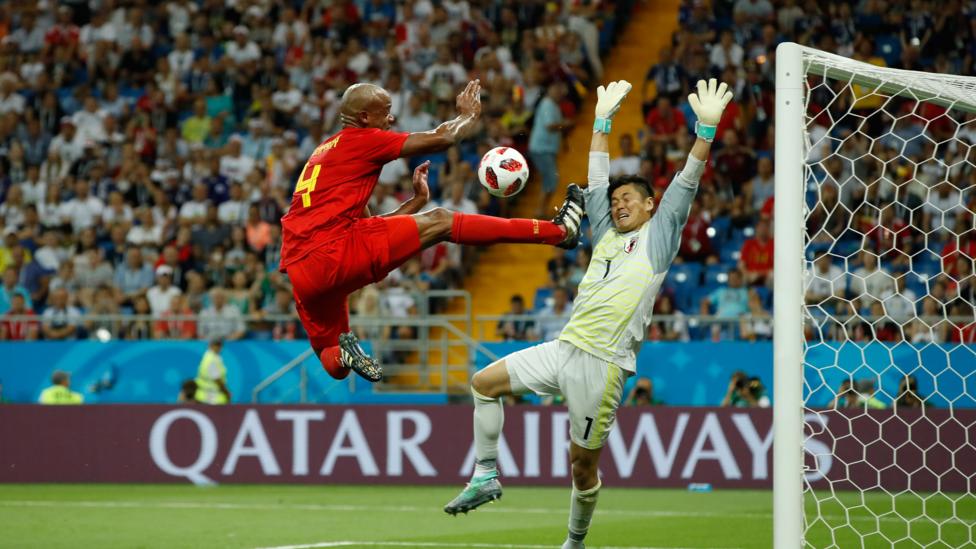 Belgium's defender Vincent Kompany (left) tries to score against Japan's goalkeeper Eiji Kawashima during the match between Belgium and Japan on 2 July (Credit: Getty Images)
Eiji Kawashima v Vincent Kompany / Giotto
In order to stop an aerial strike by Belgium's Vincent Kompany, Japan's goalkeeper Eiji Kawashima found himself undertaking some extraordinary vertical acrobatics. Kawashima's soaring physique, as captured in a thrilling photo by Petr David Josek, mirrors a relatively rare portrayal of a winged Christ hovering hummingbird-like above St Francis as he receives the same wounds Christ suffered during crucifixion.
Stigmatisation of St Francis by Giotto, 1295-1300 (Credit: Alamy)
In Giotto's famous version of this set scene, the miraculous transference of Christ's agony from himself to St Francis is illustrated by a tangle of invisible spiderman-like filaments shooting from Christ's hands and feet. In Josek's photo, the impression of a web of wires splaying from Kawashima's body, which stymies and suspends Kompany's assault mid-air, is created almost subliminally by the armature of out-of-focus metal railing behind the players – a fortuitous effect amplified by the wide-open white net that stretches beside them on the right side of the image.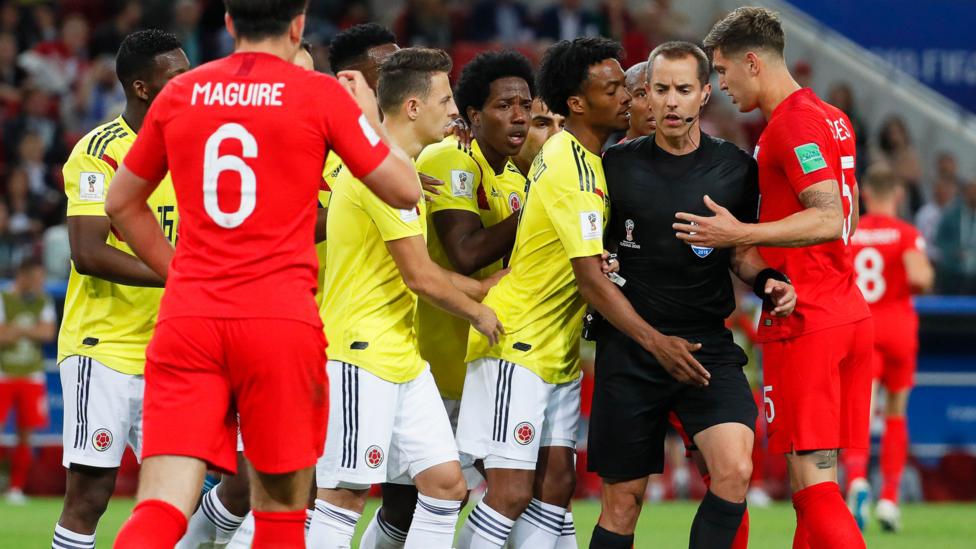 Players react as US referee Mark Geiger awards a penalty during the match between Colombia and England on 3 July (Credit: EPA)
The Crucified Ref / Caravaggio
An edgy photo of players from both the English and Colombian squads squeezing American referee Mark Geiger after a series of controversial calls has all the tense drama of a Baroque masterpiece. Confrontations at the 5 July match in Moscow's Spartak Stadium nearly descended into violence on more than one occasion. Yuri Kochetkov's photo captures an embattled Geiger struggling to maintain a sense of balance as a menacing scrum tightens around him – and the sense in which referees can be crucified by the media for controversial decisions.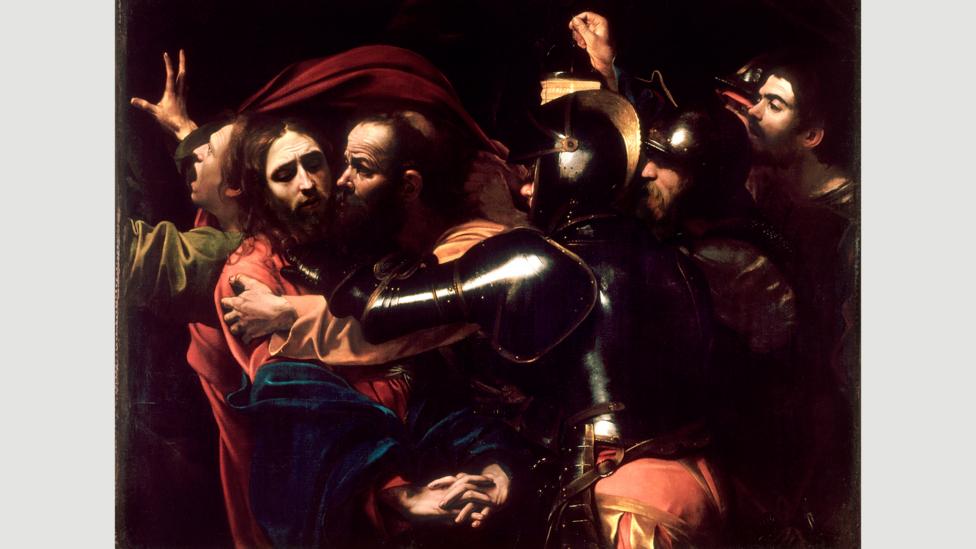 The Taking of Christ by Caravaggio, 1602 (Credit: Alamy)
The referee's tensely introspective, downcast gaze – solemn amid a flurry of forearms and accusatory stares – recalls the dark disquiet and shadowy stagecraft of Caravaggio's 17th-Century canvas The Taking of Christ (1602). In Caravaggio's painting, temple guards close in on Christ, whom Judas has covertly identified by a kiss. Both images – Kochetov's photo and Caravaggio's painting – rely for their heightened narrative effect on the crowding with cropped figures at the forefront of their visual planes. The result, in both cases, is claustrophobic for viewers who are made to feel a part of the melee.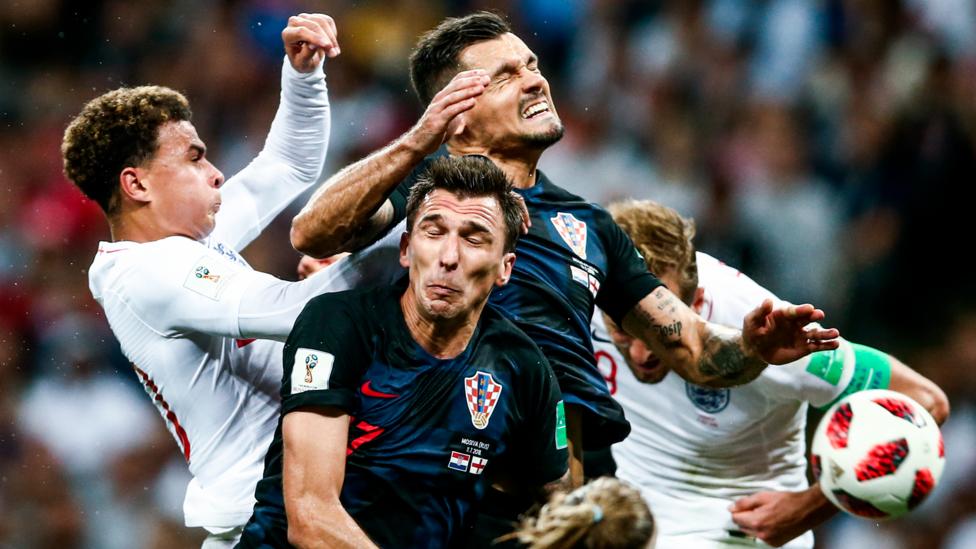 Dele Alli (left), Harry Kane (right), Mario Mandzukic (front) and Dejan Lovren in the semi-final match between England and Croatia (Credit: Valery Sharifulin/Getty Images)
Semi-Final faces / Bosch
A collision of contorted faces captured in a photo by Valery Sharifulin of English and Croatian players crashing into one another during this week's semi-final is as carnivalesque in its grotesque vision as anything that ever troubled the dreams of Hieronymus Bosch. Not since the Early Netherlandish artist (or a follower of his) summoned the gaggle of grimaces and scowls that fill the 16th-Century oil-on-panel painting Christ Carrying the Cross (1510-1535) have so many twisted visages unsettled a single visual plane.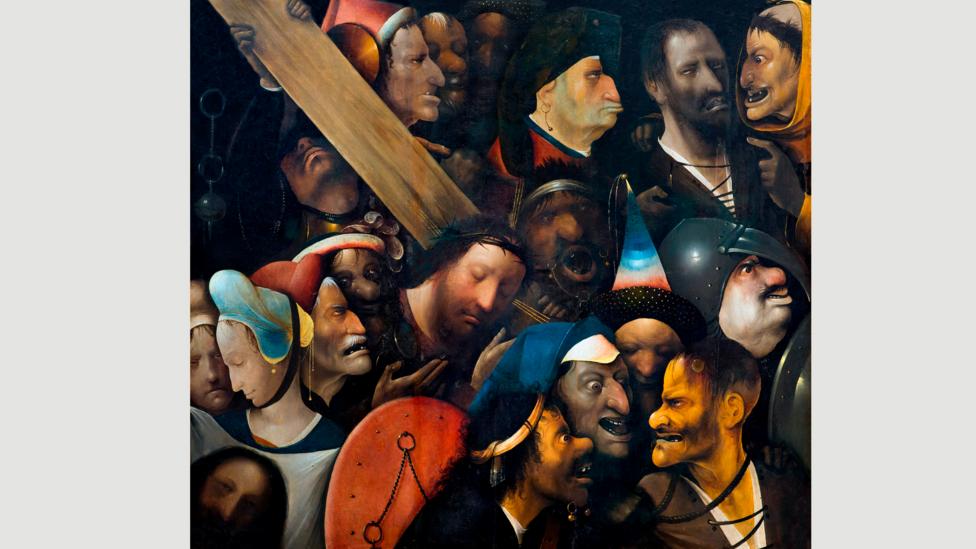 Christ Carrying the Cross, by Hieronymus Bosch, circa 1510-16 (Credit: Alamy)
Wrenched almost beyond recognition, the curdled countenances of England's Harry Kane and Dele Alli, and of Croatia's Mario Mandžukić and Dejan Lovren, are engrossingly awkward in their comic deportment. Placed alongside Sharifulin's photo, the warped faces from Bosch's studio remind us that for every epic drama, however religiously impassioned, there is rarely room for more than one dignified hero. Just who that saviour will ultimately be in this year's World Cup will not, of course, be decided until the Final's final whistle.
If you would like to comment on this story or anything else you have seen on BBC Culture, head over to our Facebook page or message us on Twitter.
And if you liked this story, sign up for the weekly bbc.com features newsletter, called "If You Only Read 6 Things This Week". A handpicked selection of stories from BBC Future, Culture, Capital and Travel, delivered to your inbox every Friday.