As a Chinese author has been convicted of four murders – claiming his works were influenced by what he'd done – Hephzibah Anderson looks at gruesome cases that featured in novels.
W
When Chinese author Liu Yongbiao was convicted earlier this week of bludgeoning four people to death in a guesthouse in 1995, it might not have come as such a surprise to his readers.
In a preface to his 2010 novel, itself titled The Guilty Secret, Liu said he was already at work on a follow-up about a female author who's committed a series of gruesome murders and evaded capture. In the end he never wrote it, though he already had a title in mind: The Beautiful Writer Who Killed. Following his arrest, he reportedly told Chinese TV station CCTV that some of his works were indeed inspired by his thoughts about the murders, whose victims included the guesthouse owners' 13-year-old grandson.
More like this:
- The greatest literary conman ever?
- The greatest tale ever told?
Liu is not the first author to have committed a grisly crime and fed it into his fiction. In 1991, Dutch writer Richard Klinkhamer murdered his wife and then delivered a macabre manuscript to his agent whose title translated as 'Wednesday, Mince Day', and which might have been subtitled Seven Ways to Kill Your Spouse.
Real-life crimes have found other routes into fiction, too, haunting novelists whose vivid imaginations are able to pick up where experience falls mercifully short. From Truman Capote's seminal 'non-fiction novel' In Cold Blood to international hits like Emma Donoghue's The Room and Emma Cline's The Girls, chilling wrongs have a way of becoming only more so once they've been fictionalised, enabling them to take up residence in the darkest recesses of the mind.
These five crimes and the literature they've inspired create a literary hybrid that is not for the skittish.
Black Dahlia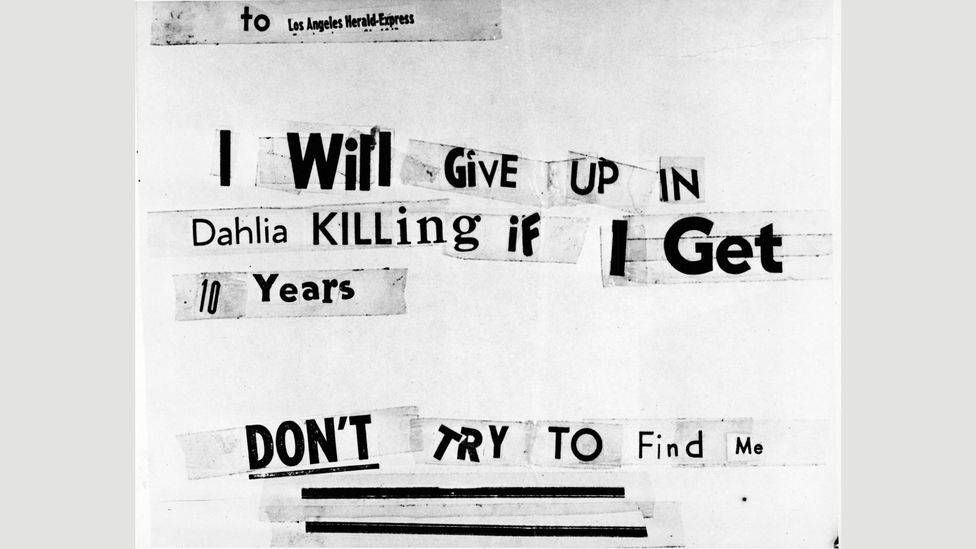 On top of the many false confessions in the Black Dahlia case, there have been conspiracy theories, including one about Orson Welles being somehow involved (Credit: Getty Images)
Her real name was Elizabeth Short. She was just 22 when her mutilated corpse was found in an empty lot in Los Angeles in January 1947. It had been severed at the waist and drained of blood, leading the young mother who made the gruesome discovery to at first assume she was looking at a mannequin. Lurid newspaper coverage soon dubbed the victim the Black Dahlia. The police investigation circled 150 suspects but no arrests were ever made and of the 500-plus confessions that have since been made, none has held up. This notorious cold case has had enduring cultural influence, inspiring numerous books and films including John Gregory Dunne's 1977 novel True Confessions, which takes a similar crime as its starting point and evolves into a redemptive portrait of two brothers in 1940s LA. Best-known, however, is James Ellroy's dark, shimmering 1987 thriller, The Black Dahlia. It departs from the facts in one key respect: the case gets solved. And though the novel begins the year before Ellroy was born, it has personal resonance for him, being dedicated to his mother, who was murdered in LA in 1958.
The Great Wyrley Outrages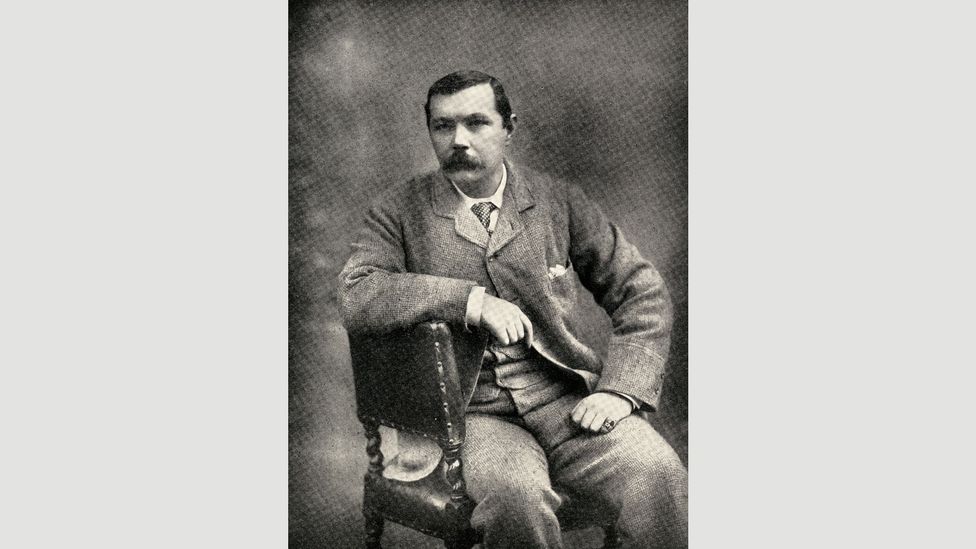 Conan Doyle, seen here around 1900, got involved in the effort to exonerate George Edalji as he thought Edalji was a victim of a racist frame-up (Credit: Getty Images)
Arthur Conan Doyle received a lot of fan mail in his time, including letters whose writers confused him with his fictional sleuth, Sherlock Holmes, and sought his help solving mysteries. In the first decade of the 20th Century, a solicitor named George Edalji was freed from jail having served three years of a seven-year hard labour sentence. His crime, so the court ruled, was the mutilation of horses and cattle and a vicious campaign of anonymous letters sent to his own parents. Endalji insisted he was innocent and wanted Doyle to help him prove it. Doyle became convinced that Endalji's skin colour – his father was Indian – had something to do with it, working hard to combat what would today be called institutionalised racism in the Staffordshire police force. The case made sensational headlines at the time, becoming known as the Great Wyrley Outrages, and in 2005, Julian Barnes fictionalised it as Arthur & George. A wise, whip-smart detective adventure, it was shortlisted for the Man Booker Prize and adapted for both stage and screen.
The disappearance of Paula Jean Welden
The search for Paula Jean Welden was extensive, even involving helicopter flyovers of the woods where she disappeared (Credit: Getty Images)
On the first day of December 1946, an 18-year-old student vanished while walking on Vermont's Long Trail. Paula Jean Welden was the eldest daughter of a designer known for his art deco cocktail shakers, and a sophomore at Bennington College. It was a cold Sunday afternoon when she decided to explore the nearby hiking trail. Having failed to persuade friends to accompany her, she set off solo, taking with her neither a bag nor extra money. When she failed to return to campus, the county sheriff was brought in, soon to be sharply criticised for a poorly run investigation. Theories from a fall and amnesia to suicide or murder were mooted, but no body was ever found. Between 1945 and 1950, there were at least four other unexplained vanishings in the area. The mystery captured the imagination of local author Shirley Jackson, whose husband taught at Bennington. Her eerie 1951 novel Hangsman is inspired by Welden's disappearance, and her short story The Missing Girl also touches upon it. In a fresh twist, Susan Scarf Merrell's 2014 novel Shirley revisits the case and conjures up a new suspect: Jackson herself.
The Butcher of Plainfield
Not just a murderer but a body-snatcher too: Plainfield, Wisconsin native Edward Theodore Gein was arrested in 1957. He died, incarcerated in a psychiatric facility, in 1984, but the grotesque nature of his crimes has seen him attain a ghoulish cultural afterlife. He confessed to killing two women, as well as to exhuming recently interred bodies from local cemeteries. His plan had been to create a 'woman suit' that he could crawl into and so 'become' his late mother, but detectives retrieved from his home a queasy array of items, from furniture to clothing, all fashioned from human remains. Just two years after Gein's arrest, author Robert Bloch published a thriller titled Psycho – the same novel that in 1960 became one of Alfred Hitchcock's most acclaimed films. (Although Bloch was unaware of Gein's crimes when he started his novel, he had read about them by the time he finished.) More recently, Gein's crimes shaped the character of Buffalo Bill in Thomas Harris's The Silence of the Lambs.
Ladykiller Harry Powers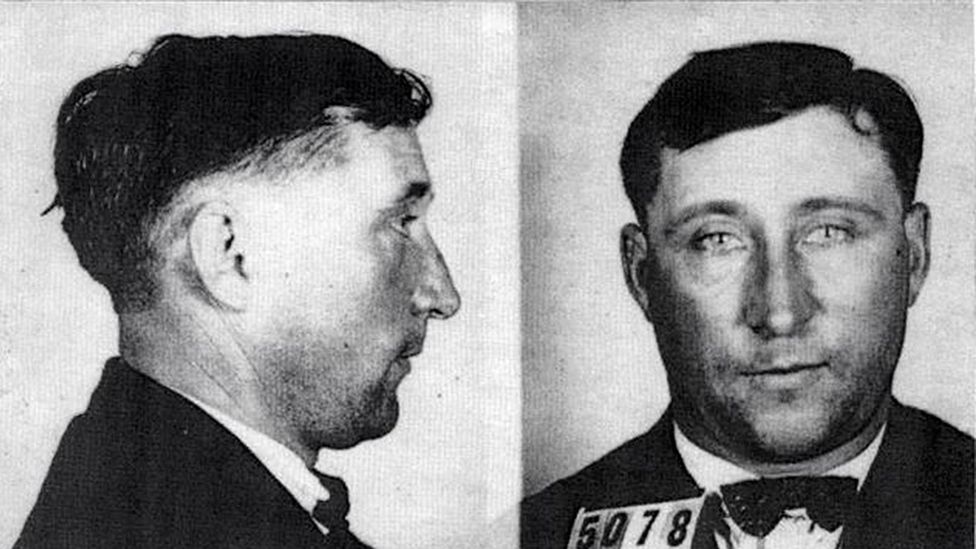 Harry Powers was hanged for killing women for their money after answering their personal ads in newspapers (Credit: Alamy)
Serial killer Harry Powers trawled the lonely hearts ads for his victims, intent on wooing lovelorn women, then killing them for their money. Among his victims were widow Asta Eicher and her three children, of Park Ridge, Illinois. After some ardent correspondence, Powers took Eicher away for a few days in late June 1931. He returned alone, telling the children he'd come to take them to their mother. A second woman had also disappeared by the time police began investigating their disappearances in August. At the Eicher home, love letters led them to Quiet Dell, West Virginia, and a tragic crime scene that included a child's bloody footprint. They also found a stash of fresh correspondence indicating that Powers was readying to strike again. He was hanged in 1932 but not before he'd become one of the first murderers to be transformed into a media sensation. Morbid relics of Powers' killing hut were even peddled on the streets, and when novelist Jayne Anne Phillips mentioned the case in her debut novel, she was sent a numbered splinter. In 2013, she published Quiet Dell, her riveting, meticulously researched recreation of the case and its coverage. One of the novel's few invented characters is a young reporter named Emily Thornhill, whose presence optimistically hints at female empowerment that's to come. In one of the novel's moments, Thornhill sees why the serial killer "succeeded with these women in mid-life, women likely already ravaged by men or fortune; they wanted care and protection".
If you would like to comment on this story or anything else you have seen on BBC Culture, head over to our Facebook page or message us on Twitter.
And if you liked this story, sign up for the weekly bbc.com features newsletter, called "If You Only Read 6 Things This Week". A handpicked selection of stories from BBC Future, Culture, Capital and Travel, delivered to your inbox every Friday.