As new TV series Pose brings drag balls into the mainstream, Arwa Haider looks at how the glamorous underground culture became a big hit.
"The category is… Live! Work! Pose!" declares charismatic ball emcee Pray Tell (Billy Porter) in the intro to US drama series Pose, which premiered on the FX channel in June. Co-created by Ryan Murphy (Glee, Nip/Tuck, American Horror Story), Pose summons the electrifying energy and fierce style of New York's real-life black and Latin gay ballroom scene of the 1980s, and contrasts its working-class subcultures with that period's luxury business world (Trump Tower looms in the background).
More like this:
- The most dangerous dances in history
- Saudi Arabia's bootleg music shops
- Why disco should be taken seriously
With a second season just announced for 2019, it highlights the continued influence of 'house' ball culture: a theme previously explored in Jennie Livingston's landmark 1991 doc Paris Is Burning, and through musical magpies including Malcolm McLaren (Deep In Vogue) and Madonna's 1990 megahit Vogue. The original underground moves shook up the mainstream – now they spark fresh expressions, on a broader scale than ever.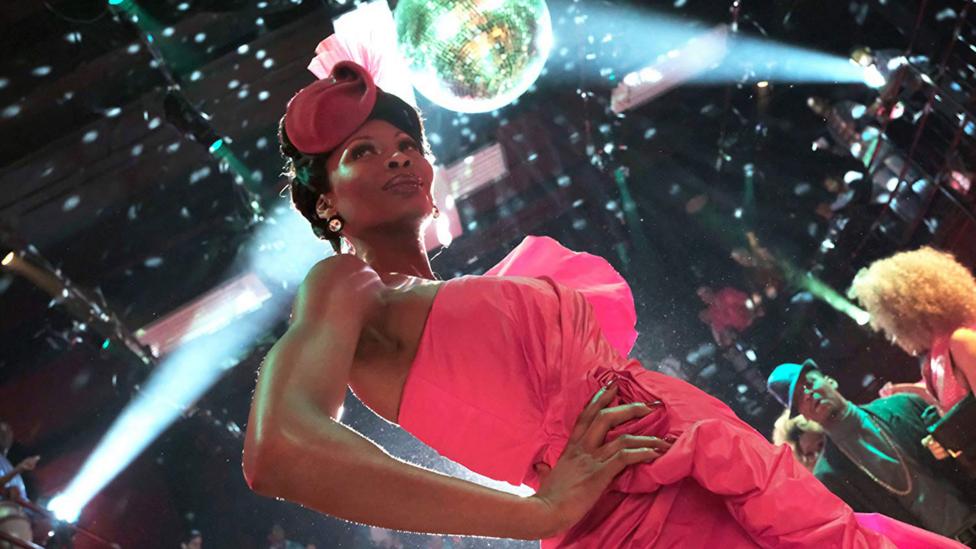 Pose – starring Dominique Jackson – reveals the energy and style of New York's underground drag balls in the 1980s (Credit: FX Networks)
Pose depicts this after-hours party scene, where those excluded from conservative society could express themselves freely, dress fabulously, and find belonging in various family 'houses'. There is a heady delight in its ball scenes, and a serious respect for 'realness', or authenticity. It's notable for having a cast and crew featuring several trans women, including co-writer/producer/director Jane Mock, and actresses Indya Moore (as Angel Evangelista) and Dominique Jackson (as the formidable house mother Elektra Abundance). Original scene talents, such as Jose Gutierez Xtravaganza (who also danced in Madonna's Vogue video) cameo as ball judges.
Beauty and glamour and lights and music. That's how we as gay people and trans people have gotten through our pain – Ryan Murphy
"When I stepped into the ball scene on that first day and saw the team assembled… I was moved to tears," Mock recently told Time Out NY. "You see these legends who were featured in documentaries like Paris Is Burning, who survived the 1980s, Hiv and crack [cocaine], and all these ills and poverty, and you see them up there in full glam, on the stage – it's surreal."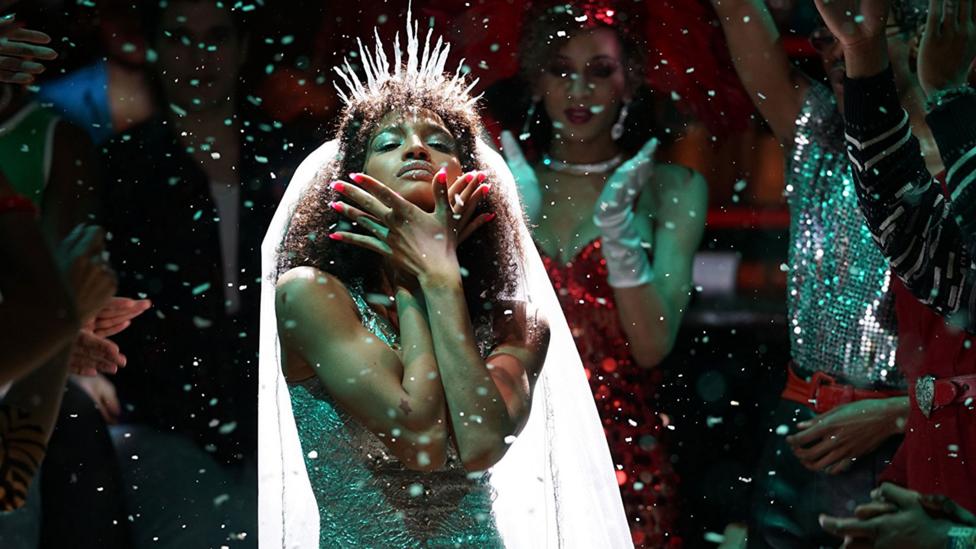 Co-created by Glee's Ryan Murphy and starring Indya Moore, Pose has just been renewed for a second season in 2019 (Credit: FX Networks)
Murphy has also explained: "What I've been trying do is show this community in the way that I see them: beauty and glamour and lights and music. That's how we as gay people and trans people have gotten through our pain."
In vogue
Ballroom culture has a deep-rooted heritage. Harlem's first 'queer masquerade ball' reportedly took place in 1869, while Harlem Renaissance poet and social activist Langston Hughes recounted his experience of a 1920s drag ball in his autobiography: "Strangest and gaudiest of all Harlem spectacles in the '20s… the queerly assorted throng on the dance floor, males in flowing gowns and feathered headdresses and females in tuxedos and box-back suits." Brit artist Isaac Julien pictures this era with a dreamy spin (and an electronic house music soundtrack) in his 1989 film, Looking For Langston.
The ball was a transformative realm, where anybody could be extraordinary, in defiance of everyday hardships
By the 1970s and 80s, progress was being made in Western LGBT equality – propelled by 1969's Stonewall Riots in Manhattan, which were instigated by drag queens and lesbians of colour. However, New York's ball culture shone the spotlight on communities who had been overshadowed, even within gay culture. Diverse pioneers included black queens such as Crystal Labeija and Paris Dupree, who established these lavish drag balls to outclass the white-dominated pageants in richer districts, and founded family 'houses' that represented a supportive bond (as well as rival factions). Paris Dupree is credited as an innovator of the 'voguing' dance style, inspired by the glamorous poses from high-fashion magazines; the 'godfather of voguing' Willi Ninja (House of Ninja) elevated its sleek catwalk-style choreography to inspirational levels.
The ball was a transformative realm, where anybody could be extraordinary, in defiance of everyday hardships – and that elaborate fantasy continues to seize mainstream fascination. House balls have encompassed a dizzying array of competitive categories ('Femme Queen', 'Butch Queen', 'Runway', 'Drag Face', 'Sex Siren' to name just a few); nowadays, their slang ('iconic', 'legendary', 'fierce', 'throwing shade', 'yassss', 'you better work') also trips off modern mainstream tongues, fuelled by prime-time successes like RuPaul's Drag Race as well as social media and myriad campy gifs.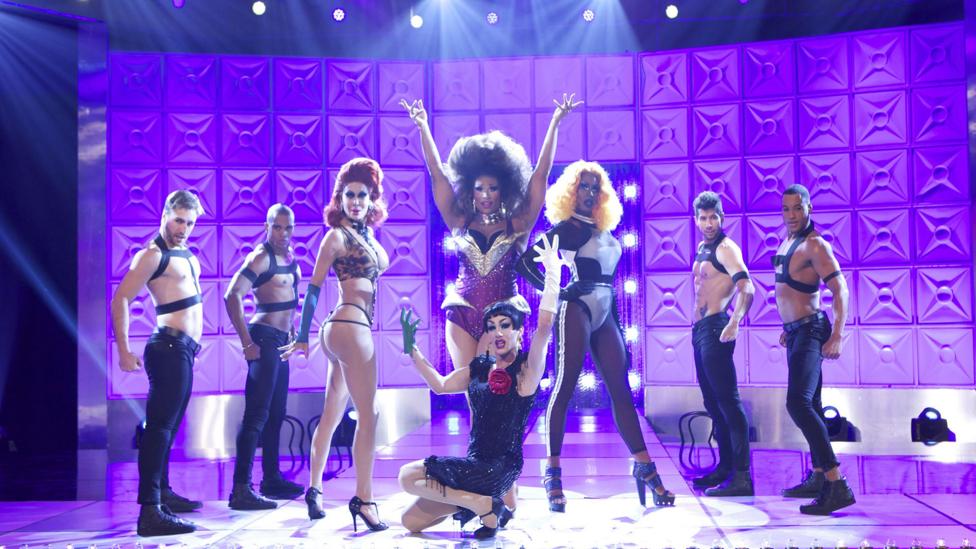 The language of house balls has entered the mainstream via social media and prime-time TV successes like RuPaul's Drag Race, pictured (Credit: Alamy)
We now channel-surf through house ball-inspired entertainment, from Brit avant-garde singer-songwriter/dancer FKA Twigs voguing in her latest concerts, to the celeb-fronted global TV show franchise Lip Sync Battle. Its style and sound pulses through a new generation of nightlife.
The visibility of these expressions, even in their frothiest forms, also reflects ball culture's impact on wider social equality. "You had a certain amount of gay liberation in the 1960s, but for the femme queens, it felt like they were left in their own world," Tommy Labeija tells photographer/journalist Chantal Regnault in the Soul Jazz book Voguing (reprinted this September). "The ball culture brought that out, for them to be more accepted... Once you come into the ballroom scene you build up a confidence that no one can penetrate. It's easier to manoeuvre through society."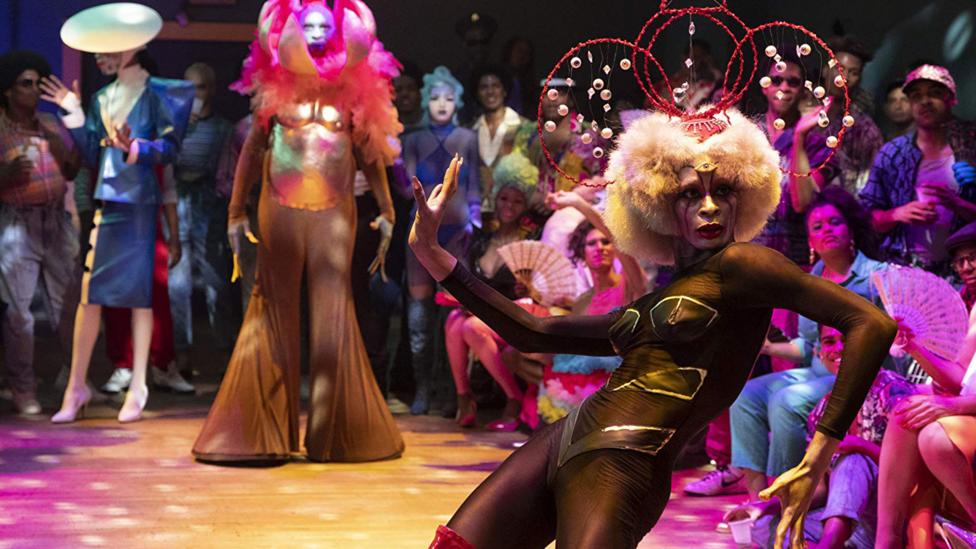 Pose depicts a scene where those on the fringes of society could express themselves freely, dress fabulously and find a sense of belonging (Credit: FX Networks)
Ball culture is increasingly global and multi-stranded. Its houses have spanned different nations for decades; its expressions have been extended by performers such as Les Child and Roy INC (who founded the first British ball house in the late '80s); 21st-Century London dancer/choreographer Jay Jay Revlon; Darren Suarez (Liverpool/Manchester); and French vocalist/DJ/actor Kiddy Smile, who discovered the ballroom when he helped to organise a party in 2013, and later joined the Paris chapter of NY's House of Mizrahi.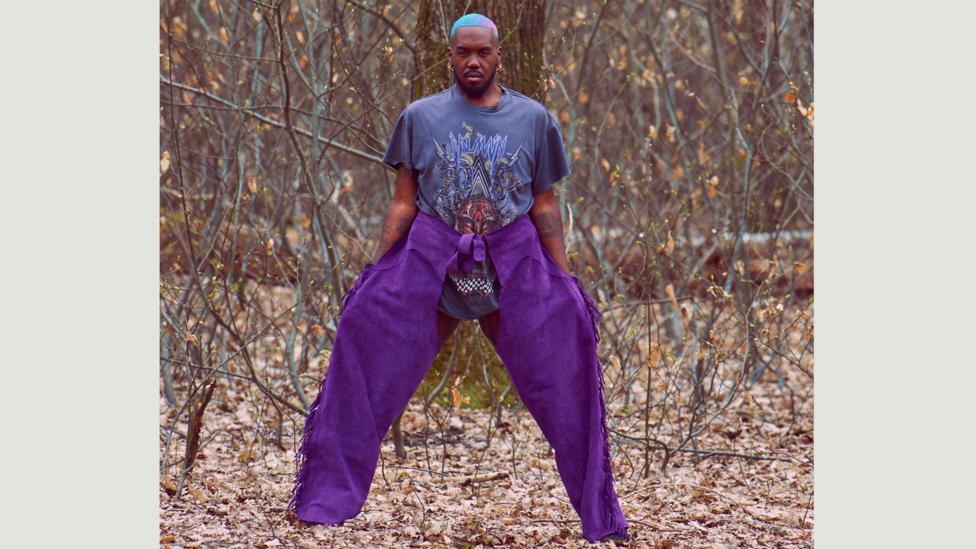 "It was not a dance – it was a place where people could be themselves," says French musician Kiddy Smile about the drag ball (Credit: Nico Bustos)
"When I saw all the people attending and performing, it hit me: it was not a dance – it was a place where people could be themselves," recalls Kiddy Smile. "When I joined House of Mizrahi, it made me think, it allowed me to question things about myself. It helped me become more 'woke' about my situation as a gay black man of African origin in France."
At House of Mizrahi, Kiddy Smile proved he could walk the walk – training intensively to compete in his debut ball, under the Runway category. "If ballroom is a place where you get to live your fantasy, this was what I was going to do," he says. "I do not look like a model; I'm a plus-size man. It's all about representation; people saw me do it, and I was winning." As an independent artist, he's earned praise as "l'enfant terrible du voguing", and he draws from personal experience across his excellent debut album One Trick Pony, out on 31 August, setting spiky statements to sinewy electronic rhythms. The video for Teardrops In The Box (from 2016) represents cross-cultural conflicts (with a tender conclusion), while Let A B!tch Know takes flamboyant voguing ceremony to the working-class Paris estate where he grew up.
"This was about starting a conversation," explains Kiddy Smile. "I'm not saying that the projects are homophobic, I'm saying that they're reflective of society. In the projects, you cannot be 'weak'." He adds: "In London, there's a growing ballroom culture, and in Amsterdam, Berlin, Madrid… Paris is definitely one of the most vibrant areas – mostly because it started at the heart of the community, as a place where LGBT people of colour could unite. There is one advantage that Europe has: we have our backgrounds, and we have our roots. Places that have had colonies are going to have a ballroom scene."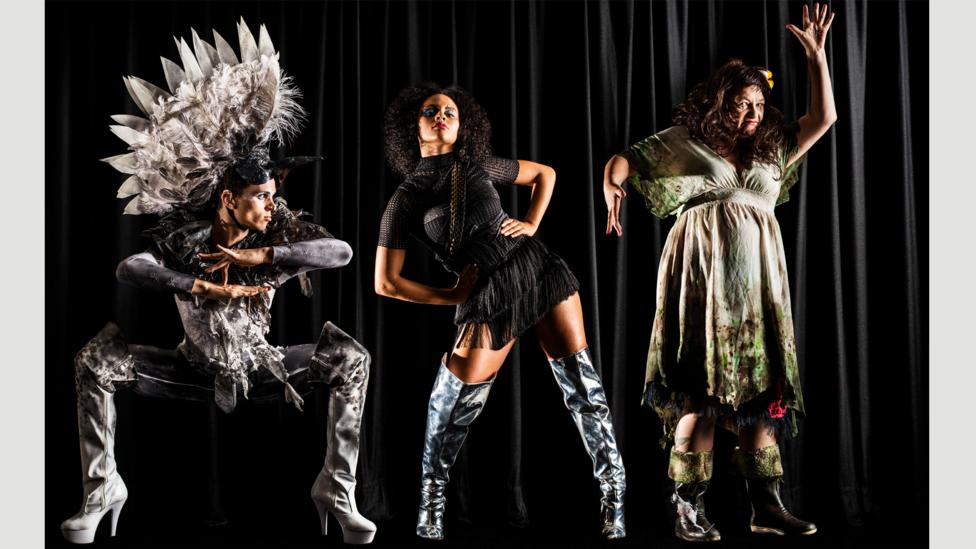 Deaf voguing collective The Unlimited House of Krip show links between the expressive flair of the moves and British sign language (Credit: Matt Wreford for Southbank Centre)
While the ballroom embodies some codes, its spirit also challenges different boundaries. The Unlimited House of Krip is a deaf voguing collective, established through Liverpool's Fittings Multimedia Arts Collective, whose artistic director Gerry Robson noticed similarities between the expressive flair of voguing and British sign language. Having debuted at 2017's House of Suarez Ball, they'll be hosting a vogue ball at Southbank Centre's Unlimited festival in September, and touring nationally.
"We're not claiming to be old-school vogue culture, but we are telling our story," explains Fittings producer Adrian Turrell-Watts. "Disabled culture definitely forms a marginalised part of society; ballroom culture was where you could be what you weren't allowed to be." He's positive about the inclusive appeal of ball culture: "We're in times of austerity; people want to release, celebrate LGBT culture and black and Latin roots. There's a lot of passion in these events, and the audiences are a real mix."
This month, London's Hayward Gallery will also launch its new exhibition DRAG: Self-Portraits and Body Politics (until 14 October, 2018). While this show isn't rooted in the ballroom, the Hayward's senior curator Vincent Honoré notes a vital bond, both historically and as a current political stance. "Drag is part of ball culture; they were both created as an act of resistance, in terms of gender as well as class," says Honoré. "It also reflects the richness of our crises of identity. I really wanted a polyphony of voices and expressions. It's not about man or woman; it's another way of being human. And it's a narrative that's still being built."
Ball culture has certainly forged and remodelled its own runway, across tumultuous times. While many of the original house mothers and fathers have passed away, they retain their iconic status. And while commercial brands and high fashion feverishly co-opt ballroom style, Kiddy Smile argues that there's no doubt who owns it. "This isn't the first time or trend where ball performers have been approached by brands," he argues. "If this is a business, let's see if the money goes to the people that are at the roots of this culture. And a show like Pose might have a gay white creator [Murphy], but it is about ball culture, and people of colour. It's a big step – and that's how major and political the ballroom scene is: people coming together, and making a statement."
If you would like to comment on this story or anything else you have seen on BBC Culture, head over to our Facebook page or message us on Twitter.
And if you liked this story, sign up for the weekly bbc.com features newsletter, called "If You Only Read 6 Things This Week". A handpicked selection of stories from BBC Future, Culture, Capital and Travel, delivered to your inbox every Friday.