From gospel to opera, the Queen of Soul's voice was so 'vitally in the moment… it does not feel right to refer to it in the past tense,' writes Arwa Haider.
T
The news that Aretha Franklin has died, aged 76, brings sorrow, reflection and a renewed realisation that the Queen of Soul's reign was an extraordinary one. Within a career that spans nearly six exceptional decades, she achieved tens of millions of international record sales (including countless electrifying classics – Respect, (You Make Me Feel Like) A Natural Woman, Chain Of Fools, Rock Steady and Spanish Harlem among them), and numerous accolades including 18 Grammy Awards.
In an entertainment age given to hyperbole and histrionics, Aretha commanded unequivocal respect
Aretha was legendary enough for the world to call for her on first-name terms; at the same time, she was formidably talented, and regal enough to appear coolly distanced from any 'celebrity' world. In an entertainment age given to hyperbole and histrionics, Aretha remained a genuine star, and she commanded unequivocal respect. She still does. Even now, it does not feel right to refer to Aretha's voice in the past tense, because it always sounds so fantastically, vitally in the moment.
-     The secret message in an album cover
-     Fourteen words that explain the present
-     The book that defines Iranians
It is not merely that Aretha's voice is unmistakable, from the first notes she strikes on any number; it's more that it's impossible to imagine music without the impact of that voice – its rich warmth and empathy, the glorious vivacity of her mezzo-soprano vocal range, and its no-messing power. Aretha's catalogue is so fantastically multi-layered, that we could take any point of introduction, from her rawest funk, soul and blues cuts, to her full-bodied pop successes (she remains, historically, the most prominent female artist on the US Billboard charts), or her jazz excursions (reflected in compilation albums like 1992's Jazz to Soul, or her 2016 Prince tribute set at the White House, alongside Herbie Hancock and Robert Glasper) – and it will still deliver beyond what we expect.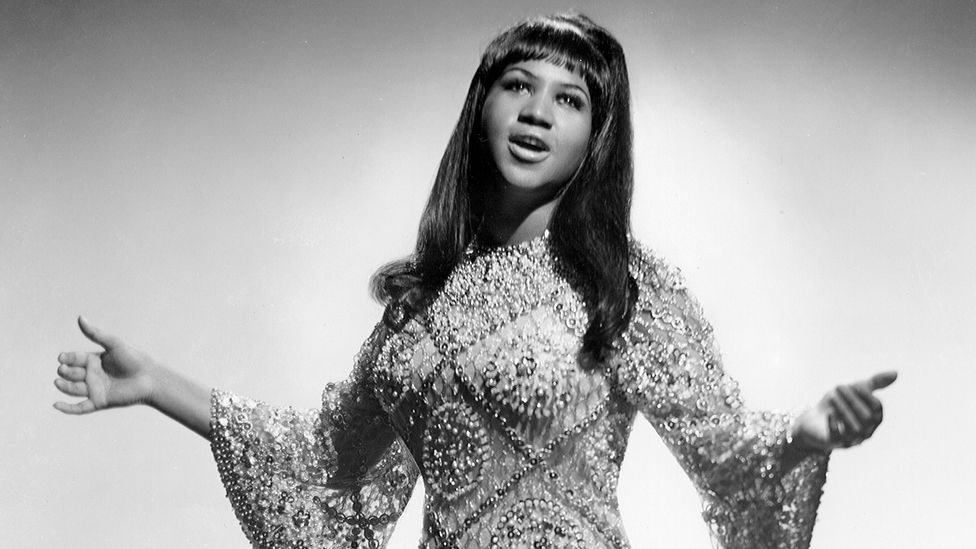 Born in Memphis, Aretha Franklin moved to Detroit in early childhood – her first album, at the age of 14, was a live recording of her singing in church (Credit: Getty Images)
Take the 1998 Grammy Awards, when Aretha stepped in to cover for a sickly Luciano Pavarotti, and performed the Turandot aria Nessun Dorma; she sang in Pavarotti's own tenor range, but gave it her inimitable soulful flair. Apparently, she took 20 minutes' notice to perform this show-stopper, and it remains a wondrous rendition to hear and watch: her earthy then soaring tone, her poise and flashing eyes.
Soul's wellspring
All of Aretha's music, even her operatic performance, feels deeply infused with her gospel roots. She was born in Memphis in 1942: the daughter of a preacher man with a wayward rep. She was raised in Detroit, where her father preached at the New Bethel Baptist Church, and her musical schooling began; she proved a prodigal talent as a pianist (her piano skills would endure as oneof her career trademarks) and a vocalist. It was a turbulent upbringing; her parents split, and her mother died when Aretha was nine. By the time Aretha was recording her debut album, Songs of Faith, aged 14, she was also pregnant with her second child. The first track on that 1956 gospel collection is her take on the 18th Century hymn, There is a Fountain Filled with Blood, and it still sounds hauntingly beautiful: just her dreamy voice and piano, with echoes of handclaps and exultations.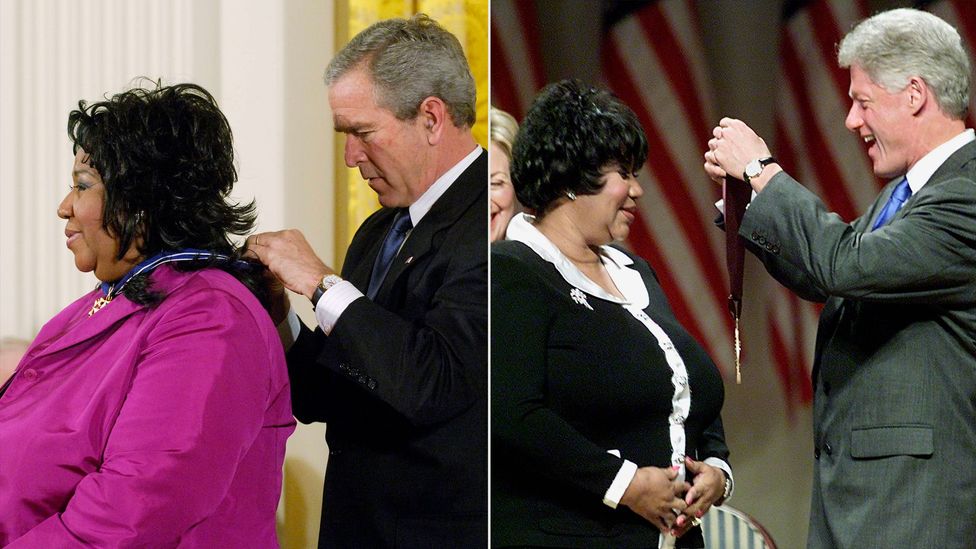 Franklin was honoured by several US presidents throughout her career, and she was both an honouree and a performer at the prestigious Kennedy Center Honours (Credit: Getty Images)
Managed by her father, she toured with acclaimed gospel collectives such as The Soul Stirrers, featuring a 20-something Sam Cooke. She also decided that she wanted to reach broader audiences, by performing secular material. Years into that mainstream success, her father would still remark: "Truth is, Aretha hasn't ever left the church!" This spiritual quality resonates throughout her varied works, and she would also celebrate her gospel heritage in her 1972 live album, Amazing Grace, which remains her biggest-selling disc to date (certified double platinum in the US).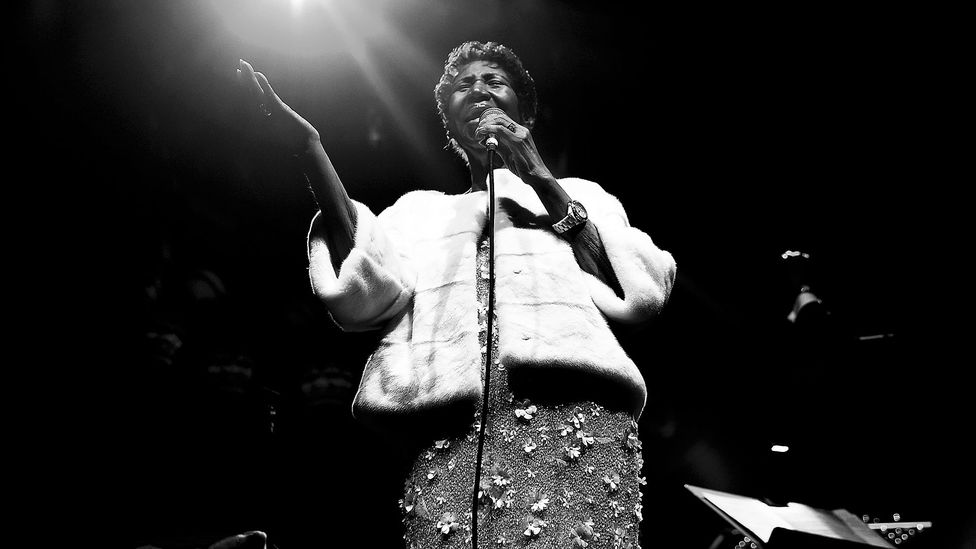 She continued performing until not long before her death, such as at the 25th anniversary concert for the Elton John Aids Foundation on 7 November 2017 (Credit: Getty Images)
After an initial major label stint at Columbia Records, Aretha would sign to Atlantic Records in 1967, and seal her royal status. At Atlantic, she recorded with celebrated producer Jerry Wexler and the Muscle Shoals rhythm section – scoring her debut smash hit with the irresistibly bittersweet I Never Loved a Man (The Way I Loved You), and sparking her commercial fame. Aretha is sometimes, confusingly, declared as a 'Motown legend'; she does embody a universal sense of soul, but she never actually signed to that Detroit label. Her undisputed 'Queen of Soul' status may also have been sealed at a 1967 concert at Chicago's Regal Theatre, where DJ Pervis Spann presented her with a crown during an onstage "coronation" – but this was a fun gimmick, and Aretha remains the real deal.
Woke before woke
A contemporary generation of empowered and 'woke' pop artists owe much to Aretha. She may not have deliberately positioned herself as a political voice, but she made crucial statements when being outspoken carried genuine risks. She sang black gospel composer Thomas Dorsey's Precious Lord (Take My Hand) at Martin Luther King's funeral following his assassination in 1968. When civil rights activist Angela Davis was jailed in 1970, Aretha publicly offered to post a quarter of a million dollars in bail ("I have the money," said Aretha. "I got it from black people and I want to use it in ways that will help our people"). She carried Afrocentric imagery and expressions throughout her work, including the 1972 album Young Gifted and Black, titled for Nina Simone's poetic anthem.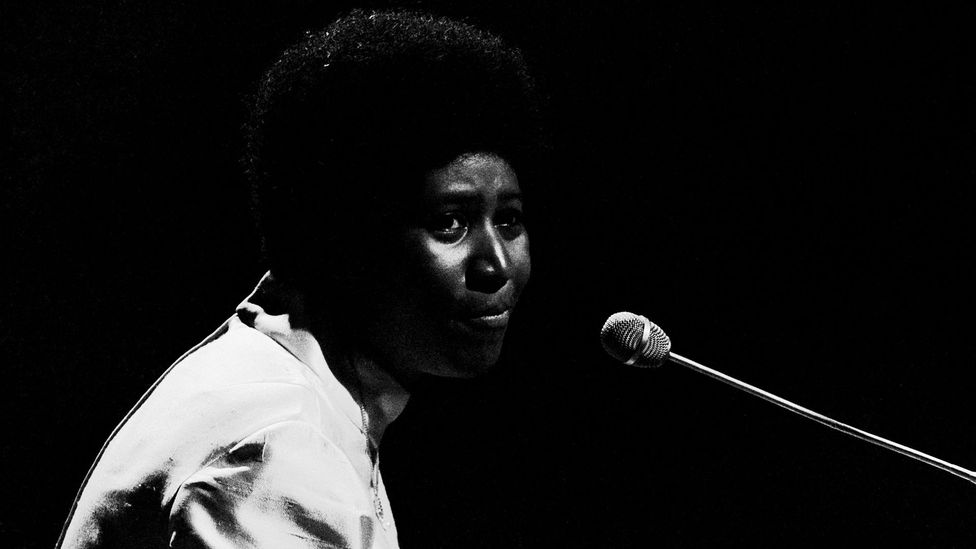 Franklin frequently played the piano when she sang – when she switched to Atlantic Records in 1967, the mature phase of her career began (Credit: Getty Images)
She meticulously guarded her private life; she was still lambasted for being driven and demanding – such unforgivable female qualities, particularly as she rose through a mainstream both thrilled and threatened by the combination of blackness, female sexuality and success. She was the first woman inaugurated into the Rock and Roll Hall of Fame, in just its second year of existence – and she was inducted by Keith Richards. There are definite clues to her competitive streak; apparently, she was furious when Beyoncé  referred to the undeniably excellent Tina Turner as "Queen" at the Grammys in 2008. Aretha later pertly remarked, "I dismissed it as a cheap shot for controversy".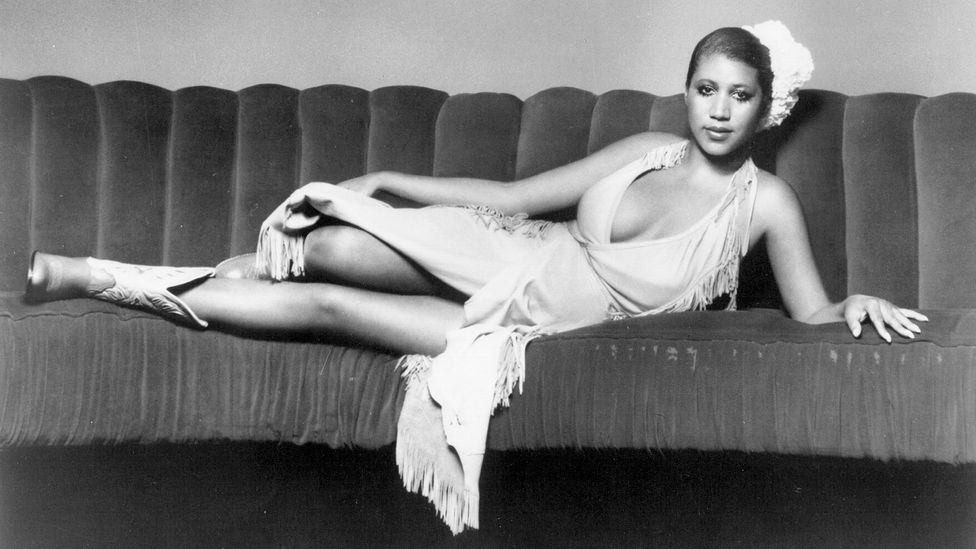 In songs such as Respect and Chain of Fools, plus in her fashion and performing style, she represented a new, unapologetic, uncompromising female persona (Credit: Getty Images)
There are also copious examples of her collaborative spirit, particularly as her material evolved through musical trends; commercial success wasn't always a given, but her voice never felt compromised. The '80s brought big screen scenes (her greasy diner performance of Think in The Blues Brothers remains a delicious treat), and a restyled sound on duets with the likes of George Michael and Eurythmics, and solo hits like Who's Zoomin' Who? (1985). Her '90s releases felt less substantial, but they still yielded the sublime, Lauryn Hill-produced A Rose Is Still A Rose (1998); in the video, Aretha delivers a sermon-like intro from a throne of blooms.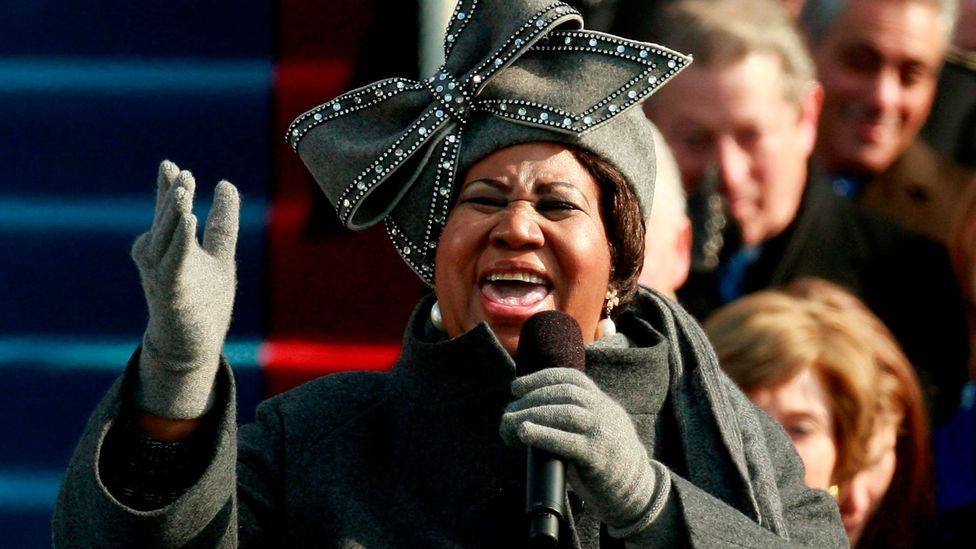 She performed at Martin Luther King Jr's funeral in 1968, but a little over 40 years later she sang at the inauguration of the first black US president (Credit: Reuters)
Aretha had been battling ill health for some time, though she'd previously denied rumours of pancreatic cancer, even when she was forced to cancel live dates a few years ago. She was resolutely splendid in the 21st Century – still appearing to choose her moments and create a sensation; dressed to the nines and assuredly immaculate, even when her lyrics shattered hearts. She performed My Country 'Tis Of Thee at President Obama's inaugural ceremony in 2009 – and famously moved him to tears in 2015, when she sang (You Make Me Feel Like) A Natural Woman at a tribute to its songwriter, Carole King. "American history wells up when Aretha sings," Obama would explain to The New Yorker's David Remnick.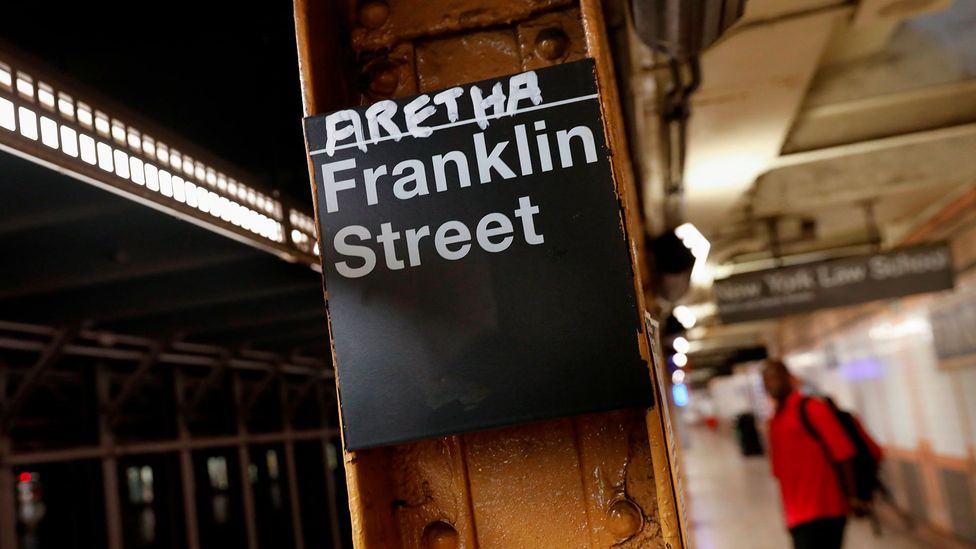 After word broke on 13 August 2018 that Franklin was 'gravely ill' this makeshift tribute to her appeared at the Franklin Street subway station in New York city (Credit: Reuters)
The Queen of Soul could write a fantastic tune, but when she sang someone else's words, they belonged to her completely. Dusty Springfield marveled over Aretha's unique intonation on Son of a Preacher Man (admittedly, intended for Aretha); when Otis Redding heard her version of Respect (which he'd originally written and recorded in 1965), he affirmed: "She done took my song". When she performed her cover of Adele's Rolling in the Deep on the David Letterman Show (2014), it felt like genuinely new, classic soul. And no matter how many times we hear her biggest hits, they retain every bit of bright force – whether they're whisking us onto the dancefloor or soothing us through heartbreak. Viva Aretha. Every line she sings sounds like a revelation, now and forever.
If you would like to comment on this story or anything else you have seen on BBC Culture, head over to our Facebook page or message us on Twitter.
And if you liked this story, sign up for the weekly bbc.com features newsletter, called "If You Only Read 6 Things This Week". A handpicked selection of stories from BBC Future, Culture, Capital and Travel, delivered to your inbox every Friday.