Marina Bondas is a concert violinist who travels back to her native Ukraine to perform for people living there. It's part of a drive to re-establish culture in the troubled region.
M
Marina Bondas stands at the window of her Berlin apartment, nervously smoking a cigarette, retelling the grim jokes she heard from a child in eastern Ukraine. Just moments ago she appeared unflappable, speaking frankly and with humour about her violin concerts in the Donetsk oblast (province) and about her humanitarian charity in Germany. Like many of the citizens of Donbas, Ukraine, and in particular, the children who have come of age during the crisis, Bondas has made a strange peace with the reality of war in her country of origin, negotiating the stretches of unsettling quiet and the hours and days of shelling that follow.
Ukrainian president Petro Poroshenko awarded Marina a medal for her work in 2016 (Credit: Eduard Kulinich)
But behind her flinty English-speaking demeanour is an émigré whose identity was overhauled by the violence in eastern Europe, and much of whose work is now a gift to the embattled region. Bondas, a native of Kiev and a first-chair violinist in the Berlin Radio Symphony Orchestra, first began to travel to war affected Ukraine to perform for its residents in the wake of Euromaidan (a wave of civil unrest that began in 2013). Today, she returns to give concerts in private homes, in shopping malls, in hospitals, in orphanages, and in refugee centres, where her music often helps to drown out the sound of explosives.
More like this:
-       Can data reveal the saddest number one song ever?
-       The world's hardest singing styles
-       Why Aretha was the greatest US singer
Bondas's concerts are sometimes impromptu, often given for audiences of no more than 20 or 30. Yet they've earned her accolades from, among others, Ukrainian president Petro Poroshenko, who awarded her a medal for her work in 2016. They also frequently take place in the private homes of people she's met along the way, and almost always under the challenging conditions of a combat zone.
"One week we didn't have electricity, we didn't have water, we didn't have heating – it was minus 25 [degrees Celsius]," Bondas says of a visit she paid to the region one February. "You're just sitting home with the candle light – very romantic – and the walls are shaking and you hear all the bombings."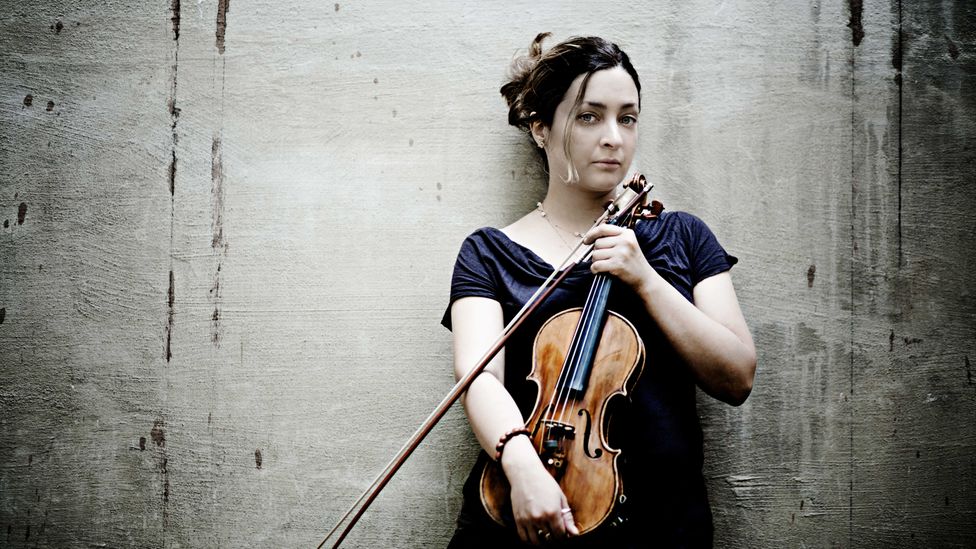 Bondas joined Heart for Ukraine, an NGO which organised benefit concerts in Germany (Credit: Mark Wyand)
And yet, Bondas says, "I don't know if people would understand me if I [said] this evening were one of the best evenings in my life, despite the terrible situation." She adds, "I didn't just play music. I lived in that music… we didn't know if we [would] wake up next morning, so let's enjoy the evening."
She pauses. "Could we make a break? I need a cigarette," she says, shaking her head, laughing, and rising to open the window to the early dusk in Berlin. She has work to do, both here in Germany and, in a few days, back in the region of Donetsk. Within moments, she manages to blink back whatever threatened to stand in the way.
'Society is answering me'
Bondas, now in her late 30s, was born in the Soviet Union and emigrated with her family to Germany in 1992. By the time they arrived, the 12-year-old musician had spent more than half of her life studying the violin. At home in western Europe, she felt estranged from her native Ukraine, which she says she perceived as her neglectful "mother" country.
It was over two decades later, in response to Euromaidan, that Bondas says she rediscovered her identity as a Ukrainian. A series of demonstrations in late November 2013 in Kiev's Independence Square, in protest of the government's failure to adopt an association agreement with the EU, set off months of unrest, leading to Russia's annexation of the Crimean peninsula and the military escalation of Russian-backed separatists in Donbas – a war that continues today, four years later.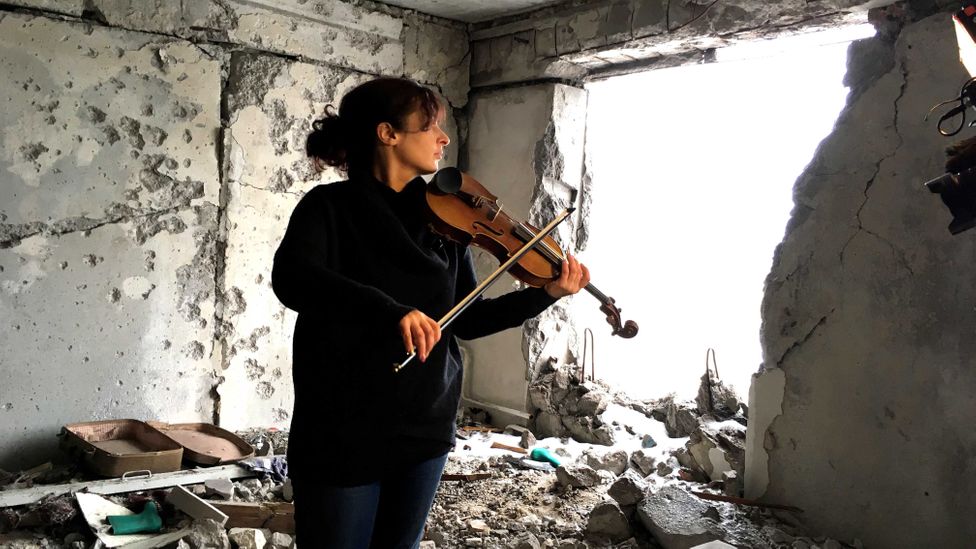 Marina Bondas gives concerts in private homes, shopping malls, hospitals, orphanages and refugee centres (Credit: Anastasia Magazova)
Yet in the midst of the upheaval, Bondas says she perceived a sudden flourishing of possibility for everyday citizens to affect change within their new society. "Now it's not only that I love my country, but the country is answering me – the society is answering me with love," she says. "And [I] can be a member of Ukrainian society. It doesn't matter where I am."
Bondas selects compositions that allow her listeners a moment of levity or fantasy
Around the same time, another Ukrainian in Berlin founded the NGO Heart for Ukraine to provide aid for people affected by the war. Bondas joined the effort in its early stages and eventually became one of its leaders. Heartened by the success of the organisation's benefit concerts in Germany, she was soon inspired to perform nearer to the frontlines, first in Slavyansk, a city in the Donetsk oblast, and later in Avdiivka, some 80 km south, where conflict has led to a humanitarian crisis.
"Yes, people need food, warm clothes, medicine, and so on," Bondas says. "But after four years [of] war in the same place, somehow everything is arranged, more or less." There came a point in the crisis, she believes, when moral support took precedence over material aid. "With this support you don't give them food, but you bring them to work for a day of food."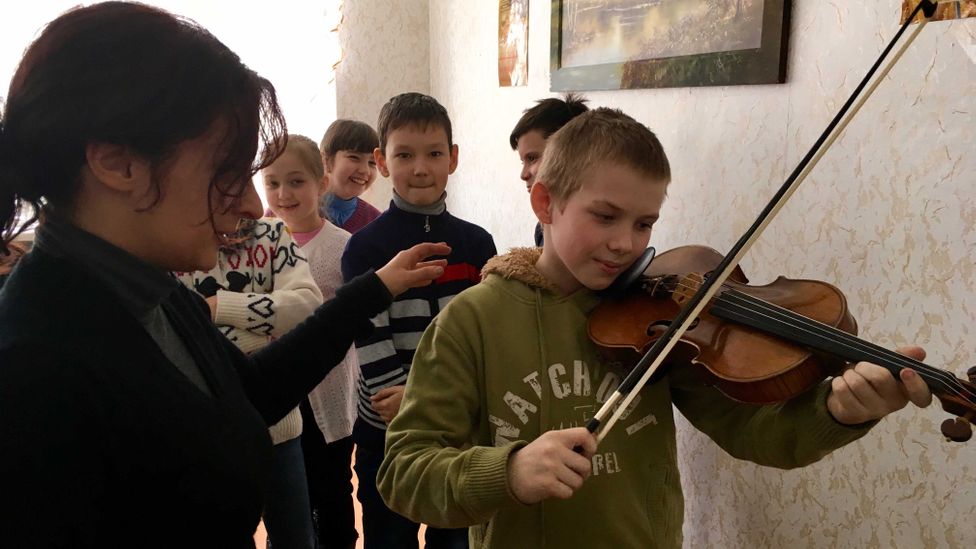 This year Heart for Ukraine hosted its fourth annual summer camp for children, Music Saves, in Germany (Credit: Anastasia Magazova)
As Bondas explains, her music serves two roles in bolstering the emotional wellbeing of individuals on or near the frontlines. Most immediately, it provides a distraction from the war; Bondas selects compositions that allow her listeners a moment of levity or fantasy and that will capture and keep the compromised attention spans of her audiences. It also provides them a tool for expression that transcends the challenges and limitations of using language in the midst of trauma.
Music saves
A major factory producing coke for metallurgy keeps thousands of citizens of Avdiivka gainfully employed, despite the conflict raging outside its walls (and sometimes against them – the factory has sustained hundreds of documented shelling incidents). According to Bondas, many residents who fled the war later returned because they were guaranteed jobs at the factory, and they continue to go to work despite the nearby shelling. "You can stop something for maybe one hour some days, to live in some state of emergency one week, two weeks. But if the situation continues for years, you get crazy," Bondas says. "And somehow people start to ignore the war, start to ignore the situation." Residents of Avdiivka have begun to arrange an approximation of normal life, to host parties and re-establish their culture, and with music, she says, "we are trying to support them to bring this cultural life back to the city."
The worst thing about the war: you can get used to it – Marina Bondas
Bondas professes particular concern for the children caught in the crosshairs of the conflict, for whom the anxiety of life in a war zone is a fact of everyday life. Whenever possible, the musician works one-on-one with children, invites them to play with instruments, and engages them in musical games. And this summer, Heart for Ukraine hosted its fourth annual exchange program and summer camp for children, Music Saves, in Germany. The program allows gifted children and teenagers from Avdiivka to take part in workshops in music, visual art, theatre, and dance in a safe, peaceful environment.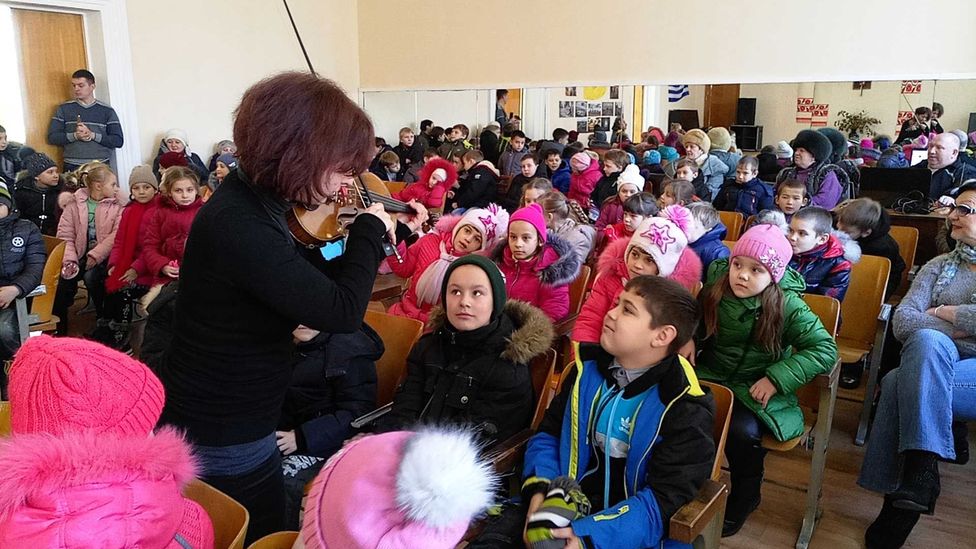 Bondas's music provides a brief distraction from the war – as well as providing people with a tool for expression (Credit: Marjinka)
"You need this next generation to be healthy, more or less, and developed and educated and creative and free," Bondas says. But for the children who have grown up in conflict zones, she notes, healing from trauma will only begin once the war has ended.
At the window with her cigarette, Bondas recalls an eight-year-old boy who came to Music Saves last summer. Shortly after the start of the program, caught up in the camp's idyllic settling, he was taken aback. "Suddenly with a surprised voice he asked, 'There is no war here?'" Bondas recalls.
"The worst thing about the war: you can get used to it," she says. "You have to survive somehow."
But, she adds, "Much more complicated is it to come back from it."
If you would like to comment on this story or anything else you have seen on BBC Culture, head over to our Facebook page or message us on Twitter.
And if you liked this story, sign up for the weekly bbc.com features newsletter, called "If You Only Read 6 Things This Week". A handpicked selection of stories from BBC Future, Culture, Capital and Travel, delivered to your inbox every Friday.