Pieter Bruegel the Elder transformed observations of daily existence into complex visual parables. As a new exhibition of his work opens in Vienna, Kelly Grovier explores the elusive symbolism of one of the artist's more deceptively straightforward paintings.
I
It is one of the most riddling paintings in all of art history: a pair of white-collared monkeys is chained to a metal hasp under a darkening archway in the extreme foreground of a small oak panel. Behind the hapless creatures, a veil of luminous mist rises from the harbour below, blurring to a hazy dream the spire-pronged skyline of the Flemish port city, Antwerp. One of the red-capped mangabey monkeys gawps at us with eyes as wide as saucers and an impish grin. The other, half-turned, crouches despondently, as if admonished by our stare. Shards of an empty nutshell litter the cramped alcove that is the pair's prison cell – a transitory, threshold space that at once bridges and separates the world we inhabit, outside the picture, and the idealised realm that beckons in the distance.
More like this:
- Eerie, hyper-real sculptures
- 'An extraordinary survival story'
- The forgotten women of Impressionism
The panel is one of 28 paintings by Pieter Bruegel the Elder (only 40 by his hand are known to survive) on display in a once-in-a-lifetime exhibition at the Kunsthistorisches Museum in Vienna. Marking the 450th anniversary of the death of the Renaissance artist, it features some 90 works in total, including drawings and prints – the most ambitious show devoted to the Early Netherlandish master ever organised.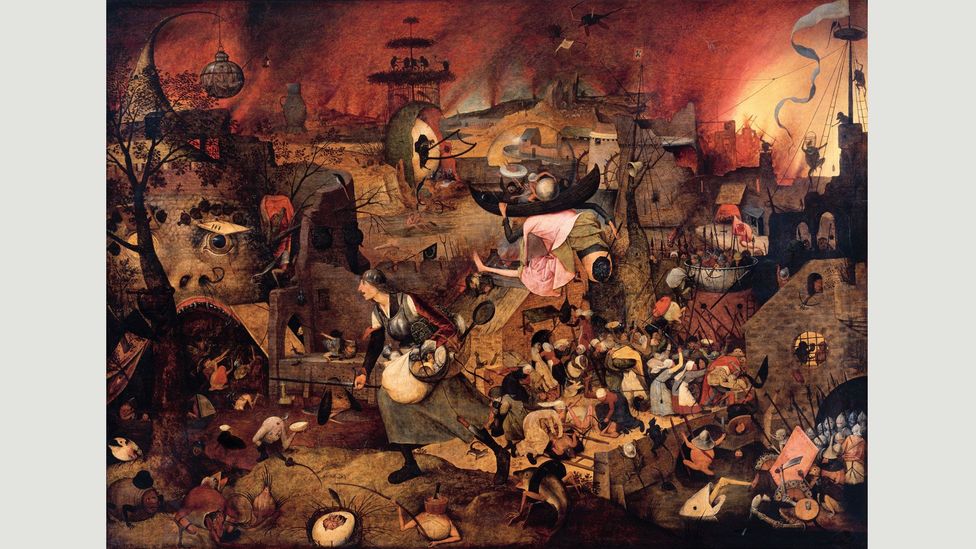 With a debt to Hieronymus Bosch, Dulle Griet (1563) shows a figure from Flemish folklore leading an army of women to pillage Hell (Credit: Museum Mayer van den Bergh)
Two Monkeys (1592) may be one of the smallest and seemingly most straightforward paintings by Bruegel, an artist whose reputation was built on large and elaborate tableaus teeming with peasants engaged in allegorical action. Yet decrypting Two Monkey's symbolic meaning, if it indeed it is loaded with one, has proved an enduring puzzle for both art historians and casual admirers of the artist.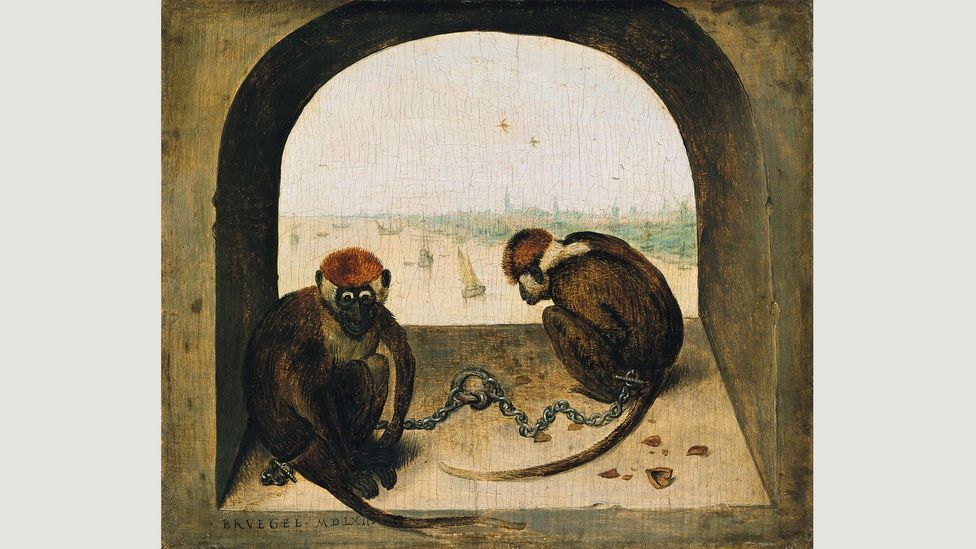 Two Monkeys (1562) by Pieter Bruegel the Elder is deceptively simple, according to art historians (Credit: Staatliche Museen zu Berlin, Gemäldegalerie/Christoph Schmidt)
It may be tempting, at first glance, to dismiss the evocative vignette as nothing more than the record of an actual, if exceptional, observation by the artist amid the hubbub of a bustling port town – an incidental portrait of a brace of woeful beasts torn from their native habitat by heartless traders from the western coast of Africa. After all, as the accompanying catalogue to the exhibition argues, the very presence of such exotic creatures in Antwerp in the middle of the 16th Century would surely have struck any contemporary as an oddity worth memorialising.
Drinkers at an inn are at one side of The Battle Between Carnival and Lent, 1559, while the other half is dominated by scenes of piety (Credit: KHM-Museumsverband)
Earlier paintings helped establish Bruegel as a master of narratively-intricate and allegorically-rich Wimmelbilder, or 'busy pictures'
But Bruegel was not just any contemporary artist or any ordinary chronicler of Flemish life. By 1562, the year he painted Two Monkeys, he had already introduced himself as an artist adept at transforming observations of daily existence into complex visual parables and painterly proverbs. Earlier paintings that will also feature in the exhibition, such as The Battle between Carnival and Lent (1559) (which pits the pursuits of pleasure against rituals of piety) and Children's Games (1560) (which imagines a world overrun by the diversions of toddlers and adolescents), helped establish Bruegel as a master of narratively-intricate and allegorically-rich Wimmelbilder, or 'busy pictures'.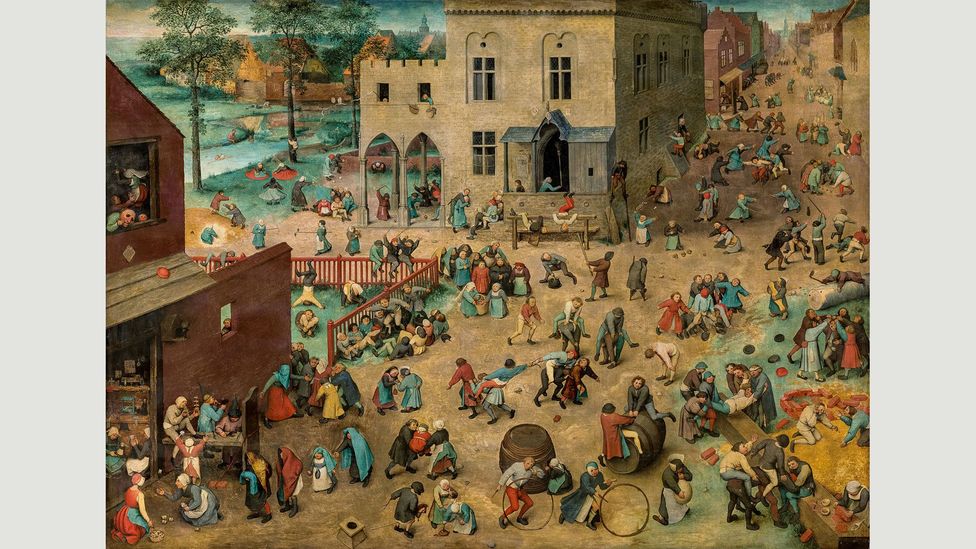 In Children's Games, 1560, toddlers and young people take over a town square, engrossed in their activities (Credit: KHM-Museumsverband)
Artbeat
Each week, Kelly Grovier highlights a single artwork from a major exhibition opening around the world, offering an insight into why that artist matters.
In the four-and-a-half centuries since Bruegel created his enigmatic double portrait, scholars, convinced there must be an underlying message to the panel, have busied themselves trying to decode its elusive symbolism. "The traditional negative connotations of monkeys in art," according to one of the exhibition's four curators, Manfred Sellink, whose analysis of the painting appears in the comprehensive catalogue, "have prompted moralistic and sometimes incompatible interpretations, such as desire and lechery, greed and miserliness, or evil of every sort".
Monkey mystery
Readings of the painting have ranged from the possibility that it is merely a perishable comment on current events (a kind of provincial political cartoon) to suggesting that it is a timeless statement about the very act of creative imitation – the artist 'aping' nature.
Hypnotised by the monkey's gaze, my own mind seizes on a resemblance between Bruegel's monkeys and those recalled from an earlier painting – an intricate tempera panel by the 15th-Century Italian artist Gentile da Fabriano. In Gentile's ostentatiously bejewelled and gold-encrusted The Adoration of the Magi (1423), hailed as the apogee of International Gothic painting, a pair of chained monkeys is likewise positioned under a central arc – an overarching curve that comprises part of the elaborate architecture of the painting's ornate frame.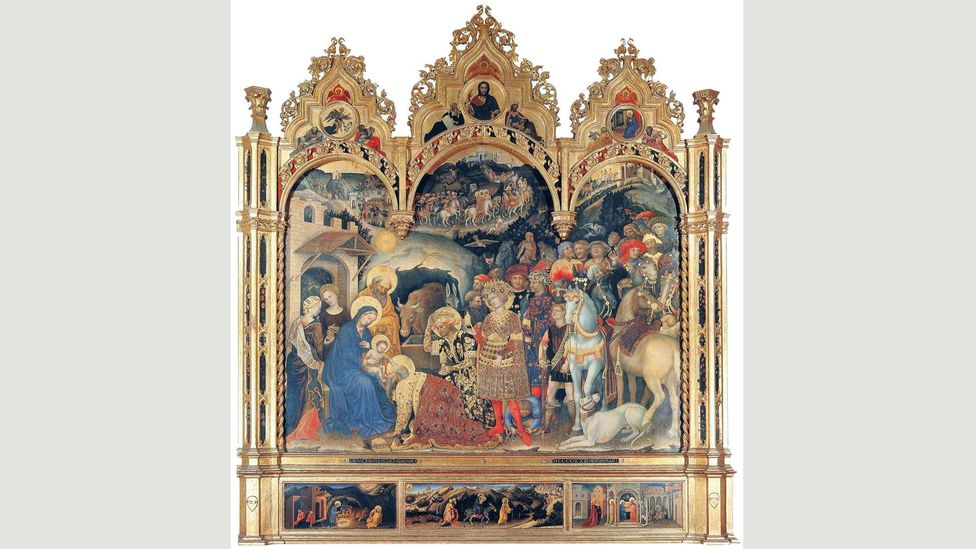 A tempera panel by the 15th-Century Italian artist Gentile da Fabriano could have been the inspiration for Bruegel's Two Monkeys (Credit: Wikimedia)
Anticipating Bruegel's later panel, the monkeys that unsettle Gentile's work, moreover, occupy a similarly pivotal place in the composition, in this case between a foreground where three kings (or magi) have arrived to bestow gifts and veneration on the infant Christ and, behind the fettered creatures, a visionary landscape through which the magi's journey is colourfully charted.
The monkeys in Gentile's work are easier to decipher than those in Bruegel's and serve a stock symbolic function, representing mankind's innately corrupt condition. That assumption is corroborated by the proximity of a tree bearing riven, overripe pomegranates, themselves a conventional stand-in in Medieval iconography for the stolen fruit from paradise that is linked to mankind's fall and subsequent expulsion from Eden.
All that stands between us and the splendours of the world we inhabit are the fetters we clamp on ourselves and on each other
In Gentile's work, the chained monkeys have been roped in to remind us from what a lowly state – morally and spiritually – mankind is rescued by Christ's birth. The monkeys are us. Could this echo of an earlier masterpiece offer a hint about the meaning of Bruegel's work? We know that a decade before Bruegel painted his Two Monkeys, he travelled through southern Italy – a pilgrimage from Flanders to Rome that would likely have taken the young artist, still in his twenties, through Florence, where Gentile's fabled masterpiece was on display in the church of Santa Trinita. Whether Gentile's monkeys were ever in fact studied by Bruegel on his travels or indeed continued to swing through the lush branches of his imagination in the ensuing decade is anyone's guess.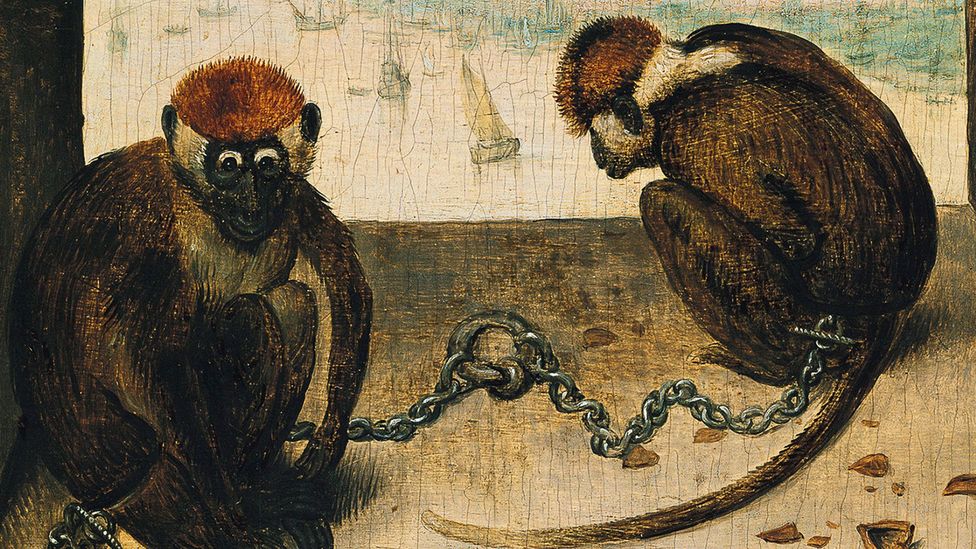 Bruegel might have been aping Gentile's painting to reveal an emblem of humility at its centre (Credit: Staatliche Museen zu Berlin, Gemäldegalerie / Christoph Schmidt)
But the parallels between the two paintings are enticing and suggest that the Flemish master may have endeavoured to reinvent the earlier Italian panel – to ape it, in a very Bruegelian way: by stripping away its pretensions, the gold and gaudiness of Gentile's painting, in order to isolate an emblem of humility at its centre. As an update of Gentile's Adoration of the Magi, the meaning of Bruegel's panel comes into unexpected focus: all that stands between us and the splendours of the world we inhabit are the fetters we clamp on ourselves and on each other.
Conceived on a small scale that would allow the painting to be passed around in social gatherings by those in Bruegel's close circle, Two Monkeys is an intensely intimate visual gadget, as if designed to connect with viewers on a more privately penetrating level.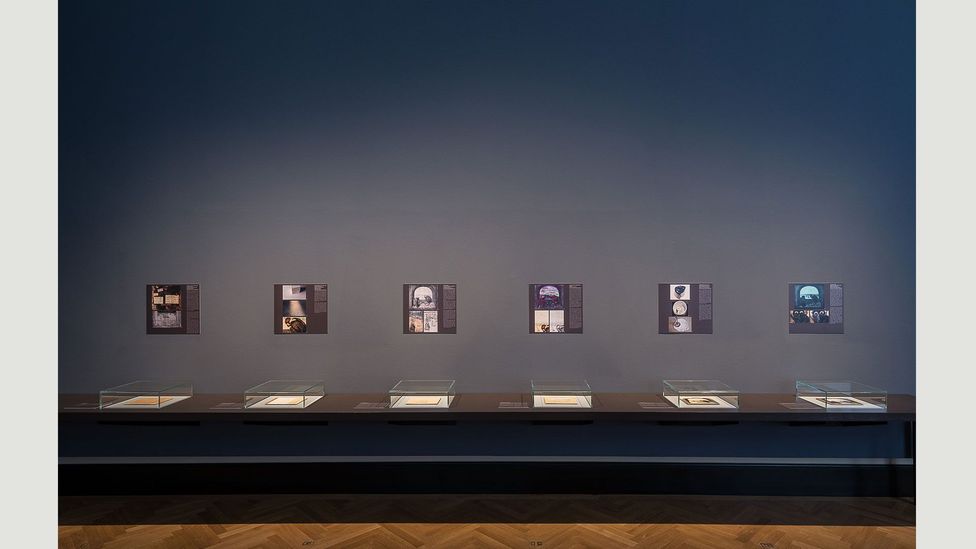 In the new exhibition, a series of six panels move step by step through the process of painting Two Monkeys (Credit: KHM-Museumsverband)

Acknowledging the perennial allure of Bruegel's compressed masterwork, the exhibition's organisers have devised an ingenious display for the painting, one that reverse engineers the work's inception through a series of six, step-by-step, panels – each one suspending the evolution of the painting at a key stage in its emergence as an enigmatic icon.

This arduous research-driven reconstruction will seek to slice Bruegel's genius down to a rhythm of arrested brushstrokes, as if turning the creative clock back to the instant of the painting's conception. The innovative display is designed, according to Sabine Pénot, one of the show's curators, to provide visitors with "a unique opportunity to look over the master's shoulder while he is painting".

Bruegel is at the Kunsthistorisches Museum in Vienna from 2 October 2018 to 13 January 2019.

A new book, Bruegel: The Master, is out now, published by Thames & Hudson.

If you would like to comment on this story or anything else you have seen on BBC Culture, head over to our Facebook page or message us on Twitter.

And if you liked this story, sign up for the weekly bbc.com features newsletter, called "If You Only Read 6 Things This Week". A handpicked selection of stories from BBC Future, Culture, Capital and Travel, delivered to your inbox every Friday.

;