Swedish artist Hilma af Klint created a secret body of work through psychic communication. As a new exhibition opens in New York, Kelly Grovier looks at the ground-breaking abstract paintings made years ahead of her male contemporaries.
T
The year is 1907 and every corner of Europe is buzzing with artistic innovation. In Paris, Pablo Picasso is painting the chiselled muscles and mask-like stares of his pioneering, proto-Cubist portrait of nude prostitutes, Les Demoiselles d'Avignon. Across the city, the influential amateur artist Henri Rousseau is dreaming up his mesmeric The Snake Charmer – a jungle of the mind that will presage by over a decade a fully-fledged avant-garde Surrealism. In Vienna, the Austrian symbolist Gustav Klimt is enjoying a 'Golden Period' of inspiration that will witness the creation of his most enduring and passionately adored icon: The Kiss.
More like this:
- One of art's most enduring puzzles?
- Eerie, hyper-real sculptures
- 'An extraordinary survival story'
Meanwhile, far off the beaten path of art history as most of us know it, hundreds of kilometres away from the more familiar hubs of Paris and Vienna, in the Stockholm studio of a little-known Swedish artist then in her early 40s, a mysterious series of ground-breaking paintings is quietly emerging – one, according to a new exhibition at the Guggenheim Museum in New York, that has the power to rewrite the story of modern art.
Dominating the centre of one of the huge panels that comprise the 10-canvas series, appropriately entitled The Ten Largest (each is more than 3m high and 2m wide), is a bold biomorphic shape unlike anything that has ever swelled to such outsized proportion on a painting in the history of Western art. Years before Wassily Kandinsky, Kazimir Malevich, or Piet Mondrian will begin their celebrated experiments with non-figurative art, this enormous amorphous mustard shape pulsated in secrecy and silence.
Group IV, No 7, The Ten Largest, Adulthood is part of Af Klint's monumental series charting the four ages of man (Credit: Albin Dahlström, the Moderna Museet, Stockholm)
At first glance the inflated form resembles a stylised onion or gargantuan bulb of garlic, daydreaming spinning spheres in a thought-bubble above it. Look again and now it's an organic hourglass, the top half of which appears to be peeling away from itself like petals from a flower, as if time were endlessly pluckable into different dimensions. Bulging from the centre of the clinically entitled painting Group IV, No 7, The Ten Largest, Adulthood, this oddly indeterminate tuber is both carefully geometric and fancifully free-form in its bold, quasi-botanical design. Squashed all around it, like balletic bacteria in a petri dish, is a myriad of bright, elaborate vines and embryonic swellings that throb and float in every direction – now sprawling like alien vegetation from another world, now forming tendrils, like the calligraphic scrawl of a long-lost language.
Psychic readings
The artist responsible for this stupefying painting is Hilma af Klint, an honours graduate of Stockholm's Royal Academy of Fine Arts, known to her contemporaries as a conventional figurative painter of traditional subjects. Constructed in autumn 1907 from tempera on paper sheets mounted onto canvas, the bewitching visions that comprise Af Klint's seminal abstract series The Ten Largest are a daring departure from the lyrical landscapes for which she was locally admired. These works belong to an ambitious project that the artist had embarked upon a year earlier, after receiving instruction from an unseen ministry of spiritual guides, or 'High Masters' as she called them, with whom Af Klint had been communicating with the aid of a psychograph (a device designed to enable psychic communication).
Af Klint insisted that the entire project remain hidden from public view until at least 20 years after her death
The Paintings for the Temple, as Af Klint came to call the larger initiative to which she had committed herself, would eventually swell over the next eight years to 193 canvases and works on paper. Af Klint's ambitious magnum opus would include, in addition to The Ten Largest (completed in 1907), an ever-evolving repertoire of images that revolved around key symbolic motifs such the rose, the seven-pointed star, the Tree of Knowledge, and swans. Taken together, this huge body of abstract work – which maps an elaborate universe of invisible forces and transcendent forms that vibrate beyond our material perception – was intended to adorn an imagined, but never constructed, spiral sanctuary that Af Klint believed might assist visitors on their winding journey upwards to soulful enlightenment.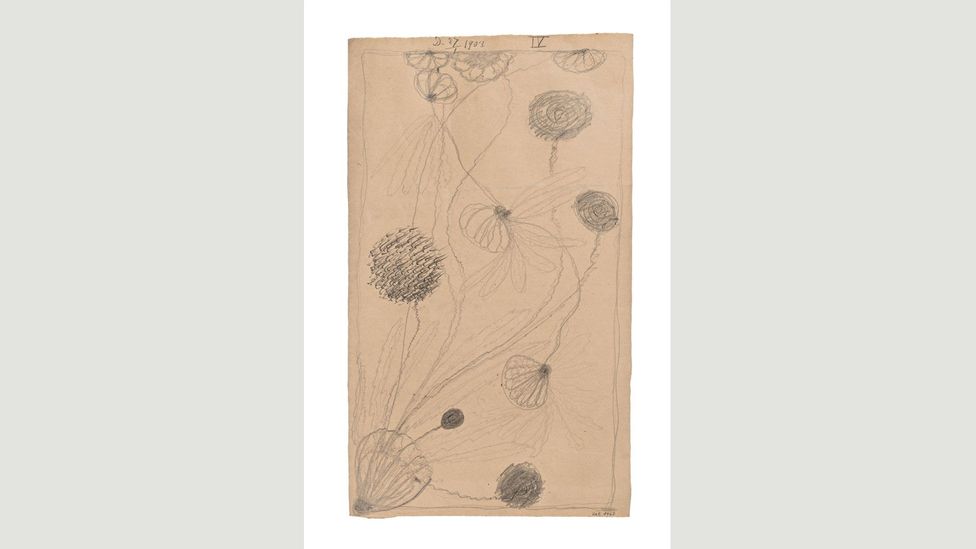 Along with four female spiritualists, Af Klint created works such as this untitled drawing while in a trance-like state (Credit: Albin Dahlström, the Moderna Museet, Stockholm)
Over time, Af Klint (who died in 1944) came to feel that the world was not yet prepared to appreciate the profundities of her work and insisted that the entire project remain hidden from public view until at least 20 years after her death. It would be another two decades after that, however, before Af Klint's enigmatic vision would in fact see the light of day on any significant stage. A group exhibition at the Los Angeles County Museum of Art in 1986, entitled The Spiritual in Art, Abstract Painting 1890-1985, introduced the world to the mystifying wonders of Af Klint's inimitable imagination.
The Guggenheim exhibition, Hilma af Klint: Paintings for the Future, aims to be the most extensive solo display of the artist's work ever organised in the United States, and features over 170 works created between 1906 and 1920 – the most intense period of Af Klint's secretive career. The show will allow visitors a glimpse into the mind of an artist who, for decades, maintained a public profile as an artist of naturalistic scenes, while privately devoting herself to the more obscure tenets of arcane mysticism, desperate to navigate the depths of the unknown. "What I would love to see happen," the curator of the Guggenheim exhibition, Tracey Bashkoff, tells me, "is people understand that there is a wider story about the early years of abstraction than the one with which we are most familiar."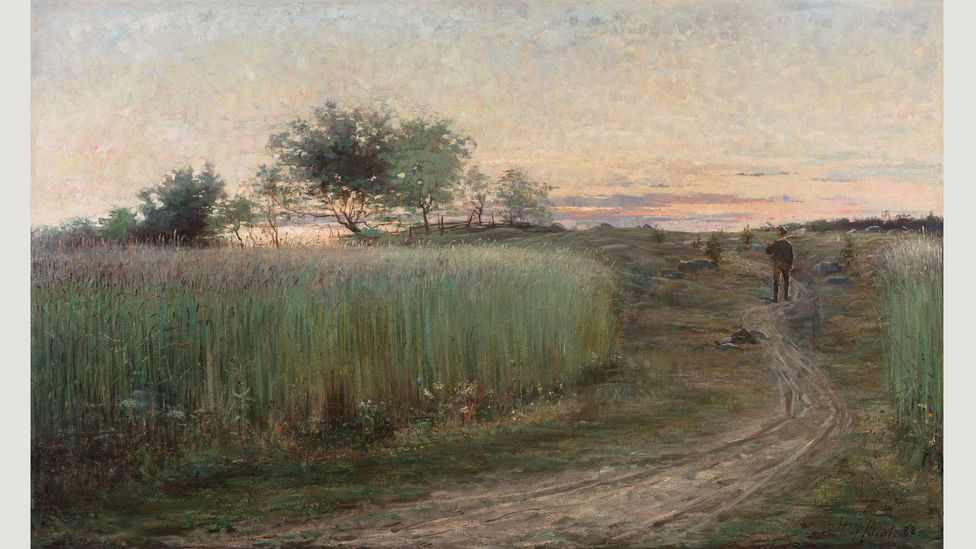 Af Klint was known as a conventional artist, with paintings such as Summer Landscape (1888) – but she also secretly created a collection of pioneering abstract works
Attracted from an early age to esoteric ideas and rituals (as a teenager she attempted to contact the dead through séances), Af Klint found herself drawn, following the tragic death of her 10-year old sister when the artist was just 18, to the spiritualist writings of the Russian founder of the Theosophical Society, Madam Blavatsky, and the philosophical writings attributed to the legendary Medieval mystic Christian Rosenkreuz. In the years after graduating from the Royal Academy, Af Klint began meeting with a group of four friends who shared her spiritualist preoccupations – an all-female occult coterie that knew itself as The Five (De Fem). Before long, The Five were chronicling in notebooks and journals their prolific correspondence with a council of spiritual guides, or 'High Masters' (Amaliel, Ananda, Clemens, Esther, Georg and Gregor), chiefly undertaken through the mysterious channels of automatic writing while in trance-like states.
Af Klint forged a visual vocabulary unlike any that had existed before in the history of image-making
In 1904, Af Klint herself was informed by the spiritual guides that a great temple should be built and filled with paintings, a task that she was subsequently invited to undertake two years later. Following a period of psychic preparation, Af Klint began working in earnest on The Paintings for the Temple in early November 1906 and quickly found herself forging a visual vocabulary unlike any that had existed before in the history of image-making. Absorbing a wide array of cultural influences old and new – from Goethe's colour theories to Darwin's discoveries concerning evolution, from Car Linnaeus's botanical taxonomies to cutting-edge ideas about atomic matter and radioactivity – Af Klint set about composing for posterity an alluring eye-music that echoed back the complex psyche of her age.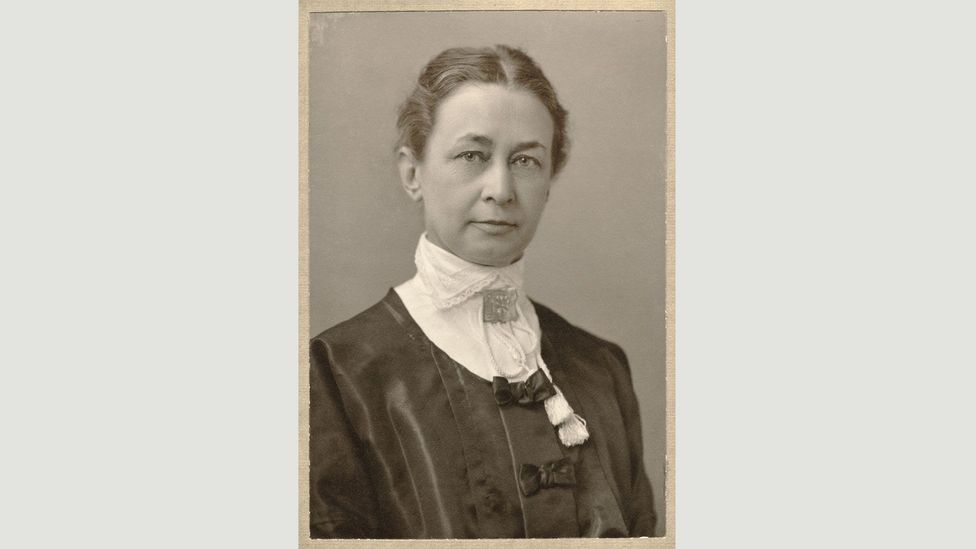 Af Klint painted in a non-figurative way five years before Kandinsky claimed to have made the first abstract painting, in 1912 (Credit: The Hilma af Klint Foundation)
Any attempt exhaustively or definitively to decrypt the entangled symbolism of Group IV, No 7, The Ten Largest, Adulthood, or indeed any other work in the show, is likely doomed to frustration. One is perhaps best advised to stand back and allow the resplendent rhythms of Af Klint's inimitable imagination to wash over you. In constructing this exceptional show, Bashkoff has endeavoured to give visitors the tools to do precisely that. In addition to an introductory selection of figurative watercolours and charcoal-and-crayon drawings illustrating the conventional nature of Af Klint's training, the exhibition will feature a clutch of dry pastel and graphite works created by the collective, The Five, as well as scores of representative works from more than a dozen series by Af Klint from 1906 (the year she was summoned by the High Master Amaliel) to a pair of late watercolours that the aging artist, then in her late 70s, painted in 1941, three years before she died.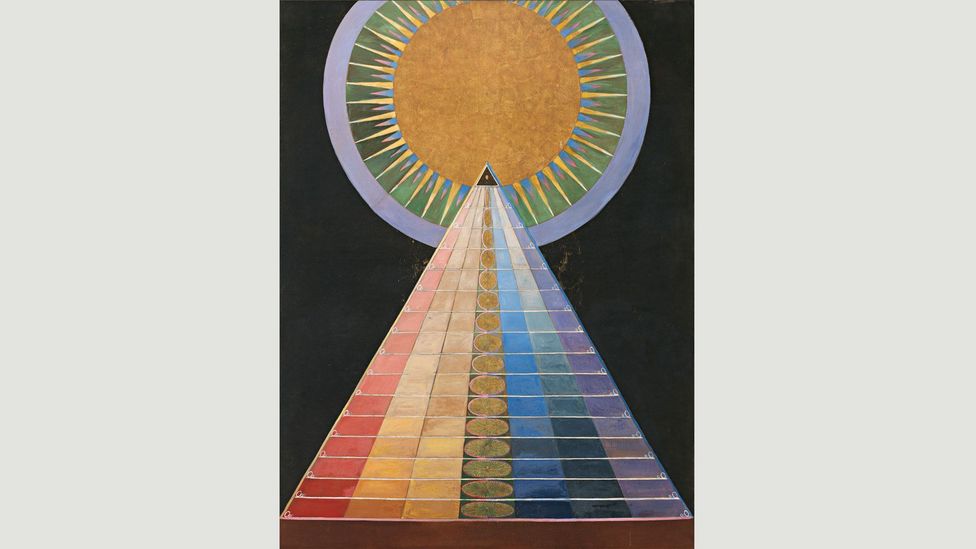 Group X, No 1, Altarpiece, 1915 (Credit: Albin Dahlström, the Moderna Museet, Stockholm)
It's tempting of course to wonder how the story of modern art might have read had Af Klint's work been known and absorbed by her male contemporaries who would ultimately be credited with discovering abstraction. By keeping her extraordinary work and imagination a secret and making it impossible for artists to react to it, Af Klint wrote herself out of art history. This exhibition promises to write her back in. Bashkoff is hoping, she says, for "an acceptance not only of Hilma af Klint's work directly, but of the idea that we need to be more inclusive in terms of geography, in terms of gender, in terms of spiritual beliefs when looking at the history of art as we have written it up to this point". So am I.
Hilma af Klint: Paintings for the Future is at New York's Guggenheim Museum until 23 April 2019.
If you would like to comment on this story or anything else you have seen on BBC Culture, head over to our Facebook page or message us on Twitter.
And if you liked this story, sign up for the weekly bbc.com features newsletter, called "If You Only Read 6 Things This Week". A handpicked selection of stories from BBC Future, Culture, Capital and Travel, delivered to your inbox every Friday.