A new book explores language coined across the globe. Christine Ro goes on an armchair adventure to find out the origins of place-based words in English.
E
Ever wondered how the chemical element strontium was named; why we use 'byzantine' to describe something that's extremely complex; which area gave the world the fruit known as the tangerine; or where the daiquiri cocktail was invented? Around the World in 80 Words: A Journey Through the English Language is a place-based guide to 80 wide-ranging words, including the examples above. The book, by prolific language writer Paul Anthony Jones, covers 65 countries and more than 70,000 miles as it shows the extent to which locations have influenced English vocabulary. (And those answers are: Strontium, Scotland; Byzantium, Turkey; Tangier, Morocco; and Daiquirí, Cuba.)
More like this:
- Will we stop speaking and just text?
- The ancient 'viral memes' still with us
- The rebirth of Cornish and other lost UK languages
English is unusually promiscuous for a European language, having borrowed words from a great many others. This geographical diversity is very much on display in Around the World in 80 Words. Initially Jones thought about compiling an A to Z list of place-derived words, but he realised that there needed to be a link between the words.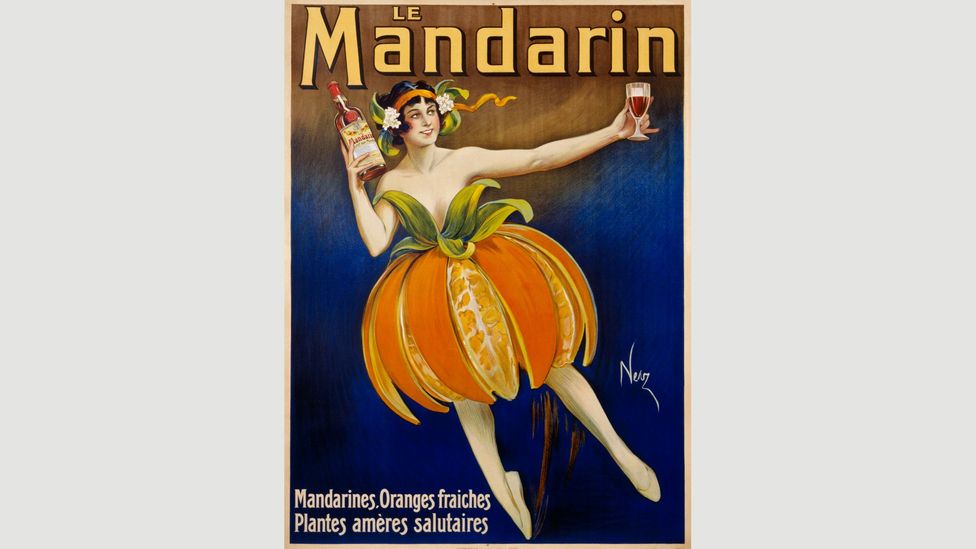 Apparently, all tangerines are a type of mandarin orange, but not all mandarin oranges are tangerines (Credit: Corbis via Getty Images)
After grouping his growing list of words into regions, he hit upon the idea of linking them via a route: the round-the-world journey that Phileas Fogg famously undertakes on a bet in Jules Verne's Around the World in 80 Days. As Jones explains, his intention "was to mix together words like 'Brazil nut' and 'turkey' and those sorts of things that we do know come from places, but also drop in some other ones that you may be quite surprised have place names behind them".
Fowl play
In particular, 'turkey' has a peculiar history. The poultry has little to do with the country. Essentially, the name reflects a 16th-Century trade in birds that seemed exotic to English diners. Jones says, "we ended up with a word that comes from a place that has absolutely nothing to do with it. It just so happens that large birds were imported onto dining tables from the Eastern Mediterranean, so we just borrowed that word, even though the birds themselves came from the other side of the world."
In Turkish, the animal is known as hindi, although in Hindi, the animal's name is the very turkey-ish tarkī.
But English speakers weren't the only confused ones. The bird is called 'Indian chicken', 'Malay chicken', 'Dutch chicken', 'French chicken', or peru in various languages. In Turkish, the animal is known as hindi, although in Hindi, the animal's name is the very turkey-ish tarkī.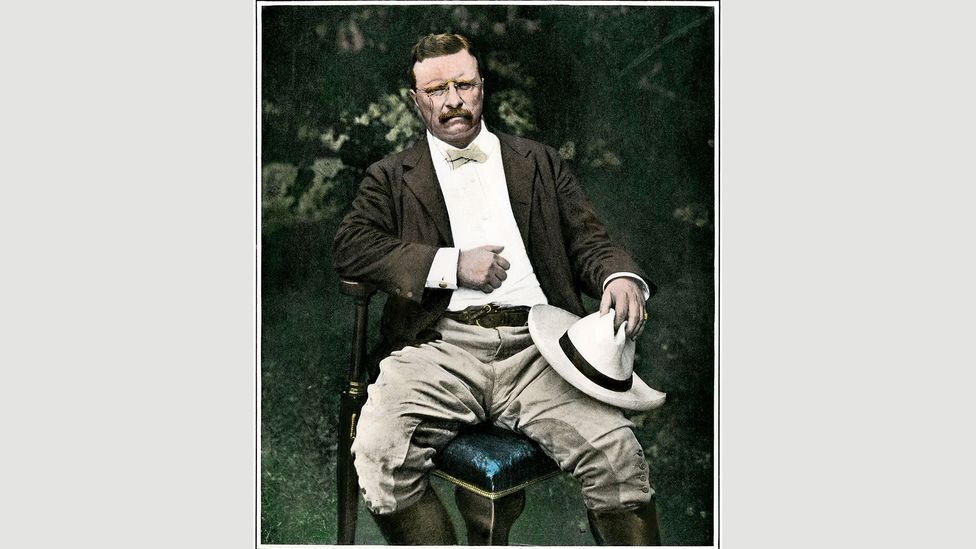 In 1904, US President Theodore Roosevelt helped popularise the Panama hat when he was photographed wearing one at the construction site of the Panama Canal (Credit: Alamy)
Beyond 'turkey', the geographical origin stories in Jones's book show how geographically inaccurate (or inventive) so many English terms are. The Panama hat is from Ecuador but started to be traded internationally in Panama, while the conga dance is from Latin America but takes its name from the Congo. And the cocktail known as a Black Russian was invented in Belgium, while a Great Dane was originally bred in Germany.
Doggone words
In fact, Jones had to limit the number of dog breeds to include in the book. As with the other entries in the book, names for dogs in English often reference the places where the breeds were developed. Jones says wryly, "if it was up to me I would have written a whole book about dogs, but you know you can't have 80 chapters of 'this dog breed was born in this area'".
Names of dog breeds, far from being frivolous, have been swept up into geopolitical tensions. For instance, the 'Alsatian wolf-dog' comes from Alsace, a territory contested by France and Germany for many years. These canines are better known in English as German shepherds, although during the world wars, many English speakers preferred to call them 'Alsatian wolf-dogs' or simply 'Alsatians'.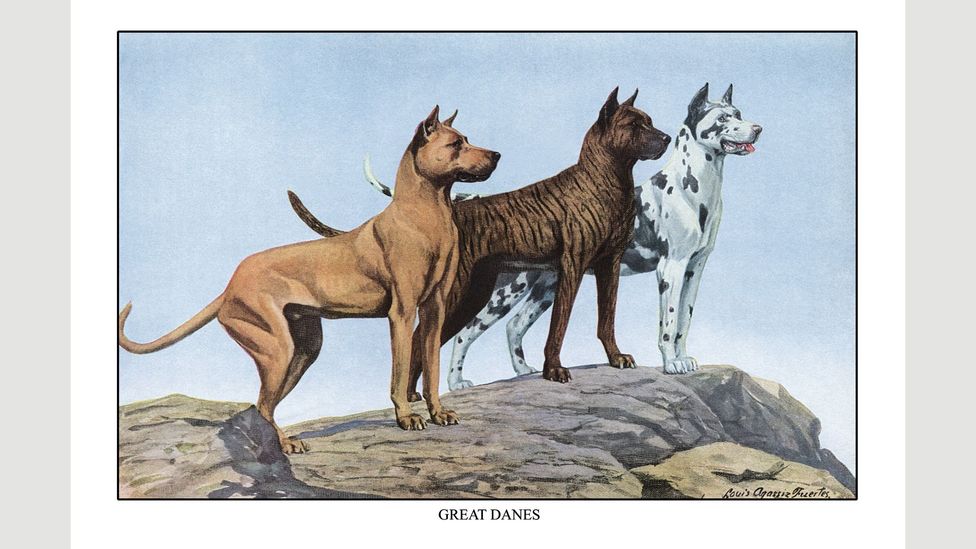 German boarhounds were renamed Great Danes (Credit: Getty)
Similarly, German boarhounds were renamed Great Danes (possibly as a reference to an earlier breed known as grand danois in French). Great Danes may be Great, but they're not Danish.
The canine-themed nationalism went in both directions. Certain long-legged hunting hounds bred in Germany were initially called Englischer Hundes, or 'English dogs', because their mix included English breeds. In Germany, they were renamed Deutsche Dogges, or 'German dogs', even before the world wars.
Badge of dishonour
As well as the deliberately altered place-origin words, some everyday words are altered forms of place names that English speakers found difficult to pronounce. For example, 'doolally' is one of the many silly-sounding words used in British English. Yet it has serious origins.
This piece of military slang term referred to a military camp in the town of Deolali, set up in 1861. British soldiers would depart from Deolali for Britain during the winter and spring, the only seasons when the weather made this feasible. The soldiers who arrived in Deolali outside of these months faced a long wait to return home. This wait was in squalid conditions where soldiers had little to do, and many were still grappling with the horrors of the combat they'd experienced. The combination of boredom, squalor, and likely PTSD led to high rates of suicide and psychological stress. So Deolali, and then its Anglicised version 'doolally', became a general term for derangement, especially of the temporary kind.
To 'Stellenbosch' a person is to move them aside without necessarily demoting them
Many of the coinages in 80 Words came out of military history, in fact. As with the dog-breed words, Jones had to stop himself from overstuffing the book with war-related terms. This was also potentially tricky because Jones was asking himself, "Can I tell the story of another war that the English have been involved in? It's difficult because it can be quite a touchy subject… the kind of influence that Britain has had across the globe."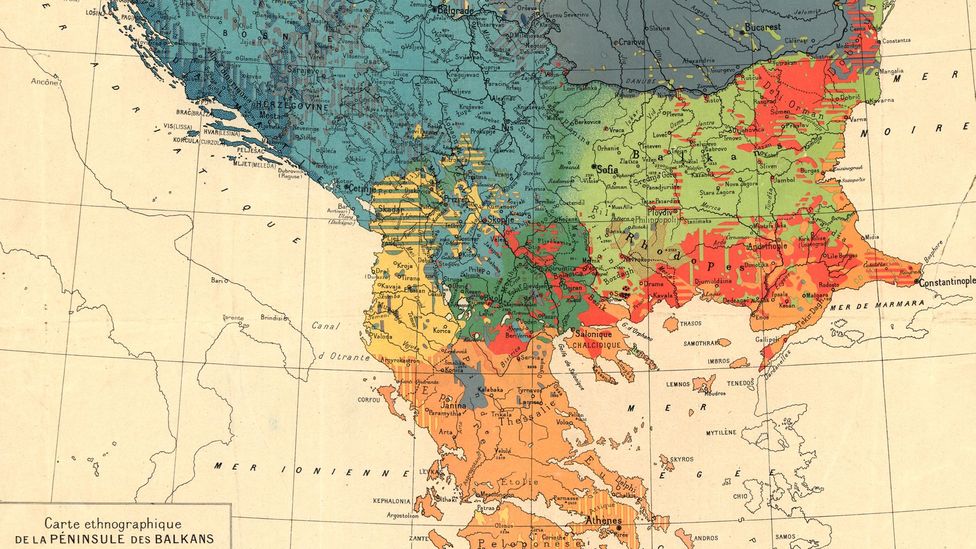 'Balkanisation' – meaning fragmentation – dates back to independence movements in the Balkan region in the early 20th Century (Credit: Jovan Cvijic/Getty)
Jones's favourite among the 80 words is actually a military coinage. Stellenbosch is a town in South Africa, which was first a Dutch and then a British colony. It also used to be used as a verb. During the Anglo-Boer War of 1899-1902, British officers who didn't distinguish themselves were relegated to caring for horses in the Stellenbosch encampment. This was an important job but not a frontline position, so to 'Stellenbosch' a person is to move them aside without necessarily demoting them. Jones calls this "an eminently useful word", though it's little used today. He notes its relevance to business owners whose decision-making powers are stripped away by company boards, or to football managers who are shunted aside but officially remain in power. Jones is hoping that this sense of 'Stellenbosch' will have a resurgence.
Unlike 'Stellenbosch', 'Balkanisation' persists, to describe fragmentation. Remarkably, it dates back to far earlier than the splitting of the former Yugoslavia in the 1990s, as it initially referred to independence movements in the Balkan region in the early 20th Century.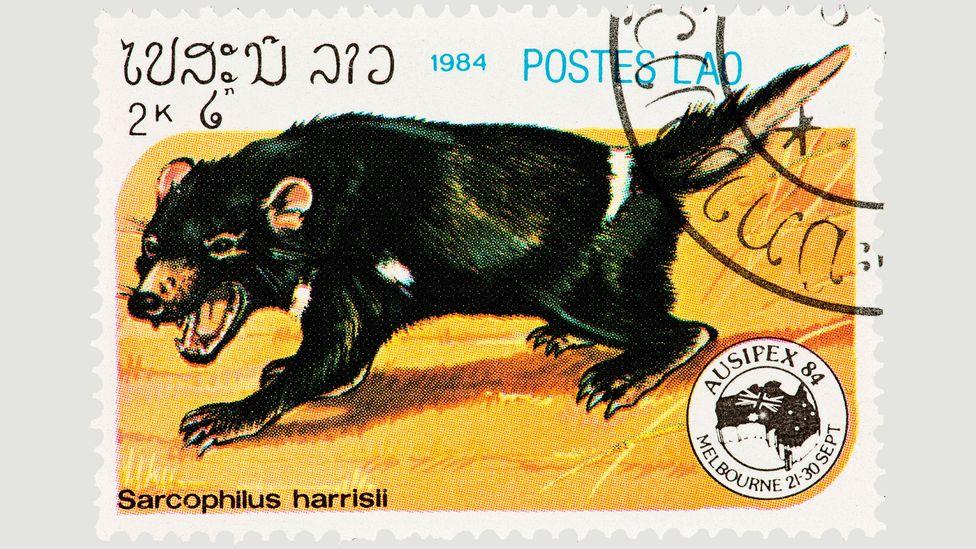 'Vandemonianism' – from an old word for Tasmania, referring to criminal behaviour of people in the convict colony, is no longer in use (Credit: Alamy)
It may be unfair that certain regions continue to be associated with a perception of trauma or trouble in the English language. But Jones points out that this stigma can disappear over time. 'Vandemonianism' derives from an old word for Tasmania, and denotes the criminal behaviour of people in the convict colony. This association, like the word, is mostly gone.
Found in translation
The bookalso reveals the outsize influence that certain languages and locations have had on English. Some of this is related to proximity and royal history: it notes that French, for instance, provides the etymological roots of nearly one-third of the English language. Italian, ancient Greek, and Indian languages are among the others that have significantly shaped English.
In the course of his research, Jones was surprised to see how influential South Africa has been on British English, even if verbs like 'Stellenbosch' haven't proved enduring. Conversely, he expected more borrowings from Canada, yet "you're hard pushed to find sort of a specific Canadianism in the dictionary". (This may be because Canadian English is a rather ambivalent amalgam of other variants of English.)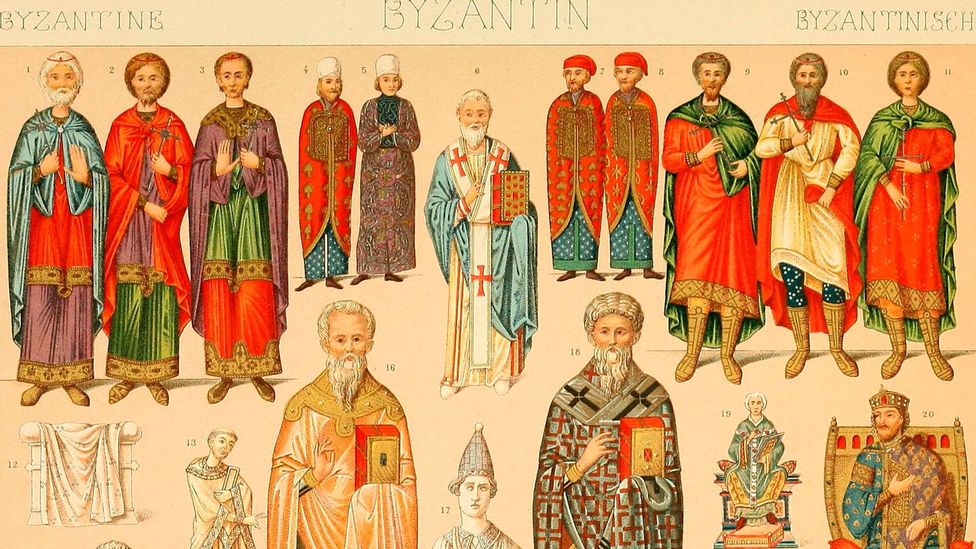 'Byzantine', meaning something that's extremely complex, is derived from the Byzantine Empire (Credit: Alamy)
Jones also had to do a lot of hunting to find words from West Africa and Eastern Europe. As well, "we've got a lot of Norse words that come from way back in the sort of old English period where the Vikings brought them over. But in terms of modern influence from Norway, Sweden, Finland, Iceland ― countries that we're culturally very close to and historically very close to – there's not as much modern influence as I was expecting."
A trip of the tongue
So what does this armchair trip around the world reveal about the English language? For one thing, as is sometimes bemoaned by language learners, English is incredibly fruitful. Jones explains, "we've got something like 25% more words than the nearest language to us", so there's a lot of vocabulary to absorb – including from locations around the world.
At the same time, regionalisms are unlikely to disappear. Jones lives in Newcastle, for instance, which retains many specific terms (even if Geordies are unlikely to ever call something as common as coal in Newcastle). And the book details some of the many odd place-based words derived from the English Southwest, from 'Cornish pasties' to 'not a word of Penzance' (referring to a lack of support).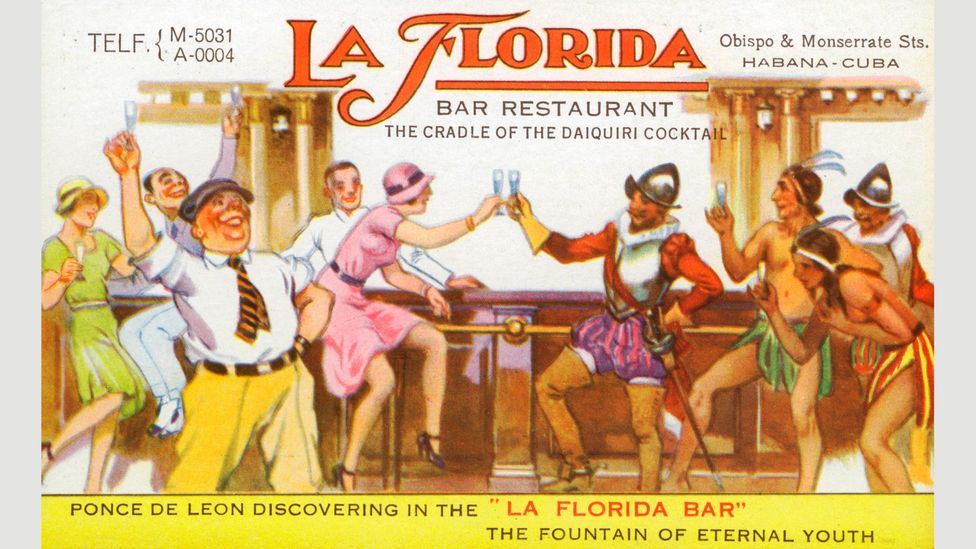 The daiquiri cocktail takes its name from Daiquirí, Cuba (Credit: Getty)
Even though the internet has sped up the pace of language development, Jones believes that the role of local dialects will remain strong. For instance, "there are going to be words that you use in conversation with your friends where you live and where you grew up, that you wouldn't necessarily use in writing".
There's another possibility for place-based linguistic influence… If humans do ever encounter cultures from other parts of the universe, Jones says, "I wouldn't be surprised if we end up sort of hoovering up words from them as well. It's what we've done for centuries, so we're going to continue."
If you would like to comment on this story or anything else you have seen on BBC Culture, head over to our Facebook page or message us on Twitter.
And if you liked this story, sign up for the weekly bbc.com features newsletter, called "If You Only Read 6 Things This Week". A handpicked selection of stories from BBC Future, Culture, Capital and Travel, delivered to your inbox every Friday.