Peanuts creator Charles M Schulz claimed his comic strips were "about nothing" – but according to a new exhibition, they had a seismic influence on society, writes Cameron Laux.
W
When I was growing up in the middle of nowhere in western Canada, I loved Charles M Schulz's Peanuts comic strips. Their meditative, downbeat tone resonated with my understanding of life. They are comic strips full of the vulnerabilities of childhood: what satisfactions they offer us are subtle and hard-won – such as those of friendship.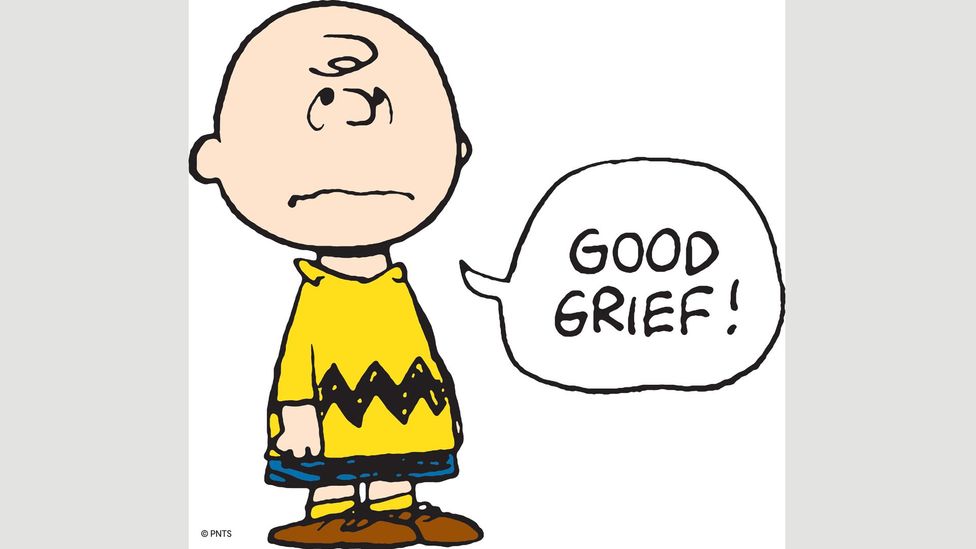 Charlie Brown Good Grief (Credit: Peanuts Worldwide)
In the nearly 18,000 strips that Schulz drew over 50 years of his career (1950-2000), adults almost never appear, and when they do they are abstracted as legs. In the animated films, on the rare occasions when they are permitted to speak, they honk unintelligibly in the background like geese. So much for the charms of adulthood.
More like this:
- Alice in Wonderland's hidden messages
- The female cartoonists who draw for change
- Why The Yellow Submarine is a trippy cult classic
My private conduit to Charlie Brown's interior life was shared by an astronomical number of others. At its peak, Peanuts was syndicated in 75 countries, translated into 21 languages, and had a notional total readership of 355 million.
Red Baron (Credit: Peanuts)
There is currently an exhibition dedicated to Schulz's work and influence at Somerset House in London, which was packed with people when I visited. Schulz died in 2000, but his currency evidently lives on. If only Charlie and Co. had known how many of us were watching over them. As Claire Catterall, the curator of the exhibition, observes: "For a comic strip that its creator declared was 'about nothing', made up only of 'little incidents', Peanuts' influence on culture and society is nothing short of seismic."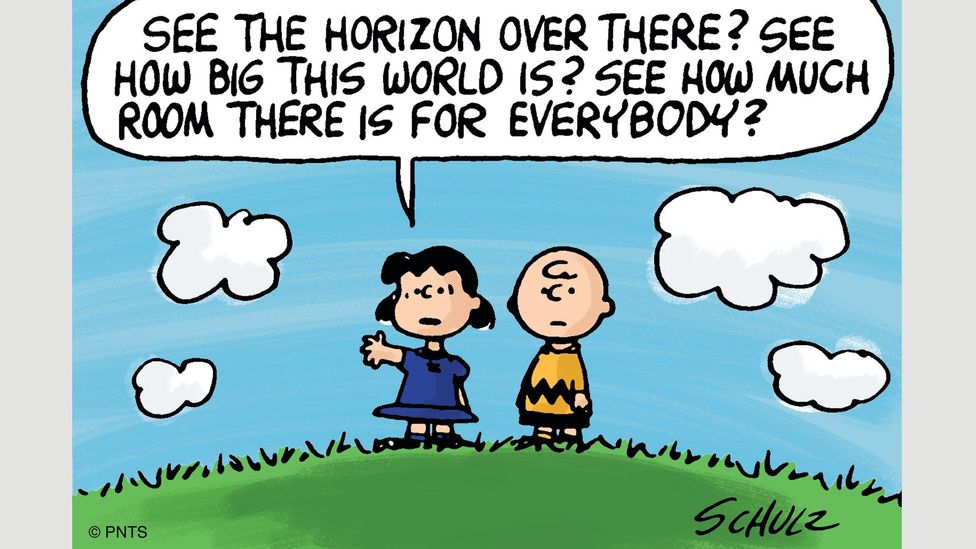 Detail of Peanuts 22.09.63 (Credit: Peanuts Worldwide)
Who was its creator? Schulz seems to have been Protestant to the core, in the old-fashioned sense. He was quiet, decent, thoughtful, modest and so hard-working that he didn't like holidays. He grew up in Minnesota in the US: one of those states with hot summers and cryogenic winters, which doesn't have many dots on it when you see it on a map. He served with the US Army in Europe during World War Two ("the army taught me all I needed to know about loneliness"). He loved hockey and ice skating so much that when he moved to California later in life he built a skating arena in his town. For a prophet of self-doubt, he formulated and drew his strips with remarkable decisiveness, preferring to put ink directly to paper as he went. Oh, and when he was young he had a dog called Spike who became the immortal god Snoopy. Blessed be his name.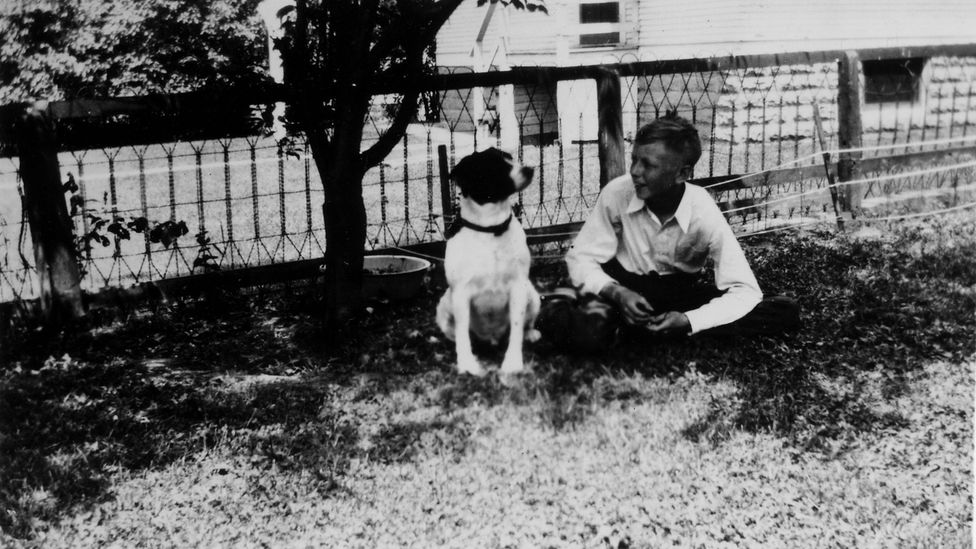 Charles Schulz and his dog Spike in 1935, when Schulz was 13 years old (Credit: Schulz Family Intellectual Property Trust/Courtesy the Charles M Schulz Museum and Research Center)
So we have an unremarkable-remarkable man, surely the most intriguing sort. The still waters of the Peanuts comic strips run deep. According to his widow, Jeannie, Schulz used to say that he was "a little bit of all of the characters. Charlie Brown is my wishy-washy and insecure side. Lucy is my smart alec side. Linus is my more curious and thoughtful side. Snoopy is the way I would l like to be – fearless, the life of the party, and brushing off Lucy's bad temper with a glancing kiss."
Maybe the characters' genius as an ensemble is that they perfectly anatomise what it is to be human. "I think the comic strips carry simple truths," Jeannie has said. "It is a mixed world out there – sometimes sweet, sometimes joyous and sometimes disappointing."
There are no big answers; there are only small answers in the now, such as the joys of food and friendship
Catterall notes that "Schulz would not countenance the idea that what he did was 'Great Art', believing that true art stood the test of time and could only really be acknowledged as such if it continued to resonate long after the artist's death." I'm not being ironic when I suggest that Schulz's sketches are 'Great Art' – through his 'little incidents', he introduced children – and adults alike – to some of the biggest philosophical ideas.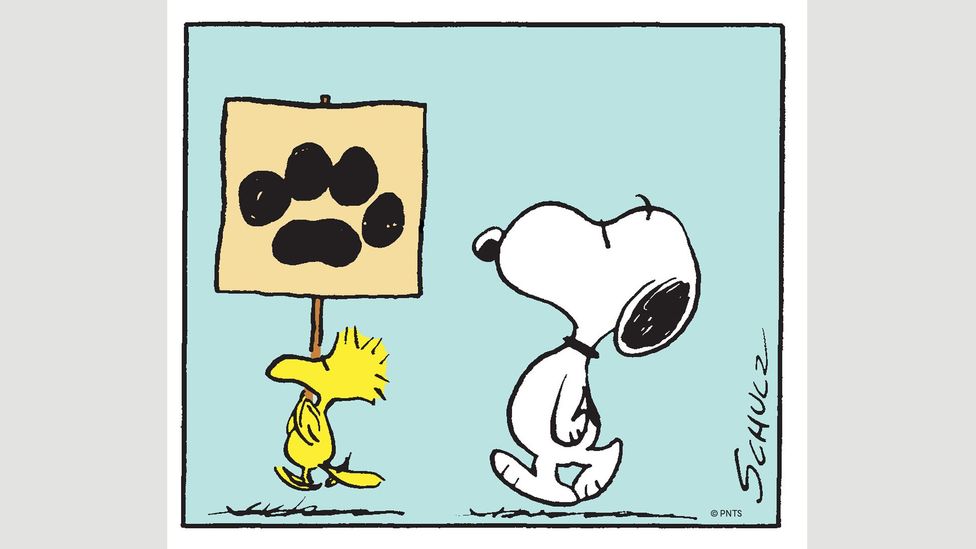 Detail of Peanuts 06.07.1968 (Credit: Peanuts Worldwide)
Question existence
Although he came from a Christian religious background, and in some ways identified as a Christian, Schulz also seems to have had existentialist and humanist leanings worthy of Jean-Paul Sartre or Samuel Beckett. The philosophy of existentialism suggests that we live in an empty universe and have no choice but to strive to make sense out of it. (Try again, fail again, fail better, says Beckett.) Schulz was never one to shy away from difficult questions.
There is a classic strip featuring Snoopy lying on top of his doghouse trying to fathom the meaning of life; it eludes him until Charlie appears with a dog dish full of food and causes Snoopy to have an epiphany. This is a characteristic Schulzian move: there are no big answers; there are only small answers in the now, such as the joys of food and friendship.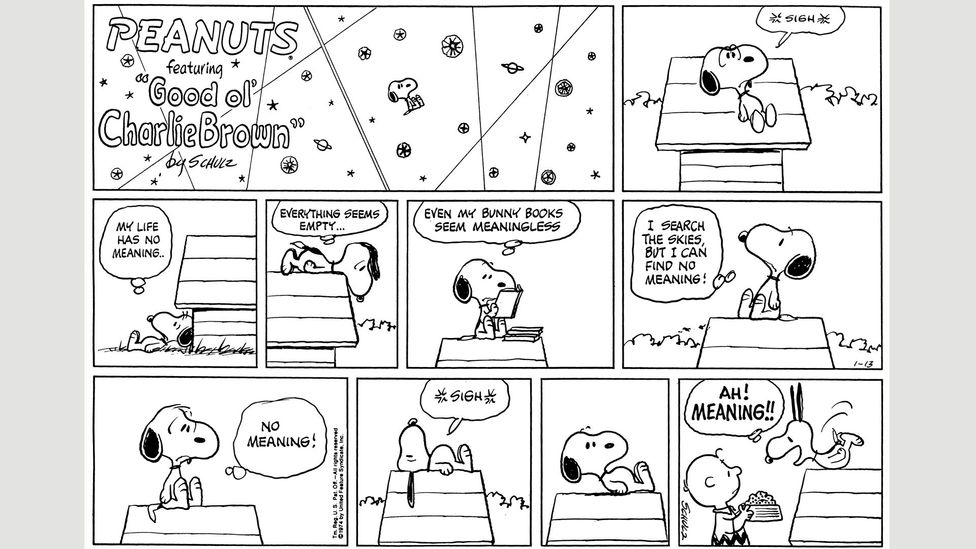 Detail of Peanuts 13.01.74 (Credit: Peanuts Worldwide)
A Charlie Brown Christmas (1965) is probably Schulz's masterpiece for television. It exemplifies the bittersweet tension between religious feeling and existentialism, connectedness and alienation in his work. Charlie is struggling with the meaning of Christmas and wonders if it merely amounts to selfishness and crass commercialism. In response, the film manages to pull off a touching reading by Linus from the King James Bible. But at the same time, the story ends with the Peanuts coming together to transform a scrawny fir tree into a glorious Christmas tree through friendship.
Incidentally, the innovative soundtrack of Charlie Brown Christmas included a lot of jazz by the Vince Guaraldi Trio. This is an unusual choice. However, one could argue that the endless improvisations of jazz music make it a perfect fit for the indeterminacies of the Schulz universe. And for the minds of children.
War games
Schulz drew Peanuts during some turbulent decades in America, marked by the Korean War (1950-3); the Vietnam War (America entered in 1965 and the war ended in 1975); the Cold War; the constant clashes associated with the Civil Rights movement; the assassinations of John F Kennedy and Dr Martin Luther King Jr. The unassailably cool Snoopy became a sort of cult mascot among US soldiers in the Vietnam War, emblazoned on equipment, patches and banners; a little bit of Minnesota, to comfort them in hell.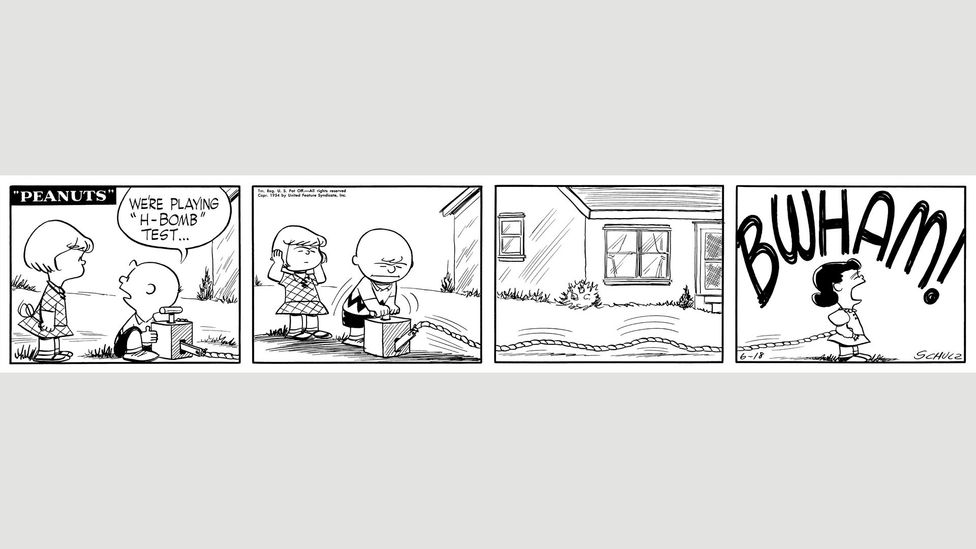 Peanuts 18.06.1954 (Credit: Peanuts Worldwide)
There is a strip from 1954 in which the kids play at making and testing a hydrogen bomb. (Lucy – who else? – stands in for the bomb and shouts 'BWHAM'!) In a series of strips that refer to the anti-Vietnam campus disturbances in the 1970s, Snoopy returns to Daisy Hill Puppy Farm, his cradle, to make a speech, and while he is at the lectern has a dog dish thrown at him.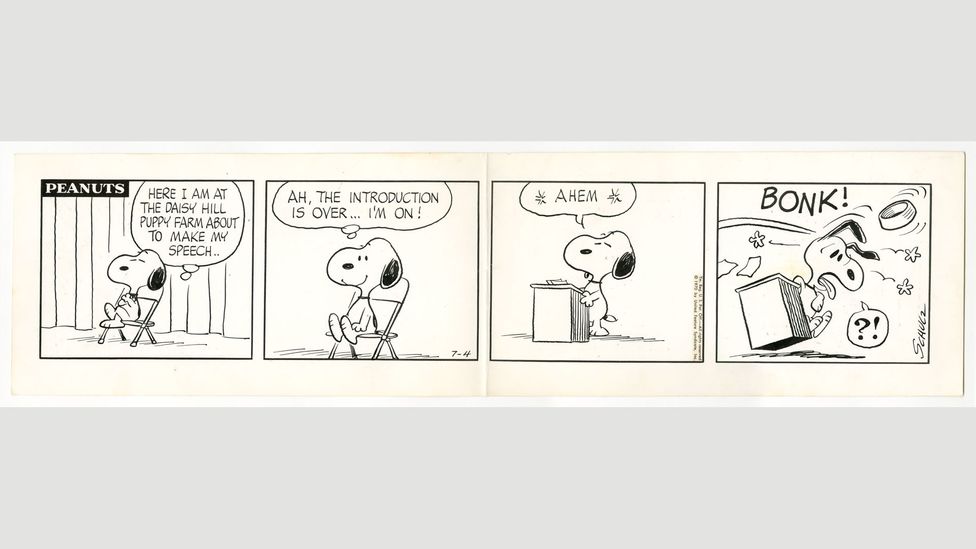 Detail of Peanuts 04.07.70 (Credit: Schulz Family Intellectual Property Trust/Courtesy of the Charles M Schulz Museum and Research Center)
In the next strip, he is tear-gassed. In the final strip, we find out that the protest concerned 'War Dogs' being sent to Vietnam and not coming home.
Race relations
After Dr King was assassinated in 1968, Schulz received a letter from Harriet Glickman, a retired (white) Californian teacher asking him to include 'Negro' children in the group to help foster understanding between the communities. Schulz replied that he hadn't already done it because he was anxious not to appear 'patronising'.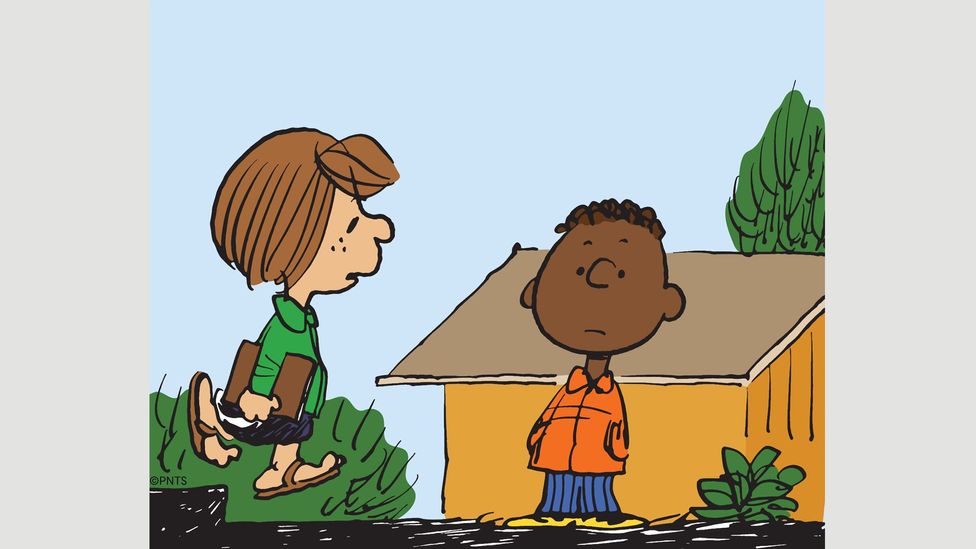 Peppermint Patty and Franklin (Credit: Peanuts Worldwide)
She turned to her African American friends and had them write to Schulz; one of the resulting letters, from a man called Kenneth Kelly, charmingly and heart-stoppingly pointed out that a 'Negro' character in even a 'supernumerary' role would make a world of difference.
Detail of Peanuts 01.08.68 (Credit: Schulz Family Intellectual Property Trust/Courtesy of the Charles M Schulz Museum and Research Center)
Schulz resolved to do something about it and create a black character. The head of United Feature Syndicate tried to pressure him to withdraw the character because he thought it would be too controversial. Schulz said that either they ran his strips as drawn or he would quit. Shortly thereafter, Franklin, the first black Peanuts character, went into print. At this time, the Peanuts mania in America was approaching its peak; Glickman points out that her three children were obsessed with the characters.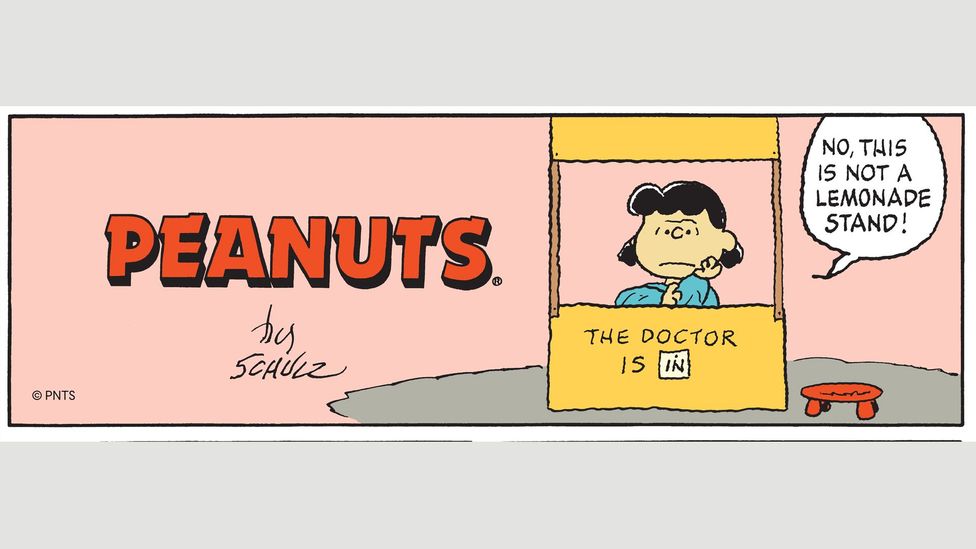 Detail of Peanuts 29.09.1996 (Credit: Peanuts Worldwide)
Looking within
Lucy's psychiatric 'booth' has become a part of folklore: from her position as 'doctor' she dispensed some satiric but also some surprisingly sound therapeutic advice, and helped to create the culture of self-examination and self-awareness we live in today. Charlie Brown is a model neurotic and self-proclaimed depressive, forever wrestling with his demons, whether they be his inability to talk to the Little Red-Haired Girl, whom he worships from afar, his fear of screwing up, or his frustration at constantly losing his kites to the Kite-Eating Tree. And then there is Linus: acutely intelligent and emotionally raw, he carries around a blanket for security. (It is thought that the term 'security blanket' originated in the Peanuts strips.)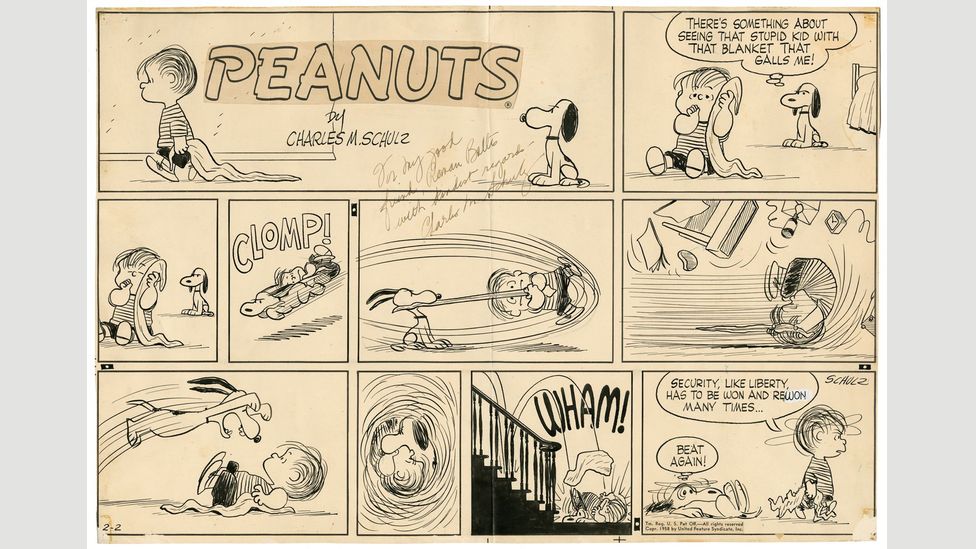 Detail of Peanuts 02.02.58 (Credit: Schulz Family Intellectual Property Trust/Courtesy of the Charles M Schulz Museum and Research Center)
Eminent psychologists and paediatricians saw the value of Schulz's deceptively simple take on human relations and wrote to him asking to use his creations in their work. The paediatrician Benjamin Spock, the psychologist Timothy Leary, and the psychiatrist Donald Winnicott all corresponded with him.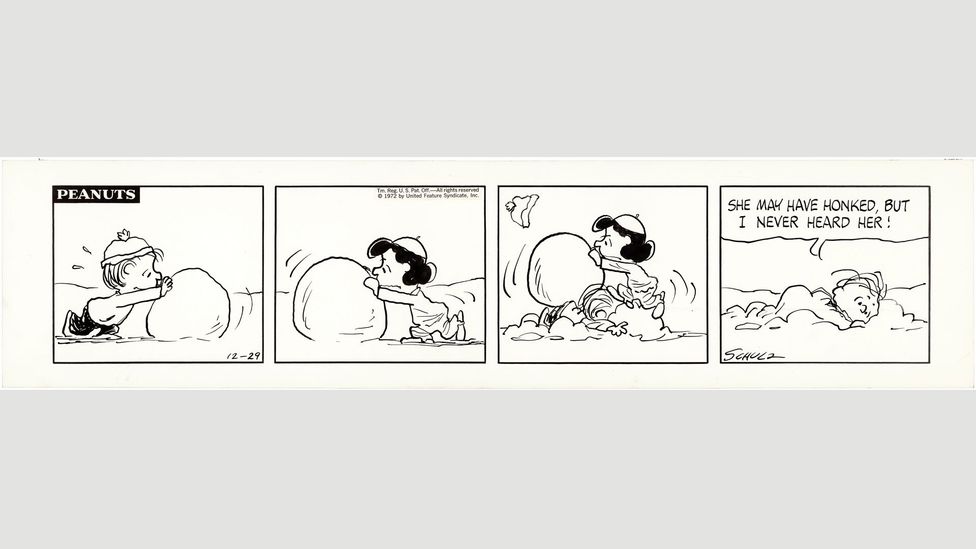 Detail of Peanuts 29.12.72 (Credit: Schulz Family Intellectual Property Trust/Courtesy of the Charles M Schulz Museum and Research Center)
Gender roles, subverted
One word: Lucy. She was unprecedented in comic strips. The character is the embodiment of determination coupled with a lack of self-knowledge, territory that is traditionally masculine. Whether she is right or wrong, she does it wholeheartedly and unapologetically. In a sense, she and Charlie Brown are opposite numbers, two values that might add up to a whole human being.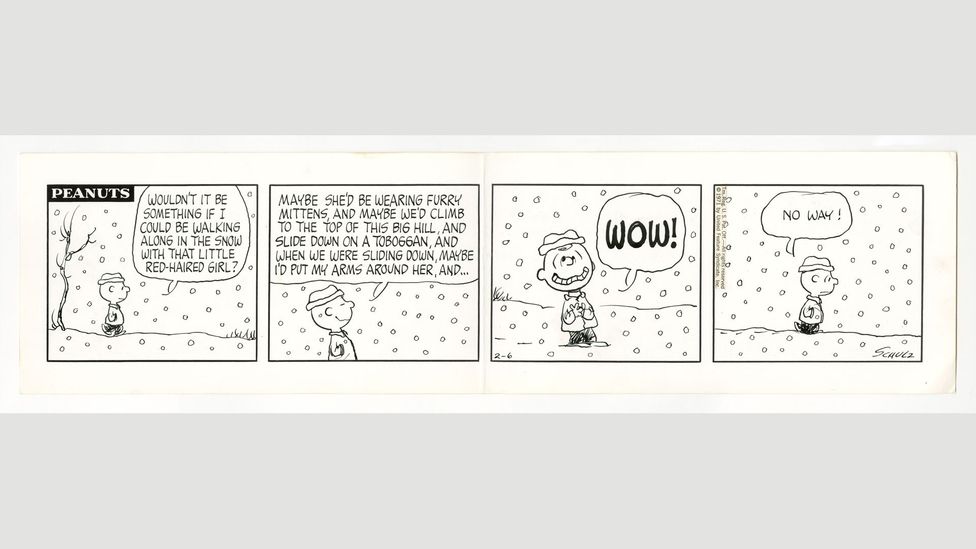 Detail of Peanuts 06.02.71 (Credit: Schulz Family Intellectual Property Trust/Courtesy of the Charles M Schulz Museum and Research Center)
From the beginning, Schulz was unusual in making his female characters as complex and rounded as his male ones. While Charlie Brown pursued the Little Red-Haired Girl in his hesitant and diffident way, Lucy pursued the object of her affections, Schroeder, relentlessly, often draping herself over the piano in an attempt to get his attention.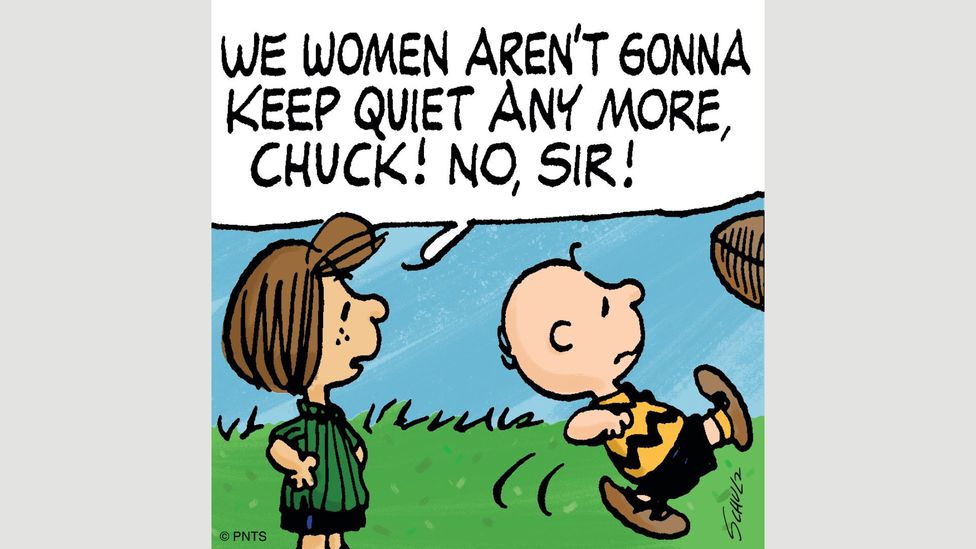 Detail of Peanuts 29.09.79 (Credit: Peanuts Worldwide)
As always, there is more going on in Peanuts than this. Peppermint Patty never seemed to be comfortable with the clichés of girlhood. Her no-nonsense, masculine approach and the fact that she had a friend/groupie, Marcie, who called her 'Sir', suggested that her gender and sexual identities might not be straightforward.
Friendship is everything
But my favourite relationship in the strips will always be the unlikely but frank and warm friendship between Snoopy and the yellow bird Woodstock. Although they are from different species they manage to understand each other empathically. There have been attempts to legitimise their closeness by imagining Woodstock as female, but I think this is a misconstruction that does injustice to Schulz's complexity.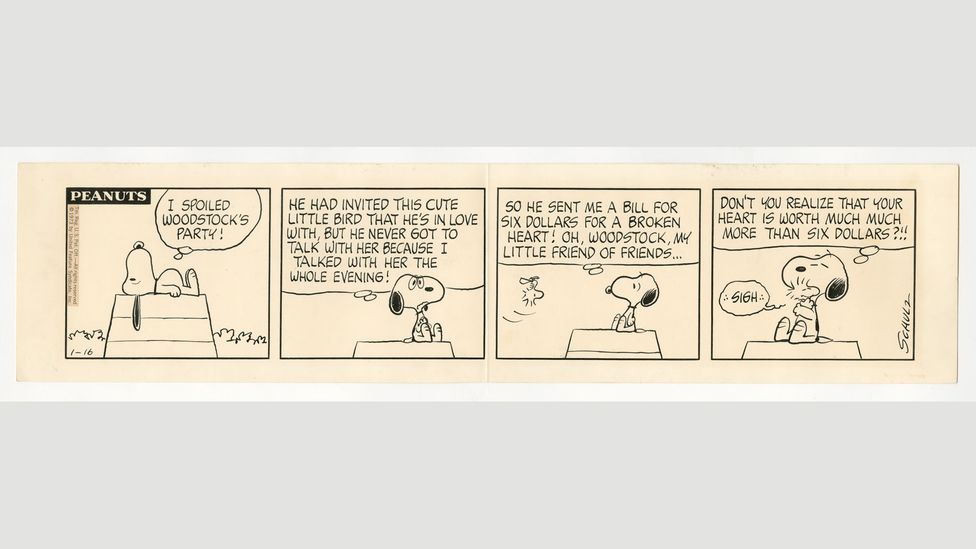 Detail of Peanuts 16.01.73 (Credit: Schulz Family Intellectual Property Trust/Courtesy of the Charles M Schulz Museum and Research Center)

He always made it clear that they were both male, and buddies in some transcendent and indeterminate sense. It would have been in keeping with his thinking – and the philosophy of his strip – that the closeness of companionship, of any sort, was beyond qualification.

Good Grief, Charlie Brown! Celebrating Snoopy and the Enduring Power of Peanuts is at Somerset House in London from 25 October 2018 to 3 March 2019.

If you would like to comment on this story or anything else you have seen on BBC Culture, head over to our Facebook page or message us on Twitter.

And if you liked this story, sign up for the weekly bbc.com features newsletter, called "If You Only Read 6 Things This Week". A handpicked selection of stories from BBC Future, Culture, Capital and Travel, delivered to your inbox every Friday.

;