From a series about Japanese animators Studio Ghibli to one on Aboriginal art, Amy Charles picks some of the highlights from this year's arts and culture podcasts.
G
Ghibliotheque
Ghibliotheque's tagline is simply: a podcast about Studio Ghibli, and it does very much what it says on the tin. Hosted by Michael Leader and Jake Cunningham, each episode takes on one of the Japanese animation giant's films. Before the podcast started, Cunningham had never seen a Ghibli film and is being guided by Leader, a self-confessed Ghibli fanatic. At about half-an-hour long, each episode is the perfect length to dive into each film, while remaining accessible to the passing listener. Leader and Cunningham draw the audience into the magical world of Ghibli, linking each film with the history of the animation studio and the wider context of Japanese cinema. Leader's knowledge of Ghibli and his excitement to share it is infectious and Cunningham makes a great companion to learn with. But beware, spoilers lie within!
Starter episode: My Neighbour Totoro (with Beth Webb) | Ghibliotheque #3
Mostly Lit
A refreshing change of pace when it comes to book chat – Mostly Lit, which began in 2016, is a fun and upbeat listen, hosted by three young people who have an unabashed love for literature. Alex Reads, Raifa Rafiq and Derek Owusu are vibrant and funny, injecting their personality and enthusiasm into discussions. But above all, they cleverly analyse books in an accessible format – taking books like The Great Gatsby off their academic and exclusive peg. Mostly Lit feels like an impassioned discussion between friends, with the hosts challenging each other in the way that only friends can. Every episode includes the three hosts talking about what they've been reading over the past week, and often includes discussions about the millennial experience, pop culture, film and book news.
Starter episode: The Many Faces of Jay Gatsby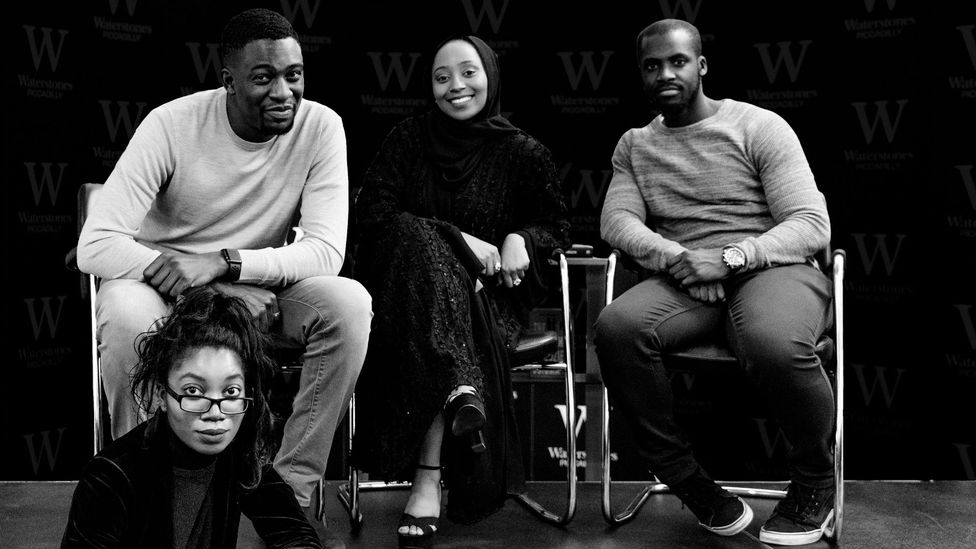 Mostly Lit is hosted by Alex Reads, Raifa Rafiq and Derek Owusu and produced by Clarissa Pabi (Credit: Richard Harris)
Everything is Alive
Everything is Alive is a podcast that absolutely shouldn't work. But, somehow, it does. The premise is simple: in every episode creator and host Ian Chillag interviews an everyday, inanimate object, played by an unscripted actor. The first episode is an interview with Louis, a can of own-brand supermarket cola. It takes you on a journey through Louis's life, to where he sits in the fridge now, going on to discuss the idea of serving his purpose in the world (to be drunk), ultimately discussing death and how it feels to die. Macabre it may seem, but this and the subsequent episodes are poignant, touching and at times laugh-out-loud funny examinations of the human condition. Other episodes include an interview with a tooth, a lamppost and a grain of sand, each touching on the basic things that make us who we are. Prepare to think deeply about yourself, to laugh and at times, cry.
Starter episode: Chioke, Grain of Sand
Audio Poem of the Day
From the Poetry Foundation, this is a daily dose of poetry, delivered by the some of the best-placed people to do it. Each day, classic and contemporary poems are read aloud by actors or the poets themselves and delivered to wherever you listen to podcasts. Perfect for when you may need a quiet moment, or just a distraction from modern life. The poems are simply presented, with no jingles or background music – just the voice and the words. Try listening to one or two before bed.
Starter episode: Ulysses
The Lonely Palette
Each episode of The Lonely Palette is dedicated to unpacking one piece of art. Host Tamar Avishai starts by interviewing museum guests about what they're looking at, asking them to describe what they see and what they think it means. Avishai then dives into the history of the work, including the artist's influences and inspirations. It's a charming and clever introduction into art history, a topic that can feel too wide and intimidating for many. It also succeeds in introducing what is essentially an entirely visual medium (a painting or sculpture), in an entirely non-visual format (audio). Avishai tells stories with enthusiasm for the subject, and makes art history accessible.
Starter episode: René Magritte's The Son of Man (1964)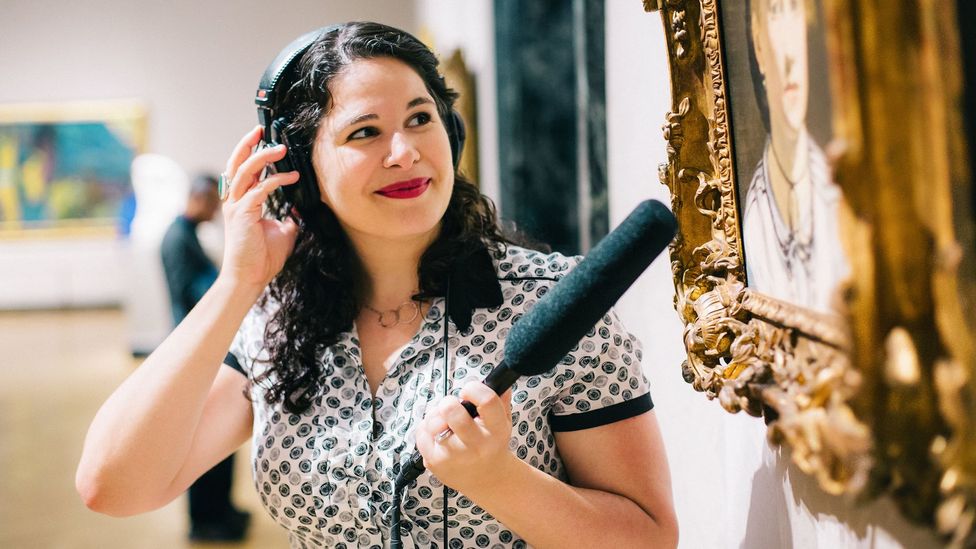 Tamar Avishai asks museum visitors to describe the art they're viewing (Credit: Adrianne Mathiowetz Photography)
Awaye!
Aboriginal arts and culture is in the spotlight for this Australian podcast from ABC Radio National, which is presented by smooth-voiced broadcaster Daniel Browning. While it focuses on the Australian Aboriginal experience, Awaye! also has interviews with, and documentaries about indigenous people – and their arts and culture – from around the world. A thoughtful podcast, Awaye!'s interviews successfully combine the critical arts interview with in-depth discussions about race and society. Aboriginal languages are also highlighted in the weekly feature Word Up, where a guest speaker picks three words from their language to share with the listener, highlighting the importance of those words to their culture. It's a fascinating listen, which brings forth much which is otherwise underrepresented in mainstream cultural discourse.
Starter episode: Saturday 8 December 2018
99% Invisible: Articles of Interest
A veritable behemoth of the podcasting world, 99% Invisible this year broadcast a six-part series on the history of clothing. The fascinating tour of humans' sartorial choices starts in the kids' department. The following five episodes include the history of pockets (it's more interesting than it sounds), Hawaiian shirts and punk. Articles of Interest, led by Avery Trufelman, feeds the listener's curiosity in the everyday and its fascinating hidden corners. The episodes are carefully crafted so that the links between them feel natural, not shoehorned in as an afterthought.
Starter episode: Kids clothes: Articles of Interest #1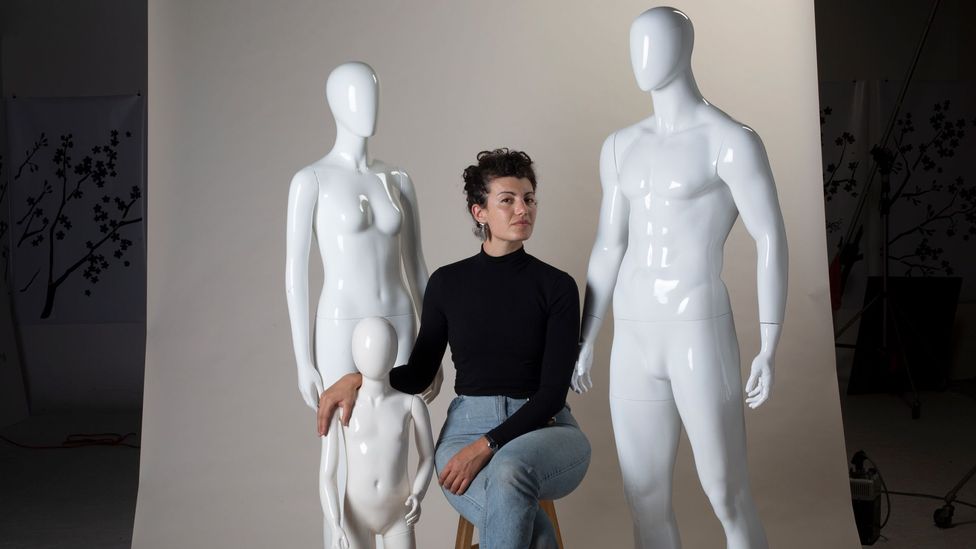 Avery Trufelman documents the history of clothing design in Articles of Interest (Credit: Matty Lynn Barnes)
Pop Culture Happy Hour
From the radio and podcasting giants at NPR, Pop Culture Happy Hour is a joyous celebration of popular culture that dives into the latest movies and TV shows (and occasionally books). Enthusiastically presented, it's chock-full of thoughtful and intelligent criticism. Episodes are short and stand alone, each with a singular topic. This means you can dip in and out. Above all, it's fun while being informative.
Starter episode: Widows Is Not Your Everyday Heist Flick
Dreamgun Film Reads
On Dreamgun Film Reads, a comedy four-piece from Dublin, Ireland, take a well-known film script (Harry Potter, Jurassic Park, Titanic) and turn it on its head in front of a live audience. The new story follows the same plot line, but is stuffed with lewd innuendos and surreal moments. The scripts are re-written by Stephen Colfer, Gavin Drea, Heber Hanly and James McDonnell, then given to actors and comedians to perform on stage in front of the audience, who haven't been given the chance to read it in advance. The combination of a recognisable story and the total lack of rehearsal makes the result even funnier; the gaffes, absurd moments and palpable joy from the cast makes the podcast a delightful, laugh-out-loud listen. Winner of Best Ensemble at Dublin Fringe Festival Awards 2018, season two of the podcast begins in January 2019.
Starter episode: Titanic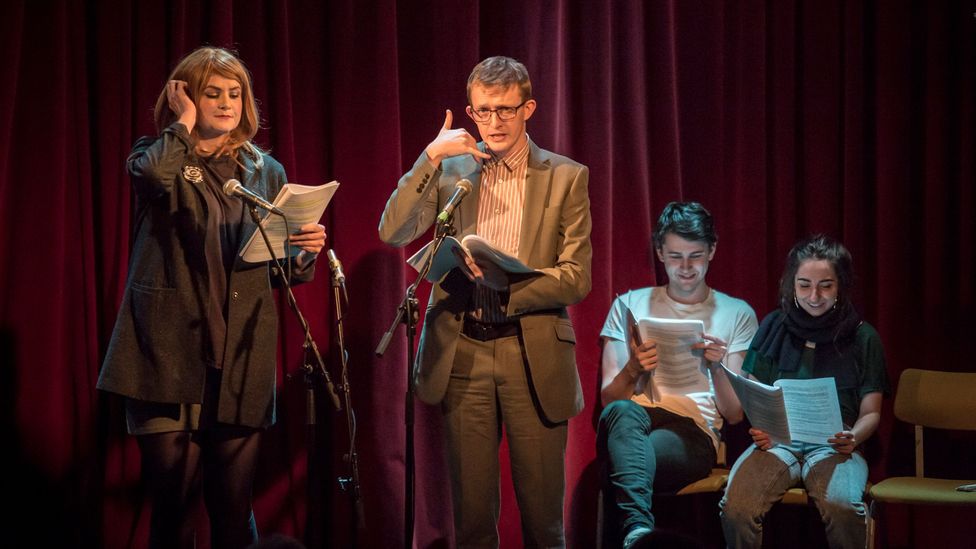 Dreamgun Film Reads is recorded in front of a live audience, by actors who haven't read the script before (Credit: Dreamgun / Ste Murray)

Literary Friction

Running for five years, Literary Friction is a monthly podcast hosted by Carrie Plitt and Octavia Bright. The friends – one from the US, one from the UK – interview authors about their lives, work and inspirations, as well as discussing wider literary topics and giving out book recommendations. Literary Friction is a thoughtful podcast, which requires active listening (don't make the mistake I did of trying to listen to a discussion about historical fiction in the supermarket). Plitt and Bright ask intelligent and probing questions, but the overall feeling is of inclusivity rather than elitism. You will discover great things to read and feel smarter after you've listened to this.

Starter episode: History with Esi Edugyan

If you would like to comment on this story or anything else you have seen on BBC Culture, head over to our Facebook page or message us on Twitter.

And if you liked this story, sign up for the weekly bbc.com features newsletter, called "If You Only Read 6 Things This Week". A handpicked selection of stories from BBC Future, Culture, Capital and Travel, delivered to your inbox every Friday.

;