The tiger is both a terrifying incarnation of power – and a symbol of good luck. No wonder it continues to fascinate designers and artists, writes Dominic Lutyens.
F
Feared, revered and occasionally endearing, tigers and tiger-inspired characters fascinate – and continue to enthrall – cultures worldwide. Testament to this is the current craze for tiger motifs in homeware – represented figuratively as exotic creatures on opulent fabrics and wallpapers or, in a more abstract way, by striped patterns in tawny burnt orange and black.
More like this:
–     The story of a classic bohemian print
–     The timeless appeal of the Persian rug
–     The designer celebrating rare species
In the West tigers have been historically associated with India's terrifying Bengal tigers, from Shere Khan in Rudyard Kipling's The Jungle Book to those documented in the 1944 book Man-Eaters of Kumaon by hunter-turned-conservationist Jim Corbett. By contrast, Tigger in AA Milne's Winnie-the-Pooh books is harmless, if over-enthusiastic. While in Korean mythology, tigers are regarded as guardians that drive out evil spirits, bring good luck and symbolise courage and power.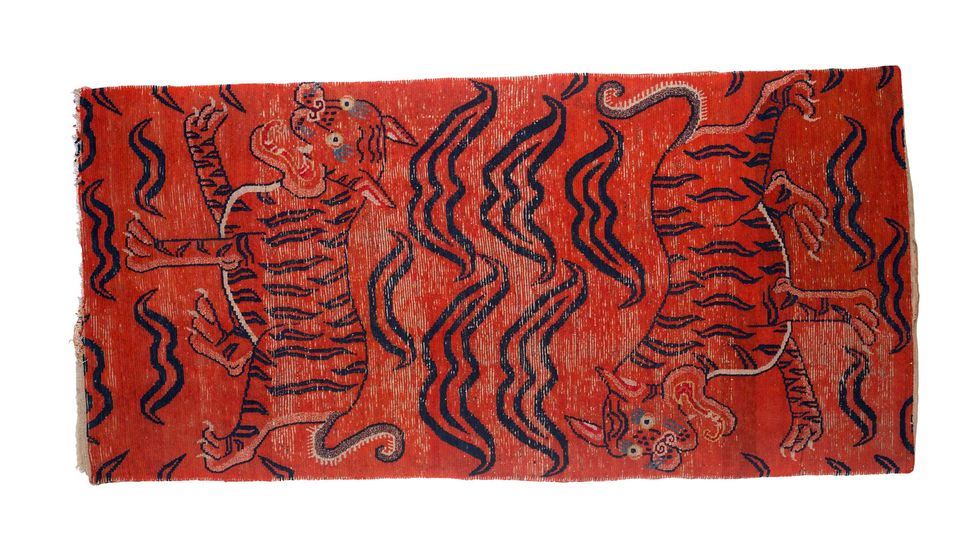 Tibetan rugs were originally created for monks to use while meditating (Credit: Dan Fontanelli)
Given the ubiquity of tiger-related iconography, it is hard to envisage this wild cat's extinction. But, according to World Wide Fund for Nature (WWF), despite conservation efforts initiated in the 1970s, the global population of tigers in the wild has dwindled from around 100,000 at the beginning of the 20th Century to 3,200 by 2010.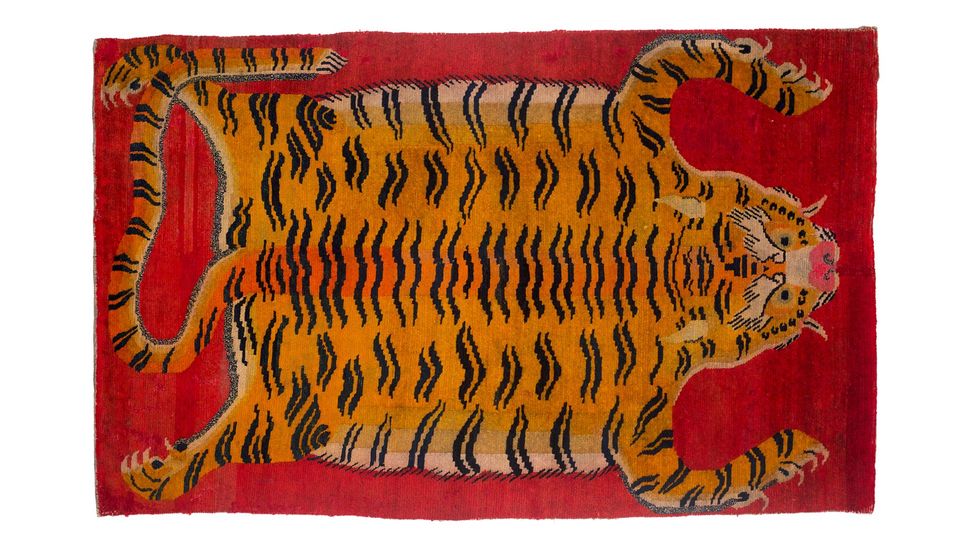 A Tibetan rug with flayed-tiger motif, created in the first half of the 20th Century (Credit: Dan Fontanelli)
That year, a conservation goal called Tx2 was set up to double the number of wild tigers by 2022; it is supported by the governments of Bangladesh, Bhutan, Cambodia, China, India, Indonesia, Laos, Malaysia, Myanmar, Nepal, Russia, Thailand and Vietnam. The main threats to the tiger's survival are poaching – their body parts are exploited for medicine, their pelts for decoration and claws and teeth for jewellery – and loss of their natural habitats, where they can breed safely. 
Tibetan tiger rugs were created for monks in order to protect them while they meditated
WWF is behind a new fundraising project called Tomorrow's Tigers, a touring exhibition devised by curatorial collective Artwise. Run by Susie Allen and Laura Culpan, Tomorrow's Tigers aims to raise awareness of the tigers' plight and to support Tx2.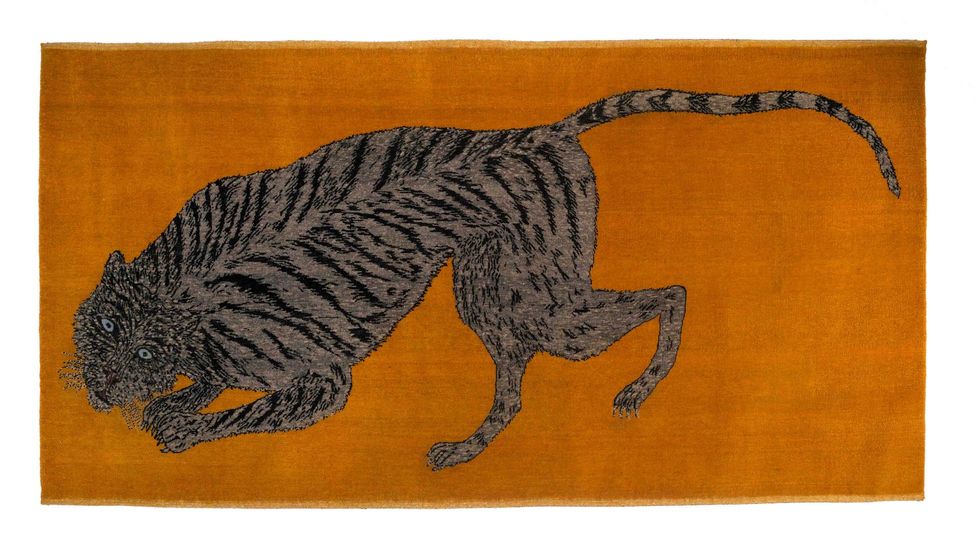 Kiki Smith is among the artists who have created rugs for a project to promote awareness about tiger welfare (Credit: Kiki Smith/ Courtesy Timothy Taylor, London, New York)
To launch the project, auction house Sotheby's is showcasing specially commissioned, limited-edition rugs conceived by 11 high-profile artists and designers, including Anish Kapoor, Kiki Smith, Rose Wylie, Gary Hume, Raqib Shaw and architect and sculptor Maya Lin. Priced from around £10,000, they have been created with the aid of rug-and-textile firm Christopher Farr. These are being displayed along with nine rare tiger rugs, originally created in Tibet in the 19th and early 20th Centuries for monks in order to protect them while they meditated and to convey the sense of awe and wonder experienced on witnessing a tiger.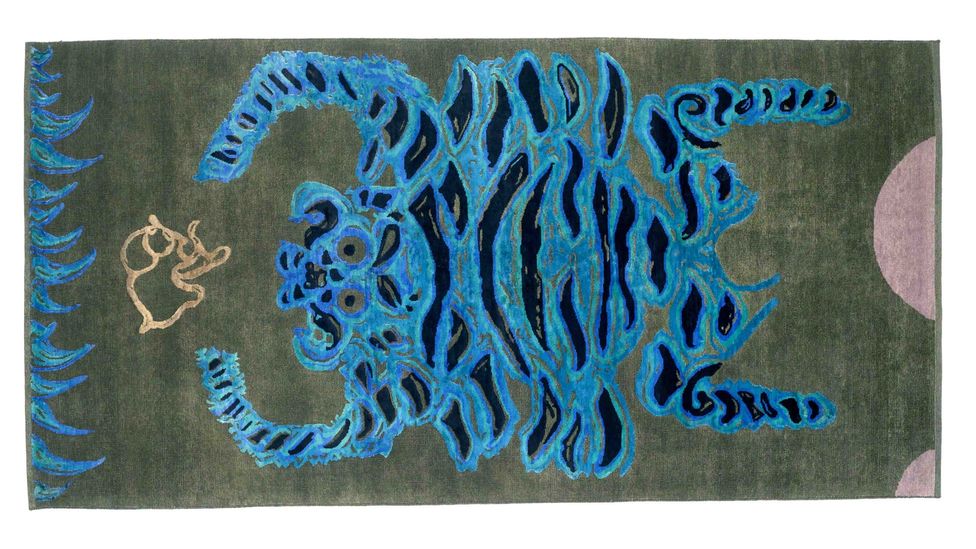 Water Tiger, a hand-made wool-and-silk rug by contemporary artist Gary Hume was created for Tomorrow's Tigers (Credit: Dan Fontanelli)
"Tomorrow's Tigers is inspired by a show of Tibetan tiger rugs, held at London's Hayward Gallery about 30 years ago," says Susie Allen. "Our exhibition will tour in India, Hong Kong and Los Angeles. We started by approaching artists who would have an affinity with the project. Hume and Smith are passionate about the environment and conservation of wild animals, while Smith's work includes tapestries. Our brief to the artists was to stick to a 2m-by-1m format, and address the theme of a diminishing tiger population."
Kiki Smith's design depicts a prowling tiger against a burnt orange backdrop. "Tomorrow's Tigers was an opportunity for me to use an image I made of a tiger devouring a woman inspired by the paintings of Henri Rousseau," says the artist. "I changed the scale of the image and repainted it."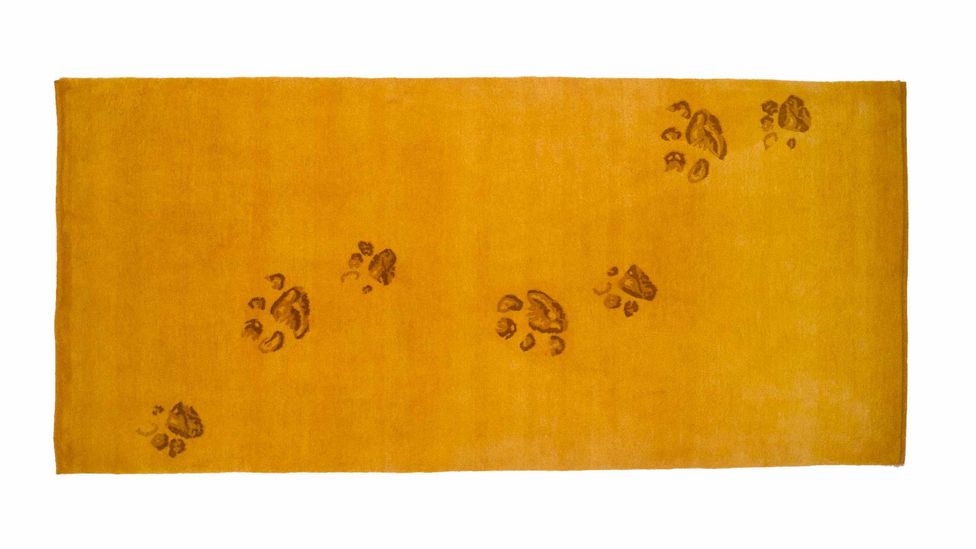 With the Weight of Each Step is the title of the rug created by artist Maya Lin (Courtesy of the artist/ Pace Gallery/ Credit: Dan Fontenelli)
Raqib Shaw, meanwhile, has envisioned a tiger sporting trainers roaring at a moon in a stylised Rousseau-esque jungle. "I'm from India and as a young man one of my favourite places was Bandhavgargh National Park in Madhya Pradesh, an unspoilt habitat for wildlife that includes tigers, deer and porcupines." Maya Lin's design features eight tiger-paw prints cut from the rug's pile that "evoke the presence and absence of the tiger in all its power and grace."
Wild at heart
Tiger skins and prints used in interiors in the 20th Century have both negative and positive associations. "Animal pelts have been part of a macho cult," says author and cultural commentator Peter York. "They connote a heroic alpha male, typified by photographs of big-game hunters of the colonial past triumphantly resting a booted leg on the beasts they've killed. The belief, too, is that hunters somehow absorb these animals' fierce, courageous spirit." This mindset has persisted among dictators, as illustrated by York's book Dictators' Homes (Atlantic Books), which includes a photograph of Tito at home surrounded by a tiger-skin rug, stuffed leopard and vases of flowers. "Dictators also favour repro furniture and sculptures of other predatory animals with which they can identify," says the author. "Their homes are unknowingly camp."
In the 1970s, animal prints appealed for their theatrical qualities
By the 1970s, flagrantly artificial animal prints were signifiers of a growing, ironic taste for camp and kitsch. Legendary lifestyle store Big Biba stocked "cut-out rugs shaped like tiger-skin rugs in the homeware department," Biba founder Barbara Hulanicki tells BBC Culture.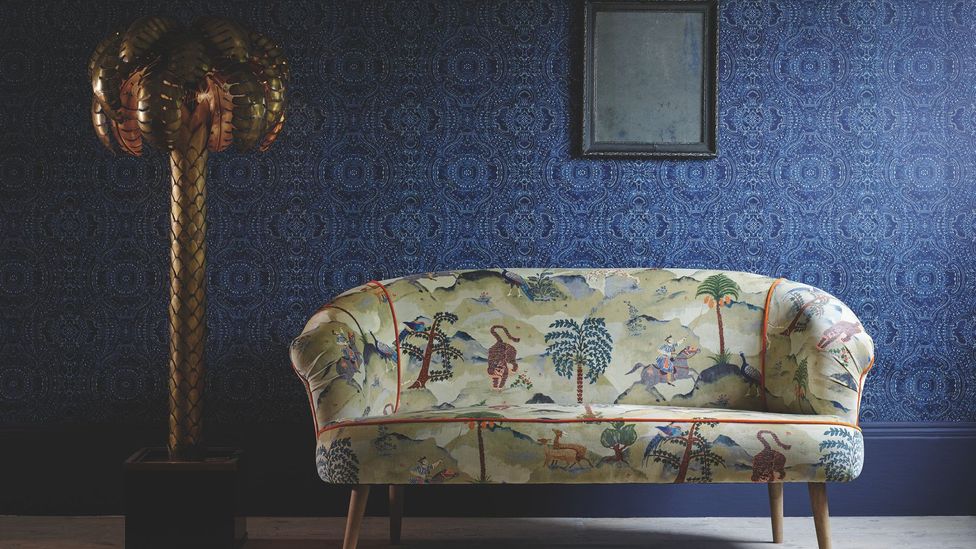 The Aesop fabric design by Linwood is adorned with motifs from nature, including tigers (Credit: Linwood Fabric/ www.linwoodfabric.com)
"I was inspired by old Hollywood movie sets – a vampish Theda Bara sprawling on tiger skins or Gloria Swanson lying on a tigerskin rug in the 1934 movie Music in the Air." Although animal prints abounded in the store's Art Deco-inspired interior, these were made of fake fur. "Animal prints had lost their colonial associations by the '70s as, by then, many colonies had gained independence," she says. "They appealed for their theatrical qualities."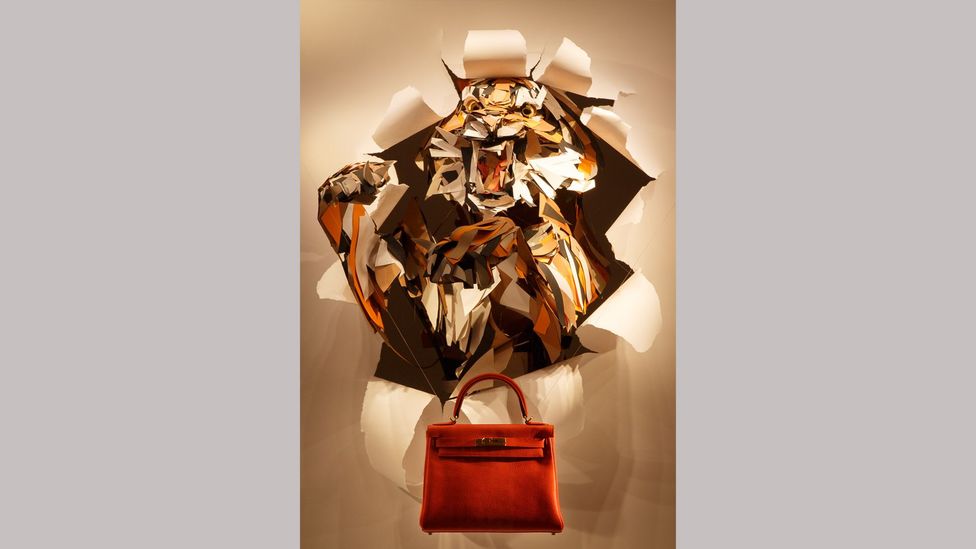 Artist Anna-Wili Highfield created a sculpture for the window of a Hermès store (Credit: Marcel Aucar)
In the past few years, major brands have rediscovered tiger motifs. In 2015, Hermès collaborated with artist Nina Saunders to create a window display in its Madison Avenue store; it incorporated a chair reupholstered with the label's Croquis de Tigre fabric. In 2016, Hermès invited artist Anna-Wili Highfield to create a sculpture for its shop in Melbourne. "I wanted to make a dynamic, immediate work, and a tiger bursting through a wall made of torn paper struck me as a fierce, fun choice," she says.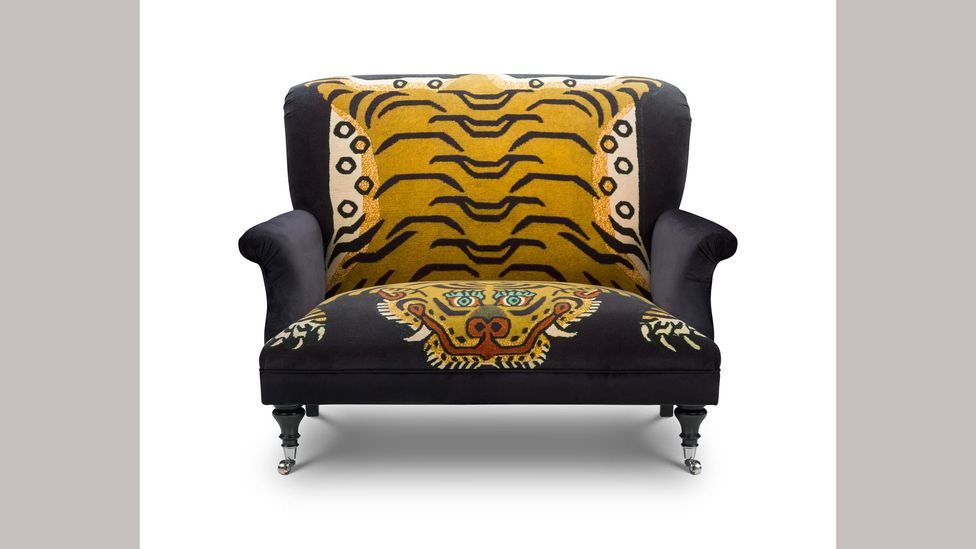 The Saber motif by house of Hackney is based on the Tibetan tiger-rug tradition (Credit: House of Hackney)
More recently, designer Jennifer Shorto has dreamt up a wallpaper that "recalls William Blake's poem The Tyger," she says. Some brands consciously tap into the heritage of Tibetan tiger rugs. "Our signature motif – Saber – is based on the Tibetan tiger-rug tradition, symbolic of strength and protection," says Frieda Gormley, co-founder of east London homeware brand House of Hackney.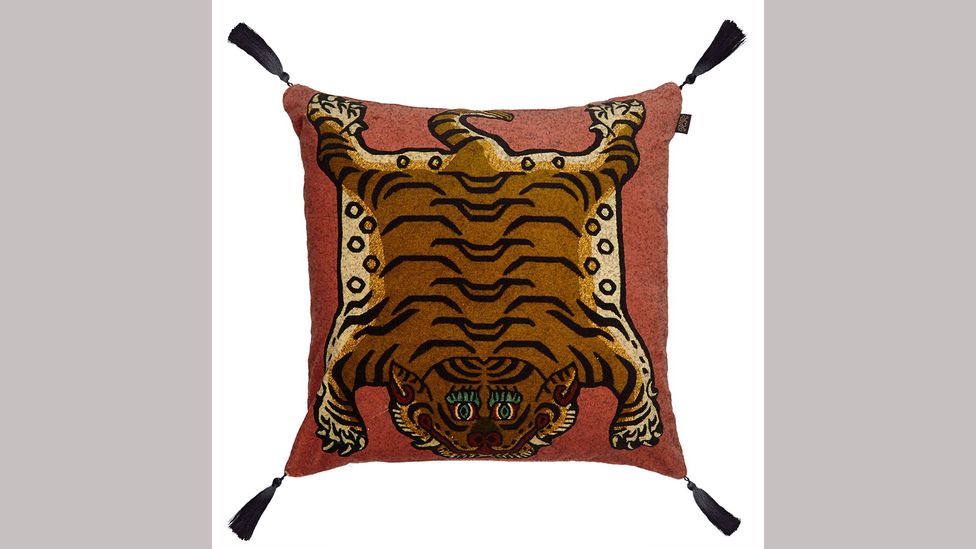 House of Hackney's signature motif, Saber, adorns the brand's home furnishings (Credit: House of Hackney)
Meanwhile, Italian brand Dedar has used lustrous tussah silk to create its Tiger Mountain and Nouvelles Vagues fabrics, the latter evoking a tiger's stripes. "They bring to mind velvety tigers," says co-owner Raffaele Fabrizio. "The motifs are borrowed from the iconography of Tibetan carpets, of which fewer than 200 survive. The idea of Tiger Mountain is a fantasy about being able, one day, to caress a real one."
If you would like to comment on this story or anything else you have seen on BBC Culture, head over to our Facebook page or message us on Twitter.