Ida Lupino's bold, subversive films tackled social issues and still seem fresh almost 70 years later, writes Caryn James.
I
In a daring, brilliantly executed scene in Ida Lupino's Outrage (1950), a young woman named Ann walks out of her office late at night, into a deserted car park. "Hey beautiful!" a man shouts as he follows her, ominously. Trying to escape, Ann runs through alleys and darts between trucks, expressionistic black-and-white shadows slashing the screen. She pounds on a window for help but gets no response. We share the heroine's growing fear for five harrowing minutes until she stumbles and collapses, and the film cuts to the next scene: Ann walking back to the picket-fenced home she shares with her parents, grimy and stunned, a traumatised victim of assault.
More like this:
-       How greater diversity is shaping Hollywood
-       The films that are rewriting history
-       Is the era of the movie star over?
Except for the now-vintage fashion and cars, that scene could be set in the present. But there was nothing like it in old Hollywood, and no one like Lupino.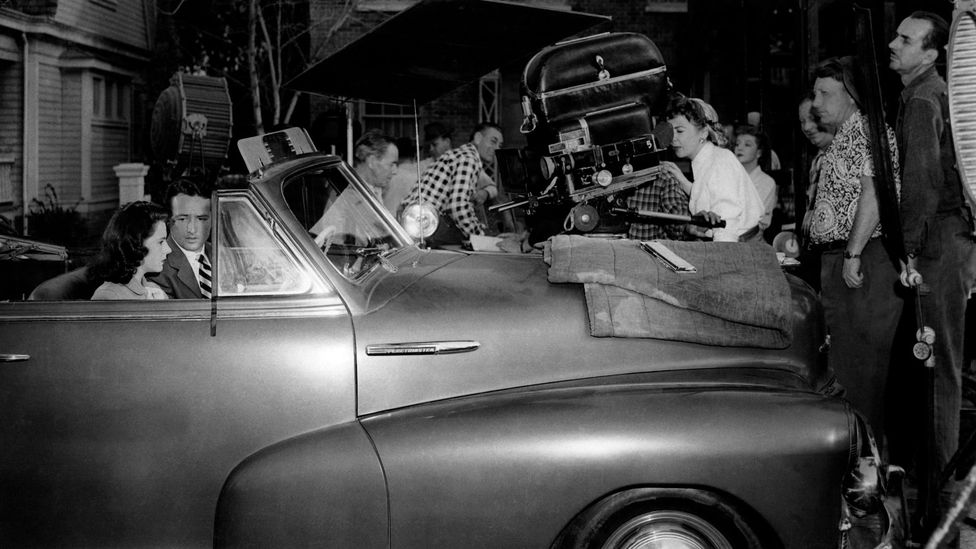 Ida Lupino directed Mala Powers and Robert Clarke in her daring 1950 film Outrage, about a victim of assault (Credit: Alamy)
The word 'rape' is never used in Outrage, although what happened is entirely clear. Breaking with the social attitudes of the time, which often blamed the victim, the film portrays Ann as innocent, and empathetically shows the post-traumatic stress - a phrase that would have baffled viewers at the time - she suffers after her attack. Outrage, which Lupino also co-wrote, displays all the qualities that set her apart as a film-maker and made her so ahead of her time.
All her films offer compassion for their heroines and criticise the judgemental society around them
In the 1940s she was known as an actress, usually playing good-hearted tough-as-nails dames in thrillers that included They Drive by Night (1940) and her best, High Sierra (1941), with Humphrey Bogart. But in a brilliant short burst, from 1949 to 1953, she directed six of her seven feature films, co-writing and producing many of them.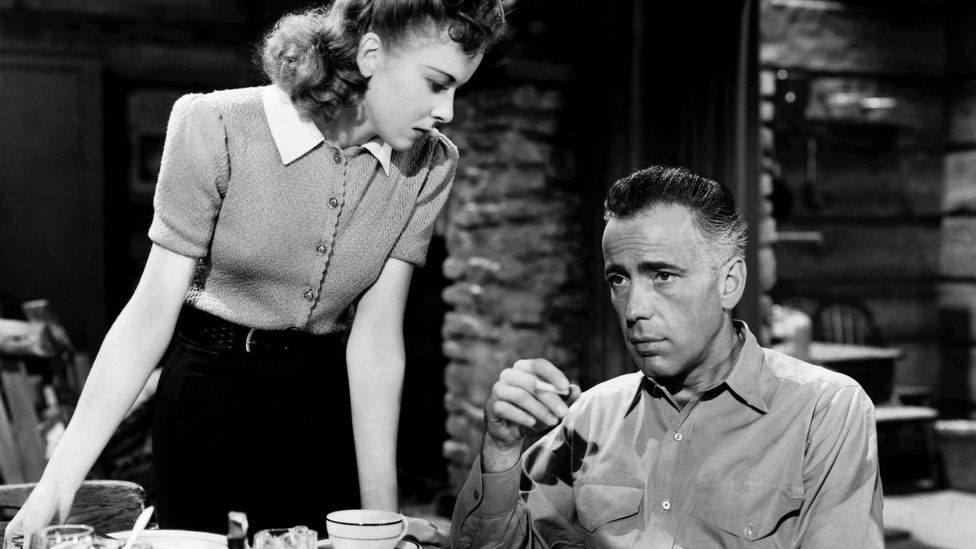 Lupino was an actress who had starred in films such as High Sierra with Humphrey Bogart (1941) (Credit: Alamy)
She was, of course, a woman director in a man's world, but beyond that her films deserve to be rediscovered because they are so substantial, stylish and bold, with an idealistic view of society that seems hopeful even now. Lupino often took on social issues that were usually taboo. Her two best films are Outrage and Not Wanted (1949), about a single woman who becomes pregnant. Never Fear (also 1949) deals with the polio epidemic. All her films offer compassion for their heroines, and vehemently criticise the judgemental society around them. Artistically, Lupino's noir style gives full voice to her characters' inner turmoil as well as the frightening physical reality of their situations.
A woman's choice
Lupino fell into directing her first film. Frustrated at being typecast in those tough-dame roles, she refused to renew a long-term contract with Warner Brothers, and started writing and producing, beginning with Not Wanted. When that film's original director, the forgotten Elmer Clifton, had a heart attack a few days into shooting, Lupino, already on set and eager to protect her own work, took over. In many ways, she was a woman of her time, with a fist-in-the-velvet-glove approach. She wasn't credited as director on Not Wanted, although it has always been known that she took charge. "Heavens, no! I wouldn't think of directing," she told a Los Angeles Daily News reporter who observed her on the set. He wrote: "It's difficult to tell just what she's doing if it isn't directing."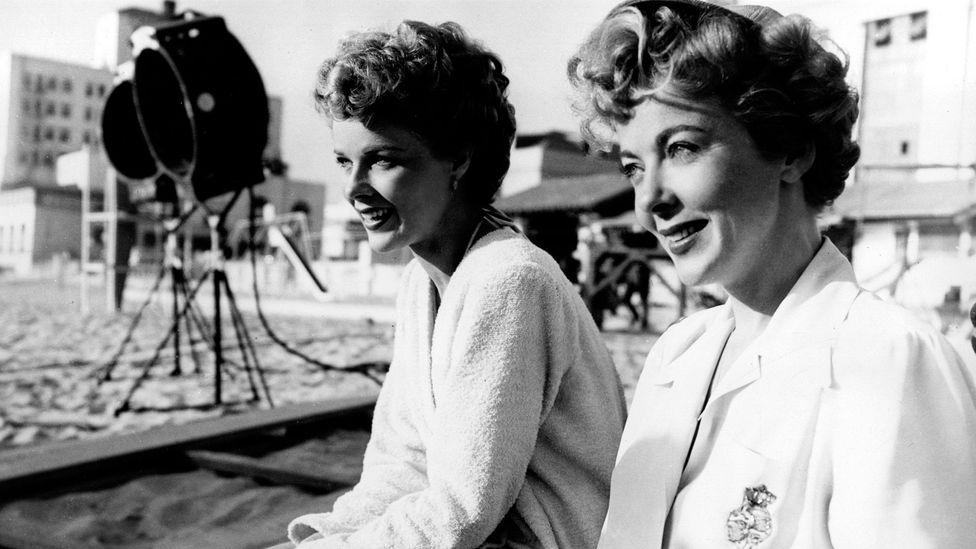 Lupino is shown on the set of Never Fear (1940), which was about the polio epidemic (Credit: Alamy)
Lupino had learned a lot about film noir while acting for directors like Nicholas Ray and Raoul Walsh. Not Wanted deftly applies those stylistic touches to the story of Sally (Sally Forrest), a small-town girl who has a brief romance with a nightclub pianist.  
The film begins with Sally walking up a steep hill, in a daze. She passes a baby carriage, picks up the child and keeps walking, delusionally saying, "It's my baby." When she is arrested for kidnapping, the bars of the jail cell cast soft shadows on her, suggesting the emotional imprisonment she is already enduring.
In flashback, we see how she got there. Steve, the glamorous jazz pianist (played by Leo Penn, Sean Penn's father), passes through Sally's small town. On his last night, they sleep together, although the camera cuts away before we see more than a kiss. Lupino was always dancing around the restrictions of Hollywood's censorious Motion Picture Production Code office, which also rejected her original title for the film, Unwed Mother.
Lupino's noir style of film-making helped portray the psychological turmoil of the characters (Credit: Getty)
When Sally follows Steve to a new town, he dumps her with lines whose sentiments are as fresh now as they were then, despite the distinctively 1940s film dialogue: "We were two people who knew what we were doing, remember? I never gave you any phony ideas about getting married and growing old together… I never lied to you, now get that straight."
Lupino offers a vision of a more open-minded society
Lupino uses visual tricks shrewdly - enough to reveal Sally's state of mind and body - without becoming gimmicky. A double exposure shows Sally's face as she daydreams, and Steve furiously plays the piano in her dreams. But Lupino's script is the film's most startlingly original element. With Steve long gone, Sally finds herself at a home for unwed mothers, where the woman who runs it says: "We're your friends, not your judges." She asks Sally if she wants to keep her child, a broad-minded choice at a time when unmarried women were routinely pressured to give their babies up for adoption. Today, of course, abortion would also be available to Sally, but the difficulty of her decision still resonates with any woman's choice about her future.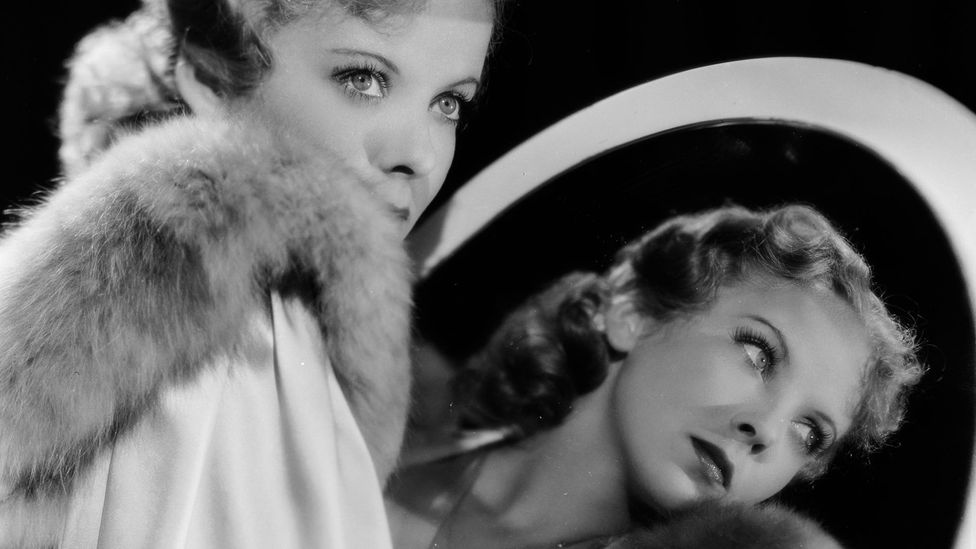 Frustrated by the limitations of her acting roles, Lupino turned to writing and directing (Credit: Getty)
Some lines are, thankfully, outdated. When Sally asks about the family that might adopt her child, she is told, "They will be people of your own race and your own religion." But presenting Sally as good and thoughtful, not a scarlet woman, was radical in 1950. Through the characters who accept her heroine, Lupino offers a vision of a more open-minded world. 
'The best of society'
Outrage is just as radical. The boundary-breaking elements begin when Ann (Mala Powers) and her parents report the crime to the police, which many women felt unable to do then, and even now. And Ann's emotional pain still registers viscerally. Her parents and fiancé are entirely sympathetic. Yet she breaks off the engagement, telling her partner "everything's dirty", and "you'd never forget". She notices neighbours and colleagues staring and gossiping, and flees to another town.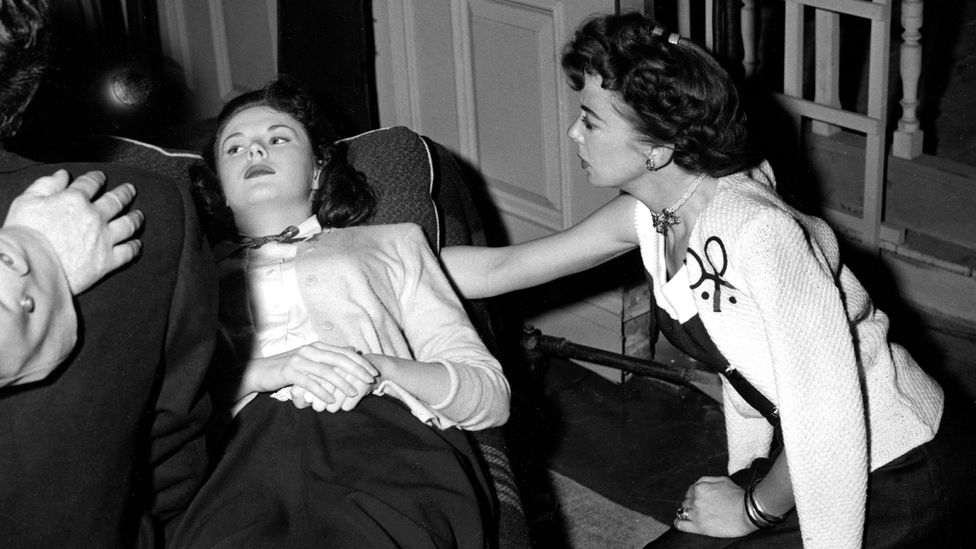 Lupino – shown with Outrage star Mala Powers – emphasised the states of mind of her heroines (Credit: Alamy)
Lupino's black-and-white shadows turn sunny when Ann goes to work at an orange farm, but she can't escape the trauma she has internalised. At a picnic, a man she doesn't know tries to kiss her, triggering memories of the attack. We see a flashback of the scar on the rapist's neck as the new man comes toward her. Panicked and delirious, Ann fights back, manages to grab a heavy wrench and hits the man at the picnic. Lupino portrays him as harmlessly crossing a line, as men do. That is the only time the film's approach seems jarringly out of date. And the emphasis on Ann's state of mind in the scene remains so vivid it feels timeless. 
Again, Lupino surrounds her heroine with understanding characters who represent the best of society. A minister helps her, not by offering religious counsel, but by sharing a story of his own dark days after he was injured in World War Two. Their shared experience of PTSD becomes the emotional centre of the film.
Most of Lupino's movies were produced by The Filmakers (eccentrically spelled with one m), a company she started with her second husband, Collier Young. A bad distribution deal with Howard Hughes's RKO was largely responsible for the company's demise in 1955. Lupino went on to a long, successful career as a television director, on bland projects that didn't allow for any autuerist fingerprints.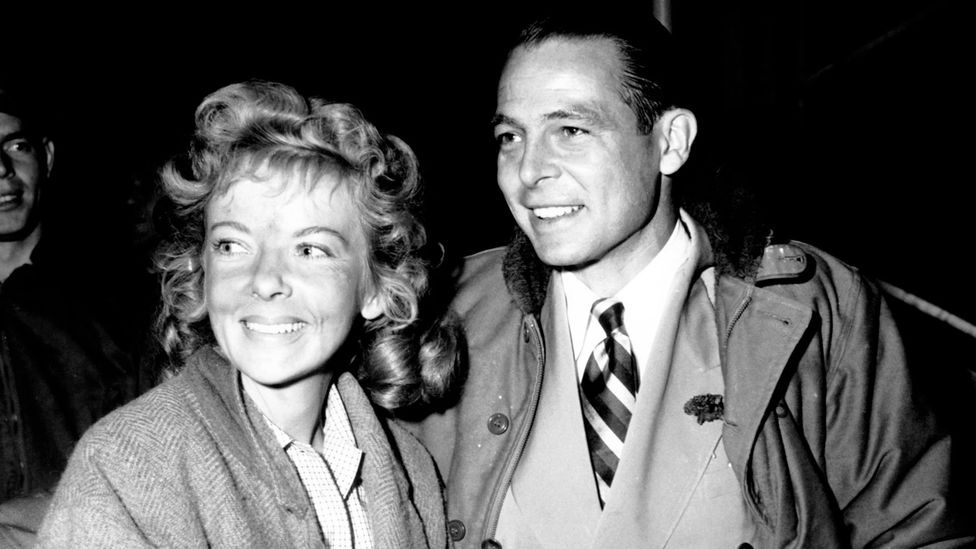 Lupino started a film company with her second husband, Collier Young; later she had a successful career as a television director (Credit: Alamy)
But Lupino's short run as a film director was amazing. Her 1953 film The Hitch-Hiker was among her most commercially successful and for many years her most highly praised. It is a taut thriller about two men taken hostage by a serial killer as they head out on a fishing trip. Today, the film's lack of originality seems like the key to its success: it focuses on male characters and might have been made by many other noir directors. But only Ida Lupino could have made Outrage and Not Wanted, films that speak even more loudly almost 70 years after they appeared.
And only Lupino could have made The Bigamist (1953) in which a well-meaning salesman marries two women, played by Lupino and Joan Fontaine. By then, Lupino and Collier Young had divorced, and he had married Fontaine - which means that Lupino directed herself and her ex-husband's current wife, playing women married to the same man. That head-spinning situation must be a historical first, one of Lupino's lesser but still fascinating achievements. 
Love film? Join BBC Culture Film Club on Facebook, a community for film fanatics all over the world.
If you would like to comment on this story or anything else you have seen on BBC Culture, head over to our Facebook page or message us on Twitter.
And if you liked this story, sign up for the weekly bbc.com features newsletter, called "If You Only Read 6 Things This Week". A handpicked selection of stories from BBC Future, Earth, Culture, Capital and Travel, delivered to your inbox every Friday.