What did the 'tyrant of hemlines' really think of the ladies he dressed? How the designer's formidable, elegant entourage helped shape the Dior look, by Lindsay Baker.
"Dior doesn't dress women, he upholsters them," Coco Chanel once said of her fellow designer Christian Dior. And of his debut collection, she remarked spikily: "Look how ridiculous these women are, wearing clothes by a man who doesn't know women, never had one, and dreams of being one."
This was in 1947, when Dior unveiled his first ever couture collection to the public, with its bell-shaped, petal-like long skirts in taffeta and tulle, lifted busts, softly sloped shoulders and cinched-in waists. The style became known as the New Look, as it was so markedly different from the preceding pared-back, more androgynous styles – of which Chanel was a key purveyor. Dior's look was romantic, lavish, elaborate, feminine, and harked back to an earlier Belle Epoque silhouette. It was a huge success.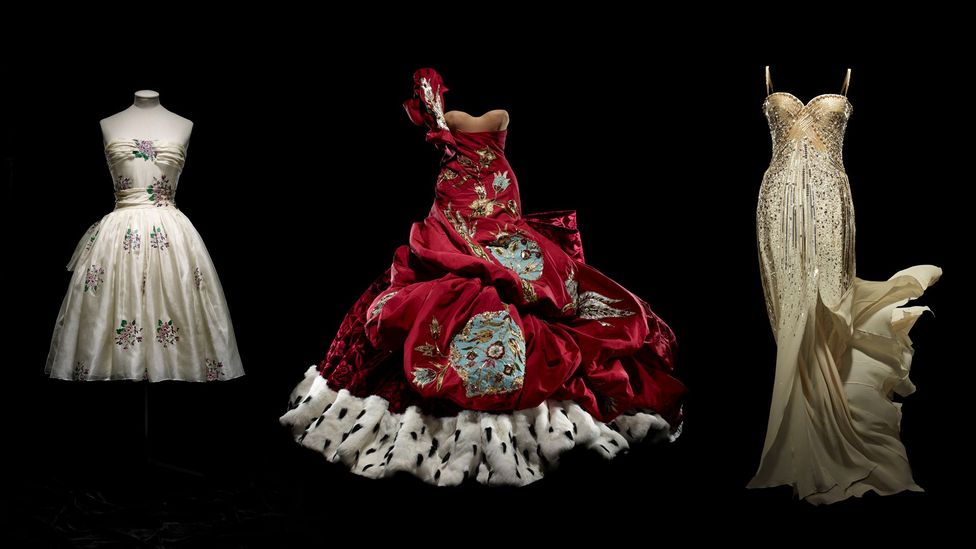 The extraordinary haute couture gowns of Dior are the subject of an exhibition at London's V&A Museum (Credit: V&A London)
"The buzz was huge," says Oriole Cullen, curator of a new exhibition at the V&A, Christian Dior: Designer of Dreams, an extended version of an exhibition originally shown at the Musée des Arts Décoratifs in Paris. "There were huge crowds outside his first show, and Nancy Mitford commented that even the taxi drivers were talking about Dior. Negotiations to establish the house of Dior had begun in 1946 when the world was just coming out of World War Two. After the austerity of the war and the boxy silhouettes, Dior introduced a more glamorous look. The launch marked the return of the Parisian fashion industry."
More like this:
How royal women have shaped fashion
Yve Saint Laurent's ultimate obsession
Dior was a "clever businessman" who brought worldwide cachet to Paris, says Cullen. His approach and ambition were global: he forged business links not only in New York and London but in Japan, Australia and Venezuela. The perfumes and boutique products, including underwear and stockings, were also a shrewd idea. "He took it to the maximum, and his name became prominent all over the world." He was a huge cultural and business figure, and even made the cover of Time magazine. His lavish haute-couture gowns were transformative, fairy-tale creations, worn by the most glamorous stars of the time, from Marlene Dietrich, who only wore Dior, to Marilyn Monroe, Rita Hayworth and ballerina Margot Fonteyn.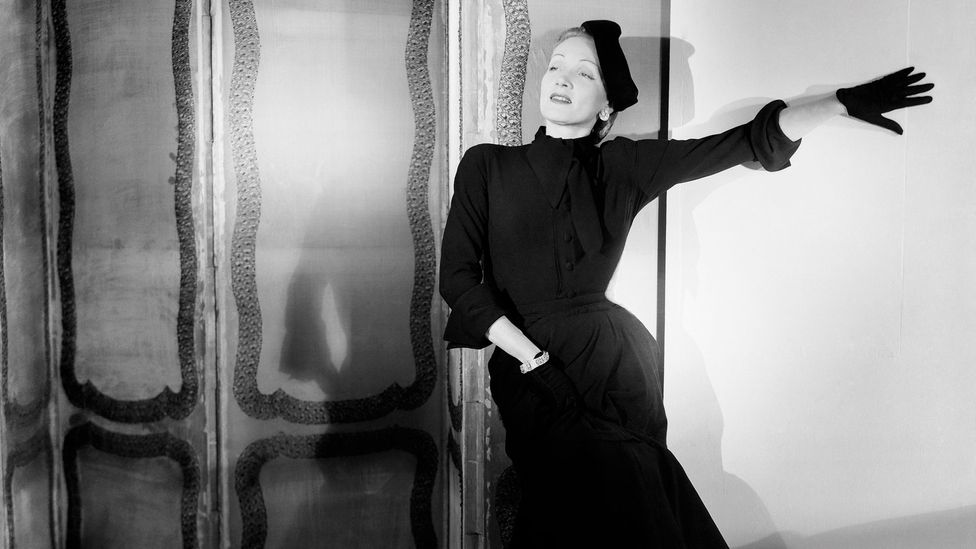 Marlene Dietrich wore only Dior, and was one of the fashion house's most glamorous proponents (Credit: Getty Images)
But was Chanel right to be contemptuous? Was Dior's approach demeaning, and his corseted style retro, trussed-up and restrictive to women? He was nicknamed 'The Tyrant of Hemlines', and initially, there were protests against him by some women because his designs covered up their legs, which they had been unused to because of the previous limitations on fabric during wartime. Was he that familiar stereotype – the dictatorial couturier, tyrannically forcing women into wasp-like silhouettes in order to create an idealised, male version of womanhood?
There was an exalted triumvirate of women at the house of Dior
In fact, it is striking to discover how close he was to women, and how highly they regarded him. Not only did women love how his clothes made them look and feel, those that came into contact with him seemed to adore him personally too. When he died suddenly at the age of 52, there was an outpouring of grief – 2,500 people attended his funeral. There was also a sense of "panic", says Cullen, that the house of Dior would have to close. "But thanks to a great team of women – and some men – it was able to carry on and stay true to his vision."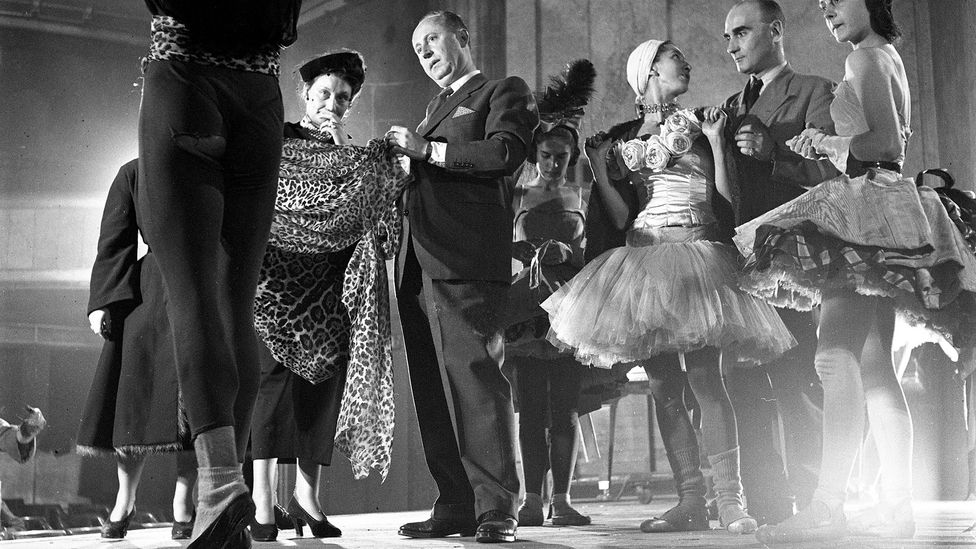 Christian Dior and Madame Bricard, seen here at the Paris ballet, were close collaborators (Credit: Getty Images)
This talented team had been working directly with Dior and were highly valued and respected by him – a fact that seems to contradict Chanel's view of the designer as, in some way, anti-women.  As Dior himself explained in one of his two autobiographies, there was in particular an exalted triumvirate of women at the house of Dior. He describes Madame Raymonde Zehnacker, who was the director of the design studio and Dior's right-hand woman: "Raymond was to become my second self," he writes in his 1951 book Je Suis Couturier. "Or to be more accurate, my other half. She is my exact complement: she plays reason to my fantasy, order to my imagination, discipline to my freedom, foresight to my recklessness, and she knows how to introduce peace into an atmosphere of strife. In short, she has... steered me successfully through the intricate world of fashion, in which I was still a novice in 1947."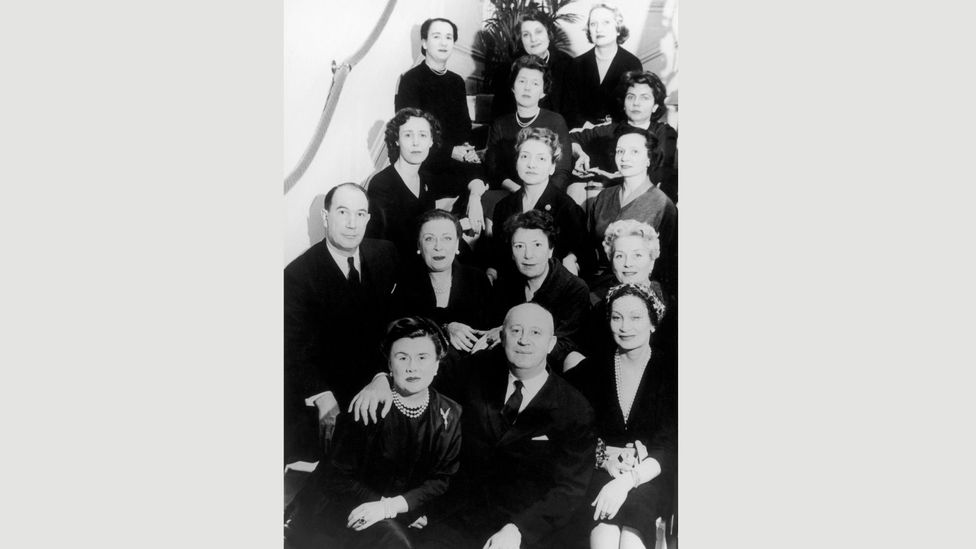 Christian Dior surrounded himself with talented women who helped shape the look of the fashion house (Credit: Getty Images)
According to Cullen, Marguerite Carré – who Dior poached from the house of Patou – was "a technical genius". She would look at his sketches and then turn them into reality, from the choice of materials to the execution of the piece. The relationship was completely symbiotic, says Cullen: "a team effort". Of Mme Carré, Dior writes: "Over the years she has become part of myself – of my dressmaking self, if I can so call it."
Madame Bricard is one of those people, increasingly rare, who make elegance their sole raison d'être – Christian Dior
It is Dior's descriptions of Mitzah Bricard, the third and most significant woman in this trio, that are most striking, and most challenging to Chanel's dismissive characterisation. Bricard, like the other women on the team, was a collaborator. Dior made her his head of millinery, though her role was much more far-reaching than that – she was also Dior's muse. According to his autobiography, she was a living incarnation of elegance. "Madame Bricard is one of those people," he writes, "increasingly rare, who make elegance their sole raison d'être. Gazing at life out of the windows of the Ritz, so to speak, she is superbly indifferent to such mundane concerns as politics, finance or social change."
Mitzah Bricard was the fashion house's head of millinery – she was also Dior's muse (Credit: Getty Images)
As Cullen says: "She was a glamorous Parisienne, and he loved her style." She would always wear some leopard print, often pearls, and beautiful hats. "Her whole life was devoted to her look, and her ideas – she was his confidante." Bricard, it seems, not only inspired his ideas, but was necessary to the process of creation. In the 1954 book Talking about Fashion, Dior says: "Her moods, her extremes of behaviour, her faults, her entrances, her late appearances, her theatricality, her mode of speech, her unorthodox manner of dress, her jewels, in short her presence, bring the touch of absolute elegance so necessary to the fashion house."
As Ilya Parkins puts it in her book Poiret, Dior and Schiaparelli: Fashion, Femininity and Modernity, Madame Bricard possessed "an essential, almost inherited, understanding of the grammar of chic as something timeless, removed from the conventional split between designer and their works". The friendship between the two was close, and tempestuous. Dior says: "I knew that the presence [of Bricard] in my house would inspire me towards creation, as much as by her reactions – and even revolts – against my ideas, as by her agreements."
Women of substance
One thing is clear when reading Dior's comments about this trio of women – they don't sound like the remarks of a man who, as Chanel put it, "doesn't know women". On the contrary, these collaborative relationships with various women seem intense, and important to Dior, and essential to his fashion house on several levels. Not least because with haute couture, the range of clients was – and still is – varied in terms of body shape and size. Not all of these clients were young, tall and lithe. Dior was, says Cullen, "clever" in the way he surrounded himself with women of different body shapes and ages.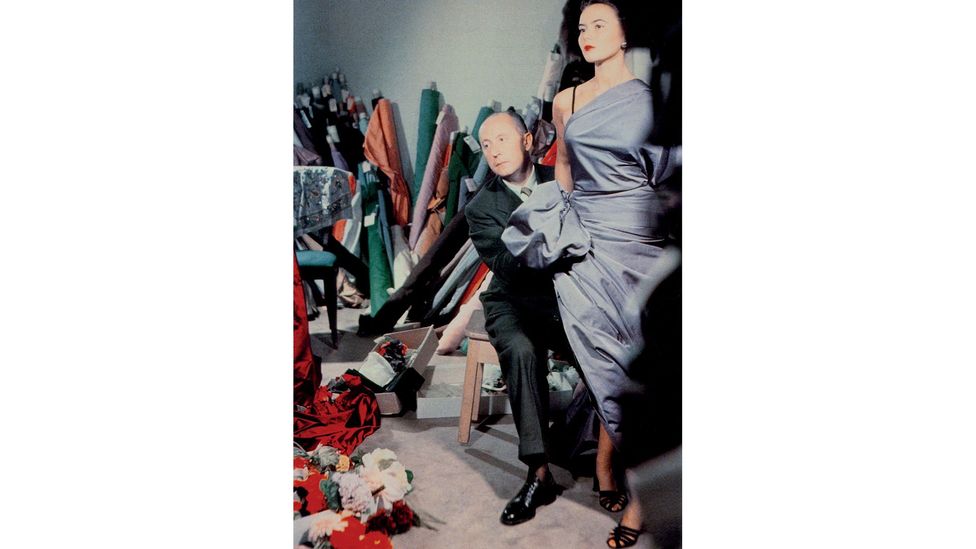 Christian Dior in his studio with one of his models – he said his work was 'dedicated to the beauty of the female body' (Credit: V&A London)
And this powerful trio wasn't the only female influence in the designer's life and work. Dior had been completely devoted to his mother Isabelle Cardamone. With her love of the Belle Epoque's wasp-like silhouettes and luxurious fabrics, she was an exuberant, elegant dresser, and Dior's work reflects her aesthetic. Then there was the elegant Suzanne Luling, another member of Dior's team, who supervised his public relations. She was a lifelong friend, to whom he was staunchly loyal – she and Dior had been close since their childhood together in Granville, Normandy.
Christian Dior named the first of the fashion house's perfumes, Miss Dior, after his sister Catherine, as a tribute to her heroism
Dior was also extremely close to his younger sister Catherine – he doted on her, and they went through a lot together. When Christian was in his 20s and his sister was still a teenager, the family suffered a setback and lost all of their money. When war broke out, she moved to Grasse in the South of France with their father, and when the young Christian was de-mobilised from the army, he moved there too. The siblings made it their haven, working together in the vegetable garden. It was not long before the intelligent and courageous Catherine joined the Resistance, and was subsequently captured by the Gestapo and sent to the Ravensbruck concentration camp, where she was incarcerated until 1945.
Christian Dior was inspired by Princess Margaret, describing her as a 'fairy-tale princess' (Credit: V&A, London)
When she returned, the brother-sister bond was even closer: he named the first of the fashion house's perfumes, Miss Dior, after her, as a tribute to her heroism, and also created a dress inspired by her. Later Catherine moved to Château de la Colle Noire, the 15th-Century Provençal manor house in Grasse that Dior purchased in 1951. In the grounds there were hectares full of vines, trees, lavender, jasmine and may roses, and Catherine was closely involved in the flower production for the Dior perfumes.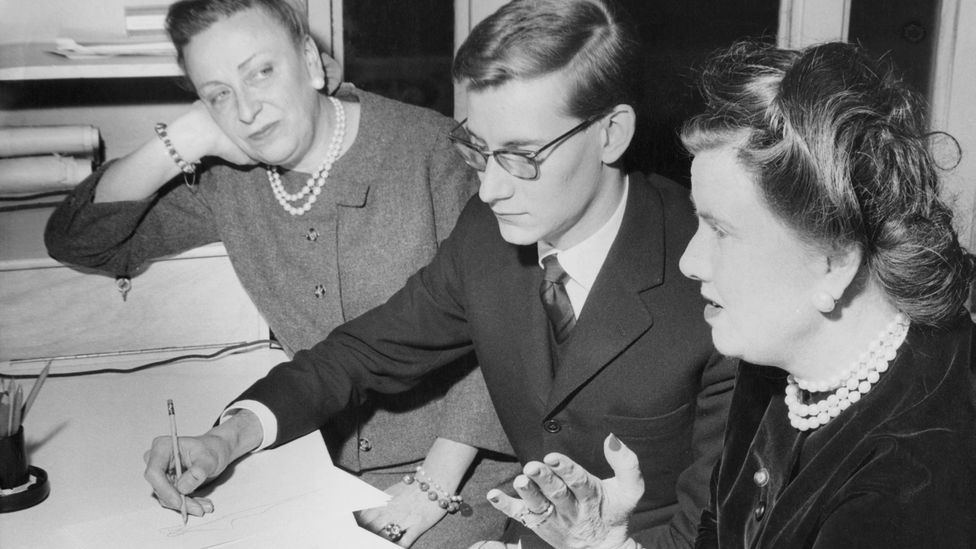 After Dior's death in 1957, Yves Saint Laurent took over with the support of Raymonde Zehnacker (left) and Marguerite Carré (right) (Credit: Getty Images)
And of course, Dior had a following among the most starry and glamorous women of his time. Along with famous models, there were also numerous royals and aristocrats, including Princess Margaret, who visited the Paris atelier on her first European tour at the age of 18. Dior said of Princess Margaret: "She was a real fairy-tale princess, delicate, graceful, exquisite." Princess Margaret became a client, and commissioned several pieces, including the cream ball gown that she wore at her 21st birthday party in 1951. The one-shouldered cream couture gown with dramatic, gold-embellished tulle skirt is displayed at the V&A exhibition – Margaret called it her "favourite dress of all".
Now, it is the likes of Charlize Theron, Jennifer Lawrence, Marion Cottillard and Lady Gaga who showcase Dior's haute couture creations. Since Christian Dior's era, the Dior house has gone from strength to strength and has had at its head some of the world's most talented designers, from Yves Saint Laurent to John Galliano and Raf Simons. And now, for the first time in its history, there is a woman at the helm of Dior, Maria Grazia Chiuri.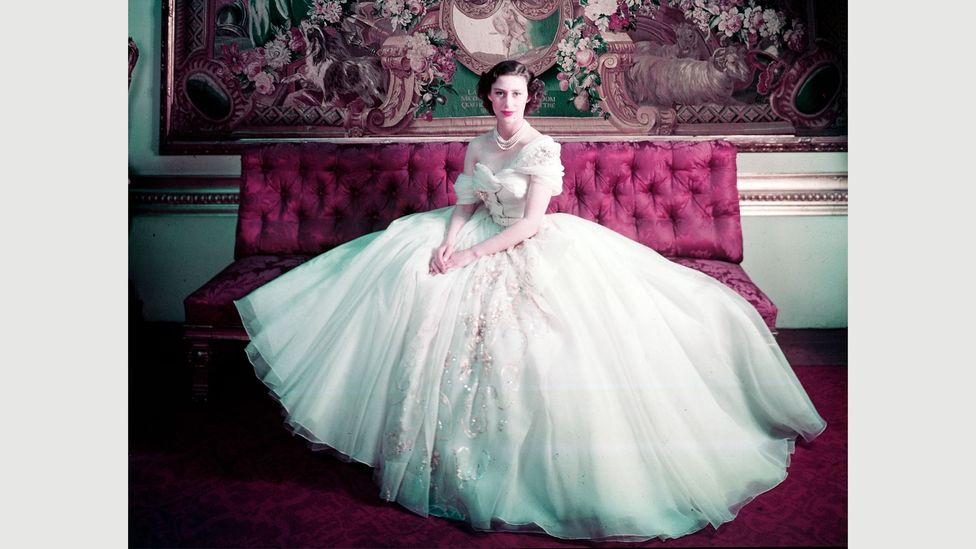 Dior created the haute couture gown that Princess Margaret wore for her 21st birthday (Credit V&A, London)
For her debut, Chiuri famously created a T-shirt bearing the message from the author Chimamanda Ngozi Adichie, 'We Should all be Feminists', with all the proceeds going to the Clara Lionel Foundation, the charity set up by Rihanna that supports girls' education. Cullen sees her as progressive figure. "Maria Grazia Chiuri is very much designing for what women want to wear, not necessarily fantasy garments," says the curator. "And she is aware of the power of social media, which is how fashion is consumed now. It's a huge platform for fashion houses… you can reach millions of people."
I think he loved women, he respected their opinions, and he relied on them – Oriole Cullen
How does the curator view Coco Chanel's derogatory comments about Dior not "knowing" women?  "You have to consider that comment in the context of the time – he was a gay man, and there's a certain needling going on there. But I think we can prove that he not only knew women, he respected them." While Chanel remarked that Dior "upholsters" women, the designer himself saw it differently when he said: "I think of my work as ephemeral architecture, dedicated to the beauty of the female body."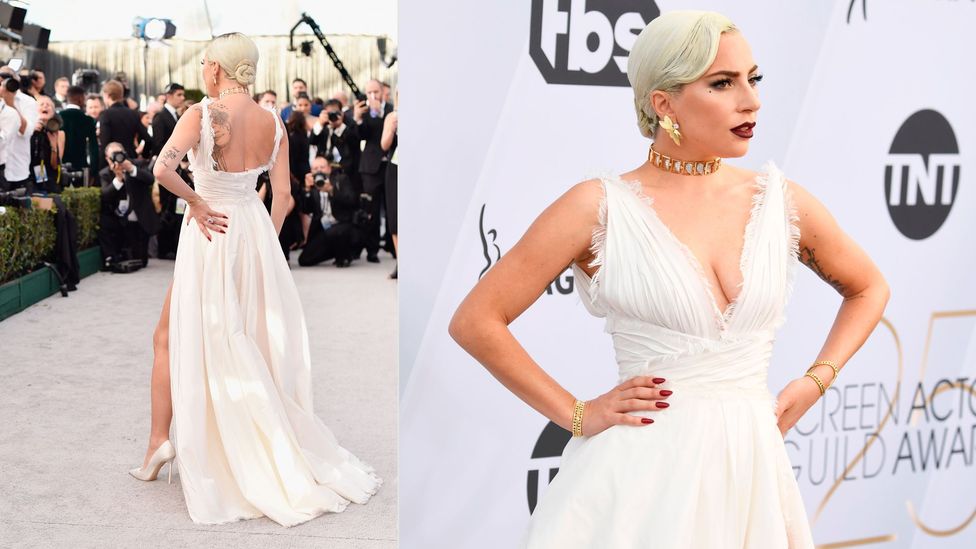 Lady Gaga wears current Dior haute couture at the 25th annual Screen Actors Guild Awards on 27 January (Credit: Getty Images)
It is a sign of the times that he lived in that Dior gained all of the credit for the hard work his entire team put in, though there is a sense that he did at least value them highly for their contributions. How does Cullen think the designer would react now to a female head of the grand maison that he founded? "I think he loved women, he respected their opinions, and he relied on them, so probably he'd be very happy with it."
If you would like to comment on this story or anything else you have seen on BBC Culture, head over to our Facebook page or message us on Twitter.