The male-grooming business is exploding – and even David Beckham is wearing eyeshadow. Bel Jacobs investigates the boom in men's cosmetics.
T
This month, David Beckham appears on the cover of style magazine LOVE 20.5, in Dior, styled by Kim Jones, green roses and bird tattoos spiralling up his neck. "With the lighting and the pose, David reminded me of David Sylvian from [1970s and '80s band] Japan," says make-up artist Miranda Joyce, who worked on the shoot. "It seemed right to add eye make-up, the bright blue that Bowie wore in the Life on Mars video. I knew David could make it work, even though it wasn't something he'd done before." It's a great portrait – and yet what really got people talking was that eyeshadow.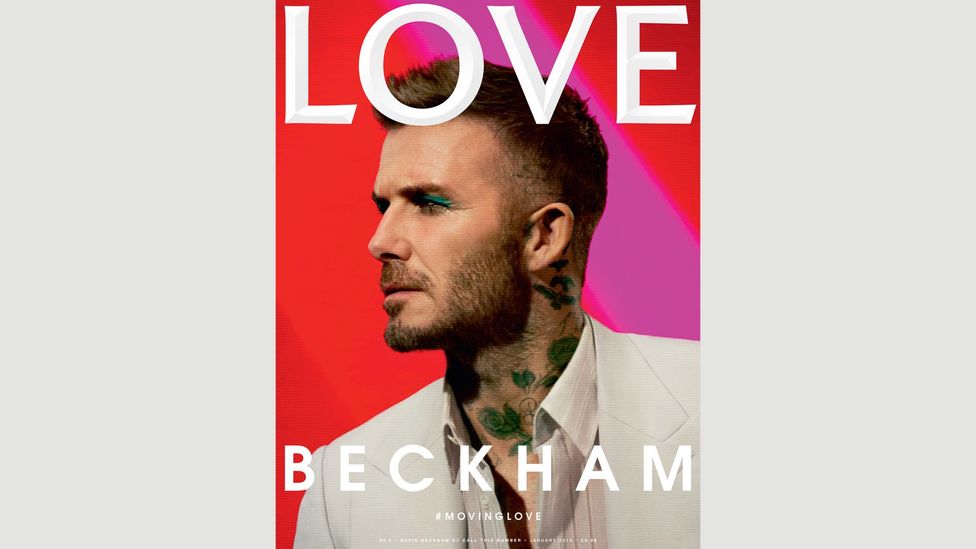 David Beckham on the cover of LOVE magazine (Photography: Call This Number – Steve Mackey and Douglas Hart, Creative Direction: Katie Grand, Make Up: Miranda Joyce)
Men are no strangers to make-up. Alexander the Great was a fan, while the Picts daubed their faces in blue woad. Wigs and beauty spots were popular in the court of Louis XIII – and let's not forget the dandies. But somewhere in the 1800s, someone decided that real men don't wear make-up and, after that, when they did, it was in a spirit of transgression. Bowie, Prince and Johnny Depp weren't (just) trying to make themselves look good, they were challenging everything we knew about gender, sex and society.
Dries van Noten on the craft of fashion
But, off the back of the LOVE cover, is men's make-up about to go mainstream? After all, here you have one of today's most famous faces wearing the stuff. Factor in men's cosmetic line launches by Chanel and Tom Ford, and male make-up artists Manny Gutierrez and James Charles fronting campaigns for US mega brands Maybelline and Covergirl respectively – and you have all the beginnings of a movement. Plus Gutierrez and Charles are part of a powerful influencer group of men in make-up, including Jeffree Star and others.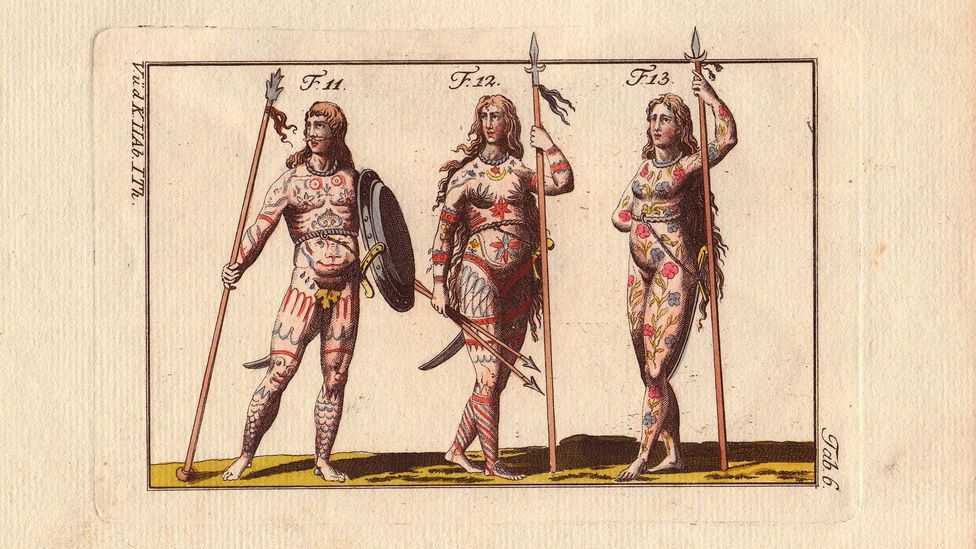 Both male and female Pict warriors painted their faces and bodies (Credit: Alamy)
In January 2019, when Charles visited Birmingham in the UK to launch a palette with Morphe, traffic literally stopped. Look beyond the screaming, however, and the status quo has hardly shifted. BOY de Chanel (tagline 'Be Only You') is a streamlined collection of only three products – foundation, eyebrow pencil and lip balm – in matte-black packaging that hardly challenges conventional notions of masculinity. And the boys in make-up? They're mostly beautiful, gay, prone to hyperbole – and up to 80% of their million-strong fanbase appear to be young girls.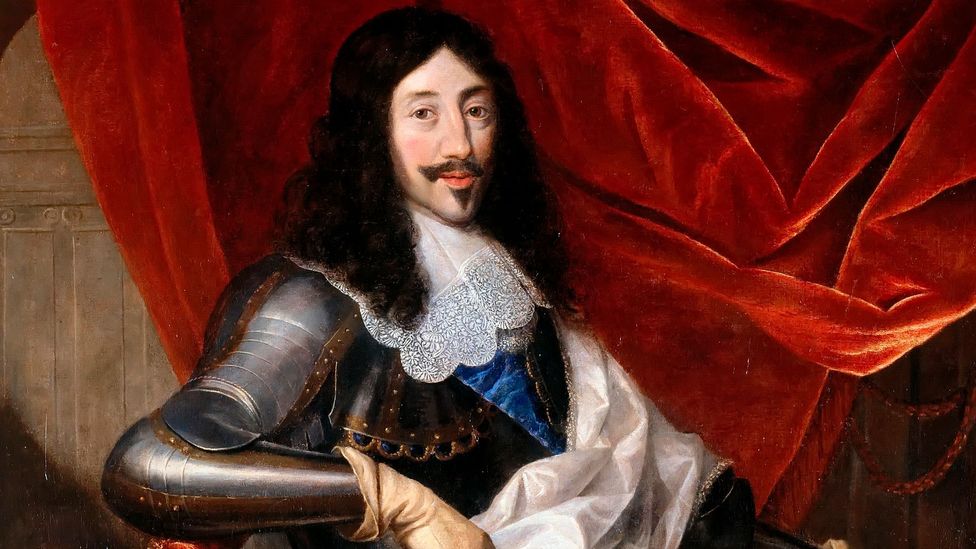 A portrait by Justus van Egmont of Louis XIII, who was a fan of makeup (Credit: Getty Images)
Why are men still so resistant to ideas of facial decoration? "Well, they're told to be," says Glen Jankowski, lecturer in the School of Social Sciences at Leeds Beckett University. "Despite claims of increasing metrosexuality, gender norms for men are still strong. Analyses of toys marketed to boys, for example, show that the messages are still to be strong, brave and uninvested in your appearance. For girls, beauty is key." Understanding the divide came as a shock to the transgender make-up artist Joseph Harwood.
"I was the tiny kid with glittery gel pens," he remembers. "I didn't appreciate how powerful conditioning could be until the people who mistook me for female told me what was wrong with my skin. It became evident that the boys and girls had different expectations – and I didn't fit with either. Men are often praised for flaws; a broken nose is rugged, chapped skin is war-torn [but] there's a full-blown campaign from the start of a girl's life that involves images on magazines that are overly retouched."
The male-grooming business is growing exponentially
Today, Harwood lends his face to gender-free and vegan make-up brand Jecca Blac. But if men aren't quite ready for rouge, they're definitely up for a bit of spit and polish. The male-grooming business, valued at $57.7billion (£44.6billion) in 2017, is growing exponentially. According to Research and Markets, the market is set to reach a quite staggering $78.6billion (£60.6billion) by 2023. And we're not just talking Nivea; we're talking moisturising foundation and bronzers, concealers and brow definers – proper cosmetics.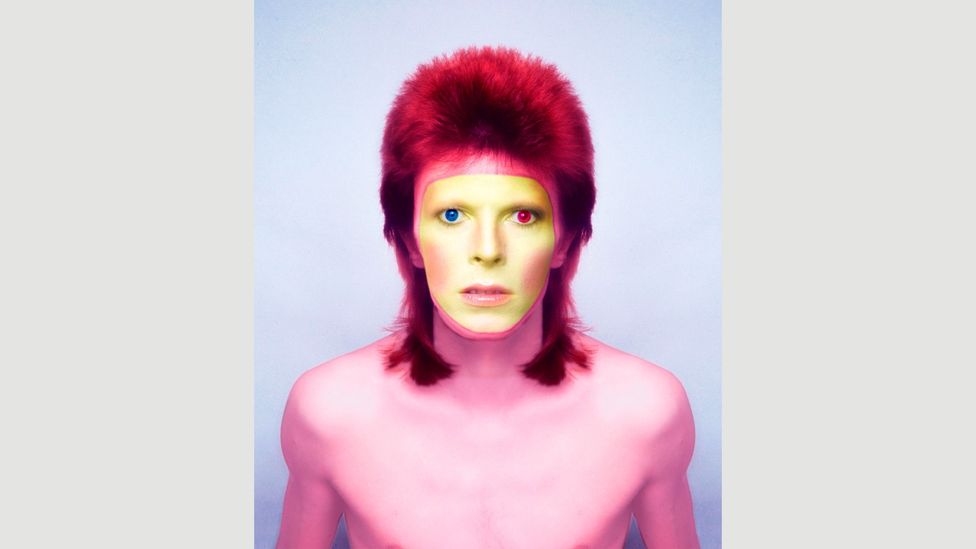 David Bowie, pictured in 1973, famously experimented with cosmetics (Credit: Getty Images)
Alex Dalley isn't surprised. He set up men's make-up range MMUK in 2012, after an adolescence plagued by acne – until his mum put some foundation on him. "At the beginning, we had eight or nine products and the bravest things we had were a clear brow gel and a concealer stick. But, over the years, customers starting asking for foundations and bronzers." Today, the brand has about 60 products and is stocked on Asos. "It's a completely different landscape," affirms Dalley.
Blend it like Beckham
Daniel Gray launched his proudly vegan, cruelty-free and produced-in-Britain men's make-up brand War Paint almost two years ago. "Grooming has exploded," he says. "We started selling online on 1 November and I'm already taking on more staff. There's a massive market for this, and it looks set to grow. What we want men to realise is that, when you say make-up, we don't just mean red lipstick. Make-up is putting a nice base on so that you can have an even skin tone and feel the best you can."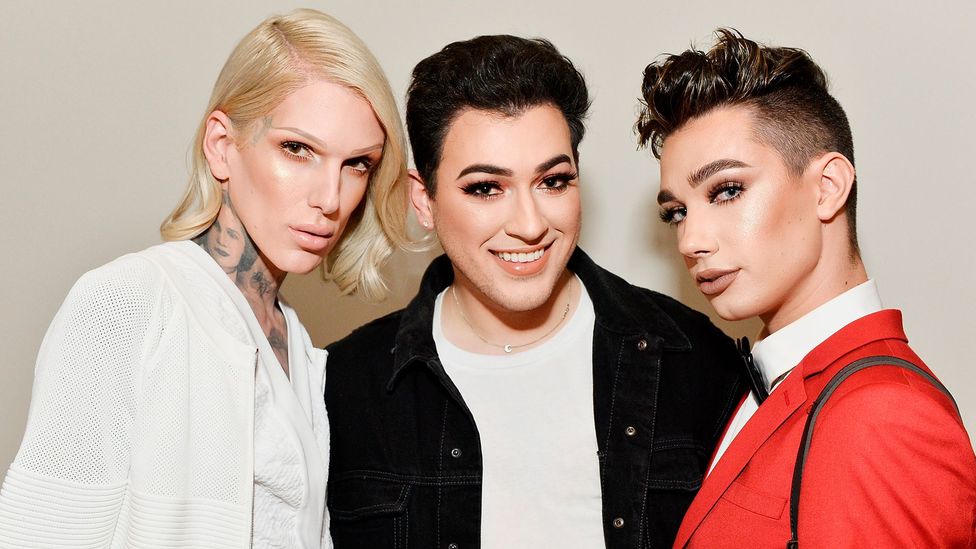 Jeffree Starr, Manny Gutierrez and James Charles at the launch of KKW Beauty in Los Angeles (Credit: Getty Images)
Do men really want to get stuck into colour and shine anyway? As most women will testify, the daily routine of 'putting on your face' can be double-edged. On one hand, you have the confidence of presenting your best, unblemished self to the world; on the other, you know it's not the full picture. In a recent article in the Independent, feminist activist Julie Bindel pointed out that "15% of heterosexual women polled about their so-called beauty regimes disclosed that they apply make-up before their partner wakes up." What a chore.
Beckham in make-up communicates a certain liberation from the norm – Miranda Joyce
Women in the UK also spend an average of 474 days applying make-up, during which time they slather up to 200 synthetic chemicals onto their faces and fork out an average of £9,525 over a lifetime keeping up with trends. "Make-up for a lot of women has become a necessity, something they don't feel confident without," admits Miranda Joyce. "I really wish make up could be seen as a more liberating, playful, expressive device. If the perspective shifted, maybe men would feel more inclined to experiment."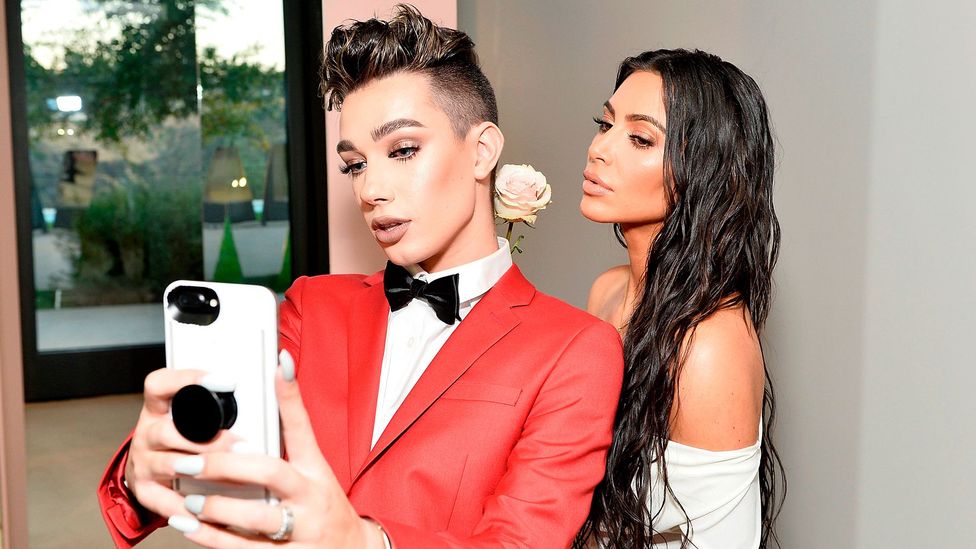 Make-up vlogger James Charles and Kim Kardashian West in Los Angeles, 2017 (Credit: Getty Images)
Because, it could be argued that the more lines are blurred between the sexes, the better life will be for everyone. "Masculinity is still such a fragile concept; the fact that Beckham wearing eyeliner is headline news shows how little things have changed," says LGBT activist Jeffrey Ingold, "Suicide rates among young men are alarmingly high and part of the [reason for that] is the culture of toxic masculinity that restricts what's acceptable for men to do. Not feeling you can be yourself is incredibly damaging to a person's mental well-being."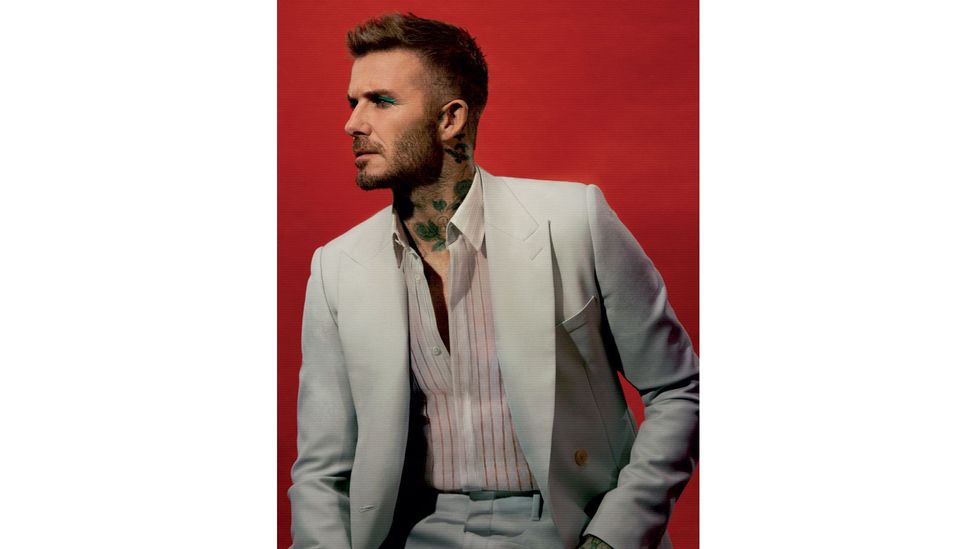 David Beckham photographed for LOVE magazine (Photography: Call This Number – Steve Mackey and Douglas Hart, Creative Direction: Katie Grand, Make Up: Miranda Joyce)
Seeing more men experiment with appearance using make-up would be a sign we're expanding the idea of "what it means to be a man," says Ingold. Joyce agrees: "While gender fluidity is in the spotlight, we're still a patriarchal society. Beckham in make-up communicates a certain liberation from the norm; he's a sportsman and a businessman and a style leader and, on the cover, I think he personifies modern masculinity, confident to step out of his comfort zone and experiment."
If you would like to comment on this story or anything else you have seen on BBC Culture, head over to our Facebook page or message us on Twitter.
And if you liked this story, sign up for the weekly bbc.com features newsletter, called "If You Only Read 6 Things This Week". A handpicked selection of stories from BBC Future, Culture, Capital and Travel, delivered to your inbox every Friday.