The Lebanese film Capernaum has been nominated for an Oscar. Arwa Haider looks at how some movies reveal stories of conflict and tragedy – through a child's eyes.
W
Within the first few minutes of film-maker Nadine Labaki's Oscar-nominated movie Capernaum, we see a skinny kid of around 12 (Zain Al Rafeea, whose on-screen character was named after him), being led to a courtroom. His handcuffs are removed; we learn that this is not Zain's first court appearance – but this time, he is the plaintiff. "I want to sue my parents," Zain tells the judge. His jaw juts defiantly, though his gaze is wounded as he explains: "Because I was born."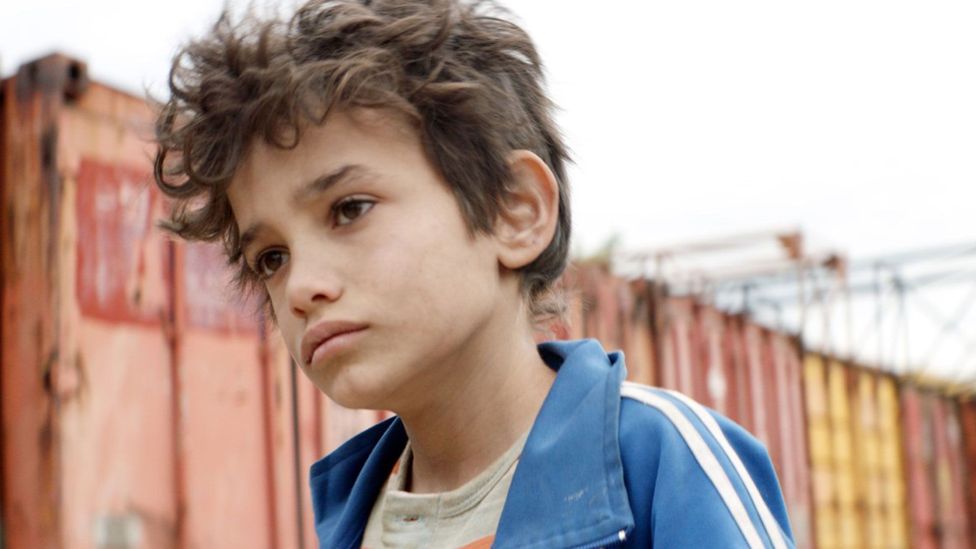 Capernaum received a 15-minute standing ovation after it was screened at the Cannes Film Festival in 2018 (Credit: Picturehouse Entertainment)
Capernaum's title is a nod to the French term for 'chaos' (as well as a doomed biblical village). Its modern Beirut-set narrative portrays abject child poverty and neglect, vividly and without sensation; its cast is largely non-professional. Its perspective centres on Zain's experience: his slum confines with his parents and numerous siblings; his natural child's instinct to play between gruelling shifts of work; the looming fate of prison (like his elder brother) rather than school; the scarcity of food, warmth or love. Zain's survival instinct and innate dignity is echoed by that of Rahil (Yordanos Shiferaw), an Ethiopian worker without legal papers, striving to raise her infant son Yonas, and to avoid deportation. The film is both fiercely pertinent and part of a tradition of cinema that presents a child's-eye view of a conflicted world.
More like this:
- The films that are rewriting history
- What our science fiction says about us
- The best recent foreign-language films
"I was thinking about this film for a long time," Labaki – who is also a writer and actress – tells BBC Culture. "It started with the Syrian refugee crisis; you see it everywhere on the streets in Lebanon: children working; selling gum; dragging gas canisters along. You feel frustrated, then so futile. I remember thinking when I saw Aylan Kurdi (the three-year-old Syrian refugee who drowned in 2015, as his family attempted to cross the Mediterranean Sea): what would this child have told us about what he's been through? Because we're dragging these children like puppets through our decisions: whatever wars we come up with; the systematic chaos we create."
How did we get to the point where we deprive a child of the most basic right, to close his eyes and sleep? – Nadine Labaki
Labaki recalls noticing a young child begging with his mother late one night on Beirut's streets – the boy was too exhausted to stay awake, but too uneasy to rest. "I got so angry; how did we get to the point where we deprive a child of the most basic right, to close his eyes and sleep? Give me the strength to do something about it; what can I do?"
Capernaum's conception began with a sketch that Labaki drew that night: "It was the face of a child with his mouth wide open, and he's shouting with all his strength at the adults around him: 'I don't belong in your world; I don't want to be here'… Now, I see this image, and it's Zain standing in front of society and saying: 'No more; you don't deserve me'."
From the ground up
The film's story formed through intensive groundwork, with Labaki and her co-writers visiting and speaking to children in shelters, detention centres, juvenile prisons and impoverished neighbourhoods. "One boy told me: 'I don't know why I was born, if nobody's going to love me or say one nice word to me in my life, and I'm never going to have a kiss before I sleep from anybody'," she murmurs. "Of course, the experience changed me. I met kids who use very harsh words to describe themselves; many of them don't even know when they were born, because they were never registered. It hit me that this was going to be the story of a child who sues the world, through his parents, for giving him this life."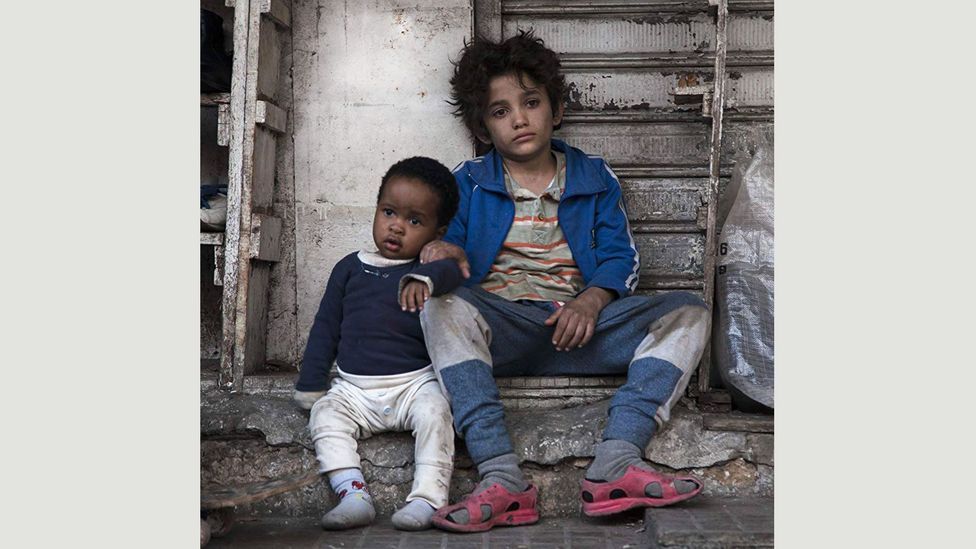 Labaki cast untrained actors: Boluwatife Treasure Bankole was deported to Kenya and Al Rafeea is a Syrian refugee (Credit: Fares Sokhon/ Picturehouse Entertainment)
Street casting was key to Capernaum; while Labaki acted the lead parts in her previous films Caramel (2007) and Where Do We Go Now? (2011), here she has a brief supporting role, as Zain's lawyer. Otherwise, she points out that the script essentially served the non-professional actors, and that nearly all of these talents brought their real-life experiences to the process. Al Rafeea himself is a Syrian refugee ("Acting's easy," he brightly told a press conference at Cannes, where Capernaum won the 2018 Jury Prize); Aleppo-born Haita Izam (who plays Zain's younger sister Sahar) had been selling gum on Beirut's streets when she was cast; Shiferaw had been forced to support her family as a young orphan, and ended up living illegally in Lebanon – she was actually arrested during the filming of Capernaum; Boluwatife Treasure Bankole (the one-year-old girl who plays Yonas) was deported to Kenya with her mother.
The presence of untrained actors lends an unaffected rawness, empathy and crucial sensitivity to the film; it also recalls a powerful range of international realist dramas involving non-professional young leads. Those include the celebrated first part of Satyajit Ray's Apu Trilogy (Pather Panchali, 1955); gritty evocations of British working-class youth such as Ken Loach's Kes (1969) or Lynne Ramsay's Ratcatcher (1999); the Rio favela kids who give an authentic edge to City of God (directed by Fernando Meirelles and Katya Lund, 2002), or the real-life former child soldiers featured in the Liberia-set Johnny Mad Dog (directed by Jean-Stéphane Sauvaire, 2008).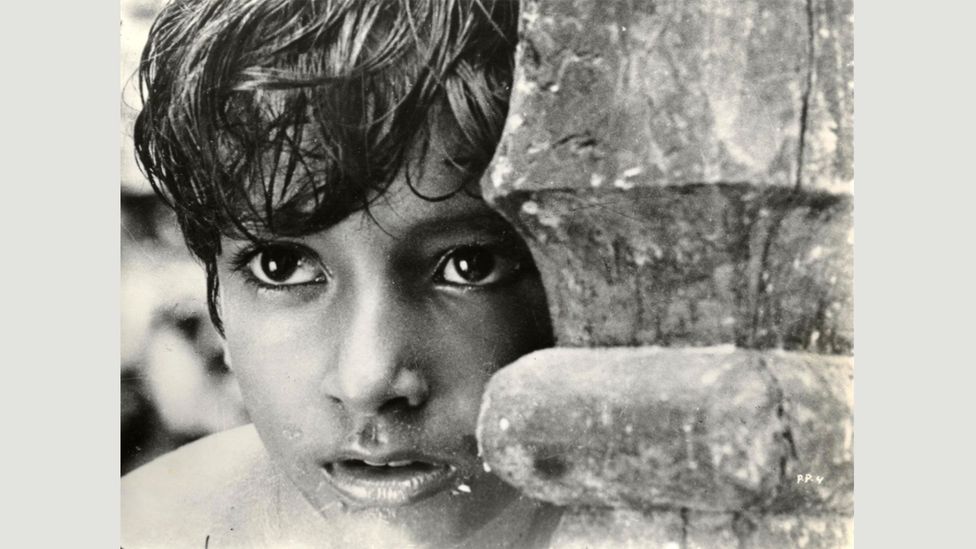 Pather Panchali is based on Bibhutibhushan Bandyopadhyay's 1929 Bengali novel of the same name and was Ray's directorial debut (Credit: Alamy)
What does the child's-eye perspective of conflict create for us as (adult) film viewers? "I think it makes you feel the purity of the vision, because children are not informed by society's codes or hypocrisy," replies Labaki. "There's a saying in French: La verité sort de la bouche des enfants – truth comes from the mouth of children. You know Zain is just himself; he's an amazing, special kid in real life. His way of seeing the world makes sense, and even when it's very symbolic, you believe him."
Out of the mouths of babes
Capernaum also reflects many of the classic themes explored in film-maker and film critic Mark Cousins's excellent documentary about child-centred cinema, A Story of Children and Film (2013): the child-as-parent; isolation; class divides. In his work, Cousins notes that film focuses on childhood more extensively than any other art form.
"Cinema is a young artform. It's in its youth. This makes it good at youth," Cousins tells me. "Also, films are very in the moment, as children are. And there's another point. Most art is made by adults. When a grown-up writes a novel, or paints a picture about children, they don't necessarily need actual children as part of the process. But when you're making a film about children, unless it's an animation, you need to take kids into the centre of the action. The child deforms the film in a good way. Makes it its own."
Adults should be responsible and informed about the world, but not at the expense of spontaneity – Mark Cousins
The child's-eye perspective should be universally relatable – but it also arguably taps into qualities that we suppress as adults. "Picasso said: 'All children are artists'," says Cousins. "As we hit our teens, we become more inhibited and, in some ways, conformist. Adulthood brings expectations of professionalism and responsibility. Seriousness closes us down somewhat. The work ethic replaces the play ethic. I agree that adults should be responsible and informed about the world, but not at the expense of spontaneity. Children and cinema are good at spontaneity."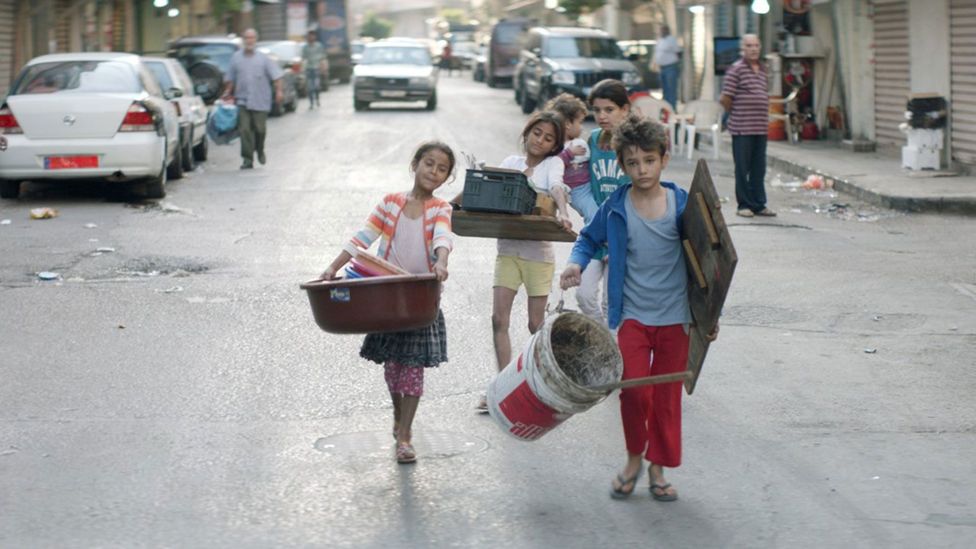 Capernaum's film crew aimed to blend into the background of its real-life settings to encourage a sense of spontaneity (Credit: Picturehouse Entertainment)
There is a lively spontaneity in many of Capernaum's scenes; its small film crew aimed to blend into the background of its real-life settings. There's also a richly expressive use of score and silence; we sense Zain's childhood reveries amid the brutality, his devotion to his sister, and his growing attachment to Rahil and Yonas (cross-cultural bonds recur throughout Labaki's movies).
"It was very important that we shot the film chronologically," explains Labaki. "Those first scenes where we see Zain and Treasure are almost like wild animals sniffing each other – it was real; they were put in a situation together, without knowing each other well. Treasure was a bit suspicious of this boy – at the beginning, you can see she's wondering who he is, and she doesn't want to give him her toys, they're looking at each other and struggling. Then as the film progresses, you see how this relationship has changed, the way he holds her is different. We shot for six months, and by the end Zain was more protective of her than anyone in the crew!"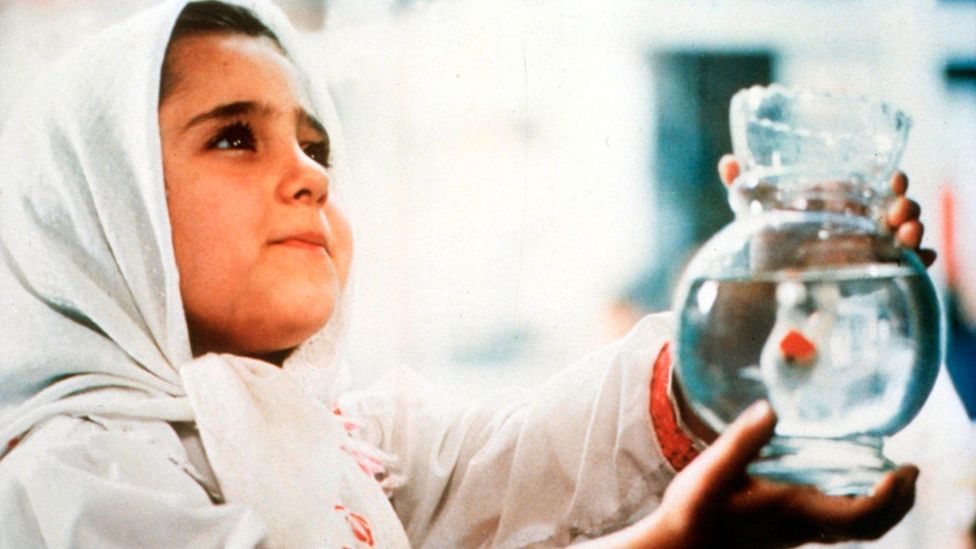 Films depicting children are more likely to avoid censorship or political controversy in Iran; The White Balloon has been described as 'deceptively simple' (Credit: Alamy)
What other film visions of childhood have inspired Labaki? "I was always really fascinated with the Iranian school of filmmaking," she says, pointing to writer-directors such as Jafar Panahi (The White Balloon, 1995), Abbas Kiarostami and Mohammed-Ali Talebi (who collaborated on the rough-hewn Willow and Wind, 2000). "Because it feels so real; you don't see how the film is made, you're just immersed in their reality."
When cinema gives us a child's-eye view of conflict, the emotional directness often makes for tough viewing; many of the most devastating depictions of politics and poverty involve this perspective, such as Andrei Tarkovsky's 1962 drama Ivan's Childhood (with Nikolai Burlyayev playing a 12-year-old Soviet army scout); the heart-wrenching 1988 Japanese anime Grave Of The Fireflies (based on Akiyuki Nosaka's semi-autobiographical 1967 story, where young siblings starve to death during World War Two); or Kurdish director Bahman Ghobadi's Turtles Can Fly (2004), shot in Iraq shortly after the US invasion.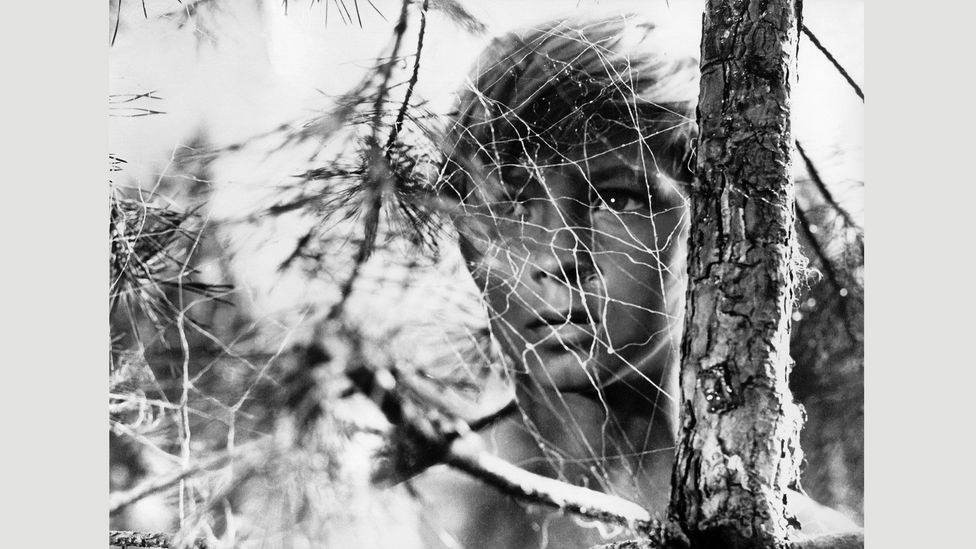 In making Ivan's Childhood, Tarkovsky said he wanted to "convey all [his] hatred of war", picking childhood "because it is what contrasts most with war" (Credit: Alamy)
In Capernaum, the smallest details can be hard-hitting; in one scene, Zain befriends young souk vendor Maysoun, who dreams that they'll earn enough money to escape on a boat with "beautiful lights". Zain's struggle is harrowing, yet his presence and charisma prove galvanising; he stays with us beyond the moving final frames. In film, there is a resonant force that demands our attention; it challenges the ephemeral flow of newsfeeds, where we're constantly confronted with tragic images – shell-shocked youngsters emerging from rubble; infants torn from their parents at borders; tiny bodies on beaches – yet we're rarely allowed to feel how human they are.
"I truly believe in the power of cinema," says Labaki. "It can have an impact on your life, no matter how cynical you are. And I want to use it. This fear of 'the other' has become paralysing. We have created our systems and rules; it's absurd that a child doesn't exist if they don't have a piece of paper, signed by another human being. How can they not exist? They're right here."
Capernaum is in cinemas on 14 February in Greece and Russia, on 15 February in Spain, and on 22 February in the UK, Ireland and Poland, released by Picturehouse Entertainment.
Love film? Join BBC Culture Film Club on Facebook, a community for film fanatics all over the world.
If you would like to comment on this story or anything else you have seen on BBC Culture, head over to our Facebook page or message us on Twitter.
And if you liked this story, sign up for the weekly bbc.com features newsletter, called "If You Only Read 6 Things This Week". A handpicked selection of stories from BBC Future, Culture, Capital and Travel, delivered to your inbox every Friday.