As the Broadway hit opens in London, Rebecca Laurence recalls the real story of those stranded in Canada on 11 September 2001.
D
Do you remember where you were on 11 September 2001? Chances are that if you were alive and old enough to recall it, you will.
Like thousands of others, I was mid-air, crossing the Atlantic bound for North America. My dad and I were headed from the UK to my grandfather's funeral in Florida (or so we thought). But following the terrorist attacks on the World Trade Center and the Pentagon that morning, US airspace was shut; every plane in the air had to be diverted and grounded immediately, including ours. Hundreds of aircraft carrying thousands of bewildered passengers landed on the easternmost edges of the continent, with scarce advance warning. The people on the ground frantically tried to figure out what to do with us.  
More like this:
–      The Welsh reporter who exposed Stalin
–      The most important man in 200 years
The tragic events of 11 September and the chaos that followed may seem the unlikeliest of subjects for feel-good entertainment. But, Come From Away, dubbed 'the 9/11 musical', is the surprise Broadway hit – now open in London – that's found a way. It's the brainchild of husband-and-wife-team David Hein and Irene Sankoff, Canadian musical-theatre-makers who were living in New York City in 2001.
With a rousing live folk band and foot-stamping songs – Come From Away focuses on the quiet heroism and kindness of the inhabitants of one tiny town in Canada. The population of Gander, Newfoundland, which was around 9,000 in 2001, nearly doubled as an estimated 38 airplanes holding over 6,500 people landed. Its huge airport – as a major refuelling stop – was once the largest in the world, but the town had just 500 hotel rooms.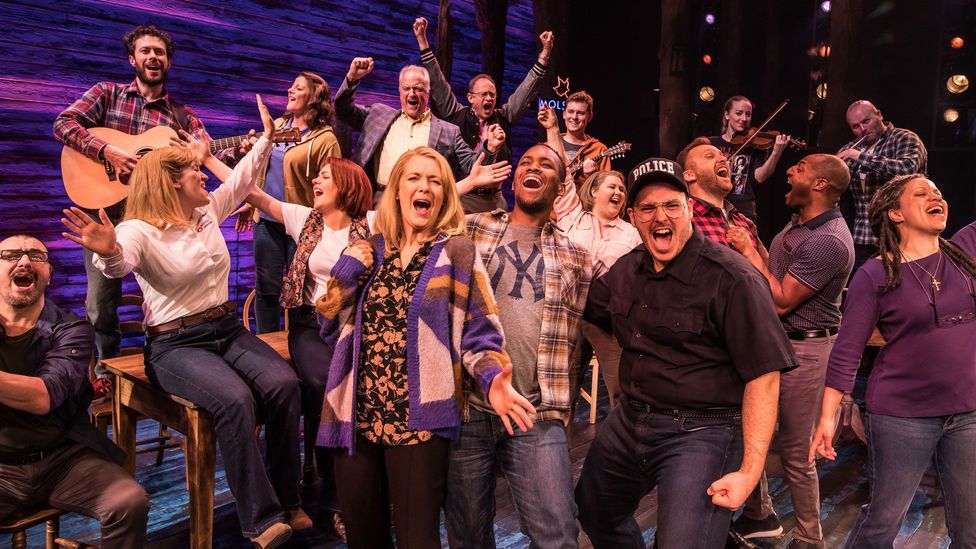 Come From Away, dubbed 'the 9/11 musical', has been a surprise hit on Broadway (Credit: West End Production Photography)
The musical began to take shape after Irene and David spent several weeks in Gander in 2011, attending a 10-year reunion of the 'come from aways' (also known as the 'plane people' in local parlance). They were inspired by the stories of hospitality they heard and the deep bonds that had been formed in those few days. They conducted hundreds of hours' worth of interviews with Gander natives and their visitors before condensing these conversations into a 100-minute play with just 12 actors.
We often call it a '9/12' story – David Hein
"Everyone on stage is to some degree a composite of multiple people," David Hein tells BBC Culture. "In that way we wanted to represent everyone who had either helped people or were being helped on that day.
"We weren't trying to write a 9/11 story," he continues. "We often call it a '9/12' story. We wanted to tell the story of what happened in Newfoundland. It's not about the tragedy; it's about how this small community responded to the tragedy."
Both the drama and the humour in Come From Away are borne out of these unique circumstances: the desperate 'plane people' trapped on board for up to 30 hours with no connection to the outside world; the locals who scrambled to clothe and feed the thousands, who came from 95 countries. A couple, Nick and Diane, meet and fall in love; another separates. Beverley Bass, American Airlines' first female captain, is a central figure, as is Bonnie Harris, the animal carer who took charge of a menagerie of 19 – including a pregnant Bonobo chimpanzee. It's all suffused with Gander's gentle idiosyncrasies and unique customs, Irish/Newfoundlander dialect and an eccentric 'screech' indoctrination ceremony (spoiler: it involves kissing a cod).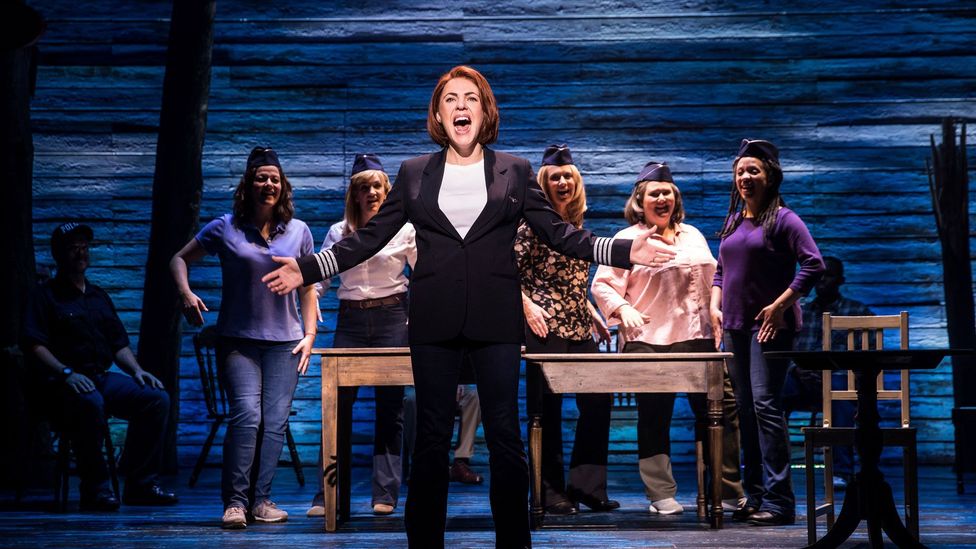 The characters in Come From Away are based on real people – including Beverley Bass, American Airlines' first female captain (Credit: West End Production Photography)
Amid the jollity and musical numbers there are sudden touches of pathos: a mother learns her NYC firefighter son is lost; an Egyptian Muslim chef wants to help cook but is treated with suspicion; the moment the 'plane people' – trapped on board for 15, 20, 30 hours before disembarking – first see the images of the World Trade Center attacks.
Kindness and catharsis
Not far beyond Newfoundland is Halifax, Nova Scotia, where our plane and dozens of others landed. Housed four to a room in a naval base, we were fed in the canteen and slept on mattresses on the floor for several days while airspace was closed. Having missed my grandfather's funeral and with nothing to do, we whiled away the hours by chatting with our roommates, a retired English couple and other fellow plane people; going on a whale-watching tour – anything to distract us from those searing images that played over and over on the television.
Considering the sadness and sensitivity around 9/11, even several years later, were Irene and David concerned with how people would respond to the play?
Canadian Prime Minister Justin Trudeau attended a performance and invited Ivanka Trump
"I frankly never thought that the show would make it to the US because of the material," Irene confesses. "We were definitely worried. I remember the first audience in the States, just sinking in my seat, thinking, 'whose idea was this?'"
But they needn't have worried – the response to Come From Away has been wholly positive, even jubilant.
In 2017, Canadian Prime Minister Justin Trudeau attended a performance on Broadway and invited Ivanka Trump to watch it with him. The play was nominated for seven Tonys and a Grammy; it has had a run in Dublin, Ireland, and in addition to opening in London, is touring North America, and opens in Melbourne, Australia later this year. At the performance I attended in London earlier this month, it got a standing ovation.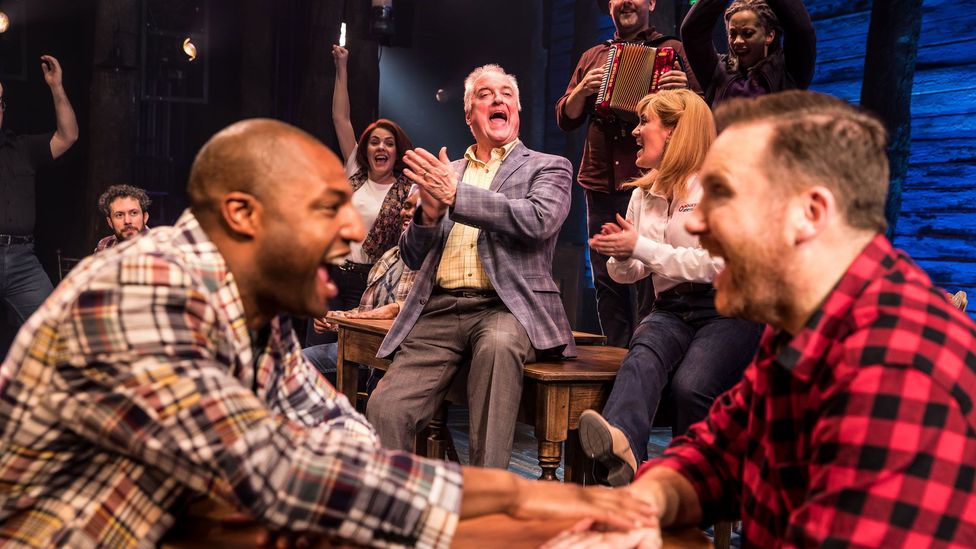 The people of Gander offered comfort, hospitality and friendship in a time of crisis (Credit: West End Production Photography)
And although people may come to the '9/11 musical' expecting to shed a few tears, David suggests that when they do it's not always for the reasons they might expect.
"These days we're so used to our news feeds being filled with divisive anger and fearmongering, things that make us turn into an 'us and them society,'" he says. "To see something where people were able to come together despite their differences and to remember that in times of crisis that's what we do, that's what we can do, I think that's why people cry" he says. "It reminds us that we can be good."
And as another 'come from away' – albeit one who remembers being welcomed and cared for in a different Canadian town – I can attest that not only is the play true, it's irresistible.
Irene and David like to quote the Mayor of Gander, Claude Elliott, who didn't go home for five days after 9/11. "We started off with 7000 strangers," he said, "but we finished with 7000 family members." Ultimately it's this warmth and humanity to which audiences respond. "Almost without thinking about it they welcomed people into the towns," David says. "It's such an important thing for people to hear right now."
Come From Away opens in London on 18 February, is touring North America and opens in Melbourne, Australia in July 2019. 
If you would like to comment on this story or anything else you have seen on BBC Culture, head over to our Facebook page or message us on Twitter.
And if you liked this story, sign up for the weekly bbc.com features newsletter, called "If You Only Read 6 Things This Week". A handpicked selection of stories from BBC Future, Culture, Capital and Travel, delivered to your inbox every Friday.