As a new exhibition of work by Don McCullin opens in London, Fiona Macdonald takes a look at gripping images of war and poverty by one of Britain's greatest living photographers.
"Why not be in the most important news story in the world if you can be there?" the British photographer Don McCullin said in a 2014 interview for BBC Culture. He was describing his decision to travel to Berlin in 1961 without being commissioned by a press outlet.
Confessions of a 'war junkie': Don McCullin interview
McCullin went on to document the building of the Berlin Wall, as the temporary structure gave way to armed checkpoints and concrete. Those images helped to launch a career as a photojournalist that took him to conflicts in places including Cyprus, Vietnam, Lebanon and Northern Ireland – although now 83, he has retired to photograph British landscapes. Often risking his own life, McCullin didn't flinch from scenes that might have been too disturbing for many viewers – children with the unmistakable anatomy of the starving; men being tormented before being executed; families grieving over the dead bodies of their loved ones.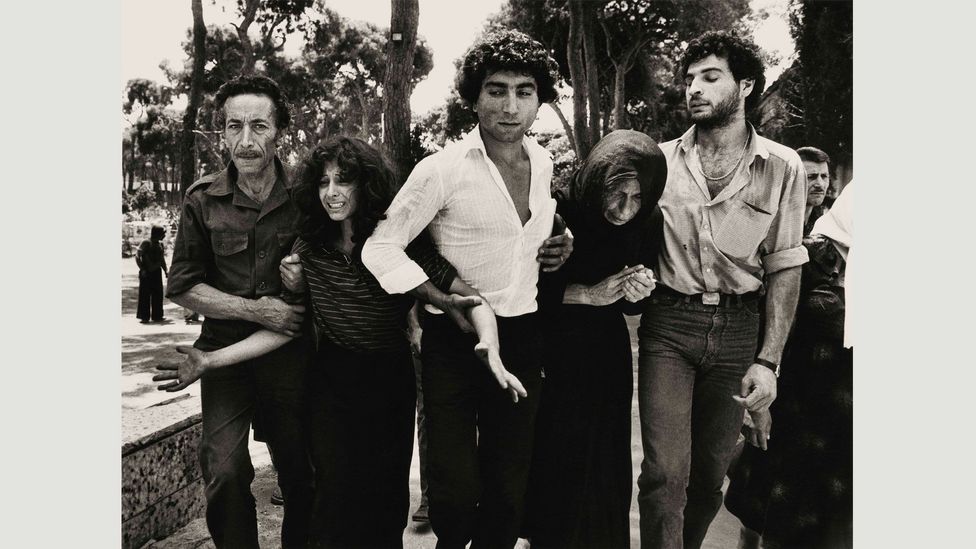 A Lebanese family leaving the Martyrs Cemetery, Beirut, 1976: McCullin makes sure he is close enough so that people know they're being photographed, gaining unspoken permission
Many of those images feature in a new exhibition at London's Tate Britain, with more than 250 photographs printed by the artist himself in his own darkroom. And while a large number are distressing, there is something in them that makes it hard to look away. Partly, it's how close McCullin brings us – somehow, we are complicit by simply viewing what's going on. Once we see, we can't unsee.
And that closeness was intentional. "I don't believe you can see what's beyond the edge unless you put your head over it," McCullin is quoted at the Tate exhibition. "I've many times been right up to the precipice, not even a foot or an inch away. That's the only place to be if you're going to see and show what suffering really means… Seeing, looking at what others cannot bear to see, is what my life as a war photographer is all about."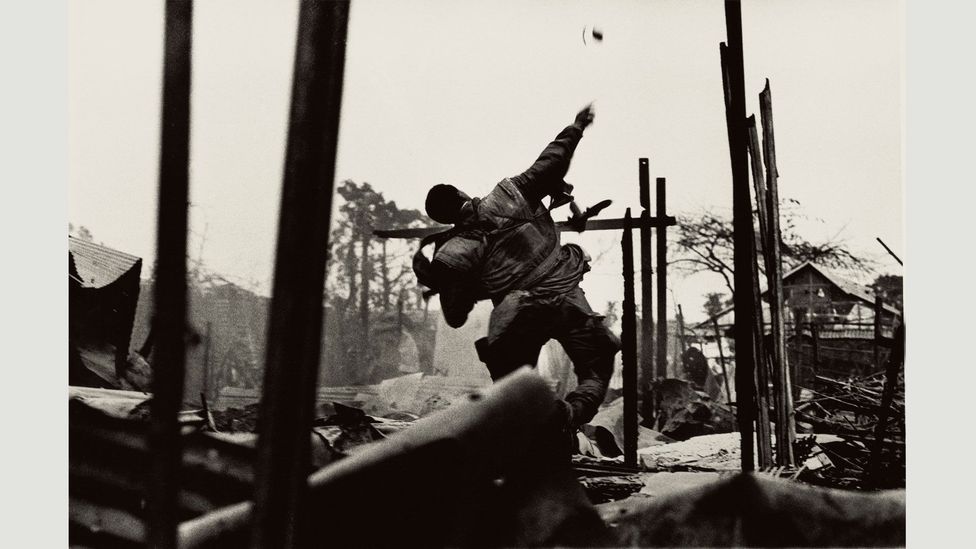 Grenade Thrower, Huế, Vietnam, 1968: the Battle of Huế was one of the longest and bloodiest in the Vietnam War (Credit: Don McCullin/Tate)
A photo taken in Vietnam in 1968 reveals a man launching an object into the air, striking uneasy parallels with images of athletes. But the reality behind the grenade-thrower's pose is brought home in the accompanying label. According to McCullin: "He looked like an Olympic javelin thrower. Five minutes later this man's throwing hand was like a stumpy cauliflower, completely deformed by the impact of a bullet."
Much is conveyed in a one-line title or the private vocabulary of body language. One of McCullin's photos from Biafra, taken in 1968 when the war between the separatist state and the government of Nigeria had created a humanitarian crisis, shows seven children in a group, ribs poking through their skin, each with a piece of paper stuck to their foreheads. It bears the chilling caption 'Those chosen to live'. In a picture from the same conflict, also taken in 1968, a man in uniform leans over a fellow soldier, his palm gesturing as in an intimate conversation. But despite appearing to smile, the other soldier isn't listening. In the photo's description, McCullin explains: "I saw the commander bent over one of the dead soldiers and talking to him as if he were still alive. He was praising the man's courage and thanking him on behalf of the Biafran nation. It was moving and alarming at the same time."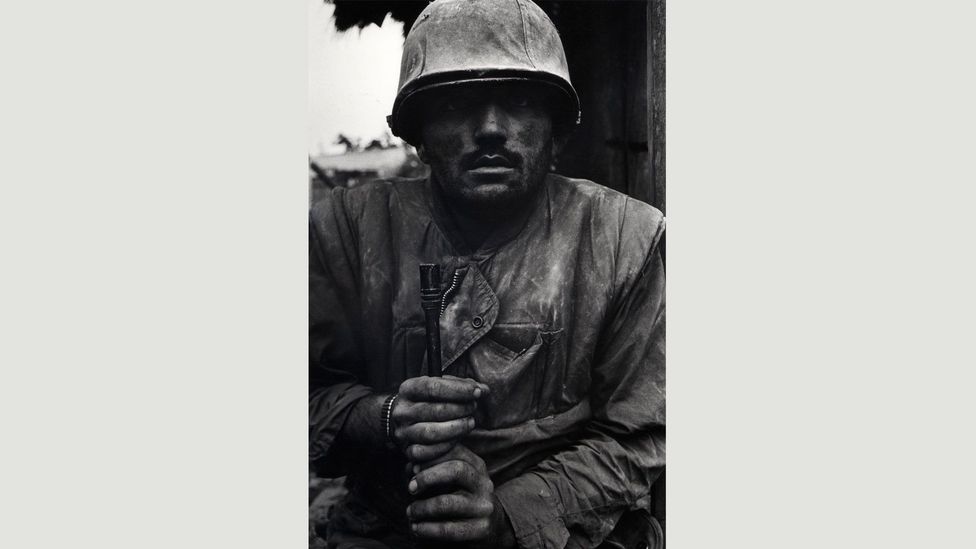 Shell-shocked US marine, the Battle of Huế, 1968: McCullin took several frames of this man and says that the soldier didn't blink once (Credit: Don McCullin/Tate)
That taut balance between shock and sadness explains the power of many of McCullin's photos. A series of images taken in a Turkish village in Cyprus confronts us with overwhelming grief. "I was met with the warm blood of two men in front of me," McCullin says in the photo's description. "In fact, there was a father and his two sons. Suddenly a group of distraught people came in… A woman entered screaming. One of the dead was her new husband." He sought their permission to take photos, and once given the go-ahead, "I started composing my pictures in a very serious and dignified way. It was the first time I had pictured something of this immense significance… I found it hard not to burst into tears."
In 1971, the Sunday Times Magazine sent McCullin on assignment to Northern Ireland. The armed conflict there – which became known as the Troubles – often took place on the streets in residential areas between Catholic and Protestant communities. One of McCullin's photos, showing young boys running away from CS gas fired by British soldiers and jumping over a graffiti-covered wall, looks eerily like a photo from a battlefield trench. Another, in which a Catholic youth incongruously dressed in a suit and tie raises a wooden plank against soldiers in riot gear, offers an unsettling omniscient view – allowing us to see along the two walls hidden from each other by a corner.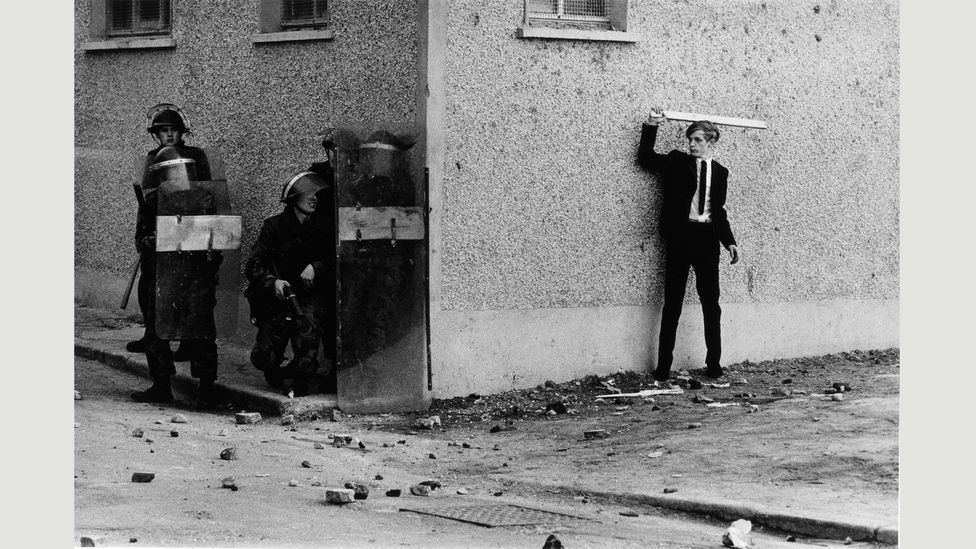 Northern Ireland, The Bogside, Londonderry 1971: "It was inconceivable at the time that the violence would continue unabated for another 25 years" (Credit: Don McCullin/Tate)
McCullin believes it's important to fix our gaze on what makes us uncomfortable. "You have to bear witness. You cannot just look away," he is quoted in the exhibition. And he doesn't aim to take sides. His images of US marines in Vietnam offer a disturbing record of PTSD at a time before it had been fully recognised.
There is a moral imperative driving McCullin. "We cannot, must not be allowed to forget the appalling things we are all capable of doing to our fellow human beings." Even when documenting unspeakable horror, he hopes to be able to convince us to keep looking. "Often they are atrocity pictures… But I want to create a voice for the people in those pictures, I want the voice to seduce people into actually hanging on a bit longer when they look at them, so they go away not with an intimidating memory but with a conscious obligation."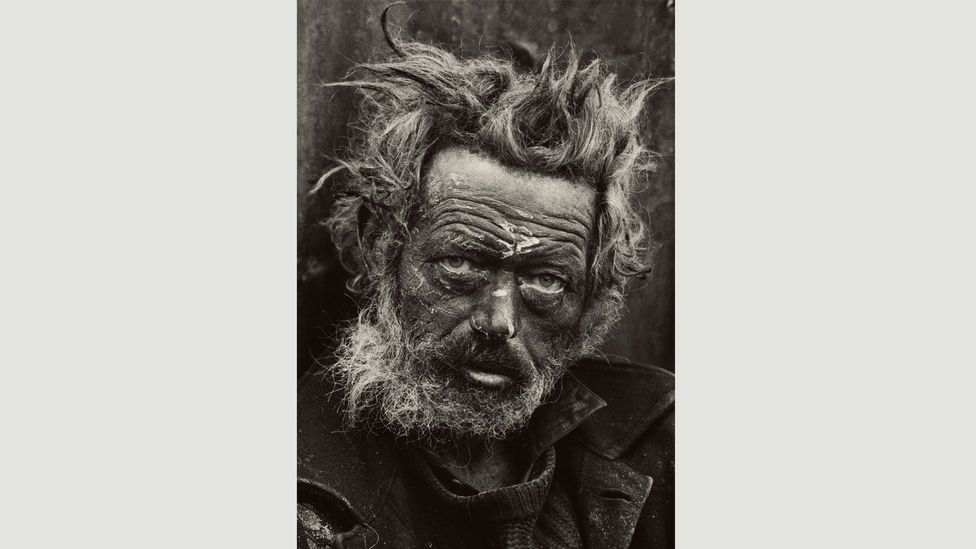 Homeless Irishman, Spitalfields, London, 1970: in a 2012 documentary, McCullin recalled thinking this man looked like Neptune as he photographed him (Credit: Don McCullin/Tate)
And McCullin has documented other types of battleground. "There are social wars that are worthwhile," he is quoted in the exhibition. "I don't want to encourage people to think photography is only necessary through the tragedy of war." His photo of a homeless Irishman, taken in London in 1970, is one of his best-known images. "I operate not as a photographer but as a human being," he says in the photo's description. "I try to balance what I photograph not as a photographer but as a person, a man, and photography has got nothing to do with it. It is just something I have learnt, it is just a way of communicating."
From the late 1960s to the early 1980s, McCullin photographed people living on the streets in an area at the edge of London's financial centre. He also turned his lens on communities living in the North of England, who had been neglected by policies of de-industrialisation. In one of those pictures, a woman pushes a pram across what looks like a post-apocalyptic wasteland; in another, a man pushes a pram carrying an older boy – a son who had lost his leg in a scrapyard accident.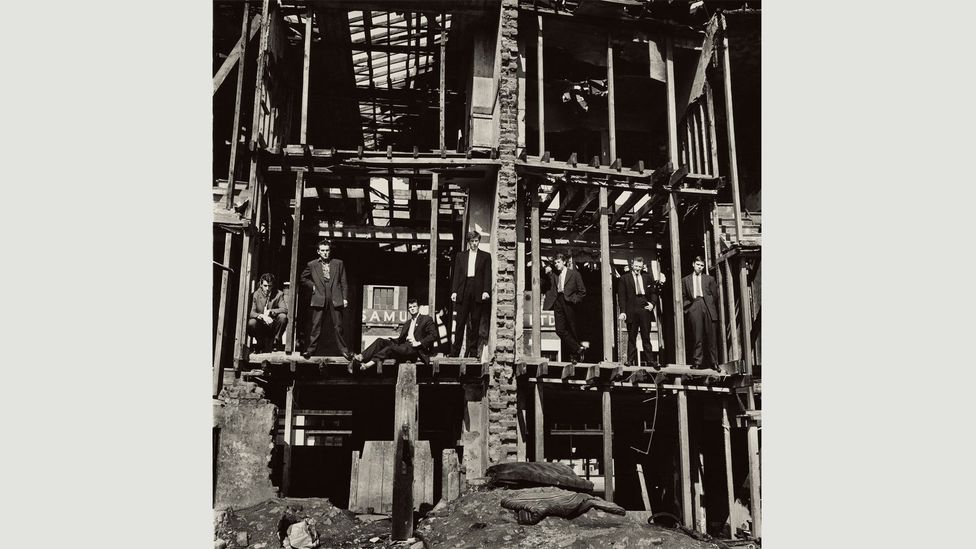 The Guvnors in their Sunday Suits, Finsbury Park, London, 1958: after a policeman was murdered, McCullin's photographs of a local gang were picked up by the press
McCullin chose to get close to his subjects in more ways than distance – empathy shines through, whether it's with mourners, soldiers or the socially marginalised. He was described as "a conscience with a camera" by Harold Evans, his editor at The Sunday Times. And he identified deeply with those he photographed. His father died of a chronic illness when McCullin was 14, and he grew up in a poor family, in an area of London that had been bombed heavily in World War Two. He has said that he empathises with many of his subjects: "I know the feeling of the people I photograph. It's not a case of 'There but for the grace of God go I'; it's a case of 'I've been there'."
One of the earliest photos in the Tate show was taken in Finsbury Park, his childhood neighbourhood. "I started out in photography accidentally. A policeman came to a stop at the end of my street and a guy knifed him. That's how I became a photographer. I photographed the gangs that I went to school with. I didn't choose photography, it seemed to choose me, but I've been loyal by risking my life for 50 years."
Don McCullin is at Tate Britain until 6 May 2019.
If you would like to comment on this story or anything else you have seen on BBC Culture, head over to our Facebook page or message us on Twitter.
And if you liked this story, sign up for the weekly bbc.com features newsletter, called "If You Only Read 6 Things This Week". A handpicked selection of stories from BBC Future, Culture, Capital and Travel, delivered to your inbox every Friday.