From the 'tuxedo gown' to the silk pyjama suit, the formal menswear staple is transforming – just like the men who wear it. Anything is possible, writes Cameron Laux.
T
This week Goldman Sachs became the latest of many firms to issue new guidelines on work dress codes, allowing more flexibility – male employees can ditch the suit for chinos and loosen their ties, as long as they 'exercise good judgment'. Is this the beginning of the end for the traditional suit-and-tie look for men? And, if so, what does that say about male identity?
The suit has long been synonymous with a certain kind of masculine, 'gentlemanly' persona. But what does it mean to be a 'gentleman' now? The word seems antiquated, with its evocation of shiny leather brogues, three-piece suits and manly codes of honour. A gentleman is supposed to be a cut above everyone else. The American men's style magazine Gentleman's Quarterly, founded in 1931, changed its name to GQ in 1957, on the cusp of an era when traditional masculinity, and male authority, came under sustained attack. The 1960s in the US were marked by the Vietnam war, vehement protest and cultural upheaval. President John F Kennedy, shining knight and symbol of 'Camelot', was murdered in front of the world in 1963.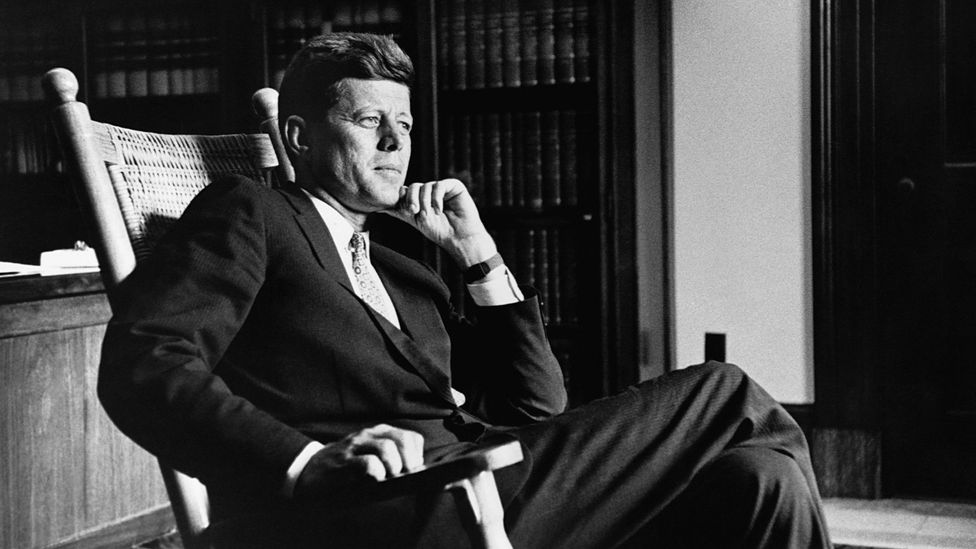 The sharp-suited John F Kennedy was the embodiment of a certain type of masculinity (Credit: Getty Images)
JFK wore sharp single-breasted suits, crisp white shirts and muted ties. His hairstyle, short with a parting on one side, never changed. The look was smart and stereotypical; it was all about being in control of the details. Yes, JFK shone. But on most other men, the suit was just a uniform.
More like this:
- Is men's make-up going mainstream?
- Seven iconic Karl Lagerfield moments
Masculinity was supposed to be uniform too. By the 1960s, serious fraying had begun. Think of the anarchic colour, pattern and layering of the hippy look – it was all about freedom of expression, and defiance of the grey-suited male template and everything it stood for. Blue jeans became popular in that period, and from the comfort, easy style and affordability of jeans, it's a small step to the street-style revolution of today.
How did we get from the all-purpose business suit, on the all-purpose man, to this?
Cut to the Oscars at the end of February in 2019. Plenty of men turn up in suits, but there are also wild variations in colour and cut. Chadwick Boseman, one of the stars of the superhero movie Black Panther, turned up wearing a heavily decorated outfit (Givenchy haute couture) that had more in common with a dress than a suit. Most strikingly of all, Billy Porter, the star of the TV series Pose (about the polysexual New York voguing scene in the 1980s), wore a voluminous gown by Christian Siriano that merged into something like a tuxedo jacket from the waist up. How did we get from the all-purpose business suit, on the all-purpose man, to this?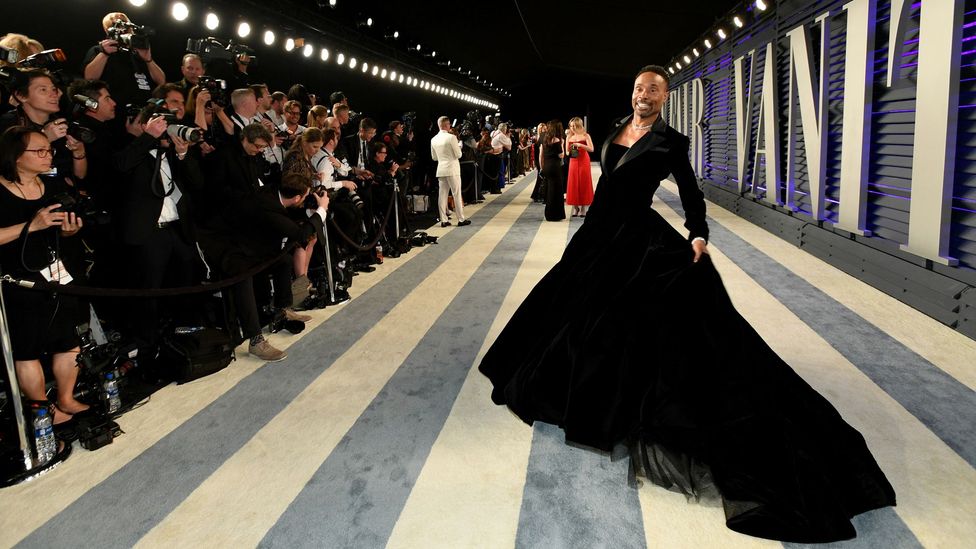 Billy Porter's 'tuxedo gown' by Christian Siriano caused a stir at the 2019 Oscars (Credit: Getty Images)
Forget about debating what a gentleman is: we are now in the throes of debating what a man is, and maybe more crucially, what sort of person a man is. 'He' is becoming a less important consideration than 'me' and 'we': the many communities we belong to define who we are, and 'man' is just one of them.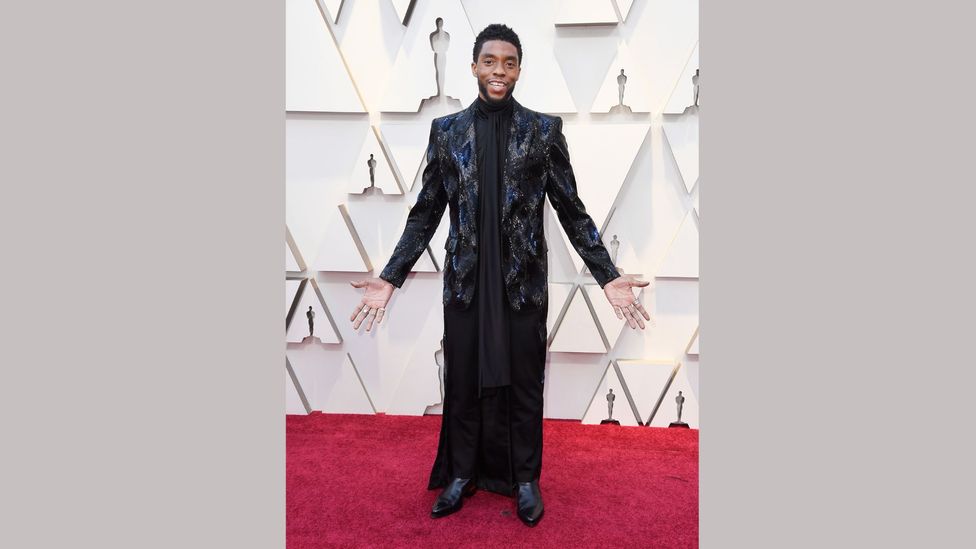 At the 2019 Oscars, actor Chadwick Boseman wore a heavily embellished tuxedo with long train by Givenchy haute couture (Credit: Getty Images)
Which brings us to the latest transformation of the US GQ magazine. At the beginning of 2019 Will Welch, GQ's former creative director, was appointed its new editor-in-chief with the brief of modernising the title. For some time now, print media has been struggling against the explosion of online media. GQ's problems have been compounded by the fact that its target audience is now millennials and post-millennials (people under 40) – a group who are hard to target, and who hate being targeted; and that the definition of 'man' is blurring ('gentlemen's' magazine to 'men's' magazine to… what?). Welch would seem to have an impossible task on his hands.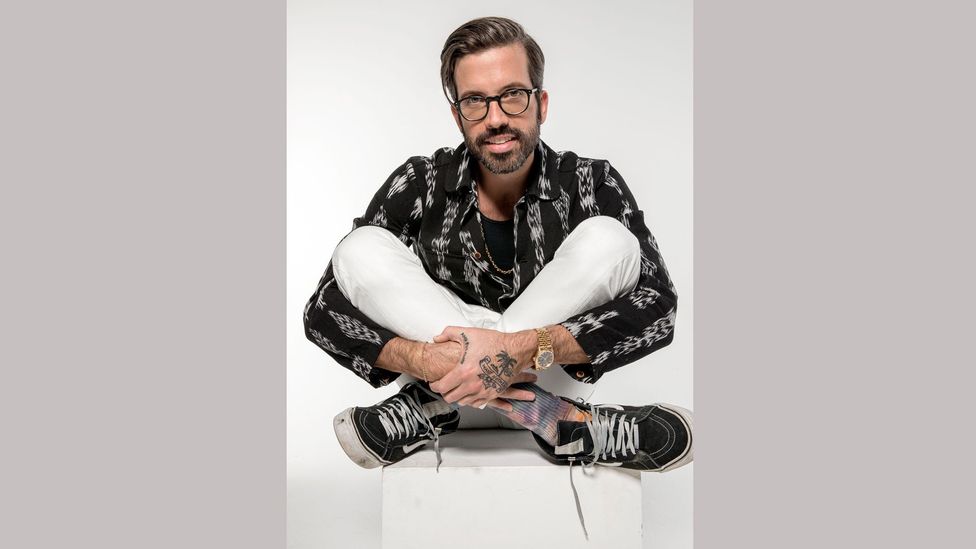 Will Welch, the new editor-in-chief of GQ America, brings a change of style and attitude (Credit: Meinke Klein)
The 'Letter from the Editor' of his first issue (February 2019) is accompanied by a photo in which he is sitting cross-legged on the ground, wearing trainers that aren't tied and a casual shirt unbuttoned with a T-shirt underneath. His hair is parted on the side but his hand has two tattoos on it. Something tells me we're not in Camelot anymore.
Anything goes
The introductory photo is a statement of intent, in a magazine that used to devote column inches to tie widths and pocket squares. "I just don't feel any pressure to live up to somebody else's idea of how the editor of GQ should dress," Welch tells BBC Culture. "My version of GQ is about knowing yourself and trusting yourself and learning to be your best self instead of aspiring to some imaginary ideal, or wearing a particular style of shirt."
I think the erosion of binaries… is good for culture and society – Will Welch
In the entire issue, there are only a handful of suits, the most conservative of them worn without socks. The rest features a range of people working their own style – Frank Ocean, St Vincent, John Mayer and James Baldwin among them. It feels like some kind of trail is being blazed here. As Welch comments, "I think the erosion of binaries like man-woman, male-female, black-white and so on is good for culture and society. It means we get to keep our brains turned on and our hearts open. It means we get to recognise and respect the dignity and singularity of the individual.'"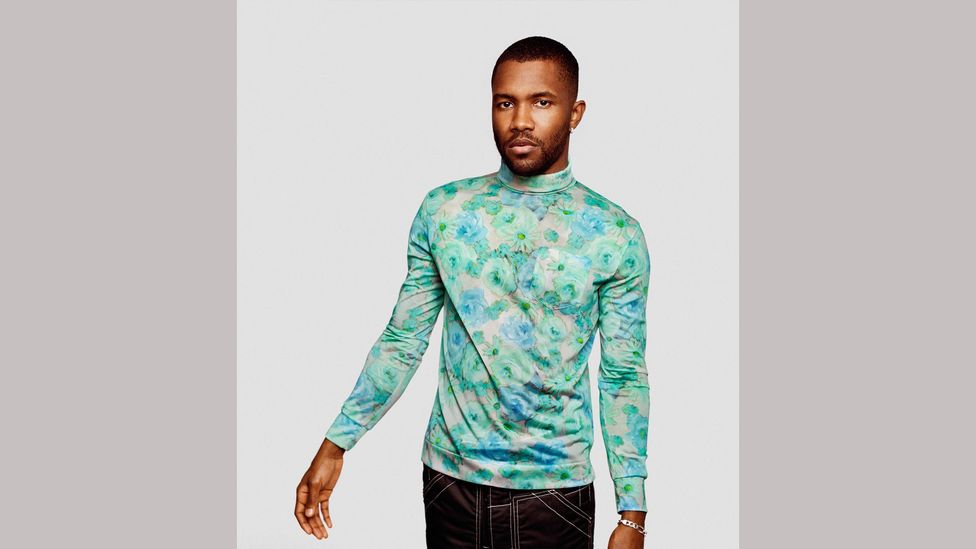 Frank Ocean wears a Prada rollneck and custom-made trousers for GQ (Credit: Alasdair McLellan)
Another good reference point is the menswear online retailer Mr Porter. One obvious side effect of men thinking in greater depth about who they are, and how they want to be, is the fast-growing menswear sector. A few minutes looking through sites like Mr Porter gives you a sense of the vast array of clothing and accessories available, only a small minority of which are suits. Yet tailoring by luxury brands such as Tom Ford and Ermenegildo Zegna has always been central to Mr Porter's market, according to its buying director, Fiona Firth: "Certainly in an age where streetwear has ruled, traditional tailoring has fallen by the wayside as men dress more casually in their everyday lives. That said, tailoring has and always will maintain its relevance as there will always be an occasion in a man's life when one will need to wear a suit – be it a wedding, corporate event and for many still, the office." But it is changing, adds Firth. "The suit is modernised by embracing a casual, relaxed approach as men dress it down to adhere to their modern dressing standards. I think the suit will always have a future, it will just adapt to accommodate men's ever-changing lifestyles."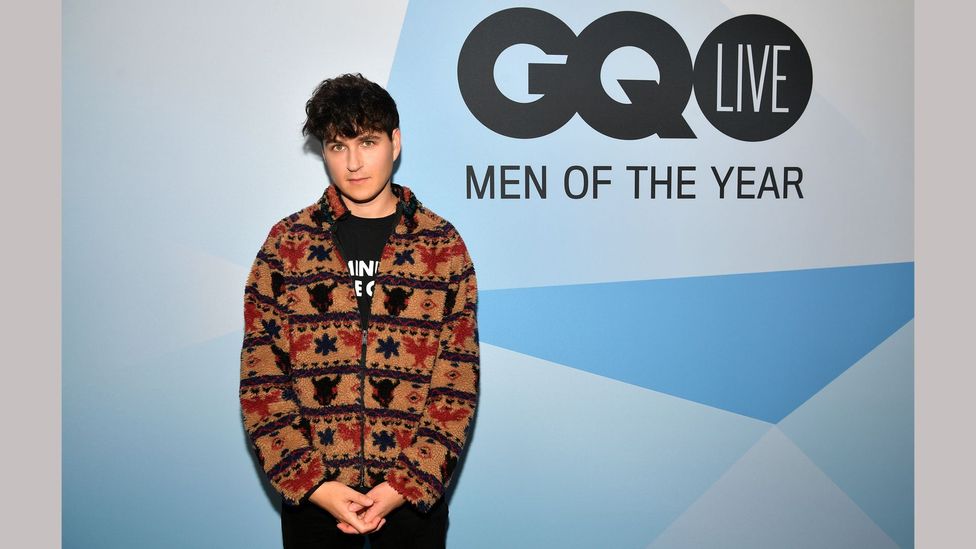 Maverick dresser Ezra Koenig photographed at the GQ Men of the Year awards (Credit: Getty Images)
And Mr Porter's Best Dressed Men of 2018 is a list of eight men, three of whom are wearing suits (only one of whom, Prince Charles, is wearing a traditional version, as one might expect). The eight are from a range of ethnicities, and are very much their own men with their own style. The footballer Héctor Bellerínis photographed wearing silk pyjamas and furry Gucci mules at London Fashion Week. He looks completely blasé about it all. The Best Dressed Men of February 2019, by contrast, may be more low key, but it is clear that a lot of thought has gone into the way they dress. Four of the eight are wearing suits (the list is skewed by the Oscars). Chadwick Boseman looks striking, again, in a pink suit. The focus of these lists is on people who dress adventurously, if they feel like it, and aren't afraid to be themselves.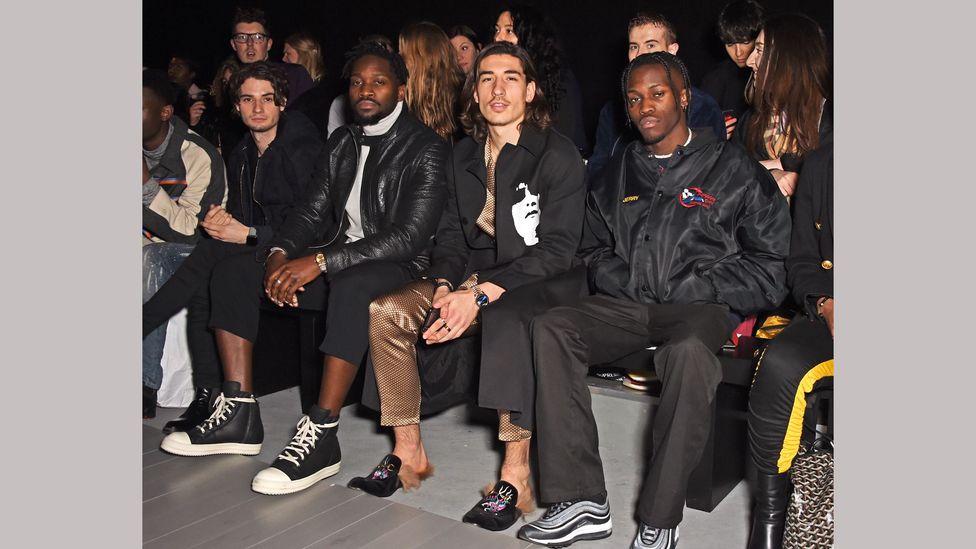 At a recent London Fashion Week, footballer Héctor Bellerín sported silk pyjamas and furry Gucci mules (Credit: Getty Images)
It could also be said that, like the men who wear it, the suit is changing. Where once wearing a suit involved obeying strict protocols, now it seems that anything is possible. One routinely sees smart suits teamed with trainers, for example, and suits in a variety of hues, including purple and pastel pink. Suits are being absorbed into a larger and more complicated fashion grammar. As Welch observes, "When I'm in LA, or New York, or London, or Paris, what I see is that everything is relevant at once. You can wear a suit or limited-edition sneakers. You can look a little 1960s, 1970s, 1980s, or 1990s. The same person can dress a little formal, punk, mod, disco, hippy-ish, or hip-hop in the course of a week. That's what makes the current moment really unique."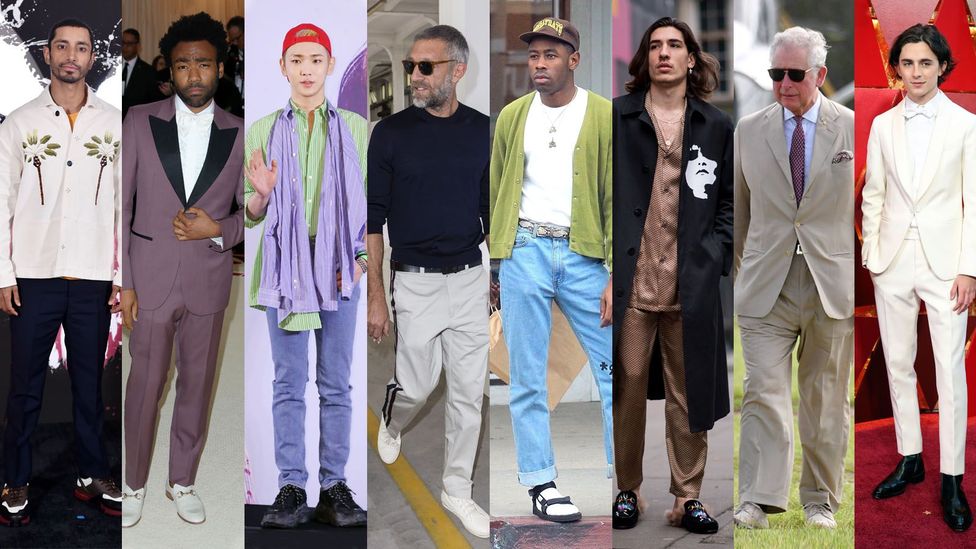 The Mr Porter best-dressed men for 2018 sported a variety of looks (Credit: Mr Porter)
In terms of what's going on with human identity, we live in exciting times. The male culture that gave rise to the strict discipline of the suit may be dying, but something else is taking shape. The grey or black suit will always be a classic. I look forward to the time when the 'tuxedo gown' is a classic as well.
If you would like to comment on this story or anything else you have seen on BBC Culture, head over to our Facebook page or message us on Twitter.
And if you liked this story, sign up for the weekly bbc.com features newsletter, called "If You Only Read 6 Things This Week". A handpicked selection of stories from BBC Future, Culture, Capital and Travel, delivered to your inbox every Friday.