The futuristic, minimalist look of the era is still an inspiration now. Dominic Lutyens goes back to the future.
T
The silver space-age tunics of Pierre Cardin, the chainmail dresses of Paco Rabanne, the ultra-short minis of Mary Quant – these are all familiar tropes of 1960s style. But what sparked this forward-looking, post-war mood in fashion? Swinging London: A Lifestyle Revolution, an exhibition at the Fashion and Textile Museum, sheds more light on this – specifically on the bohemian, so-called Chelsea Set.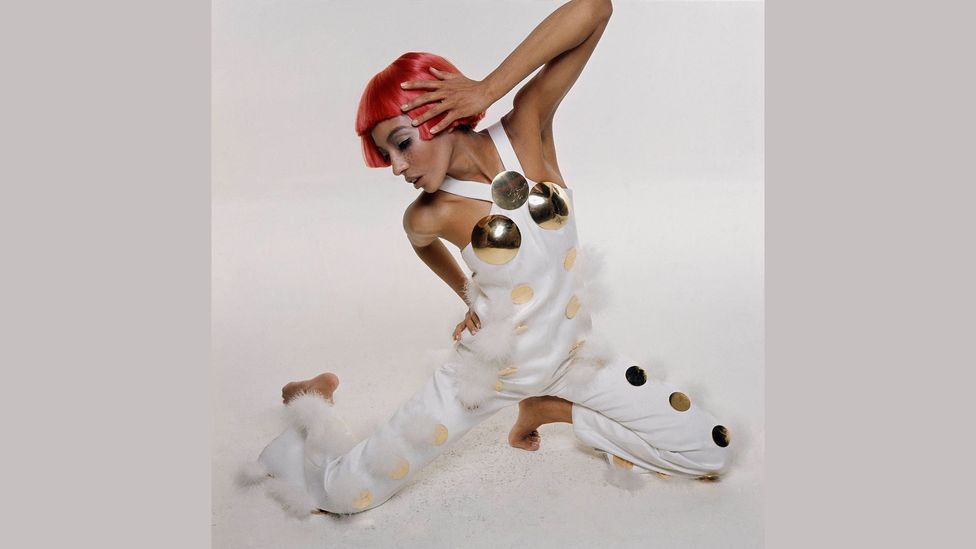 Andre Courrèges created space-age designs with metallic elements (Credit: Getty Images)
Its members included Quant, who opened her first boutique Bazaar on the King's Road in 1955, and Terence Conran, whose first Habitat store opened in 1964. Another important figure was Conran's close friend Eduardo Paolozzi, a co-founder of the Independent Group, a precursor to Britain's Pop art movement.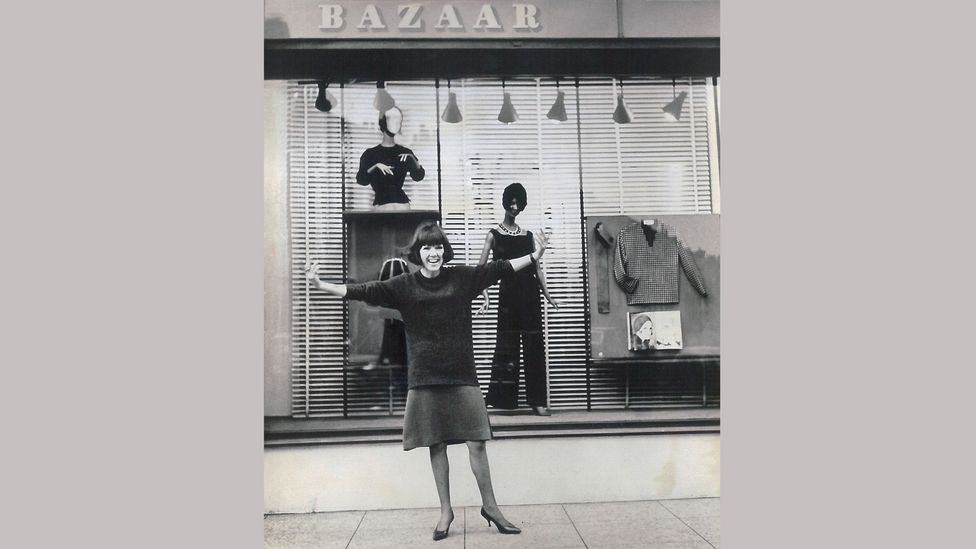 The Fashion and Textile Museum exhibits work by Mary Quant among others in Swinging London: A Lifestyle Revolution (Courtesy a private collection)
"This group emerged from the war as very young and rebellious," says Geoffrey Rayner, co-author with Richard Chamberlain of the book Conran/Quant: Swinging London: A Lifestyle Revolution (ACC Art Books), which accompanies the exhibition. "The old social order and British Empire were crumbling. Ordinary people had more money. Quant questioned elitist fashion."
More like this:
–         Rebirth of the grand fashion houses
–         Seven of Karl Lagerfeld's most iconic moments
–         The women behind the legendary Christian Dior
Then there is the upcoming Quant retrospective at London's Victoria & Albert Museum, which is showcasing her designs for the Bazaar boutique, plus sketches, catwalk footage and cosmetics, the packaging was stamped with her iconic, stylised black-and-white daisy motif.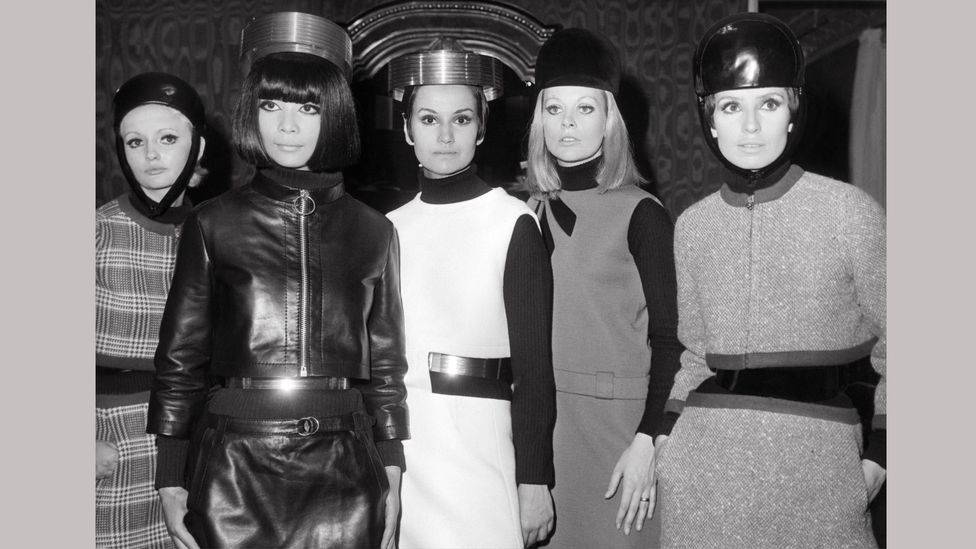 Pierre Cardin specialised in pared-back design and futuristic headgear (Credit: Getty Images)
"Modernism was at the heart of Quant's clothing," Jenny Lister, curator of the V&A show, tells BBC Designed. "It was about functionalism and rejecting anything fussy. Around 1960, she began borrowing utilitarian materials from menswear – tweed, flannel, pinstripe suiting. She also used jersey, which absorbed black and bright colours well, so they looked solid. She wanted women to run, to move. Her clothes were the antithesis of the wasp-waisted Christian Dior look. She was inspired by Cristóbal Balenciaga's sack dresses and 1920s drop-waisted frocks."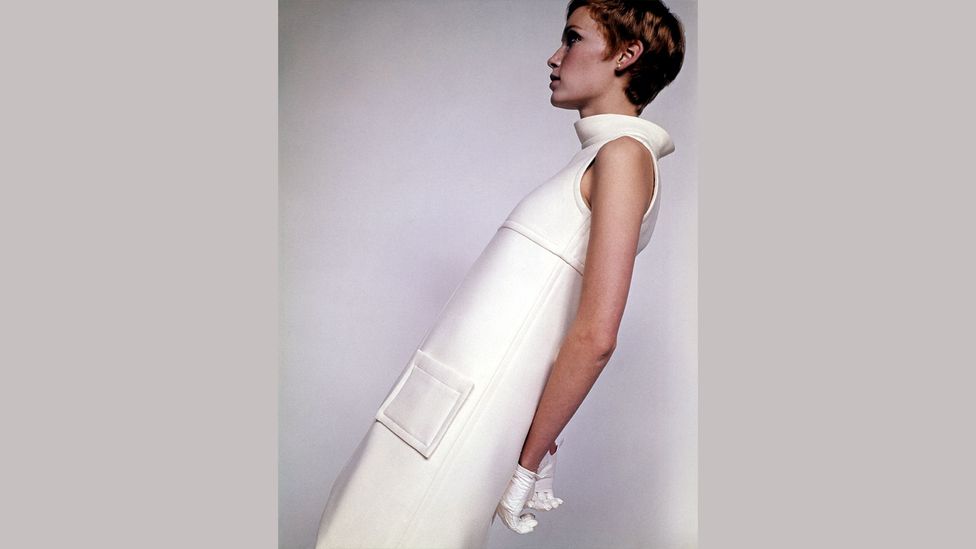 Mia Farrow in a modernist Courrèges outfit, photographed by David Bailey for British Vogue in 1967 (Credit: Getty Images)
Another influence on Quant was Chanel, who helped to free women from corsets, and Quant's daisy logo looked like a Pop variant on Chanel's signature white camellia.
The timeless modernist clothing of the 1960s continues to fascinate fashion buffs
As evidenced by these two exhibitions, the relatively timeless modernist clothing of the 1960s, which appealed to the decade's Mods, peaking in 1966 before the advent of the more ornate style of psychedelia, continues to fascinate fashion buffs. It has long inspired Hedi Slimane, creative director of fashion house Céline. As creative director of Dior Homme from 2000 to 2007, he introduced his famously skinny, neo-1960s silhouette and also designed stage wear for band The Libertines. Another devotee of the decade was the late Stephen Sprouse, who created 1960s-inspired clothing for Debbie Harry in the 1970s.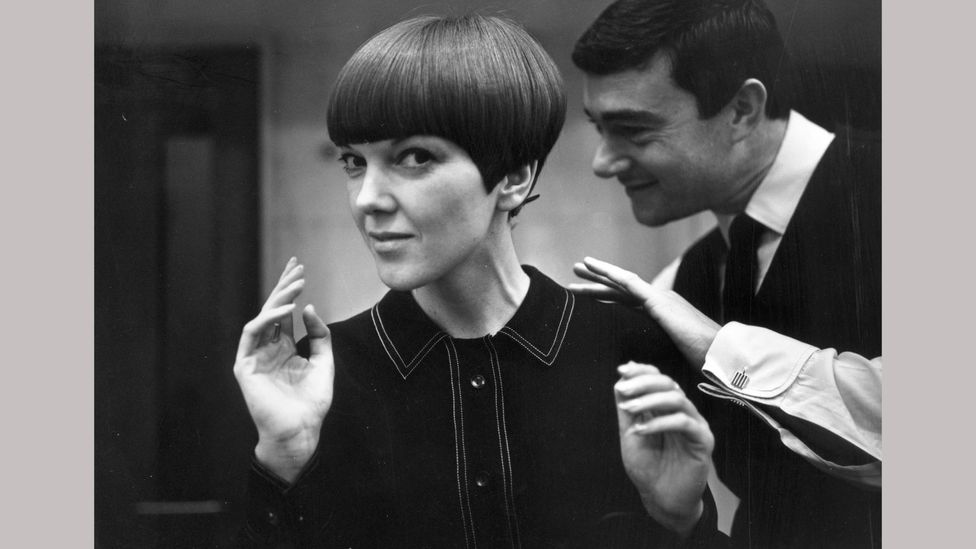 The designer Mary Quant with hair stylist Vidal Sassoon, 1964 (Credit: Getty Images)
Quant was arguably the most pioneering of them all. She established a template for her radically pared-down designs in the 1950s soon after setting up her label with her future husband Alexander Plunket Greene and photographer and former solicitor Archie McNair. Her earliest, markedly youthful designs included roomy, boxy pinafores and plastic collars to brighten up and accessorise dresses.
Space age
The rise of modernity in fashion was also fuelled by a taste for simplicity in interiors. Quant's second Bazaar boutique in Knightsbridge, which opened in 1957, was designed by Terence Conran and had an uncluttered interior in white, grey and black. Music, mainly modern jazz – frequently played at Bazaar – also contributed to this taste for all things contemporary.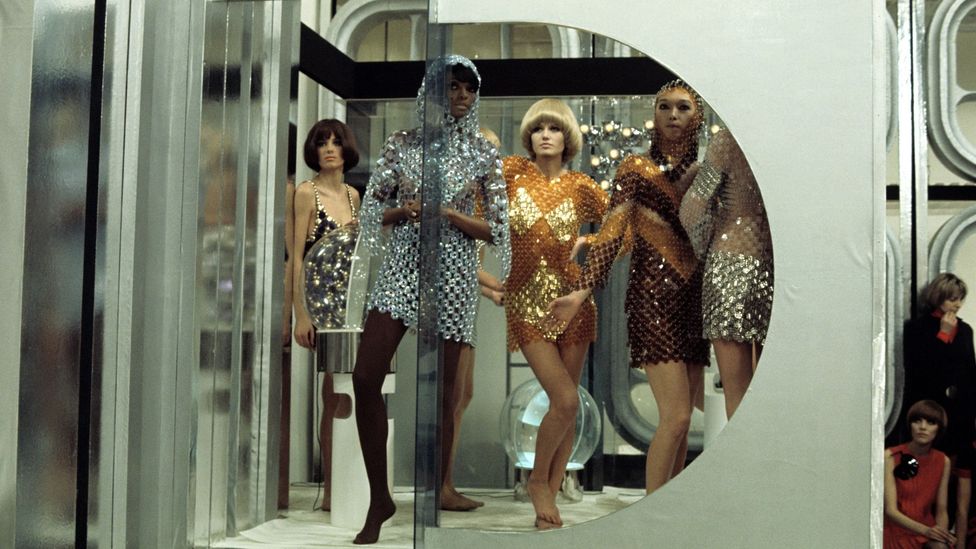 Paco Rabanne's metallic, chainmail dresses encapsulated the space-age look of the 1960s (Credit: Getty Images)
Quant was a role model to such near-contemporaries as Sally Dennis, formerly Sally Tuffin, of fashion duo Foale and Tuffin, founded in London in 1961: "We were studying at the Royal College of Art and Quant gave a talk about starting a business. After college, we decided to be brave and set up our label – I thank Mary for that. At art school we'd wanted to express ourselves as liberated women, no longer happy to conform to our mothers' mode of dress. Our clothes were simple, designed to move easily in, to dance in. As students, we were taken to the Paris fashion shows and a big turning point for us was seeing Givenchy show very minimal clothes in an austere chapel."  
Astronaut-like models were attired in helmets, opaque sunglasses and silver trousers
The authentic modernity of Quant's label was reinforced by the fact that she wore her own clothes, which reflected a whole lifestyle. "What a great many people don't realise is that the look isn't just the garments you wear," she wrote in 1965. "It's the way you put your make-up on, the way you do your hair, the stockings you choose, the way you walk. All these are part of the same 'feeling'."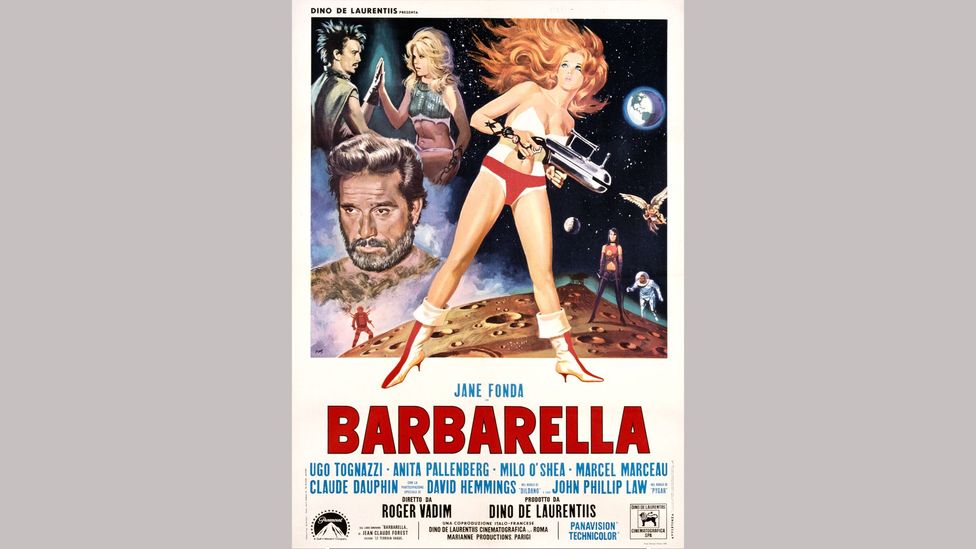 The 1968 film Barbarella is still an inspiration for designers (Credit: Getty Images)
Although her earliest designs were relatively expensive, she voiced a desire to create affordable clothes, so it was a natural progression for her to move into mass-production. From 1961, US retailer JC Penney, which had more than 1,700 stores, commissioned her to design collections. In 1963, she founded the Ginger Group, her diffusion line. In New York, boutique Paraphernalia stocked her clothes.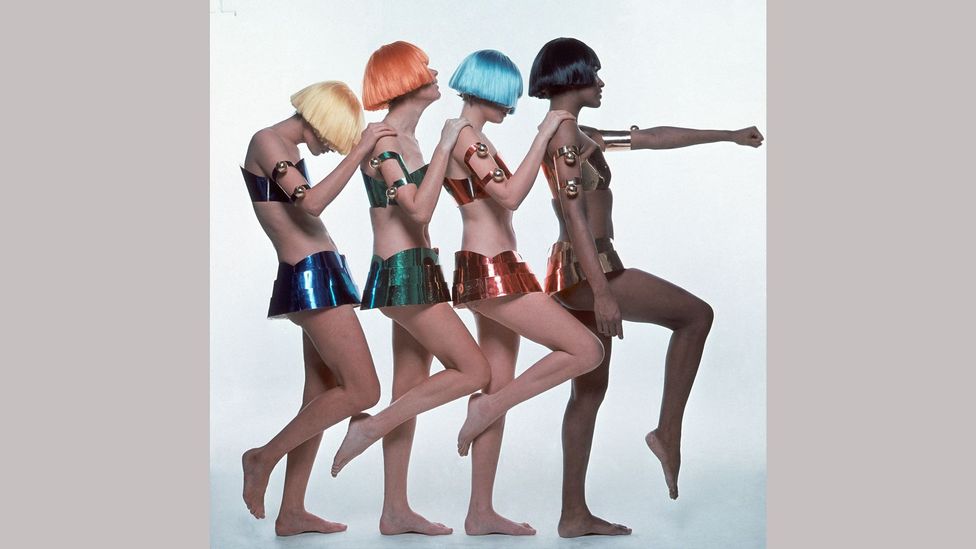 Photographed for British Vogue in 1969, models pose in polished-metal creations by Courrèges (Credit: Getty Images)
Quant was among the first designers to create miniskirts. Short skirts had already been worn by 1950s sci-fi characters who, along with the 1960s space race, were a major inspiration on 1960s fashion. "There was an enormous, romantic interest in space, engendered by sci-fi movies and TV series like Star Trek," says Rayner. Silver, a colour associated with space travel, was very popular then, as design historian Bevis Hillier pointed out in his book, The Century of Style, citing as examples the silver façades on the Ted Lapidus boutique on Bond Street and The Chelsea Drugstore on the King's Road.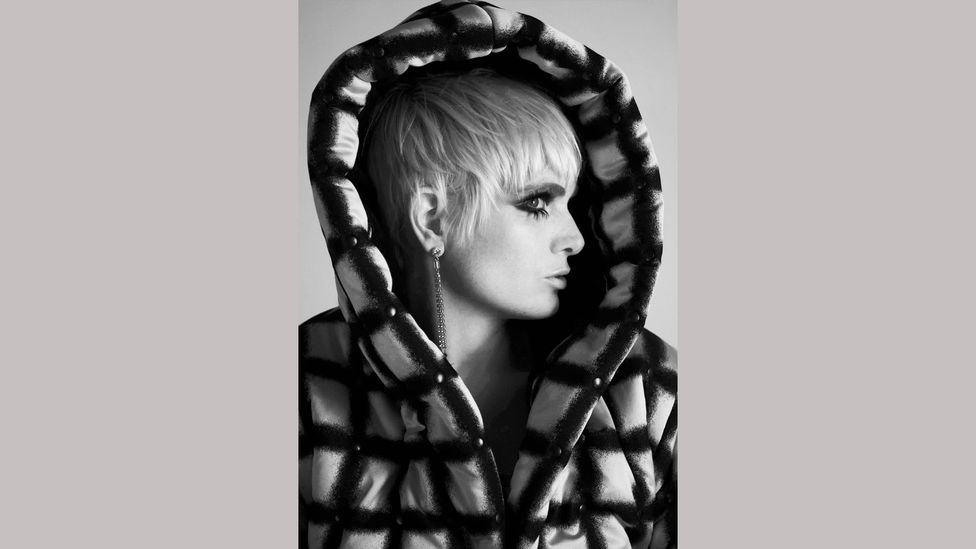 Yperlab is among the fashion brands today that are channelling 1960s design – the earrings are by Djurdja Watson (Credit: Darren Evans/ Yperlab)
Quant was ahead of the curve in her espousal of plastics – a material synonymous with space-age chic – creating an Op Art-inspired, white-and-silver rainwear collection called Wet for the company Alligator in 1965.
Quant was rejected by the Paris fashion establishment, just as Cardin had been expelled by the city's Chambre Syndicale de la Haute Couture for launching a ready-to-wear line. Cardin had fully embraced a futuristic aesthetic, developing a synthetic fabric called Cardine. Meanwhile, Courrèges, a former civil engineer, unveiled his space-age look in 1964, his astronaut-like models attired in helmets, opaque sunglasses and silver trousers.
Quant's influence can be seen in contemporary fashion, including Yperlab (Credit: Darren Evans/ Yperlab)
Slimane aside, fashion labels today are channelling 1960s design. Yperlab, based in Paris and London, dreams up clothing with a distinctly 1960s look, stocked by Paris boutique Lol by Louisiane. "We've done photoshoots that pay tribute to our heroes," says Brice La Barthe, one of the label's co-founders. "One was a homage to William Klein's 1966 movie, Who Are You, Polly Maggoo?, which satirised the excesses of the fashion industry."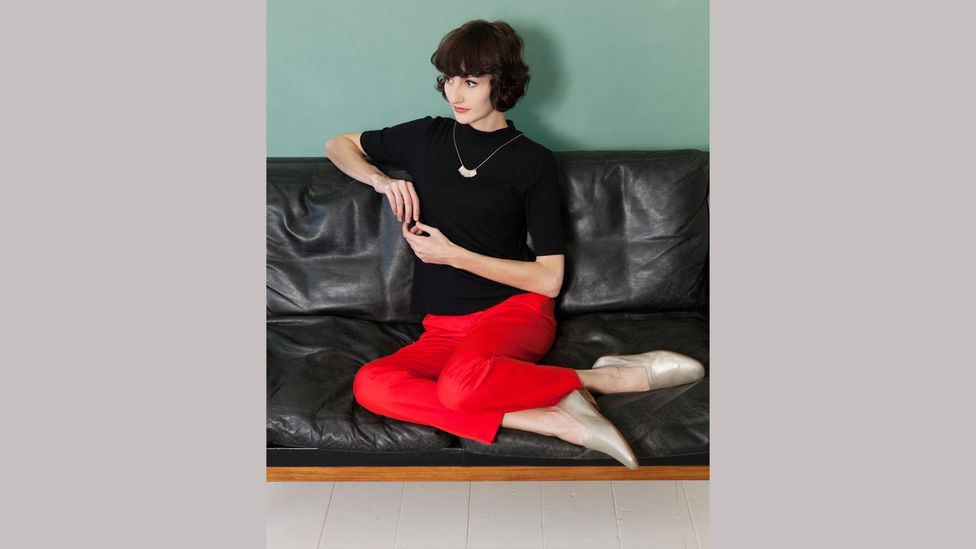 Designs by footwear brand Ops&Ops are influenced by the 1960s aesthetic (Credit: Ops&Ops)
Footwear brand Ops&Ops, meanwhile, is also inspired by the 1960s – from boutique Mr Freedom, whose fun clothing featured US cartoon characters and Debbie Harry. Their designs include the No 12 ankle boot, one of whose colourways is called Moon Dust, and the No 16 boot, inspired by the movie Barbarella. "But the designs can live on their own," says Teri Olins, one of the label's designers. "You don't need to get the 1960s references, for us the shoes just need to look modern."
If you would like to comment on this story or anything else you have seen on BBC Culture, head over to our Facebook page or message us on Twitter.
And if you liked this story, sign up for the weekly bbc.com features newsletter, called "If You Only Read 6 Things This Week". A handpicked selection of stories from BBC Future, Culture, Capital and Travel, delivered to your inbox every Friday.