The Spanish TV show has become a worldwide phenomenon, thanks to its ludicrous situations, beautiful people and stylish flair, writes Jennifer Keishin Armstrong.
A
A young man and woman hobble into a bank vault together, covered in blood. They are wearing matching red overalls; he helps her out of hers so that he can tend to her gunshot wound. Then he pulls out a scalpel and explains that he's going to remove the bullet. She's horrified.
"Some people have bullets in them and they're alright," she says. "I saw it on TV."
More like this:
This seems convincing to him. And why wouldn't it? They are, after all, on TV, too – in the Spanish series La Casa de Papel, known in English as Money Heist. And since the show is full of ludicrous situations and beautiful people with style – it seems perfectly likely that she'll survive with a bullet inside her. It's equally likely that she'll either die, leaving her attractive shooter-turned-medic (code name: Denver) wracked with guilt, or she'll fall in love with him. It's all part of the soap-opera style drama within the heist, which is the central pillar of the show. The true appeal of La Casa de Papel is not how or whether the heist will happen or not, but what interpersonal dramas will emerge along the way between the beautiful robbers, their beautiful hostages and the beautiful authorities trying to negotiate with them.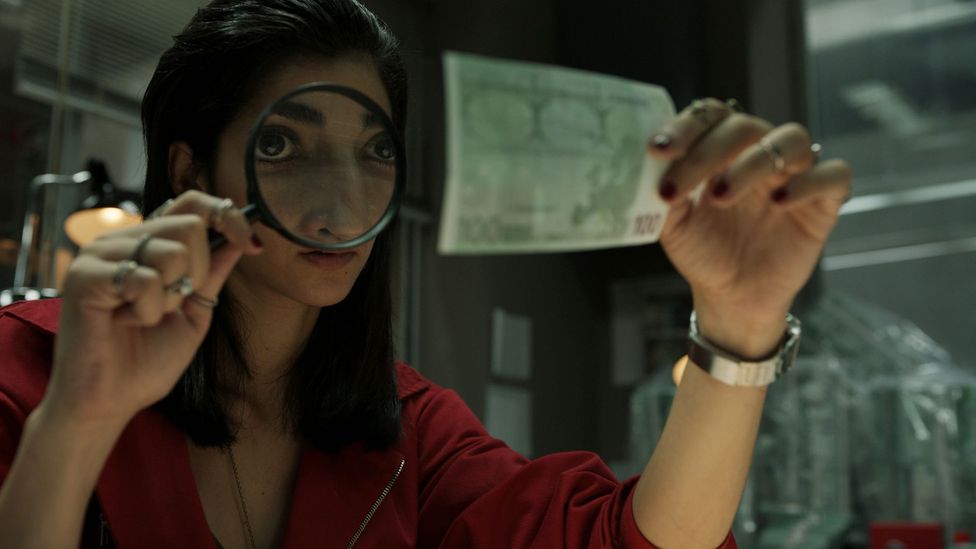 The team of eight criminals are holding hostages at the Royal Mint of Spain, printing billions of Euros (Credit: Netflix)
For two seasons, with a third in the works, La Casa de Papel's team of eight criminals has been holding 67 hostages at the Royal Mint of Spain as they print the billions of Euros with which they hope to eventually abscond. Though it was created for Spain's Antena 3 network and intended as a limited series, its popularity and worldwide potential caught the eye of Netflix, which acquired it, re-edited it, dubbed it, and began streaming it in December 2017. La Casa de Papel soon became the service's most-watched non-English-language series. In April 2018, it even topped Stranger Things' streams in the US and worldwide. Its success also prompted Netflix to sign a global production deal with La Casa de Papel's creator, Alex Pina, and is credited with helping the streaming service to become a worldwide phenomenon.
We can all identify at least a little with the criminals and their plan to print their own money - Mariola Cubells
Mariola Cubells, a Spanish TV critic who writes for the Huffington Post and Cadena SER, says it's the show's "aspirational" quality that gives it universal appeal – we can all identify at least a little bit with the criminals and their plan to print their own money without (they hope) harming anyone. "The 'bad guys' do well," she says, "and you want them to."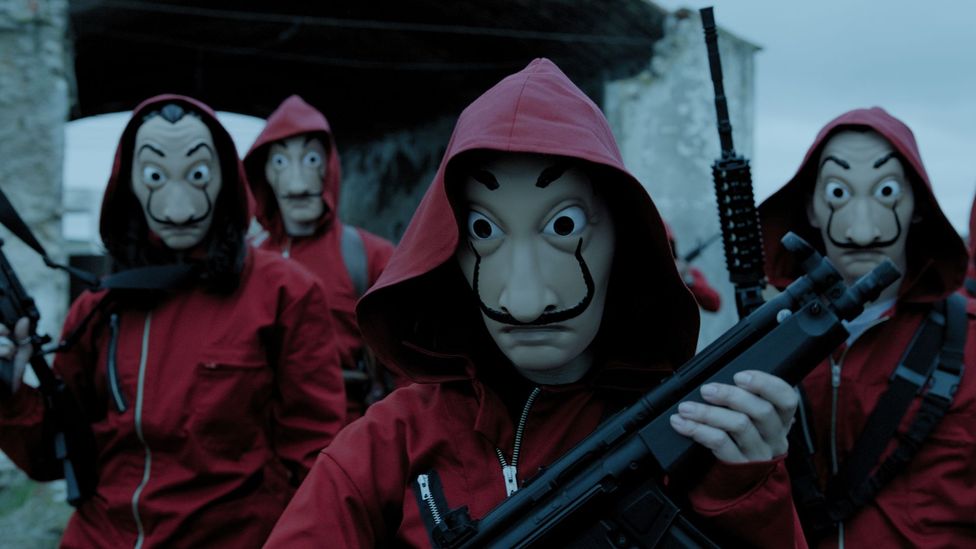 The Dalí masks the criminals wear look simultaneously creepy and cool (Credit: Netflix)
The set-up gives the programme its distinct advantages: among the robber characters, all of whom have code names taken from cities around the world, are the punk-rock beauty Tokyo (Úrsula Corberó), who narrates; Rio (Miguel Herrán), a hacker and Tokyo's lover; Moscow (Paco Tous), a middle-aged miner-turned-thief; and Denver (Jaime Lorente), Moscow's son and the person who shot the beautiful hostage in the aforementioned scenario, then helped to hide her from the other thieves, dressing her wounds in the vault. (It's complicated.) The team is overseen from the outside by a mysterious mastermind they call The Professor (Álvaro Morte). National Police Corps inspector Raquel Murillo (Itziar Ituño) is charged with negotiating an end to the heist while also dealing with an abusive ex-husband. Among the hostages are a Mint employee who is pregnant with her married supervisor's baby and the rebellious teen daughter of the British ambassador to Spain.
The multi-dimensional characters, the narrative tension and the unique setting made it stand out among Spanish TV offerings
Besides the sprawling cast rife with dramatic possibilities, La Casa de Papel also has a distinctive look, thanks to its band of criminals' apparent eye for design. The heist team dresses in red overalls that conveniently match the phones and other interior design accents within the Mint; they also ingeniously have the hostages dress identically, so police can't tell the difference between innocents and perpetrators from a distance. The criminals storm in wearing Salvador Dalí masks, which look simultaneously creepy, cool and tasteful.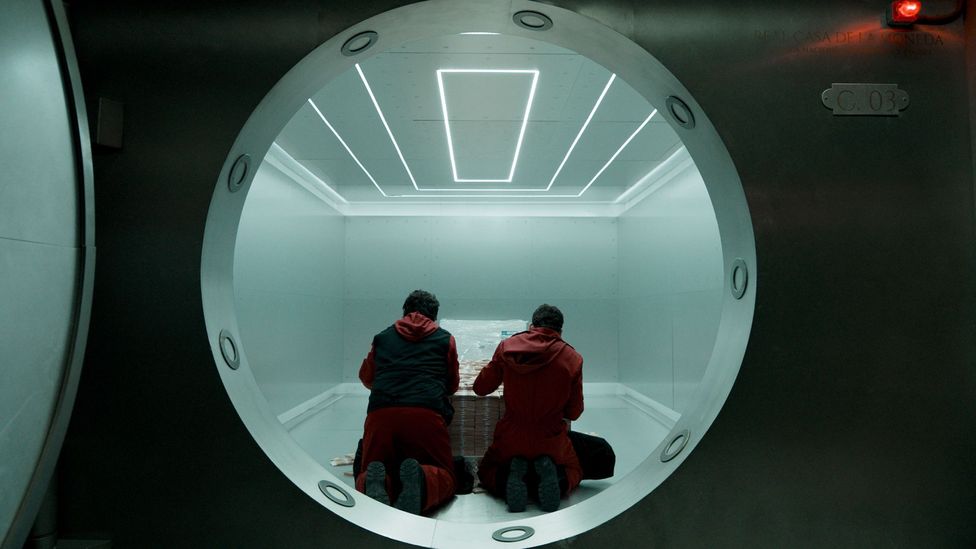 More than four million people in Spain tuned in for the show's premiere (Credit: Netflix)
From the start, La Casa de Papel was a hit with viewers in its native Spain. More than four million viewers watched its premiere, almost double the number of its closest competitor. Spanish newspaper El Pais called it "outstanding," noting its complicated storytelling and the ways it subverts the idea of 'good guys' and 'bad guys'. The multi-dimensional characters and the narrative tension, as well as the unique setting at the Mint, made it stand out among Spanish TV offerings, Cubells says. It also gives its female characters at least equal attention, an innovation for Spanish TV: "It dropped that extra testosterone," she says.
It also received global critical acclaim. University of Amsterdam publication Medium Magazine compared it favourably to Quentin Tarantino's Reservoir Dogs: "The show orchestrates its twists and turns masterfully, leaving you gasping for more after each episode." Israel's Haaretz called it "seriously riveting" and a "mini-masterclass in setting up a story."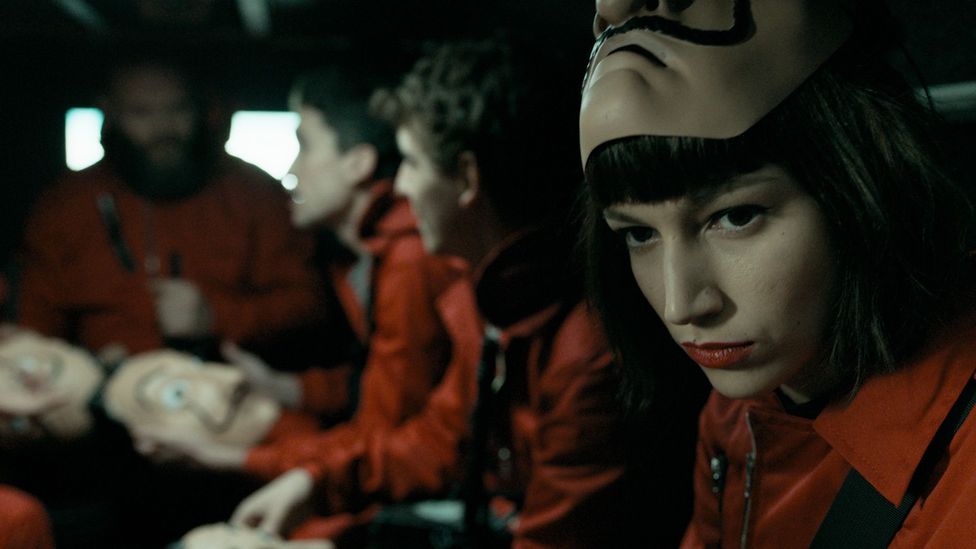 The programme gives its female characters at least equal attention (Credit: Netflix)
New Statesman's Pauline Bock theorised that audiences were responding to its anti-capitalist themes in a time of financial uncertainty. She acknowledged its over-the-top plot – and its addictive qualities. "It's utterly ridiculous," she wrote. "And we couldn't stop watching." John Doyle at the Canadian Globe and Mail echoed these thoughts: "It's a heist-centric multipart drama that upends most clichés of heist movies and celebrates others. It is also deliciously melodramatic at times, riffing on the telenovela style of telling one concentrated storyline that has outrageous twists and much passion. But it throws into the recipe a deeply serious social agenda and, at times, what's unfolding is at the level of the best premium cable drama in this neck of the woods."
The show's success around the world marks a turning point for Spanish TV, Cubells explains. "We have not managed to export culture, ways of life, of thought," she says, until La Casa de Papel.
In fact, La Casa de Papel is doing something even bigger: it's setting the bar for TV drama that can appeal not just to its culture of origin, but to everyone.
If you would like to comment on this story or anything else you have seen on BBC Culture, head over to our Facebook page or message us on Twitter.
And if you liked this story, sign up for the weekly bbc.com features newsletter, called "If You Only Read 6 Things This Week". A handpicked selection of stories from BBC Future, Culture, Capital and Travel, delivered to your inbox every Friday.