Music concerts in video games are nothing new, but the scale and impact set this event apart. What are the implications for artists and live events?
Fake mist swirls about the stage. Multi-coloured spotlights wave their beams through the air above Pleasant Park. DJ Marshmello grabs the mic and introduces himself to the crowd. "Thank you for coming out today," he blares, and then the beat drops. Everyone goes wild. For many, it feels like the biggest event ever to happen in this little part of the world – and it will be remembered for a long time to come.
But that part of the world wasn't on planet Earth – it was on Fortnite Island, the virtual location in the video game Fortnite. Launched in 2017, the game already has nearly 250 million registered users and about 80 million monthly players, making it one of the most popular games ever.
In just four years, Marshmello – real name Christopher Comstock – has rocketed from obscurity to the big time. His song with Bastille, Happier, hit the top of the charts in the UK, US, Canada and Sweden in August last year, and a group of Fortnite players came together to perform a cover within the game. His 10-minute Fortnite appearance on 2 February turned the game from a third-person shooter into a music venue, and was witnessed by 10.7 million gamers at once. Rolling Stone described the figure as "staggering"; the size of the crowd being bigger than the population of New York City.
You might also like:
- The rise of 'art house' gaming
- The surprising uses of games controllers
- How to make sweet sounding music with a hard drive
Cross-overs between music and video games have happened before, but the sheer scale of this one sets it apart. What could this event mean for artists and music?
10 minutes of Fortnite fame
The principle of having a special concert in an online game is hardly new, points out Steve Bailey at analytics firm IHS Markit. He gives the example of The All-American Rejects, a rock band that performed in the online role-playing game Anarchy Online all the way back in August 2007. Unlike Marshmello's Fortnite set, the Rejects themselves appear via a big 2D video screen – they weren't rendered with graphics as in-game characters.
There were also concerts in Second Life around the same time. At its peak, Second Life boasted 1.1 million users – impressive then, but a far cry from Fortnite's 200 million in 2019.
One of the most popular games ever, Fortnite has around 250 million registered users and 80 million monthly players (Credit: Getty Images)
The concert in Fortnite was a one-off event that players had to halt their regular in-game activities to watch. While more than 10 million people attended Marshmello's set, they actually did so in hundreds of thousands of concurrent and identical "sessions" – instances of the game populated by a maximum of 50 people. Having to animate a crowd of 10 million avatars wouldn't have been technologically feasible, but thanks to social media commentary and livestreaming, it was easy for Fortnite fans to feel like a huge number of people were engaging with the concert all at the same time.
"The numbers were incredible," says Amelia Kallman at London tech innovation agency Inition. She points out that Marshmello, although already popular, seems to have found a big new audience thanks to his 10 minutes of Fortnite fame. Figures from Nielsen Music show how much the popularity of songs he performed soared the next day. On-demand video streams of Marshmello's single Check this Out jumped nearly 24,000 percent, for instance.
An online social experience
IHS Markit's Bailey makes another important point: because Fortnite is popular with many younger gamers in their teens, the event allowed thousands to experience a form of music they had perhaps never encountered before, due to the age restrictions at real-life concert venues.
"For many of those players, this may have been their first experience of a gig," he says.
But it would be a mistake to treat the occasion like a premonition of how all live music may be performed in the future, says Mark Mulligan at tech analysis firm MIDiA Research.
For many of those [Fortnite] players, this may have been their first experience of a gig  
"It's the equivalent of someone having a party and getting a DJ to play at it," he says. That is not to downplay the significance of what Fortnite did, though. Because of those thousands of game sessions that groups of friends could join without being swamped in a massive crowd, the event became a uniquely social moment.
"That was a really smart innovation by [Fortnite makers] Epic Games – to simultaneously be global and personal at the same time," says Mulligan.
Emote gloat
But there's even more going on here in terms of engagement with one artist. According to figures reported by the Wall Street Journal, sales of digital goods in Fortnite were up around 300 percent on the day of Marshmello's concert. Many people will have bought the limited edition Marshmello character skin, emote and glider skin for about $25 in total. The emote is a unique animated dance that your character can use in-game, allowing people to show evidence of their relationship with an artist in a digital space.
"People are now walking around saying, 'I'm a Marshmello fan' in a game, generating money for Marshmello," says Mulligan.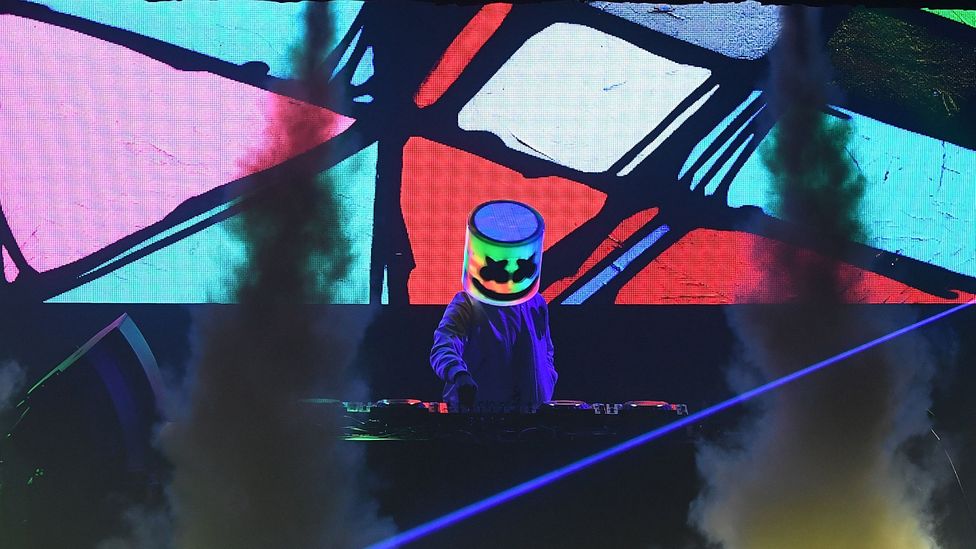 On-demand video streams of DJ Marshmello's single Check this Out jumped nearly 24,000 percent within 24 hours of his Fortnite event (Credit: Getty Images)
In an age of music streaming, Mulligan argues that people's connections to musicians' albums have become shallower. They listen to tracks and playlists instead. In such an era, how do bands and musicians encourage devotion to their style or, for want of a better word, brand?
For punk rockers in the 1970s you had to share the look – spikey hair, chains and leather. For an electronic music fan in 2019, it might as well be an avatar in Fortnite. This practice of dressing to evoke a sound can easily be done in virtual reality today. The quality of in-game graphics and animation are certainly high enough – so why not?
A natural fit
But not all forms of music will benefit from virtual outings, argues Denis Simms, an independent tech and music industry analyst in London.
He says the helmet-wearing Marshmello was easily ported into Fortnite, whereas other acts may not be such a natural fit. One genre that might map well, though, is hip-hop, he suggests.
"There's a lot of crossover between that demographic and gamers," says Simms.
One can certainly imagine a hip-hop event working well in Fortnite. And it might be a good opportunity to bring such performers into a game that has been criticised in the past for allegedly appropriating hip-hop dance moves created by black artists.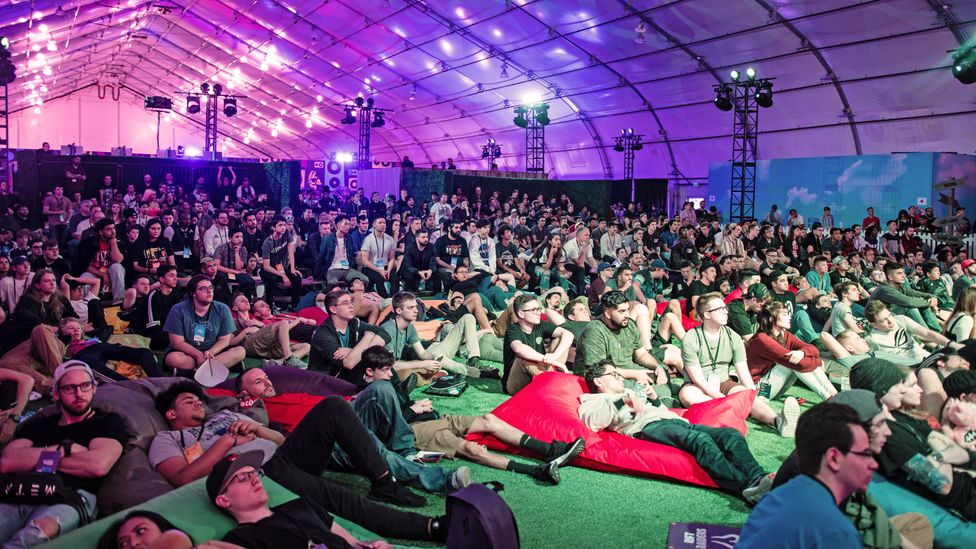 Fortnite's reach is well beyond the game, many more people watch the action on Twitch and YouTube (Credit: Getty Images)
If more events like Marshmello's Fortnite set are put on, we may soon find out how other musicians are able to use video games to widen their audience and engage with fans. But, notes Steve Bailey, we shouldn't forget the implications here for Fortnite itself and its own massive user base.
"The question is how to maintain interest," he says. Special guest appearances are an interesting way to do it. Epic Games may have offered Marshmello a cheque for his services, but the details of such a deal are unknown. Both Epic Games and Marshmello declined to be interviewed for this article.
Island life
There are other ways to plug your songs, and it looks like this is the first of many promotional experiments on Fortnite. At the end of February, Weezer invited players to listen to four new songs from 'The Black Album' on a jukebox planted on a Weezer-themed island.
What really matters to music fans and gamers, though, is most likely how these experiences develop and whether they remain enjoyable
What really matters to music fans and gamers, though, is most likely how these experiences develop and whether they remain enjoyable. When Apple gave iTunes users a free copy of the latest U2 album in 2014, it triggered a massive backlash. It's an incident now immortalised in memes.
But when Fortnite forced millions of people to sit through 10 minutes of Marshmello's music, they struck a massive hit. That suggests the event was perfectly pitched for Fortnite's audience. It was a stroke of genius – and probably involved a bit of good fortune too. That said, there are suggestions that scammers tried to take advantage by tricking users into buying tickets on social media networks, even though the concert was free.
Maybe Marshmello's performance also says something about how people's expectations around where and how they encounter music have changed, even in the past few years. That's what's new here. Music is perhaps no longer your carefully curated album collection. It's something that comes out of the web right at you, streamed directly into your favourite game. So, peel back those eyelids, open your ears, and enjoy.
If you liked this story, sign up for the weekly bbc.com features newsletter, called "If You Only Read 6 Things This Week". A handpicked selection of stories from BBC Music, Culture, Capital, Future and Travel, delivered to your inbox every Friday.