The diverse individuals seen in artworks of the 19th Century are finally being fully recognised. Cath Pound explores how their depiction sheds new light on the era.
Édouard Manet's ground-breaking Olympia (1863) is often cited as a key work in the birth of modern art. His portrayal of a naked prostitute who unashamedly meets the viewer's eye confronted Parisians with a reality they would have preferred not to acknowledge; that sex for money was a quintessential part of modern life – and one that was not confined to the elegant, and exclusive, courtesan.
More like this:
-          How black women were whitewashed by art
-          Why The Night Watch is still a mystery
-          Intimate images of a bathing beauty
But the painting is notable for another, largely ignored aspect; the portrayal of the black maid, who we now know was called Laure. Manet not only shows her in contemporary French costume, in marked contrast to the exoticised harem attire more common for black servants in salon paintings of the era, he also gives her almost equal pictorial space to Olympia. In doing so he was drawing attention to a further aspect of contemporary society that bourgeois critics may have preferred to ignore; the presence of a small but highly visible population of free black people who had come to the city following the abolition of slavery in French colonies in 1848.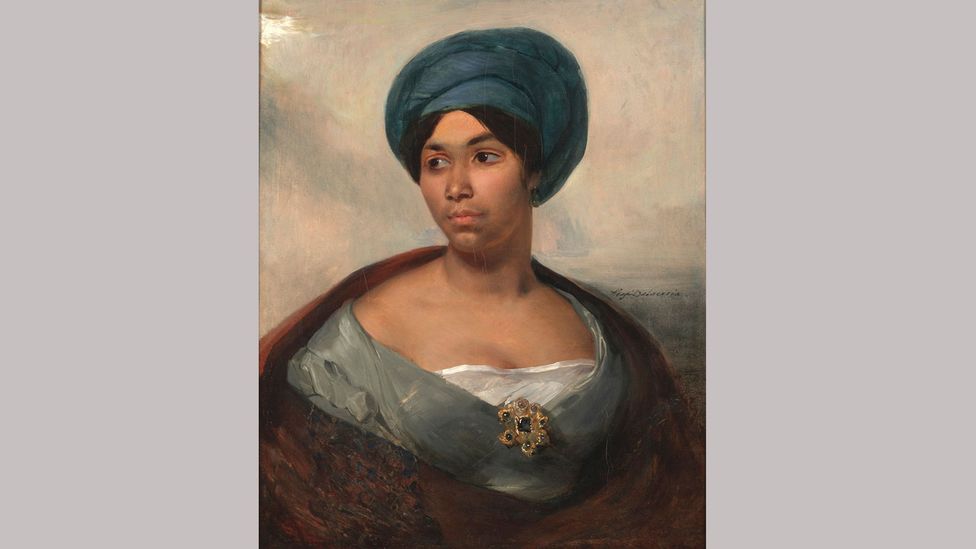 Portrait of a Woman in a Blue Turban by Eugène Delacroix (Credit: Dallas Museum of Art/ Eugene and Margaret McDermott Art Fund Inc)
That Laure's identity was discovered is thanks to Denise Murrell, who was convinced there must be more to the figure than a maid proffering a bouquet to her mistress. Murrell sought to understand both Manet's intentions and the environment in which Laure would have lived and worked. Her doctoral thesis grew into an acclaimed exhibition at the Wallach Gallery in New York, and will now be on view in an expanded form at the Musée d'Orsay in Paris which, inspired by Murrell's work, undertook additional research into their own collections.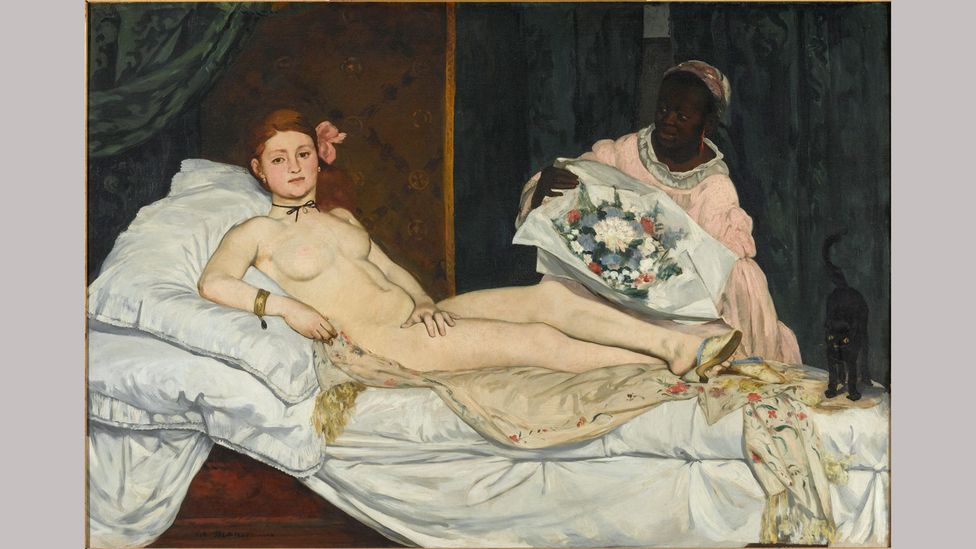 Manet's 1863 painting Olympia portrays the model Laure on the right as the servant (Credit: Musée d'Orsay/ RMN-Grand Palais / Patrice Schmidt)
The show reveals not only how radical Manet's portrayal was but also offers a fascinating insight into the little-known black and mixed-race community of 19th-Century Paris. Manet painted Laure on three known occasions, with each painting seeming to reveal a growing awareness and understanding of the presence of black people in Paris.
There is a sense of camaraderie with her mistress
In Children in the Tuileries Gardens (1861-62) she is shown as a nanny. Scenes of children accompanied by their nurse were hugely popular at the time but were generally "very bourgeois, very decorative," says Murrell. Manet "adds a little bit of grit and tries to make it more realistic in terms of what's actually happening in Parisian society at the time by revealing a black presence among household servants," says Murrell.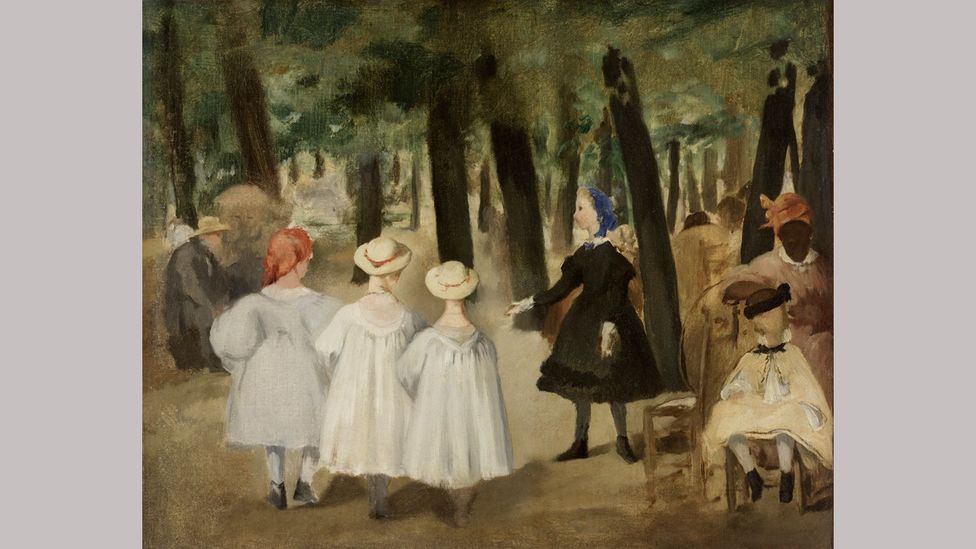 Manet's Children in the Tuileries Gardens (1861-2) depicts Laure as a nanny (Courtesy Rhode Island School of Design)
Although Laure's features, like all those in the painting, are blurred, her class, status and origins are clearly revealed by the buttoned-up dress and bright orange foulard she wears wrapped around her head. Although immigrants adapted contemporary dress, they still wore the scarf common in their country of origin.
Manet's second portrayal of her in 1863 had previously been seen as a preparatory study for Olympia but Murrell believes "the specific formal qualities of the painting suggest that he is rendering her as an individual… There is the sense of an expression, she's not just a generic type," she explains. Although previously titled La Négresse, which, says Murrell, is "an art historical device that marginalised, actually obliterated the individual identities of women," she is delighted that the Musée d'Orsay are maintaining her suggested title, Portrait of Laure.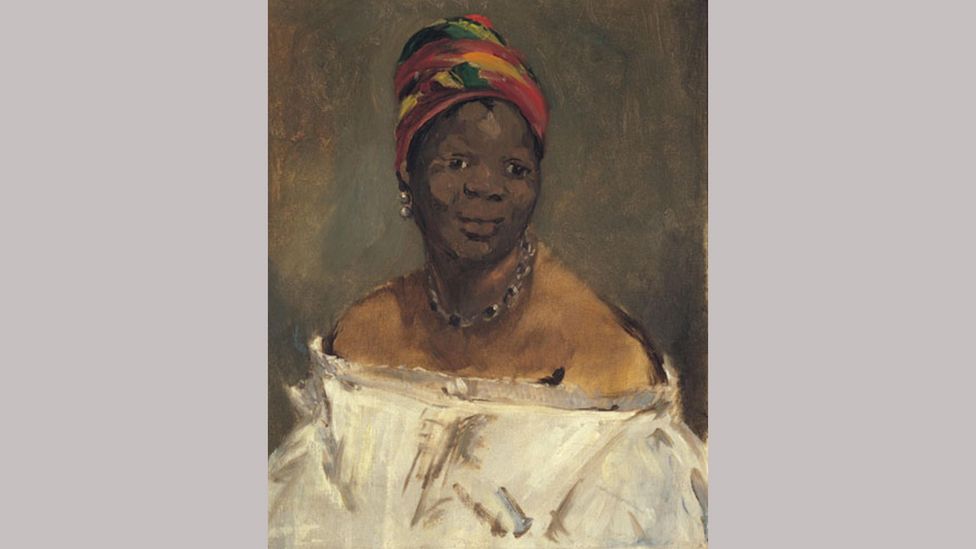 Manet's The Negress (1862-63) has been re-titled Portrait of Laure by the Musée d'Orsay (Credit: Andrea Guerman/ Pinacoteca Giovanni e Marella Agnelli, Turin)
For Olympia, painted in the same year, she is even more clearly defined, both formally and psychologically. There is a sense of camaraderie with her mistress whose disdain, one senses, is directed at the viewer, not the woman at her side.
The majority of salon painters showed black servants in fantasised harem scenes, often bare-breasted as an indicator of enslavement, emphasising their exoticism and otherness.
Manet's decision to paint Laure fully clothed is what Murrell terms "a fraught modernisation of the typical portrayal of black maids in places of sex work… He is showing her as a free, wage-earning woman in modern Paris," says Murrell, but it "shows the limits of freedom in a society which is still essentially racist and sexist, those limits of freedom for both these women."
Powerful message
Slavery had first been abolished in French colonies in 1794 but was reinstated in 1804 under Napoleon Bonaparte. Before its eventual permanent abolition there were some black and mixed-heritage people in Paris, as any immigrant who settled there was theoretically free.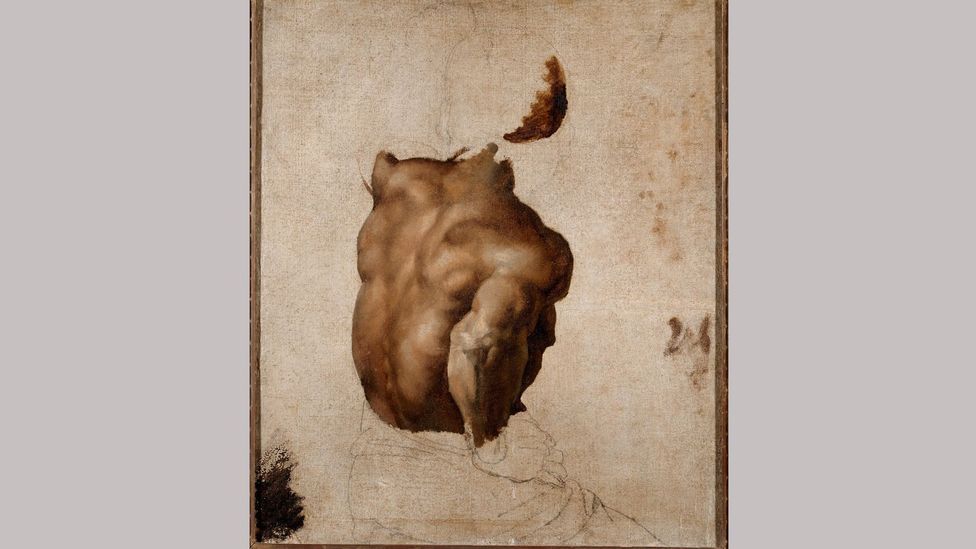 Géricault's study of Joseph, who later became a model at the École des Beaux-Arts (Credit: RMN-Grand Palais / Philipp Bernard)
As race was not specified in public records, this population is largely known through works of art. One of the most notable was Théodore Géricault's favourite model, Joseph. He became famous for appearing in The Raft of the Medusa (1818-19) and after Géricault's death in 1824 became a model at the École des Beaux-Arts.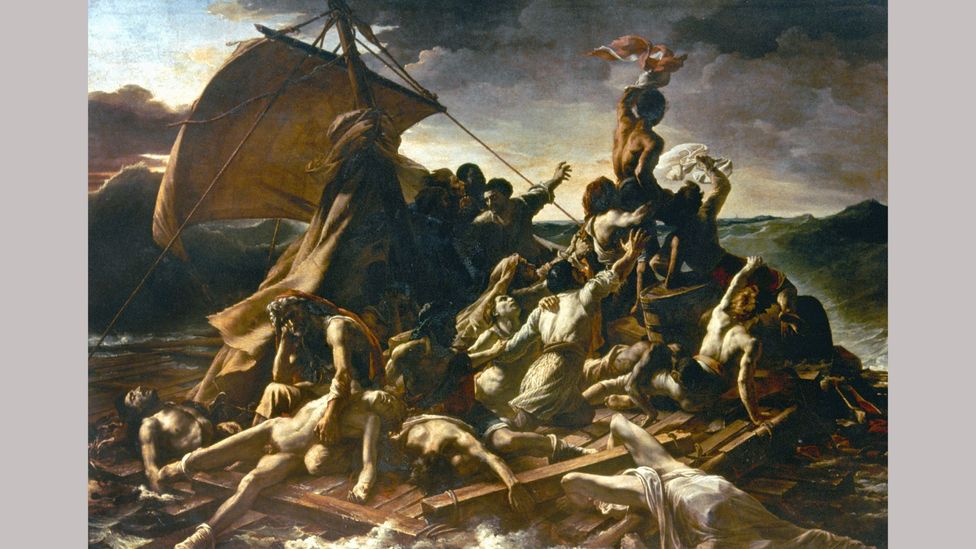 The Raft of the Medusa by Géricault features the model Joseph in the top right hand corner (Credit: Alamy)
"At the time there were only places for three male models and he was one of those three," explains co-curator Isolde Pludermacher. Here he posed for many illustrious artists, including Théodore Chasseriau, who himself was the grandson of a mixed-race landowner from Haiti.
Baudelaire exhorted painters to portray the modern life they saw around them
However, the respect and recognition given to Joseph appears to have been an exception. Most models remained anonymous. Even Delacroix's attempt to challenge conventions of female portraiture by portraying the mixed-race model Aspasie as someone other than an exoticised servant played to clichéd stereotypes of hyper-sexuality by showing her bare breasted.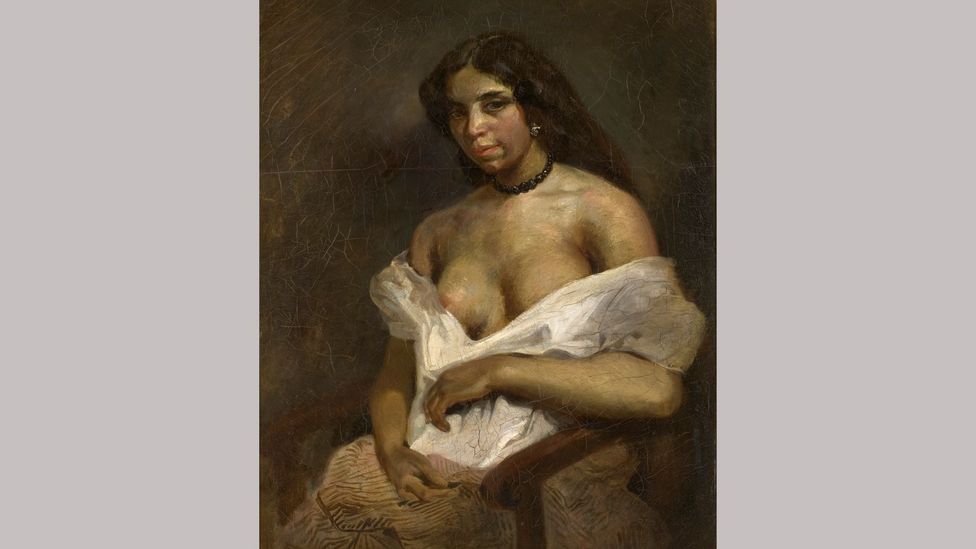 Delacroix's depiction of bi-racial model Aspasie played to sexualised stereotypes (Credit: Musée Fabre de Montpellier Méditerranée Métropole / Frédéric Jaulmes)
Manet's radical decision to paint a reality that many may have preferred to ignore was prompted by his friend Charles Baudelaire who exhorted painters to portray the modern life they saw around them. Like many of the Impressionists, Manet lived in the 9th arrondissement where the majority of immigrants settled. They would have been aware of the black domestic servants, sex workers and performers who lived and worked around them.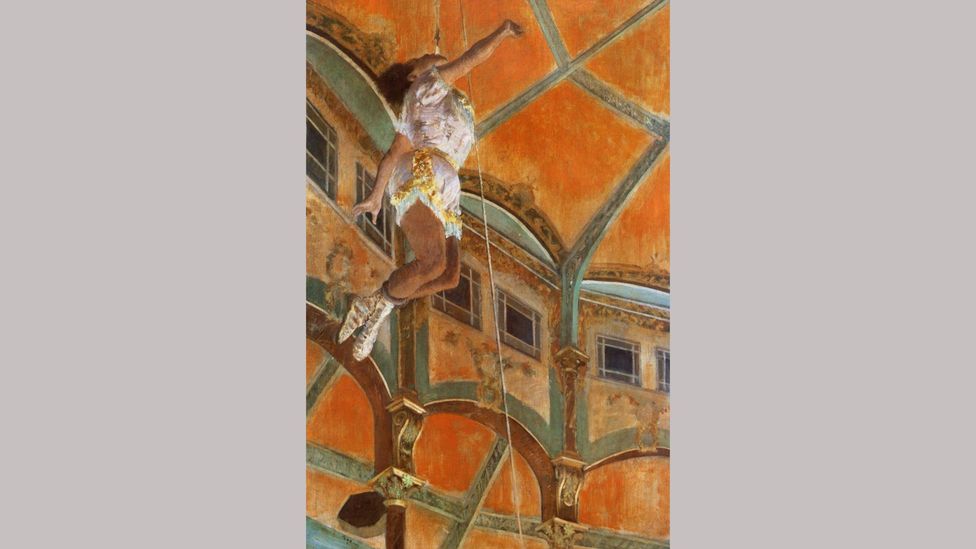 Miss Lala at the Fernando Circus by Degas portrayed one of the several well-known black circus performers of the period (Credit: Alamy)
Degas painted the mixed-race circus artist Miss Lala, one of several well-known black circus workers of the period. Shown suspended from the ceiling by a rope whose bit she clutches with her teeth in an almost superhuman display of strength, she is portrayed with as much refinement as the ballet dancers for which the artist is renowned.
Although it would be foolish to believe that they were inured to the racial and class prejudices of the day the Impressionists' own circle included those who were mixed-race, including Baudelaire's own mistress, the former actress Jeanne Duval, who Manet would also portray. Perhaps one of the greatest surprises of the show is that Alexandre Dumas father and son were also mixed race, the former being the grandson of a French aristocrat and his Haitian slave.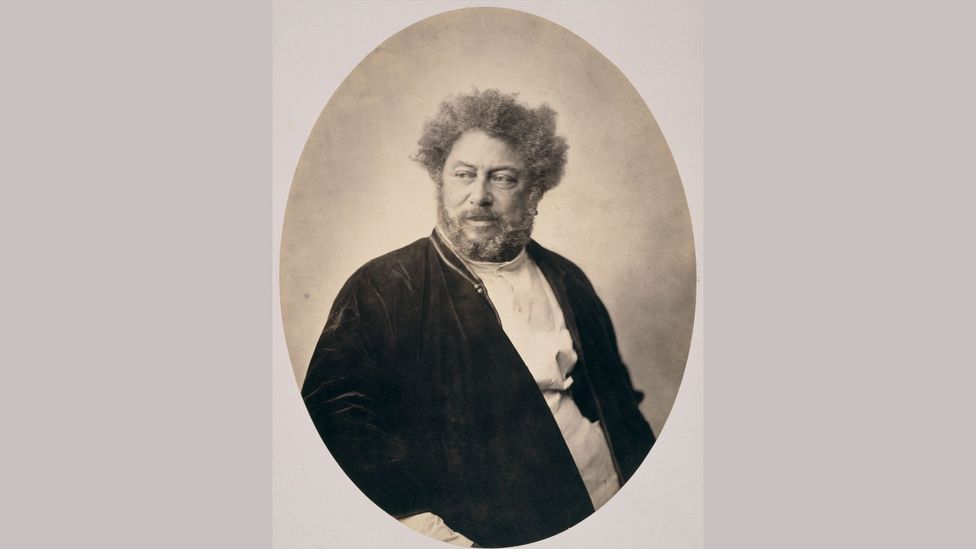 An 1859 portrait of Alexandre Dumas – who was bi-racial – by Gustave Le Gray (Credit: RMN-Grand Palais Musée d'Orsay / image RMN-GP)
Dumas pére, best known for writing The Three Musketeers, described himself as black, and railed against the prejudices he found in the upper-class salons he frequented. He was frequently viciously caricatured in the popular press. "I think it will be a very powerful message to people today that one of the most famous writers of that time was also a descendant of an African," says Pludermacher.
Another powerful message is that Portrait of Laure is not the only painting that the museum has chosen to re-title. Where a model's name is known, the painting will become a 'Portrait of,' and outdated ethnic classifications will also disappear, as will unnecessary racial indicators.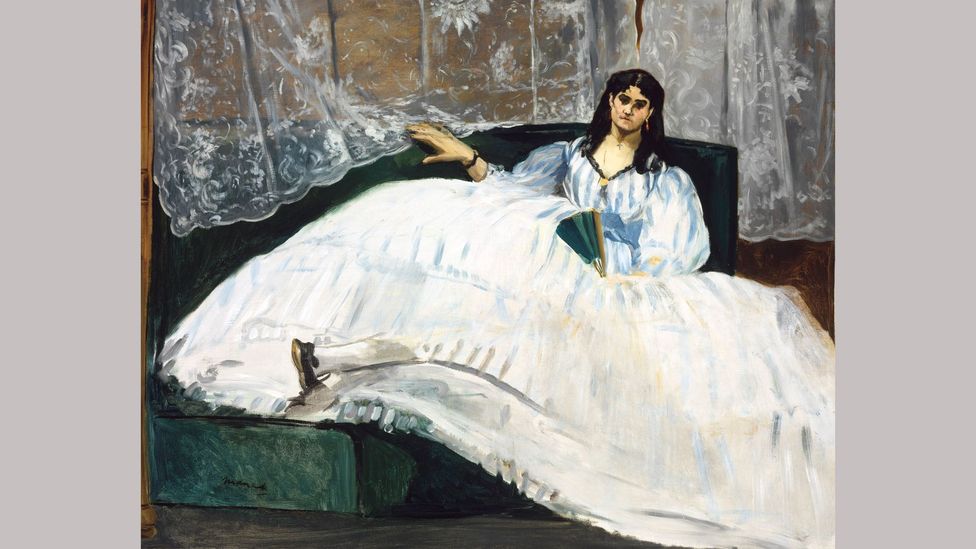 Manet's 1862 portrait of Jeanne Duval, who was also the mistress of Baudelaire (Credit: Museum of Fine Arts Budapest, 2018/ Csanád Szesztay)
The exhibition also features a prominently displayed neon installation by US artist Glenn Ligon that lists the names of black models, performers and writers represented in major French paintings in a bid to redress what, for many of them, has been a highly visible invisibility. For now, at least, Olympia's name is better known – but it will be Laure's that appears in lights.
Black Models: from Géricault to Matisse is at the Musée d'Orsay, Paris from 26 March to 21 July 2019.
If you would like to comment on this story or anything else you have seen on BBC Culture, head over to our Facebook page or message us on Twitter.
And if you liked this story, sign up for the weekly bbc.com features newsletter, called "If You Only Read 6 Things This Week". A handpicked selection of stories from BBC Future, Culture, Capital and Travel, delivered to your inbox every Friday.