In 2018, a Russian and a Dutch photographer travelled through the Arctic. They talk to Fiona Macdonald about their striking images of a remote wilderness that's becoming a battleground.
T
The names offer a clue: translated, they are 'world's end' for one peninsula; 'where there is no dawn' for a hamlet that doubles as a capital. This is a place of extremes – where villages were built from whale bones, the ground dissolves into craters as temperatures rise and long-buried mammoth tusks are prized by 21st-Century treasure hunters.
More like this:
- The photos we can't look away from
- Otherworldly photos of an Arctic city
- Startling images of the Middle East
For their project Arctic: New Frontier, photographers Yuri Kozyrev and Kadir van Lohuizen traversed the northernmost parts of Earth, documenting life in Siberia, Svalbard, Greenland, Canada and Alaska. "We decided to do a story – Kadir would cover the Western Arctic and I would cover the Russian Arctic," Kozyrev tells BBC Culture.
Travelling at the same time through two different parts of the region during 2018, their pioneering double polar expedition (funded by the Carmignac Photojournalism Award, which annually supports a report on human rights violations and geostrategic issues in the world) created a unique body of photographs. Those images have been published in a new book and currently appear in an exhibition at London's Saatchi Gallery.
"It's a story not just about nature, temperature and climate," says Kozyrev. He travelled the route of the Russian Arctic maritime ports, photographing cadets at a naval college in Murmansk named after the 19th-Century admiral Pavel Nakhimov. Over the last five years, according to the Russian photographer, eight other Nakhimov schools have been established in Russia.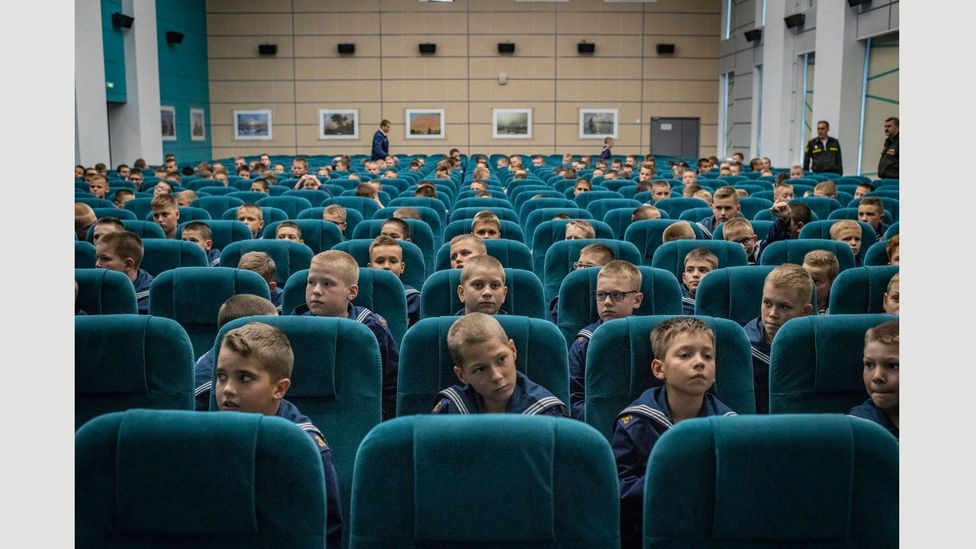 Cadets at a naval college in Murmansk, Russia, September 2018: Murmansk is ice-free all winter because of the Gulf Stream (Credit: Yuri Kozyrev – NOOR for Fondation Carmignac)
"It's a cliché to show Russian children in military uniforms. It's exaggerated – all the Russian kids preparing for the war – but that school is special, there are not many like it," says Kozyrev. "Murmansk is a town of sailors, so it's natural to have that kind of school there." (The first floating nuclear power plant is also being constructed in Murmansk, the largest city north of the Arctic Circle.)
The difference is that Antarctica is land, and the Arctic is mostly just frozen sea – Van Lohuizen
Both photographers were interested in the militarisation of the Arctic. "I sailed with the coastguard in Alaska, in Canada, and in Norway – which in the case of the US and Norway, is part of the Navy," Van Lohuizen tells BBC Culture. The Dutch photographer's images reveal militarisation through rarely documented scenes, such as Canadian army reservists starting up snowmobiles in sub-zero temperatures, when fuel pumps often freeze.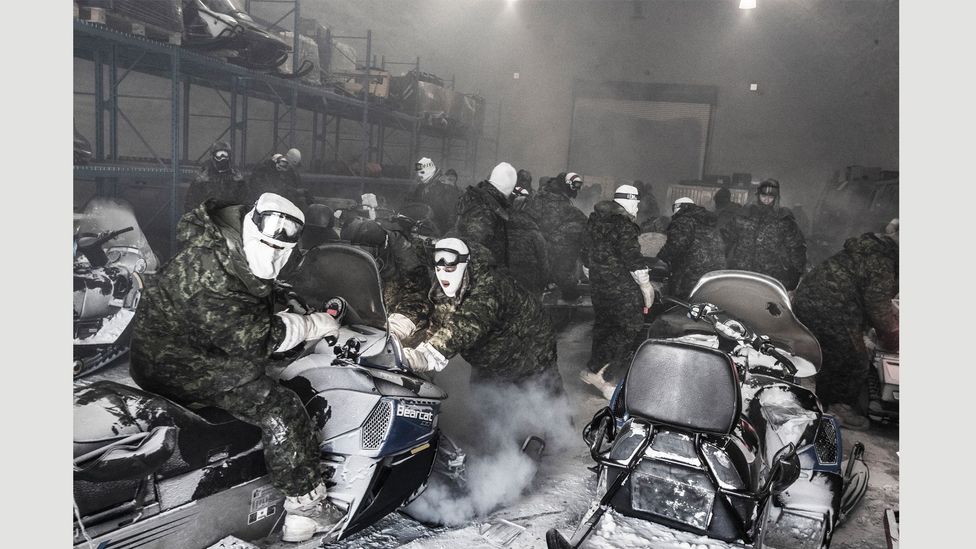 A Canadian Armed Forces training centre has recently been set up in Resolute, a point in the Northwest Passage (Credit: Kadir van Lohuizen – NOOR for Fondation Carmignac)
"There's this whole question of who controls the Arctic. In Antarctica there have been international agreements but for the Arctic, there's nothing like that. The difference is that Antarctica is land, and the Arctic is mostly just frozen sea," he says. "Where normally maritime laws apply – [there are] zones which are territorial waters, beyond which it becomes international – this doesn't seem to apply for the Arctic… borders are suddenly not land borders any more. It's like a jackpot. We never paid attention to the Arctic, and now everybody pays attention to the Arctic because of all the resources there."
Making the invisible visible
Arctic: New Frontier reveals much that is invisible to most of the world, whether it's military bases or remote sites for oil and gas pipelines. The project also shows how those installations can interfere with the lives of indigenous groups. Kozyrev travelled with the Nenets, the largest Siberian ethnic group, on the Yamal Peninsula – his photos reveal a people confronted by climate change in a direct way.
A nomadic herding family move their reindeer from winter pastures to summer pastures, Yamal Peninsula, Russia, April 2018 (Credit: Yuri Kozyrev – NOOR for Fondation Carmignac)
"They follow the reindeer from the south to the north every year… We normally go south in summertime; they follow reindeers to the north, to the ocean," says Kozyrev. It's a journey of more than 1,000km (620 miles). "Because the ice is melting, it's more complicated for them to move. There are a lot of problems on the ground."
In March 2018, he photographed one nomadic herding family and then arranged to meet them a few months later, near a gas field in the north of the Yamal Peninsula. "In June they were supposed to pass it, and Gazprom have built bridges over their pipes so the reindeer can pass the gas field smoothly," he says. "I thought it would be interesting to cover… but they never reached there because of climate change; their reindeer were stuck in the middle of the peninsula." For the first time in the Nenets' history, in 2018 they were unable to complete their annual migration.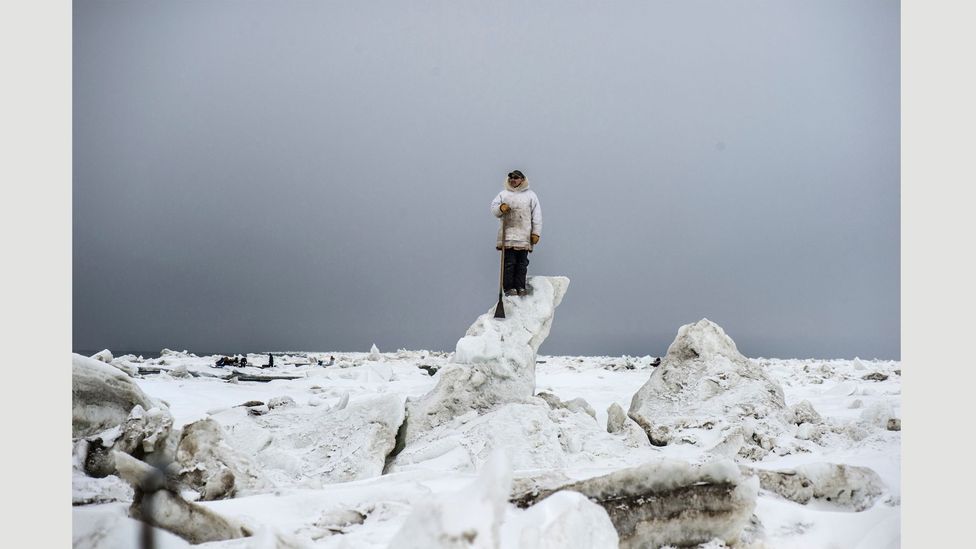 Gordon Omnik stands on watch to spot bowhead whales, Point Hope, Alaska, US, May 2018 (Credit: Kadir van Lohuizen – NOOR for Fondation Carmignac)
Van Lohuizen also photographed indigenous groups threatened by climate change, including Inuit people living in Kivalina, a village on the northern tip of Alaska which could be underwater by 2025, and in Point Hope, a traditional whaling community. He's seen how rising temperatures have made it difficult for them to survive. "The problem is now that the sea ice disappears very early, and arrives very late, and they need ice to hunt," he says.
Yet, for indigenous groups, global warming is not communicated in the way many in the West might expect. According to Kozyrev, the Nenets "don't use the definition 'climate change' – the problems are part of nature, they live in nature, so whatever's happening in nature they have their own explanation… It's like a tale – like stories for kids. Their religion is nature, so it's a bit of a different understanding.
"They knew before they could stay near their lake in the middle of June, or they could cross frozen rivers in October on the way to the south: but now it's different. Their lake disappeared; rivers are not frozen any more in October, so they need to wait until December for the rivers to freeze. They have to change the whole routine of their lives. We can call it 'climate change' but they call it differently." In the Nenets' language, Yamal means 'end of the world' – its furthest reaches, far from other people. They are discovering that, unfortunately, that's no longer the case.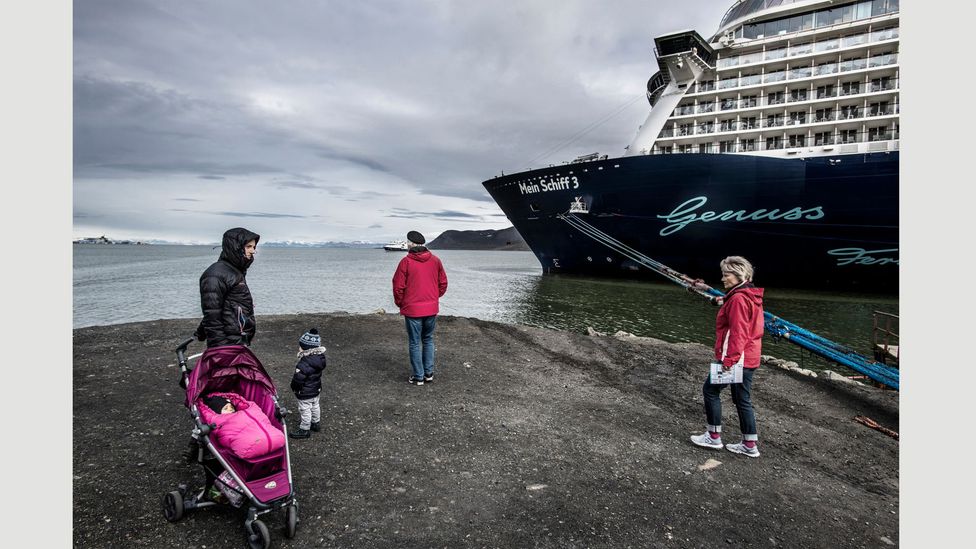 The population of Svalbard more than doubles when a cruise ship disembarks: Longyearbyen, Norway, July 2018 (Credit: Kadir van Lohuizen – NOOR for Fondation Carmignac)
Beyond being home to the Nenets, the Yamal Peninsula is also the future centre of the Sevmorput, the Russian northern sea route expected to allow ships to travel between Europe and Asia in 15 days instead of 30 (when free of ice). Kozyrev travelled on the Monchegorsk, the first container ship to use the northern sea route unassisted; he also photographed the icebreaker Baltika at Gazprom's 'Arctic Gate' terminal in Gulf of Ob, built 700km (430 miles) from the pipeline. According to Kozyrev, Yamal gas and oil is now "shipped by sea for the first time in the history of Russia's energy industry".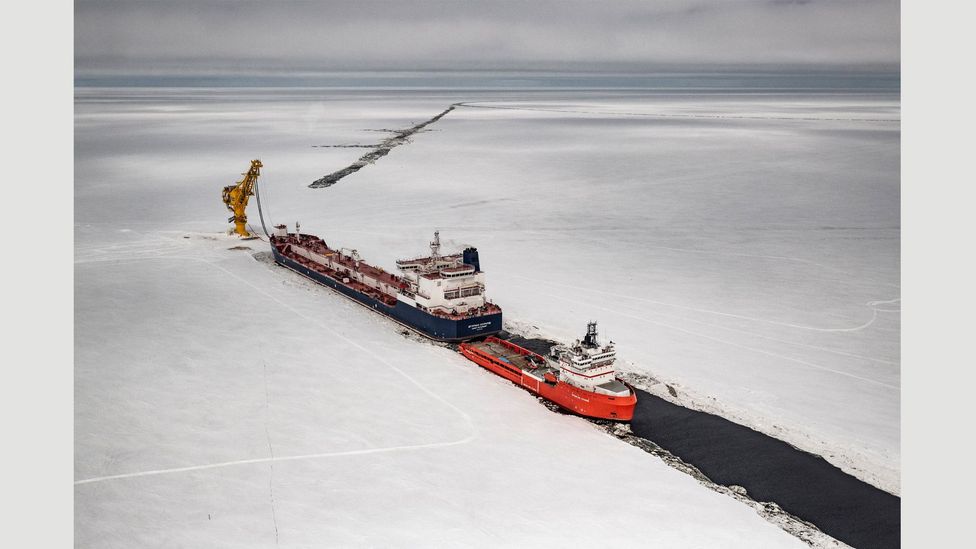 The icebreaker Baltika helps the mooring and loading operations of tankers at Cape Kamenny, Yamal Peninsula, Russia, May 2018 (Credit: Yuri Kozyrev – NOOR for Fondation Carmignac)
The photographer grew up on the Yamal Peninsula. He was surprised by the pace of change when he returned, saying "it's a huge development". The Arctic, he argues, has a special importance for Russia. "It's a huge part of Russian territory – people used to live there, then when the Soviet Union collapsed, it was almost abandoned – a lot of settlements left, people moved to the west. But now people are back, the military are back – they've reopened old ports and built up new ports; they've opened up new facilities." And this isn't a recent phenomenon. "It hasn't just been happening under Putin: it's been for many, many years," says Kozyrev. "The Arctic has been developed by Russians for centuries."
That was something that struck Van Lohuizen when taking photos for the project. "We did this together, it was shot at the same time, and you realise how far ahead, how developed the Russian Arctic is compared to the Western Arctic," he says. "Neither Alaska or Canada have any deep sea ports – the Russians in the Arctic have a number… during Soviet times, the Arctic was their only access to the ocean, so it was developed at an early stage, and now the West is trying to get up to speed."
He believes his images, together with Kozyrev's, could offer a jolt to some viewers. "For many people, it might be a bit of a surprise how quickly the ice is melting and what kind of impact it has on the whole planet. We generally assume this is so far north that if the ice disappears it disappears, and ships can move, so what's the issue? But it's our air conditioning up there, so the impact will be enormous. The heat of the sun is reflected by the ice, but as soon as the ice disappears, it gets absorbed by the ocean and the temperature will hike up."
And climate change is inextricably woven with geopolitics. "When that ice disappears, if you look from the top of the globe you realise how close all those countries actually are," says Van Lohuizen. "It should be a bit worrying, because it's not clear if everyone will behave. It's a real new frontier – the question is, where is the frontier?"
Arctic: New Frontier is at the Saatchi Gallery in London until 5 May 2019.
If you would like to comment on this story or anything else you have seen on BBC Culture, head over to our Facebook page or message us on Twitter.
And if you liked this story, sign up for the weekly bbc.com features newsletter, called "If You Only Read 6 Things This Week". A handpicked selection of stories from BBC Future, Culture, Capital and Travel, delivered to your inbox every Friday.