Phoebe Waller-Bridge's tale of a female agent and her assassin nemesis is back – and its leading ladies' relationship is more complicated than ever, says Caryn James.
H
History is full of women who have killed and spied, so there's no particular novelty in Killing Eve's premise of a female intelligence agent tracking an especially lethal and stylish female assassin. The series' true allure is the deeply complicated love-hate dynamic between those two characters. Their cat-and-mouse game has blithely romped through Europe and Russia and sparkled with droll dialogue. As it returns for season two, it's still a dazzling perfect storm of writing, acting and pacing.  
More like this:
-       Eight TV shows to watch in April
-       The new age of sexually explicit TV
Eve – a smart, brash but underused agent whom Sandra Oh makes completely fresh – has always been driven by the thrill of discovery. She added vengeance as a motive after the glamorous, elusive Villanelle murdered her best friend. Her obsession is accompanied by a sexual frisson which other people spotted and Eve, until last season's finale, chose not to acknowledge.
Jodie Comer makes amazing chameleon-like changes as Villanelle. Whatever her disguise or psychological game, though, Comer reveals the thrill Villanelle experiences whenever she murders another victim. In season one, she had chances to kill Eve, but didn't. As their mutual fascination grew, each woman acted in ways contrary to her usual personality, for reasons they themselves have yet to fathom.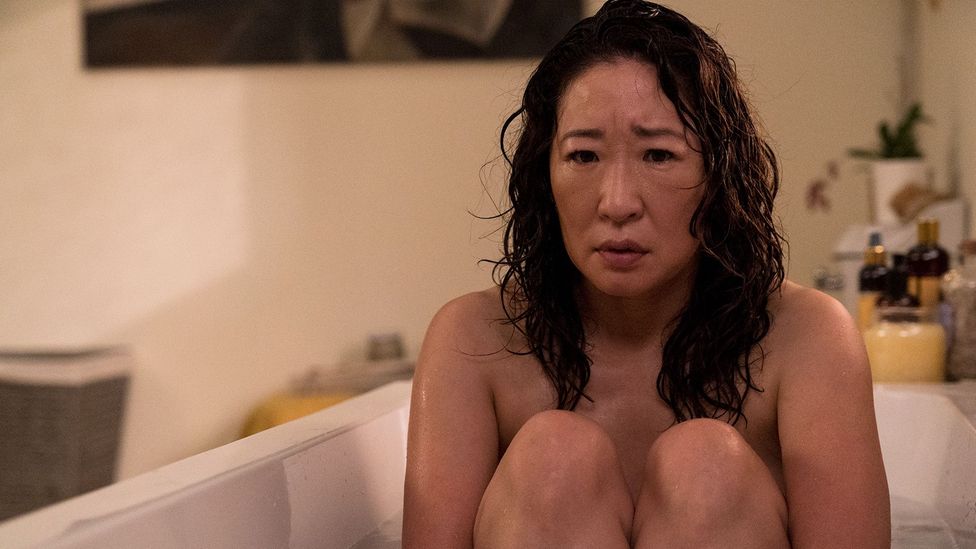 The first series raised a question that came to a dynamic, if unresolved, head in the final episode: is the sexual attraction on each side genuine, a ploy, or both? Eve broke into Villanelle's Paris apartment, and while the women lay seductively next to each other on the bed, suddenly stabbed her nemesis. Eve, who still has a conscience, was horrified at her own violence. Injured, Villanelle escaped. And the new season picks up 30 seconds later.
Eve returns to London, tortured by the uncertainty about whether she has become a murderer or not. That would be a true identity swap. Villanelle, pursued by Russians who want to kill her, heads toward London to find Eve. First, she bolts from a hospital in borrowed clothing: superhero pyjamas with Pow! Crash! and Blam! written on them. A running joke this season is that Villanelle, who adores luxurious clothes, is forced to look frumpy. She actually winces as she puts her foot in an aesthetically offensive pair of white bedazzled clogs she pilfers in the hospital.  
Not since the Dowager Countess on Downton Abbey has there been so deliciously imperious a reply
Phoebe Waller-Bridge, who created the show (based on novels by Luke Jennings) has moved on, replaced as lead writer by Emerald Fennell, but she matches the piercing sharpness of the first season. Fennell, who wrote the first two episodes and several more, is likely to be the next big thing. In her acting career, she's played Patsy in Call the Midwife and will be Camilla Parker-Bowles in the next two seasons of The Crown.
The supporting actors are expert at grabbing attention. As Eve's reassuring husband, Niko, Owen McDonnell is never dull (the giant moustache helps) but he lets us see how deeply boring marriage to his character might be. It would be great to have the backstory about that marriage one of these days. How did those two ever get together?
Fiona Shaw is peerless as Eve's boss, the enigmatic Carolyn. This season she recruits Eve back to the intelligence service, this time to MI5 instead of MI6, to investigate the death of a tech tycoon whose demise may or may not be linked to Villanelle. In the autopsy room where she views his body, Eve resists and says she just wants to go home. "Home?!" Carolyn replies in her most clipped manner. "Is that what you really want to do? What do people do at home?" Not since the Dowager Countess on Downton Abbey asked "What is a weekend?" has there been so deliciously imperious a reply.
Carolyn also warns Eve about Villanelle: "If she's alive, you need to find her before she finds you." Mutual fascination was just the start. They now have many motives for finding and – if they can bear to do it – killing each other.
If you would like to comment on this story or anything else you have seen on BBC Culture, head over to our Facebook page or message us on Twitter.
And if you liked this story, sign up for the weekly bbc.com features newsletter, called "If You Only Read 6 Things This Week". A handpicked selection of stories from BBC Future, Earth, Culture, Capital and Travel, delivered to your inbox every Friday.