In the early 1980s one West German music fan had a bright idea – do the laundry for road-weary rock stars. The Rock 'n' Roll Laundry was born.
A
Adapted from Outlook, on the BBC World Service. Hans-Jürgen Topf, founder and inventor of the Rock 'n' Roll Laundry, tells the story of how he became the go-to person for rock stars' dirty clothing.
"My parents ran a laundry in my hometown in Ludwigshafen, in south-eastern Germany. They are not originally from Ludwigshafen, they are political refugees from the former GDR [East Germany], and they left around 1952, as far as I know, and escaped through the [Berlin] Wall to West Germany. They had to find new jobs, and in the neighbourhood was a little laundry. My mother helped there, and half a year later the owner asked my mother if she wanted to run the business by herself. This was around 1956, the time when I was born.
My laundry career wasn't a career, it was more of an escape. I wasn't the best pupil at school, so I helped my parents, just to find a job. I filled washing machines. I cleaned the floors. I filled the washing machines with oil.
I did this for several years until that special day. The day I met the tour bus of Ted Nugent.
I was delivering laundry for my parents. I was standing by a red street light, and nearby a bus stopped. I recognised it as a tour bus. I knew it must have been Ted Nugent's tour bus, as I had a programme with all the concerts and shows in our area. I was a really interested concert goer – I was around 26 years old. I recognized that he was going the wrong way. So I stopped my car, got out, knocked on the window and said: 'Are you looking for the concert venue? Come on, I'll show you the way."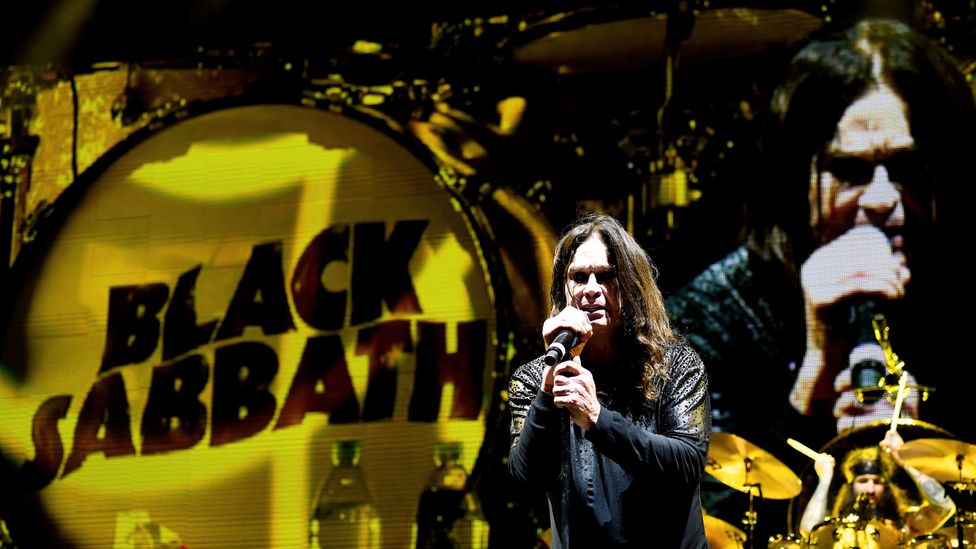 Imagine being lucky enough to clean Black Sabbath's laundry on tour (Credit: Getty Images)
When we reached the venue, I asked the driver for free tickets. You know, a gentlemen's agreement – I help you, you help me. And I got two backstage passes. It wasn't my plan to do the laundry of the people on the bus. It was just a thank you to the production manager who gave me the backstage passes. He trusted me, gave me a bag of laundry. I cleaned the laundry, went back to the venue two hours later and he got everything clean. I did a great laundry job, the guy told me that. He also told me to offer it to other bands and told me that the laundry needed a name that everyone remembers. 'You know what? Call it the Rock 'n' Roll Laundry,' he said. 
In Germany, we had the Neue Deutsche Welle, a 4,000-person venue. Everyone stopped in my home town. I met Black Sabbath on stage… Iron Maiden… Chris De Burgh… The Who… I was standing at the backstage door like a laundry groupie, asking for dirty clothes, and washing them in return for free tickets.
After half a year, Motorhead's production manager called me from Japan and asked me whether I'd be in Ludwigshafen that following Wednesday, as they would have a lot of laundry. They arrived on the Wednesday, and the laundry load was huge. I had a Volkswagen Passat station wagon at the time, and I had to fill it twice. It was so large I couldn't do it in exchange for tickets, so we agreed on a fixed price. After that, everybody paid.
I was standing at the backstage door like a laundry groupie, asking for dirty clothes, and washing them in return for free tickets.
Our concert venue was falling out of favour with the big promoters. The band's productions needed a bigger venue. I decided that if the bands wouldn't come to me, then I would go to the bands. So, I put wheels under my washers and dryers, put cases around them, and travelled to the bands. The first band I toured with was the Bee Gees.
The average tour day looks like this: you start early in the morning, around 7am, having breakfast, and setting up the washers and the ironing board, because you know you'll need it later. Then it's washing, washing, washing, washing, washing, drying, ironing, folding. You do this until eight, nine, 10, 11, 12, it depends on the size of the production and the load you have to take care of.
At the time, I was excited seeing concerts of bands I was working for, like Joe Cocker and so on. But after the tenth Joe Cocker show, you know every song and instead you think about sleeping because you have a long drive tomorrow to the next city. The problem was that I didn't have much money to pay for hotels. Usually the washers were in the back of the van, and there was 40-50cm (16 to 20in) spare room between the top of the case and the roof of the car. So I put a rubber mat and a sleeping bag on top of the cases, and slept on top of the machines. It was very hard turning around during sleep without your shoulder hitting the roof –this was not so funny.
The most difficult costume was David Hasslehoff's golden trousers. 
In the beginning, it was so crazy. No venue was prepared for a running laundry operating within their walls. I was washing in parking lots. All the venues were quite upset, saying: "Oh, that guy with the washers has come back, where do we put them today?" But now after decades of washing on the street, every venue has the facilities to set up a mobile laundry.
The most difficult costume was David Hasslehoff's golden trousers. I shrank them three times within a week. He could have used them as Bermuda shorts, but his wardrobe girl was very experienced, and bought golden fabric and made him two new pairs of golden trousers… at the original length.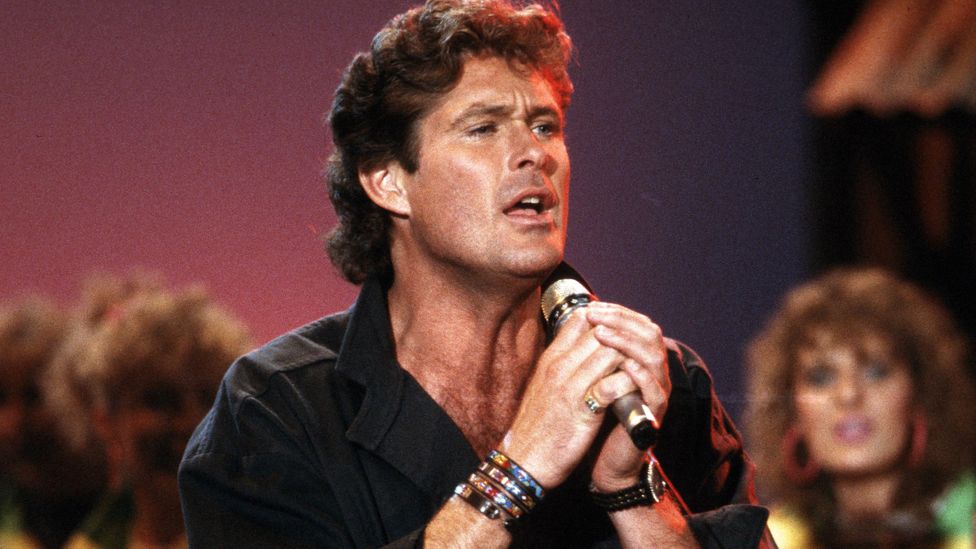 David Hasselhoff performing in Germany, perhaps with his infamous golden trousers (Credit: Getty Images)
If I'm lucky, I'll find pencils, screws or lipstick before I put the jeans in the washer. If I find them when I take the clothes out of the washer, then it's really sad. The craziest things I've found are things like dope, or unknown powders. You know if something like this ends up in the dryer, because the whole laundry room smells like an Amsterdam coffee shop.
I have a lot of framed memorabilia. Harry Belafonte was playing a show in Mannheim, a neighbouring town, and I had to do his laundry. His wife gave me a special blouse, and said to be careful as it was very expensive. When I delivered the laundry, everything was perfect, even the blouse. And so I asked Mr Belafonte if he could write something nice on a piece of paper for the good service. He said of course, and that I did a great job, and he wrote: "Thank you for taking the rocks out of my pants." I still don't know what he meant, and we laughed about it. I still have it, I think I should frame this letter."
For more true life stories from around the world, visit Outlook on the BBC World Service
If you liked this story, sign up for the weekly bbc.com features newsletter, called "If You Only Read 6 Things This Week". A handpicked selection of stories from BBC Music, Culture, Capital, Future and Travel, delivered to your inbox every Friday.