Hollywood has a long and shameful history of demeaning and mocking larger bodies. But does a new US TV comedy-drama suggest the stirrings of a revolution, asks Jane Mulkerrins
I
It's rare that a single TV moment can feel revolutionary. But a scene in new US comedy-drama Shrill has been making grown women (and likely some men, too) weep with its joyful progressiveness. It comes when the show's plus-size protagonist, Annie, played by Saturday Night Live's Aidy Bryant, attends a 'Fat Babe Pool Party', along with her best friend Fran (Lolly Adefope).
Annie is the lone fully-clothed attendee – every other woman around her, every one of them voluptuous, is decked out in a colourful bikini or a stylish swimsuit, the scene a riot of ample bosoms, bottoms and thighs. Eventually, Annie throws off her caution and hits the dancefloor – before stripping down and leaping into the pool with a new-found level of self-acceptance.
More like this
-       What will be the next Game of Thrones?
-       Eight TV shows to watch in April
-       The new age of sexually explicit TV
"Seeing so many women, with body types that are often categorized as 'undesirable', working their stuff and looking beautiful was incredible," says Loey Lane, a body positivity influencer with over two million followers on social media. "I've been to those pool parties in real life, but I'd never seen them on screen."
It feels like a cultural moment. We have seen women with larger bodies on TV before, but they are almost always relegated to the sidekick
And it's not just that scene that's had US audiences talking. With its complex, funny plus-sized heroine, the whole six-part series, based on journalist Lindy West's memoir of the same name, has been heralded as a rebuff to the entertainment industry's long-standing history of demeaning and mocking anyone who isn't stick-thin."'It feels like a cultural moment," says Harriet Brown, author of Body of Truth: How Science, History, and Culture Drive Our Obsession with Weight – and What We Can Do About It. "We have seen women with larger bodies on TV before, but they are almost always relegated to the sidekick, or the source of comedy, or they are used as a foil to other characters. Or, if they do have a leading role, the size of their body, and grappling with it, is their entire story arc."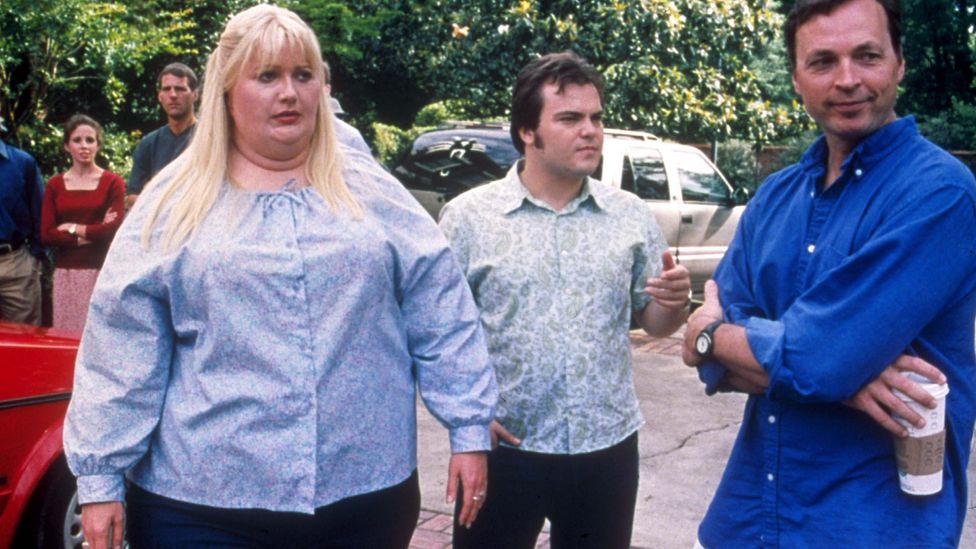 Gwyneth Paltrow in Shallow Hal – one of the many times that Hollywood actors have donned 'fat suits' for supposedly comic effect (Credit: Alamy)
At the most offensive end of the spectrum has been the long-standing use of 'fat suits' – a device which has served not only to mock fat people, but enable the casting of thin actors who can then transform into their typical Hollywood-beautiful selves. Friends, notoriously, had Courtney Cox's "Fat Monica", while  Gwyneth Paltrow donned one for the 2001 film Shallow Hal, dubbed 'the most fat-phobic film of all time,' by website Revelist, with her character's 'inner beauty' - in the form of a skinny, suit-less Paltrow –  shining through once she was hypnotised. And they're still being used: the Netflix teen drama Insatiable put young actress Debby Ryan into one just last year, to play Patty, an overweight high school student who, thanks to an injury and three months on a liquid diet, loses 70lb (31kg) and is instantly deemed incredibly attractive.
Patronising plotlines

Recently, there have been a few more non stick-thin female stars on screen – but the treatment of them has been questionable. Take Australian star Rebel Wilson, who was permanently cast as the funny sidekick until her latest film, Isn't It Romantic – which tells the story of a woman who bumps her head and finds her life has turned into a romantic comedy, and patronisingly plays her on the idea of her as an unlikely rom-com lead. It's a not dissimilar concept to I Feel Pretty, which starred Amy Schumer as a woman with low self-esteem who falls off a spin bike and comes to believe herself to be the most beautiful woman in the world. The obvious assertion is: how could curvy Schumer ever be considered beautiful?
Larger leading ladies are still frequently saddled with storylines focused on their weight
And as Brown points out, larger leading ladies are still frequently saddled with storylines focused on their weight. Examples include Melissa McCarthy's role in long-running sitcom Mike & Molly – about a couple who meet at Overeaters Anonymous – and Chrissy Metz's character Kate in the soapy hit This Is Us, who continually and miserably struggles to diet.
In contrast, Shrill's Annie is given storylines – career frustrations, an abortion, one-night stands – that are entirely unrelated to her weight, body or self-image. "Her boss is a douchebag and the guy that she was sleeping with with was not very nice to her, but not because she's a bigger girl," says Lane. "They are universal experiences, and that feels very refreshing."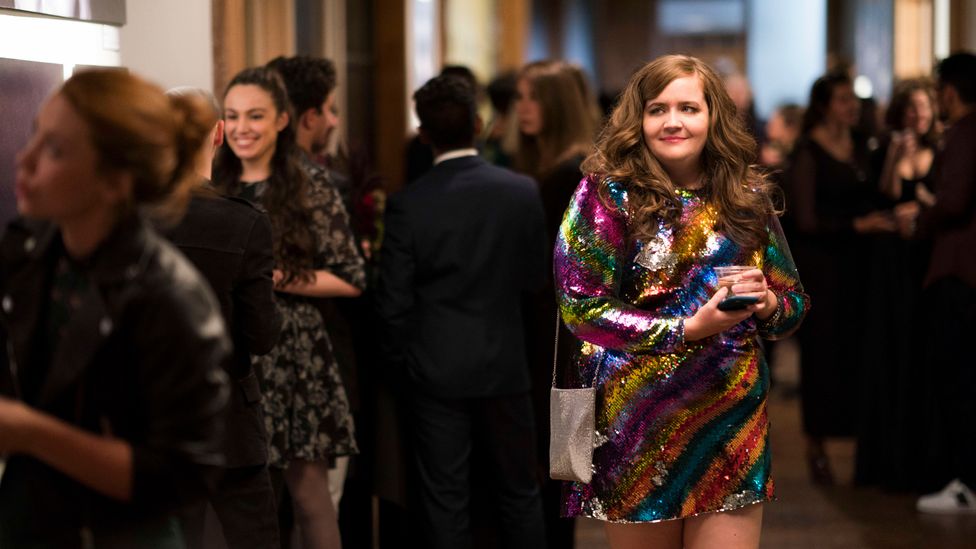 Annie, the plus-size heroine of Shrill, has been given a fashion-forward wardrobe which is radical in its stylishness (Credit: Hulu)
Which is not to say that Annie doesn't face size-related challenges. Her journey from self-consciousness to liberation over an afternoon at the pool is a microcosm of the journey she goes on over the six-episode season, from timidity and self-doubt, to empowerment and self-acceptance. Early episodes starkly portray the extent to which her shape is disapproved of in public – strangers give her backhanded compliments ("You remind me of Rosie O'Donnell"), and a personal trainer in a coffee shop even offers to "help" her free the thin person "trapped" inside her. "That was incredibly relatable for me," says Lane. "I have lost count of the times people have said to me: 'You have such a pretty face', or 'Oh my gosh, you will look so beautiful when you lose X, Y and Z pounds.'"
Almost as radical as Annie's storylines in Shrill is her wardrobe: it features bright, fresh florals, printed dresses, and a sexy sequined party number, all as covetable as that of any female protagonist in a contemporary TV show. However, the show's costume designer, Amanda Needham, has revealed that the majority of the outfits had to be made from scratch because choice in shops is so limited. "Once you get to a certain size, people sort of want you to disappear," she recently told New York magazine.
The last acceptable prejudice
Weight, it seems, is the only stigma still deemed socially acceptable, and overweight people the only marginalized group deserving of public disapprobation. Brown points to a recent study that looked at rates of implicit bias – or prejudice, in simpler terms. "It showed that around issues such as sexual orientation, gender and race, we are seeing levels of implicit bias go down, but we are seeing body-related bias go up," she says.  This certainly seems to hold true in Hollywood. In the last few years, it has made very vocal efforts to be more representative when it comes to gender, ethnicity and sexual orientation on screen; body diversity, however, is still lagging far behind.
We still believe that people who are fat could be thin, if only they worked hard enough
Brown says that psychologists can't accurately extrapolate why body-related bias has risen, but, she says: "one theory is that that while we are becoming more inclusive, as human beings we still need to 'other' a group of some sort. And fatness is an easy target, because, despite mountains of scientific and medical evidence to the contrary, we still believe that people who are fat could be thin, if only they worked hard enough. It is seen as a matter of personal responsibility and willpower."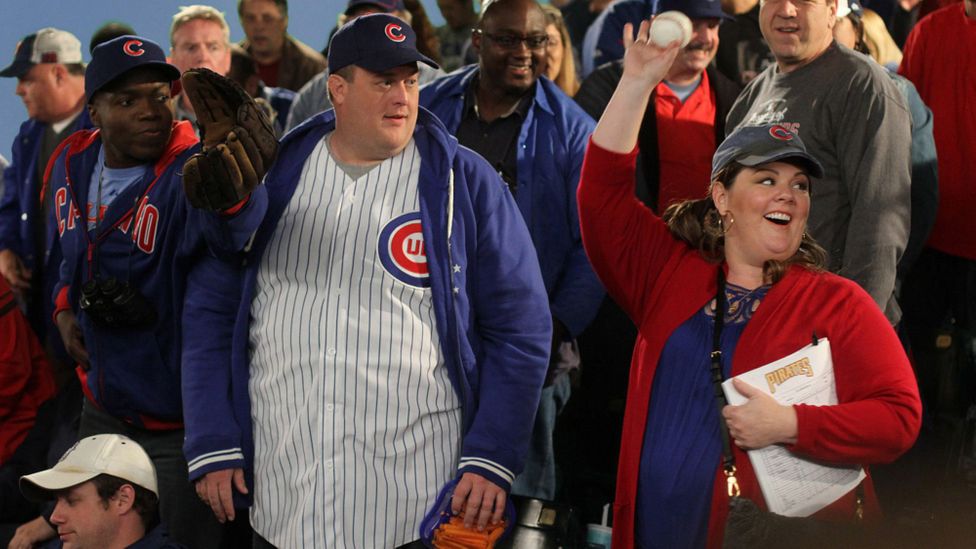 Melissa McCarthy opposite her co-star Billy Gardell in her long-running sitcom Mike and Molly, in which her character was defined by her weight (Credit: Alamy)
And it is women's bodies that have been subject to the most judgement and policing – on screen and off – of course. "Look at the TV show Modern Family as an example," says Taryn Myers, professor of Psychology at Virginia Wesleyan University and an expert on body image.  "It is supposed to be this diverse, representative show. And if you look at the men, they do have diverse bodies, but if you look at the women, they are all this 'thin ideal'." Brown points to the recent notion of the 'Dad-bod' as an example of continuing physical double-standards. "It's something people talk about fondly," she says. Indeed Winston Duke, star of Jordan Peele's Us, recently told me he was encouraged to cultivate a 'Dad-bod' for the film, since he was indeed playing a Dad. It's hard to imagine the film's two female leads, Lupita Nyong'o and Elisabeth Moss being similarly urged to create a plumper physique in order to play a mother.
A diverse future?
In this context, Shrill is rightly being celebrated for its radical representation, though a note of caution should also be sounded – at the moment, it's just one show, and there's still a long way to go before body diversity becomes the norm on screen. "We know that it takes a lot time for real representation to arrive and to change things," says Brown. "We're still working on that with other issues we have been working on for a long time, like race."
Women are standing up and are refusing to be silenced any longer – and that includes about their bodies
But the timing of Shrill is significant. It's arrived in the era of #MeToo, when women are standing up and are refusing to be silenced any longer – and that includes about their bodies, with new activist movements and groups, such as the National Association for Fat Acceptance, and Health at Every Size. 
"Hollywood has been afraid letting the everywoman be seen as beautiful and powerful as she truly is, because they wanted to keep that power for a small, elite group of people who looked unattainable," says Lane. "I love that we are finally breaking out of that mould." 
If you would like to comment on this story or anything else you have seen on BBC Culture, head over to our Facebook page or message us on Twitter.
And if you liked this story, sign up for the weekly bbc.com features newsletter, called "If You Only Read 6 Things This Week". A handpicked selection of stories from BBC Future, Earth, Culture, Capital and Travel, delivered to your inbox every Friday.