The Israeli TV show about an ultra-Orthodox Jewish family may not seem like the usual TV phenomenon, but the unexpected combination is a hit, writes Jennifer Keishin Armstrong.
A
A bar-mitzvah-aged boy rides a bus with his bearded father, both of them in the black, brimmed hats and long, curled payots of traditional ultra-Orthodox Jewish men. The boy, on his way to study the Talmud and Torah at Yeshiva, is taking his first trip out of their insular community and into the city. He's clearly enchanted by the sights, especially women's exposed legs and a breastfeeding mother.
"You know what, Kive, when I was your age, and your grandfather took me to town, he used to do this thing to help me," the father says. "He would remove his glasses and put them on me. That way he couldn't see well and neither could I. Shall we try it?"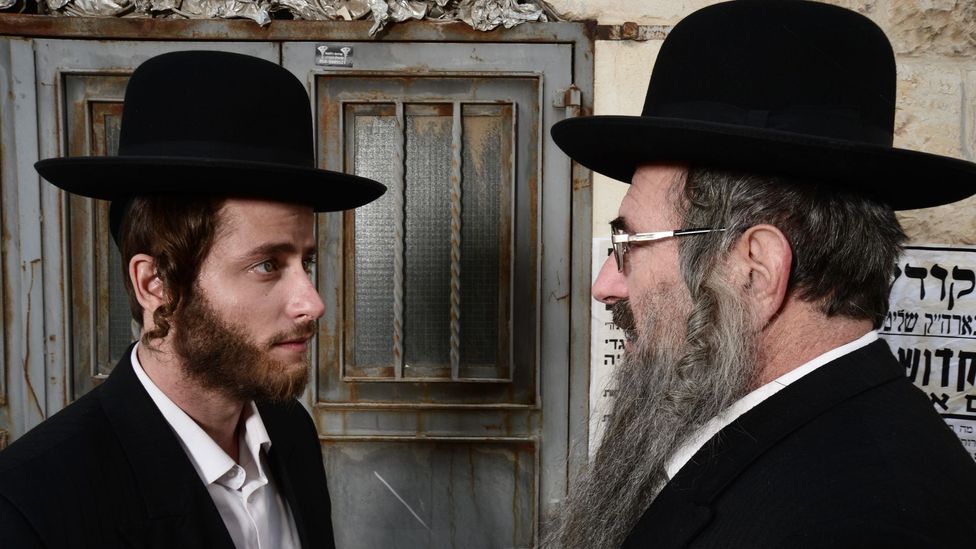 Shtisel follows a Haredi family living in an ultra-Orthodox Jewish neighbourhood (Credit: Ronen Akerman/Yes Studios)
More like this:
- Is Game of Thrones the last great blockbuster TV show?
- The enduring fascination of legendary swords
- 'Sex sells': The new age of explicit TV
The Israeli TV show Shtisel follows the titular Haredi family living in an ultra-Orthodox Jewish neighbourhood of Jerusalem. And it's just as likely to contain scenes like the one above – of the characters struggling with the constraints of that culture – as it is to feature intense flirtations between the family's bachelor son and a twice-widowed older woman, or the struggles that face his sister after her husband unexpectedly abandons her and their five children. It is an unexpected combination: a highbrow soap opera, with touches of humour, about an ultra-Orthodox family in a culture-specific combination of Hebrew and Yiddish. And it's a hit.
It caught on first in its country of origin, where even some ultra-Orthodox Jews, who do not usually watch or own television, have reportedly admitted to streaming it online. The theme song became popular at Haredi weddings. Billboards for it popped up everywhere, Shtisel memes proliferated and lines from the show became catch phrases. From there it gained international attention. In December 2018, it began streaming across the world on Netflix, with subtitles in English and other languages, and was so successful that the creators are now contemplating a third season. Meanwhile, Friends co-creator Marta Kauffman and her daughter Hannah KS Canter are adapting an American version called Emmis for Amazon Studios, with a script recently completed.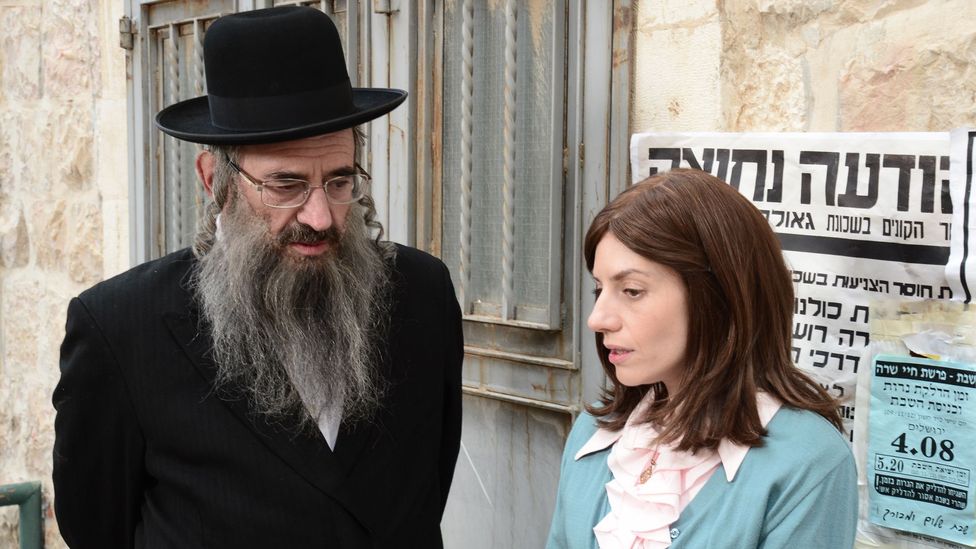 There are quietly boundary-pushing moments, and it's success springs from its universal themes (Credit: Ronen Akerman/Yes Studios)
It has all these little details that feel so right and explain this world that people want to understand better - Jessica Steinberg
Israeli viewers have responded to Shtisel specifically because it's about a small, insular population in their midst which stands out because of their distinctive look and their outsized impact on national politics, says Jessica Steinberg, a culture writer for The Times of Israel. "This is a lens on a community that's very familiar to us, and yet really isn't at all," she says. "I think it's popular because it's about relationships and romance – they do these things a little differently, but they're still likeable and relatable."
And in a country where synagogue and state are not separate, ultra-Orthodox lawmakers are responsible for critical decisions, making them a population of great interest. In fact, Shtisel is part of a wider trend in Israeli TV towards depicting ultra-Orthodox characters. "There can be a lot of resentment against the ultra-Orthodox community, which can be very insular and dismissive of secular Israelis," Steinberg says. "So then all of a sudden you have a prime-time TV show about that community, and it's appealing, and it rings true. It has all these little details that feel so right and explain this world that people want to understand better."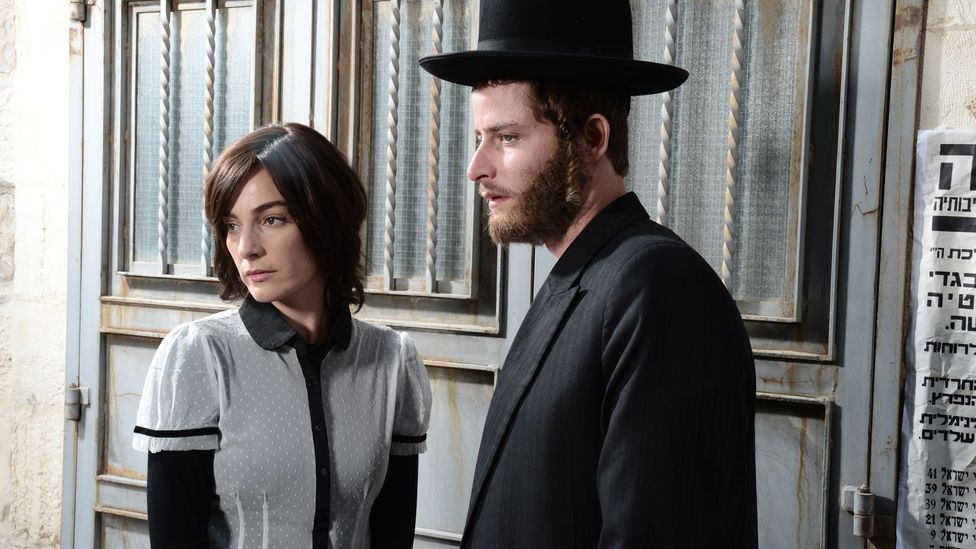 In 2018 Shtisel was picked up by Netflix for global streaming, and was so successful a third season is being contemplated (Credit: Ronen Akerman/Yes Studios)
Its success outside Israel springs at least in part from its universal themes, particularly romantic longing
Shtisel stands out among its ultra-Orthodox TV peers. Like many rising international hits, Shtisel takes its cues from the Sopranos-led golden age of television playbook. It shows great attention to detail, depicting its characters praying over a meal or touching a mezuzah and kissing their hand before passing through a doorway, for instance. Symbolism and flashbacks, like the scene of young Kive riding the bus with his father, play a large role. (Kive – that is, Akiva – is the youngest, now adult, member of the Shtisel family, who's wrestling with his ambivalence toward the community's strict match-making customs.) There are quietly boundary-pushing moments, too: Akiva's sister Giti, recently abandoned by her husband, leaves her youngest children in the care of her teenage daughter, Ruchami, when she has to go to work. After a particularly hard day with the infant child, Ruchami admits to having calmed him by giving him her own breast. Shtisel's combination of such quiet surprises with great storytelling and high production standards helped its first series, which aired in Israel in 2013, to dominate the country's version of the Emmys, winning 11 Israeli Film Academy Awards.
Its success outside of Israel springs at least in part from its universal themes, particularly romantic longing. While romantic-comedy screenwriters struggle to come up with new obstacles for their central couples to face, the Haredi community provides them ready-made, as observed by Allison Kaplan Sommer writing about Shtisel in the Israeli publication Haaretz: "What is interesting about this summer's gentle, sensitive compelling romantic hit series in Israel is that it takes place in a pocket of modern life where the strict rules still prevail: where you can't fall in love and marry just anyone, where seeking real personal fulfilment is still often risky and daring."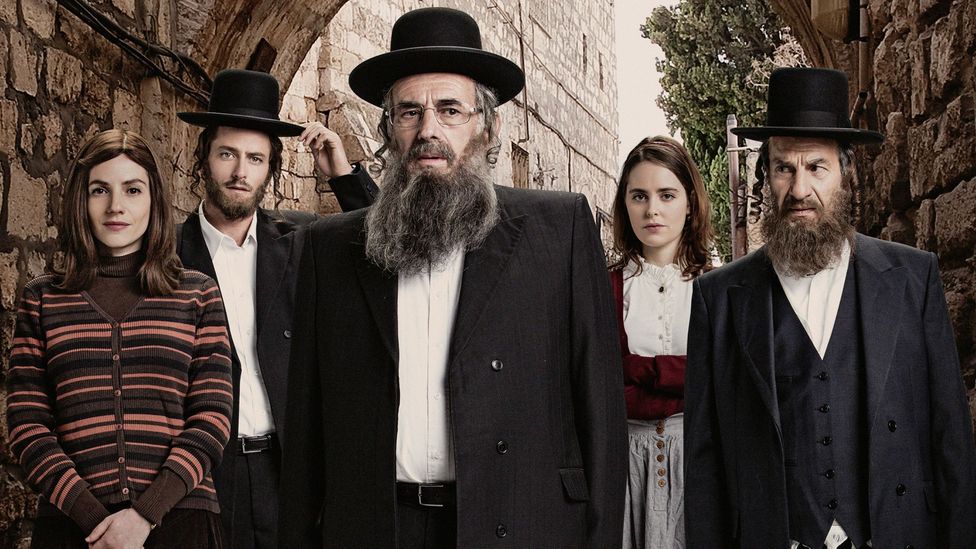 Shtisel shows great attention to detail, taking its cues from the Soprano-led golden age of television playbook (Credit: Ohad Romano/Yes Studios)
Now, Shtiselis only just taking off in other countries. A US-based Facebook discussion group about it called Shtisel – Let's Talk About It has accrued more than 10,000 members since it began in January. Washington Jewish Week declared a stateside "Shtisel-mania" among American Jews in February. "What is certainly true about the show is that its storylines and the actors' performances are so engrossing, it's almost easy to forget about the characters' sidecurls and wigs," Selah Maya Zighelboim wrote. "This is probably because the stories aren't about how the characters struggle with their religion. Instead, they are about love or loss or other universal themes."
The question now is whether the US even needs a Shtisel adaptation like In Treatment and Homeland – both Israeli shows that were successfully made for US audiences before the Netflix era. It may turn out that the original is all we need in the growing new world of international television. And it's certainly enough for now.
If you would like to comment on this story or anything else you have seen on BBC Culture, head over to our Facebook page or message us on Twitter.
And if you liked this story, sign up for the weekly bbc.com features newsletter, called "If You Only Read 6 Things This Week". A handpicked selection of stories from BBC Future, Earth, Culture, Capital and Travel, delivered to your inbox every Friday.