As celebrities at the Met Gala capture its extravagant spirit, and the museum celebrates all things camp in fashion, Joobin Bekhrad goes in search of a definition.
W
When asked to describe what, exactly, 'camp' means, designer Dame Zandra Rhodes finds herself at a loss for words. "I think it's an extremely difficult subject," she says with a laugh. "It's a minefield." Rhodes is not alone. Since it entered the English language in the late 19th Century, the term has been subject to various interpretations, and there still doesn't seem be a consensus.
More like this:
- Is men's make-up going mainstream?
- Is it the end for the men's suit?
- The dress that made the world gasp
Susan Sontag's 1964 essay Notes on Camp is the inspiration for the 2019 Metropolitan Museum of Art gala and accompanying exhibition. In it, the late writer and filmmaker wrote: "To snare a sensibility in words… one must be tentative and nimble." Yet, in reading Sontag's essay, it seems that even she was at times eluded by the deceptive simplicity of the term.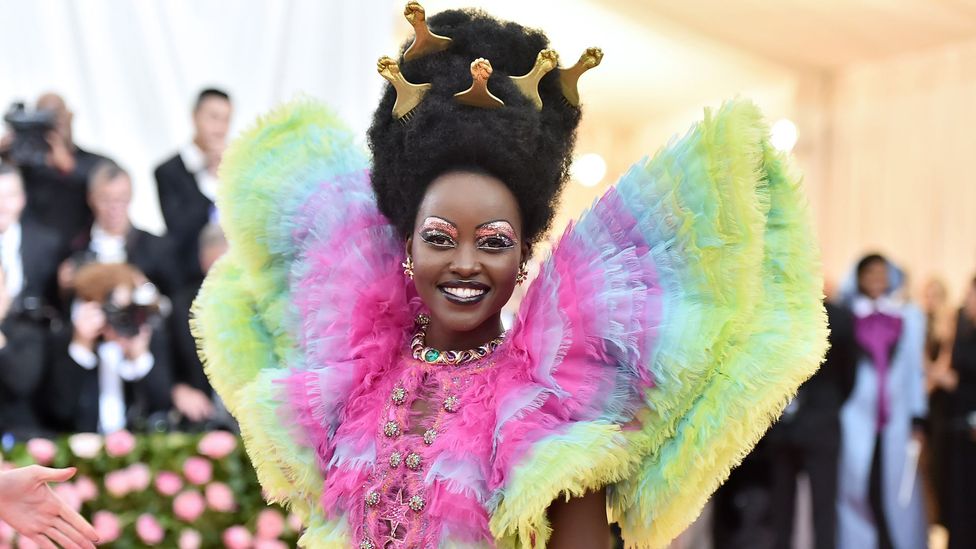 Lupita Nyong'o embraces a camp sensibility in her flamboyant costume for the Met Gala (Credit: Getty Images)
The first English definition of the term, which appeared in a 1909 edition of the Oxford English Dictionary, conformed to popular, contemporary notions of camp: "ostentatious, exaggerated, affected, theatrical; effeminate or homosexual; pertaining to, characteristic of, homosexuals…" If not synonymous with stereotypical male homosexuality, it was, as per one of the OED definitions, strongly associated with it. "Camp to me usually meant, you know, someone gay with a bent wrist," says Rhodes. "Ladies would have said that about Oscar Wilde [to whom Sontag dedicated her essay] at one time."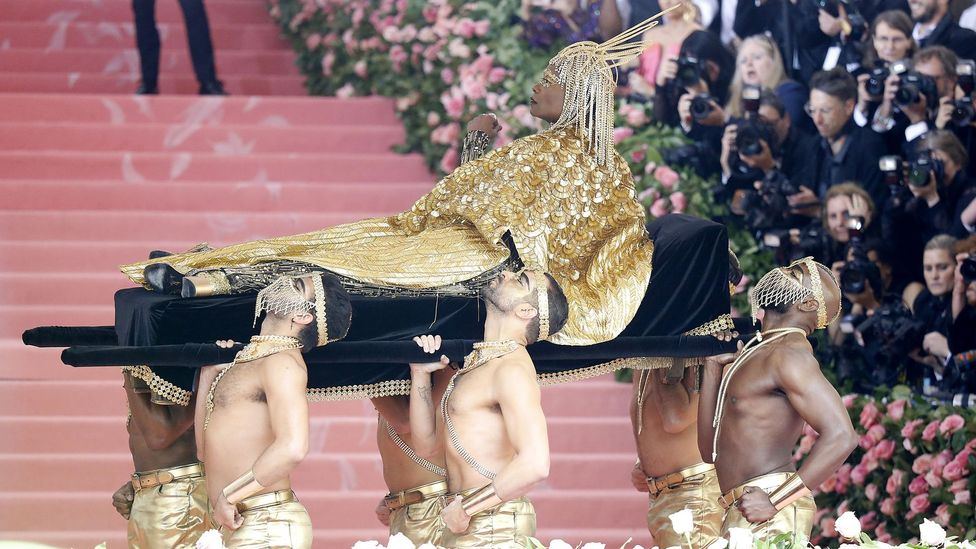 Billy Porter makes an extravagant entrance at the Met Gala, encapsulating the spirit of camp (Credit: Getty Images)
Likewise, Fabio Cleto, a co-author of the exhibition's accompanying book, says that, "fully articulated camp emerged in the late 19th Century, and in the queer-star image of Oscar Wilde. It was Wilde's stigmatised body," he tells BBC Designed, "whose trials for 'gross indecency' in 1895 typified the 'homosexual', which provided a grammar of camp as a twisted form of aestheticism that largely (if indirectly) meant sexual deviance."
Camp which knows itself to be Camp ('camping') is usually less satisfying – Susan Sontag
Yet camp, to Sontag, transcended homosexual mannerisms. "The hallmark of Camp is the spirit of extravagance," she wrote in her seminal essay, which presented 58 aspects of the "sensibility.". Among other things, Sontag described camp as being playful and "anti-serious", as well as exaggerated and artificial. "Camp," went her analogy, "is a woman walking around in a dress made of three million feathers."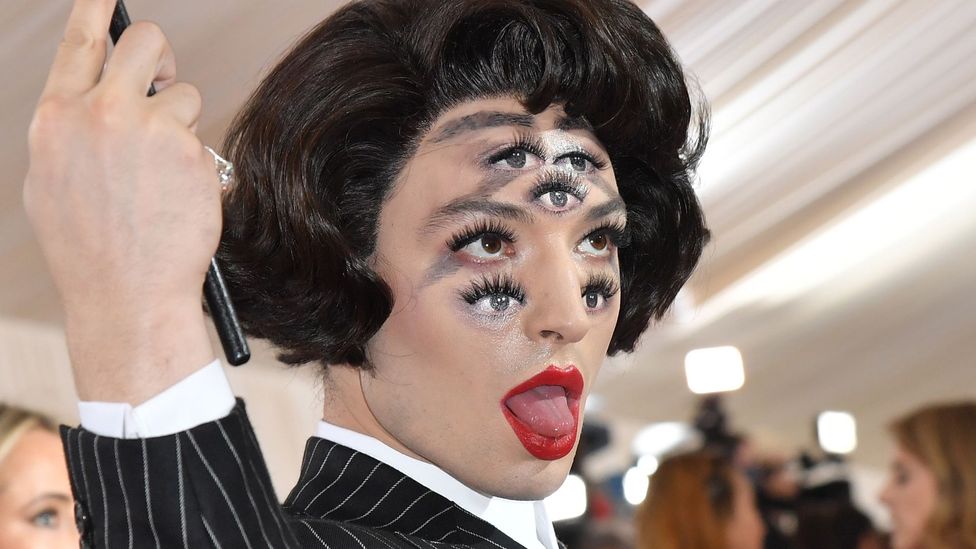 Artifice is central to camp, as seen at the Met Gala in Ezra Miller's striking look (Credit: Getty Images)
At the same time, however, Sontag differentiated between "naïve" and "deliberate" camp. Unlike David Bowie in quasi-drag singing a jaunty number like Fill Your Heart, for instance, "the Art Nouveau craftsman," wrote Sontag, "who makes a lamp with a snake coiled around it is not kidding … He is saying, in all earnestness: Voilà! The Orient!" Similarly, it has been said that, while Jacqueline Susann's 1966 novel Valley of the Dolls was intended to be camp, the film that followed wasn't, but was camp nonetheless. Sontag favoured the naïve – "Pure Camp" – over the deliberate: "Camp which knows itself to be Camp ('camping') is usually less satisfying."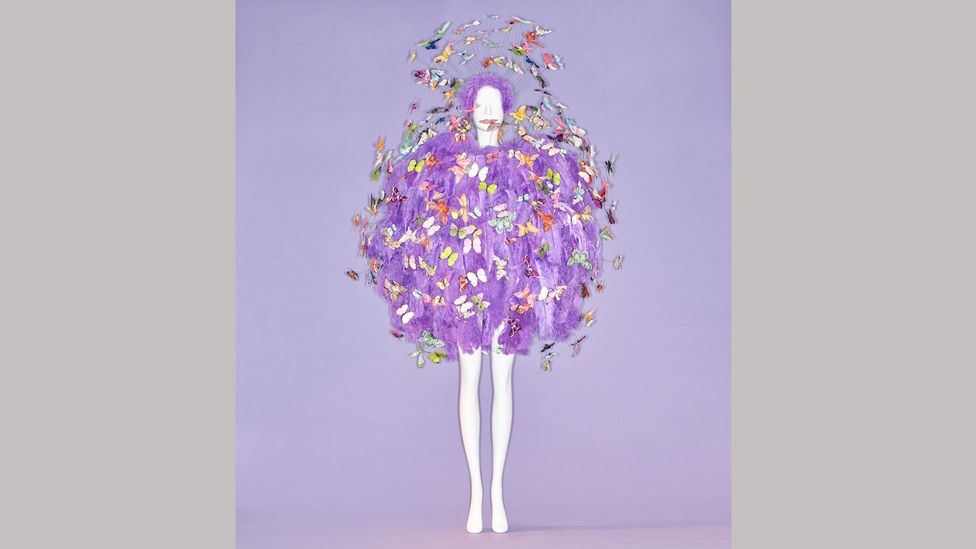 Among the exhibits at the Met exhibition is an ensemble by Jeremy Scott for Moschino (Credit: Metropolitan Museum of Art/ Johnny Dufort)
The scope of camp has since expanded. "Today, camp is omnipresent," Cleto tells BBC Designed. "It is so everywhere that one may no longer notice it as exceptional." Camp has become inclusive of other genders and sexual orientations, for instance 'dyke camp', and acts, says Cleto, "as a subversion strategy for many marginalised identities." It also, as in the case of Sontag's Art Nouveau example, sometimes finds itself stripped of any sexual connotations whatsoever. "The word has changed its focus," says Rhodes, who also believes that the Met exhibition, in which one of her designs is being featured, "[isn't] meant to add to homosexuality at all".
It has been suggested that the word 'camp' derives from 'se camper', meaning 'to posture boldly'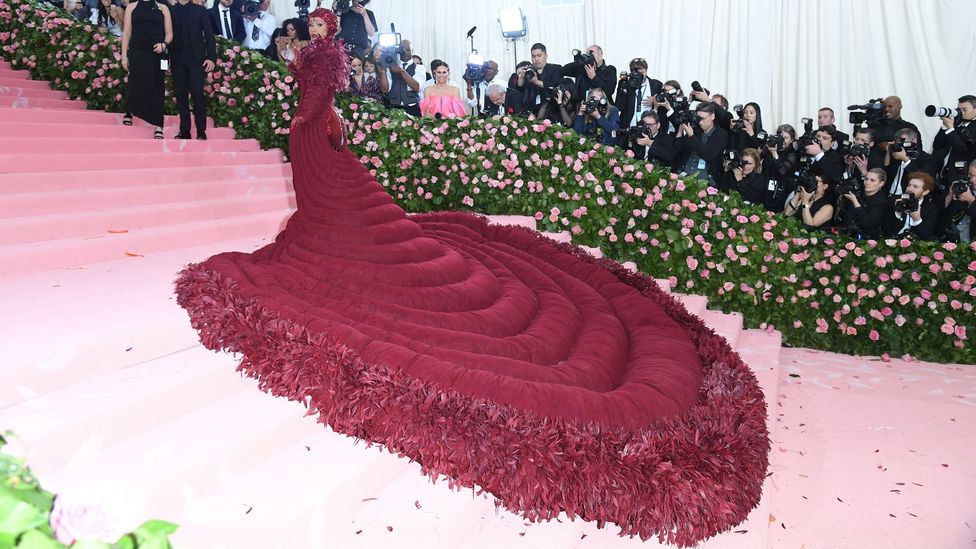 Cardi B's long-trained outfit for the Met Gala embodies camp flamboyance (Credit: Getty Images)
So what does 'camp' mean where Notes on Fashion is concerned? According to Rhodes, "it really means something that's over the top in its concept, that wouldn't go unnoticed and [that has] a sense of humour about it; but it's not mainstream, and it's joyous and out of the ordinary …" And certainly the exhibition's chief focus is on deliberate camp. As Thierry Mugler – whose work is also in the exhibition – tells BBC Designed, camp is "freedom and fun mental health". Or, as Cleto puts it: "It may be roughly described as a form both of performance and of perception celebrating theatricality and excess, improvising reality as a stage for outrageously ironic self-display and reinvention."
Strike a pose
Using the courts of 17th-Century France as a starting point (it has been suggested that the word 'camp' derives from se camper, meaning 'to posture boldly'), the Met's Camp: Notes on Fashion explores the trajectory of camp from the fringe towards popular culture in around 200 objects – outfits, sculptures, paintings, and drawings. Being displayed at the Anna Wintour Costume Center, and linked with the glamorous Met Gala, however, the exhibition naturally emphasises fashion. Alongside an ornate, shimmering outfit with seashell epaulettes designed by Rhodes – "you can say it's over the top", she says, "you can say it's got a certain sense of humour" – are ones by designers including Mugler, Christian Lacroix, Giorgio Armani, Miuccia Prada, and Anna Sui.
A swan-shaped dress by Marjan Pejoski was worn by the singer Björk on the Oscars red carpet (Credit: Metropolitan Museum of Art/ Johnny Dufort)
Many of the outfits seem like things one would see at a plush costume party or ball, with no particular sexual connotations. In a design from Marjan Pejoski's autumn/winter 2000 collection famously worn by Björk on the Oscars red carpet, for instance, a swan takes on the form of a dress, and rests its lifelike head on its mannequin's breast. An all-pink suit made by Bertrand Guyon for Schiaparelli's autumn/winter 2017 men's collection features flamingoes printed on its blazer and an accompanying outré avian headpiece.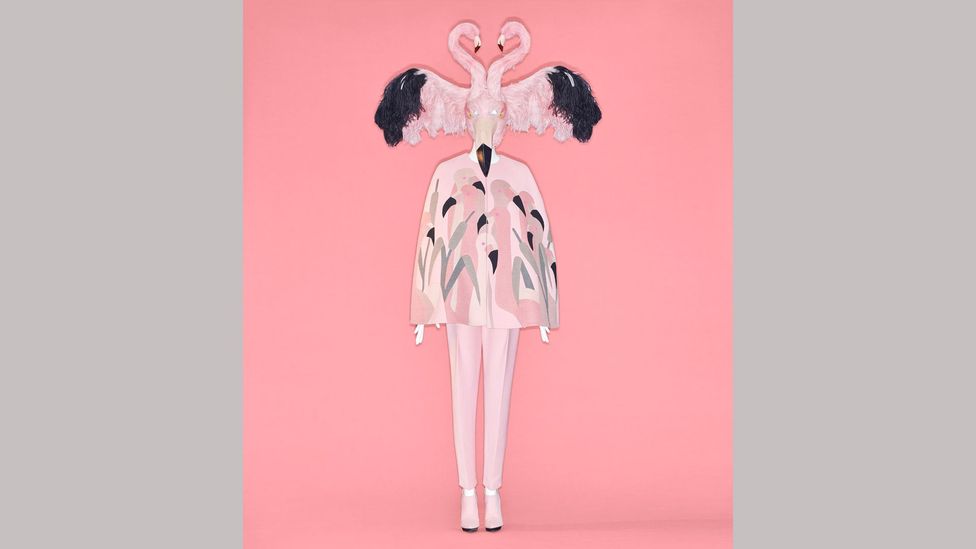 A pink suit by Bertrand Guyon for Schiaparelli autumn/winter 2017 features flamingoes (Credit: Metropolitan Museum of Art/ Johnny Dufort)
That said, camp here still retains its initial, longstanding affiliation with male homosexuality. Walter van Beirendonck's spring/summer 2009 male bodysuit, complete with muscle details and the outline of a sizeable phallus, is a case in point, as is Jeremy Scott's spring/summer 2012 ensemble of a fringed waistcoat, chaps and leather underpants – all in lurid pink and green with black detailing – that brings to mind the Village People cowboy and the homoerotic work of Finnish artist Tom of Finland.
It seems the definitions provided by the OED more than a century ago, with their homosexual associations, still hold to a large degree. Sontag, who emphasised the theatrical, flamboyant aspect of camp above all else, has, says Cleto "been accused of de-gayifying camp, of betraying its gay secret by divulging it [to] the educated classes." Yet even Sontag admitted that "[male] homosexuals, by and large, constitute the vanguard – and the most articulate audience of – Camp".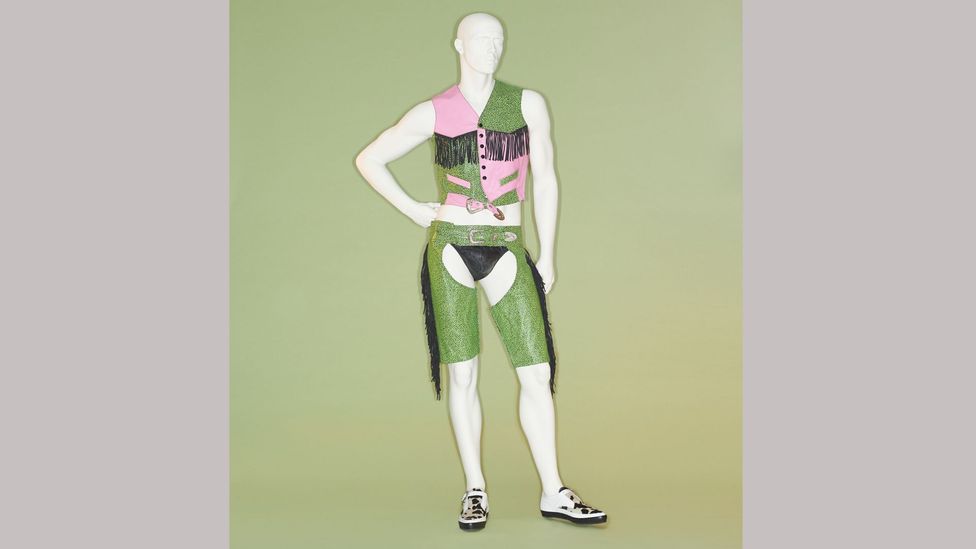 A lurid pink-and-green waistcoat, chaps and underpants by Jeremy Scott are among the Met exhibits (Credit: Metropolitan Museum of Art/ Johnny Dufort)
"Queer parody" is how academic Moe Meyer, who too has written extensively on camp, refers to it. While Rhodes says the word conjures an image of "someone who plays extreme versions of women with a cigarette holder", adding that such parodying is not derogatory or intended to insult, but rather all in good fun. Alan Edwards, the former UK publicist of David Bowie – whose early career has often been associated with camp – says that, prior to hearing about the Met show, the term recalled for him "the British films of the 1950s, especially all those Carry On films and [ones] where TV comedians went back to traditional 'music hall', where there were a lot of men dressing up as women."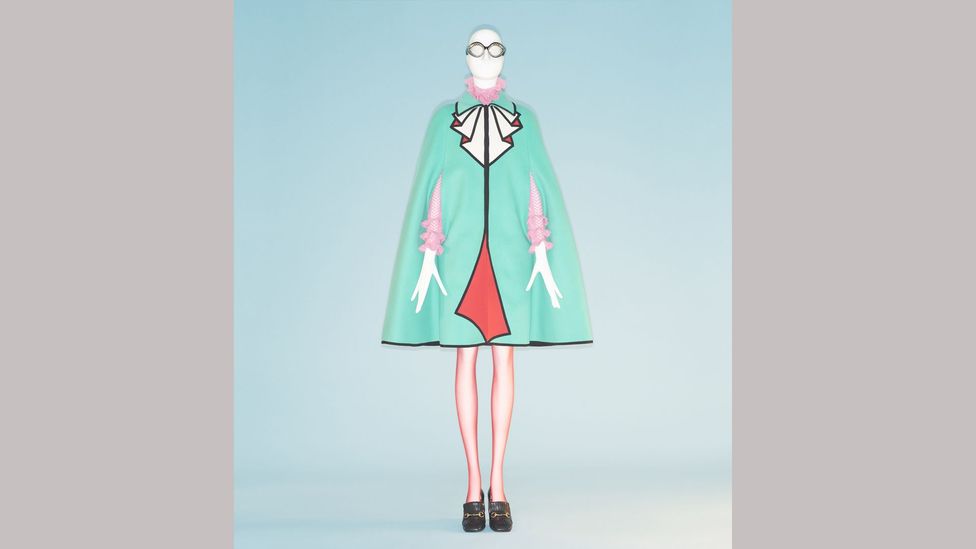 Ensemble by Alessandro Michele for Gucci – artifice and exaggeration are at the heart of camp (Credit: Metropolitan Museum of Art/ Johnny Dufort)
How, then is camp ultimately to be regarded? Though Rhodes takes a stab at putting the term into words and understanding what it implies in the exhibition, it confounds her. "I'm not clear on what they mean!" she exclaims, after a palpable pause. "Does it just mean exotic fashion?" Unfortunately, as Cleto explains, there's no straightforward answer: "Being elusive, unstable, and elitist, camp cannot be framed into a sentence or into a definition."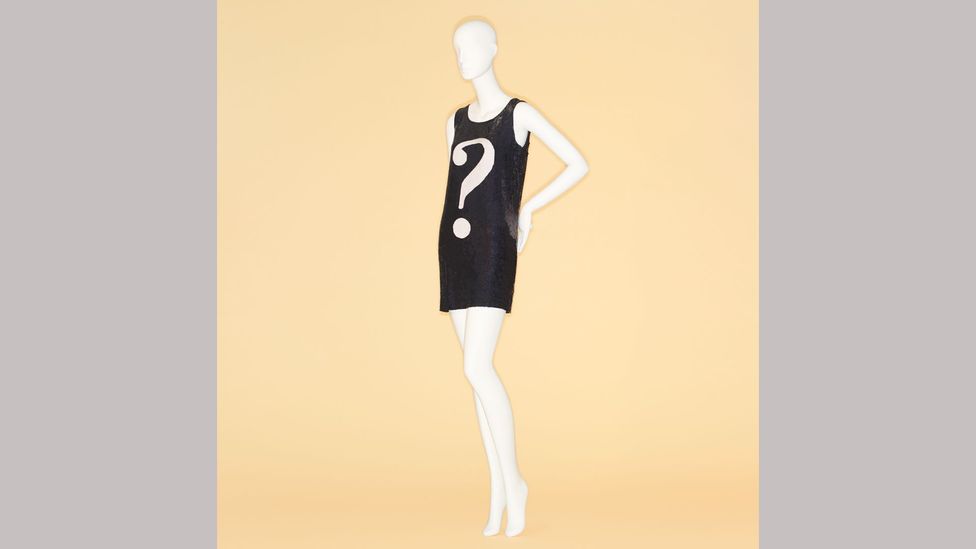 A dress by Rossella Jardini from the Moschino spring/summer 1998 collection (Credit: Metropolitan Museum of Art/ Johnny Dufort)

And, while many of the designers taking part in the exhibition might share Rhodes' view that camp as the theme of an exhibition is but a "thin thread", its abstruseness, from a curatorial standpoint, can actually be seen as a strength; for if few can agree on what camp is, few can also agree on what it isn't. In this respect, Rossella Jardini's black dress for Moschino spring/summer 1998, emblazoned with a giant white question mark, is rather telling.

Camp: Notes on Fashion is at the Metropolitan Museum, New York, from 8 May to 8 September 2019.

If you would like to comment on this story or anything else you have seen on BBC Culture, head over to our Facebook page or message us on Twitter.

And if you liked this story, sign up for the weekly bbc.com features newsletter, called "If You Only Read 6 Things This Week". A handpicked selection of stories from BBC Future, Culture, Capital and Travel, delivered to your inbox every Friday.

;