As clumpy trainers increasingly take over, sky-high stilettos have become divisive. For some they mean oppression, for others they mean sex, empowerment and fluidity. By Libby Banks.
I
In January 2014 the late Karl Lagerfeld held a Chanel haute couture show set in the fictional 'Cambon Club'. Led by Cara Delevingne, models wafted down the grand sweeping staircase to the sounds of a string orchestra, each wearing bejewelled gossamer, tweed or organza creations. So far, so haute couture. The big difference? Each model's outfit was completed with some bespoke sneakers, each pair costing an estimated 3,000 Euros and taking 30 hours to make. But while the choice of footwear may have raised eyebrows, it also represented a radical step.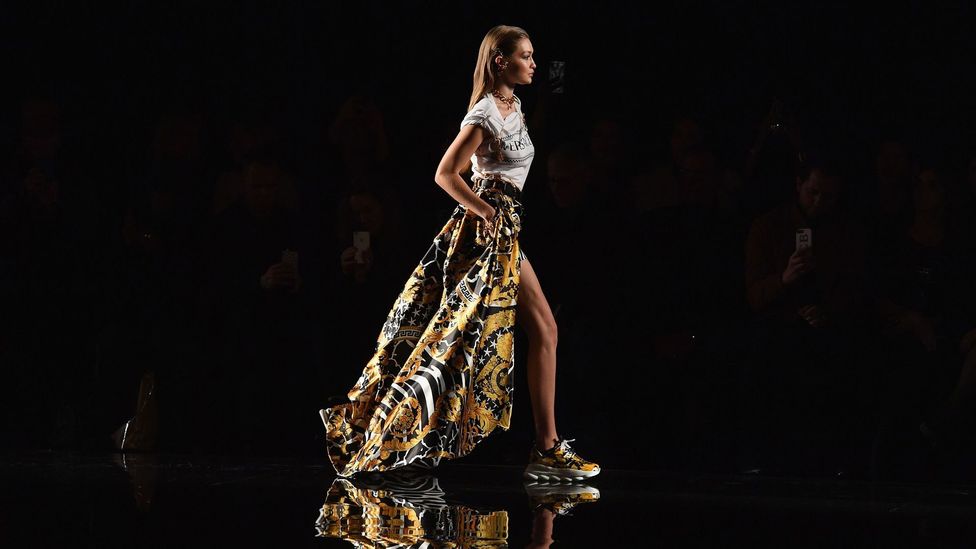 Model Gigi Hadid sports clumpy trainers on the catwalk at the Versace Cruise 2019 show (Credit: Getty Images)
The trainer was being welcomed into the rarefied and glitzy world of high fashion. No longer a functional item to be hastily removed for the office or a party, it had become bona fide, Chanel-approved luxury shoe.
More like this:
-         What does it mean to be camp?
-         The dress that made the world gasp
-         The brave new world of China's Gen Z
Five years on, and the fashion-sneaker phenomenon seems to have reached a point of no return. Since their Chanel outing, trainers have become crazier, clumpier, and – in many cases – more expensive. The more lurid and awkward-looking, the better. According to fashion-search platform Lyst, trainers represented four out of the top 10 of the most searched fashion items of Q4 of 2018. While sports brands like Nike and Adidas were the first to see the fashion possibilities of trainers, the luxury houses soon realised the potential – both in terms of style and their bottom lines. And these brands are expert at creating an accessory to covet.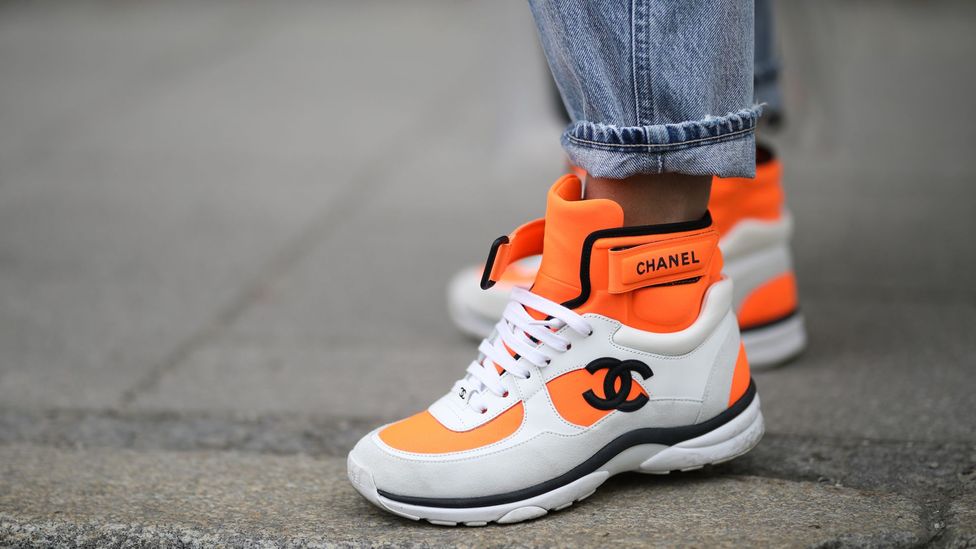 Chanel has been at the forefront of the designer trainer trend (Credit: Getty Images)
Instagram is awash with influencers – including Gigi and Bella Hadid and Hailey Bieber – all proudly wearing clunky trainers, with everything from cocktail dresses to jeans and a T-shirt. Favourites include Louis Vuitton Archlights and the Balenciaga Triple S, both coming in at around £600-£1,000 a pair, depending on the iteration.
Serena Williams even wore her sneakers to Prince Harry and Meghan Markle's wedding after-party under her Valentino gown, not to mention her own wedding party. While trainers would never have been considered an appropriate formal shoe only a decade ago, mentalities have significantly shifted. Dress codes have, for the most part, become more relaxed, allowing trainers to thrive in the workplace, in tandem with streetwear and athleisure-wear.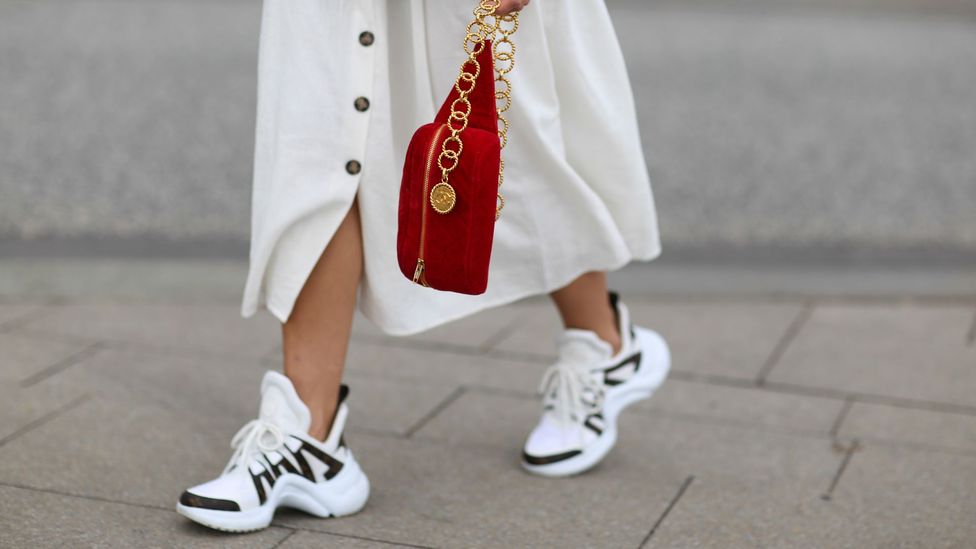 Chunky trainers such as these by Louis Vuitton have largely taken over from heels in fashion circles (Credit: Getty Images)
"Gen-Xers and gen-Yers have slowly been stepping away from heels, moving on from the sexist and discriminatory idea that women should wear heels in the office", says Lyst's Morgane Le Caer. It is perhaps no coincidence that the rise of the trainer has coincided with fourth-wave feminism and greater public discourse about non-binary gender identities. "Luxury sneakers are a sign of our times and a move towards a more inclusive way of dressing", agrees Lucia Savi, curator at the Victoria & Albert Museum.
Sex and power
If the high heel is a patriarchal tool designed to slow a woman down, the rise of the fashion trainer is the perfect rebuff. So does this mean the end of heels? Not quite. Today our relationship with vertiginous footwear remains a complicated source of feminist debate. Often, the high heel's  symbolism depends on context and personal opinion. "It's a shoe for when we're on; for ambition, for magazine covers, red carpets, award shows, boardrooms, courtrooms, parliament buildings and debate lecterns," writes Summer Brennan in her book High Heel, which was published in March. "Rather paradoxically – or maybe not – according to the 150-year-old fetish industry, it has also consistently been viewed as a shoe for sex", she adds.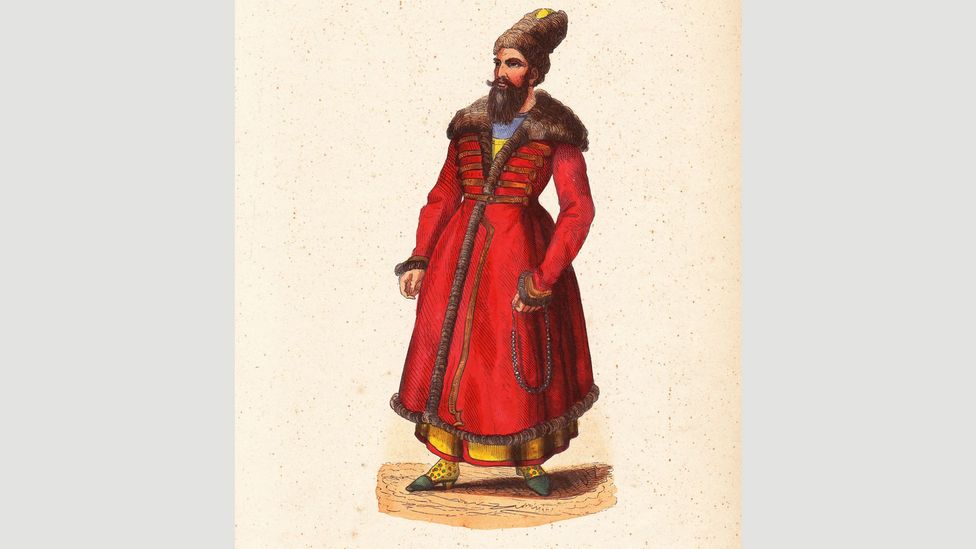 Persian noblemen were among the first to popularise heeled slippers (Credit: Getty Images)
High heels were originally worn to convey masculinity
The relationship between heels and power depends on the historical time and place. In fact, they were originally worn to convey masculinity. The heel was introduced to Europe from Asia in the late 16th Century, and was originally worn by men for horse riding because the heel secured the foot in the stirrup when riding. Associated in the European mind with the military strength of Persia, the heel was enthusiastically adopted by men, and only later worn by women and children. Louis XIV, who ruled France from 1643 to 1715, was one of the first heel influencers. His ornate shoes were unsuitable for any physical exertion – therefore emphasising his powerful status.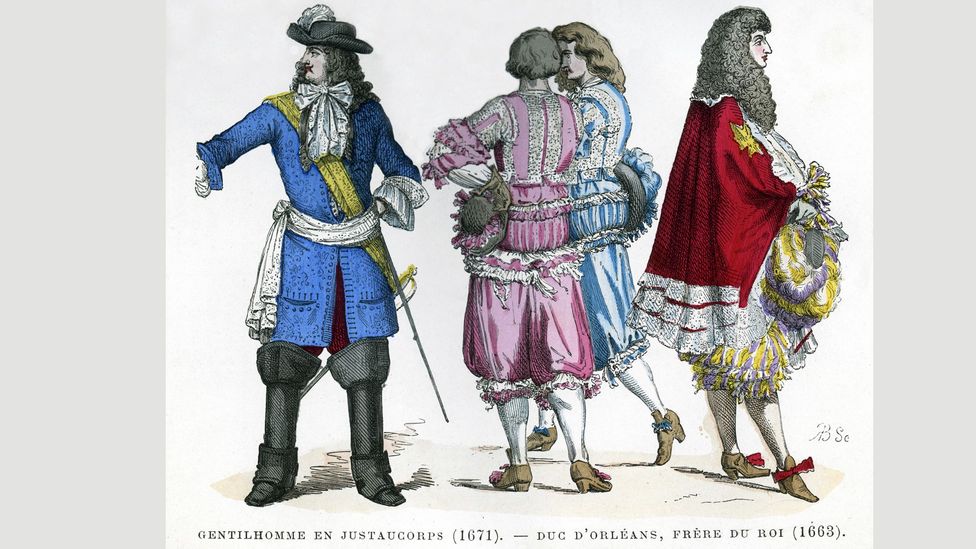 During the reign of King Louis XIV, gentlemen wore high-heeled shoes as a status symbol and for horse riding (Credit: Getty Images)
Today, there are still some industries where heels remain part of an office dress code for women. In 2016, Nicola Thorp, a receptionist in the UK, was sent home from work because she refused to wear high heels. But the incident turned into a scandal, prompting more than 150,000 people to sign a petition calling for a law that would forbid workplace policies about heels, and consequently a UK parliamentary investigation into sexist dress codes. So far the law has not been changed.
Heels also remain the standard dress code for women on the red carpet. The Cannes Film Festival faced a backlash in 2015 after it emerged that women had been turned away from red-carpet film screenings for flouting the heels-only rule and wearing gem-encrusted flat shoes. Actors including Emily Blunt and Benicio Del Toro have spoken out against the festival's tyrannical approach to fashion policing, and in 2018 Kristen Stewart ridiculed the rule by walking the red carpet in bare feet.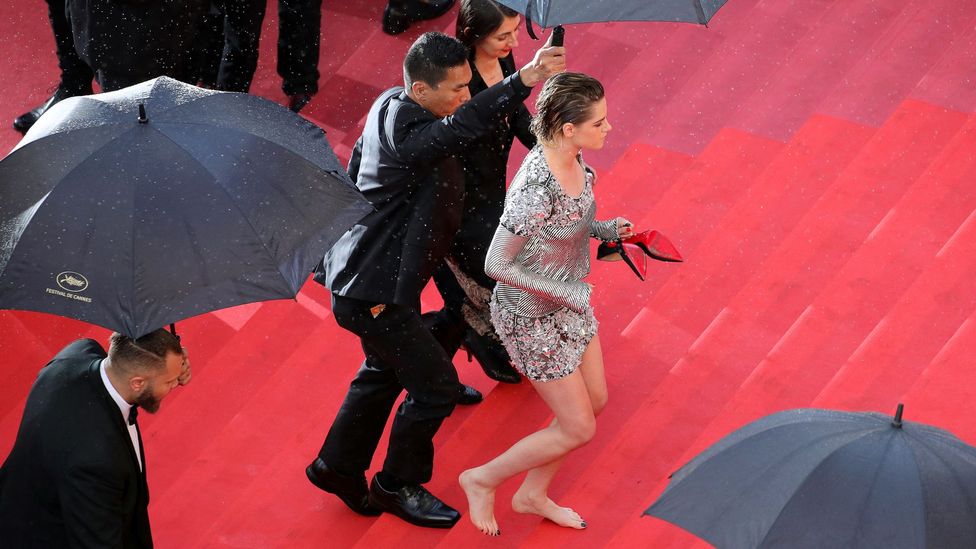 Kristen Stewart walked the Cannes red carpet in bare feet in 2018 as a protest against the film festival's high-heel rule for women (Credit: Getty Images)
But the fickle nature of fashion trends means that once a trend hits the mainstream, the taste pendulum swings in the opposite direction. The proliferation of trainers surely means that a heel renaissance is just around the corner. True to form, there were signs that fashion designers are stepping away from the trainer trend in the recent round of fashion weeks. Demna Gvasalia, Balenciaga's creative director and the man who pioneered the luxury dad trainer, did not include a single trainer style in his recent autumn/winter collection for the fashion house.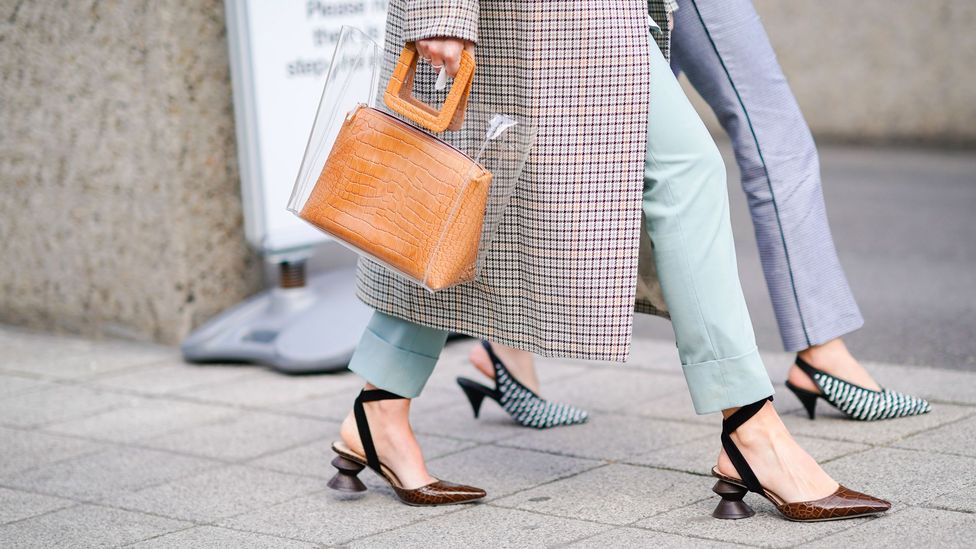 Sculptural heels that are decorative but not restrictively high have been gaining popularity (Credit: Getty Images)
Even if we are moving away from the luxury trainer trend, Beth Goldstein, fashion footwear and accessories analyst at The NPD Group, says that the acceptance of trainers in a formal context is indicative of a long-term lifestyle shift for women. "I don't believe it is a fad, it has been too long for that – consumers are prioritising comfort for their busy lifestyles, and athletic as fashion continues to evolve. The growth trajectory will naturally slow, but sneakers will remain the driving force in the market." According to research carried out by Mintel in 2018, US shoppers aged 18-34 are the most likely age group to purchase shoes because they are comfortable (37%).
"Comfort, functionality and interesting detailing definitely take precedent, as opposed to feeling as if they are dressing for others," says Natalie Kingham, the fashion and buying director at Matches Fashion. "The flat shoe has gone from strength to strength, whether a clompy, embellished boot, or a sportier version of sandals". Kingham adds that even for customers who wear heels, the demand is for lower, more comfortable styles. "Interestingly, the majority of our heel business has shifted to 90mm and below, and many of the newer shoe brands like Wandler, or ones with a new creative direction like Bottega, don't have a heel over 90mm in the collection." One rising footwear brand that Kingham favours is Gray Matters, which has low heels, "almost like an interior collectable with sculptural details such as spherical heels".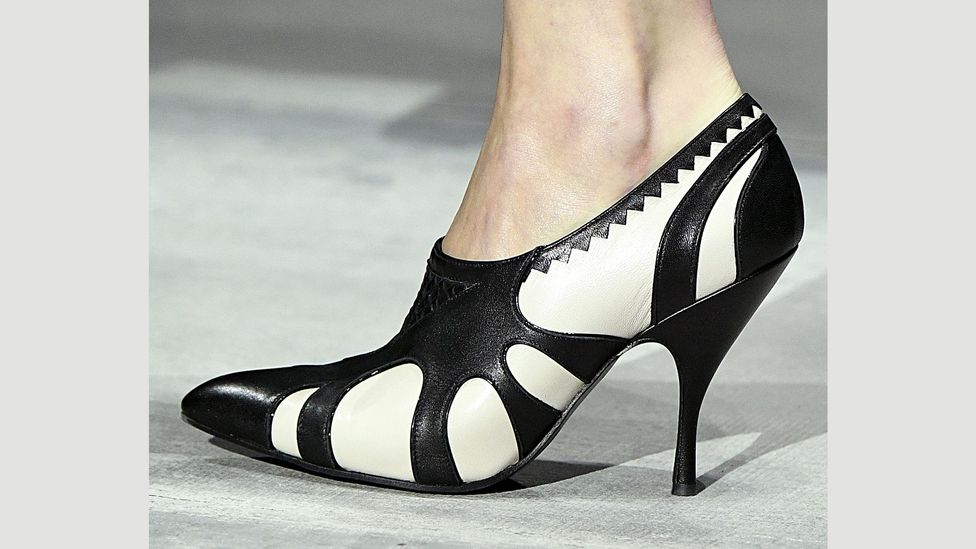 Heels have been lower in recent collections by, among others, Bottega Veneta (Credit: Getty Images)
Savi believes that we will never entirely kick our heel habit, but the relationship is evolving. "The role that height has played in various cultures around the world goes back centuries, and I don't think it will fade quickly. The stiletto might morph into something else, where height will still play a role."
Heeled shoes for men have taken over both the runways and red carpets in recent years
Heeled shoes for men have taken over both the runways and red carpets in recent years, and this gives a clue to how society's relationship with heels might be changing once again. Labels such as Gucci, Calvin Klein, Saint Laurent and Balenciaga have been showing heeled boots and shoes in their collections, often adding glitter or bold prints on to styles.
In 2018, luxury Italian designer Francesco Russo launched a genderless line of stilettos available in Italian size 35 to 45. "It's not a polemic, it's not political," the designer told Vogue. "It's simply how society is moving forward. I think it's in our duty as people to produce product to respond to the world." The limited-edition collection was so popular that it became a permanent part of the brand's offering.
High-heeled boots and shoes have become increasingly available in men's sizes – as seen here on TV presenter Jonathan Van Ness (Credit: Getty Images)
Another brand that is turning the traditional symbolism of heels on its head is Brooklyn-based Syro. The company sells heels and boots in men's sizes to its male, trans, or non-binary customers. The styles are chic and promote a fluid sense of style. The brand's stated manifesto is to promote "diversity through visibility" and "empowerment through community".
Maybe that's the point. Instead of banning high heels, they need to be released from enforced gender expectations and social norms. Then they are just, well, a pair of shoes. Ultimately wearing them should come down to individual choice. After all, one person's patriarchal or physical oppression can be another's powerful liberation.
If you would like to comment on this story or anything else you have seen on BBC Culture, head over to our Facebook page or message us on Twitter.
And if you liked this story, sign up for the weekly bbc.com features newsletter, called "If You Only Read 6 Things This Week". A handpicked selection of stories from BBC Future, Culture, Capital and Travel, delivered to your inbox every Friday.