Kelly Grovier has trawled through the artworks on display at the 2019 Venice Biennale to pick out eight highlights, including sunbathers singing on a beach, the wreck of a cargo vessel, and 48 war films broadcast simultaneously.
T
They loom large and drag you underground. Encountering some will make your heart sing while others will leave you in despair at the state of the world they reflect. One or two are breathtakingly beautiful. I'm talking, of course, about the myriad works of art on display in that grandiose gallimaufry of human creativity that explodes into excessive expression every other year: the Venice Biennale.
The tradition of summoning the world's greatest, most promising, and over-puffed artists to exhibit their work either in a central pavilion or an ever-expanding selection of national pavilions, dates back to 1895 (following an Italian-only event organised in the city two years earlier). In the ensuing century and a quarter, the Biennale has swollen in size and significance as the international art world synchronises itself to its odd-year cadence and calendar.
Today, the slowly sinking former city-state is awash with eyes desperate for hints about which shows to prioritise. No one can see everything. Navigating the crush of official and fringe displays and exhibitions on offer can be more than a little daunting, as thousands of artists, curators, and gallerists – all candidates for regard – clamour for attention. Here, buzz is the currency of success. Some have it, some don't. What follows is a clutch of works and exhibitions in and around the Biennale that are worthy of the hype, the journey, and the queues.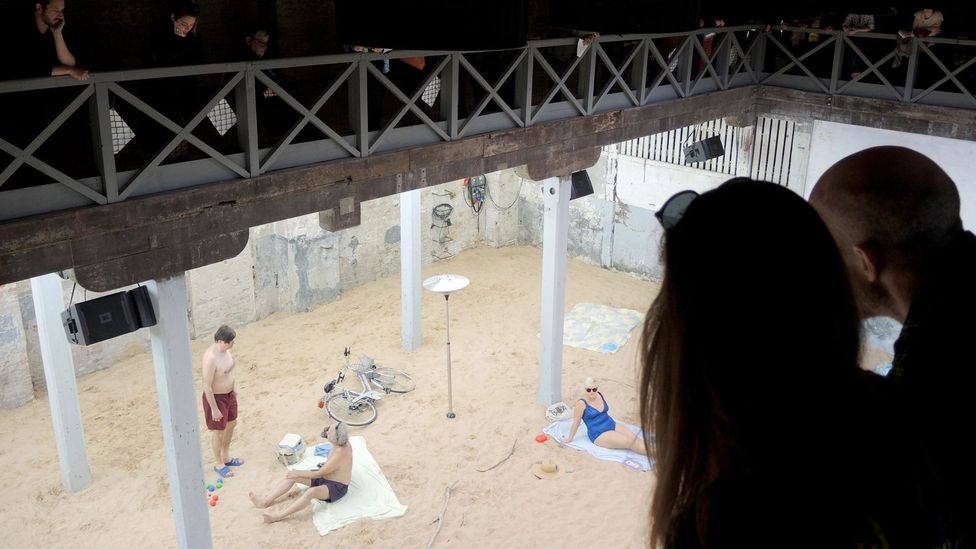 Lithuania Pavilion: Sun & Sea
The snap verdict of the Biennale's official judging panel, which hands out the coveted Golden Lion for best national pavilion, is to direct everyone to the beach – that is, to the makeshift stretch of soft sand that glints under artificial lighting in a building within the Marina Militare complex. Visitors to the Lithuanian Pavilion must navigate a circuitous route through the still-active facility, up a flight of steps to an empty loft, before gazing down through an aperture at some two dozen holidaymakers frolicking on a phony beach, joyfully singing their hearts out about being alive in a world disfigured by climate change. Surreal as it is profound, the work is the balletic brainchild of three young artists, all under 40: Rugilė Barzdžiukaitė (who directed the piece), Lina Lapelytė (a composer), and Vaiva Grainytė, who wrote the words. Given the eco-urgency that underpins and unsettles the ambitious installation, visitors to the work last week could have been forgiven for thinking that the sudden appearance of riot police, who evacuated the area after being alerted to a possible bomb, was part of the show. Thankfully, all a false alarm (the bomb, that is, not the long wick to global devastation about which the pavilion's performers explode into song.)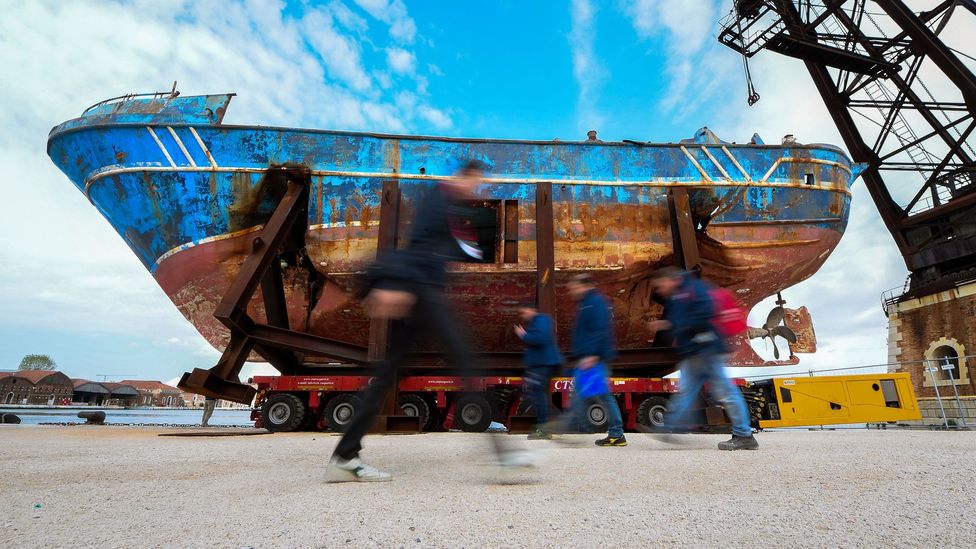 Christoph Büchel's Barca Nostra, Arsenale
The most haunting work in this year's Biennale is also the one that's causing the greatest stir. In a bold move that has divided opinion, the Swiss Icelandic artist Christoph Büchel has transported to Venice's ancient shipyard, the Arsenale, the salvaged wreck of a cargo vessel that sank in the Mediterranean in 2015. The tragedy claimed the lives of around 800 migrants who were trapped in the ship's hold. The rusting and lacerated hulk, which Büchel has christened "Barca Nostra" (or "Our Boat"), was recovered from the bottom of the sea along with the remains of many who perished. Others were lost without a trace. The battered boat wedges its way, like a static glacier of unending suffering, into the psyche of everyone who passes it, admonishing us, as if from another world. So raw and unflinching is the work's intolerable power, some visitors may feel blindsided by its unmetaphorical frankness (this is after all, not an artistic interpretation of anguish but a real relic of it) and object to the repurposing of the doomed vessel as a fleeting installation in an ephemeral art festival famous for its gewgaws of glamour and glitz.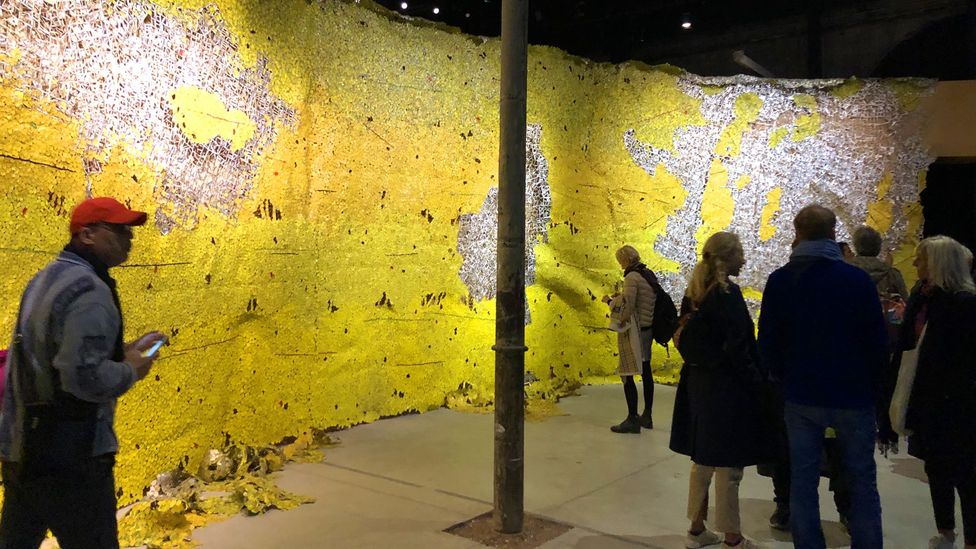 Ghana Pavilion, Arsenale
To wander the amberous chambers of Ghana's debut pavilion is a quasi-subterranean experience, one that conjures metaphors of rebirth and resurrection. Rich and ruddy soil, imported from West Africa, has been applied by Venetian plasterers to the curved walls of the curiously fluid space, transforming one's visit into a kind of excavation – an archaeology of beauty and truth. Designed by the Tanzanian-born architect David Adjaye, the pavilion showcases the work of six artists, including British painter Lynette Yiadom-Boakye and the celebrated Ghanaian sculptor El Anatsui (metal tapestry, pictured). Yiadom-Boakye, who was nominated for the Turner Prize in 2013, is the daughter of Ghanaian immigrants to the UK and is best known for her hypnotic portraits of imaginary sitters summoned from the depths of the artist's unconscious. For his contribution, Anatsui has fashioned from wire and recycled bottle tops a series of stark and rumpled tapestries – forging from detritus exquisite works of humble majesty.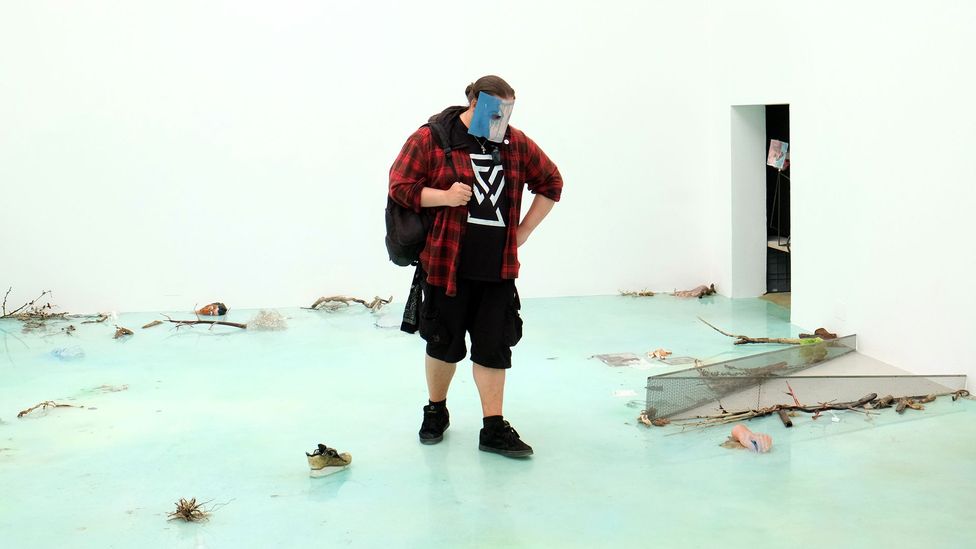 French Pavilion, Giardini
There is something mischievously subversive about Laure Prouvost's much buzzed-about Deep See Blu Surrounding You, the work with which the artist is representing her native France at this year's Biennale. As Britain and the EU continue to wrestle with how best to part ways politically and economically, Prouvost is endeavouring to undermine that separation by establishing a deeper connection between the two. Without permission from Venetian authorities, the artist has begun digging an illicit tunnel beneath the French Pavilion that she hopes will eventually reach the British pavilion: a secret escape route for depressed opponents of Brexit, like herself. Prouvost has lived in the UK for nearly 20 years and the impulsive project, which she admits could collapse around her, is a profoundly personal one. While that unauthorised excavation unfolds below their feet, visitors embark on an expedition around the pavilion over a glass seascape strewn with the bizarre bric a brac of a liquid universe, until they reach (or "melt" into, to use the artist's language) a space of darkness and the heart of Prouvost's work: a transfixing, epic film that follows a dreamlike migration of voyagers to a surreal simulacrum of Venice and the pavilion you're in.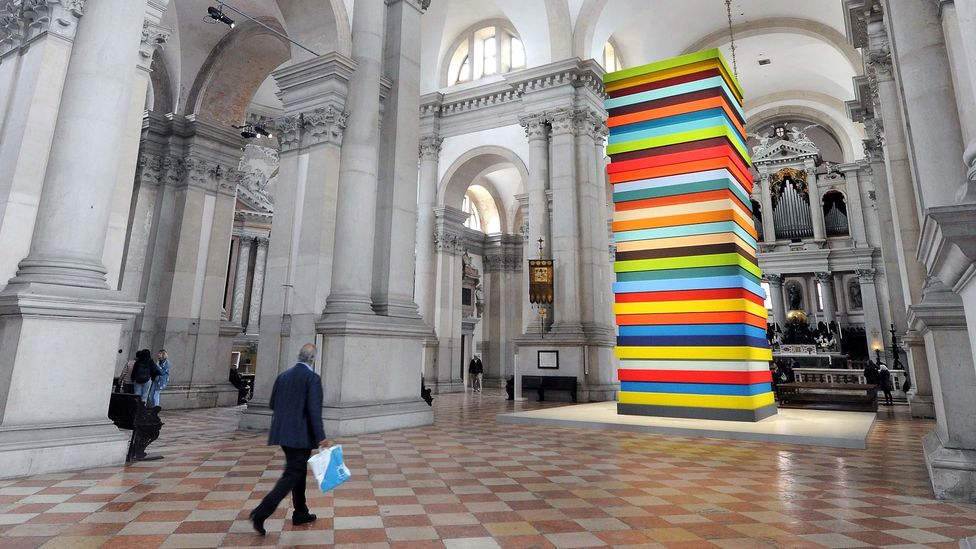 Sean Scully's Human, San Giorgio Maggiore
Opulent Ascension, a towering new sculpture by the Irish-American abstract artist Sean Scully, transforms the nave of the island Church of San Giorgio Maggiore into something as light and joyous as it is weighty and solemn. Assembled beneath the dome, Scully's colourful scaffold – around which his exhibition, Human, revolves – rises like a luminous silo of the soul. Comprised of dozens of square frames wrapped individually in varying hues of vibrant felt, the sculpture's soft texture cuts against its colossal size and heft and recalls the plush materiality of ecclesiastical robes. A doorway has been cut into the hollow, hulking structure, allowing visitors to install themselves in the silence of the space and imagine their own spirit's propulsion upwards through the eye-like lantern that the legendary 16th-Century Italian architect, Andrea Palladio, punched into the cupola. Opulent Ascension is the tallest sculpture that the two-time Turner Prize nominee has ever created, and prepares visitors for the array of abstract wonders that Scully has scattered throughout the Benedictine monastery, including paintings, pastels, an illuminated manuscript, a charred sculpture made from discarded sleeper rails, and a poignant triptych, entitled Madonna, which sees the artist returning to figuration after a hiatus of 50 years.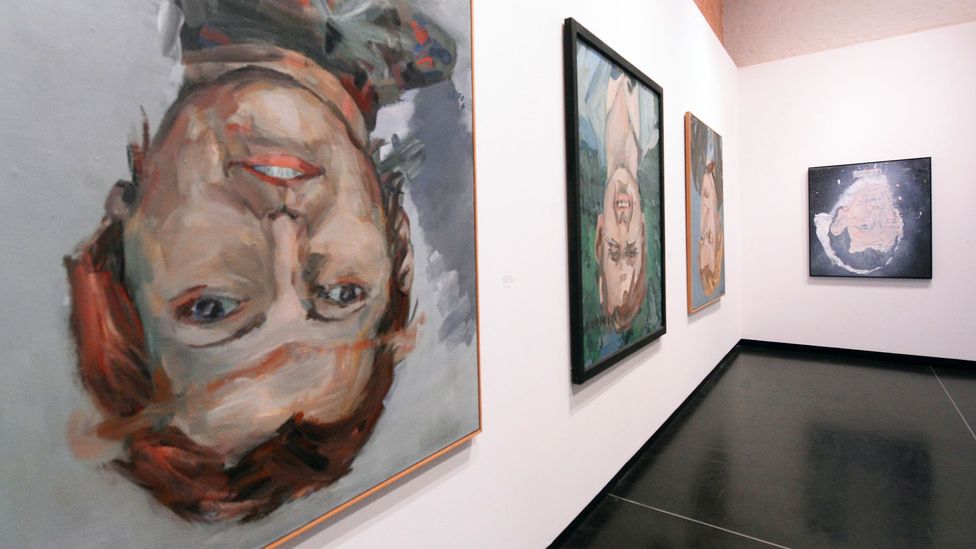 Baselitz – Academy, Gallerie dell'Accademia
Never before has The Gallerie dell'Accademia, Venice's distinguished museum of pre-19th-Century art, hosted an exhibition by a living artist. This major retrospective of works by the German artist Georg Baselitz, famous for unsettling our assumptions about how images are conceived, made, and displayed (he frequently flips his portraits upside down), revolves around the artist's relationship with Italy and his ever-evolving attitude towards tradition. The show opens with a three-figure sculpture in blackened bronze, sooty as smouldering cinders, whose fearsome grace reminds us of the Baselitz we're used to seeing. It isn't long, however, before that impression is turned on its head, as it were, by career-spanning works of pulsing luminosity. Early watercolours inspired by the 16th-Century Mannerist Jacopo Pontormo, shown alongside never-before-displayed drawings from the 1960s, are unexpectedly resplendent and joyful. A brace of new, large-scale portraits of the artist and his wife entitled Ankunft (Nackte Ankunft, Piazzale Roma, Venezia) (2018), imagines the couple as diaphanous nudes descending stairs against the echoing darkness of a cosmic sky – a vision that evaporates their physicality into something weightless and eternal. (Oh, and they're upside down, of course.)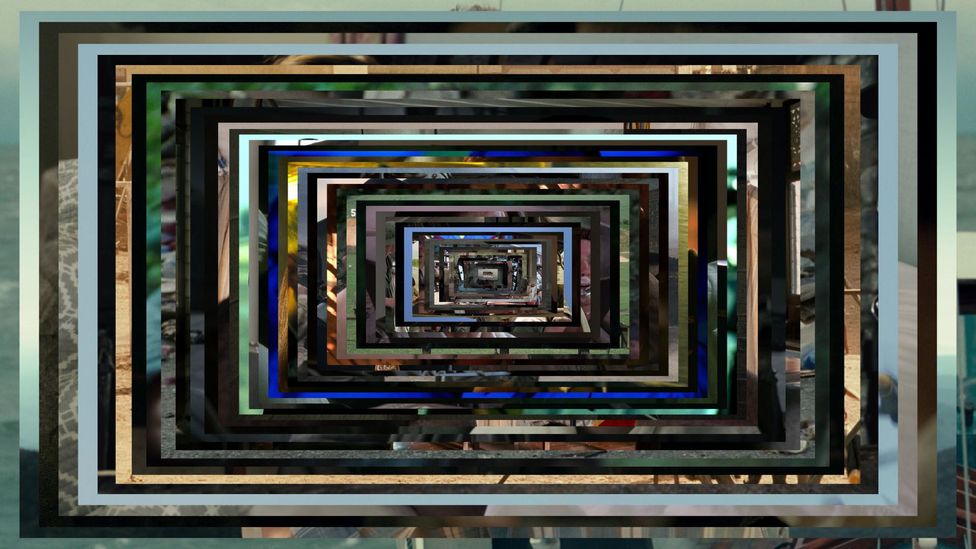 (Credit: Christian Marclay/Courtesy White Cube and Paula Cooper Gallery)
Christian Marclay's 48 War Movies, Central Pavilion
Ever feel you're disappearing down a whirlpool of cacophonous chatter – that life is increasingly layer after layer of inescapable noise, clamouring for your attention? The Swiss American artist and filmmaker Christian Marclay has captured that implosive sense of sensory overload with a work that is as mesmerisingly profound as it is completely unwatchable. Onto a single video screen, Marclay has ingeniously managed to embed, in concentric frames that resemble the rings of a quadrate onion, four dozen war films that broadcast concurrently. This tight nest of illegible letterbox rectangles, which shudders with incoherent splinters of heroism and trauma, villainy and valour, is at once riveting and revolting to the senses. Marclay's expertise at cinematic splicing has become the stuff of legend since the unveiling in 2010 of his 24-hour tour-de-force film The Clock, which synchronises fragments from Hollywood movies where the time is shown with the actual elapse of an entire day.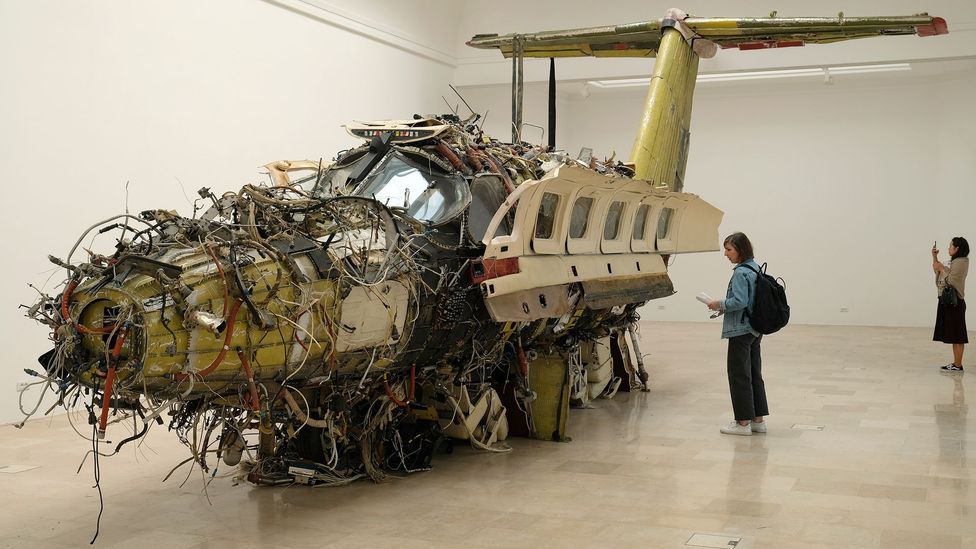 Polish Pavilion, Giardini

Roman Stańczak likes to pull things apart. Leave him alone with a bathtub and he'll turn the basin inside out. Cupboards and sofas, in his care, are soon stripped of their veneers to expose something raw, throbbing beneath their quotidian skins. For his work representing Poland, he allowed his imagination truly to take flight by disabling forever a private jet's ability to do so. Everything is exposed. The wiring and electrical gadgetry of the aircraft's cockpit has been tugged out of hiding. The engine has been laid bare. And the wings? They've allegedly retracted themselves into the clinched fist of the vehicle's crumpled chassis. At once egregiously excessive in itself and a rebuke to the trappings of excessive wealth, Stańczak's flightless Flight is a tight tissue of conceptual contradictions. It crouches in the mind as a powerful metaphor for economic revivals that transport some members of society to prosperity while leaving others stranded, confused, and feeling pulled apart.

If you would like to comment on this story or anything else you have seen on BBC Culture, head over to our Facebook page or message us on Twitter.

And if you liked this story, sign up for the weekly bbc.com features newsletter, called The Essential List. A handpicked selection of stories from BBC Future, Culture, Capital and Travel, delivered to your inbox every Friday.

;