H
Have you ever thought, when you finally face your final curtain, what song you'd like to soundtrack its closing swish? Many people have, but unsurprisingly, many more haven't. But if you don't think about it, you may be leaving others with the burden of decision. Even worse than that, they might choose the wrong song.
That's why, over in the UK, Cooperative Funeralcare compiles a regular survey of music requested at its 30,000 funeral homes: to get people talking about funeral plans. And year in, year out, one song tends to top the most-requested list: Frank Sinatra's My Way was No 1 again in the 2019 survey.
As well as a musical memorial for many, My Way, which was 50 years old last month, is a straight-up monolith of pop. Originally a French song, Comme D'Habitude, sung by Claude Francois, the English lyric was written by Paul Anka for his idol Sinatra when the latter was threatening to quit the business. Sinatra didn't think much of it, finding its lyric 'boastful', but it became one of his best-known numbers, beloved enough that people would have it as their final musical choice.
Intrigued by its long dominance of the Cooperative's charts, I spoke to funeral directors in different countries, catering to various faiths and none, to try to find out why it's so popular.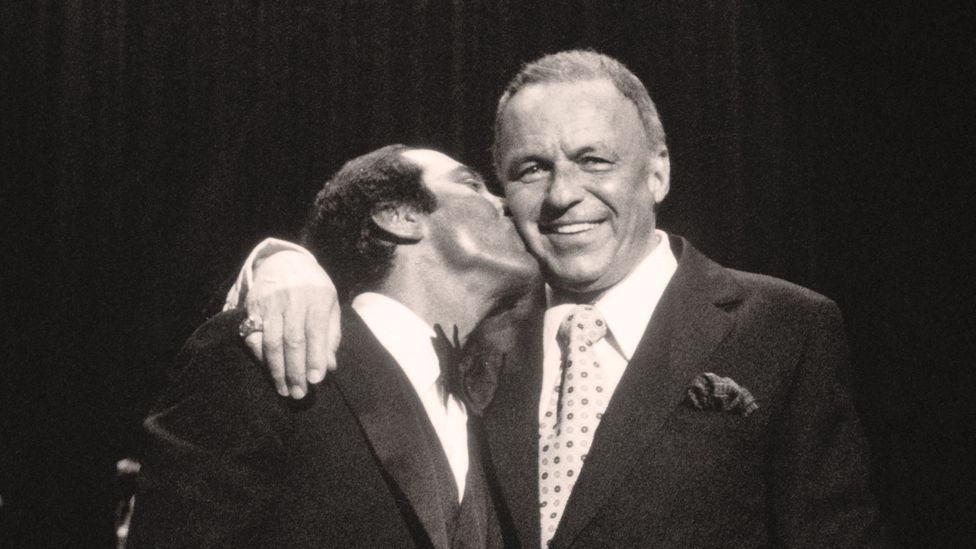 The men behind My Way: Paul Anka (L) and Frank Sinatra (Credit: Getty Images)
The record shows
David Collingwood, director of funerals at the Cooperative, has been in the trade for 33 years. When he started, requests for pop weren't common. "Not everybody felt comfortable in that decision," he says.
In the decades since My Way's release, though, religious observance in the UK has fallen, civil ceremonies have become more popular, and cremation now stands at 77%.
A big part of the increasing personalisation of funerals has been a move away from hymns and towards popular music, now the most popular genre. "My Way became almost like the gateway popular music song, away from the religious to the more secular music and service," says Collingwood. Back then, the first people to choose My Way really were doing it their way, likely in the face of disapproval – the song was released just weeks after Mario Puzo's The Godfather, with its Sinatra-based character Johnny Fontane – and the 53-year-old Sinatra still had something of an ungodly air about him beneath that grand Don Costa arrangement.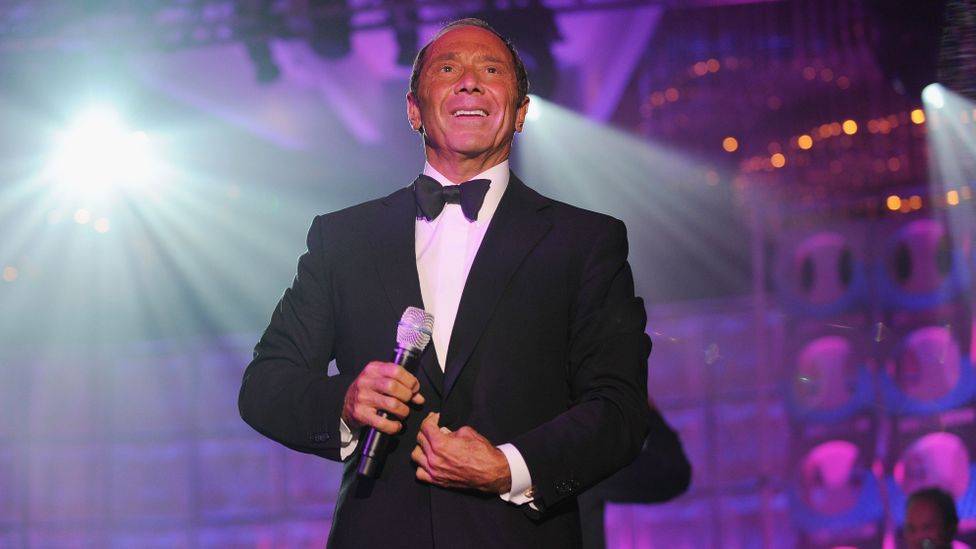 Paul Anka says the popularity of his song My Way is that "it takes on light from different sources" (Credit: Getty Images)
Perhaps because of Sinatra's reputation, there's a feeling that as a final statement, My Way is something you have to have lived up to. "You go to a funeral for somebody that's worked hard all their life, and had a good work ethic and a clean slate... I think it takes on light from different sources," says Anka. "Who's framing it? I think that's the key to it in terms of how you receive it from someone."
Although intended solely as a tribute to Sinatra himself, the song has as many potential meanings as it has fans, allowing a level of individuality while still engendering a sense of unity that a more niche pop choice might lack. Chandu Tailor, an English Hindu and Sikh funeral specialist, estimates that he receives requests for pop about 20% of the time, and thinks the song was popular among British Asians because it spoke to the experiences of the first generation coming over to the UK – who did things their way, different to the ways of their fathers.
Blame it all on my roots
In Baltimore, Jack Mitchell of the Mitchell-Wiedefeld funeral home says that My Way is definitely the No 1 choice. "It's Frank Sinatra singing about how unique your loved one was. So it's gonna be tough to top that one." Among other local favourites, he named Garth Brooks' Friends in Low Places, which has an intense pride in its blue-collar, gritty roots, and can also act as a wry comment on proceedings: "Blame it all on my roots/I showed up in boots, and ruined your black-tie affair."
Elsewhere in the US, things are done a little differently. Christopher Robinson, of Robinson Funeral Home in Easley, South Carolina, said My Way wasn't the most popular request in his experience – "not here in the South". Instead, he cited the most popular choice as Vince Gill's ballad Go Rest High on That Mountain, written following the death of his brother, and country music superstar, Keith Whitley. It's so popular that Robinson remembers attending a National Funeral Directors Association meeting in Nashville several years ago where Gill performed it live. Other popular choices are rock, pop and country versions of gospel songs (especially Elvis's Peace in the Valley, though Robinson says he had to gently talk a family out of playing Return to Sender), as well as Johnny Cash's Folsom Prison Blues.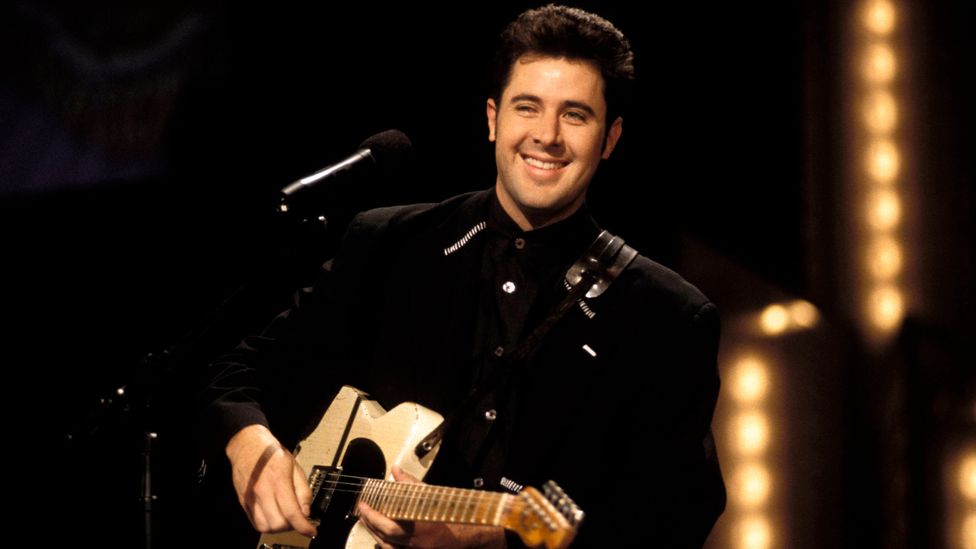 Vince Gill's ballad Go Rest High on That Mountain is a very popular choice in the south of America (Credit: Getty Images)
Although Robinson estimates about 50% of his clients are requesting popular music, he says some churches still won't allow it during the service itself. One enterprising grandson managed to get around a church's refusal to play The Eagles' Hotel California by sneaking in a boombox, and blasting it from the pews before being swiftly ejected.
In Wichita, Kansas, Ashley Cozine of Broadway Mortuary Inc, and a former president of the National Funeral Directors Association in the US, says that My Way does get requested, but "not as much as you would think". Country, again, is a very popular choice: Go Rest High On That Mountain by Vince Gill (again), and I Hope You Dance by Leann Womack are all popular. Oh and, of course, Lynyrd Skynyrd's Free Bird.
Bright side
Michael Lynch of Tobin Brothers in Australia, says that My Way is popular there, but that he finds it a bit of a cliché. "Honestly, today people are choosing everything from Mozart to Metallica, and everything in between," he says. Tobin Brothers keep a database of music on their website, revealing choices such as Annie's Song by John Denver and Elton John's Can You Feel the Love Tonight from The Lion King. The Seekers are a popular choice, as well as a touch of humour with Australian country singer Slim Dusty's song A Pub With No Beer.
Humour is important in the UK too. Forty-two percent of people said they wanted to "raise a laugh", with songs like Another One Bites the Dust, Ding Dong, The Witch Is Dead, or the UK's second most requested song, Always Look on the Bright Side of Life.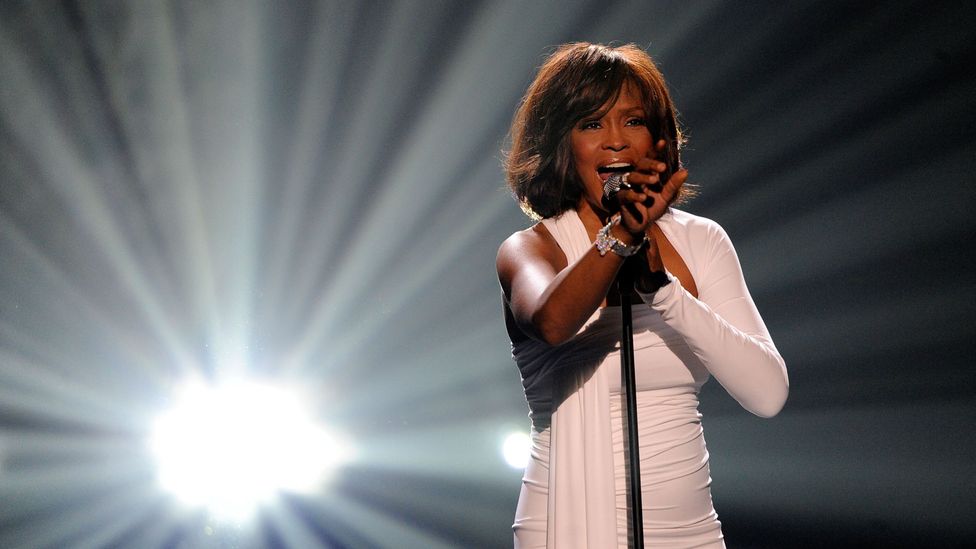 Whitney Houston's powerballad I Will Always Love You is a popular choice in Germany (Credit: Getty Images)
Over in Germany, on the other hand, people don't seem to opt that much for irreverence. Germans favour I Will Always Love You by Whitney Houston, and the soothing, big-picture expanse of Only Time by Enya, a No 1 in Germany in 2000 that also achieved worldwide prominence in media coverage following 9/11. Marcell Feldberg, music consultant at the German Institute of Undertakers, says that since the 90s they have also seen a move from the ritual to the personal. Current popular choices include So Wie Du Warst by synth-rockers Unheilig, and Das Leben Ist Schön by Sarah Connor, a German singer-songwriter (with no connection to killer androids).
Contemporary choices are becoming more and more popular. The 2019 Cooperative chart saw high placings for Ed Sheeran's tribute to his late grandmother, Supermarket Flowers, and Wiz Khalifa and Charlie Puth's See You Again from the film Furious 7, a tribute to the late actor Paul Walker.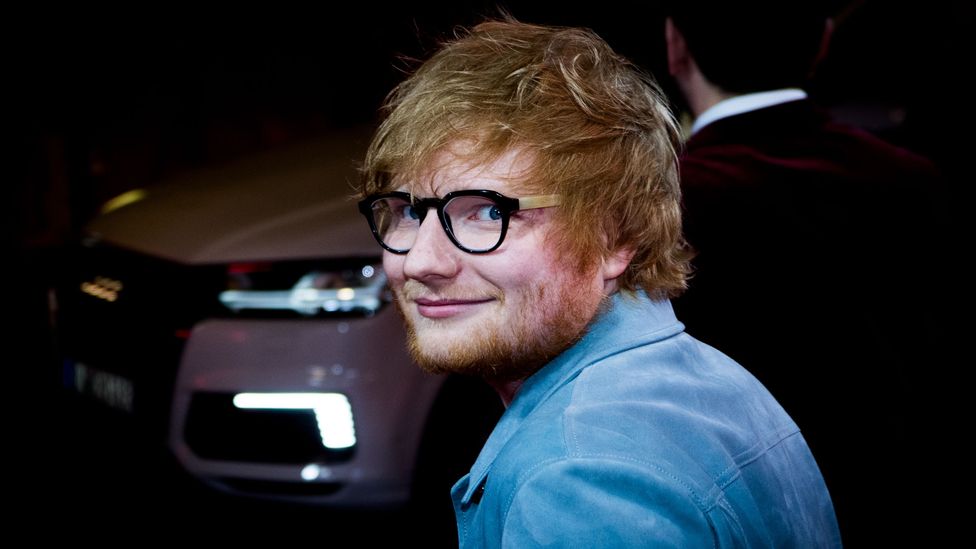 Contemporary songs are growing in popularity, like Ed Sheeran's Supermarket Flowers (Credit: Getty Images)
Frequently, I was told by funeral directors all over the world, people aren't now choosing songs lyrically fitted to the occasion, or that reflect a life, but just music that their loved ones loved. And with a widening of what's permissible, and the increasing atomisation of musical taste, perhaps no song will gain the stature that My Way once had.
So the biggest legacy of Sinatra's song may be that as more people do it more their way, there may, finally, be less My Way. But there'll always be a special place for it in musical history. My Way will forever be remembered as the song that led us into choosing ever more personal ways of saying goodbye.
If you liked this story, sign up for the weekly bbc.com features newsletter, called "If You Only Read 6 Things This Week". A handpicked selection of stories from BBC Music, Culture, Capital, Future and Travel, delivered to your inbox every Friday.