S
Synth-pop musician 'pronoun' has been working in the business for about six years, as well as having made her own music for a lot of her life. Three years ago, the Brooklyn-based singer/songwriter went through a tough relationship breakup, and picked up the guitar again. "It was the only thing that made me feel better," she tells BBC Music.
In her day job on the business side of music, she's surrounded by "so many awesome, powerful women", although pronoun recognises that her experience isn't the norm. And when she's on the other side, making music, this is even clearer.
One of the starkest gender disparities pronoun says she has noticed is on tour. "On the tours I've been on, I'm either the only woman or there's like, one other one," says pronoun. "That's why it's more and more important for people to be pushing themselves outside their comfort zone and going out there, because I have girls come up after the concert saying: 'That's so cool. I haven't really seen a girl on stage playing guitar'."
We are starting to see a welcome change. In October 2018, a poll conducted by guitar company Fender found that 50% of all beginner and aspirational players of the instrument were female. If more and more women are picking up guitars and playing, what does this mean for the future of guitar music?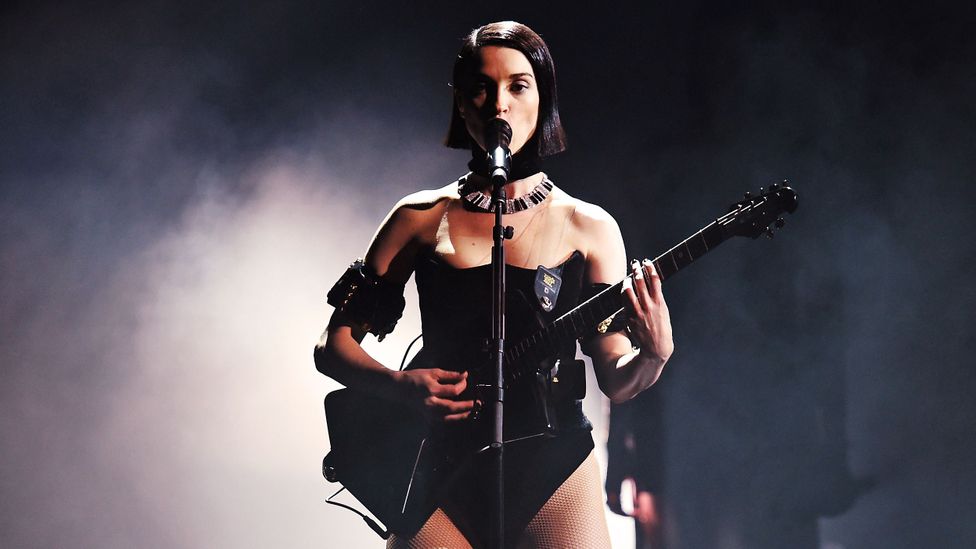 St Vincent at the 2019 Grammys with her signature guitar (Credit: Getty Images)
Miss steps
She Shreds, a print magazine dedicated to female guitarists and bassists, compared the Fender figures to the moment when the automotive industry realised that women drove cars as much as men. Fabi Reyna, editor-in-chief of She Shreds, says that when she founded the magazine six years ago, she was being asked whether women 'really play the guitar'. "Women just weren't even considered in the research aspect of the industry," she says. "It simply didn't exist before this Fender research came out."
In some senses, women have never been so dominant in the music business. Many of the most popular performers now are women. Ariana Grande has ruled the charts this year. Beyoncé signed a Netflix deal worth $60 million for her recently released concert film Homecoming, and two more specials. Taylor Swift is back, making and breaking records. Billie Eilish, Maggie Rogers and Halsey are seen as the current future of popular music. St Vincent is not only creating a new sound in guitar music, she is also redefining the way a guitar looks.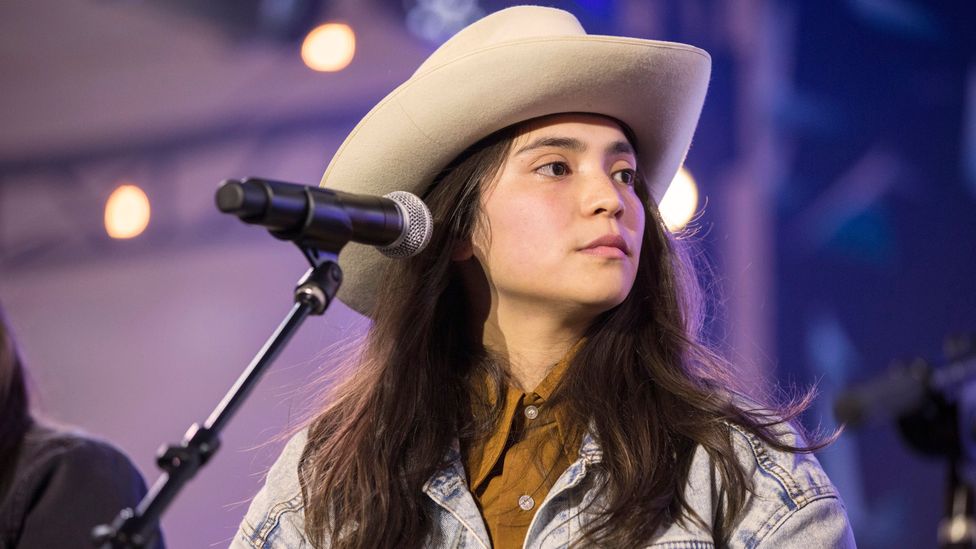 When Fabi Reyna founded the magazine She Shreds six years ago, she was asked whether women really play the guitar (Credit: Getty Images)
Yet, women still face many of the old familiar challenges. In January 2018 Neil Portnow, president of the Recording Academy told Variety that women needed to "step up", following the Grammy's lack of recognition of female artists. After a backlash against the comments from industry insiders and major artists, a 'gender bias taskforce' was announced, to be led by Tina Tchen. Earlier this month, Portnow announced that he would step down from his role, and will be replaced by Deborah Dugan, the organisation's first female president and CEO.
It's not as easy as stepping up, says pronoun. "Like most industries, [the music industry] might not be designed to support women, and they're kind of adjusting as it's happening."
Reyna argues that while there has been a noticeable shift in marketing campaigns and visibility, there's still an old-school boys club mentality on the inside. "When you start diving deeper… there's really not much change," says Reyna. "I think it's easy to put together a campaign that says, we believe in equality, but it's harder to actually bring it into your workplace."
Like most industries, [the music industry] might not be designed to support women, and they're kind of adjusting as it's happening - pronoun
Stage fright
Natasha Pasternak grew up in a musical family. She went on tour with her mother's band "because it's cheaper than childcare". When she was old enough, Pasternak began joining her mother on stage, playing the tambourine, and eventually, her mum taught her to play guitar.
Now a singer-songwriter, lecturer at UCLA and board member of Women in Music LA, Pasternak began her career in the Toronto indie scene. The search for bandmates was tough for Pasternak, "I remember sitting at my kitchen table getting emotional going, 'Why can't I find bandmates? I just don't understand this'. Especially guys that wanted to play in a band with me, not date me."
Eventually, Pasternak formed the band Hands & Teeth, who were compared to the likes of Broken Social Scene and Arcade Fire. In 2009 and 2010, when Hands & Teeth were playing a lot of live shows, Pasternak noticed that their band was being put on bills with other female musicians, and she was constantly being asked about her experience as a woman in interviews.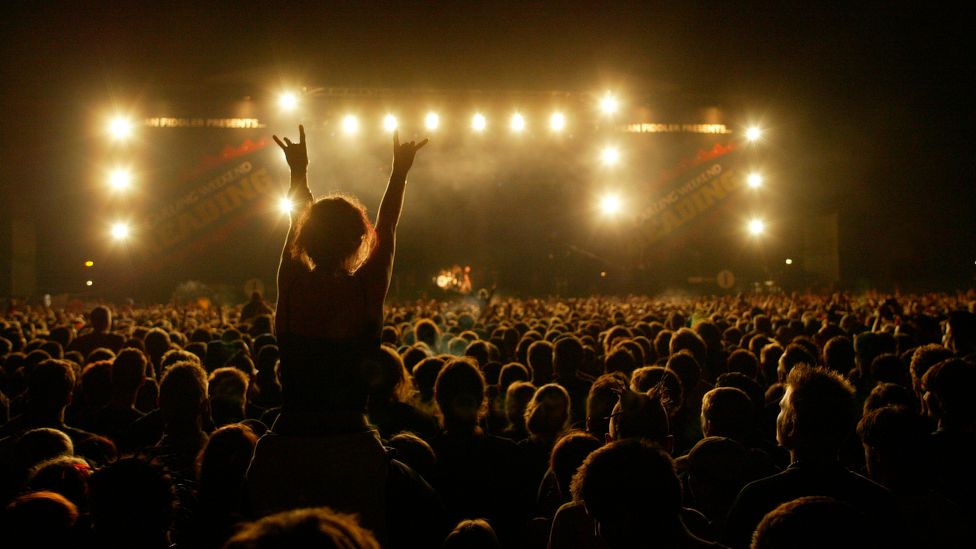 Around half of music festivalgoers are women, yet women make up less than one-fifth of the average line-up at these events (Credit: Getty Images)
"It was always brought up, in any interview that was always highlighted. And I was like, 'Why is this happening?'... It was a novelty." Pasternak acknowledges that she is far from the first ever female musician, and yet she was still treated like an anomaly. "That was upsetting to me. That it wasn't just normal. And I feel like it is becoming normal."
This disparity is most apparent when you look at music festivals. If festivals are supposed to reflect where music is right now, then that reflection is still heavily male. A 2018 survey by Pitchfork found that women make up only 19% of the average festival line-up, an increase from 14% in 2017. When around half the festivalgoers are women according to Nielsen, the disparity has noticeable effects.
Now, there are large-scale efforts to challenge the status quo. Starting last year, more than 100 festivals have agreed to aim for 50/50 gender parity by 2022 as part of an initiative called Keychange, introduced to address gender inequality at festivals internationally. Only three festivals reached gender parity last year, and zero the year before that, which shows the size of the task.
Mission: Control
But like other areas of diversity, the biggest opportunity for female guitar players may lie away from the stage and on distribution platforms. Musicians in 2019 have more tools than ever before to record and distribute their own music on Soundcloud, Spotify, YouTube or other platforms. Pasternak says her experience as a lecturer has meant she's spent a lot of time working with the next generation of artists. "They don't need nobody! They come into my classes [with] fully produced songs, that they can release themselves tomorrow on Soundcloud and, and get hype and get success if its good enough," she says.
This offers amazing freedom and potential. "Maybe they would have pitched that [song] to a label, and the label will be like, 'No, I don't hear the stardom in you, I don't hear that sound', and brush them off," says Pasternak. "But now that is removed and they can just go for it; they can sit in their bedroom to make their own records and release them. They don't need anyone to tell them it's good or not."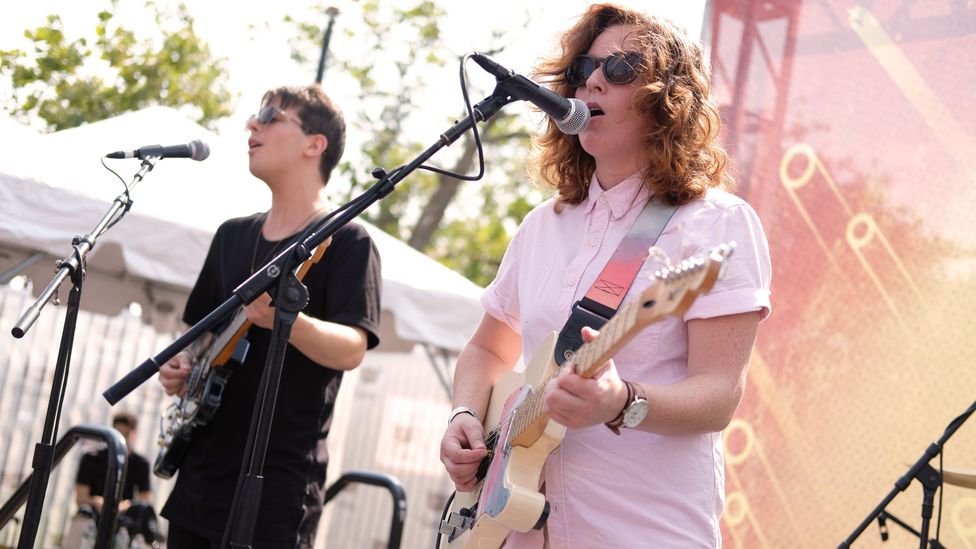 Brooklyn-based singer/songwriter pronoun says that despite more opportunities than ever, it's still difficult for artists to break through (Credit: Getty Images)
With over 50 million songs currently on Spotify, and thousands being uploaded every day, pronoun warns that even if you do everything right, it can be hard to cut through the noise. "I think it goes both ways," she says. "I think that artists that would have never, ever broken through are breaking through the noise right now. But at the same time, there's so much music coming out that it's really hard to do that. There are no guarantees."
Reyna says that it's not fair to have the conversation about music distribution and only focus on female musicians. "Having control of your distribution, as an artist, as a musician, allows you to have a platform. And who that really affects is the most is marginalised communities, people that have yet to be able to tell their stories as truth. And that includes women, absolutely, and it's important to look at that, but it's even more so an impact on brown, black, LGBTQ, trans [and] disabled communities."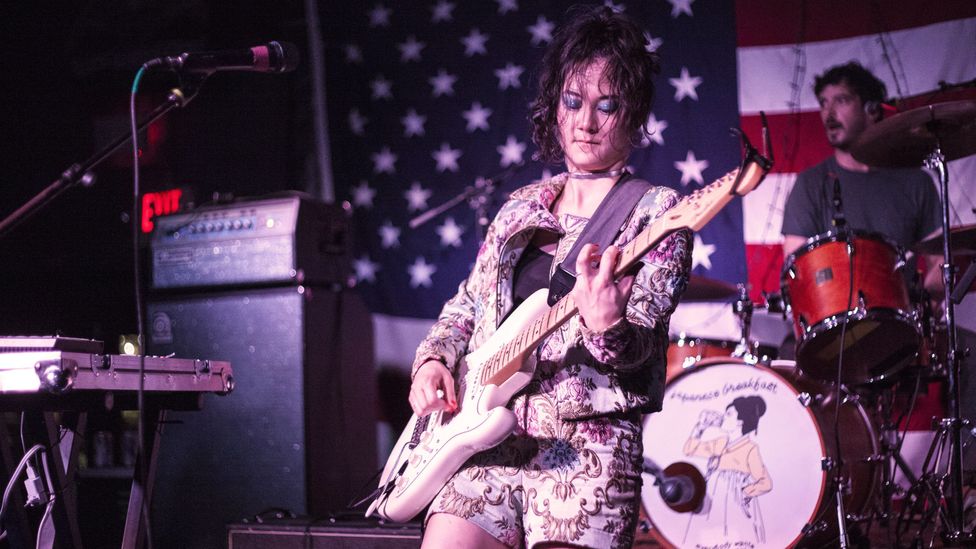 Michelle Zauner, who performs solo under the name Japanese Breakfast, is one of a new breed of indie artists shining a light on underrepresented cultures (Credit: Getty Images)
Reyna says it's no longer just a conversation about how many records any particular artist is selling, but about culture and identity, and an artist's relationship with their fanbase. She uses the examples of Mitski, a Japanese-American singer-songwriter, and Japanese Breakfast, the solo project of Korean-American musician, Michelle Zauner. To Reyna, these artists represent the new era of indie artists who write and perform their own music, but they're also paving the way for underrepresented cultures. "Artists that are finally speaking up about their traditional roots, their family members. They're opening up a door for black and brown communities to come into the mainstream for the first time, maybe ever."
The future is inclusive and intersectional, and so it's time for brands to have dialogues with marginalised communities
Pasternak echoes this sentiment, noting that with the democratisation of musical distribution, there has to be an evolution in the voices heard. "Not even women, but anyone that's been marginalised in the industry. I want to hear their stories," she says. I want to hear what they have to say sonically and lyrically… because that to me is inspiring… I want to hear the person who hasn't had a voice before."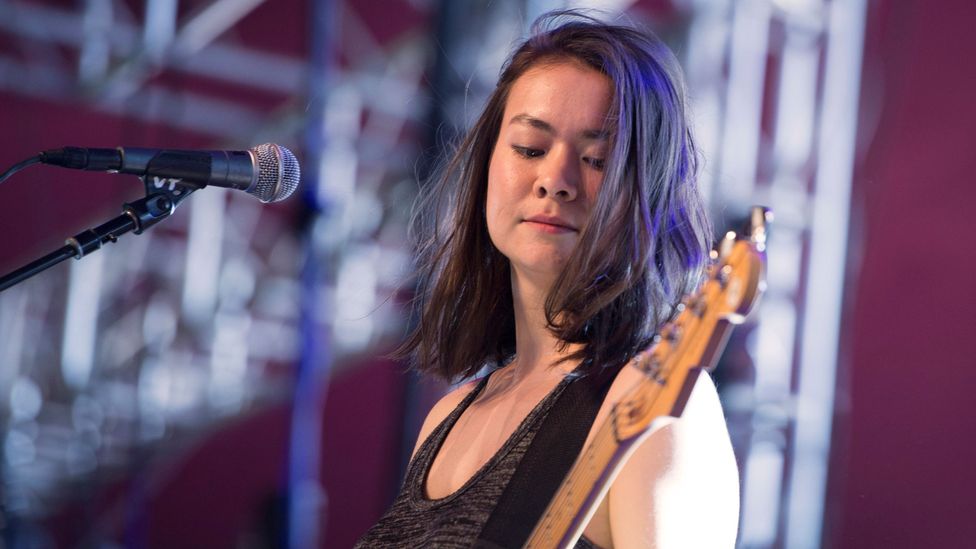 Mitski describes her cross-cultural identity as "half Japanese, half American, but not fully either" (Credit: Getty Images)
Reyna says the future is inclusive and intersectional, and so it's time for brands to have dialogues with marginalised communities. "Being able to understand that women are not just the women that you want to put on an ad; the potentially blonde, acoustic guitar playing girl in a flower field. It's so much more than that," she says. "I think that it's kind of a race to see who understands it first and the most, because as long as we have social media and control of our own distribution, these conversations will continue to come up and be apparent. And brands will need to catch up."
Now is the time for a new wave of artists to express their voice, says Pasternak. "There's a lot of people out there who don't hear someone like them, and don't see someone like them in the music industry. And that's over, that's got to be over. Because it's just not interesting. It's not representative of the whole industry," says Pasternak. "I feel like it's open to everyone… if something's high quality, and something's interesting, and something's resonating with people, that's going to rise, the cream will rise to the top. I always believe that."
If you liked this story, sign up for the weekly bbc.com features newsletter, called The Essential List. A handpicked selection of stories from BBC Music, Culture, Capital, Future and Travel, delivered to your inbox every Friday.