In the toughest of times, fiction can be an important remedy, as a panel of top authors discussed at a special BBC Culture event at the Hay Festival
I
It's been a torrid few days for Theresa May, Britain's soon-to-be-ex-prime-minister but, after she leaves number 10, what books might she read to soothe her troubled soul? She could start with US author Hubert Selby Jr's classic 1978 novel Requiem for a Dream, suggests 'bibliotherapist' Ella Berthoud. The tale of four people struggling with different forms of drug addiction, later adapted into a movie at the turn of millennium, may admittedly be "pretty grim, but I think she'll relate to it," says Berthoud. "The overall message of the book is to try and stick to your principles, and seize the day once more, so hopefully she'll read it and feel purged and renewed."
More like this
This recommendation came during a fascinating discussion about the therapeutic value of reading fiction that took place yesterday at this year's Hay Festival. Moderated by BBC Culture's literature writer Hephzibah Anderson, the 'Textual Healing: Can Fiction Heal?' panel talk saw Berthoud, an author and literary agent who also gives people personalised reading advice at London's School of Life, offering her thoughts about literature's role in improving mental health, alongside best-selling novelists Jessie Burton and Alex Wheatle.
The children's home was quite brutal, and so Huckleberry Finn was a place where I could escape my everyday turmoil - Alex Wheatle
So how can books re-balance the self? Well, above all, as the panel agreed, they provide a form of escapism that is more intense than in any other artform. "With a film or TV show, you're given the visuals whereas with a novel you're inventing them yourself, so it's actually much more of a powerful event, because you're involved," as Berthoud noted. Wheatle offered a powerful example of the transportative effect of fiction when he recalled discovering Mark Twain's Huckleberry Finn while living in a children's home in South London. "It was quite brutal, and so [the book] was a place where I could escape my everyday turmoil. At least, come 9 or 9.30pm, I could hide under the covers with my little torch and go through those pages, and imagine I was floating down the Mississippi River, coming across steamboats and making my own decisions about where I was going to eat and rest."
ALEX WHEATLE 1080 16x9.mp4
With their structured narratives, novels can also bring order to a disordered mind. Burton told the assembled audience how her favourite novels to read during troubled times were CJ Sansom's Shardlake series of historical mysteries set in Tudor England. When, a few years ago, the success of Burton's hit debut The Miniaturist triggered an episode of intense anxiety,  it was Sansom she turned to for solace: "getting yourself involved in quite a gnarly plot that you can try and solve is a displacement activity from your own mind's whirrings," she explained.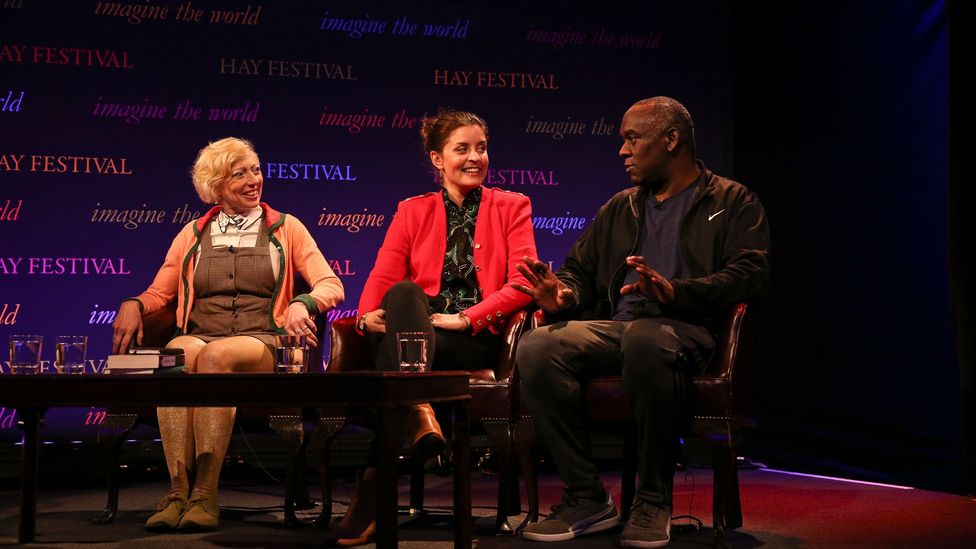 Bibolioptherapist Ella Berthoud, and novelists Jessie Burton and Alex Wheatle discussed their favourite books for troubled times, among other things (Credit: BBC)
The panel were also united in their belief that restorative fiction need not be happy - in fact it can be positively grim. Wheatle recalled how when he was growing up, his father would tell him about his own childhood in Jamaica, when a "storyteller would go from village to village, especially at harvest time, and they would interpret stories of slavery and so on. This stuff is very gloomy but it also affirms the struggle people have been through." Part of the appeal of dystopian fiction lies in the similarly unexpected solace it provides, he said: "it's about how people have got tested, and how [they] can overcome."
I really think that a book can be the axe that breaks the frozen sea within us, as Kafka said - Ella Berthoud
Re-reading favourite novels can also provide a particular kind of bibliotherapy - allowing one to take stock of oneself from an illuminating vantage point. Berthoud discussed how she had an ongoing relationship with Thomas Hardy's Tess of the D'Urbervilles of this type. "The first time I read it, when I was 15, I really identified with Tess, and the second time, 10 years later, I found I was really stressed out with how passive she was - and then I read it another 10 years later and began to understand some of her decisions again. There's something about going back time and time again to a book over your life which is incredibly rewarding - you get to know yourself better because you visit the layers of yourself that you've had over the years like an onion."
Thinking of younger readers, fiction can also play a significant role in tackling the youth mental health crisis that is increasingly part of the global conversation. Escapism is one thing, but conversely there are now more and more young adult novels which can help teenagers by addressing head-on the issues they may be dealing with in their day-to-day lives, from bullying to drugs to transgender issues and social exclusion. Berthoud mentioned novelists like Juno Dawson, Melvin Burgess and Malorie Blackman among those who may be most helpful in getting kids to talk about "the issues which might be happening in their lives, but they haven't been able to articulate. I really think that a book can be the axe that breaks the frozen sea within us, as Kafka said, and that is true of any age."
Is writing good for the soul too?
But while reading has undoubted psychological benefits, what about writing? Wheatle and Burton admitted that the life of a writer can be a mixed bag, mental health-wise. On one hand, as Wheatle suggested about his writing on his experiences in care, it can be a brilliant way to process, and empty out, emotional trauma. And on the other, as Burton said, "the actual act of writing is hugely isolating and you are alone for weeks, months, years on end, going a bit loopy.  I used to be an actress, which was a collaborative experience, and I deeply miss [that aspect] … the paradox is your book gets read by thousands of people but you're not there to witness that - you don't do that in concert - so it's very strange."
The actual act of writing is hugely isolating and you are alone for weeks, months, years on end, going a bit loopy - Jessie Burton
But in the end, seeing the impact that a book can have on readers' wellbeing is, in turn, the very best thing for a writer's wellbeing. Wheatle recounted an especially unusual and gratifying response he had recently from a reader of his latest, just-released teenage novel Home Girl. "She said 'Alex, I love the book, it made me want to do pottery. I thought 'there's not anything about pottery in there.' But she'd always wanted to do pottery, and because [the heroine] goes through so many obstacles in her life, and she tries to come at it another way, it had inspired her, she said. It's rare to get that kind of feedback but when you do, you think, this is why I do this."
The Hay Literature Festival runs until June 2. Jessie Burton's new novel The Confession will be released in September. Alex Wheatle's latest novel Home Girl is out now.
If you would like to comment on this story or anything else you have seen on BBC Culture, head over to our Facebook page or message us on Twitter.
And if you liked this story, sign up for the weekly bbc.com features newsletter, called The Essential List. A handpicked selection of stories from BBC Future, Culture, Capital and Travel, delivered to your inbox every Friday.