A new horror starring Octavia Spencer seems to subvert the old caricature of the devoted, dark-skinned care-giver – one still endured by leading black actresses, says Ellen E Jones
O
Octavia Spencer's latest film is a campy carnival of creepiness and a total hoot. In Ma, the Academy Award-winner stars as Su Ann, a loner who forms an age-inappropriate friendship with a group of local teens by letting them hang out and party in her basement. There are, however, a few sinister conditions attached: the teens must call Su Ann 'Ma' and they must never, ever venture upstairs into the main house. That's because this is no sweet tale of intergenerational understanding; it's a jump-scare-filled psychological horror from the producer behind Insidious, The Purge and Get Out. And for those with a deeper knowledge of US cultural history, there's another level too: 'Ma' is short for 'Mammy', isn't it? 
The history of black women on screen is closely tied up with the mammy figure, a racist caricature divorced from the reality of US race relations during slavery and afterwards. Traditionally depicted as a dark-skinned, overweight woman, wearing a headwrap and shawl, the mammy is employed by a white family to care for their children and is utterly devoted to her charges.
More like this
-        Why do we demonise the scarred?
There she was in DW Griffith's cinematically seminal and inherently racist 1915 film The Birth of a Nation, defending her master's house from Union soldiers, and she was also there in the first 'talkie', The Jazz Singer, as the subject of Al Jolson's blackface serenade. When, in 1939, Hattie McDaniel became the first black actor (male or female) to win an Academy Award, it was for the mammy role in Gone with the Wind, and when, seven decades later, Spencer herself won an Oscar, it was for The Help, in which she starred as a maid in the 1960s Deep South alongside Viola Davis, and which the Association of Black Women Historians (ABWH) called "a disappointing resurrection of Mammy". In between, the mammy image has proliferated on screen, and it continues to appear – part-disguised or totally unchanged – to the present day.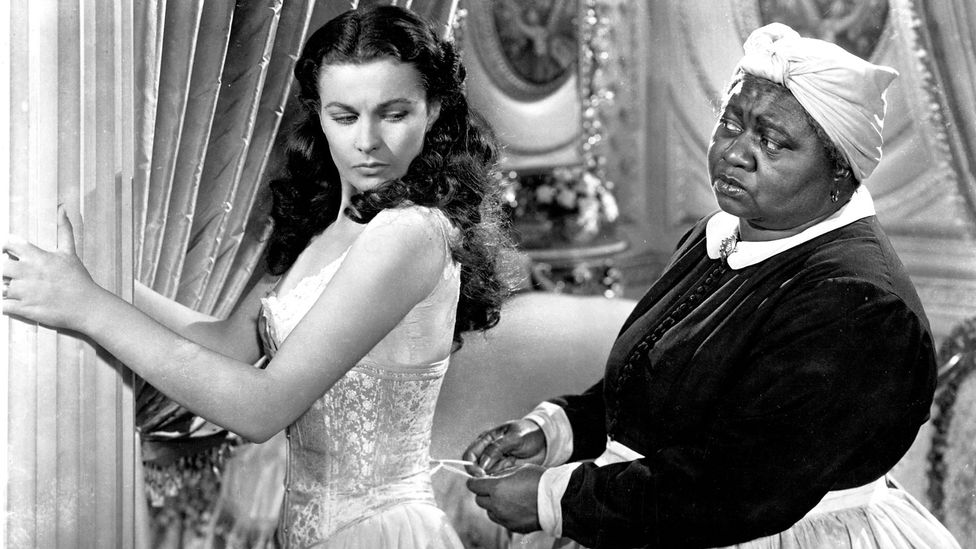 Hattie McDaniel became the first black actor to win an Oscar as Scarlett O'Hara's house slave in Gone with the Wind (Credit: Alamy)
Maybe the most important thing to know about mammy, though, is that she never actually existed. As evidenced in the research of historians including Cheryl Thurber and Patricia Turner, while the care of white children in the antebellum US South was sometimes entrusted to enslaved people, these 'house slaves' were typically light-skinned teenage girls (conditions for enslaved black women were, in any case, so harsh that 90 per cent died before their 50th birthday). Given the poor diet available to slaves, they were also highly unlikely to have been either fat or jolly. All this, according to the psychologist Chanequa Walker-Barnes, "affirms that Mammy was a largely mythical figure with little basis in the lived experiences of black women."
A creation of white supremacy
Indeed, as Thurber has noted, literary depictions of the mammy peaked several decades after slavery, in nostalgic memoirs of the Old South written between 1906 and 1912. Along with other 'controlling images' of African-Americans such as the Sambo, the Jezebel and the Sapphire, the mammy was a creation of white supremacy, intended to bolster and legitimise the status quo. Or, put more simply, the US were so desperate to be absolved of the crimes of slavery, that such an absolver — maternal, asexual, ever-loyal and black — had to be invented. 
Mammy fulfilled her soothing function so well, that she was allowed to stay on long after the children had grown up and supposedly moved on. Even now, it's practically impossible for any black actress who isn't Halle Berry to forge a career without playing a few mammy roles – a fact which speaks of the still-shameful lack of black women in behind-the-scenes positions of power in the film industry, says Kali Gross, a Rutgers University history professor and ABWH member. "We need to be in the room at every level when projects involving us are being considered (as well as being involved on ones that aren't about us) and black women have to be in positions to offer critical feedback without fear of retaliation."
Octavia Spencer has played a maid, nurse or cleaner a total of 21 times, including in two of her three Oscar-nominated performances
Recently, there has been some progress on this front, as evidenced by the career of Spencer. In addition to her acting, she is a prolific executive producer, whose credits include Fruitvale Station, Ma and — also controversially — this year's Academy Awards best picture winner Green Book. Yet even she is no exception to the mammy rule. According to IMDb, Spencer has played a maid, nurse or cleaner a total of 21 times, including in two of her three Oscar-nominated performances. What's more, the majority of these characters exist chiefly to serve the narrative of a white protagonist, by offering homespun wisdom or large-bosomed emotional support.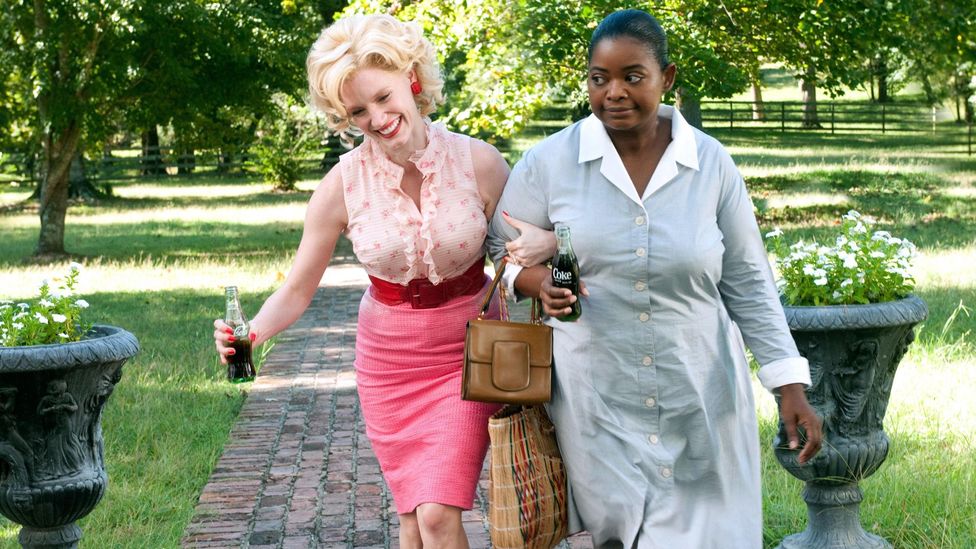 Octavia Spencer first came to prominence for her Oscar-winning turn as a maid in 2011 drama The Help (Credit: Alamy)
At the very least, Ma represents a welcome change from this sort of typecasting. The fact that it re-teams Spencer with her director on The Help, Tate Taylor, also opens up the intriguing possibility that Ma might, in fact, be a direct response to The Help's critics. In a 2017 interview with the Guardian, Spencer discussed the gap between the roles she's often offered and how she sees herself: "It's one that it's hard to break out of because it's the only box that they want to put you in. And I'm like: 'I don't have kids, I'm nobody's mother! If you ask my friends, they're like: 'You are the last person who should be a mom.' ... I've gotten very used to the needs of one. I am a nurturer of the people who I love so that comes, I guess, a little bit natural, but maybe it also is I'm a control freak. When you nurture, you can also control the situation. It's like I need to take control of this situation because I know best how to do it."
The revenge of the mammy
This nurture/control duality is one that Ma takes and runs with. If, as US cultural commentator Melissa Harris-Perry has pointed out, the mammy, "represented a maternal ideal, but not in caring for her own children. Her love, doting, advice, correction, and supervision were reserved exclusively for white women and children," then Ma flips that. Her terror, cruelty and vengeful rage are reserved exclusively for white women and children. (Or almost; the group's one black teenager meets his own symbolic fate). Not that you need to appreciate the racial dimension to be terrified by the notion of a trusted caregiver turning homicidal. In an age of distracted working parents and hyper-connected teens, the question 'Who's watching the children?' is particularly loaded.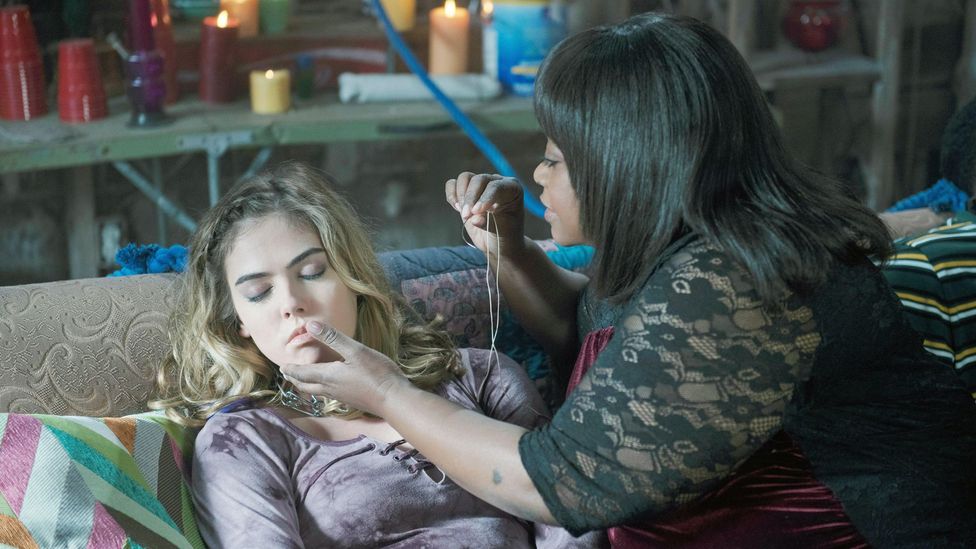 Spencer's turn as the vengeful 'Ma' subverts the image of the mammy – but is it deliberate? (Credit: Alamy)
Does this amount to a deliberate subversion of the mammy stereotype? According to Entertainment Weekly, the Su Ann/Ma character was originally written as white and Taylor changed that in order to allow the casting of his old pal Spencer (the two Southerners first met in 1995 while working as crew on the Mississippi set of A Time To Kill). Taylor's comments about the Ohio-set film also suggest he views it as a primarily gender-based satire: "Don't brush [women] under the rug and think there won't be repercussions," he told Entertainment Weekly. "Not with Ma!".
Generations of white people who don't see themselves having benefited from structural racism and race privilege will see themselves in those kids terrorised by a crazy black woman - Micki McElya
Given these details, Micki McElya, author of Clinging to Mammy: The Faithful Slave in Twentieth-Century America and new book Liberating Beauty: Feminism, the Civil Rights Movement, and Miss America is sceptical: "If anything, the film could just fuel the white populist rage driving so much of American politics right now. Generations of white people who don't see themselves having benefited from structural racism and race privilege… who say things like, 'I didn't own slaves; I'm not responsible for any of this,' will see themselves in those kids terrorised by a crazy black woman seeking revenge for something they didn't even do."
It's not that nothing at all has changed since the mammy was first depicted in US culture, but the shift has been more subtle. Back in 1981, Andy Warhol included the mammy in his Myths series, alongside Santa Claus, Uncle Sam and Mickey Mouse. Now, thanks to Ma, this folkloric invention can also take her place in the pantheon of scary movie villains, alongside Freddie Kruger, Michael Myers and Misery's Annie Wilkes. But then, the mammy always was a misogynoir (anti-black woman misogyny) nightmare seeped in the horror of slavery and segregation. It's just taken Hollywood this long to figure it out. 
Ma is out today
Love film? Join BBC Culture Film Club on Facebook, a community for film fanatics all over the world.
If you would like to comment on this story or anything else you have seen on BBC Culture, head over to our Facebook page or message us on Twitter.