W
With his new album, Western Stars, Bruce Springsteen once again taps the motherlode of mythical America: "highways and desert spaces… isolation and community and the permanence of home and hope" as he put it. He himself has long since become Americana, a figure so central to US pop culture that if there wasn't a Boss, someone would have had to build one from rusty steel and dusty dreams.
It's an adaptable form: in almost every country across the globe, it seems, there is a rock singer who is described as their version of Bruce Springsteen – beloved, respected, and seen as part of the cultural heart in their homelands.
There are certain qualities a global Bruce Springsteen must have: they must be from, or at least do a decent job of affecting, a blue-collar background. They must be charming and warm, rugged but sentimental. They must have big hits, and channel to some degree the folk music and poetry of their country. Oh, and a bit of denim, leather or a sweatband doesn't hurt too.
Without further ado, please: Bruce Springsteens of the world – unite and take over.
Russia: Yuri Shevchuk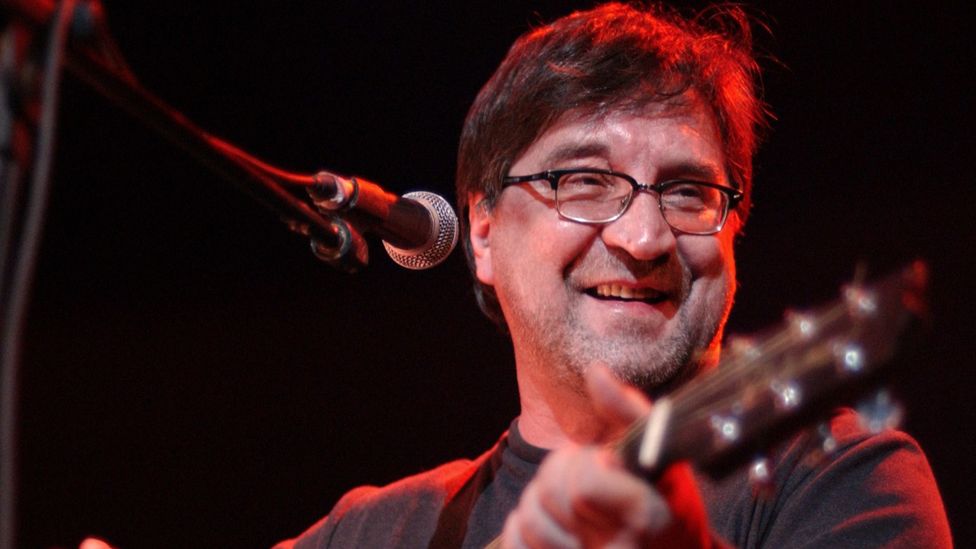 Russia seems like a country that would be full-to-bursting with Springsteens, what with all that rugged masculinity, post-industrial malaise and political discontent. Most often mentioned is 61-year-old Yuri Shevchuk, a gravelly voiced former art teacher who formed the band DDT (named for the controversial pesticide) with Vladimir Sigachev in 1980, falling foul of Soviet censorship. He's been solo since 1985, and remained a fierce critic of Putin's Russia – both in songs like Kogda Zakonchitsya Neft (When the Oil Runs Dry, Our President Will Die) and to his face.
As well as writing anti-war songs like Ne Strelyai, about the Russian-Afghan war, he played peace concerts for both sides during the first Chechen war and the Russian-Georgian war, and has donated concert proceeds to those affected by the Ukraine-Russia war in the Donbass region. He also performed Dylan's Knocking on Heaven's Door with U2 at their first ever Russian concert in Moscow.
Germany: Udo Lindenberg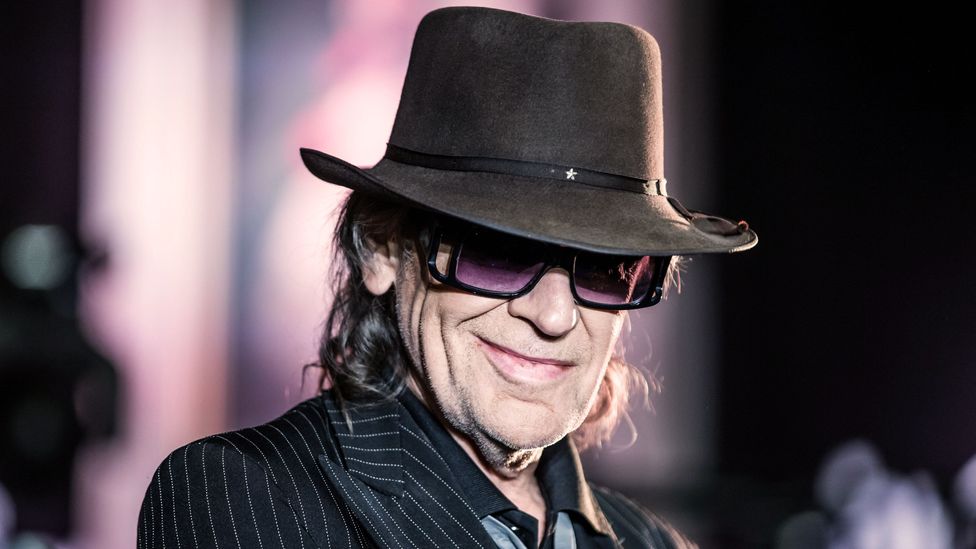 There are a couple of men with a claim to be the German Boss. Herbert Grönemeyer, is known for his political commitment, having started Deine Stimme Gegen Armut, the German chapter of Make Poverty History, in 2005, and spoke out on the G8's progress on ending African debt. But as David Stubbs says in his book on the rise of krautrock, Grönemeyer's "apres-garde populism" is "very much in a tradition of indisputably sincere epic pop that includes Peter Gabriel and Elton John", and he's most often seen in a very un-Boss suit.
Perhaps a closer analogue is Udo Lindeberg. Arising in the time of krautrock, Lindenberg found a middle path between the avant garde and the mainstream. Fans loved his matter-of-fact, everyday German-language style. There's the politics as well – in 1983 he released the song Sonderzug nach Pankow, a satirical rewrite of Chattanooga Choo Choo referencing the fact that he couldn't perform in East Germany. The track has that Springsteen feel for sure – 80s keys, party sax. Lindenberg has his own E-Street band, in the form of the sprawling, familial Panikorchester, and like Bruce boasts an MTV Unplugged album. He's definitely got more of the raw-throated grittiness and the critical respect we associate with The Boss. And he has grand visions: "Imagine: Bruce Springsteen, Bono, Lady Gaga and Udo Lindenberg meet at night and negotiate world peace," he once said. "A world ruled by rock singers would be a better one."
France: Jean-Jacques Goldman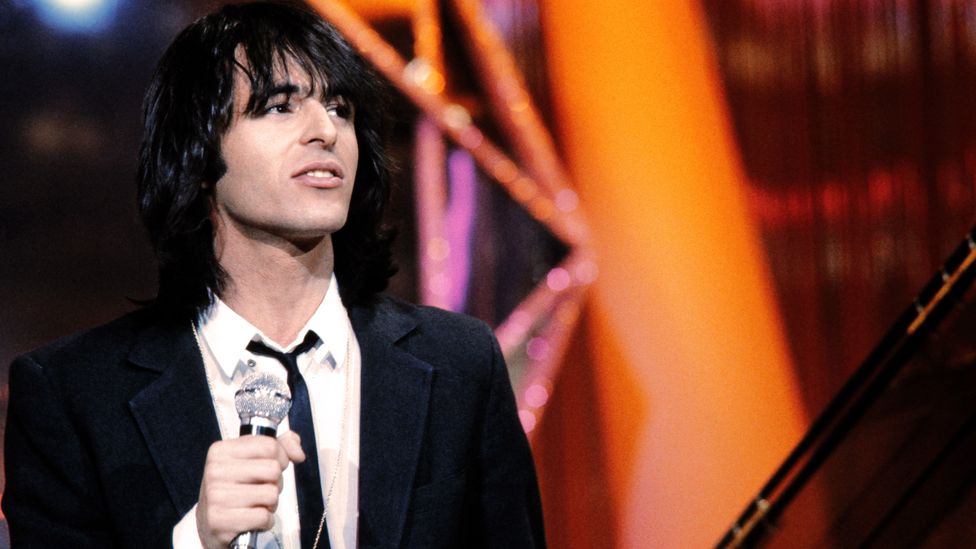 Talk about the French version of Springsteen, and chances are the name that crops up is the late Johnny Hallyday. Like Bruce, Hallyday is so beloved he can go by just one name, and he had the extremely Springsteenian habit of taking his Harley-Davidson on long rides through the California desert, sleeping in motels. But really he was of an earlier generation than Springsteen, beginning his career in 1960, and was also referred to as the French Elvis.
The true Bruce Springsteen of France – declared so by no less an authority than Celine Dion –  is Jean-Jacques Goldman, whose 1985 album Non Homologue (Not Approved) may remind you of a certain other album sleeve. In 1985, he wrote Les Restos Du Couer, a French equivalent of We Are the World, for a charity of the same name that gives food to those in need during the winter months, and he nails the Springsteenian tone perfectly, whether it's romantic and rueful Brilliant Disguise-style Bruce on La Bas or the pumping 80s-pop-hits Bruce of Je Marche Seul.
Iceland: Bubbi Morthens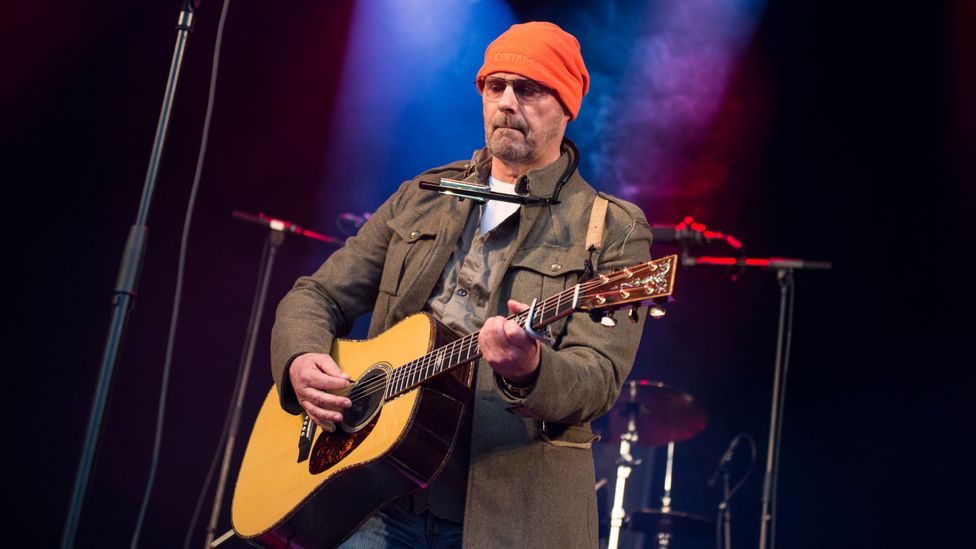 Iceland may only have a population of 340,000 but it still has its own Boss. Asbjorn "Bubbi" Morthens, 62, cut his teeth in Utangardsmenn and Ego, key figures in the history of Icelandic rock. His first solo album was, brilliantly, called Isbjarnarblus ("Polar Bear Blues"), named after one of the country's biggest fish-processing plants (fishing was then the most important part of the Icelandic economy, and Morthens made his living going from town to town working in fish factories and performing in bars). 
After going solo for good in 1984, he became Iceland's biggest-selling artist domestically. The lyrics of the yearning Aldrei Fór ég Suður (I Never Went South), from his 1987 breakthrough album Dögun (Dawning), are pretty much Dancing in the Dark for fishery workers: "I usually wake up tired, hardly with myself/But I know there is another life than what I live here…". The song now gives its name to an annual music festival in Ísafjörður (in the north-west). In his Icelandic music history Blue-Eyed Pop, Dr Gunni says: "Bubbi and the Icelandic identity seem to go hand in hand most of the time – opportunistic and full of contradiction."
Brazil – Cazuza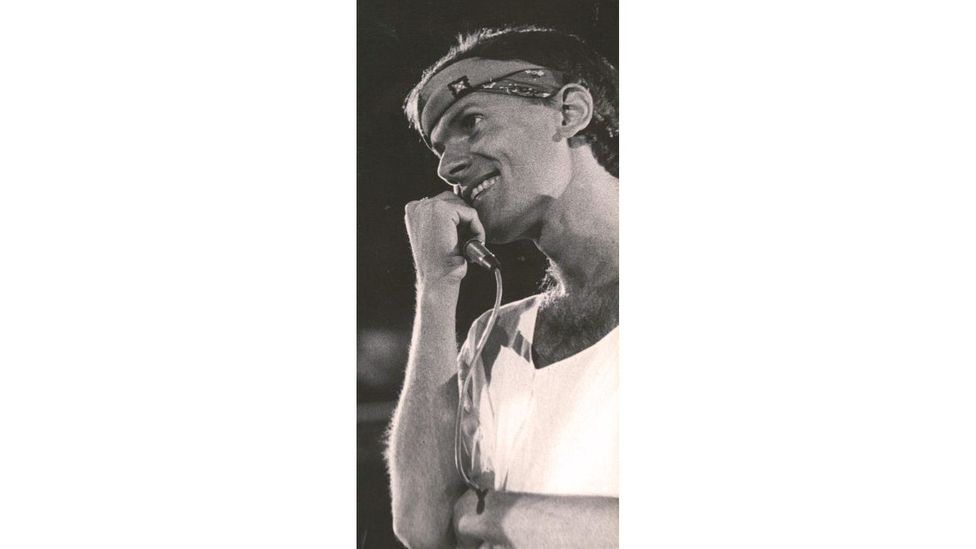 Few people can match Springsteen's way with a sweatband like Brazilian rock hero Cazuza. His mother was a singer whose song appeared on one of Brazil's first telenovelas, his father the president of the Som Livre record label. Despite this, he initially thought he wanted to be an architect, until discovered he was no good at maths. Then he fell hard for rock music – the Stones, Janis Joplin, Led Zeppelin – while on holiday in London in the mid-70s. After a spell in San Francisco, and performing in the theatre, he returned to Rio and joined the rock band Barão Vermelho ("Red Baron").
Over just nine years of career with the band and solo, he sold over five million albums in Brazil, with 11 No 1 and 18 Top 10 singles. Exagerado, one of his biggest hits, has something of the retro pop swagger of Hungry Heart. Caetano Velsoso called him the greatest poet of his generation, and he was seen as making rock relevant to Brazilian life. He took aim at Brazil's corrupt elites during the fall of its 21-year-long military dictatorship.
"My ideology is that of change. No political parties. It's this thing of changing Brazil, in whatever dimension," he said. Unusually for the time, he was also boldly was open about his bisexuality, and later, showed similar courage when he contracted HIV in 1989, staying in the public eye and on the stage even as illness took a visible and painful toll on him, helping to change public perceptions about the virus in his country.
China: Cui Jian
Now known as the father of Chinese rock, Cui Jian once seemed destined for a career in the classical world – his father was a professional trumpet player, his mother in a dance troupe. Cui himself joined the Beijing Symphony orchestra at the age of 20. But then he was led astray by the unlikely corrupting influences of Simon and Garfunkel and John Denver, thanks to friends' illicit LPs bought in Hong Kong.
He started his first band, Qi He Ban, in 1984, with six other classically trained musicians, but it was his solo career, from 1986 on, that really made him a star. As well as referencing political history and satirising Communist party ideology, like Springsteen, he drew on his country's native music: his best-known track, Nothing to My Name, combines 80s keys and guitar grandeur with the plaintive sound of a suona horn and a dizi bamboo flute.
When tension was rising between the youth of the country and the government, he became a voice of resistance, his song Nothing to My Name an anthem to student protesters. He performed at Tiananmen Square days before the peaceful protests were brought to an end by a state-sanctioned massacre. In 1990, Cui began performing with a red blindfold, symbolising Communist party oppression – he'd performed his song A Piece of Red Cloth at Tiananmen Square as well as Nothing to My Name. In response, the authorities made sure his performances in Beijing were limited to tiny venues for over a decade.
South Africa: Johnny Clegg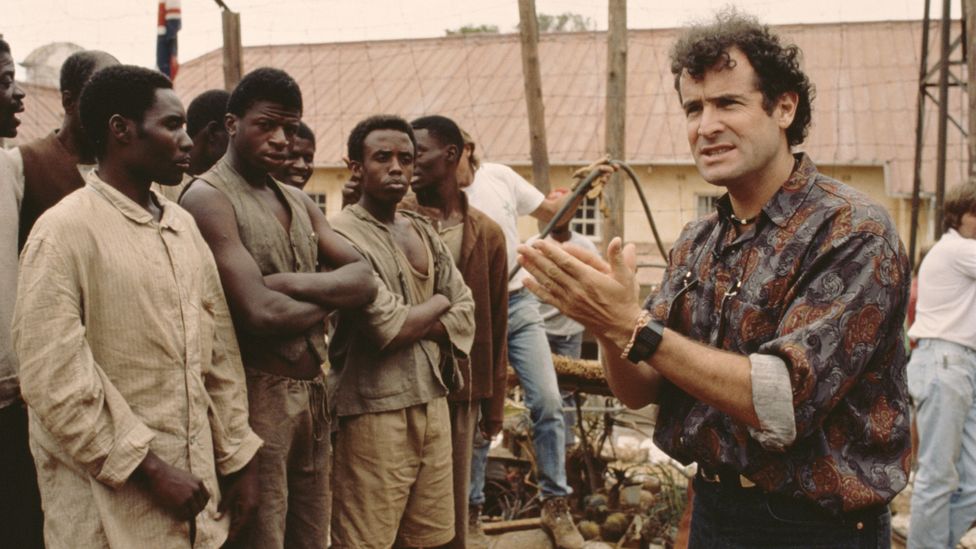 A huge influence on Paul Simon's Graceland, Lancashire-born, Johannesburg-raised Johnny Clegg was drawn as a teenager to the music of the city's working-class Zulu community. During apartheid, he was frequently arrested for breaking laws about people of different races from meeting in groups after curfew hours.
At 17, he formed his first band, Juluka, with Sipho Mchunu. By the time they released their first album, Universal Men, in 1979, they had six members: three black, three white. It was unusual for the time to say the least, and live performance was tough as they faced censorship and harassment. Their lyrics often referenced the resistance to apartheid, and Work for All referenced 80s trade union slogans.
Clegg formed his second band, Savuka, in 1986 with Dudu Zulu. Their debut album Third World Child, was an international success, and they once drew such a big crowd in Lyon, France, that they forced Michael Jackson to cancel a concert there.
The single Scatterlings of Africa, their best-known song, featured on the soundtrack to Rain Man. In 1993, Dudu Zulu was fatally shot while walking home from a neighbour's house. Clegg briefly reformed Juluka, and then went solo. In 1999, Nelson Mandela joined him onstage, dancing to Asimbonanga, the song Savuka wrote in 1987 about the ANC leader's imprisonment in Robben Island, which had been an anthem for the anti-apartheid umbrella group the United Democratic Front.
In 2015, Clegg was diagnosed with pancreatic cancer, and at the end of last year, a supergroup of South African musicians recorded a special version of his song The Crossing in tribute to him and to raise money for an educational charity, Friends of Johnny Clegg, set up in his name.
Australia: Jimmy Barnes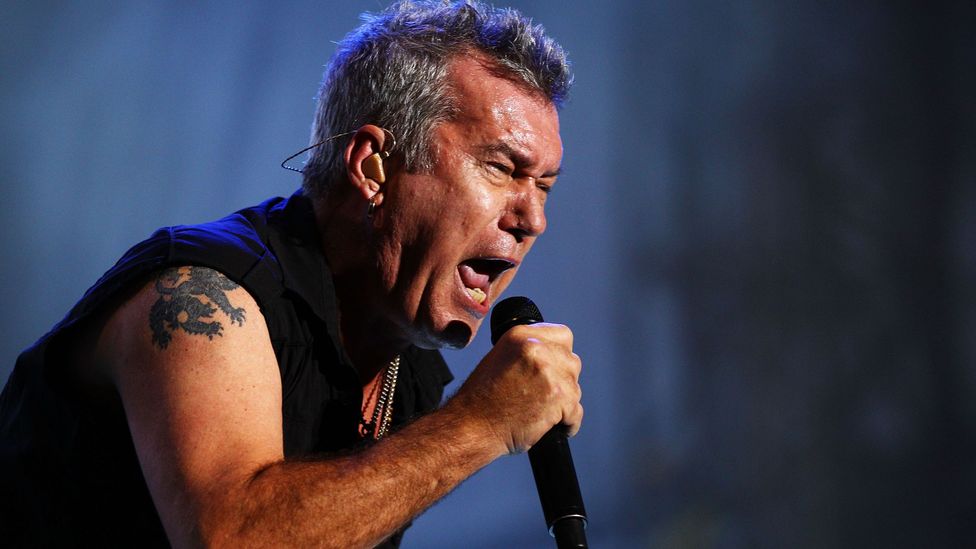 Australia, a country that's long developed its own traditions in American forms like the western or country music, was hardly likely to have just one Springsteen.
It's hard to argue against Paul Kelly, who draws on Australia's vast landscape and history of social conflict, including the injustices visited on indigenous Australians, in an output centred in folk, rock and country. Like Springsteen, he cut his teeth with a variety of bands gigging in small venues around the country, influenced in his early days by Dylan and Van Morrison.
One of his best-known songs To Her Door is clearly Boss-esque, with hints of The River, but an unmistakably Australian idiom: "They got married early, never had no money /Then when he got laid off, they really hit the skids".
But then there's also rock bard Jimmy Barnes, who literally has a song called Working-Class Man that includes the lyrics "blue denim in his veins", so it has to be a draw. Born in the slums of central Glasgow in the 50s, Barnes arrived in Adelaide as a child. As a young man, he worked in a railroad foundry, and his father was a prizefighter, so his life was pretty much a Springsteen song.
After a brief spell on drums with Fraternity, Bon Scott's old band, he joined Orange, the band that would become Cold Chisel, one of Australia's most beloved rock groups, before going solo. He's probably best known outside Australia for Good Times, his rollicking duet with INXS that appears on the soundtrack to The Lost Boys.
In 2015, in a parallel of Reagan's 1984 misunderstanding of Born in the USA, Barnes asked the far-right Reclaim Australia party to stop playing Cold Chisel's song Khe Sanh (the same Vietnamese town referenced in Born in the USA – Cold Chisel's song is about Australia's involvement in the Vietnam War) at their rallies, saying "if you look at my family, you can see we are a multicultural family… none of these people represent me and I do not support them."
His enduring place in the Australian cultural pantheon was underlined by his 2017 ascent into memedom, thanks to Kirin J Callinan's bizarre track Big Enough, whose video featured a god-sized, cowboy-clad Barnes screaming over the mountaintops. Last year, his prize-winning memoir, Working-Class Boy, was made into a film, and he's just released his 17th album, My Criminal Record.
If you liked this story, sign up for the weekly bbc.com features newsletter, called The Essential List. A handpicked selection of stories from BBC Music, Culture, Capital, Future and Travel, delivered to your inbox every Friday.