More and more people are refusing to define themselves as either gay or straight – and from pop music to sitcoms, such fluidity is becoming increasingly visible, writes Hugh Montgomery
I
It may be superficially obsessed with virtual realities, but the best episodes of hit Netflix anthology series Black Mirror are ultimately more concerned with very tangible emotions. Such is the case with Striking Vipers, the clear stand-out episode from the most recent run, which launched on the streaming platform a couple of weeks ago.
Telling the story of two apparently heterosexual men who find themselves having an affair via their avatars (one male, one female) in a VR beat-'em-up, it offers a beautiful expression of love unconstrained by established gender and sexual identities.
If there is one aspect of the story that may come to date, however, it's not the computer game technology, but the fact that, back in the real world, this liaison causes the 'straight' duo involved so much evident angst. That's because current statistics suggest more and more people are understanding themselves as having no fixed sexuality.
More like this
A YouGov survey in the US last year, found that three per cent of 18 to 24 year olds identified as 'completely homosexual', but more than a third identified as something other than totally heterosexual.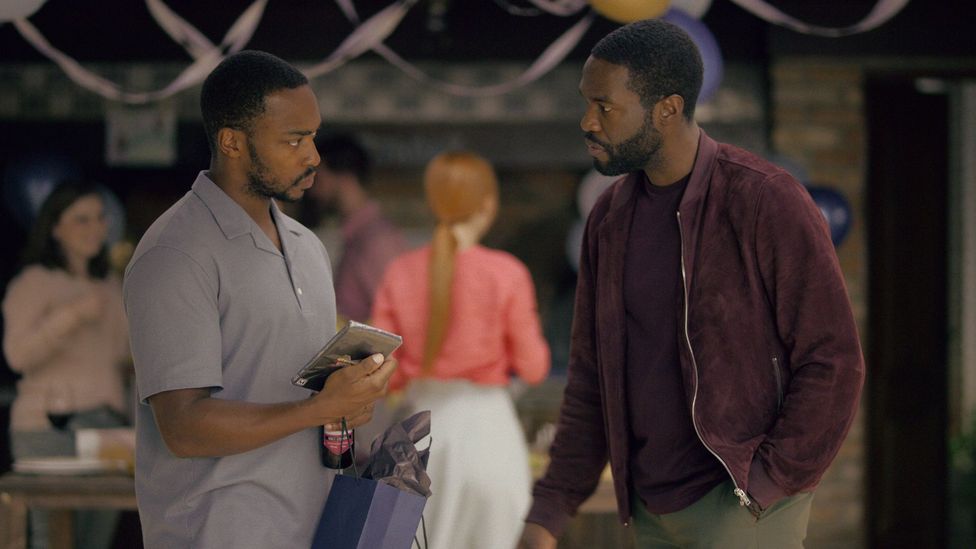 New Black Mirror episode Striking Vipers tells the story of two apparently heterosexual men who find themselves having a virtual affair (Credit: Netflix)
Meanwhile, in an equivalent UK survey, up to 55 per cent of 18 to 24 year olds identified as not wholly straight. Dr Nikki Hayfield, a senior lecturer in social psychology at the University of the West of England and researcher into LGBTQ+ sexualities, says that it's in the last decade that there has been a surge in people turning to sexually fluid identities: "[in that time] we've seen an increase in the percentage of bi people as part of the LGBTQ+ grouping."
One of the most common descriptions that people have given for how they define pansexuality is it's 'about hearts, not parts' – Dr Nikki Hayfield
But bisexuality is only one manifestation of this new fluidity: increasing numbers of people find even that classification is restrictive. Instead they are embracing what Hayfield calls "multidimensional understandings of sexuality". Pansexuality, in particular, has become an increasingly favoured term for those who reject a gender binary when it comes to attraction. In part, its popularity is a matter of people wanting to be inclusive of all gender identities, in societies with increasing numbers of trans and non-binary people. "One of the most common descriptions that people have given for how they define pansexuality is it's about 'hearts, not parts' which I think captures it really succinctly," says Hayfield.
Making sexuality stress-free
But beyond that, classifying onself as pansexual can simultaneously be a statement against pigeonholing. "Young people are understanding [it], in particular, as being an 'anti-identity' identity," says Hayfield. Indeed, in turn, there are also increasing numbers of people who would rather not put any label on their sexuality whatsoever.
When it comes to popular culture, meanwhile, what this means is that there's a new frontier in the battle for LGBTQ+ representation. Where gay and lesbian people may have been the focus in the past, even if they are still very far from adequately depicted, a corresponding issue now is: is enough being done to give voice to those outside those distinct categories?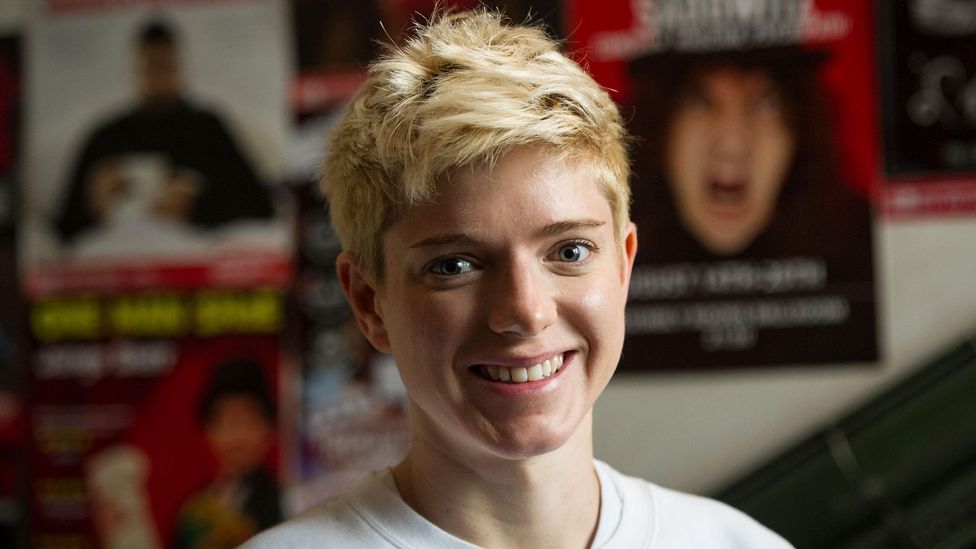 Comic Mae Martin has written a sex and relationships guide which aims to help take the pressure off teenagers having to label their sexuality (Credit: Alamy)
The Canadian stand-up comedian Mae Martin is one artist leading the way when it comes to championing a non-binary approach to sexuality. Her new book Could Everyone Please Calm Down? A Guide To 21st Century Sexuality is a funny, non-preachy sex and relationships primer for teenagers that, above all, aims to take the pressure off young people when it comes to defining themselves. "These days I think sexuality and gender can be so highly politicised, and heavy," Martin tells BBC Culture. "And it's so important that people remember we're talking about love, which is a positive thing, and sex, which is a positive thing. I hate to think that for young people the joy of those early experiences is marred by stress around identity."
Everything that was written about my comedy when I was younger referred to me as 'gay Mae' or 'lesbian comedian', which I found frustrating – Mae Martin
Martin herself has been attracted to both men and women, and would generally rather not have to categorise herself at all – though, from the moment she started doing gigs aged 13, that hasn't stopped people doing so for her. "Everything that was written about my comedy [when I was younger] was like 'gay Mae' or 'lesbian comedian' – a lot of putting labels on me based on my appearance, or the fact I said I was in a relationship with a girl. So I found that frustrating."
She still has to contend with wilful misunderstanding in the media and elsewhere: in the book, she recalls the excruciating instance of a male interviewer who was fixated on her providing a conclusive answer as to whether she preferred men or women. "He thought I was being obstructive...so many people are like 'we read that you don't necessarily like to label your sexuality so please could you…''"
The rich history of fluidity
Such apparent bafflement is itself baffling, given that sexual fluidity is as old as time itself – something Martin emphatically points out in her book, informing her young readers about ancient cultures that celebrated sexual diversity, while also highlighting non-Western cultures that have always happily ignored the gender binary too. "Labelling sexuality is quite a recent phenomenon," she says. "And a lot of that labelling came out of people identifying it as a mental disorder, so it's kind of a negative history. And there's such a rich history of [fluidity] and multiple genders, it would be good to remember that. Because you can so easily feel 'oh maybe I'm part of this new fad'".
Indeed, the idea that sexual fluidity is somehow 'fashionable' has been a depressingly stubborn strain of prejudiced thinking – and a cornerstone of the well-recognised phenomenon of biphobia, alongside the other common belief that bisexual people are being dishonest or are in denial about being gay.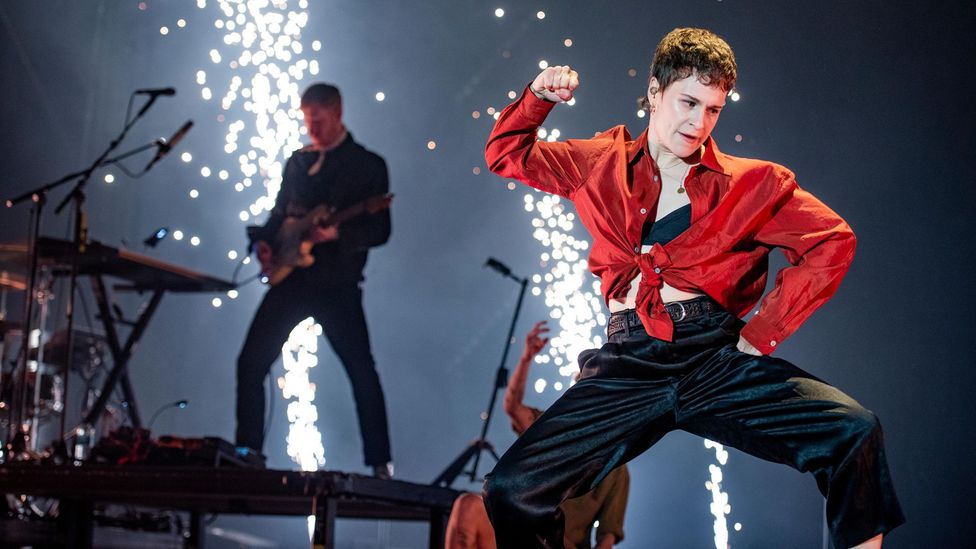 Best known as Christine and the Queens, pop star Héloïse Letissier is one of a number of stars who have identified themselves as pansexual (Credit: Alamy)
But recently, there seems to have been increasing acceptance, not only for bisexuality, but also for those who idenify as pansexual or 'without labels'. Well-known pansexuals include pop stars Miley Cyrus, Janelle Monae, Héloïse Letissier (aka Christine and the Queens), Brendon Urie, and the comedian Joe Lycett. Meanwhile those who have demurred from categorisation altogether include the singer Lizzo and the actresses Kristen Stewart and Sophie Turner, who in a recent interview with Rolling Stone, declared: 'I love a soul, not a gender'.
Both Janelle Monae and Héloïse Letissier's work is euphorically chameleonic
It's noticeable that the reaction to such disclosures is, in general, much more uncomplicatedly supportive these days, without the kind of sneering or scepticism that may have been depressingly common in the past. It helps, certainly, that a non-binary sense of identity is so core to some of these stars' work. Stewart has regularly explored androgyny and sexual ambiguity in her screen performances, including most recently as the gender-fluid literary impersonator Savannah Knoop in JT LeRoy, and she is set to make her directorial debut with an adaptation of The Chronology of Water, a cult 2011 memoir by bisexual writer Lidia Yuknavitch.
Meanwhile both Monae and Letissier's work is euphorically chameleonic. Monae's last album Dirty Computer was, among other things, a bold testimony of sexual exploration, whose Prince-like lead-off single Make Me Feel was accompanied by a video of her vamping with both male and female partners. And Letissier has been most recently presenting as Chris, a simultaneously masculine and feminine, sexually assertive funkster.
Bisexuals on screen
Thanks to the likes of David Bowie, Prince and Madonna, pop music has always revelled in sexual fluidity, to some extent. But as for the wider representation of it in mainstream culture – chiefly in film and TV? The picture has traditionally been much more regressive. Bisexuals have been even more disparaged than gay and lesbian people by Hollywood and its ilk. For a long while, the most frequent type of bisexuality depicted, in films such as Basic Instinct, Cruel Intentions and Wild Things, was female, hypersexualised, and very clearly the product of heterosexual male imaginations.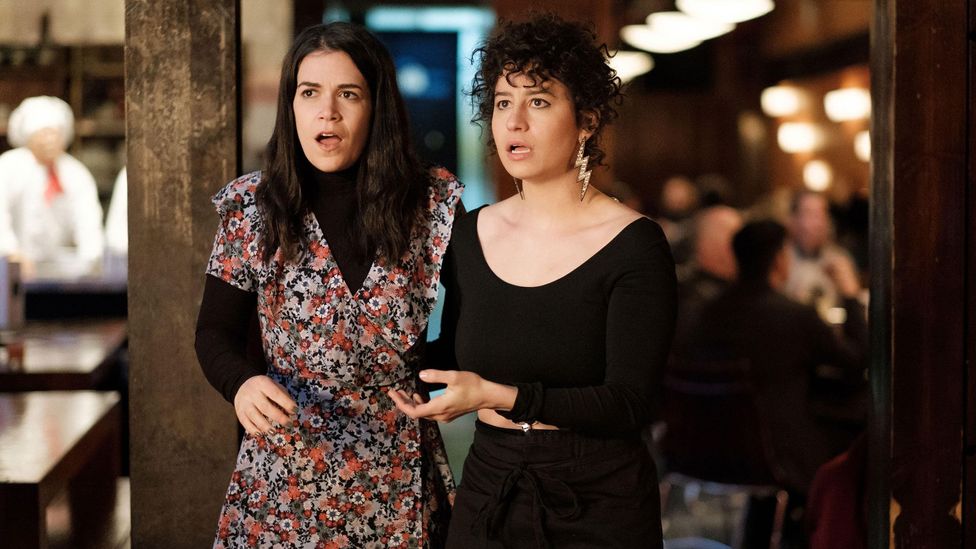 Comedy Broad City featured two female leads who were attracted to both men and women (Credit: Alamy)
On the small screen, meanwhile, it was invariably exploited as a clunky plot device: an 'experiment' for hitherto straight characters. Such storylines could provide laughs (as with Samantha's three-episode relationship with a stereotypically 'fiery' South American female artist in Sex and the City, best remembered for a comedy scene of female ejaculation) or, again, some dramatic titillation (as with heroine Marissa's same-sex fling in teen drama The OC) before the protagonists were returned to heterosexuality, their momentary excursions quickly forgotten about.
I'm into the wine, not the label – David, Schitt's Creek
In the past few years, though, the landscape has been changing; more and more, we are being presented with characters having relationships with more than one gender in a way that feels both organic and unsensational.  And where many of these characters would have previously been defined as bisexual, they are equally as likely now to be coded as either explicitly pansexual or as 'label-less' in their sexuality by the actors and writers behind them.
Notable pansexuals have included Game of Thrones fan favourites Yara Greyjoy and Oberyn Martell; Annalise Keating, Viola Davis' brilliant law professor in potboiler How To Get Away with Murder; and Sabrina the Teenage Witch's warlock cousin Ambrose in the new Netflix reboot. But perhaps the most gladdening depiction of pansexuality so far has been the cult sitcom Schitt's Creek and its portrayal of David, the son in the family of four down-on-their luck socialite New Yorkers who have ended up in a Canadian small town.
Played by co-creator Dan Levy, David is a camp fashionista, who was initially assumed to be gay, only to surprise viewers, as well as female friend Stevie, towards the end of the first series when he revealed his more diverse attractions, and ended up in bed with her. The show made an effort to describe pansexuality at that moment – "I'm into the wine, not the label" is how David explained it – and treated it, from thereon in, as entirely unremarkable; the character is now in a same-sex relationship with his business partner Patrick.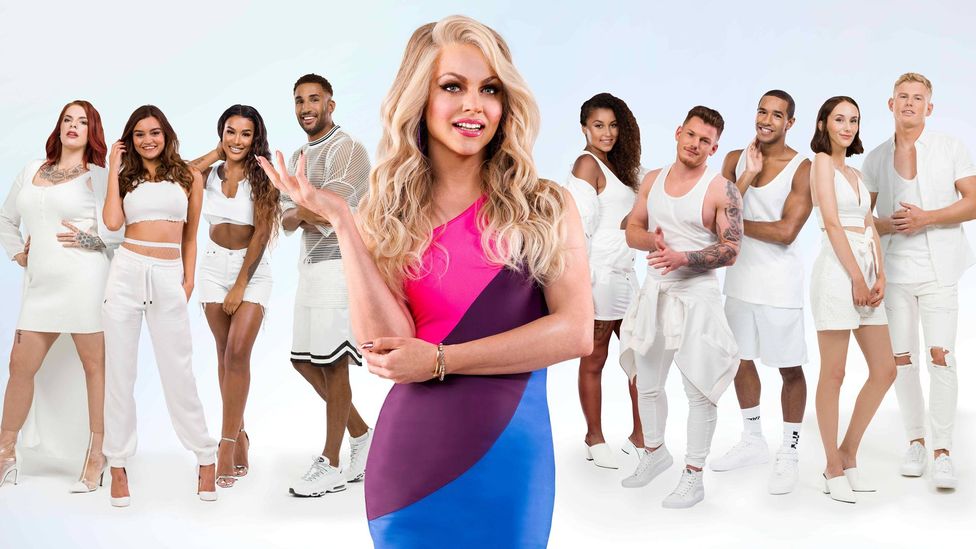 Last year's reality show The Bi Life featured a selection of sexually fluid young people looking for love (Credit: NBC)
Another comedy that was even more progressively casual in its treatment of fluidity was the recently-ended Broad City. Epitomising the new age of sexual mores, both its BFF heroines had encounters with both men and women – a conscious expression, its creators and leads Abbi Jacobson and Ilana Glazer, have said, of their producer Amy Poehler's quip that "everyone under 30 is gay". But, in the same interview with Flare magazine, Glazer commented that her character would never define herself as pan or bi because "that definition is so futile."
The revolution is spreading
Reality TV is also getting with the programme. The UK sex-and-sun jamboree Love Island, currently in its fifth series, has been heavily criticised for its rigidly straight casting, a coupling-up of two women in series two aside. But a response to that came last year in the form of The Bi Life, a dating show with a cast of bisexual, pansexual or questioning bright young things. In the US, meanwhile, long-running MTV dating show Are You the One? has announced an entirely sexually fluid cast for its upcoming eighth series, which begins next week.
This revolution in sexual mores is having an impact on popular theatre, too. On the London stage, two major West End revivals at the moment have reconfigured the original texts to allow for more romantic eclecticism. In former National Theatre head Nicholas Hytner's new take on A Midsummer Night's Dream at his Bridge Theatre, he switches things up so that it is the Fairy King Oberon, rather than his queen Titania, who falls in love, under a spell, with the dopey tradesman Bottom; meanwhile the quartet of lovers also now get involved in some same-sex shenanigans.
I don't think the genders of the characters are interesting. Sexual fluidity is something I'm much more interested in - Andrew Scott
Then down the road, at the Old Vic, a new production of Noel Coward's classic comedy Present Laughter starring Andrew Scott, aka Fleabag's 'Hot Priest', as playboy actor Gary Essendine has been changed so that the previously heterosexual Essedine now has male and female lovers. But while many such 'updates' of classic plays are geared towards provoking conversation, it seems that this particular alteration is intended to be the opposite of newsworthy. "I don't think the genders are particularly interesting…" Scott told an interviewer for the Sunday Times recently, when asked about the change. "Sexual fluidity is something I'm much more interested in. Just take out the labels."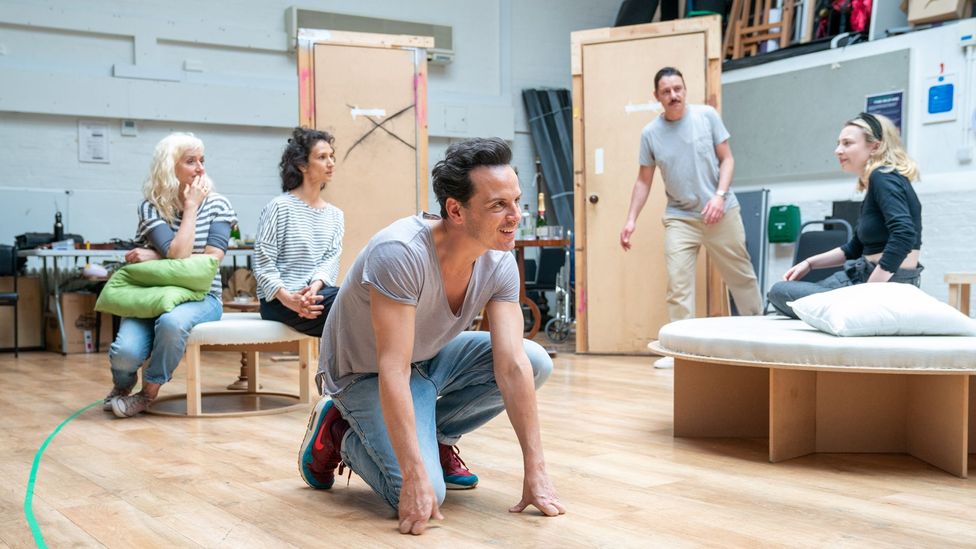 A new West End revival of Noel Coward's Present Laughter sees Andrew Scott having liaisons with both sexes (Credit: Manuel Harlan)
And there seems to be the nub of it: the broader effect of this spate of sexually fluid characters is to help make the whole issue of sexuality less of one. Martin is among those who welcomes more stories featuring LGBTQ+ characters but where "sexuality is not [their] whole identity. When I audition for things, which is rare, but so often the character description is just 'gay'. I'm like 'But what are they like? What's their personality?' and they're like 'well she's gay'."
She herself will be contributing to this new wave of sexually fluid representation with a semi-autobiographical sitcom, a joint commission between Netflix and Channel 4 in the UK, which is due to start later this year. Provisionally titled Mae and George, it will centre on a young woman and her new girlfriend, who are "both bi I guess, but they're struggling with fluidity and labels and that kind of thing."
A world beyond labels
But is there a tension between this increasing desire to move 'beyond labels' and old notions of LGBTQ+ community? In a world hostile to LGBTQ+ people, after all, labels have been used as a means of affirmation and resistance. "I think some of the turn to fluidity and not wanting to name identities is a reflection of what is seen as an equality climate, where [people] are assumed to be much more accepting and we have equal rights and so on," says Hayfield.
Yet of course, prejudice and violence against anyone perceived to be non-heterosexual is still alive and kicking, even within supposedly liberal Western democracies, and so labels still have a function. Martin, for her part, recognises the complexity of the situation: she emphasises she is a proud, visible member of the LGBTQ+ community and says she would identify with a label in certain contexts in aid of the greater political good. "Sometimes it is important to be vocal about [that]. But I guess what I don't like is having a label imposed on me."
As it stands, the carefree attitude to sexuality that can comfortably exist in the sitcom fantasy land of Schitt's Creek or the metropolitan millennial milieu of Broad City may seem overly idealistic when applied to other imagined scenarios. Then again, a bit of wishful thinking, among all the other more painful stories LGBTQ+ audiences still bear witness to, is not something many of us would begrudge.
Can Everyone Please Calm Down?: A Guide to 21st Century Sexuality by Mae Martin is out now

If you would like to comment on this story or anything else you have seen on BBC Culture, head over to our Facebook page or message us on Twitter.
And if you liked this story, sign up for the weekly bbc.com features newsletter, called The Essential List. A handpicked selection of stories from BBC Future, Culture, Capital and Travel, delivered to your inbox every Friday.