Fifty years after the Stonewall riots, Cameron Laux looks at their cultural legacy. How have writers, artists and film-makers channelled the spirit of the protest in the decades since?
"Some people say that the riots started because of Judy Garland's death. That's a myth. We were all involved in different struggles, including myself and many other transgender people. But in these struggles, in the Civil Rights movement, in the war movement, in the women's movement, we were still outcasts." Transgender activist – and the person who threw the second Molotov cocktail – Sylvia Riveira described the Stonewall protests in a 2001 talk. "I didn't even know what a Molotov cocktail was; I'm holding this thing that's lit and I'm like 'What the hell am I supposed to do with this?' 'Throw it before it blows!' 'OK!'"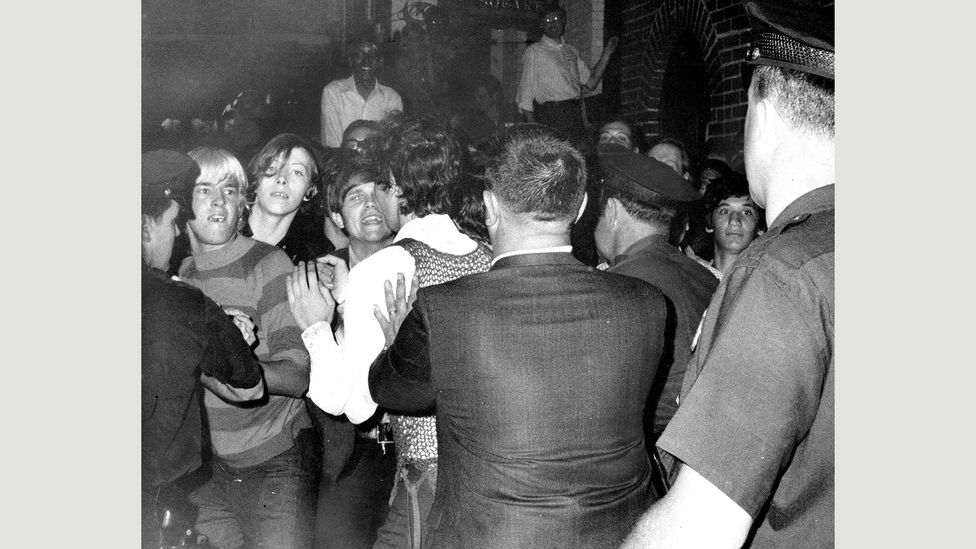 After police raided the Stonewall Inn, rioting broke out next to the gay bar during the early hours of 28 June 1969 (Credit: NY Daily News Archive via Getty Images)
At the end of June in 1969, members of the LGBTQ+ community and friends rioted outside New York City gay bar the Stonewall Inn because they were tired of police harassment on the grounds of their sexuality – really, their identity as misfits. Many of these people didn't fit, or didn't want to fit, or weren't allowed to fit, into the dominant culture of strict gender types; heterosexual marriage; the family; career progression. Matthew Todd, in his new book Pride, published 50 years after the protests, calls the riots "an explosion of optimism and energy that sent such a bright flare high above Greenwich Village, it became a beacon for people all over the world".
More like this:
- Why Tales of the City is the ultimate LGBT fantasy
- How pop culture embraced sexuality 'without labels'
- The history of the rainbow flag
Whether you see it as an explosion of optimism, or a scream of fury and desperation, it undoubtedly helped to trigger decades of ferocious struggle by LGBTQ+ people for full personhood – and embedded itself in the work of artists, writers and film-makers. The writer Edmund White says of Stonewall, "at that moment we went from seeing ourselves as a mental illness to thinking we were a minority".
We must make ourselves visible, even when we lose, whatever it is that we lose – Arundhati Roy
In her collection of essays, My Seditious Heart, the writer and political activist Arundhati Roy talks about the fight of people in Gujarat, in India, to stop the Narmada Valley Development Project, a government dam-building project that eventually destroyed their homes and the local ecology. For decades, "They went on hunger strike, they went to court, they marched on Delhi, they sat in protest as the rising waters of the reservoir swallowed their fields and entered their homes. Still, they lost." So what is the point of protest? She writes: "They taught me that we must make ourselves visible, even when we lose, whatever it is that we lose – land, livelihood, or a worldview. And that we must make it impossible for those in power to pretend that they do not know the costs and consequences of what they do. They also taught me the limitations of constitutional methods of resistance."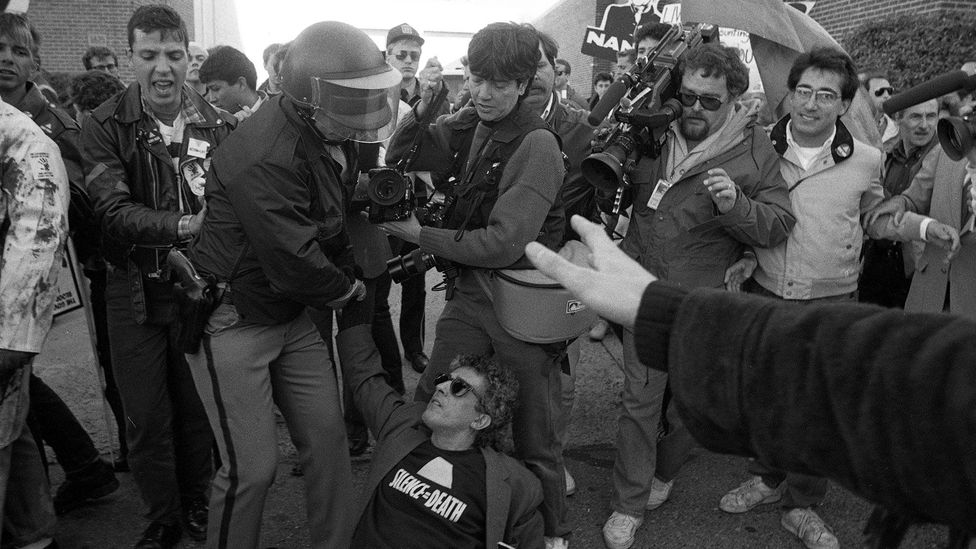 A man wearing a 'Silence Equals Death' T-shirt at a protest by the Aids activist group ACT UP (Aids Coalition to Unleash Power) at the US Food and Drug Administration in 1988
The 'costs and consequences' in the post-Stonewall fight escalated considerably with the onset of the Aids crisis in 1981, to which most of the heterosexual world responded with fear, prejudice, and cruelty. The LGBTQ+ community in the UK protested more tenaciously and courageously than before. The writer Paul Burston, whose psychological thriller The Closer I Get is published in July 2019, was there at the inception of the radical UK group OutRage! in 1990. He told me that they soon realised the only way they would get attention was by engaging in civil disobedience such as 'die-ins', a theatrical improvement on the Stonewall demonstrations, in which large numbers of people laid down on roads, pretended to be dead from Aids, blew whistles, and refused to move. 'Silence = Death', one of the slogans went. Die from Aids and you don't have people's attention. Cause traffic inconvenience and you do. Simon Garfield's book The End of Innocence (1994), which also inspired a BBC documentary, presents a detailed account of Britain in the time of Aids.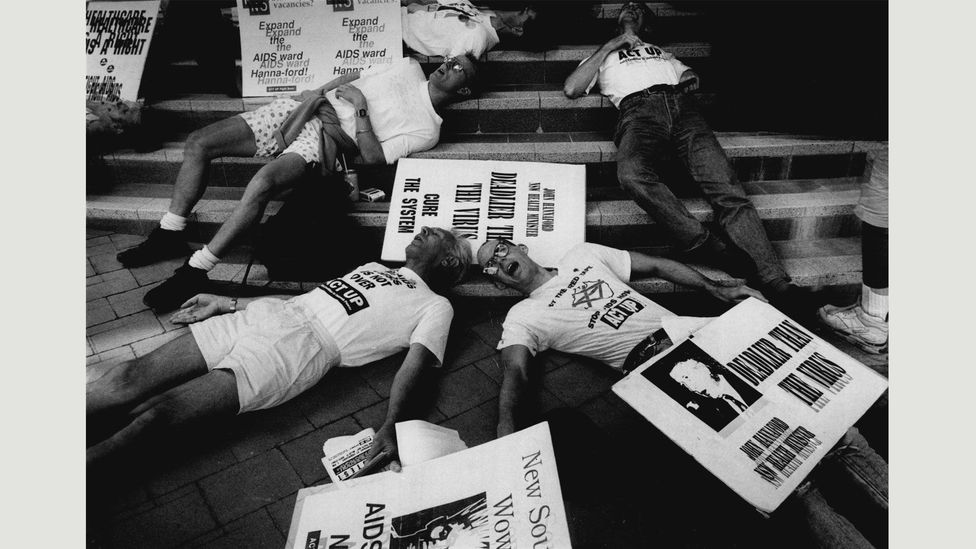 Act Up organised a 'die-in' in 1992, protesting over the lack of beds for Aids patients in hospital wards (Credit: Kate Callas/Fairfax Media via Getty Images)
David Wojnarowicz was one of the presiding geniuses of a post-Stonewall era in which queers refused to be shut up
Olivia Laing's The Lonely City (2016) is a good account of what was lost in New York during the plague years: a strange, chimerical, and life-changing book. Among many others, she focuses on artists like Andy Warhol and David Wojnarowicz, and describes how the Aids crisis nearly extinguished the defiant, polyvalent weirdness that erupted at Stonewall. There is a famous 1987 image of Wojnarowicz with his lips sewn shut. He died of Aids in 1992. He was one of the presiding geniuses of a post-Stonewall era in which queers refused to be shut up.
Activists protested in 2010 when a work by David Wojnarowicz was pulled from a show after the Catholic League and members of Congress complained that the piece was sacrilegious
Film-makers responded to the crisis with their own defiant weirdness: Jennie Livingston documented the African-American, Latino, gay, and transgender communities involved in the ball culture of New York City during the mid-to-late 1980s in Paris is Burning (1990), while Rosa von Praunheim's hard-hitting 1990 film Silence = Death explored the response of New York City artists to the Aids epidemic, interviewing Wojnarowicz, poet Allen Ginsberg and graffiti artist Keith Haring, who died of Aids three months before the film was released. It was a very different time from the Stonewall era, but some of that anarchy was still there.
The Moroccan-born French director and screenwriter Robin Campillo drew on his own experiences of the militant Aids activist group Act Up Paris in his 2017 film 120 Beats Per Minute. He described their struggle in the late 80s and early 90s to get Aids publicly acknowledged, and how that willingness to disrupt the status quo – seeded in the Stonewall riots – informed his film work: "When you change the point of view, you change cinema."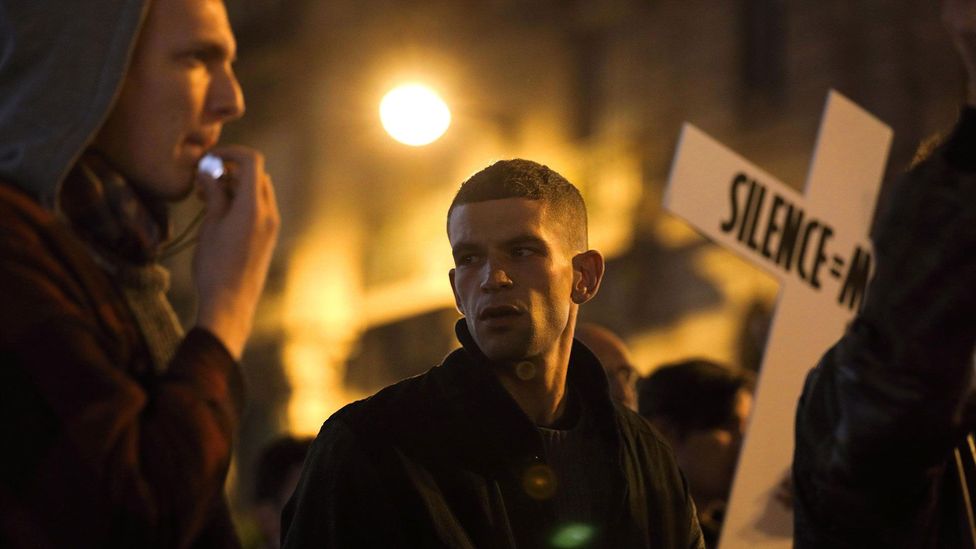 Robin Campillo's 2017 film 120 Beats Per Minute looks at the early years of the Aids activist group Act Up Paris (Credit: Alamy)
Yet the Aids epidemic silenced many. Sarah Schulman's polemic The Gentrification of the Mind (2012) argues that the post-Stonewall spirit of optimism was crushed by the Aids crisis, which annihilated whole queer communities. In the wake of that, she claims, queers fell back in shock into mainstream respectability and tactical invisibility.
The force of the slapping-down that the Aids 'plague' years delivered to the queer community in the wake of Stonewall cannot be underestimated. To date, around 675,000 people have died of Aids in America. Imagine thousands of people in your immediate community dying a horrible death and disappearing each year. Their possessions, as Schulman recounts, filling up dumpsters, as their apartments were bought up and gentrified. "In Act Up, we used to say our address books were cemeteries," says Campillo. "We were in a zone where people were not dead or alive; when I looked at my friends, I was thinking they were already a little bit dead."
Family albums
On anniversaries such as this, it is customary to get together with friends and family, knock back a few drinks, talk about the good old, bad old days, and maybe treat your captive audience to a slideshow that punctuates the decades with embarrassing highlights. And there are two handsome family albums, We Are Everywhere, by Riemer and Brown, and Todd's Pride, both published to mark this big queer rebirthday.
As I flip through the former – the queer family tree I have never had, until now – my eyes fill with sentimental tears as I regard distant relatives in grainy photos from the beginning of the 20th Century holding hands or attending queer gatherings.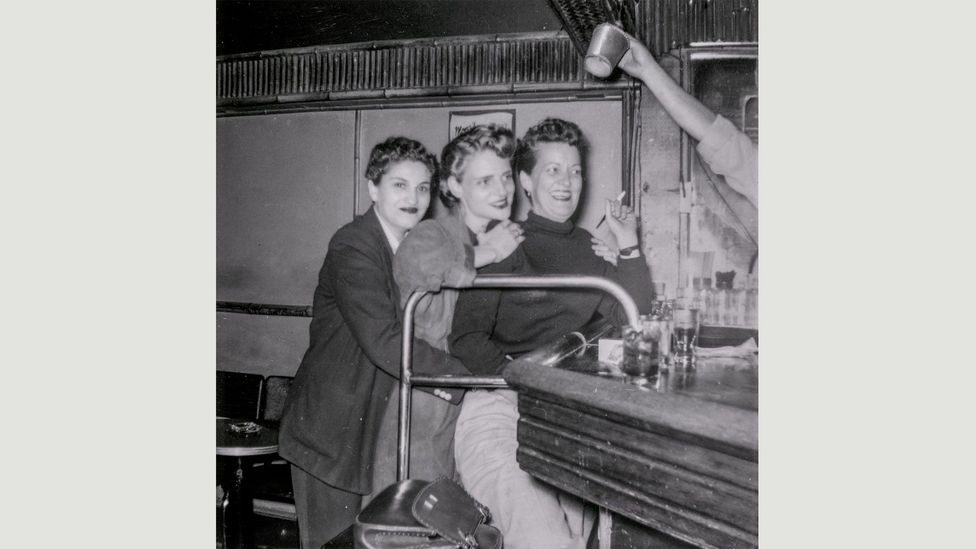 Grace Miller and friends at a bar in San Francisco, 1953 (Credit: San Francisco History Center, San Francisco Public Library)
Look here: a photo of my Great Aunt Grace out on the town in San Francisco with some lesbian friends in 1953, radiating sexy charisma and joy. I see Jiro Onuma, my Great Uncle, once removed (to a concentration camp in California, during World War Two) hanging out together with gay buddies in the early 1940s, their dignity undimmed, a guard tower rising like a phallus in the background.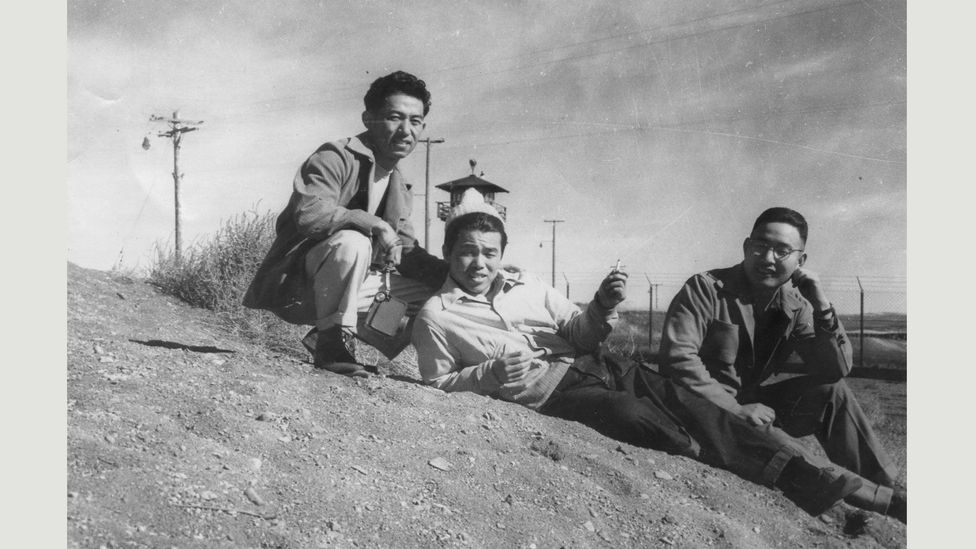 Three gay men by guard tower, Tule Lake concentration (relocation) camp, California, early 1940s (Courtesy of the Gay, Lesbian, Bisexual, Transgender Historical Society)
How full of life my long-lost cousins look, in a photo taken outside the Stonewall Inn in June 1968, a year before the riots. They are bursting with barely contained life; maybe they have never been more alive. And here's a photo of my mother, the legendary transgender activist Marsha P Johnson (credited by some as throwing the first brick or glass at the Stonewall riots – although she claimed not to have arrived until the rioting had started), posing with a friend during Liberation Day, NYC, 1969. Mum, I'll never forget you.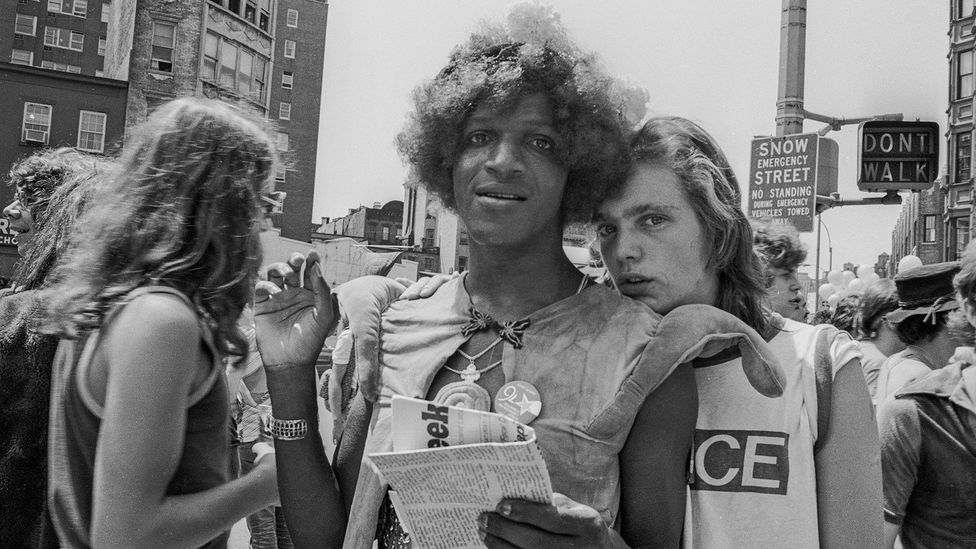 Marsha P Johnson and friend, Christopher Street Liberation Day, NYC, 1976 (Credit: Biscayne/Kim Peterson)
Todd's album has many similar cosy moments, such as an image of the first rainbow flag, flown in San Francisco in 1978. But the image I find most moving is a 1987 UK Conservative Party general election advertisement that shows anarchist lefties, feminists, and anti-nuke protestors, as well as young men carrying the 'Gay Lib' sign. "Labour Camp," the caption reads; "Do you want to live in it?" – suggesting Britain is heading for a sort of reverse concentration camp, where freedom is rampant, and civilisation crumbles. For the flavour of the time, check out the storming disco record Two Tribes by Frankie Goes to Hollywood, a British group with what might be termed an overtly queer aesthetic.
None of the people commemorated in these books are my real family. But at times people like them have been the only family I had. I have been to many places like the Stonewall Inn, and they haven't preserved my sanity, exactly; more that they've helped me construct a new one. One of my other trans mums, Sylvia Rivera, suggested in her talk about the Stonewall riots that we queers can "never be like them"; that if we long for normality we "are forgetting [our] own individual identity". She called young queers "my children". She believed that assimilation to heterosexual society, if it were even possible, would demand that we hide not just from heterosexual society, but also from ourselves. As the great poet (lesbian, African American woman, feminist, civil rights activist, mother) Audre Lorde said, "your silence will not protect you".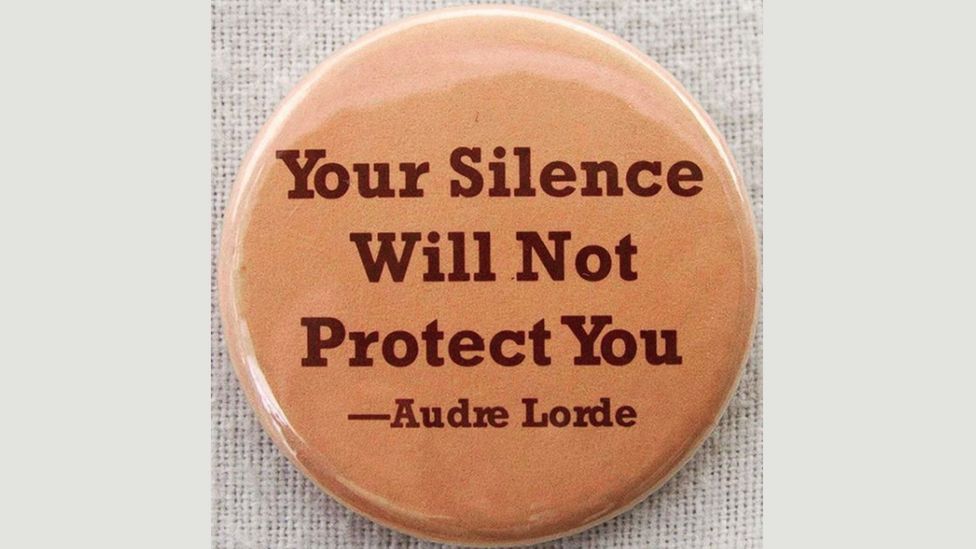 Queer activist pinback button, c 1990 (Collection of Matthew Riemer & Leighton Brown)
Looking back over the 50 years since Stonewall, we face a deep political and philosophical question: are we now winning the struggle for equality by pretending to be heterosexual, by occulting who we are (as sexual beings) and reflecting back to straight people what they want to see (ie themselves)? Does 'equal' mean 'less'? Schulman is unequivocal: she calls the move toward mainstream acceptance 'gentrification' in a larger sense, and asks how we got here, "To a place where homosexuality loses its own transformative potential and strives instead to be banal."
Silence is golden?
Attempting to move 'out' into the commercial mainstream and coat everything in 'pride' hasn't helped us to eliminate our shame. Perhaps we are moving in the wrong direction, toward isolation and away from the political collectivism that once sustained us? The writer Frank Browning told me that he thinks of Stonewall as "the cry for liberation of our 'inner' innate selves as queers". To his mind, however, "desire is only and no more than our eagerness to be part of the world: sex, love, fear, compulsions, dreams, will. In short, the absolute opposite of 'essentialism'." Since the Stonewall and Aids crisis points, the queer community has been beset by a depoliticisation that has resulted in sexual repression. Think of the US comedy Will & Grace, which ran for 10 seasons. Queer triumph? Or just gayness hollowed out of its sexual aspects to make it acceptable?
Perhaps it is time for queers to double back and look again at liberating our sexuality, the uncontrollable parts of us that exploded at Stonewall. Edmund White has always disrupted attempts to construct him as a vanilla, patrician writer, to turn him into a heterosexual mascot, by openly talking about his unbridled sexuality alongside his work. Garth Greenwell, a younger-generation writer whose What Belongs to You (2016) was widely acclaimed as a masterpiece, takes us cruising in a public toilet, where we fall in love with a male prostitute. The book makes no apologies: it embraces the prostitute Mitko as it embraces queer desire.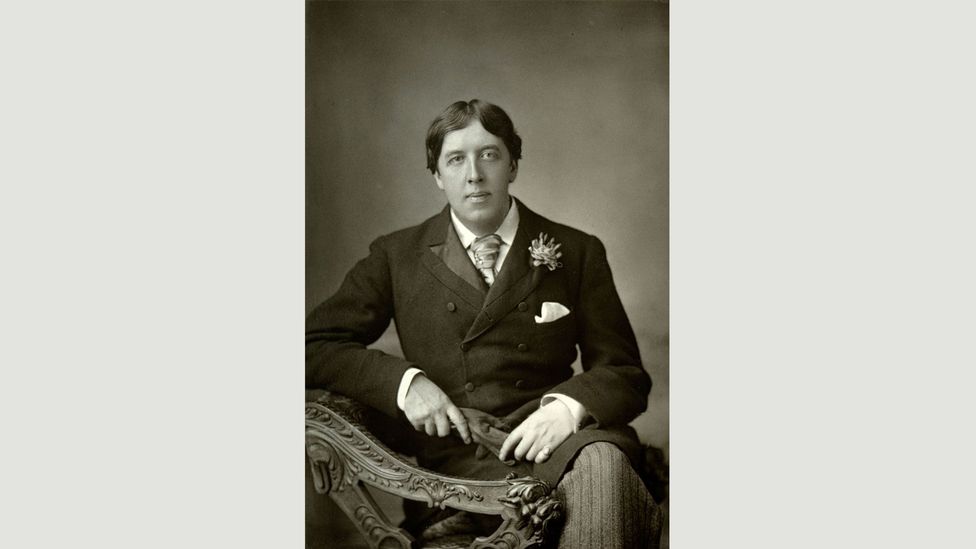 Followers of the gay Irish playwright Oscar Wilde (pictured) wore carnations in their lapels (Credit: Alamy)
I asked Greenwell what Stonewall means to him, and he said, "In Kentucky in the early 1990s, Stonewall was the only bit of queer history I knew… As a queer kid trying to imagine a future in the American south, Stonewall wasn't the history I needed. I needed to know about the men who attended Oscar Wilde's Louisville lecture with carnations in their lapels, and about the heroic Aids activists making history in my own downtown." Iconic moments like Stonewall are important, but we also need a queerness of the next street over, of the everyday. Identity needs to happen on a localised level as well.
The final chapter of Todd's Pride is called 'No One Left Behind'. He points out that the queer liberation struggle is far from over. Trans people – who have always stood shoulder to shoulder in the civil rights movement with feminists, queers, black people ("The majority of people at Stonewall were either drag queens or gay men of colour," Titus Montalvo, a hairdresser and makeup artist who was 16 at the time, told USA Today) – are still fighting for basic acceptance, and defending themselves from ideological attacks from feminist factions who should be their natural allies. Homosexuality is still a criminal offence in around 70 countries, and in around nine it is punishable by death. Meanwhile there have been great victories such as the decriminalisation of homosexuality in India and, very recently, in Botswana. The question remains: does freedom mean anything here, if it doesn't mean anything there? There are so many theres.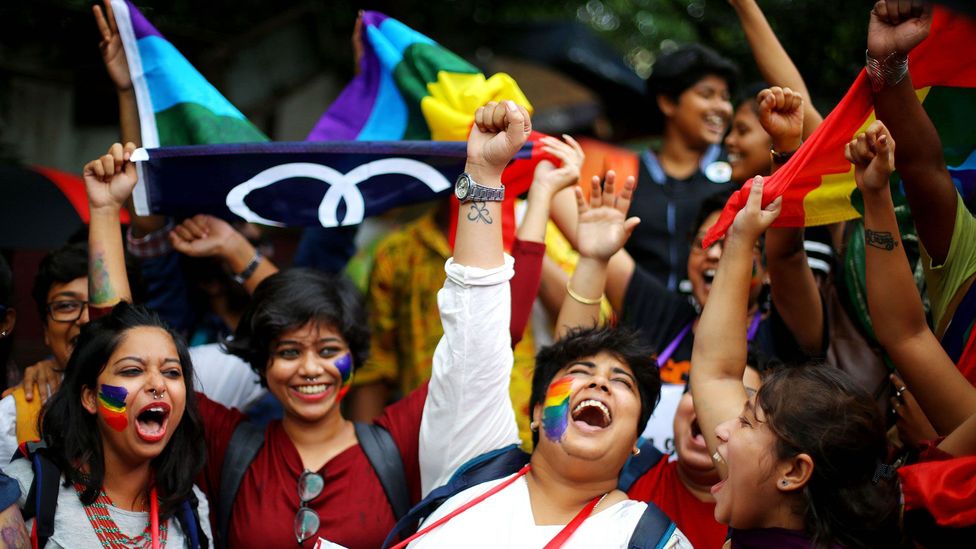 Celebrations as homosexuality is decriminalised in India in 2018 (Credit: Piyal Adhikary/EPA-EFE/Shutterstock)

The activists of the Stonewall and Aids eras realised that they weren't going to be taken seriously unless they caused inconvenience. Paul Burston told me that he believes Stonewall is more resonant than ever, now that the LGBTQ+ community is "seeing growing threats to our safety and the equal rights we fought so long and hard for". So make a wish and blow out the candles on the Stonewall cake. But remember that the legacy those rioters leaves us will never be an easy one.

If you would like to comment on this story or anything else you have seen on BBC Culture, head over to our Facebook page or message us on Twitter.

And if you liked this story, sign up for the weekly bbc.com features newsletter, called The Essential List. A handpicked selection of stories from BBC Future, Culture, Capital and Travel, delivered to your inbox every Friday.

;