Waste is one of the biggest problems plaguing music festivals, but now people are taking decisive action.
I
It looks like any other field – rolling green hummocks bordered by woodland and a handful of rural buildings. Dig down through the turf and scrape at the top soil, however, and another picture emerges. Amid the dirt, you will find aluminium beer can pull tabs, fragments of bottle glass and plastic.
But this is no ordinary rubbish. On this patch of ground 50 years ago, music history was made. This is Bethel, a small town in the southern foothills of New York's Catskill Mountains and the site of the original Woodstock Music and Art Fair.
More than 400,000 music fans and hippies gathered here in 1969 for what would become a legendary weekend of music and revelries. But the festival and its audience left another enduring legacy behind when the music ended – mountains of rubbish.
The trash cans provided by the organisers proved woefully inadequate for the huge numbers of people who turned up, as did the toilet facilities. Piles of bottles, beer cans, discarded sleeping bags, broken tents, plastic sheeting, newspapers and human waste were abandoned and trampled into the muddy quagmire.
It seems astonishing that an event so steeped in the environmental movement at the time should leave an environmental scar that is still visible 50 years later
"After three days of rain and mud, many just walked off and left clothing, sleeping bags and other items," says Maria O'Donovan, an archaeologist at Binghamton University in New York who has led an excavation project on the site to identify the site of key locations at the festival.
Surprisingly little remains of this huge sea of waste, but O'Donovan and her team found a distinctive smear of trash downhill, and soil patterns typically expected from an industrial-scale removal using heavy equipment.
It seems astonishing that an event so steeped in the environmental movement at the time should leave an environmental scar that is still visible 50 years later. But as one of the first big music festivals, Woodstock set the tone for many of those that would try to follow in its footsteps.
Jumbo problem
Waste is now one of the biggest problems facing modern music festivals. Each of the major music festivals in the US, such as Coachella, Stagecoach and Desert Trip, generate around 100 tonnes of solid waste every day, while an estimated 23,500 tonnes of waste are produced by music festivals in the UK each year – about the same as weight as 78 fully loaded Boeing 747 Jumbo Jets. To put that in perspective – the average household in the UK produces around one tonne of waste a year.
Most festivals employ armies of litter pickers to help clean up at the end of their events, and enormous waste management operations swing into action once the revellers go home. But Graca Gonçalves, a former environmental scientist at Nova University of Lisbon and one of the organisers of the Andanças Festival in Castelo de Vide, Portugal says the growing use of disposable plastics at festivals has been behind many of the waste problems large festivals struggle with. Drinks and food are sold in disposable plastic cups, bottles and food containers, along with enormous amounts of plastic cutlery. Festivalgoers discard wristbands, fancy dress clothing, glitter, ponchos, toiletries, sleeping bags, mats and tents all made from polymers that can persist in the environment for decades if not centuries.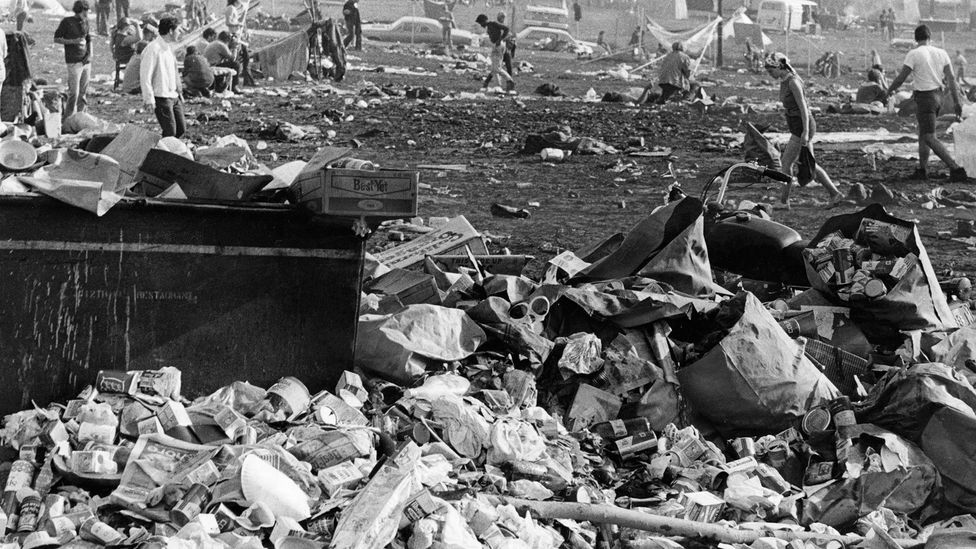 Some of the rubbish left at Woodstock in 1970 can still be found on the site today (Credit: Getty Images)
As a result, many of the major festivals in the US and Europe are rethinking the impact they are having on the environment.
Most notably, Glastonbury has for the first time banned the sale of single-use plastic drinks bottles. The festival, which attracts around 200,000 people, sold more than a million plastic bottles in 2017. Audiences and artists will be encouraged to refill reusable water bottles. Soft drinks and water will also be sold in aluminium cans, which the festival says are easier to collect and recycle. It follows a ban on non-compostable plates, cups, straws and cutlery at previous Glastonbury festivals.
"In the last few years we've all begun to see how simply recycling plastic is not really a solution," explains Emily Eavis, co-organiser of Glastonbury and youngest daughter of the festival's founder, Michael Eavis. She says the festival is aiming to ban the sale of all single-use plastics on its site over the next two to three years. "We want to show everyone just what can be done if we all shift our mindset – we can change our behaviour and make a huge leap to going plastic free."
Zero tolerance
A number of other festivals have taken similar steps to remove single-use plastics from their events. Both Live Nation and all 61 members of the UK's Association of Independent Festivals have pledged to ban single-use plastics from their venues and sites by 2021.
Rainbow Serpent in Australia even goes as far as to stop the music several times over the weekend for "dancefloor clean ups". The music keeps playing if the ground is kept clean. But despite this and a number of other recycling initiatives, it saw the amount of waste it sent to landfill increase dramatically last year.
A number of other festivals have taken similar steps to remove single-use plastics from their events
Switching to reusable cups, plates and cutlery helped Andanças Festival, which attracts 21,000 fans over the weekend it runs, produce just a fraction of the waste of other festivals, says Gonçalves.
Elsewhere, the DGTL Amsterdam festival in the Netherlands is aiming to become the world's first zero-waste music festival by 2020. They have already banned plastic cups and bottles, instead selling the audience a reusable cup or bottle they can bring back to the bar for refills. In 2017, DGTL's 20,000 attendees produced just 162kg of plastic waste.
But a closer look at analysis of DGTL's waste from 2017 reveals that the festival still has some way to go before it can reach its goal. Around 9.2 tonnes of rubbish was left by the audience, the bulk of which was paper and food. There was also 1.8 tonnes of plastic waste attributed to "construction" at the site that was incinerated after the festival ended.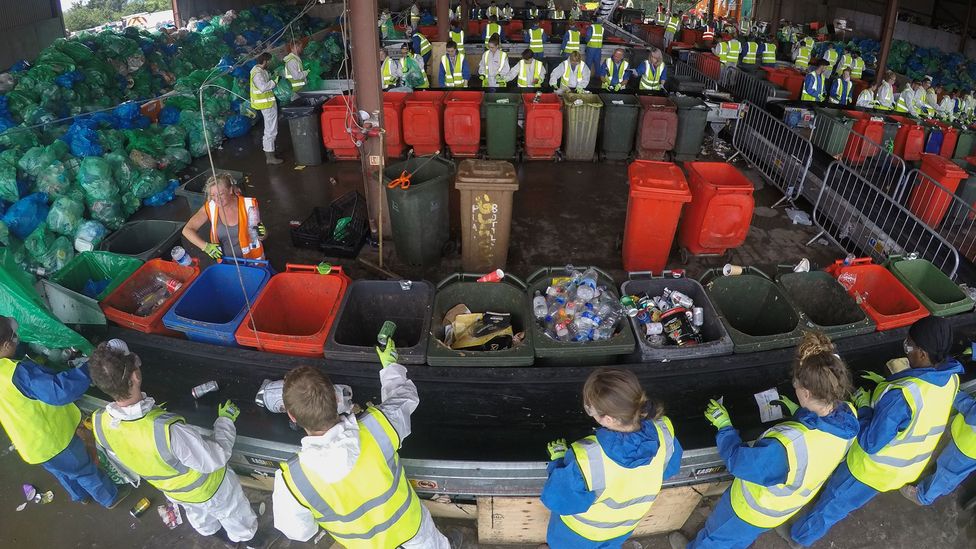 Music festivals in the UK generate some 23,500 tonnes of waste every year - a mountain for volunteers to try and sort through (Credit: Getty Images)
Simply replacing disposable plastic cups and bottles with reusable ones may not be the solution, either.
Analysis conducted by the Public Waste Agency of Flanders, Ovam, shows that due to the extra material and energy needed to make a reusable polypropylene plastic cup, it must be refilled up to eight times before it has less of an environmental impact than a single-use cup made from the same material.
Things look better when reusable cups are compared to disposable containers made from Polyethylene terephthalate (PET) or polystyrene, as they must only be refilled up to five times to be a greener option. But they must be reused between nine and 14 times before they cause less environmental harm than throw-away cardboard cups.
The challenge of replacing plastic is finding an alternative that is safe, cost-efficient and better for the environment overall
If combined with recycling, the impact can be reduced. In 2017 Festival Republic worked with a specialist recycling firm to help it deal with paper cups at its Leeds and Reading Festivals in the UK. By the end of the two events, 475,000 paper cups, weighing six tonnes, had been collected and recycled.
Bio solutions
The challenge of replacing plastic is finding an alternative that is safe, cost-efficient and better for the environment overall. One approach that has seen growing popularity at festivals in recent years has been to switch to so-called "bioplastic" cups, which are made from starch, cellulose or other materials extracted from plants and algae. But this too might not be the solution it first seems. These can vary widely in how biodegradable they are, often need to be put into industrial composting facilities before they break down properly and can contaminate traditional plastic recycling.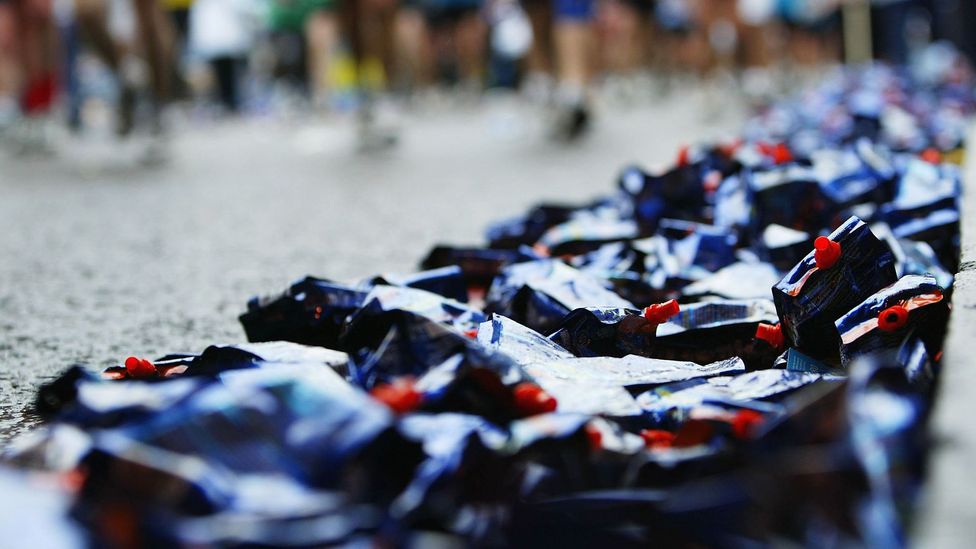 The London Marathon also has to deal with a huge amount of plastic waste from discarded drink packs (Credit: Getty Images)
"Many of these alternative products that are being used to replace plastic are great, but the full lifecycle needs to be thought of by the organisers," warns Claire O'Neill, a director of A Greener Festival, a not-for-profit company that has been working with festivals around the world to help them become more sustainable. "If it is biodegradable, it needs to go somewhere that can process this kind of waste. If it ends up in the environment, it might cause just as many problems as normal plastic waste."
This tricky problem has led some to look for other, more innovative solutions. A UK-based team of engineers and designers called Skipping Rocks Lab have created a seaweed-based membrane that can be used to encapsulate liquids like water, energy drinks and sauces in bite-size morsels. The transparent pouches, which are created by chemically altering a substance called alginate that is extracted from brown seaweed, can be popped in the mouth and safely eaten whole.
It breaks down really quickly – in a warm environment our skins disappear in about two weeks - Rodrigo Garcia Gonzalez
"The skins don't have a very long life-span like plastic bottles, so it is best to create them at the location or event as they are needed," says Rodrigo Garcia Gonzalez, co-founder of Skipping Rocks. Currently the liquid has to be encapsulated in a portable machine about the size of a small fridge, but the firm has received backing from Sky Ocean Ventures to help it shrink the devices further so they can be used by food vendors.
The firm recently provided 30,000 drinks in edible capsules to runners at the London Marathon earlier this year, and has run a trial to put ketchup and other condiment sauces in seaweed sachets in a collaboration with takeaway firm Just Eat.
"We have also been working with a few festivals to put alcohol as well as water in our edible sachets to see what we can do in terms of scale," adds Gonzalez. "We can make them so they can be eaten but we can also do bigger sizes where the corner is torn off and the skin is discarded. It breaks down really quickly – in a warm environment our skins disappear in about two weeks."
Tent discontent
One area of festival waste that has been largely neglected up until now is more visible and controversial: tents. Every year more than 250,000 tents are abandoned at music festivals across the UK.
Comp-a-Tent allows festival goers to order a pop-up tent they can pick up at the festival, and then take home or sell back at the end
Many blame the growing availability of cheap, pop-up "festival tents" that are marketed by supermarkets and online retailers like Amazon. Costing just tens of dollars, cheap tents and other camping equipment rarely stands up to more than a weekend of use and contribute to the idea that they are throwaway items to be discarded after being used once.
Research by environmental charities suggests that manufacturing a 3.5kg tent produces the equivalent of 25kg of carbon dioxide into the atmosphere. And the average tent is mostly made of plastic equivalent to 8,750 straws. The complex mix of different materials used to make tents means they are almost impossible to recycle.
The Association of Independent Festivals in the UK is trying to bring about change, urging retailers to stop selling festival tents as if they are single use, and instead asking attendees to take their collapsible accommodation home with them.
One idea to reduce this campsite waste is to offer festival-goers tents that can be recycled or composted. KarTent offers fully recyclable two-person tents made entirely from cardboard. The Amsterdam-based company will pitch the tents for its customers and then take it down so it can be reused or recycled. Unfortunately, the creators warn that the thick cardboard will become sodden in heavy downpours.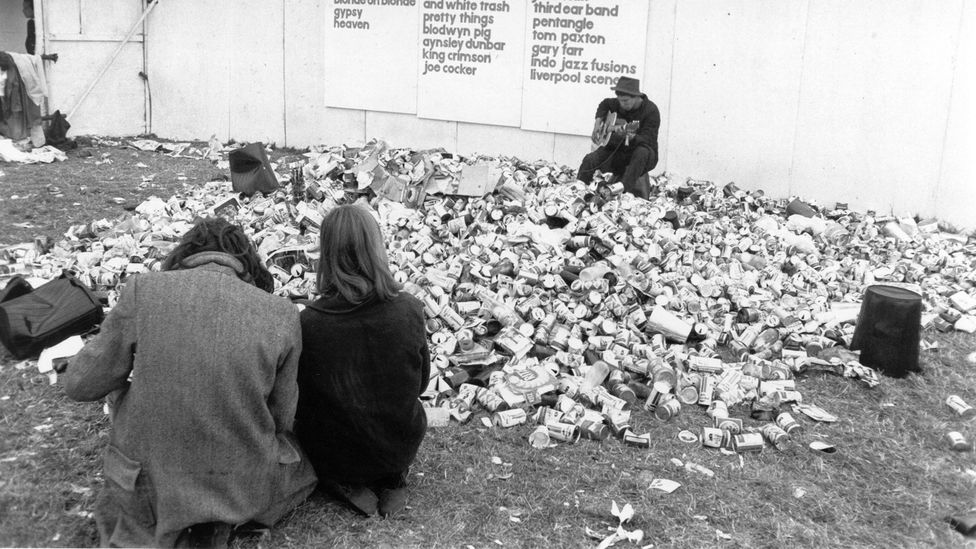 Early music festivals, like the Isle of Wight Festival, had to deal with far less plastic waste (Credit: Getty Images)
Amanda Campbell and James Molkenthin, two design students at University College London, have set up a company called Comp-a-Tent that allows festivalgoers to order a pop-up tent that they can pick up at the festival, and then take home or sell back at the end. The idea, says Molkenthin, is to encourage users to look after the tents and return them so they can be used again and again. "Whilst many people believe that some magic organisation goes round and saves them for the homeless or scout group or recycling, the truth is that only happens to a couple hundred tents," he says. "The plastic in the tents will take hundreds if not thousands of years to break down." They are due to trial the scheme at Boomtown Fair in Hampshire, England, later this summer.
Reuse and recycle
Similar services that will pitch the tent for you and provide other camping equipment are being offered at a number of festivals this year. Other schemes have tried to turn the piles of broken, slashed and soiled tents left behind into other goods, such as rucksacks or clothing.
The Roskilde Festival in Denmark, which attracts 130,000 visitors over eight days, has tried a different approach, creating distinct campsite communities where those staying shoulder the responsibility for keeping their area clean and sustainable.
Some groups are also pushing for donation points at festival site exits, which will allow campers to give their unwanted tents to charities that can put them to good use.
For instance, at the Green Man Festival in the Brecon Beacons this year, audiences will be encouraged to donate any uneaten food and unwanted camping equipment to Help Refugees so it can be sent to help migrants in Calais, France.
The things people throw out have great value for us since they provide insight into what people did, how they acted, what they thought about – Maria O'Donovan
"At the end of every event there are thousands of perfectly good tents that have just been abandoned and are just going in the skip," says Matthew Wedge Roberts from Fwrd Together, a charity that salvages tents from festivals so they can be used to help refugees. For the past three years they have been working with local and national charities such as Help Refugees to collect tents, sleeping bags, sleeping mats and wellington boots from festival sites so they can be reused. At this month's Download festival in Leeds, Wedge Roberts says they managed to fill their vans with 250 pairs of wellies, 60 camping chairs and 50 airbeds in a couple of hours.
Back in Bethel, Maria O'Donovan and her team recovered just a small collection of items – including pull tabs, plastic fragments and aluminium foil – from the small patch of ground they excavated close to where the main stage stood during Woodstock in 1969. Their value as archaeological artefacts may be questionable, but they carry an important message, she says.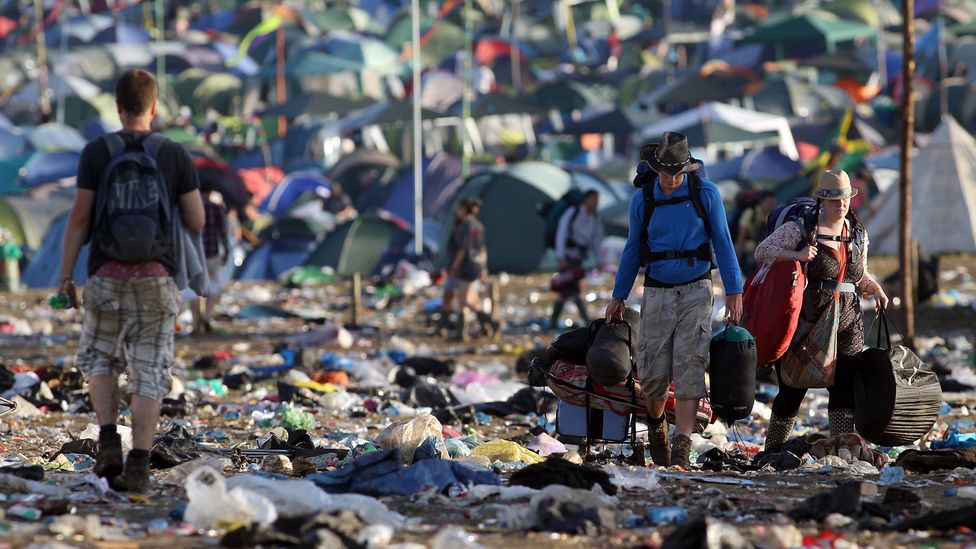 Some of the plastic waste can take hundreds of years to biodegrade properly (Credit: Getty Images)

"The things people throw out have great value for us since they provide insight into what people did, how they acted, what they thought about," says O'Donovan. "Concert facilities, including trash cans, proved completely inadequate when nearly half-a-million people showed up. In the main stage area, they brought in bulldozers and just loaded the trash into trucks for removal."

Modern festivals should, and arguably can, do better.

--

If you liked this story, sign up for the weekly bbc.com features newsletter, called The Essential List. A handpicked selection of stories from BBC Music, Culture, Capital, Future and Travel, delivered to your inbox every Friday. 

;