Thirty years after it was released, Public Enemy's Fight the Power is still a call to action around the globe. Dorian Lynskey explores how the iconic anthem of rage was created – and what it means today.
I
In the first episode of Ava DuVernay's Netflix drama When They See Us, a couple of dozen black teenagers pour into Central Park on the night of 19 April, 1989. Five of them will end up spending years in jail for a rape they didn't commit, but for now they're having fun. They walk to the beat of Public Enemy's unstoppable rebel song Fight the Power.
The choice of song may be anachronistic (it wasn't released until June) but it's perfect for a story about outrageous racial injustice in 1980s New York. That was a volatile decade for the city, with high-profile cases of African-Americans dying at the hands of racist mobs (Michael Griffith, Willie Turks) and police officers (Eleanor Bumpurs, Michael Stewart), all of which were on director Spike Lee's mind when he wrote his third movie, Do the Right Thing. DuVernay's selection doubles as a nod to Lee's movie, which opens with Rosie Perez dancing and shadowboxing to Fight the Power in front of a row of Brooklyn brownstones with an expression midway between agony and defiance. Unusually, the song plays to the very end, when it is replaced by the strident blare of an alarm clock. Both Lee's movie and Public Enemy's song were designed to wake people up.
More like this:
- The most shocking song of all time?
- The rock'n'roll rebel of Afghanistan
- The making of an iconic song
Lee knew that his of-the-moment movie needed a song that was defiant, angry and rhythmic, which made Public Enemy the obvious choice. Political hip hop was born in 1982 with The Message by Grandmaster Flash and the Furious Five, but even the people who made it couldn't follow up that brilliant one-off. It took Public Enemy, formed in Long Island in 1986, to create a form of hip hop that was radical both politically and sonically, track after track. No group had ever had so much to say, with so much urgency.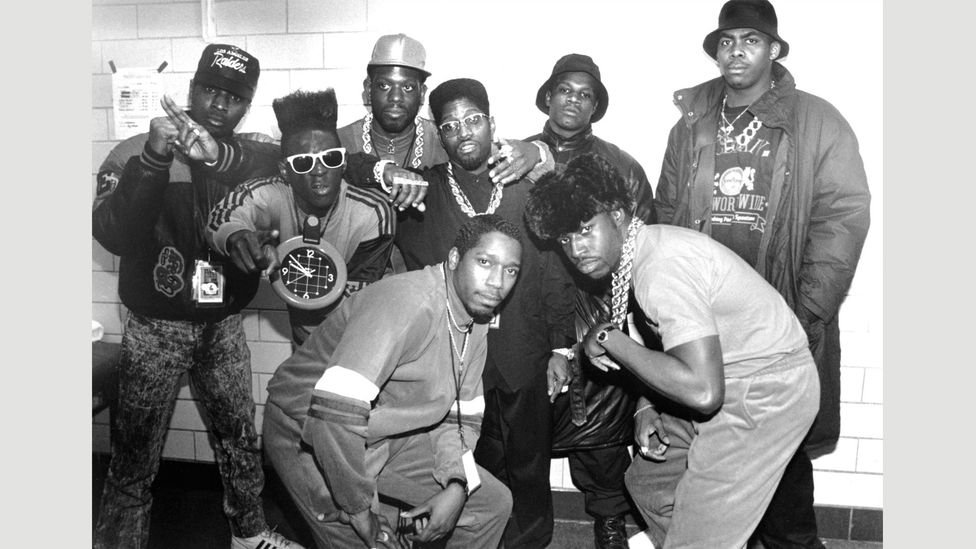 Public Enemy are still performing today – although one original member, Terminator X, retired in 1998 to breed ostriches on a farm in North Carolina (Credit: Alamy)
Inspired by The Clash, the Black Panther party and football teams, frontman and ringleader Chuck D marshalled the disparate talents of Public Enemy into an irresistible force in which the music of the production team, the Bomb Squad, was as dense and relentless as Chuck's vocals. Their formidable second album, 1988's It Takes a Nation of Millions to Hold Us Back, led the NME to bill them as "The greatest rock'n'roll band in the world?!"
Do their own thing
In the autumn of 1988, Lee took Chuck and two of his bandmates to lunch in Greenwich Village and asked them to write an anthem. At first he pitched them the idea of updating the civil rights hymn Lift Ev'ry Voice and Sing with jazz composer Terence Blanchard but, at a subsequent meeting, the Bomb Squad's Hank Shocklee told him to stick his head out of the window and listen to the street. "Man, what sounds do you hear?" he asked. "You're not going to hear Lift Ev'ry Voice and Sing in every car that drives by." Lee relented and let them do their own thing, which Shocklee summed up with a line from the movie Network: "I'm mad as hell and I'm not gonna take it anymore."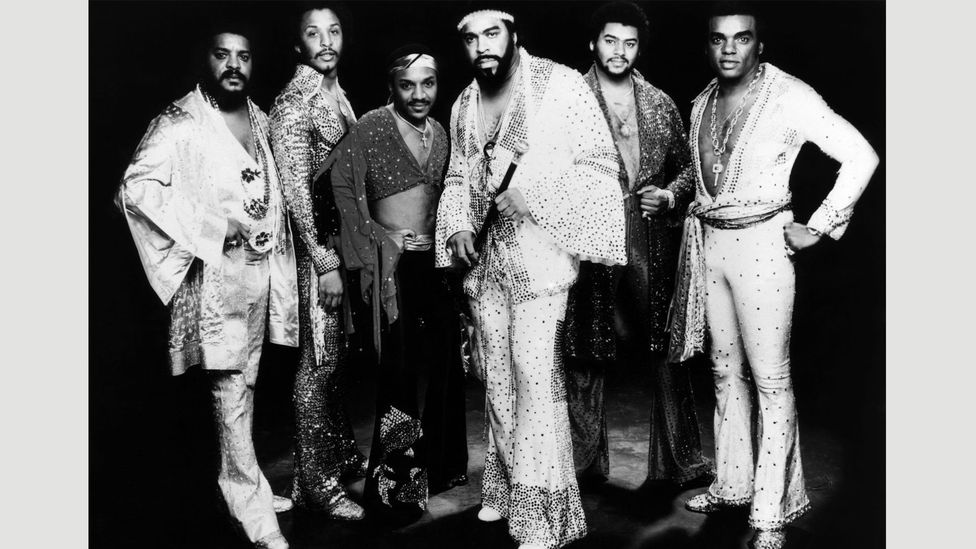 The Isley Brothers recorded Fight the Power on the same day as their anti-poverty ballad Harvest for the World (Credit: Alamy)
The tough work was compression, crunching his ideas down into a tight, hard grenade of information
Chuck always wrote from the title down and he took this one from the Isley Brothers' 1975 hit Fight the Power, which he remembered as the first time he had ever heard the word "bullshit" in a pop song. Ron Isley's defence of the word – "It needed to be said" – was an apt sentiment for Public Enemy. Chuck wrote most of the lyrics in Europe, where Public Enemy were opening for Run-DMC. The tough work, he said, was compression, crunching his ideas down into a tight, hard grenade of information: "the rhymes designed to fill your mind". He wanted the righteous immediacy of black talk-radio hosts like Gary Byrd and Mark Riley, who spoke out about the kind of racist outrages that inspired Lee's movie. "I knew I had to step up to the plate and present an anthem that answered the questions from this film," Chuck said.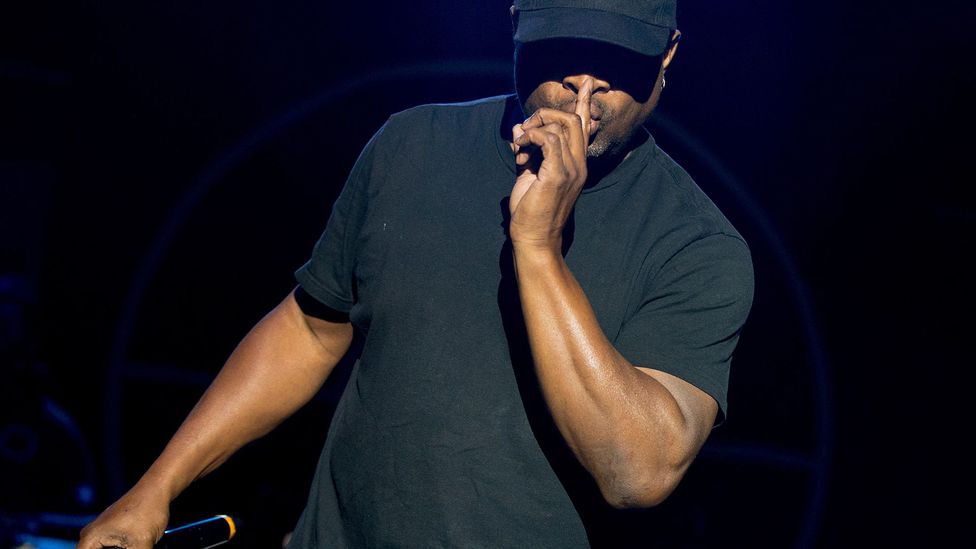 Chuck D wrote Fight the Power for Spike Lee's Do the Right Thing; the song was later released on Public Enemy's third studio album Fear of a Black Planet (Credit: Alamy)
Unfolding on a single block on a single day at the height of a heatwave, Do the Right Thing climaxes with a riot that begins with an argument about the absence of black faces on the wall of the local pizzeria. Chuck ran with the idea of building a pantheon of black icons ("Most of my heroes don't appear on no stamps"), which meant taking down some white ones. In his 1980 single Blowfly's Rapp, the funk prankster Clarence "Blowfly" Reid had a Ku Klux Klansman provoke him by saying, "Motherfuck you and Muhammad Ali." This led Chuck to wonder which sacred cows would have a similar effect on a white American: "Elvis was a hero to most/ But he never meant shit to me/ Straight up racist that sucker was simple and plain/ Motherfuck him and John Wayne." Even Shocklee was taken aback when he heard those lines.
Not every message in Fight the Power was that direct. "Swinging while I'm singing" alluded to Malcolm X's famous 1964 dismissal of We Shall Overcome ("It's time to stop singing and start swinging"), with the implication that Public Enemy could do both at the same time. Chuck knew his history. Whether by directly quoting the Black Panther slogan "Power to the people" and James Brown's Say It Loud – I'm Black and I'm Proud or making veiled references to Bob Marley and Frederick Douglass, he was staking Public Enemy's place in the long tradition of black pride and dissent and steeling listeners to join the fight: "What we need is awareness, we can't get careless."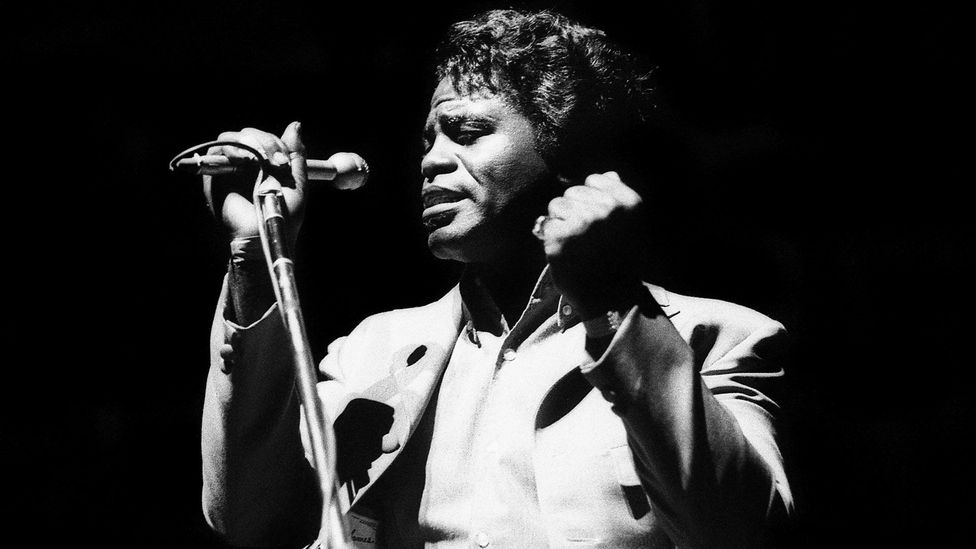 Chuck D has said that James Brown's 1968 song Say It Loud – I'm Black and I'm Proud "was a record that really convinced me to say I was black instead of a negro" (Credit: Alamy)
Even as an a cappella, Fight the Power would have been thick with meaning – but the Bomb Squad's audacious production added another dimension to its black history lesson. Sampling was still in its Wild West phase, when you could take whatever you wanted and copyright be damned: this was the year of De La Soul's 3 Feet High and Rising and the Beastie Boys' Paul's Boutique. While those sample collages were vibrantly playful, the Bomb Squad aimed for an intense, overwhelming 'hailstorm' of sound, pushing their equipment to its limits by cramming in so many samples that even they couldn't remember them all: "loops on top of loops on top of loops," said Chuck.
The WhoSampled online database lists 21 and counting, including speeches by civil rights activists (Jesse Jackson, Thomas 'TNT' Todd), classic soul (Sly Stone, Wilson Pickett), reggae, electro, R&B and even Public Enemy's own Yo! Bum Rush the Show. The clamorous central loop alone, which Shocklee compared to war drums, was constructed from 10 different samples. Lee managed to get his beloved jazz in there via saxophonist Branford Marsalis, whom Shocklee asked to perform three solos in different styles and then surprised by weaving all three into the mix to intensify the sense of a city at boiling point. "I wanted you to feel the concrete, the people walking by, the cars that are going by and the vrroom in the system," the producer said. "I wanted that grittiness, the mugginess, the hot, sticky, no-air vibration of the city."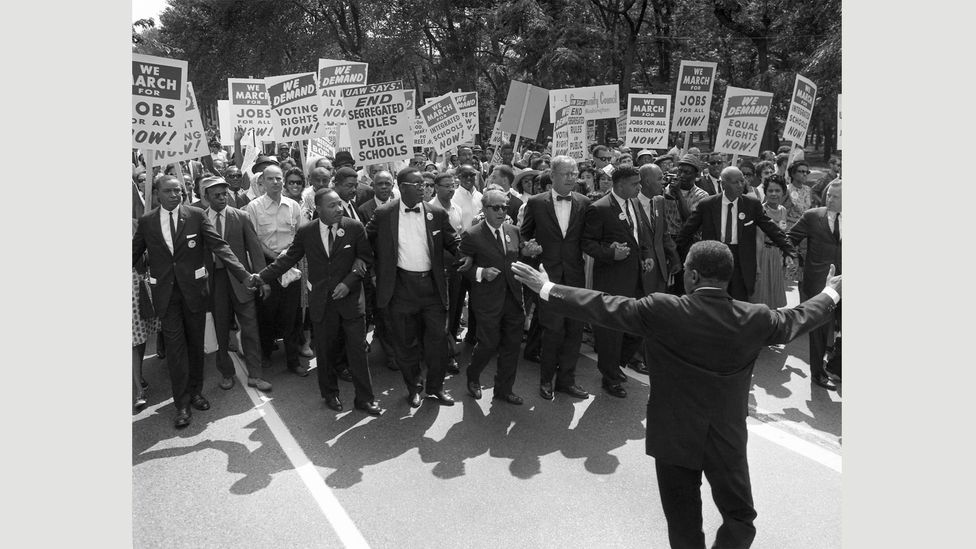 Martin Luther King, Jr and other civil rights leaders at the head of the March on Washington for Jobs and Freedom on August 28, 1963 (Credit: Alamy)
Summer seemed a long way off when Spike Lee shot the song's video on a cold, wet spring day in Brooklyn. Holding up portraits of black heroes, the band and hundreds of volunteers staged a 'Young Person's March to End Racial Violence', ending up on the Bedford-Stuyvesant block where Do the Right Thing had been filmed. By opening with footage of Martin Luther King's 1963 March on Washington, the video, like the song and the movie, created a provocative dialogue between the past and present of the African-American experience to challenge the mainstream narrative of progress. How much had the US really changed?
When Barack Obama and Michelle Robinson chose a movie for their first date, the first thing they saw was Rosie Perez dancing to Fight the Power
When Chuck first saw a rough cut of Do the Right Thing he was stunned by how many times the song appeared. As well as opening with it, Lee had made Fight the Power the theme tune of Bill Nunn's character Radio Raheem, who blasted it from his boombox every time he appeared ("I don't like nothin' else"), thus making it the heartbeat of the movie. Marsalis called the song's placement "the greatest marketing tool in the world". When Barack Obama and Michelle Robinson chose a movie for their first date, the first thing they saw was Rosie Perez dancing to Fight the Power.
Public Enemy were unable to savour their big moment because between the video shoot and the single's release date, antisemitic comments by their 'Minister of Information' Professor Griff plunged the band into an existential crisis that almost proved fatal. Torn between loyalty to his group and a blistering media backlash, Chuck himself agonised over how to do the right thing. Accused of inciting violence, the film itself was controversial enough to merit a round-table debate in the New York Times, during which a white judge from the Bronx complained that it was too negative: "Why can't we fight for power, rather than fight the power?"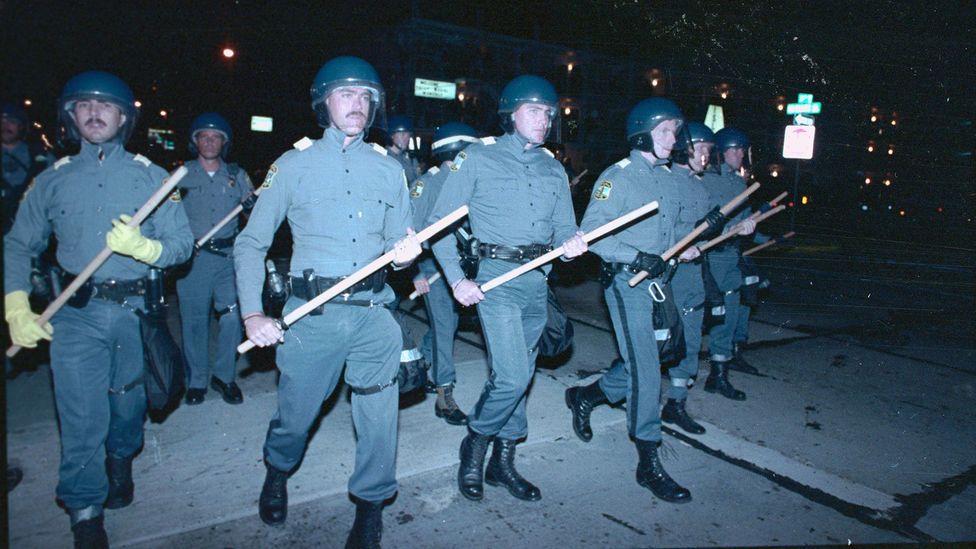 Scores of police in riot gear during the second night of disturbances by students at Virginia Beach, Virginia, on 4 September 1989 (Credit: Alamy)
But the song, which sold half a million copies despite being shunned by mainstream radio, took on a life of its own, from the black students in Virginia Beach who chanted the chorus at police during riots that September to Serbia's dissident radio station B92, which turned it into an anti-Milošević anthem in 1991, playing it on repeat when banned from broadcasting news during an armed crackdown by the regime. That first summer, it could not have been more relevant. In August, New York's racial unease came to a head with the murder of 16-year-old Yusef Hawkins, which provoked a real-life march through Brooklyn and contributed to the election of David Dinkins, the city's first black mayor. Time magazine claimed that Fight the Power, more than any other track, proved that hip hop was "more than entertainment – more, even, than an expression of [fans'] alienation and resentments. It is a major social force."
Chuck D continues to perform Fight the Power, both with Public Enemy and with his rock-rap supergroup Prophets of Rage. As Ava DuVernay recognised, it summed up its historical moment but its faultless alloy of intelligence, excitement, anger and empowerment still makes it a masterclass in hip hop's potential to inspire and inform. Asked in 2014 how he felt about Fight the Power 25 years on, Chuck replied, with justification: "I feel like Pete Seeger singing We Shall Overcome."
If you would like to comment on this story or anything else you have seen on BBC Culture, head over to our Facebook page or message us on Twitter.
And if you liked this story, sign up for the weekly bbc.com features newsletter, called The Essential List. A handpicked selection of stories from BBC Future, Culture, Capital and Travel, delivered to your inbox every Friday.