Thirty years on from its release in 1989, Nicholas Barber rewatches Rob Reiner and Nora Ephron's film and discovers the genius innovation that made it so successful.
B
By the time Harry Connick Jr is crooning away at the end of When Harry Met Sally..., we all know that the film's title characters are perfect for each other. But what else do we know about them? The answer is: not much. We know that Sally Albright (Meg Ryan) takes an hour and a half to order a sandwich, and that Harry Burns (Billy Crystal) rates Mallomars as "the greatest cookie of all time", but we don't know if they have any brothers or sisters, for instance, or if their parents are alive. We don't know if they were bullied at school, or if they enjoy their jobs, or what their plans are for the future. We don't know where they stand on the political issues of the day. And yet those omissions are one key reason why When Harry Met Sally... is still regarded as one of the finest romantic comedies ever made, 30 years on from its release in 1989. 
More like this:
-       Ten films to watch this July
-       The films that defined Generation X
-       What Alien can tell us about office life
There are plenty of other reasons, admittedly, from the sublime dialogue to the flawless performances, from the finger-clicking music to the mouth-watering Big Apple cinematography. But the film's true innovation is the way its director, Rob Reiner, and screenwriter, Nora Ephron, strip away the characters' biographical details, just as they clear away all the obstacles on their path to happiness. Everything is removed from the film except Harry and Sally's attitudes towards love, sex, friendship and each other. The result is a romantic comedy distilled to its essence: it has romance and it has comedy, and it has nothing else.
Its candour about everything from post-coital hugs to faked orgasms was revolutionary
It's such a simple tactic, with such a delightful outcome, that it is easy to forget how bold and unusual it was. But it is far less easy to think of a romcom with anything like the same undiluted purity. Take a look at those being made around the same time, and you'll see a fire chief with an inhumanly long nose (Roxanne), a stockbroker who steals her boss's identity (Working Girl), a widow who is smitten by her fiancé's angry one-handed brother (Moonstruck), and a fruit-and-veg wholesaler who is smitten with a mermaid (Splash). Take a look at When Harry Met Sally... and you'll see some universal truths about being single and falling in love. It is so devoted to male-female relationships, to the exclusion of all else, that its working title was simply 'Boy Meets Girl'.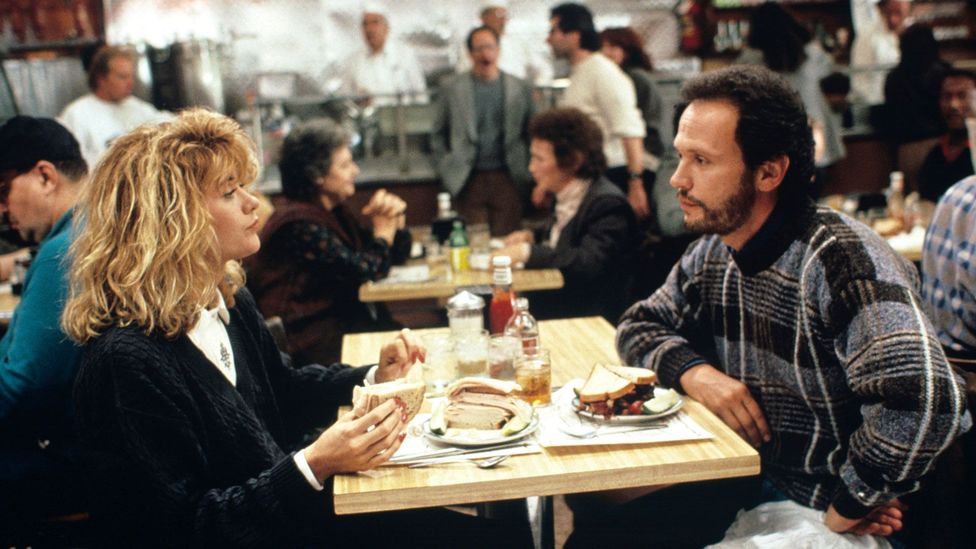 Everything is removed from the film except Harry and Sally's attitudes towards love, sex, friendship and each other (Credit: Alamy)
"The whole idea behind this film was to really examine how men and women bump up against each other during the dating dance that they do," says Reiner in the director's commentary. "When we originally thought of this film, it was just going to be men and women talking about men and women, and that dance that happens before you finally wind up with each other."
The idea occurred to Reiner because his first marriage (to actor-director Penny Marshall) had ended, and he had returned reluctantly to bachelor life. He and his friend Andrew Scheinman told Ephron all about their experiences, Ephron added the female perspective, and she turned their confessional conversations into a screenplay which was then made even better by Crystal's improvisations. The big question on the posters was: "Can men and women be friends, or does sex always get in the way?" But that was just one of the topics the film broached. And in the days before people used the internet to share their most intimate affairs with the world, its candour about everything from post-coital hugs to faked orgasms was revolutionary. "The only way the movie would work," says Reiner, "was if we really exposed what men and women really felt and really thought about."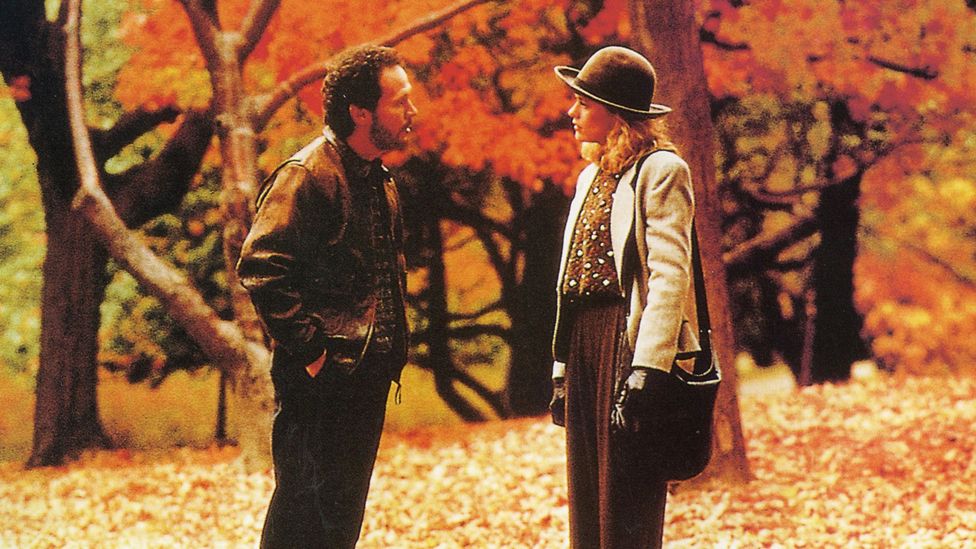 At the beginning of the film, Harry and Sally are two strangers from Chicago University who drive to New York together (Credit: Alamy)
Several times, the film acknowledges that it is leaving out everything except those thoughts and feelings. At the beginning, Harry and Sally are two strangers who have graduated from Chicago University. They drive to New York together in Sally's car, and because they've got 18 hours to kill, Harry says to her: "Why don't you tell me the story of your life?" In a more conventional film, that would be Sally's cue to recite a heart-warming childhood anecdote about a family pet. But in When Harry Met Sally... she changes the subject.
'We get to see them grow up'
Years later, Harry and Sally try to pair each other off with their friends Jess (Bruno Kirby) and Marie (Carrie Fisher). But when they bring up their backgrounds and occupations – "Harry is from New Jersey." "Sally writes for New York magazine." – Jess and Marie couldn't be less interested. It doesn't matter what people do or where they are from, the film suggests. What matters is how much they like each other.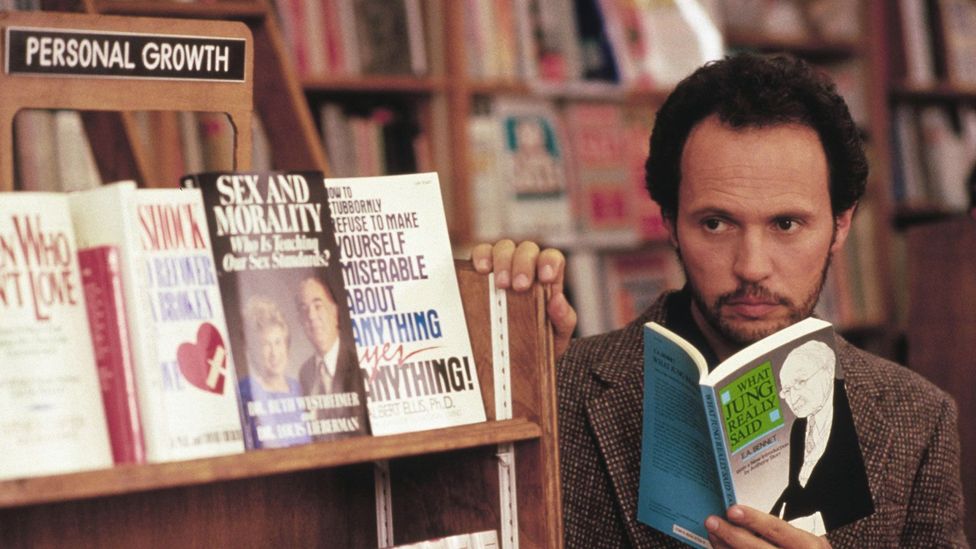 Sally spots Harry in the 'personal growth' section of a bookshop – their hang-ups are the only things keeping them from being together (Credit: Alamy)
And that is the issue faced by Harry and Sally themselves. In most romcoms, the prospective lovers are kept apart by living in different cities (Ephron's own Sleepless in Seattle) or different countries (Four Weddings and a Funeral). They have to deal with a surprise pregnancy (Knocked Up), a cultural gulf (My Big Fat Greek Wedding) or a toweringly stupid magazine article (How to Lose a Guy in 10 Days). But once When Harry Met Sally... reaches its present-day section, its hero and heroine are single, living in New York, and getting on well. There is nothing stopping them becoming a couple except their own fears and hang-ups. Why else would Sally spot Harry lurking in a bookshop's Personal Growth section? His personal growth is the closest thing the film has to a plot.
When Harry met Sally… and Seinfeld showed that a comedy didn't need to have a gimmicky high-concept scenario
"So many romantic comedies condense the action into one night or one weekend, " says Tamar Jeffers McDonald, the author of the BFI Film Classics guide to When Harry Met Sally... "One of the amazing and audacious things about this one is that it gives the characters time to mature and see other people and make their mistakes. Eventually, they're battle-worn and weary, and they've become the people who they actually are. We get to see them grow up."
In the DVD's 'making of' documentary, Ephron sums it up like this: "There are two traditions of romantic comedy, the Christian tradition and the Jewish tradition. In the Christian tradition, there is a genuine obstacle. In the Jewish tradition pioneered by Woody Allen, the basic obstacle is the neurosis of the male character." True enough – but she and Reiner take this Jewish tradition even further than Allen does – and apply it to both Harry and Sally. In Annie Hall, for example, Alvy (Allen) loathes California, while Annie (Diane Keaton) wants to move to Los Angeles to pursue her singing career. To some extent the film is a culture-clash comedy concerning the differences between a Jewish Brooklynite and a WASP from Chippewa Falls, Wisconsin. In When Harry Met Sally..., the differences are far smaller and subtler, and that's why it is unique.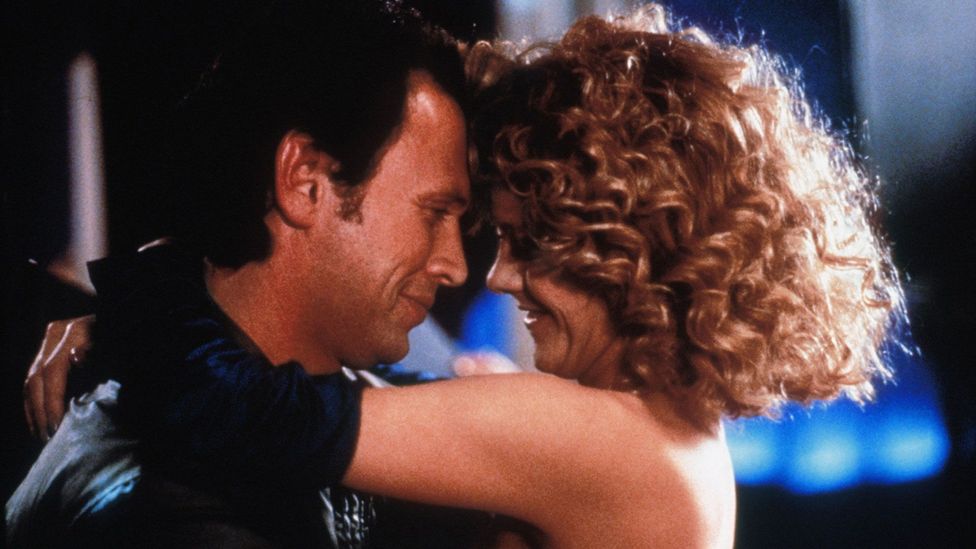 The film allows Harry and Sally time to grow and mature until they become the people they actually are (Credit: Alamy)
Well, unique on the big screen, anyway. The film premiered in July 1989, in the very same month that Seinfeld debuted on television, and in some ways the romcom and the sitcom are freakishly similar. Both feature a cynical Jewish joker, his platonic (most of the time) female best friend, and his anxious male best friend. And both include discussions of apartment-hunting in Manhattan, the appropriate interval to leave before asking out a divorcée, and, yes, faked orgasms. Together, they showed that a comedy didn't need to have a gimmicky high-concept scenario. If it was funny and insightful enough, it could focus solely on what it was like to be on the dating scene in New York.
On television, this lesson was learnt by the makers of Friends, Sex and the City, How I Met Your Mother, and many more. But in cinema, there have been fewer attempts to imitate When Harry Met Sally..., perhaps because the original gets everything so right. Like Mallomars, it is the greatest of all time.
Love film? Join BBC Culture Film Club on Facebook, a community for film fanatics all over the world.
If you would like to comment on this story or anything else you have seen on BBC Culture, head over to our Facebook page or message us on Twitter.
And if you liked this story, sign up for the weekly bbc.com features newsletter, called The Essential List. A handpicked selection of stories from BBC Future, Culture, Capital and Travel, delivered to your inbox every Friday.