In the early 1980s, the death of a young graffiti artist in police custody shocked and enraged the likes of Jean-Michel Basquiat and Keith Haring – and changed the city's creative community for ever, writes Matt Barker.
I
It was just before three in the morning on 15 September 1983, and Michael Stewart was on his way back home to Brooklyn after a night out at the Pyramid Club in the East Village. Waiting for a train at the First Avenue station at 14th Street, the 25-year-old whipped out a pen and tagged one of the station's tiled walls. He was spotted by a New York Transit Police patrol and after a brief chase, caught. Witnesses then reported seeing him beaten while cuffed, though the cops who detained him later claimed he simply fell while attempting to evade them. Heavily bruised and suffering from a cardiac arrest, he was taken to the nearby Bellevue Hospital, where he fell into a coma and died 13 days later.
More like this:
-       The artist who captured the soul of the US
-       The ancient villa discovered in ashes
The downtown arts community was possessed by a new-found spirit of solidarity and rage
The arresting officers, all of whom were white, were charged with criminally negligent homicide, assault and perjury, but those same witnesses who claimed to have seen the incident first-hand were unable to identify any particular officers as the perpetrators. Charges were downscaled and the policemen were put on trial solely for allowing Stewart to be beaten while in their custody. An initial seven-month grand jury investigation then had to be dropped after one of the jurors decided to do their own investigating, jeopardising the whole case. A retrial was held in November 1985, and the officers acquitted.
Even more so after this outcome, Stewart's death reverberated as a symbol – and none more so than among New York's art scene.  As soon as news of Stewart's vicious arrest began to filter through, and to a backdrop of growing racial tensions in the city, the once determinedly apolitical downtown arts community was possessed by a new-found spirit of solidarity and rage, galvanised into action by the brutality of the police and the fear of further clampdowns.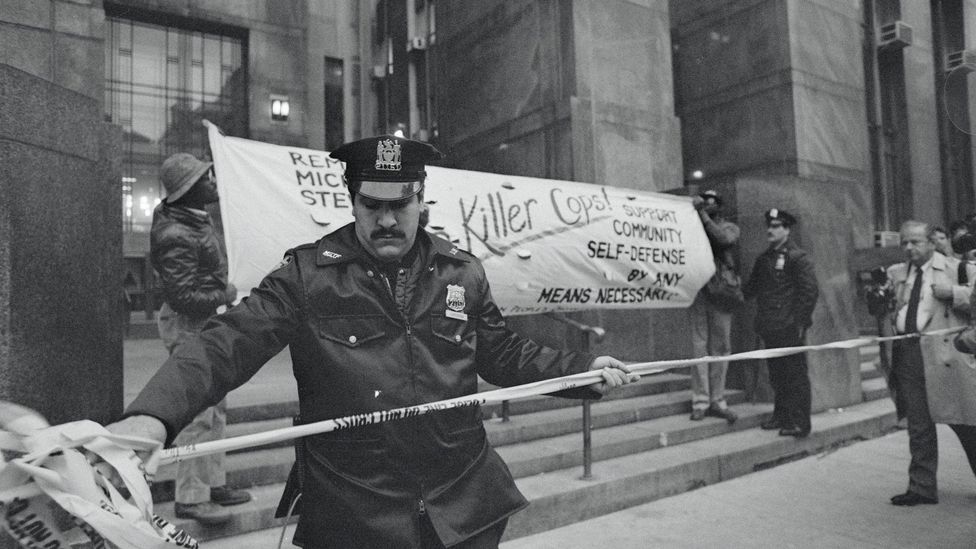 After officers were acquitted of all charges in the death of Michael Stewart, demonstrators protested outside the criminal courts. (Credit: Getty Images)
Basquiat's Defacement: The Untold Story, a new exhibition that has just opened at the city's Guggenheim Museum, relays how artists in the city reacted to Stewart's death. Centring around Jean-Michel Basquiat's searing painting The Death of Michael Stewart (widely known as Defacement), alongside other works of the artist related to police brutality, it also includes responses to the incident by Keith Haring, Andy Warhol (one of his screen-printed Headline series paintings from 1983 featuring a New York Daily News article on Stewart's death) and the social realist David Hammons (his 1986 stencilled print The Man Nobody Killed).
Before #BlackLivesMatter
Meanwhile contemporary news coverage and some of the protest posters that were put up around Lower Manhattan provide the exhibition with extra context. They record the fear and anger from more than 35 years ago that still resonates depressingly strongly today, when racialised police brutality has led to the #BlackLivesMatter movement.
Stewart was not a core member of the city's art scene himself – more one of those types who hung around on the outer circles, waiting to find a way in, his ambitions not yet fully formed. On nodding terms with many East Village personalities, the artists, musicians, club owners and filmmakers who had gravitated towards the area in ever-increasing numbers from the mid-1970s onwards, he had just started to exhibit some of his abstract, richly colourful paintings, was taking photography classes and had occasionally done a bit of modelling.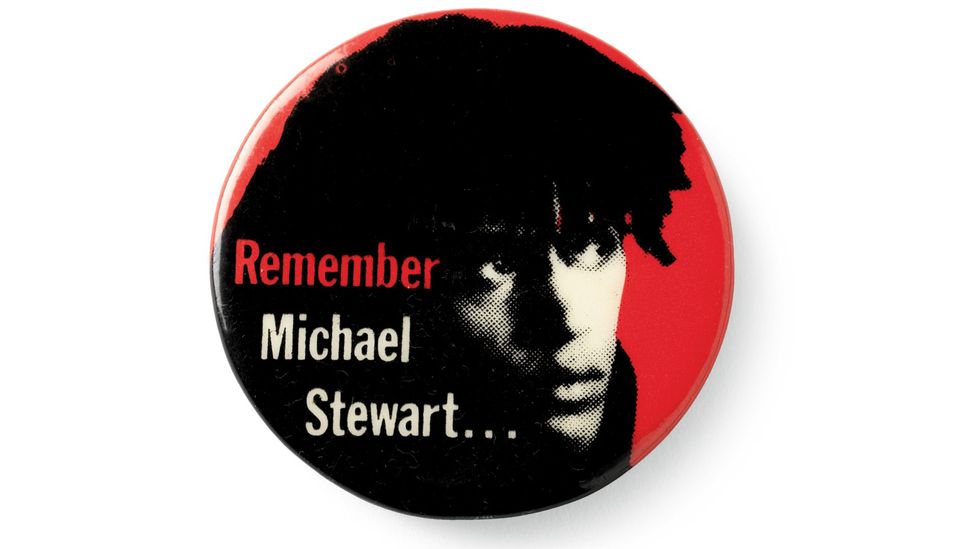 The movement to get justice for Michael Stewart involved many creatives, including Eric Drooker, who created this 'Remember Michael Stewart' badge. (Credit: Guggenheim Foundation)
He also dabbled in graffiti – though, unlike Basquiat, who started out spray-painting his work on buildings, he would leave his tag (signature) on trains and walls, but nothing more. Of course, though, the police weren't particularly interested in nuances. Whether it was a name on a wall or a full-blown mural on a subway train, it was much the same thing to them.
Graffiti was more about the act of rebellion than wanting to be an artist; being seen as an artist was, in a way, a little sissy – Lady Pink
New York had really given birth to the whole culture of graffiti making in the late 1970s. But while it is now an admired feature of the cityscape, 40 years ago it was seen as a gateway to wider criminality, tied in with African-American and Latino gang culture. Graffiti pieces created to cover the whole side of a subway train (known as 'bombing'), were seen as a particular problem by the authorities. Millions of dollars were spent on extra security and on 'buffing'; cleaning the trains with chemical solutions.
Lady Pink was one of the first wave of purveyors of what has now become known as 'street art' – though she wouldn't have understood her work as art at the time. "It was exciting to be a rebel," she recalls. "We wanted to break the law, we wanted the thrill, the chance to prove your mettle. It was more about the act of rebellion than wanting to be an artist; being seen as an artist was, in a way, a little sissy."
The street art revolution
However, by the early 1980s, thanks to Basquiat and others, being a bona-fide graffiti "artist" had become a very real possibility. A new breed of downtown Manhattan galleries, centred on the East Village, was causing a stir in among the former store fronts and crumbling warehouses. Graffiti art quickly found a home in them and, soon, a hungry market. Stewart's death came just at the moment when the scene was really beginning to come into its own – and so, on top of everything else, his death represented the horrific endpoint of what was seen as an assault on artistic freedom.
Suzanne Mallouk, Stewart's former partner, was one of the prime movers behind the Michael Stewart Justice Committee, a voluntary lobby group set up in his memory. "I hired his legal team, raising money from the arts community," she remembers now. "I went to every gallery that was showing graffiti art and asked for donations. I also got a large donation from Keith Haring, who gave the money from a sale of one of his paintings. Madonna did a show at [nightclub] Danceteria and also donated all the proceeds."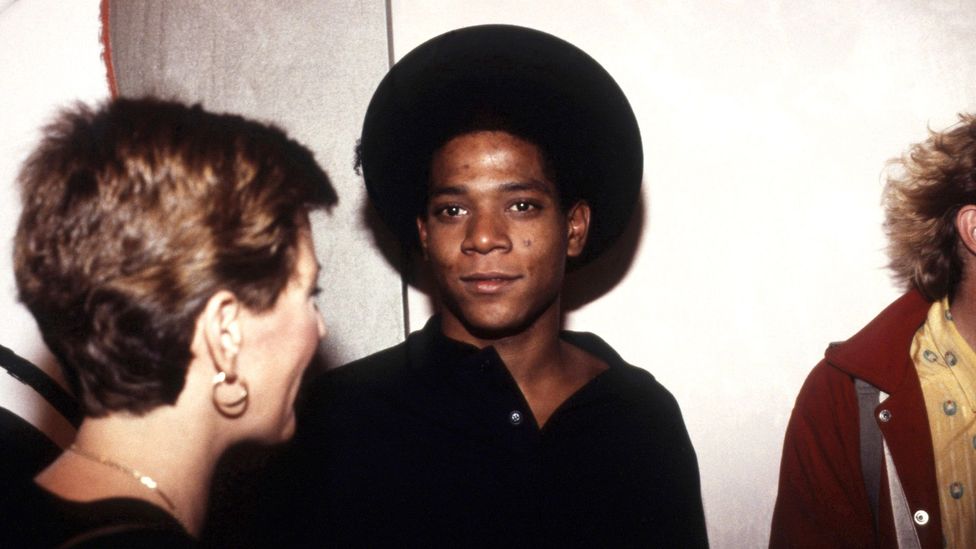 Jean-Michel Basquiat was deeply shaken by Stewart's death, on both a personal and political level (Credit: Alamy)
Basquiat, who had also previously been in a long-term relationship with Mallouk, had known Stewart but viewed him as a copycat who tried to imitate his painting style, and even his haircut.
However, perhaps even more so because of these similarities between them, Basquiat was deeply shaken by his death. When he visited Haring's studio soon after (the exact timescale isn't known), he began painting a response to it on one of the walls. He worked quickly, in growing anger. The work was cut from the wall and remained in Haring's collection until he died in 1990.
Basquiat's grief
Echoing a poster designed by Basquiat's artistic contemporary David Wojnarowicz to publicise a protest in Union Square on 26 September (while Stewart was still alive, in a coma), The Death of Michael Stewart features a black figure in the middle of two police officers bearing their night sticks. It's a painting that at once seems to be a private expression of the artist's grief and a public document - a protest against state violence.
There is a history of state violence against the black body. And I think that's what Basquiat's painting represents - Chaédria LaBouvier
As the Guggenheim exhibition's guest curator Chaédria LaBouvier  said, explaining the anguish infusing the work, in a 2016 interview  "In 1983, we didn't have a language around police brutality or white supremacy or state violence to talk about these issues publicly. There was, and is, this very real fear that the police, if you're a black person, can kill you and get away with it. I think Basquiat was aware that this was not just about Michael Stewart or even him, but that there is a history of state violence against the black body. And I think that's what this painting represents: that history of state violence against the black body as an American heritage."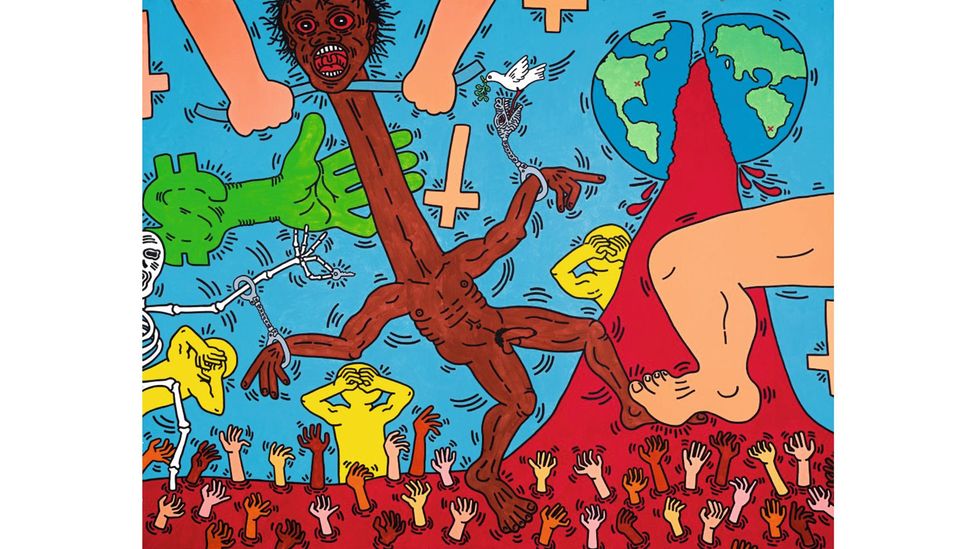 Keith Haring channelled his anger about Stewart's death into the garishly horrifying work Michael Stewart – USA for Africa (Credit: The Keith Haring foundation)
In 1985, Haring produced his own work, Michael Stewart - USA For Africa, in response to the tragedy: a garish representation of the moment of arrest, featuring Stewart being strangled and beaten while faces around him cover their eyes. Darren Pih, curator of the Keith Haring exhibition that opened this month at Tate Liverpool, featuring more than 85 of his works, says that Haring became increasingly politicised through the 1980s, spurred on by racism, the Aids crisis and the growing nuclear threat: "There's a touch of hippy innocence about Haring. He was politically active, dealing with serious issues, but in a very communicative way, in a fundamentally optimistic way, with a bright, cranked up palette."
They know they killed him. They will never forget his screams, his face, his blood. They must live with that forever – Keith Haring
Nevertheless, Haring had a lot of anger too. It's there in the Michael Stewart piece, in stark opposition to his usually upbeat work. Writing in his journals after the Transit Police officers were acquitted, his fury jumps off the page: "They know they killed him. They will never forget his screams, his face, his blood. They must live with that forever. I hope in their next life they are tortured like they tortured him."
Meanwhile, as investigations continued, Mallouk met with African-American community leaders, briefed the press and talked with lawyers, who arranged for an independent autopsy. Unlike the official autopsy by the city's Chief Medical Examiner Elliot Gross, this found that Stewart's cause of death was strangulation; however Gross said there was no evidence of this.
Shockingly, Mallouk claims that Stewart's eyes were even removed during the original autopsy, because they "showed haemorrhaging from an illegal choke hold." "I presented to Mayor Koch a petition of over 20,000 names demanding an inquiry into Gross's autopsy, because it was a clear cover-up," she tells BBC Culture. Following multiple allegations of misconduct, including against Stewart, Gross' office was investigated by an independent commission of lawyers and pathologists; Gross was cleared of covering up police brutality, but, following a further investigation, he was eventually fired by Koch for bad management in 1987.
After the officers' acquittal, the Stewart family also filed a civil suit against the 11 men in question and the Metropolitan Transit Authority. Eventually, in 1990, under the city's new mayor, David Dinkins, they were awarded $1.7million out of court in 1990 in a settlement paid by the Transit Authority (though it did "not constitute any admission of wrongdoing" according to the Mayor's office.
Lady Pink has no doubt about what happened, she says; she can distinctly remember the day after Stewart's arrest overhearing a policeman telling subway workers about the incident. "I'm standing [at] my train station coming home from school, reading a book and I hear a cop talking to some of the workers from the transit authority, bragging to them how 'last night we beat this kid so bad that he was banging his own head on the tile wall…' I pretended to carry on reading my book, but I was listening to them, this bunch of five or six white guys laughing about what had happened. It was a sheer hate crime."
Basquiat's Defacement: The Untold Story is at The Solomon R Guggenheim Museum, New York, until 6 November
Keith Haring is at Tate Liverpool, until 10 November
If you would like to comment on this story or anything else you have seen on BBC Culture, head over to our Facebook page or message us on Twitter.

And if you liked this story, sign up for the weekly bbc.com features newsletter, called The Essential List. A handpicked selection of stories from BBC Future, Culture, Capital and Travel, delivered to your inbox every Friday.