An exhibition in New York reveals a surprisingly beautiful and colourful side to the work of renowned street photographer Garry Winogrand, writes Andrew Dickson.
S
Scenes of the American past slide past, projected onto the walls. A girl in a summer dress stands next to a polished shop window. Office workers in Mad Men-style skinny ties stroll through a city park. A woman in a patterned hair wrap perches at a lunch counter, the diner around her a delirious fantasy of pink. The colours – warm reds, rich ochres, delicious azure blues – make you want to stretch out in the sun. There's a nostalgic clickety-clack of an old carousel projector coming from the next-door gallery. You half expect to hear Sinatra on the radio and catch the scent of frying hotdogs.
More like this:
-        Dave Heath: Beautiful photos of sadness and longing
-        Hidden histories of the Middle East
-        Photos that ask what it means to be an American
What makes this time warp even more disconcerting is that the person responsible for these nostalgia-drenched images of the US in its post-war pomp is the photographer Garry Winogrand. Known for guerrilla-like, black-and-white frames of urban America in the 60s and 70s, Winogrand has a claim to be regarded as the godfather of street photography, a cross between the 1930s crime photographer Weegee (whose sense of ghoulish brutality he channelled) and Diane Arbus (whom he knew and exhibited alongside).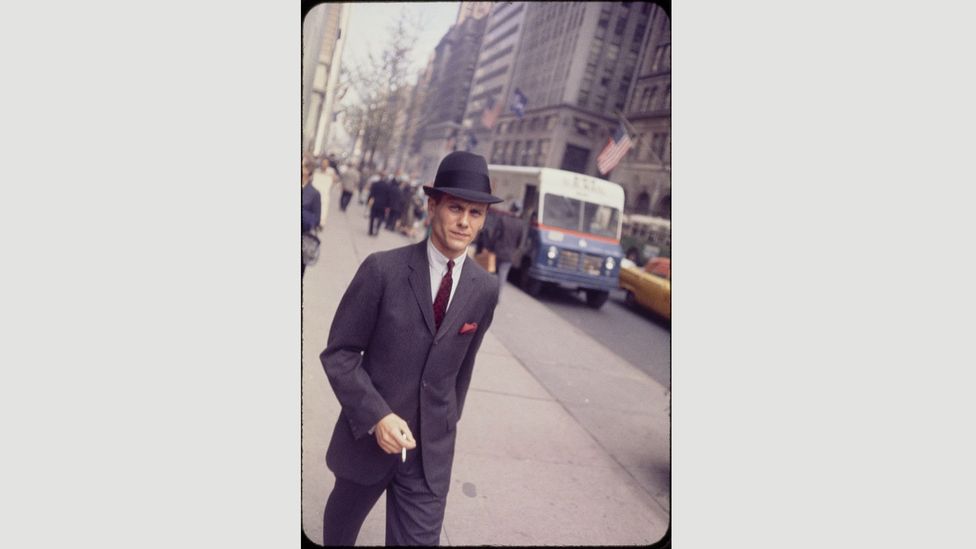 Untitled (New York), 1965 (Credit: The Estate of Garry Winogrand, courtesy Fraenkel Gallery)
Kinetic, frighteningly alive, often shot at canted angles, Winogrand's images are almost literally in your face. In their subjects' faces, too: many of the people Winogrand photographed in New York and elsewhere look on the verge of punching him.
Even if you know his work – in fact, especially if you know his work – it's a revelation
Yet when you look at these new pictures, all in colour, you wonder if you're familiar with him at all. The purpose of the Brooklyn Museum's summer exhibition is to show us a different side to Winogrand – more intimate, perhaps more sentimental. It brings together 450 images, most of which have never been seen in public before. Even if you know his work – in fact, especially if you know his work – it's a revelation.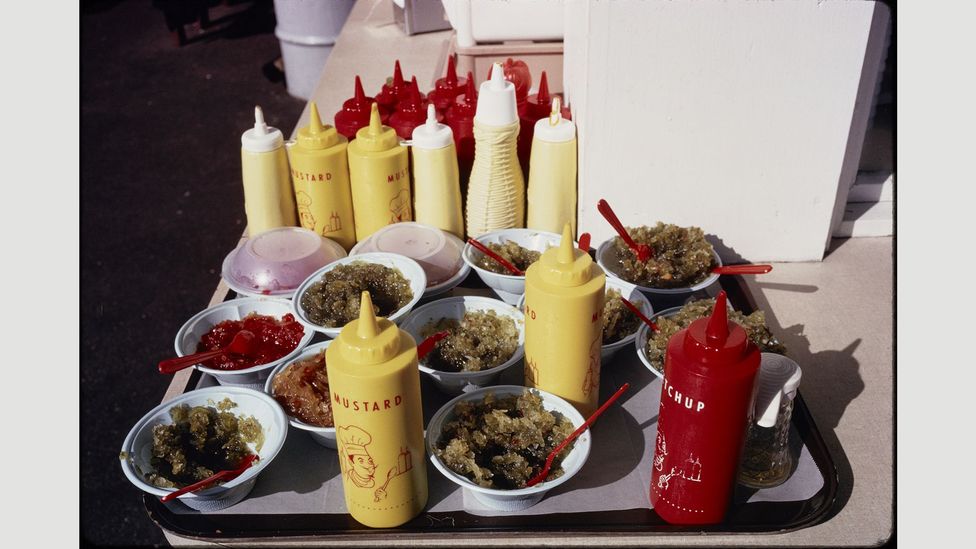 Untitled (Cape Cod), 1966 (Credit: The Estate of Garry Winogrand, courtesy Fraenkel Gallery)
Chief curator Drew Sawyer explains how the show came about. Some of Winogrand's colour photographs have been exhibited before, but it wasn't until Sawyer and colleagues travelled to the photographer's archive in Tucson, Arizona that they comprehended how many there actually were – something like 45,000 Kodachrome slides. "Most had never even been printed," Sawyer explains, grimacing slightly at the memory. "I didn't really know what we were dealing with."
Born in 1928 into a working-class family in the Bronx, Winogrand had a tough childhood. Money was tight, and Winogrand was restless without quite knowing what to do with that energy. He flunked out of high school, only gaining his diploma after joining the US Air Force. Then he dropped out of Columbia University, too – abandoning  his painting studies after trying out a friend's camera and joining the university photography club. After submitting images of a woman passed out drunk on the pavement to Life magazine in 1950 – revealing as to his developing style – he got his first magazine commissions. At the age of 22, without quite intending to, he had become a professional photographer.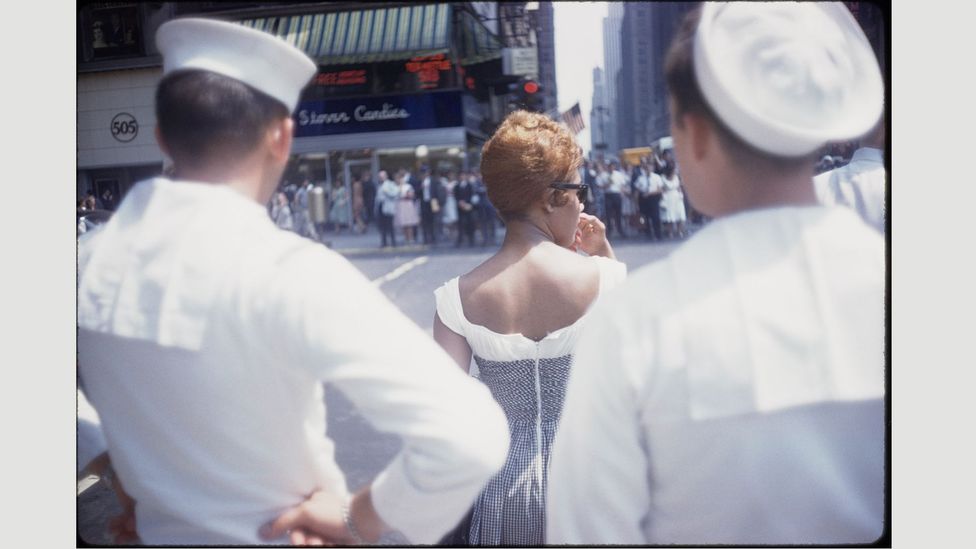 Untitled (New York), 1960 (Credit: The Estate of Garry Winogrand, courtesy Fraenkel Gallery)
For the next 35-odd years, Winogrand worked at a manic pace – making sports photographs, magazine series, adverts, and teaching, as well as spending days on end in the arena he loved most of all, the hustle of the American street. Although he became a respected figure, exhibiting alongside Arbus and Lee Friedlander in the seminal New Documents exhibition at MoMA in 1967, he was starting to drift out of fashion. It was only after his premature death in 1984 that Winogrand was recognised as one of the greatest US photographers of the 20th Century, a worthy heir to Walker Evans and Robert Frank.
In living colour
Yet he is also a puzzle – not least because he shot so much. It was said that Winogrand took pictures so quickly that people in front of his lens didn't realise he had actually pressed the shutter. A recent documentary, entitled All Things Are Photographable, estimates that he took something in excess of 1 million photographs. Many have never been properly scrutinised. The influential MoMA curator John Szarkowski, a great champion, wrote that in the final years of Winogrand's life the photographer was "like an overheated engine that will not stop even after the key has been turned off, shooting roll after roll of film, not even bothering to develop them". Asked why he made photographs, Winogrand once drolly remarked that it wasn't to tell stories, but to see "what something looks like to a camera". He seems to have stopped caring what his images looked like, even to him.
It wasn't until the work of William Eggleston in the mid-1970s that anyone deemed colour prints worthy of exhibition in a major museum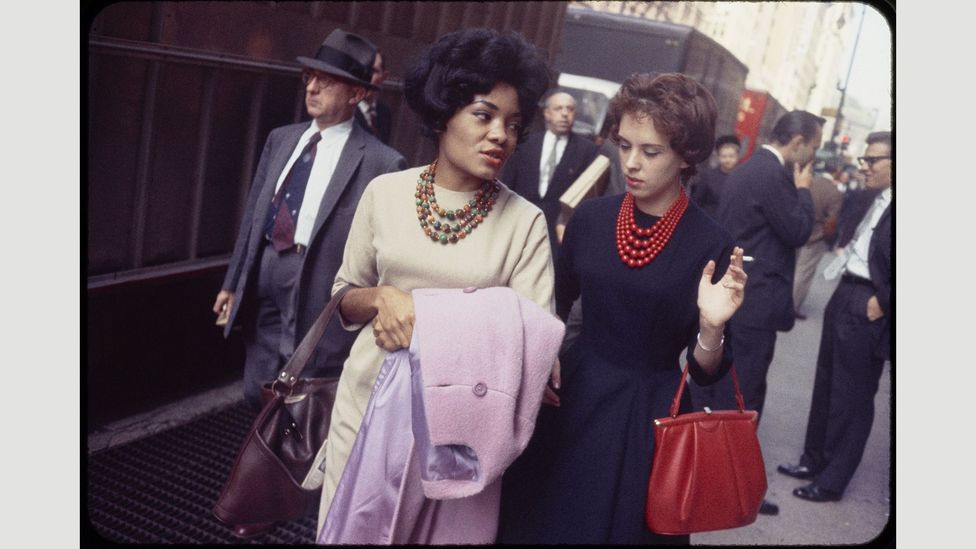 Untitled (New York), 1965 (Credit: The Estate of Garry Winogrand, courtesy Fraenkel Gallery)
For photographers of Winogrand's generation, who cut their teeth in the 40s and 50s, colour film was a vexing medium. For a start, it was unreliable and slow (requiring brighter light and slower shutter speeds), as well as being expensive to buy and difficult to develop, which put it out of reach of anyone not on commission from a magazine or an ad agency. Then there were its associations with family snaps. Walker Evans declared colour "vulgar". Most photographers aspiring to seriousness avoided it. It wasn't until the work of William Eggleston in the mid-1970s that anyone deemed colour prints worthy of exhibition in a major museum.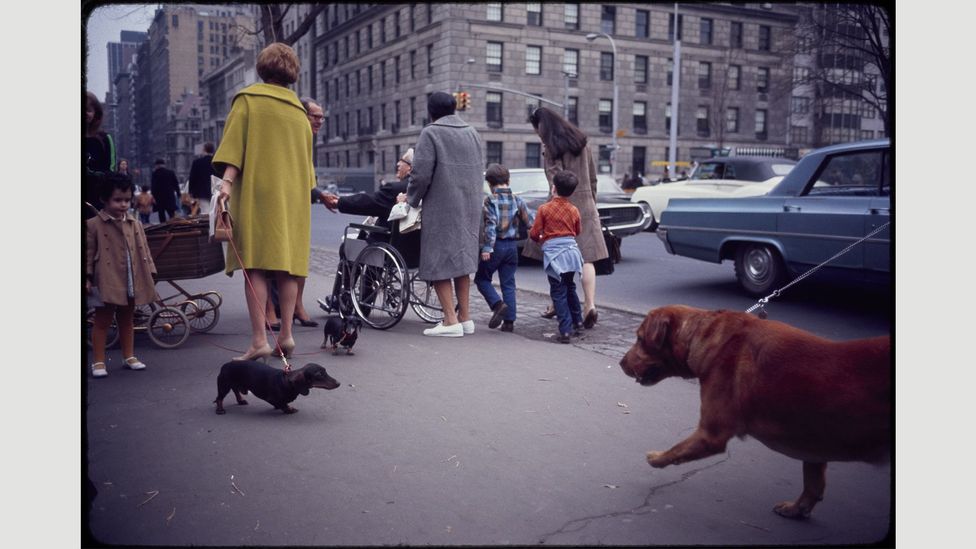 Untitled (New York), 1967 (Credit: The Estate of Garry Winogrand, courtesy Fraenkel Gallery)
All this time, Winogrand was busily snapping away – often with two cameras around his neck (one black and white, one colour). Many of his most famous monochrome pictures turn out to have a colour equivalent, shot moments afterwards, as if he was determined to compare the results, or seize something elusive that couldn't be captured in black and white. One image in the exhibition revels in the scarlet floral splotches on a woman's A-line skirt, which Winogrand frames against a cobalt-coloured wall. In another, a man reclining on a bench shows us, probably without realising, his crimson socks (Kodachrome was known for its vibrant reds). If Winogrand's black-and-white photographs often seem ready to explode, the picture frame barely keeping a lid on their energy, here there is a more sensuous, introspective feel.
"The work is so beautiful," Sawyer suggests. "And Winogrand's work isn't often talked about in those terms."
The exhibition takes us on a roundabout, canonically American journey – from Winogrand's native New York out west, through Arizona, Texas, New Mexico and California, where he ended up settling in the late 1970s. Even though we've never seen them before, the western photographs feel somehow familiar: Jetsons-ish architecture, wide-blue skies, that endless irradiating sunlight, and cars (always cars). A kid in a striped top slips a coin into a vending machine, perhaps at a motel – a study in acid yellow, snow-white and Coca-Cola scarlet. A fast-food vendor wrestles with the plastic cover of his stall, the pink stripes of his shirt chiming nicely with the striped awning above.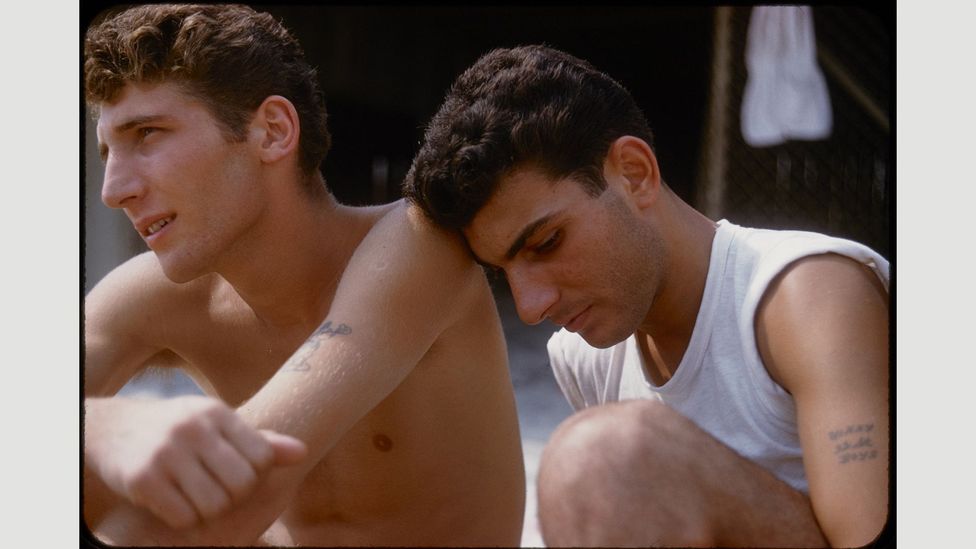 Untitled (Coney Island) 1952-58 (Credit: The Estate of Garry Winogrand, courtesy Fraenkel Gallery)
But it's the images shot in Winogrand's native New York that feel more surprising. We see the same hard Midtown streets as in his black-and-white photographs, the grime and the deep shadowed canyons beneath tall buildings, but that sense of caged expectation – of horror just around the corner, or narrowly averted – is largely absent. Everywhere you look there are moments of repose, pauses in the melee. One picture spies sidelong on a gang of three people loitering on some steps. They look like caretakers; their uniforms are baby-blue against the soot-coloured granite of an office block. In a series of images shot on the pleasure sands of Coney Island, a balding middle-aged man reclines puffing a cheroot. The blue of his swimming trunks clashes horribly with his colourfully patterned blanket, but he doesn't care. He's in heaven, and so, for a moment, are we.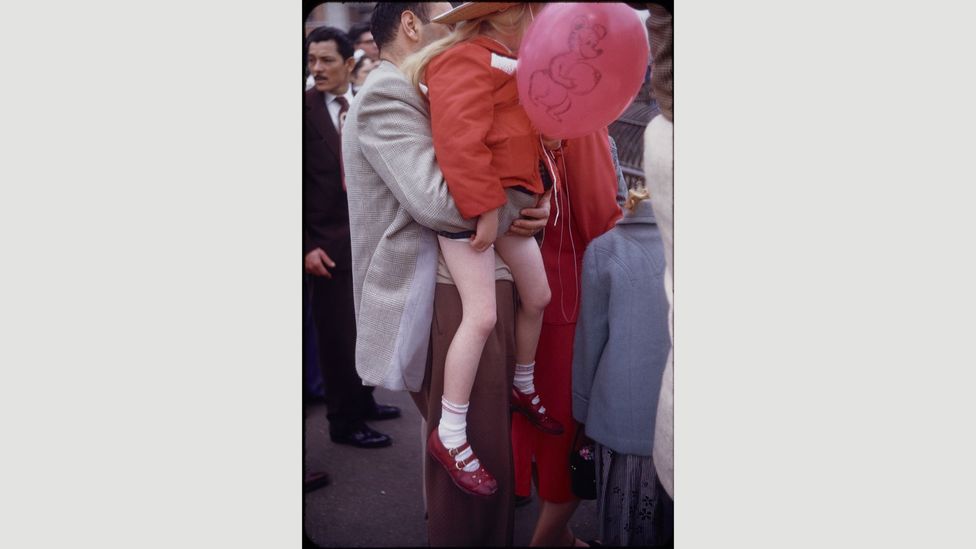 Untitled (New York), 1952-8 (Credit: The Estate of Garry Winogrand, courtesy Fraenkel Gallery)
One thing is consistent with Winogrand's black-and-white work: its sly humour. One street picture shows a boy with a quiff and a smart sea-blue suit sauntering after three grown women, his jacket hooked casually over his shoulder. He looks like he's about ask them out for a drink. It is one of my favourite images in the exhibition, perhaps because it takes the ingredients of the black-and-white shots – that same tight-as-a-drum composition, the same propulsive energy – in a less menacing direction. No face-offs, no stand-offs. Whatever happens next in this picture will almost certainly be fun, and funny. Though Winogrand's gaze in the monochrome pictures is never brutal, exactly, colour seems to put him in far more forgiving mood. The people he photographs seem more at ease, too. Forced to slow down – by his Kodachrome film, by the light, perhaps also by the allure of the colours in his viewfinder – it is as if he finds a different rhythm to the city.
Asked why Winogrand took all those thousands upon thousands upon thousands of photographs, Kismaric says she's not sure, even now: it was almost an ecstatic act, she suggests, a way of losing himself in the drama of the world carrying on around him. "Garry just loved taking photographs," she suggests. "I think it was as simple, and as complicated, as that."
Garry Winogrand: Colour is at the Brooklyn Museum until 8 December.
If you would like to comment on this story or anything else you have seen on BBC Culture, head over to our Facebook page or message us on Twitter.
And if you liked this story, sign up for the weekly bbc.com features newsletter, called "If You Only Read 6 Things This Week". A handpicked selection of stories from BBC Future, Culture, Capital and Travel, delivered to your inbox every Friday.