As a major retrospective of the photographer's work shows in London, Cath Pound explores her disturbing, humorous and subversive images.
A
A distraught woman leans against the wall of a shabby motel, the contents of her suitcase strewn across the bed. Another, elegantly dressed in a grey suit and neat straw hat, glances warily to her left as she edges past the skyscrapers that loom behind her; while a third sullenly gathers the groceries that have spilled across her kitchen floor. We think we know the characters that populate Cindy Sherman's groundbreaking Untitled Film Stills (1977-80) series. They seem to have sprung from the films of Alfred Hitchcock, the French New Wave and Italian neorealism and yet there is something we can't quite put our finger on. Frozen in a single moment with no past or future, they leave us to speculate on what led them to this point and where they are headed.
More like this:
-       The man who took 1 million photos
-       The Instagram artist who fooled thousands
-       Beautiful photos of sadness and longing
"Tell me everything you saw and what you think it means," says Grace Kelly to James Stewart in Hitchcock's Rear Window, a key influence on the series. Like Sherman, Stewart's character is a photographer. Temporarily confined to a wheelchair after an accident, he passes the time by observing his neighbours and concocting stories of love, murder and intrigue based solely on what he can see.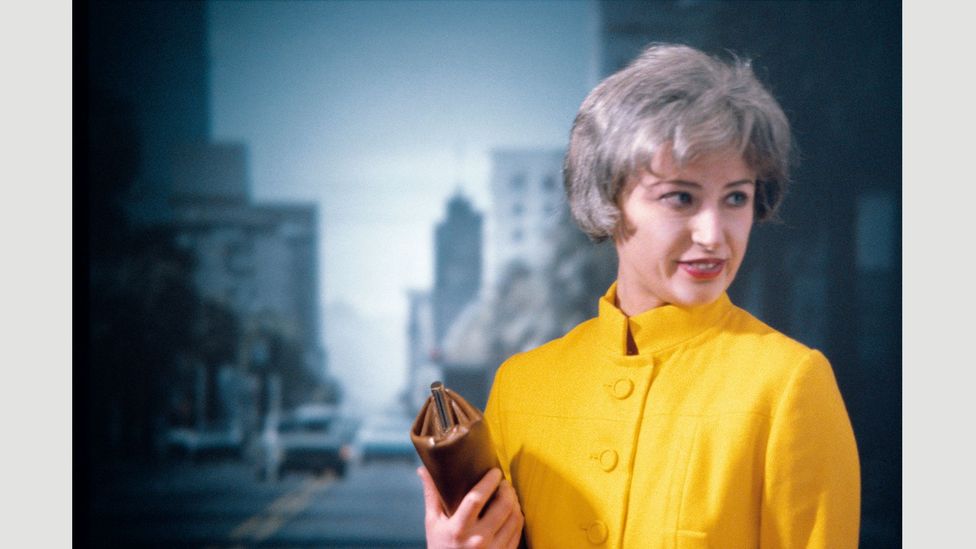 Untitled #74 by Cindy Sherman, 1980. (Credit: Courtesy of the artist and Metro Pictures, New York)
"I loved all those vignettes Jimmy Stewart watches in the windows around him – you don't know much about any of these characters so you try to fill in the pieces in the lives," Sherman has said.
The film eventually reveals where Stewart got it right and wrong – and in doing so, highlights the dangers of making judgements based purely on appearance. But in a career spanning more than 40 years, in which she has adopted numerous identities from cover girl to ageing socialite, Sherman has rarely offered any such closure.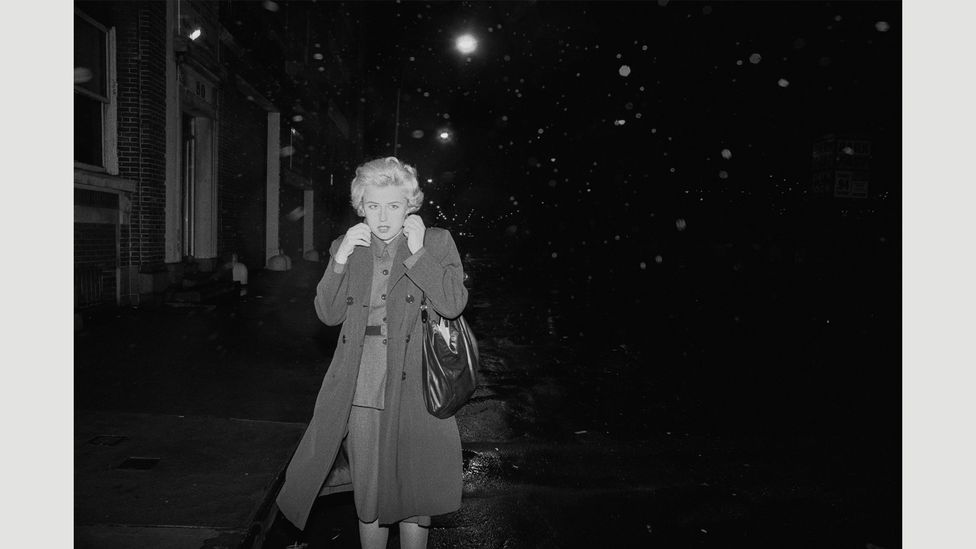 Untitled Film Still #54 by Cindy Sherman, 1980. (Credit: Courtesy of the artist and Metro Pictures, New York)
"It's almost strategic," says Paul Moorhouse, curator of the major Cindy Sherman retrospective currently showing at the National Portrait Gallery in London. "Her work invites interpretation and she says it's important that it does so. She also says it's important that it's ambiguous. There's a whole range of different responses that have emerged over the years and she neither endorses nor denies any of them."
The ambiguously preoccupied women in Colour Studies become vessels for our own neuroses and hang-ups
This largely unrelenting inscrutability has left the public and critics alike free to interpret her work according to personal and perhaps even societal needs.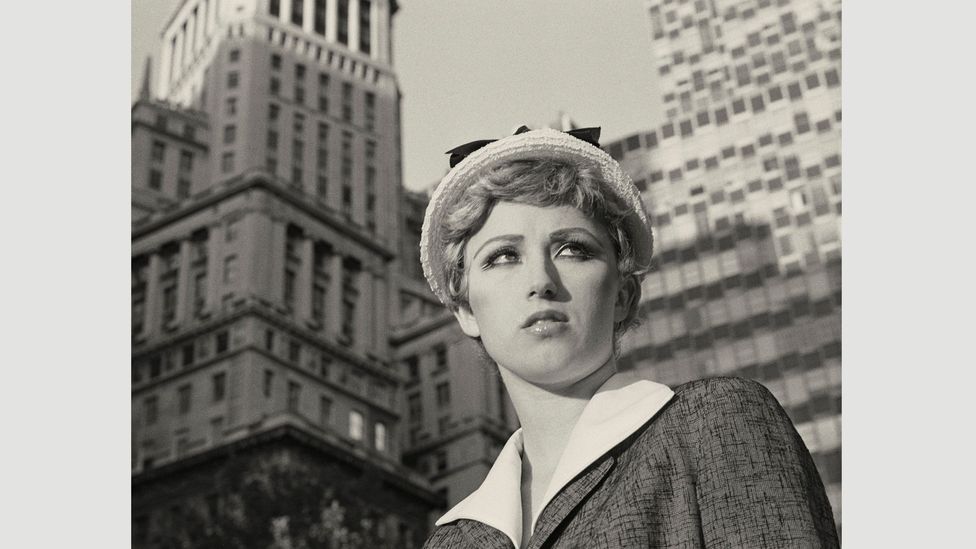 Untitled Film Still #21 by Cindy Sherman, 1978. (Credit: Courtesy of the artist and Metro Pictures, New York)
Recently her focus on herself as an ever-changing subject has been seen as eerily prescient of our own image-obsessed culture dominated by Photoshopped magazine covers and carefully edited Instagram profiles. Moorhouse is aware that "there are these, perhaps younger, viewers who will go in and think that they are selfies and that will be their response to them." They continue to be described as such, "even though Cindy doesn't see them in that way," he adds. In an era of fake news, others will see in them a warning of taking any face at face value.
Feminist or voyeur?
The faces Sherman offers us in Pink Robes and Colour Studies (1981-82) are for Moorhouse "about psychology and the gap that we sense between what we see and what people are thinking and feeling." In the former she imagined her character as a nude model relaxing between shots. "She was very much emphasising that this model who was presenting herself as a body was actually in possession of a mind," says Moorhouse. But is that mind bored, resigned or angry? The answer says more about our own views than the fictitious character in front of us. Likewise the ambiguously preoccupied women in Colour Studies whose very ordinariness makes them all the more ripe to become vessels for our own neuroses and hang-ups.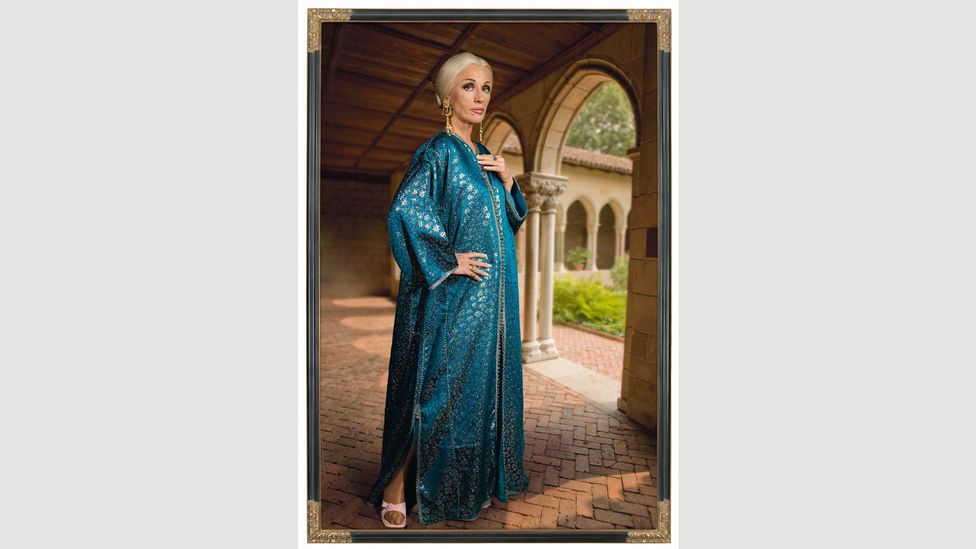 Untitled #466 by Cindy Sherman, 2008. (Credit: Courtesy of the artist and Metro Pictures, New York)
Series such as these have led some to see Sherman's work as having a determinedly feminist agenda. This seems particularly evident in Centerfolds (1981) in which she subverts the convention of the format by replacing a titillating image with one that, in her own words, "might be intruding on someone's private pain, sadness or reverie". To contemporary audiences, the intense psychological presence of the portraits is likely to invoke a sense of unease, perhaps even voyeurism. It therefore seems extraordinary that feminist critics in the early 1980s felt that the images pandered to the 'male gaze'. So strong was this view that Artforum, the magazine that commissioned the images, declined to publish them.
Although Moorhouse thinks they were wrong, he also cautions against an emphatic feminist interpretation of her work. "You can read the work that way if you wish," he says. "The only difficulty is in Cindy's own journals I came across a phrase in which she says something like 'theories, theories, theories, none of it works for me'. She's also said that she's a feminist but not a feminist artist."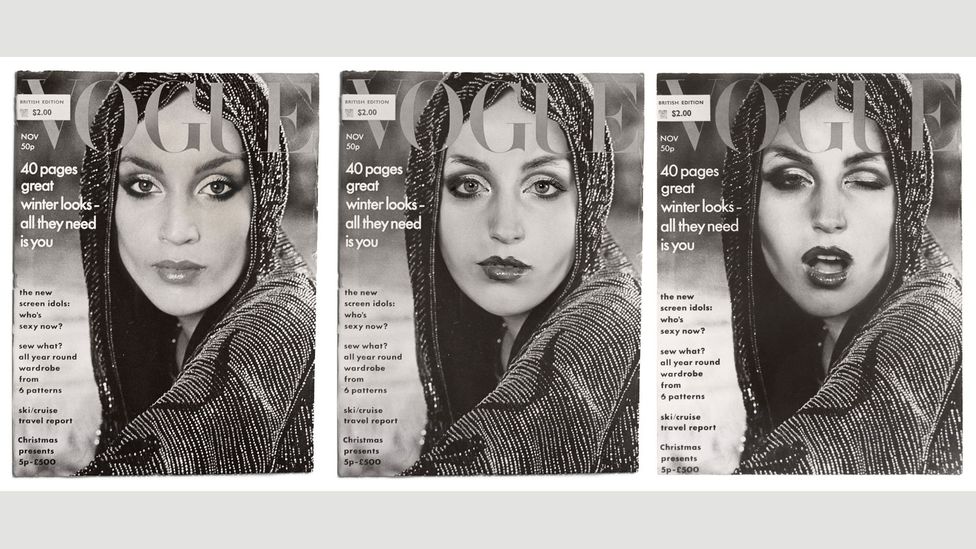 Cover Girl (Vogue) by Cindy Sherman, 1976 / 2011. (Credit: Courtesy of the artist and Metro Pictures, New York)
Sherman seems to be making it easier for us with her caustic fashion photography, even offering a rare description of her intentions. "I'm disgusted with how people get themselves to look beautiful… I was trying to make fun of fashion," she said. This is abundantly clear in the promotional images she created for the New York boutique owner Dianne Benson in 1983. Sporting a red curly wig and Jean-Paul Gaultier strapless jumpsuit with cone bra whose pointed tips have been pushed in, Sherman's character exudes a gawky self-consciousness far removed from the glamorous allure of conventional fashion imagery.
Untitled #413 by Cindy Sherman, 2003. (Credit: Courtesy of the artist and Metro Pictures, New York)
But why, then, does Sherman continue to accept commissions? Clearly the designers and magazines who hire her, knowing full well what the results will be, think they're in on the joke. Perhaps, like many others who view the images, she actually thinks they are the joke.
The ageing women portrayed are victims of a youth-obsessed culture we have all helped to create
At first glance, Sherman's Society Portraits (2008) could appear equally acerbic. The ageing women portrayed have clearly lost the allure of youth and seem to be forlornly attempting to offset this with unconvincing cosmetic procedures and a showy display of wealth. Particularly for a younger audience, yet to be marked by their first wrinkle, they are easy to mock. But older viewers may detect a sense of pathos. They are, after all, victims of a youth-obsessed culture we have all helped to create. Sherman herself has said she finds it "especially scary when I see myself in these older women".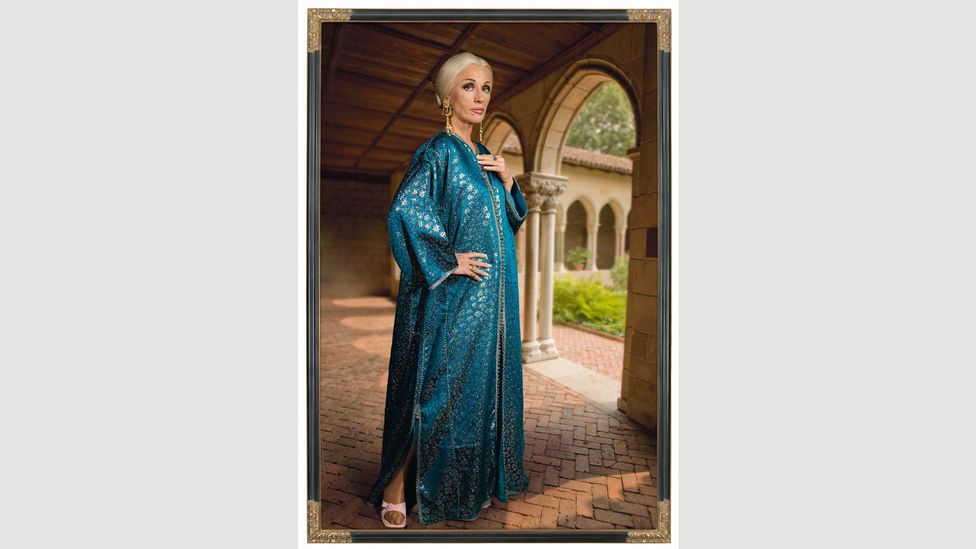 Untitled #466 by Cindy Sherman, 2008. (Credit: Courtesy of the artist and Metro Pictures, New York)
The mature women of Flappers (2016-18) might also reveal Sherman's concern with ageing. They appear to be publicity shots for actresses. But these are women who would have had their heyday in the silent era and are now likely to be rendered obsolete by new technology and younger models, a reading which adds a certain level of poignancy to their determinedly proud posturing.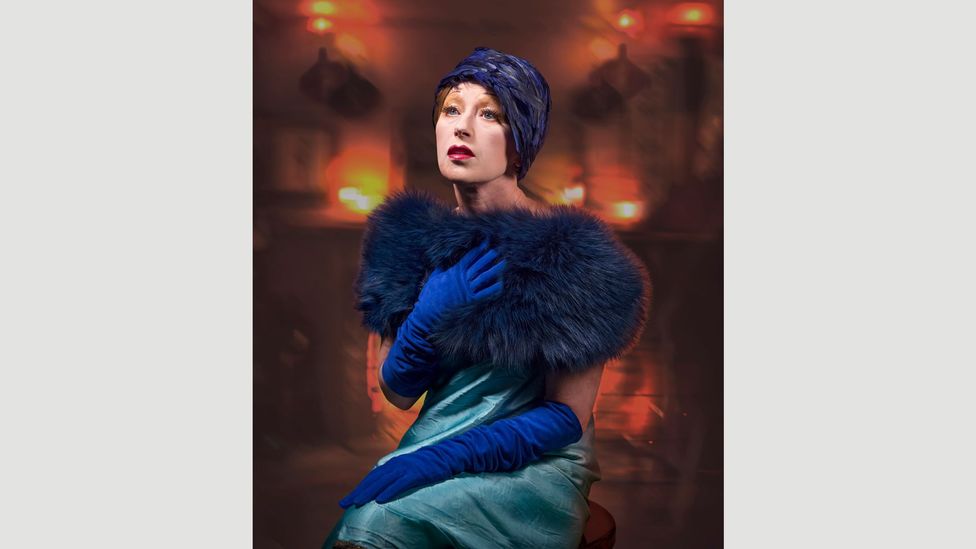 Untitled #574 by Cindy Sherman, 2016. (Credit: Courtesy of the artist and Metro Pictures, New York)
Lacking any confirmation from the artist herself, the meanings we project on to Sherman's work will always be "very much to do with who we are and where we are coming from, our own preferences and values," says Moorhouse. And as such, perhaps, reveal more about us than Sherman's own ambiguous intentions. "When you attach significance to what you're seeing you might step back and say, 'Why do I see it in that way?'," he says.
Could this be the ultimate reading of Sherman's work – art as therapy? Like any good therapist she remains largely silent and lets us do the talking as we stand before her multiple guises and ask ourselves, as Grace Kelly asked James Stewart, 'What are we seeing and what do we think it means?'
If you would like to comment on this story or anything else you have seen on BBC Culture, head over to our Facebook page or message us on Twitter.
And if you liked this story, sign up for the weekly bbc.com features newsletter, called The Essential List. A handpicked selection of stories from BBC Future, Culture, Capital and Travel, delivered to your inbox every Friday.